Easy and Creative DIY Christmas Decorating Ideas
The holiday season is the perfect time of the year to let your inspiration and imagination run free and fully deck the house.
Have your family, your kids and even Santa Claus serving as the perfect excuse to go all out and fully decorate your house. You may be into the more traditional, vibrant and shiny Christmas decoration style, or you might prefer something different or softer. The bottom line is you will want to decorate for Christmas. You also have a lot of reasons for wanting to DIY your holiday decorations though. Perhaps you're facing budget constraints, or maybe you just can't find what you've been looking for in stores. Either way, there is a lot that can be done using upcycled pieces, recycled materials and things you can get easily and cheaply.
So if you'd like to add your own special and unique kind of cheer to your house this holiday season, this is the right place to look for Easy and Creative DIY Christmas Decorating Ideas.
Front Door Wrapped Present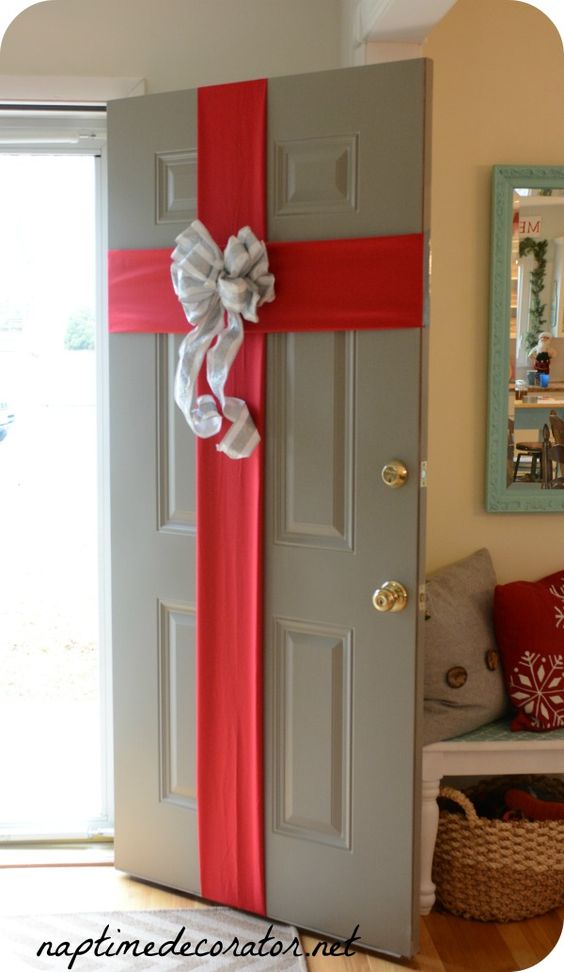 There is absolutely no better way to welcome people to your Holiday party than with a giant present – right at the door. Wrapping up your door in fabric is even easier than wrapping a real present, especially if your door is already painted in a festive/bright color. The best part is that this decoration is also quite easy to take down and fully reusable. via naptimedecorator.
DIY String Snowman
If it doesn't snow in your area, don't you worry – you can still build a snowman using yarn, balloons and some recycled materials for decorative details. via nopreach.
DIY Drinking Straw Christmas Ornaments

Drinking straws are a very affordable, yet largely overlooked material. This project proves you can make really cute things using them, some glue and spray, like tree and house ornaments.
DIY Marquee Letters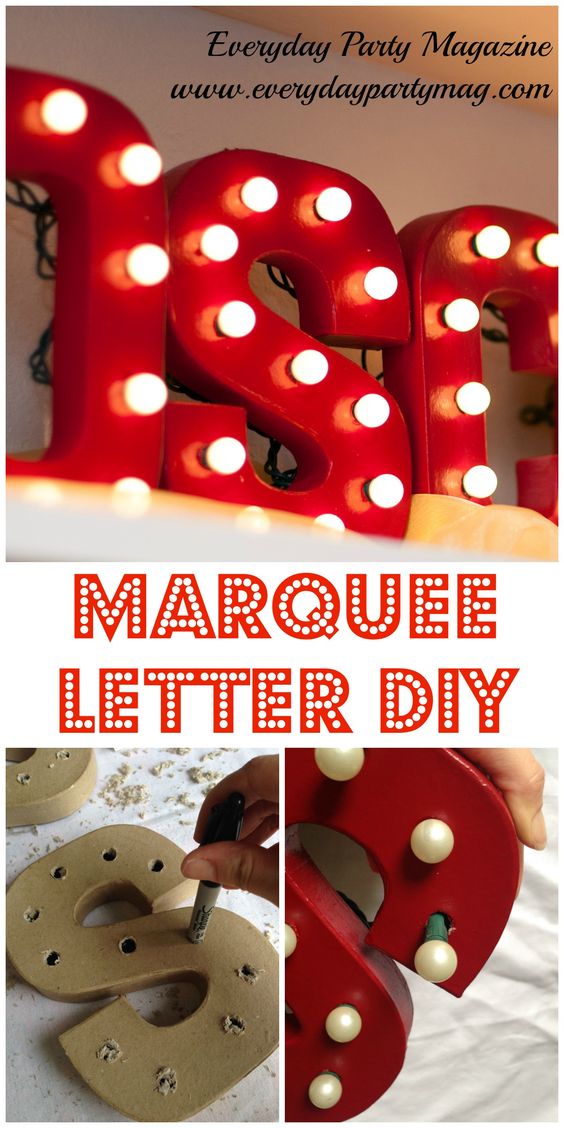 Marquee-like letters have become hugely popular in recent years, but they can be quite expensive, especially if you're only using them for a limited time. The good news is that they are quite easy to make at home using a string of lights. Aside from being a lot cheaper, this also allows you almost full customization, so it's an absolute win-win situation. via everydaypartymag.
Pinecone Santa Ornaments

Pinecones abound this time of year, and they can make really cute, nature-inspired ornaments. What you need to do in order to turn one into Santa is basically make a little felt suit, complete with the red hat and a cape or scarf, and then hang the ornament with string. via gruszkazfartuszka.
Christmas Lights in a Wine Bottle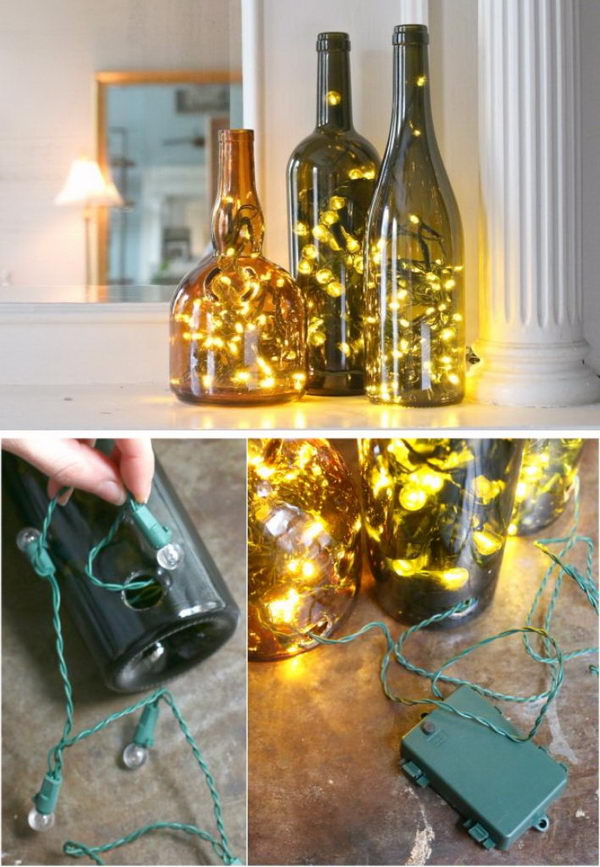 This project is a grown up variation on your traditional light up jar. The wine bottle gives it a different look and also reflects the lights inside differently, since it has a tint, unlike most jars. via ehow.
Make a Modern Wooden Tabletop Christmas Tree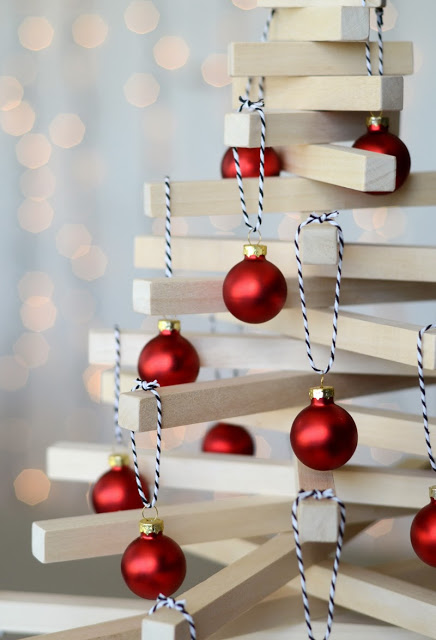 This may be a wooden Christmas tree, but you don't need any carving skills to put it together. Just take wooden slabs of different sizes and glue them on top of each other in order to form a 3D Christmas tree shape and then add bright, contrasting ornaments to finish up the look. via curbly.
Dollar Store Gold Thumbtacks Decorated Styrofoam Balls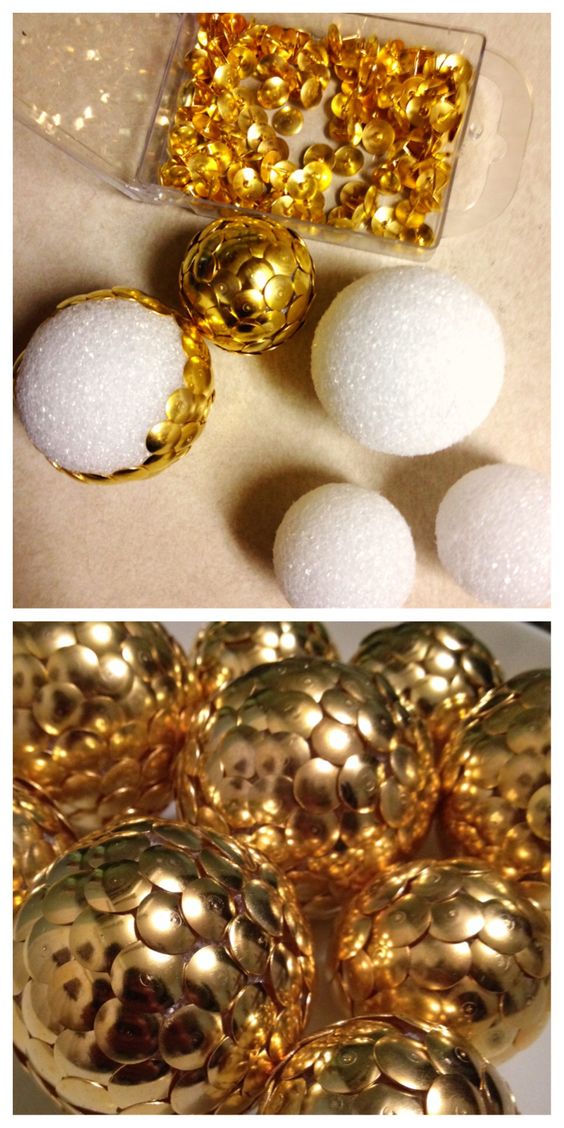 These thumbtacks are the perfect, affordable way to add some cheer and shine into your room decoration.
DIY Ping Pong Ball Lights
Make some Christmas fairy lights look different and punchier by inserting them into thin ping pong balls to get a lighted snowball effect. via thesurznickcommonroom.
DIY Rustic Christmas Star Decoration With Red Ribbon and Recycled Wood

Here's what you can do for Christmas using recycled or reclaimed wood: get some festive ribbon and create some shapes along the wood to add a rustic kind of decoration. Stars are probably the easiest, but you can come up with other shapes if you use your gray matter. via beyondthepicket-fence.
DIY Chalk Pen Galvanized Tree Buckets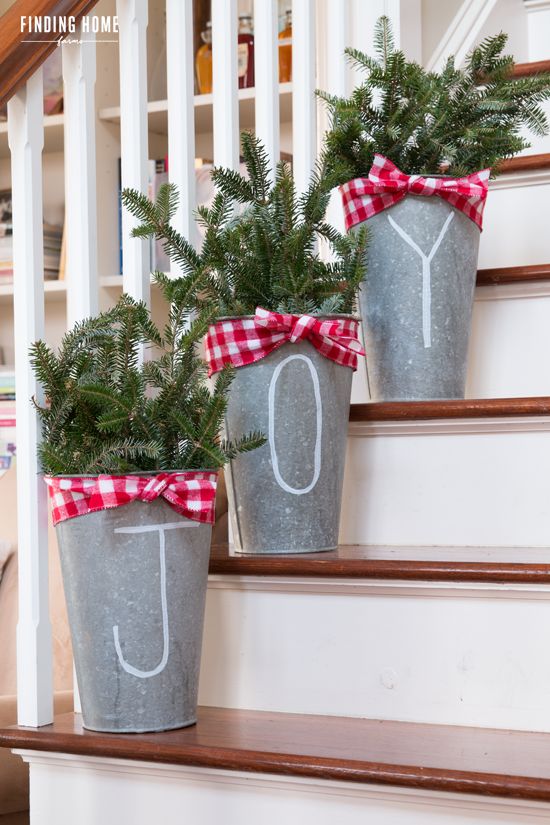 Take a flower jar, turn it into a chalkboard, add a bow, the flowers and your message – there you have it, a simple and festive Christmas decoration for your windowsills, for instance. via findinghomefarms.
Cute Christmas Glass Decor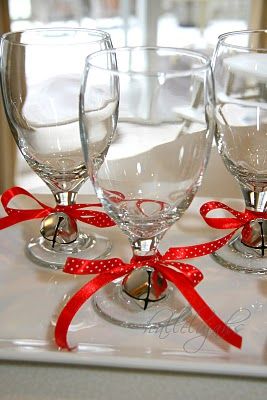 Tying a glittery ribbon around the glasses is the perfect way to decorate your holiday dinner or cocktail table. You can mimic this decoration for the silverware and even napkins, but be careful not to go overboard with your holiday cheer. via hallelujahsbyholly.
DIY Christmas Garland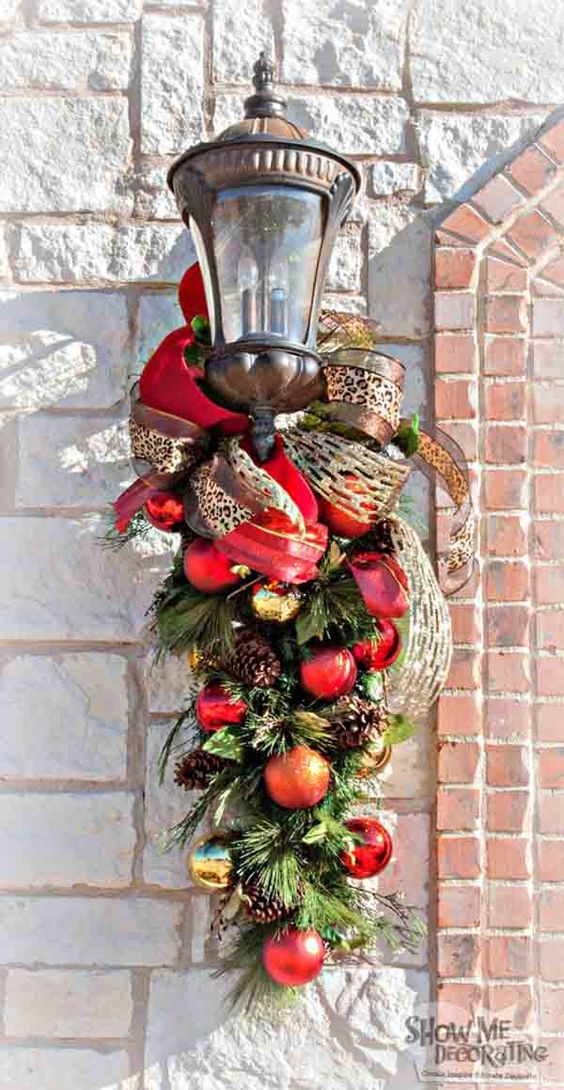 This garland may look very impressive, but we can assure you that it is possible to make one at home, so get your ornaments and start rolling up your sleeves to get to work! via showmedecorating.
DIY Snowy Cranberry Mason Jar Centerpieces
These festive centerpieces are quite easy to make with things you already have at home. Fill your jars with salt, sugar or any other white base, add some berries and finish off with branches for an all-natural decorative piece. via yellowblissroad.
DIY Forest of Paper Doily Trees

Have you ever noticed how much a white doily can look like a snowy surface? Well, it actually does, and that makes it the perfect material to mold into a snowy forest scene to use as Christmas tabletop decoration. via ouiouiouistudio.
DIY Cinnamon Candles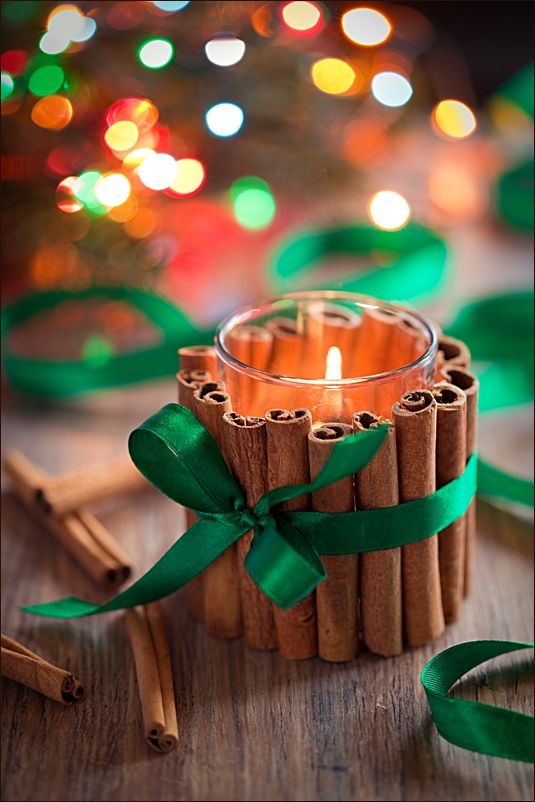 Here's another project that is quite perfect for a rustic Christmas decoration. Make this barrel like candle holder by banding cinnamon sticks around the original jar and you'll have a very distinctive looking and smelling candle. via promaminky.
Plaid Ribbon Decorated Christmas Chair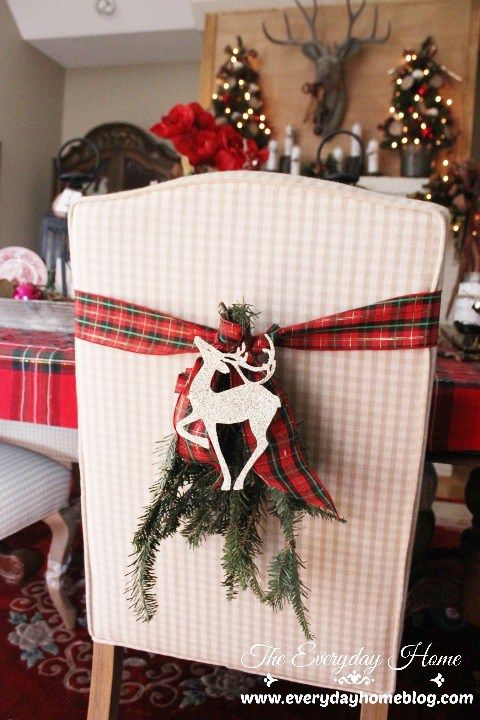 Want to deck the chairs of your Christmas table but don't know how? A ribbon with a bow or flower arrangement is a simple, cost effective option that will add just enough holiday cheer and elegance. via everydayhomeblog.
DIY Glitter Candles
Nothing says Christmas like some good old glitter. Coating some plain candles with it is a very simple and cost-effective way to turn them into perfect holiday decorations. via twosisterscrafting.
Hobby Lobby Metal Letters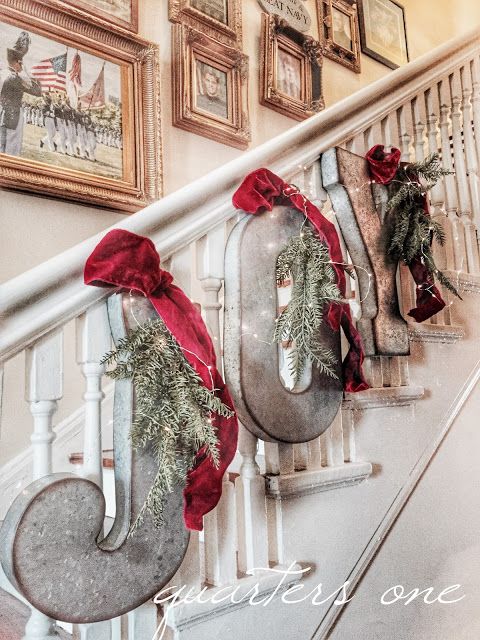 Metal letters can look quite elegant and festive by themselves, but you can add a touch of extra holiday cheer to them with some fabric or ribbon and pinecone or brunches from the area surrounding your house. via quarters1.
DIY Birdseed Christmas Ornaments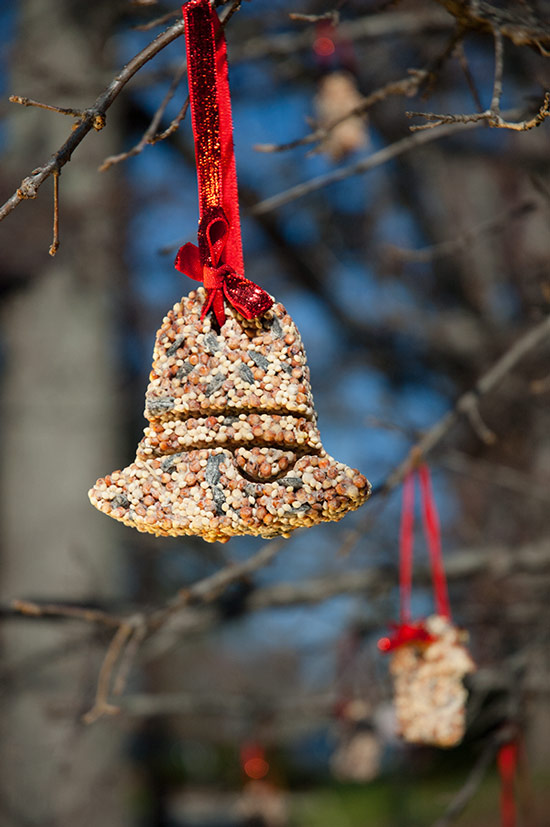 Making an ornament like this is quite delicate work, but the originality of the end result is totally worth it, as the birdseeds add a very unique texture to the piece. via knucklesalad.
Christmas Stocking Hanger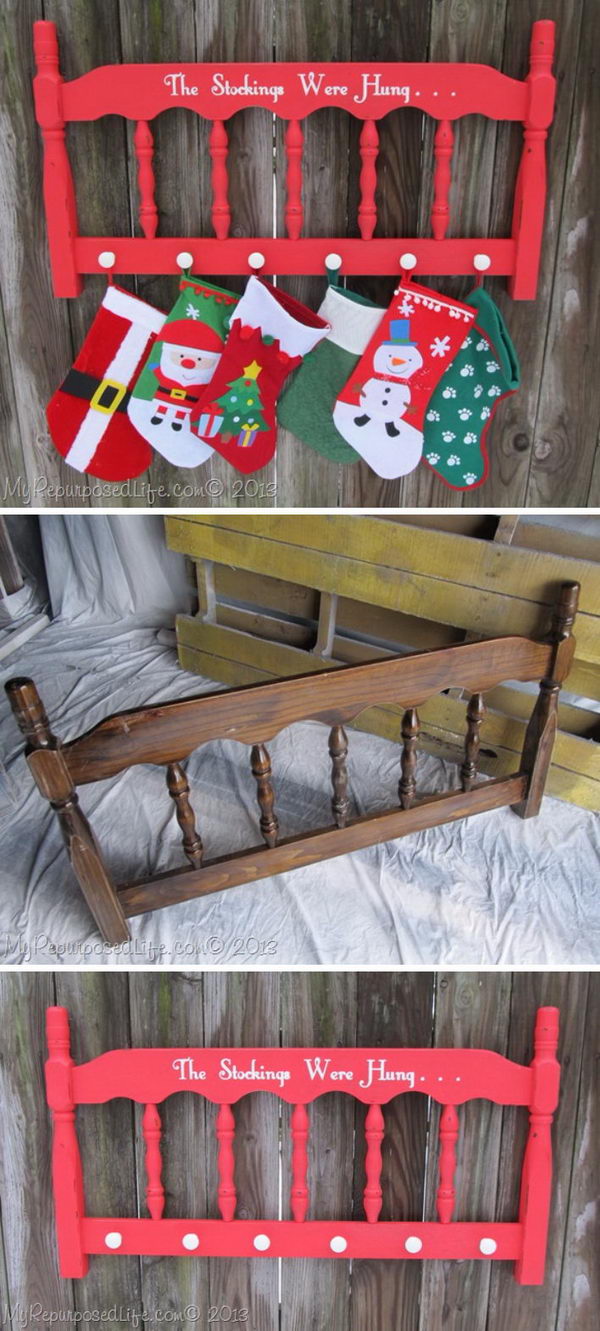 Stockings are traditionally hanged on the fireplace, but if you don't have or don't to use one, you can easily make a hanger from an old headboard, which you can reuse over the years and make a new tradition of. via myrepurposedlife.
Christmas Lanterns Filled with Ornaments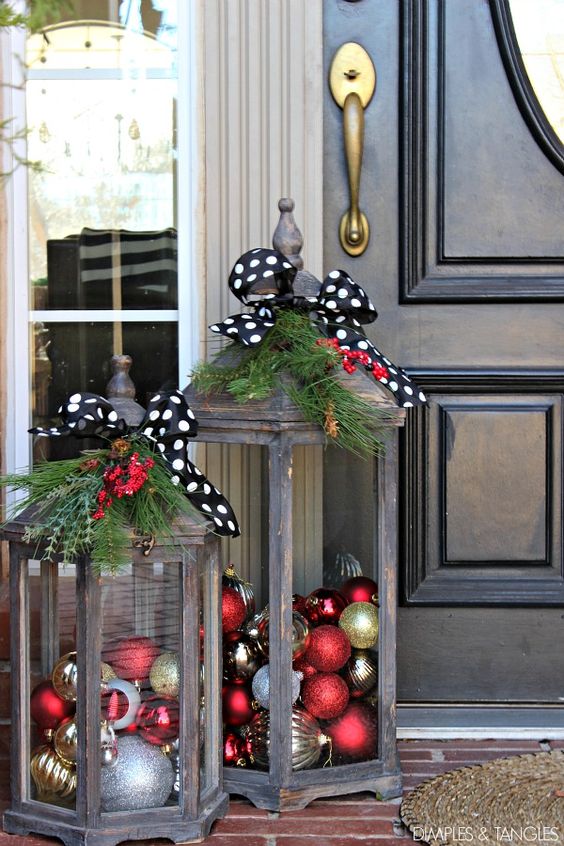 Why not give some old decorative lanterns a new purpose as holiday decorations? All you need to do is fill them with colorful ornaments and tie a bow on top to pull the look together. via dimplesandtangles.
Framed Christmas Tree Ornament Wreath

This is possibly one of the cutest ideas on this list. Take an empty frame without the glass and glue Christmas ornaments to the backing inside to form your desired shape. Add some ribbon as a finishing touch and it's ready to hang on the wall. via simplicityinthesouth.
Lighted Burlap Garland

Making this garland is as easy as shaping your burlap and threading a set of fairy lights in between so that they shine on the fabric and the surrounding areas in the dark. via createcraftlove.
DIY Santa Hat Cones

These glittery Santa hats are made using foam cones, which were painted red, covered in glitter and finished off with a black belt made of cardboard or fabric. If you want to save money on the cones, you can also try using the rolls of paper towels, but they might not be as sturdy. via youtube.
Santa Bow Wreath Wall Hanging

We promise you the impressive look of this Santa-inspired bow is really not an indication of the difficulty of the project. In fact, all you need to do is tie the bow, add a pin that looks like Santa's belt and then apply it where you want it to go.
DIY Upside Down Wine Glasses With Small Christmas Ornaments In Bottom And Candles On Top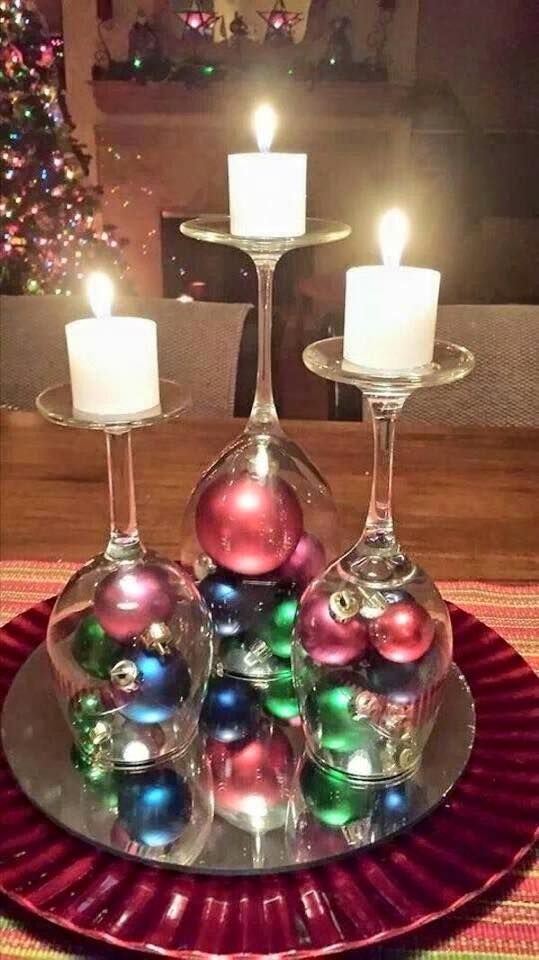 Now if you want a really genius candle holder that takes no effort at all to make, this is the right project for you. Place some glasses upside down on top bunch of ornaments, and then place your candles on top of the bases. Arrange it all as you like and it's done. via mariages.