20+ Amazing Harley Quinn Costume Ideas
Harley Quinn is a Suicide Squad character who appears as the Joker's aid. She was originally a psychiatrist who fell for the Joker, and she helps him to escape the prison and later joins him in his villainous ventures. Harley Quinn's cosplay suit is a vital part of her character. With every movie, the designing team works on the suit to take to a level further ahead. These Harley Quinn costumes are perfect for Halloween parties. The bright colors, funky hairdos, and glittering accessories add style to a simple costume.
Easy DIY Harley Quinn from Suicide Squad Costume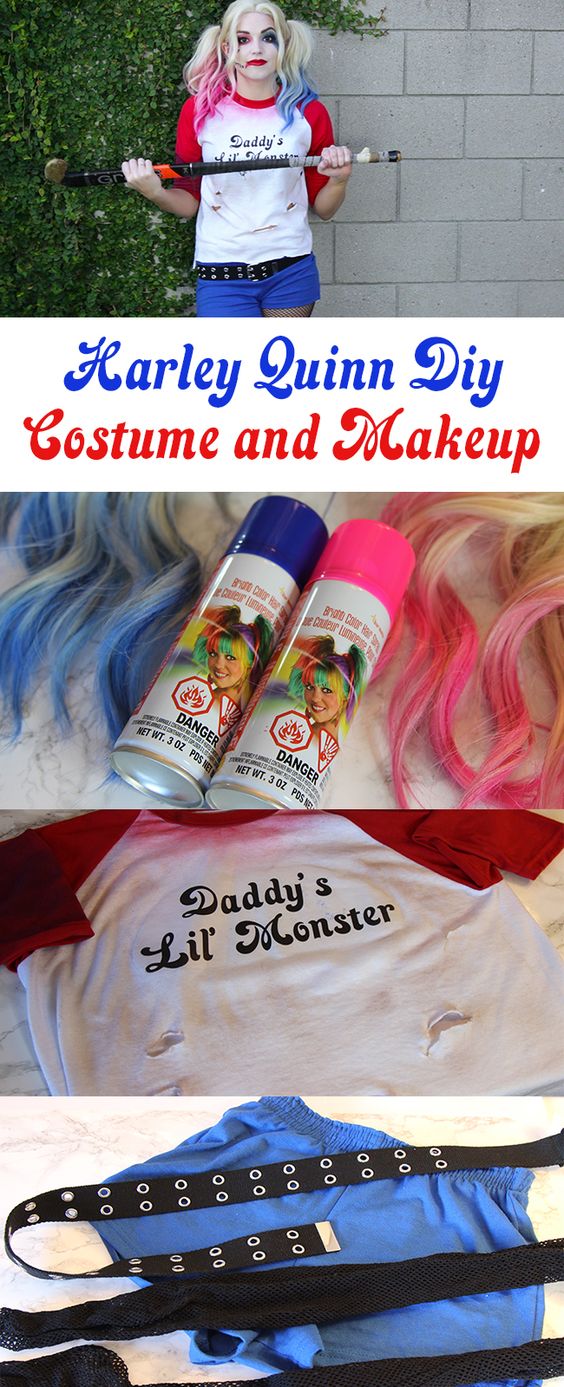 This Harley Quinn Suicide Squad makeup and costume tutorial is pretty easy to achieve. With a tight budget, you can also get the perfect makeup look. Get the tutorial via brittanysarah.
Funny Pregnant Harley Quinn Costume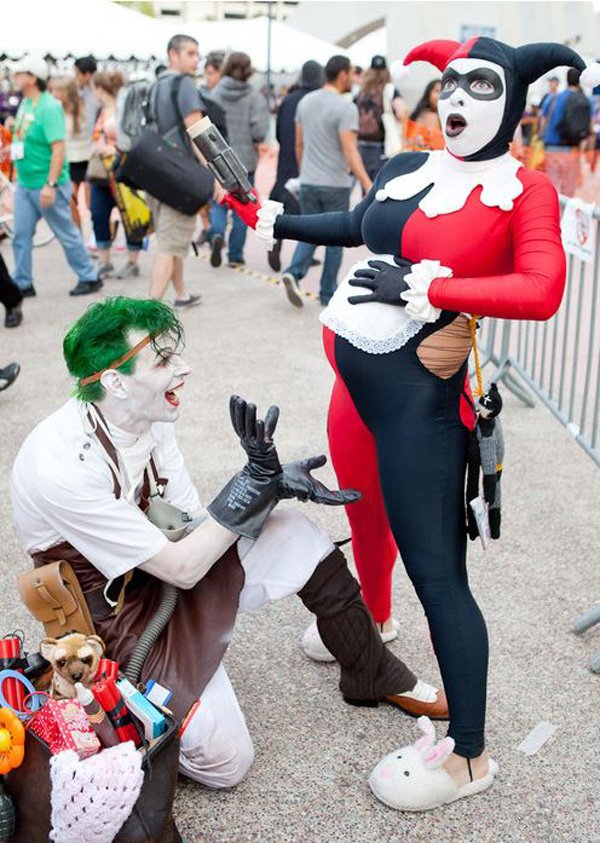 What about this costume idea? When you want a costume, but you remember that you are pregnent.
DIY Harley Quinn Arkham Knight Costume

Get the tutorial via lovemaegan.
Harley Quinn Mini Hammer Build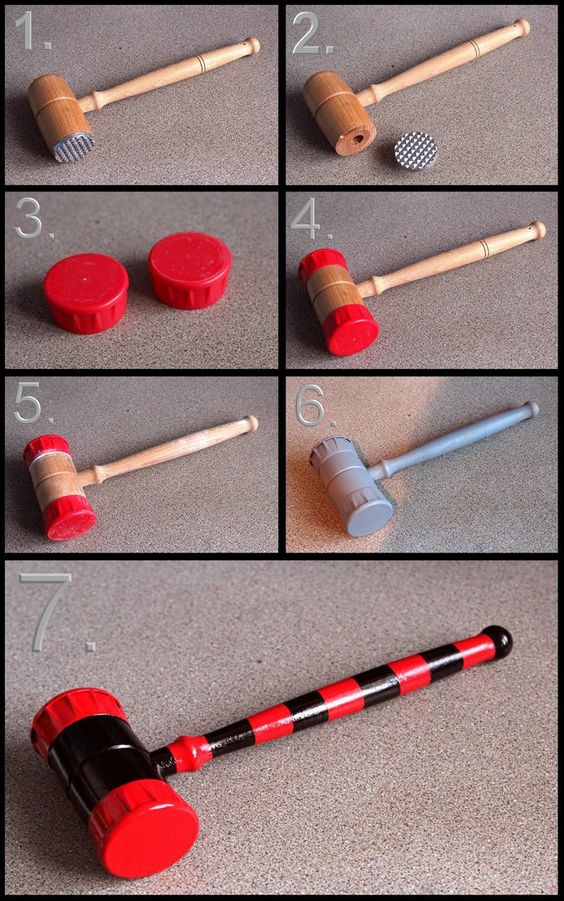 Paint the hammer with Harley's traditional red and black colour scheme. Hotglue two plastic bottle caps to both sides of the wooden hammer. This is a mini Harley Quinn hammer prop is so cute. source.
Pretty Harley Quinn Costume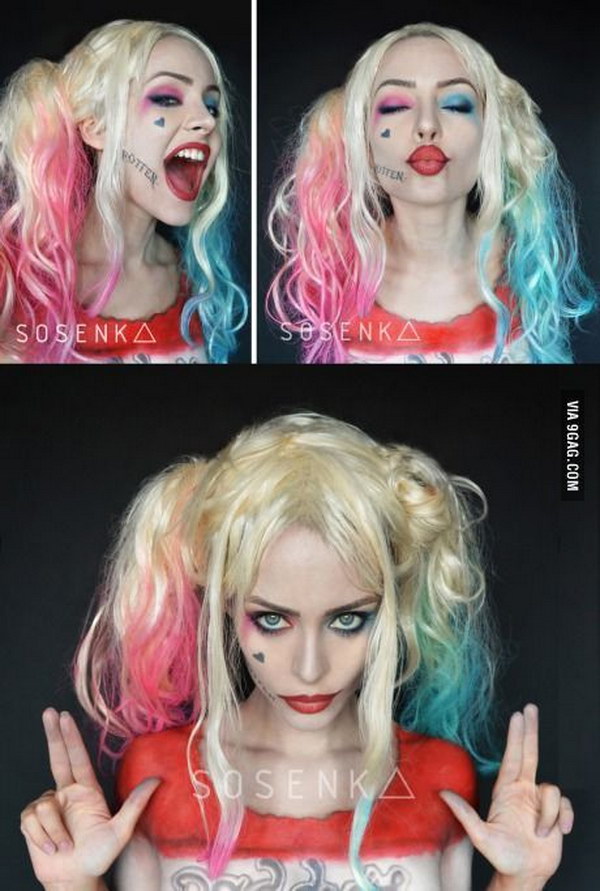 9gag.
Beautiful Harley Quinn Costume for Girls

What an awesome Harley Quinn costume tutorial! It has covered almost everything you need for a Harley Quinn costume. This guide will make you completely look like her. source.
Harley Quinn Face Makeup
Paint your eyes with shades of purple and blue. Smear black kohl vertically across the centre of the eyes for the vampire look. You can also pierce your lips and nose for a sexy look. source.
DIY Harley Quinn Suicide Squad: Cosplay and Makeup Tutorial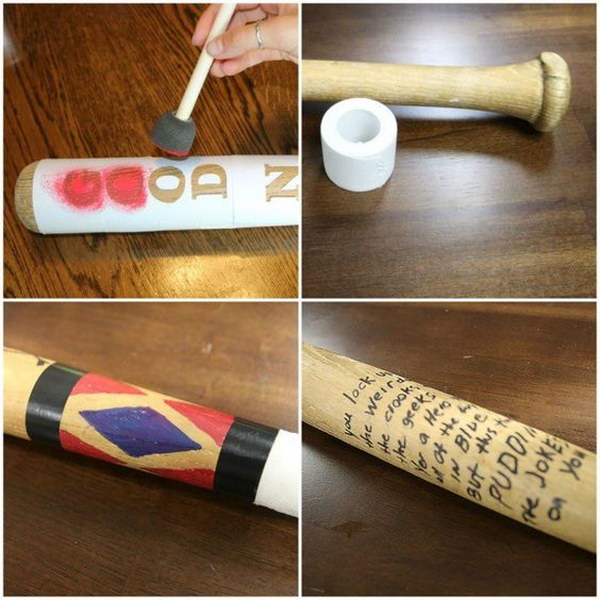 A costume without accessories is less fun, so fashion yourself this DIY bat! This tutorial would help you build a cool Harley Quinn Suicide Squad costume, including all kinds of accessories:DIY baseball bat, DIY wrist cuffs and DIY shoulder holster. source.
Suicide Squad Harley Quinn Cosplay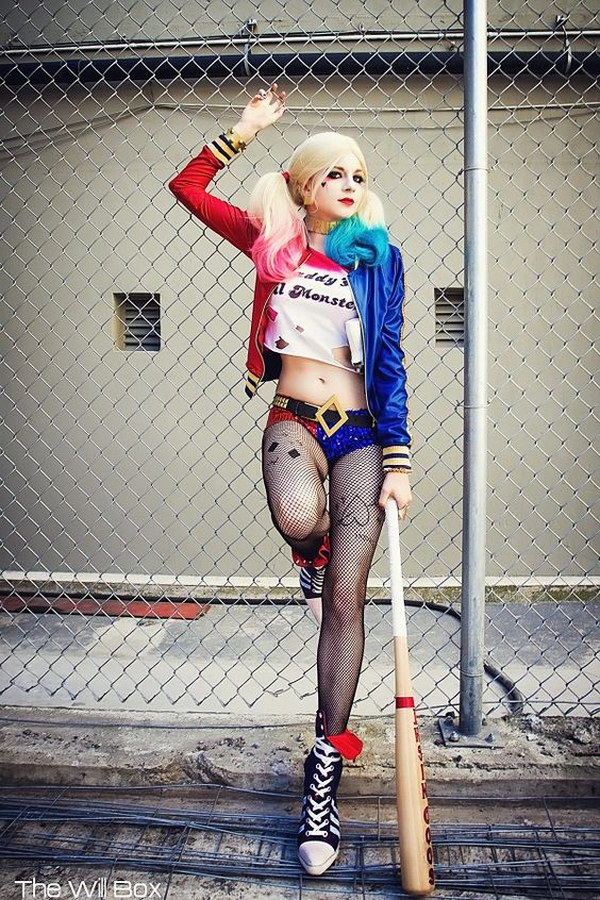 I just love everything about this perfect Suicide Squad Harley cosplay. Her hair, makeup, fishnets, jackets and sneaker boots are so beautiful.source.
Casual Harley Quinn Shoes – Easy and Under $6!

Don't spend big bucks for shoes to go with your Harley costume. This tutorial tells you how to turn your old white sneakers to the cool Harley Quinn shoes Under $6!
Harley Quinn Baseball Bat Costume

Paint your baseball bat in red with the words 'Good Night'. The wristbands and neckpieces also add style and flair to the Harley Quinn costume. source.
DIY:Harley Quinn Costume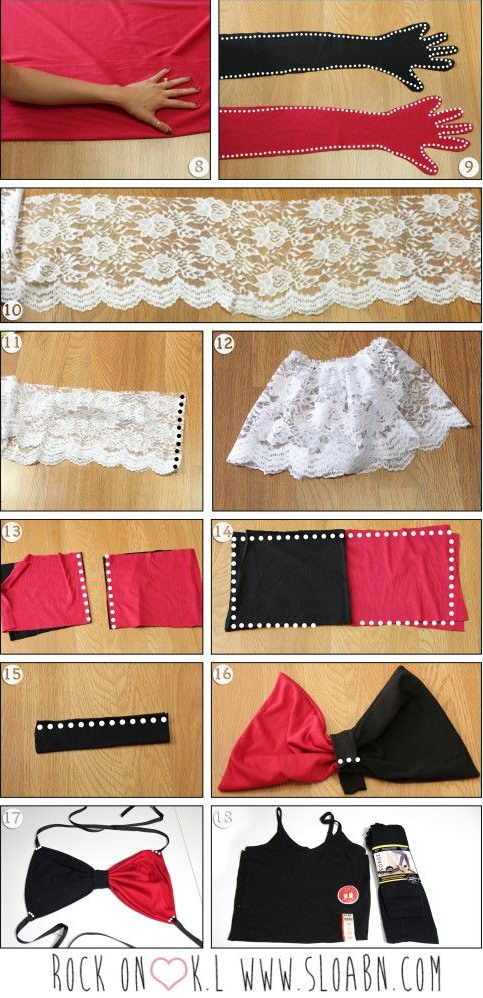 Get the tutorial via sloabn.
Wonderful Harley Quinn Costume

Lips for Harley Quinn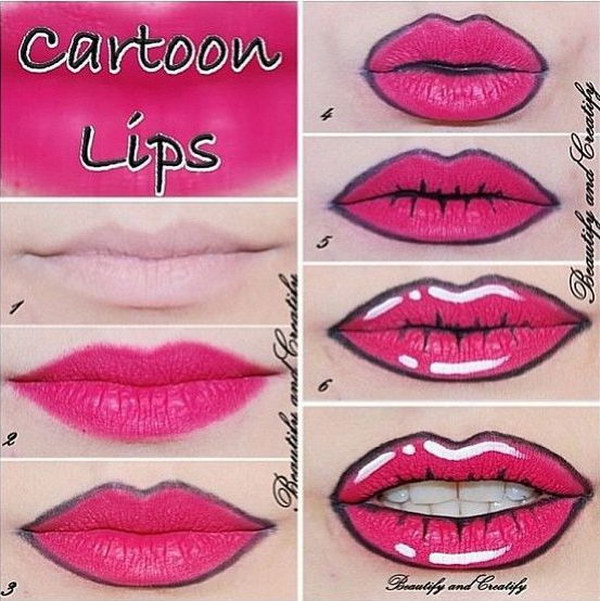 What a fun and easy lip art tutorial! It is amazing how sexy the lips look, and it's perfect for your next Harley Quinn costume. source.
Beautiful Harley Quinn Cosplay

The blood stained Harley Quinn is another awesome Halloween costume. Dress up in the suicide squad attire and complete the makeup and hairdo. Tear the stockings at places and spread red lipstick around the lips and eyes. Make some wounds on the hands, face, and forehead using dark eye shadows. Drop some washable red paint all over the body for a blood-stained wounded Harley look.
DIY Harley Quinn Costume for Halloween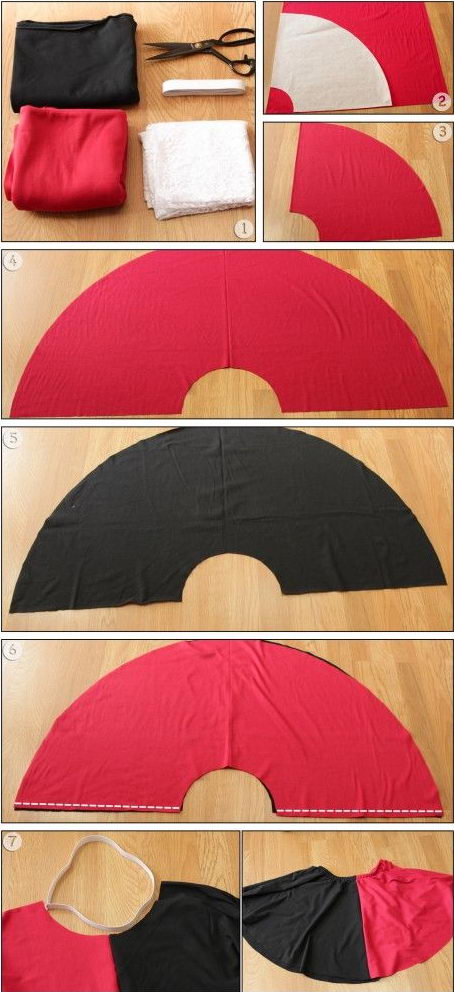 For a DIY skirt, take some black and red cloth, a pair of scissors and an elastic tape. Make two semicircles in both the black and the red cloth. Stitch one ends of both colors together and put elastic around the waist. Your Halloween skirt is ready. sloabn.
Cute Harley Quinn Costume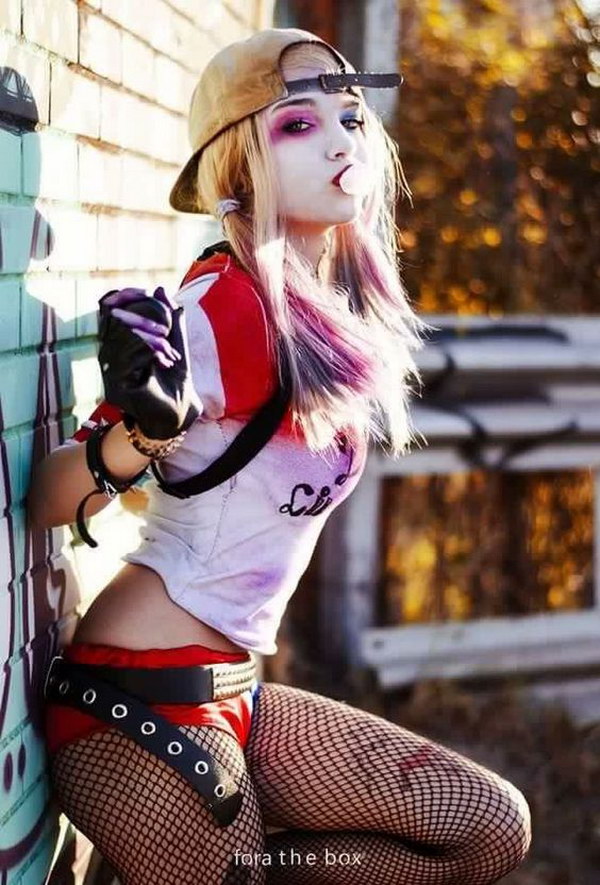 Joker Style Lip for Harley Quinn Costume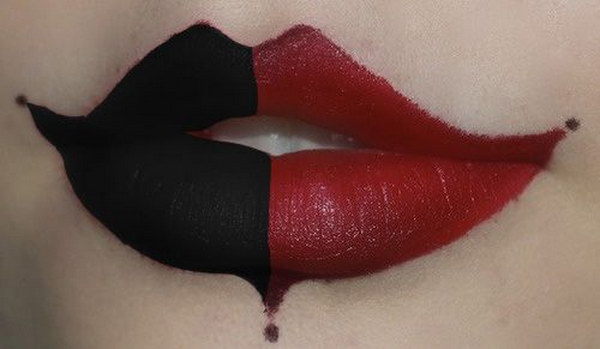 Paint half of your lip in black and half in red. Make sharp outlines and dot the ends.
Amazing Harley Quinn Cosplay with Unique Eye Makeup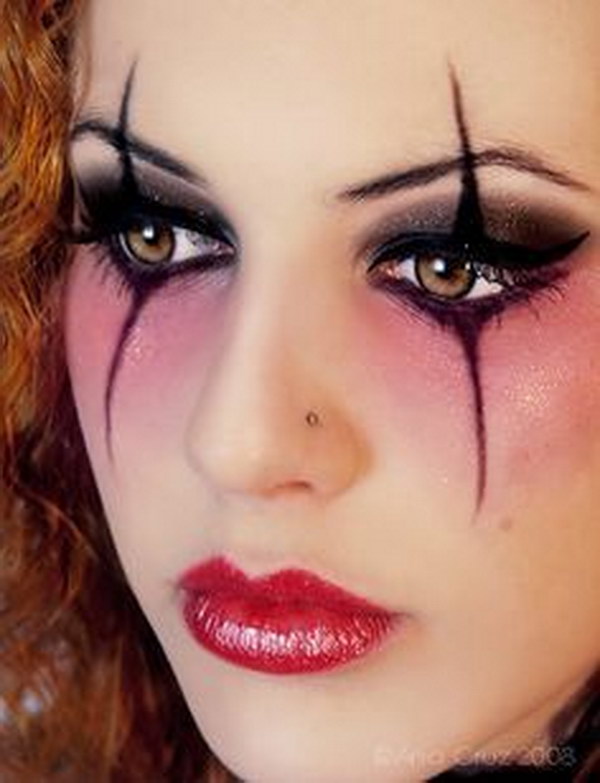 Experiment with this witchy eyes makeup idea by using black eye shadows and smudge them vertically over your eyelids.
Great Harley Quinn Costume for Halloween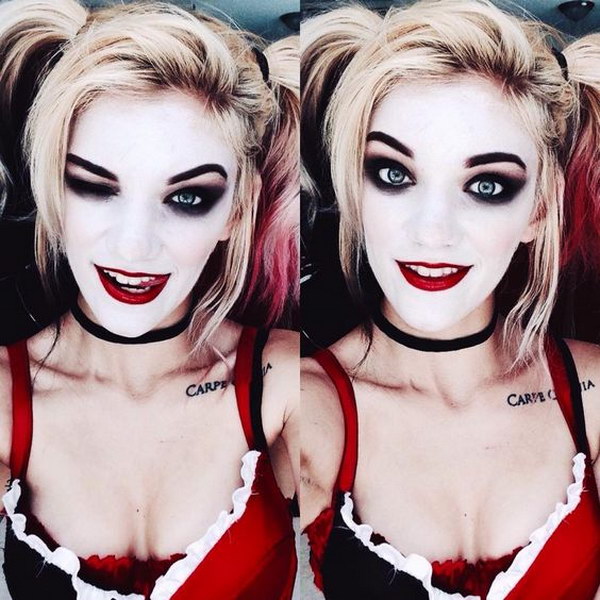 What a great Harley Quinn Halloween costume. This girl almost makes perfect Harley Quinn!
Pretty Harley Quinn Cosplay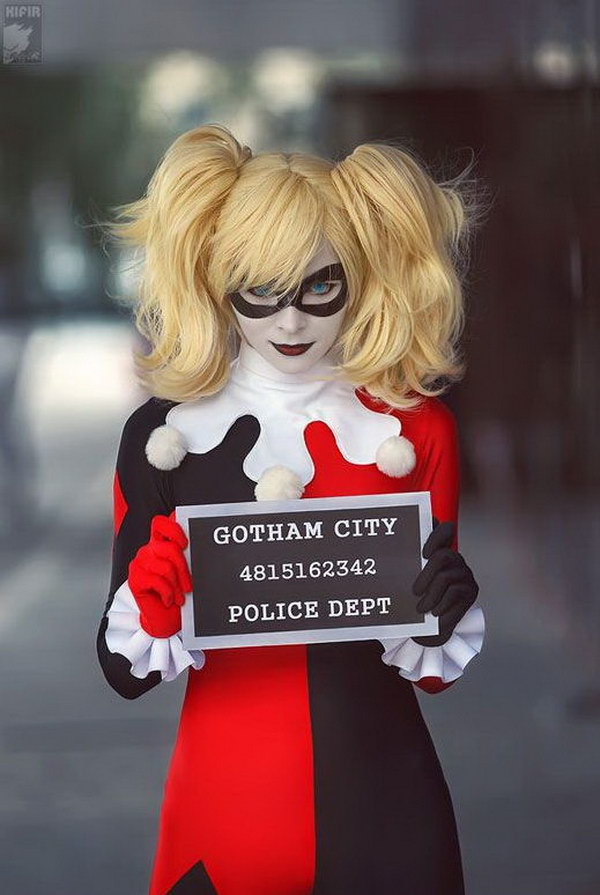 Wear the joker dress and carry a DIY board with details like this. Don't forget to wear the DIY black eye mask.
Suicide Squad Harley Quinn Shorts NO SEW DIY Tutorial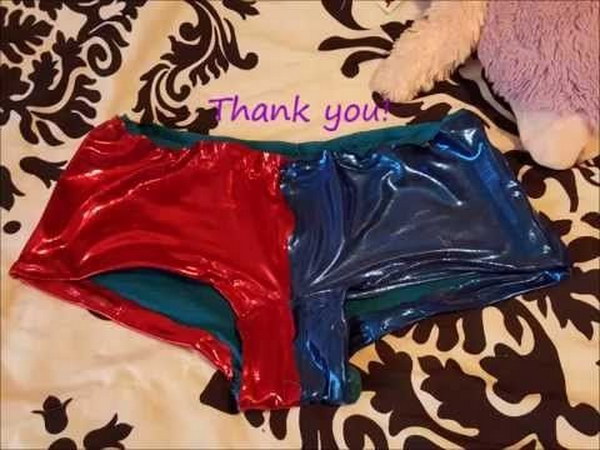 Take a pair of shorts and stick red and blue shiny fabric on both sides of the shorts. The Harley Quinn shorts were made from scratch with no sewing involved! Get the video tutorial via mycrafts.
Harley Quinn and The Joker Costume for Kids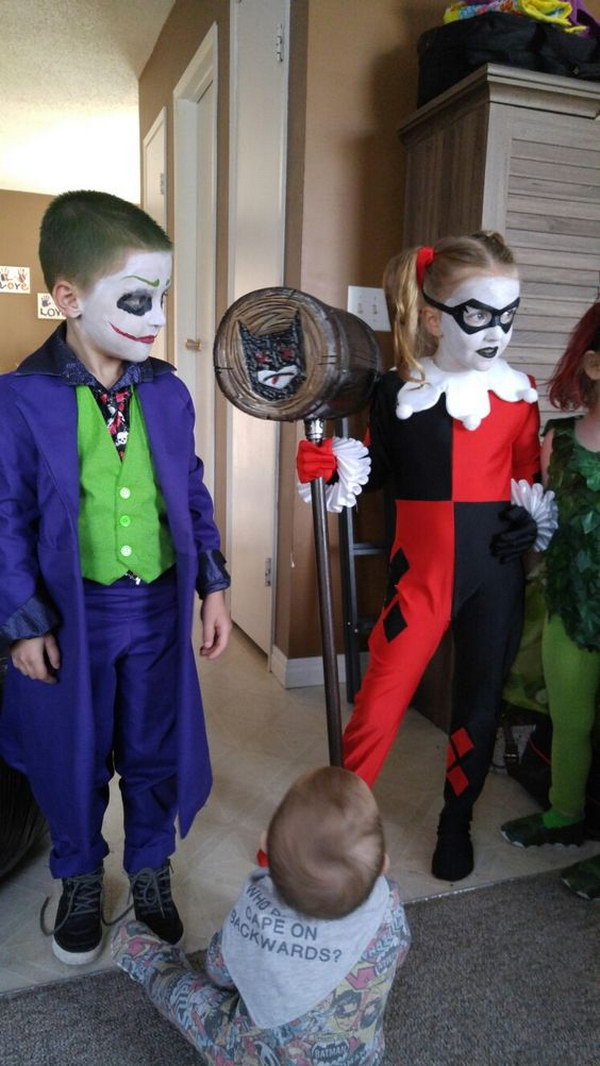 Harley Quinn costumes would be popular for children's Halloween parties. Your girl will look adorable in the Harley Quinn joker dress. Give her an oversized hammer to serve as a prop. They are ready to rock the party. source.