15 Best Sun Hat Refasion Tutorials for Women
One of my personal favorite trends of 2015 so far is the floppy hat, especially for the coming hot summer. It's the time of year when millions pack their beach bags to head towards the sunshine and sand.
For me I should never forget to bring my floppy hat. The wide brim floppy hat can not only protect our delicate skin from hurt in the strong sunshine, but also give us one charming look both feminine and fancy. So it's not just designed for girls extremely sun conscious. It's for all girls extremely fashion conscious. And more and more style icons are topping off a fantastic look with a smashing hat.
There are some plain floppy hats in my closet that I bought in the couple of summers. And I'm going to turn several into something unique. Today I am so glad to share with you the some both creative and easy DIY tutorials I found on internet.
DIY Pink Floral Hat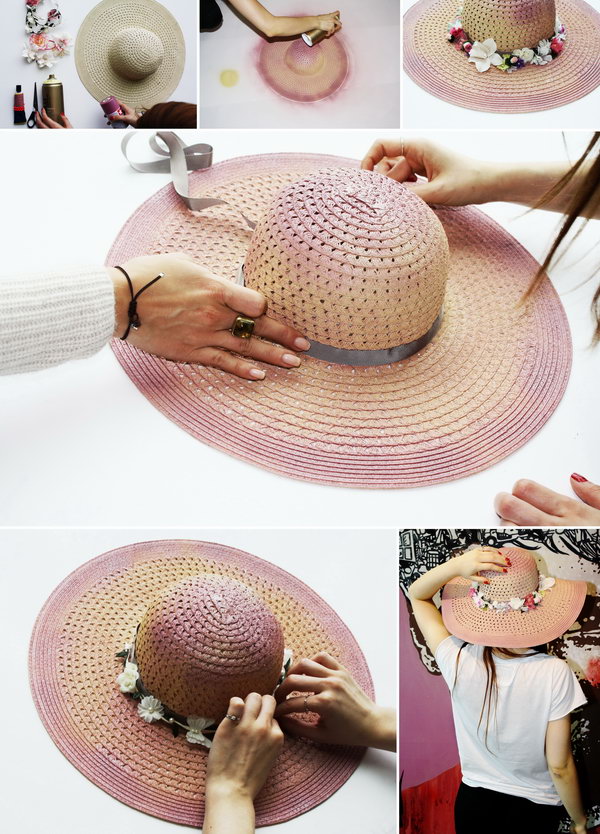 This vintage pink floral hat is very easy to make. Materials you need: Spray paint , a glue gun, silicone sticks, scissors, a variety of corsages in a range of sizes and colours, a floppy hat. First spray the darker colour on the outside edge of the rim and on top of the hats crown. Then fill the rest of the hats surface with a lighter effect, or simply spray all over in one colour according to your liking. Draw a line around the base of the hats crown with your glue gun and add the decorative ribbon. Finish the hat by placing the corsages around the crown. And let your hat dry. See the step by step here
Scalloped Brim Hat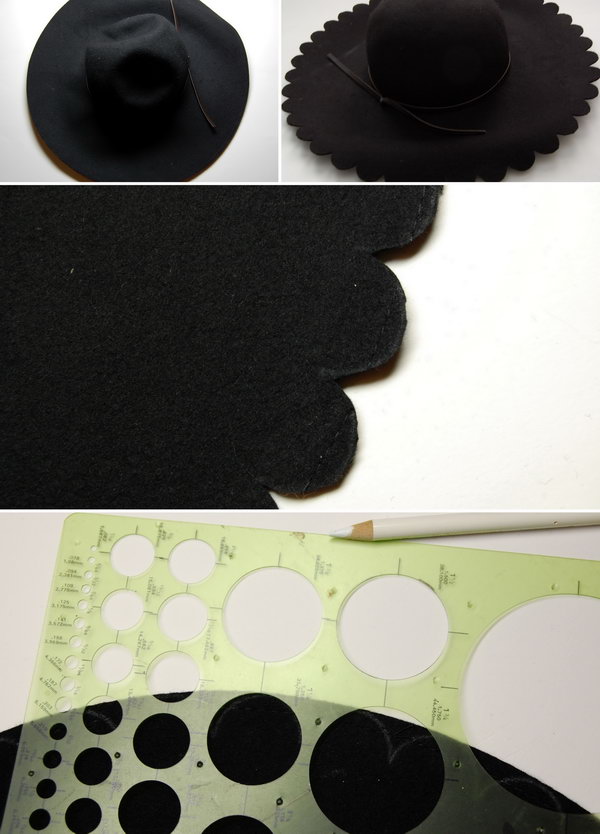 This pretty scalloped brim hat looks very feminine and chic now. You just need a floppy wool hat, a plastic circle template, a fabric pencil and scissors. Start by tracing your template around the edge of the brim of your hat, then use your scissors to cut them out, and you're ready to rock.
source
DIY Donut Floppy Hat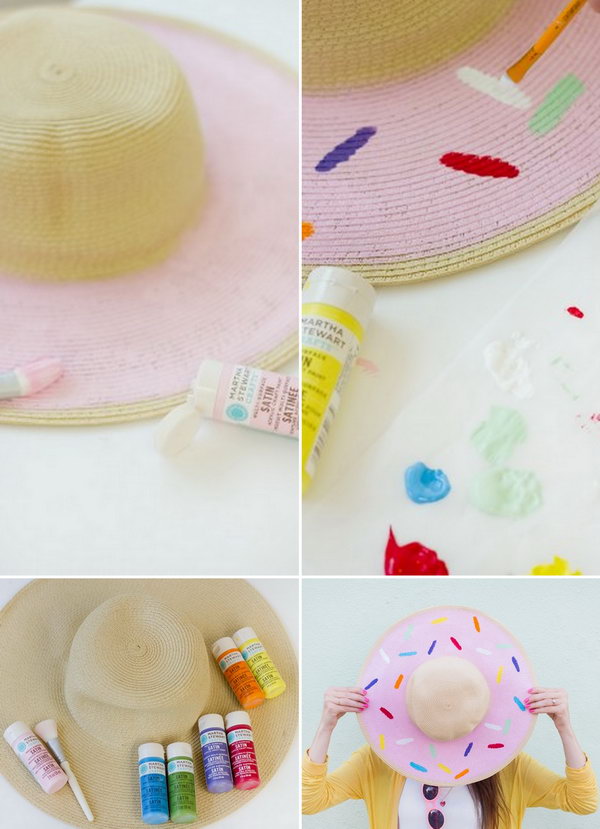 Channel the effortless glamour and have a cute look with this simple donut floppy hat. To make it you need straw floppy hat, fabric-safe craft paint in a frosting Color (the blogger chose Martha's "Poodle Skirt"), a few sprinkle colors and paint brushes. Start by painting the rim of your hat with your frost color. Don't forget to leave a small border edge. Let dry. Paint the sprinkles with different colours all over the hat and then let dry. See the tutorial
here
.
DIY Pom Pom Sun Hat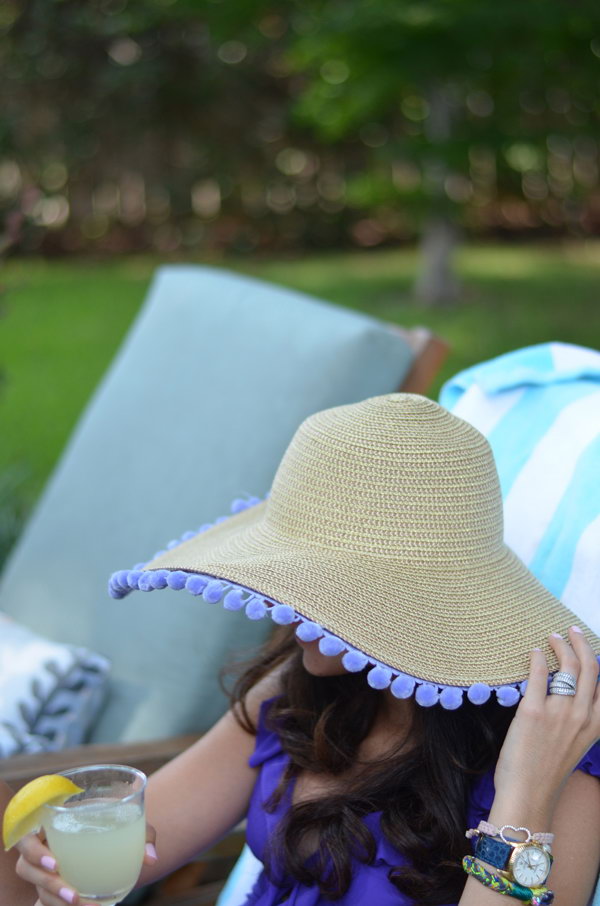 I love the cute pompoms very much and I wrote a post about how to make lovely decorative pillows with pompoms around them. And this time I found a fun pom pom hat tutorial. See the how to
here
.
DIY Polka Dot Floppy Hat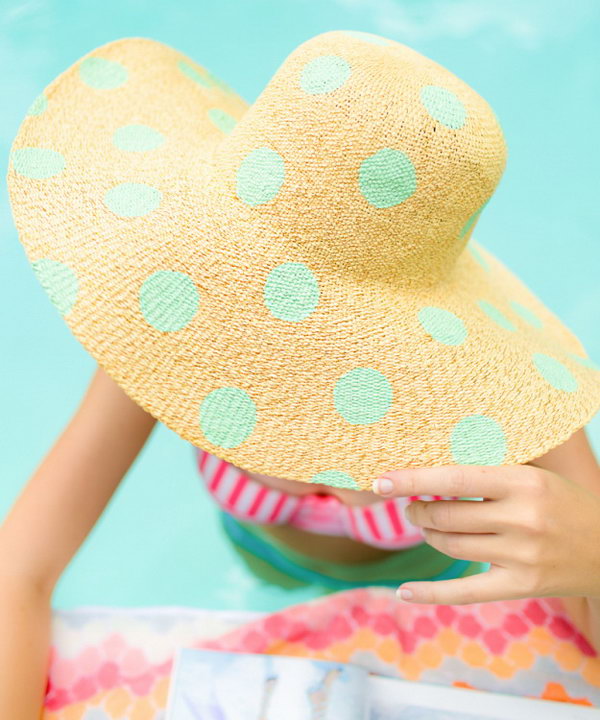 This polka dot floppy hat is really an eye candy and it's perfect for beach. It will go great with a swimsuit when you're laying out this summer. Learn the effortless tutorial
here
.
DIY Sun Hat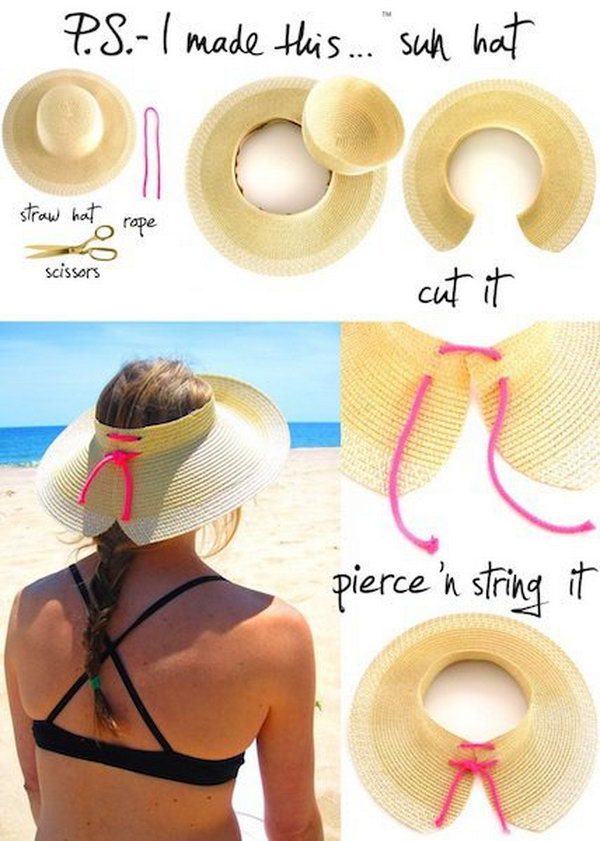 Give your sun protection hat a little rock. This sun hat makes me can't wait to pack my bags for the beach right now.
source
DIY Striped Floppy Hat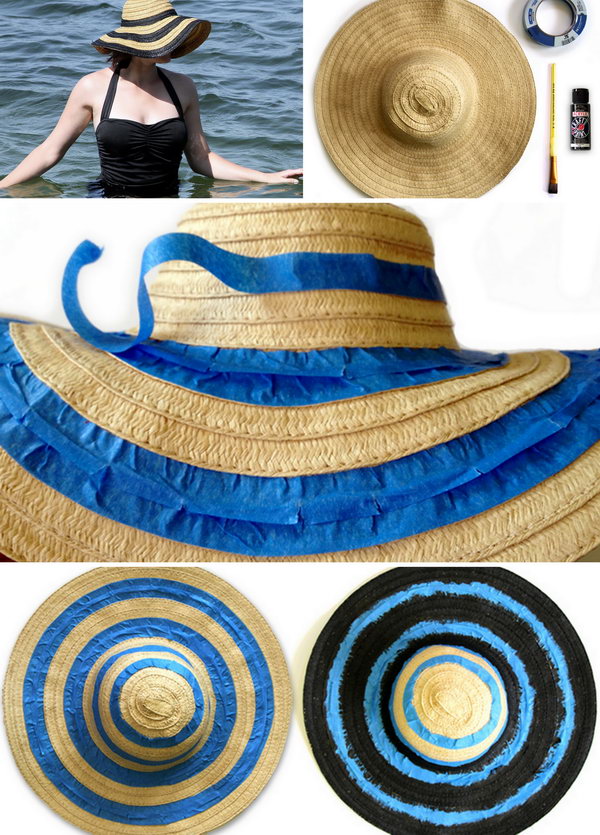 The black stripped hat has been classic and you never can't go wrong with this one. See the tutorial
here
.
Dip Dye an Ombre Sun Hat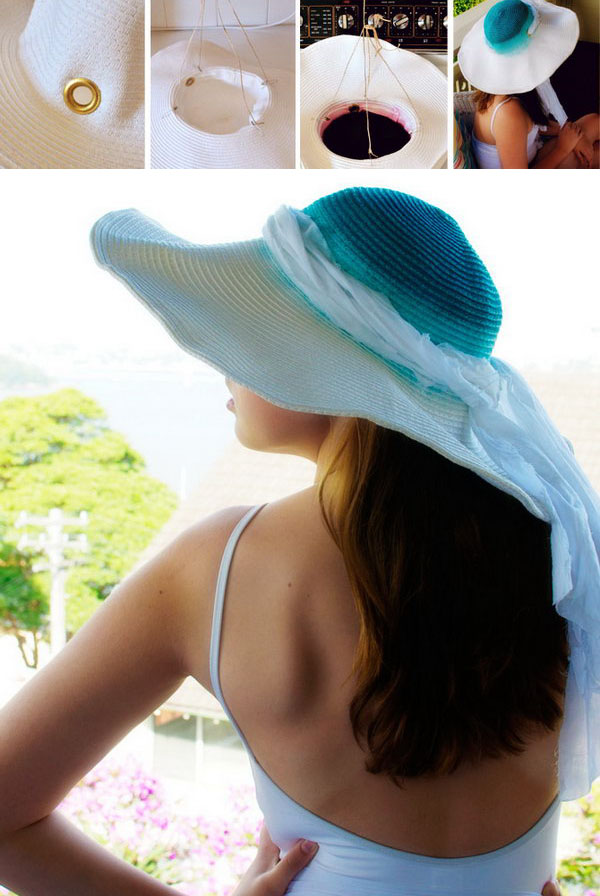 Image you match this fresh colored hat to your top or pants or just make it a great accent color to the rest of your outfit. Wonderful transformation. Learn the tutorial here.
DIY Rolled Fabric Flowers Floppy Hat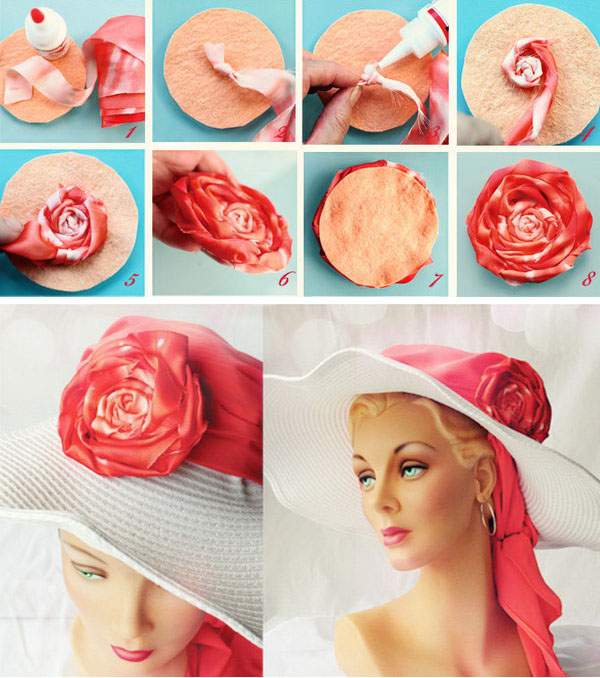 This is a little exaggerated for daily time. But it goes great with a swimsuit for me. See the how to here.
DIY Tassel-Brimmed Floppy Hat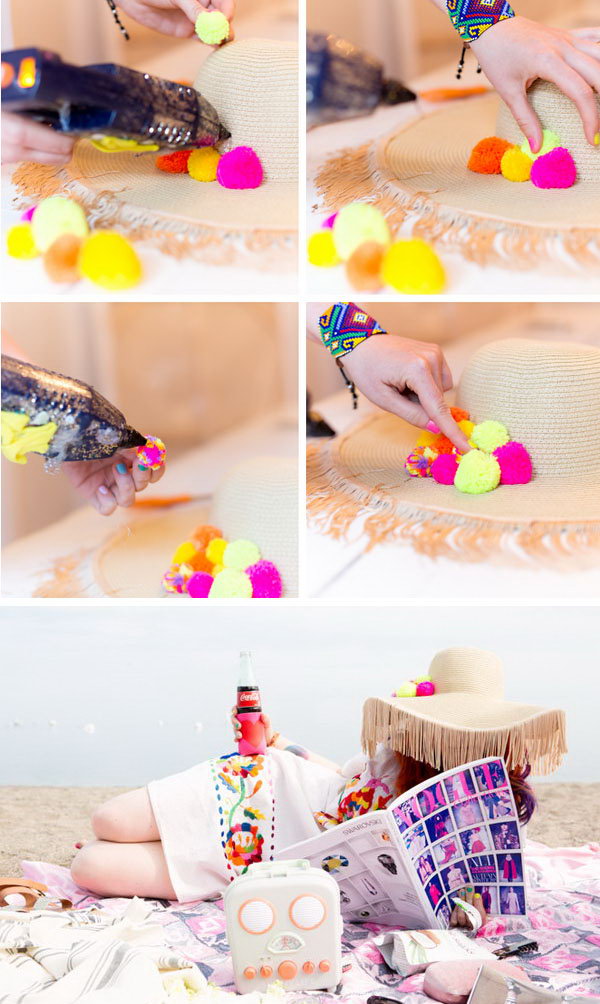 This tassel brimmed floppy hat is by far my favorite one. It can easily dress up any casual outfit. Check out the tutorial of this gorgeous floppy hat here.
DIY Jeweled Belt Floppy Hat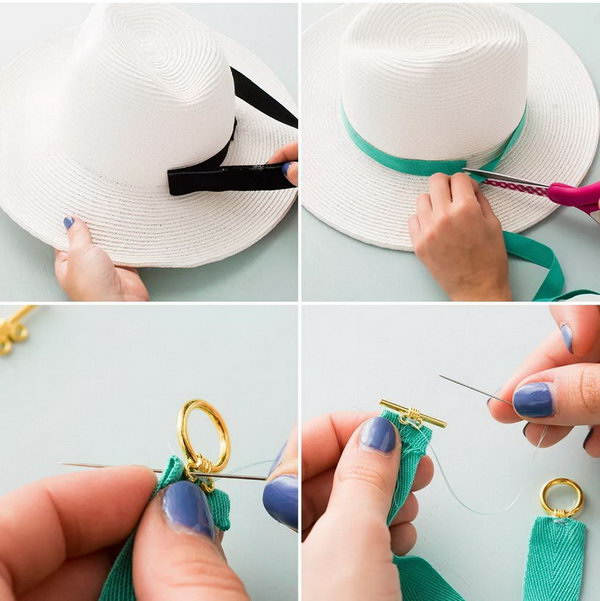 The idea changing the black belt to a teal belt with a gem on it is so lovely. The unimpressive old hat is a unique personalized one that looks fresh and fancy. Check out the easy to do tutorial
here
.
DIY Straw Wide-Brim Floppy Hat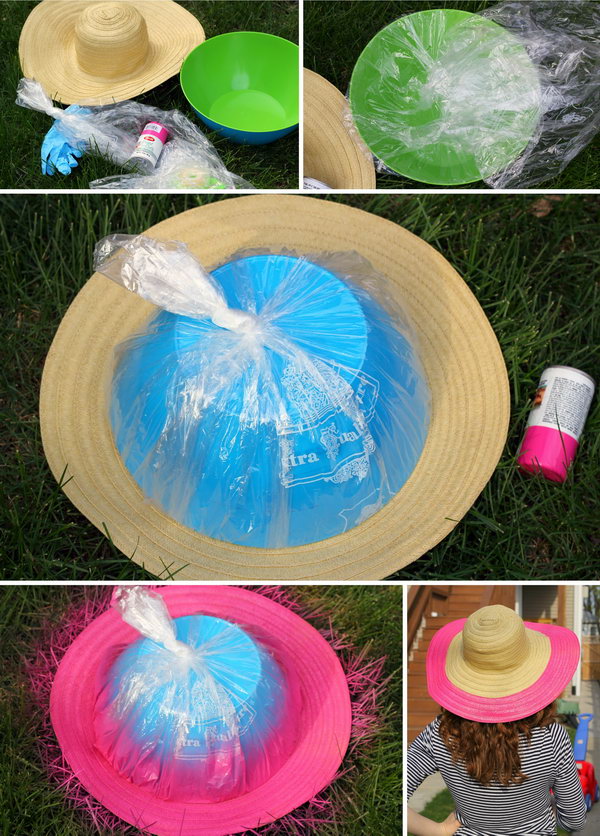 Simply add colorblocked trim along the brim of the old plain straw hat and you can get this lovely wide-brim floppy hat. It's perfect for everything from lounging poolside to beach getaways. Your locks will stay lovely all day under this topper. See the tutorial
here
.
DIY Printed Pineapple Floppy Hat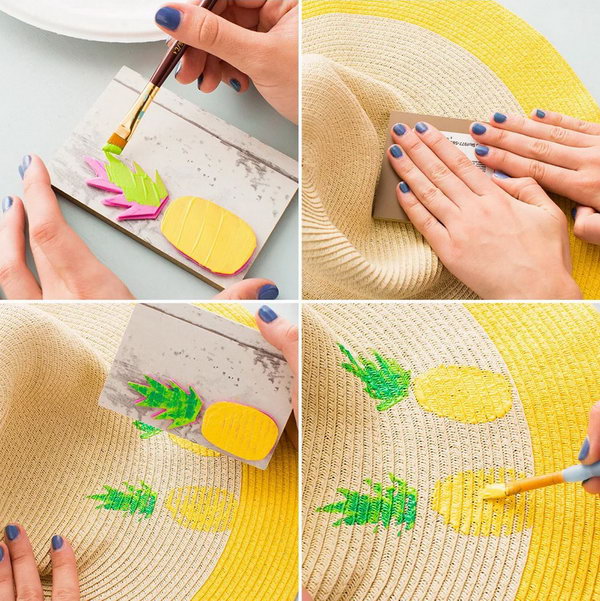 Super cute sun hat with pineapple print all over. Perfect for the beach! Pair it with a cropped tank, simple high waisted denim shorts, and strappy sandals! See the how to
here
.
Golden Spray Hat Refashion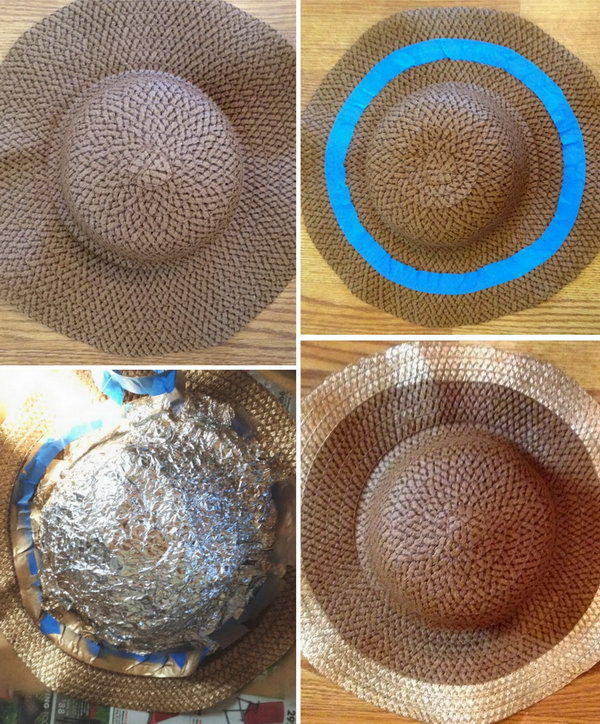 Sunny days call for a big hat to keep the harmful rays at bay! This floppy straw hat, complete with a wide golden brim, will do just the trick. See the tutorial
here
.
Hidden Floral Surprise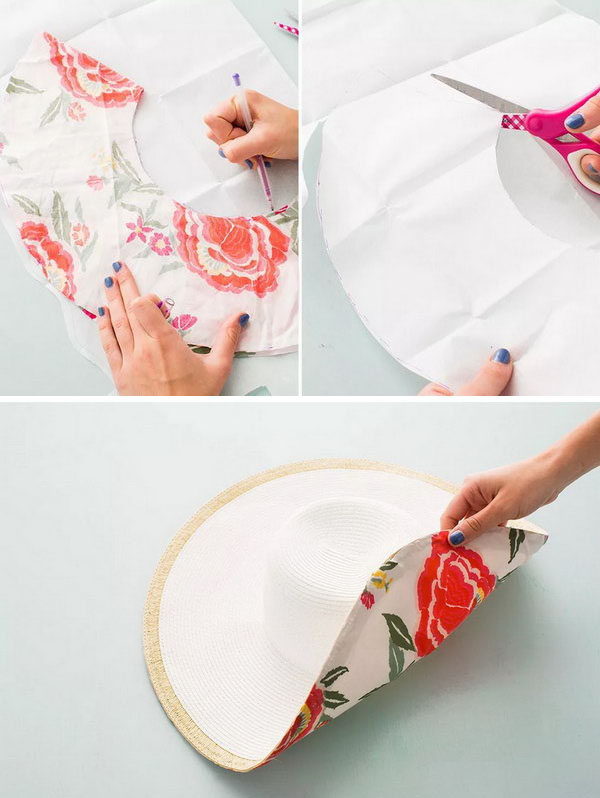 What a beautiful change! Imagine pairing this with your favorite pair of sunnies and you'll be all set for a day of poolside lounging. See the tutorial
here
.