30+ DIY Christmas Decoration Ideas
Aside from spending time with family and friends, Christmas is that one holiday a year where you just spend, spend, spend. But it doesn't have to be that way when decorating your home for the festive season.
With a little bit of time, a few extra dollars, and these 31 great DIY Christmas decoration ideas, your home will be packed with the Christmas fever in no time.
We've got everything covered, from a fresh and fun way to make an out-of-the-box Christmas tree, to cute little snowmen made from sweaters, to as simple as making a colorful wreath for as little as a few pennies. Here are some DIY Christmas decoration ideas to turn your home into a winter wonderland:
DIY Grinch Christmas Tree

It's always fun to add a little humor to your Christmas decoration. This awesome mini Christmas tree is just like any other tree but with a little surprise through a little crystal ball with the Grinch's face. Of course, you don't have to make it drab and cold like the mean-hearted character. Fill the tree with ornaments and make it a cute little tree to place on any mantel or coffee table. via pandoras-craftbox
Easy DIY Christmas Candles

This is such a sophisticated and classy Christmas decor, but it's actually made of paper towel tubes. Yep, that's right – the melted wax are actually made of hot glue, and the candles aren't actually real. Well, you can use real candles if you like but they can be a fire hazard so fake ones with bulbs are a much better idea. via creativemeinspiredyou
Joy Wine Bottles For Christmas

If you have old wine bottles lying around, specifically 3 bottles that look the same, you can wrap them in twine and spell out the word "Joy" to create a very simple and rustic decor that you can place anywhere in your home: on the floor, on your doorsteps, or on a table top. via bornineightytwo
DIY Merry Sign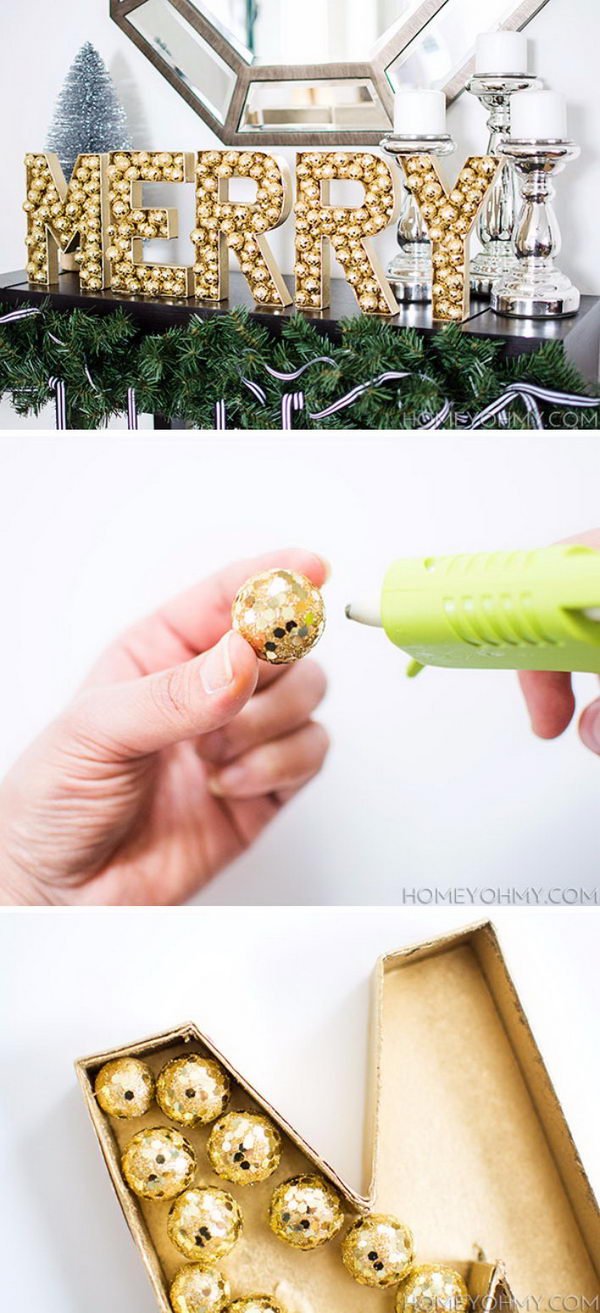 These are made of cardboard letters that you can buy at any craft or supply store. You simply cut out one of the sides of the letters so you can fill it out with gold crystal balls. The result? It is reminiscent of marquee signs that glow and shine, but without the bulbs and electricity. via homeyohmy
DIY Christmas Snow Globe Using Dollar Store White Glittery Tree Ornament

A snow globe is one of the most magical Christmas decors around. Imagine an entire Christmas scene trapped in a small clear jar – just absolutely charming. With a few ornaments from the Dollar Store, a candle stick, a glass jar, and some glue, you can make this beautiful snow globe that both kids and adults can goggle at when visiting your home. via artsyjess
DIY Marquee Sign For The Holidays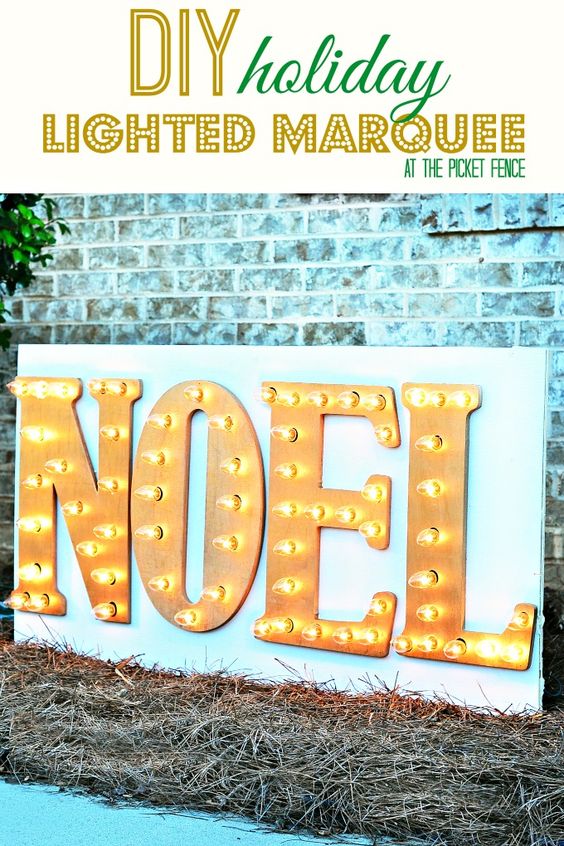 This DIY project takes some work but it's totally worth it if you're up to the challenge. It involves drilling some holes, setting up a number of bulbs, and putting stakes on the ground to make it stand up, but this lone sign will light up your entire yard. Spell out any word about Christmas like "Joy" or "Noel," and you've got a pretty darn good marquee sign that will surely brighten up any quiet Christmas evening. via atthepicketfence
Christmas Tree Advent Calendar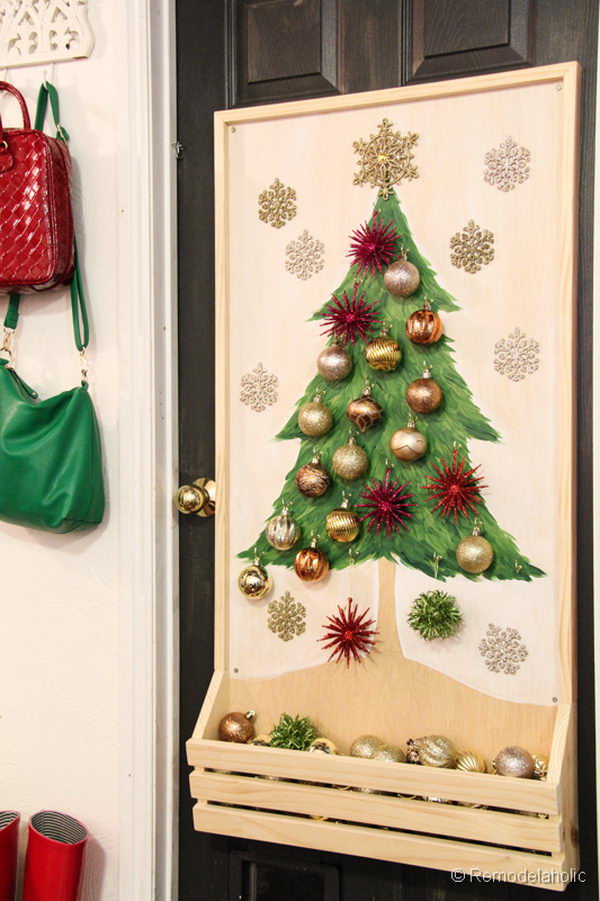 An advent calendar is a Christmas decoration staple that you can get creative with. Take a look at this DIY project by a mom with two beautiful kids. Using crystal ball ornaments, you and your kids can enjoy decorating and redecorating the calendar until Christmas day. via remodelaholic
DIY Christmas Mantels Decoration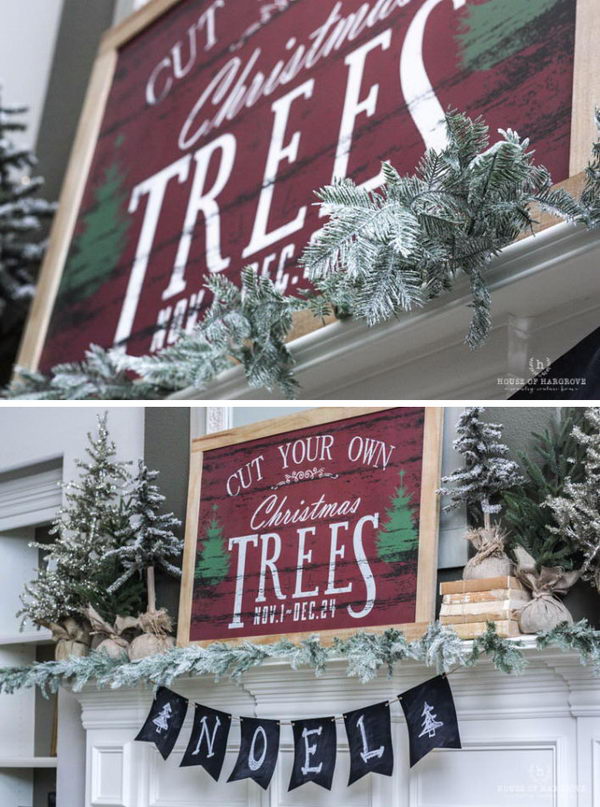 A mantel with a farmhouse theme, you can buy any sign from a craft store and use it as the main piece of your mantel decoration. With faux tree options, some Christmas socks, and other charming ornaments, your farmhouse-themed mantel will surely create a beautiful centerpiece to your living area. via houseofhargrove
DIY Flannel Christmas Bulbs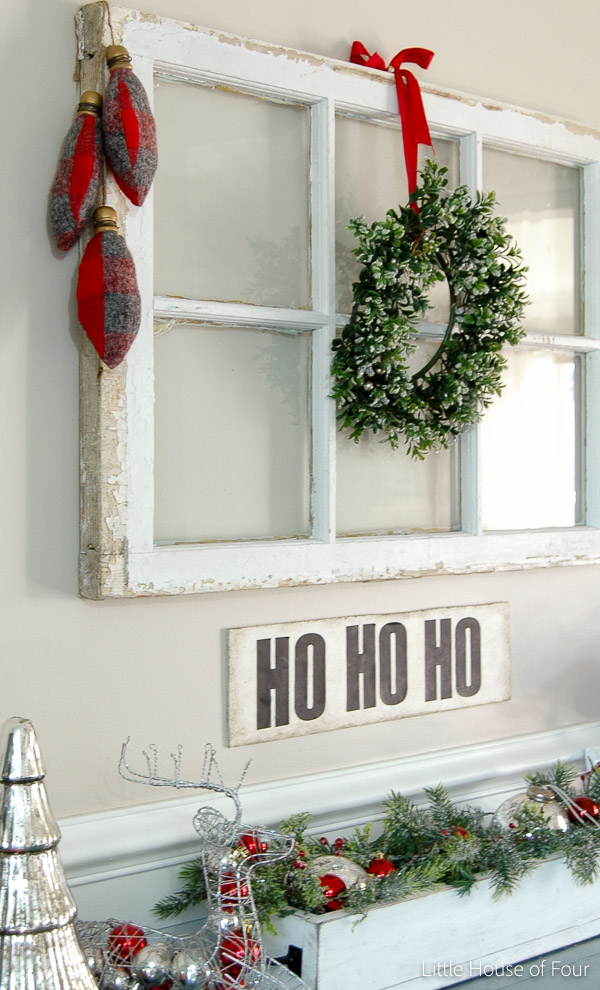 Don't throw away your old flannel shirts just yet. If you have flannel shirts in the color of red or green, they can make for the perfect flannel Christmas bulbs just like these. You simply make a template and cut out as many pieces as you like, sew two pieces together, fill them out, and hang them over doors or even your tree. via littlehouseoffour
DIY Sweater Snowmen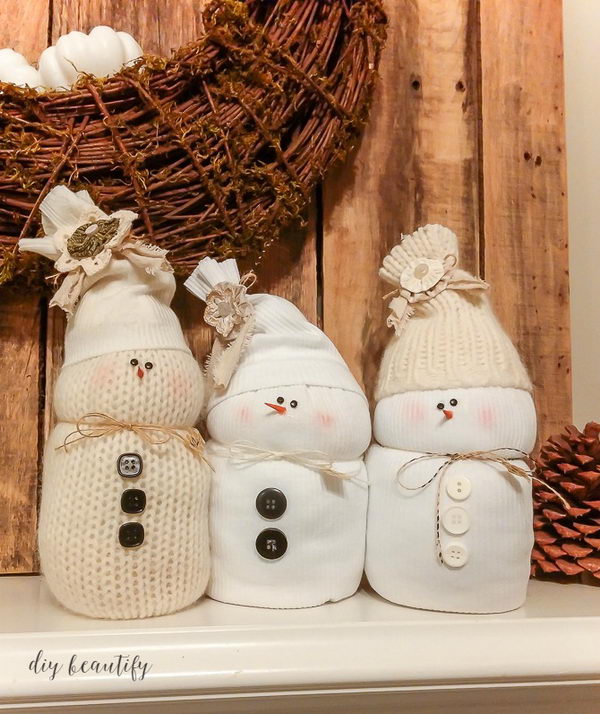 Another project that you can make with old clothes are these super adorable sweater snowmen. They're made from sweater sleeves filled with rice and their hats are made from socks. So if you've got mismatched socks that you want to throw out, now is the time to use them for these super cute sweater snowmen. via diybeautify
Reclaimed Wood Christmas Sign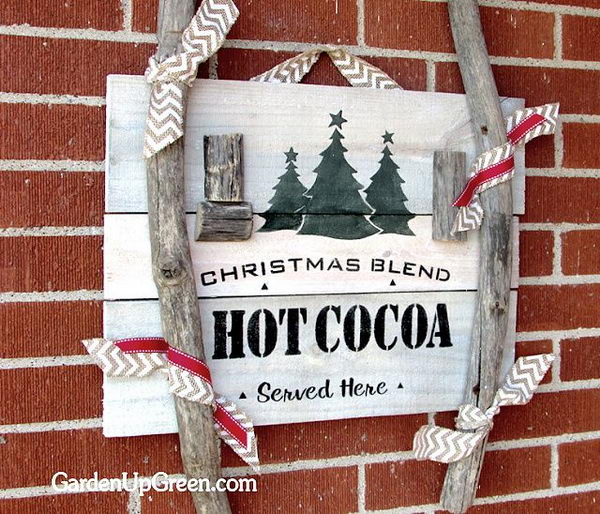 A rustic project that makes for a beautiful and charming Christmas sign, use reclaimed wood for a refreshing take on welcoming guests to your home. Add a message by stenciling the sign and make a quirky welcome message that will surely make anyone feel right at home. via gardenupgreen
DIY Glitter Reindeer Ornaments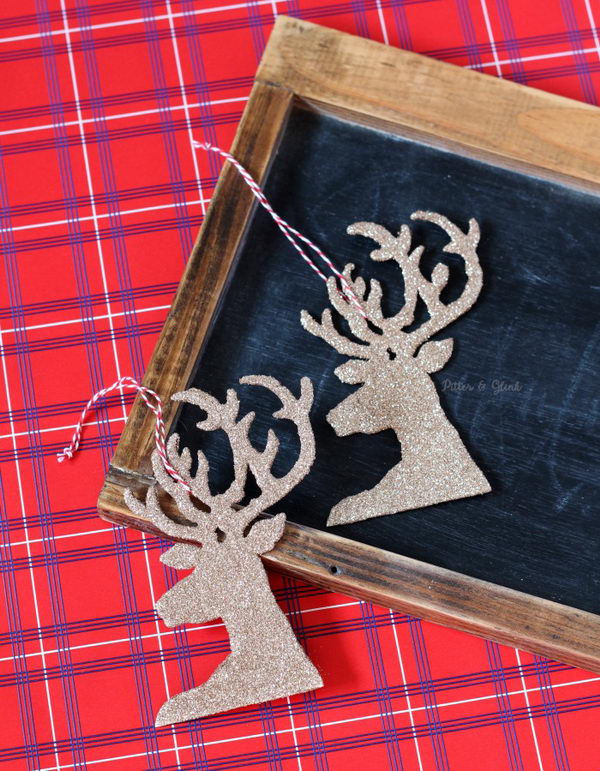 This is one of the simplest projects that you can do. If you're looking for a last minute Christmas decor craft, then this is the one for you. Sizzix Big Shot Plus was used in creating the reindeer ornaments from mat board but you can also make your very own from scratch by stenciling a design on a mat board and cutting it with a pair of scissors. Cover the ornament with glitter and tie some twine to hang it on a Christmas tree or just about anywhere. via pitterandglink
Simple Rustic Woodland Winter Mantel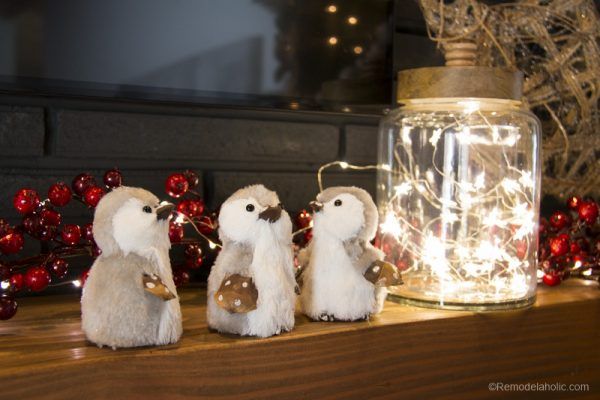 To create a rustic woodland mantel, you can buy your supplies from any craft store, such as an organic penguin ornament, or glitter berry garland, and of course, don't forget the LED light strings. Decorate your mantel as you please as long as you stick to your theme or overall concept. via remodelaholic
DIY Chicken Wire Christmas Light Balls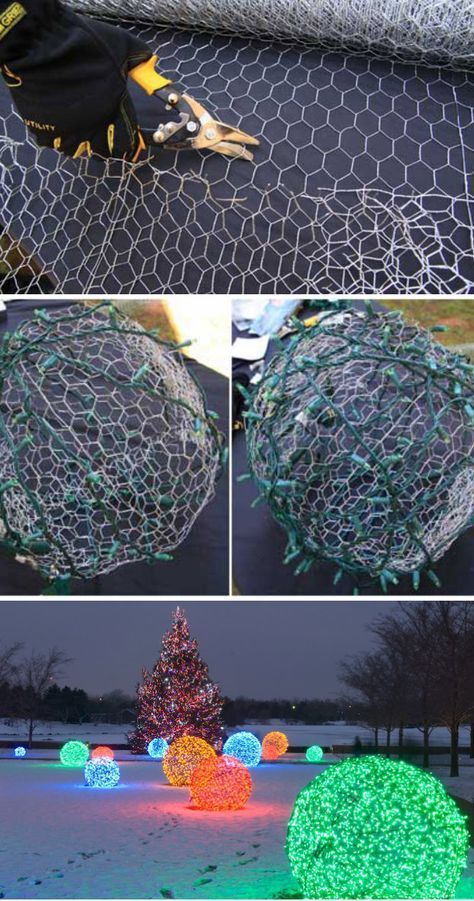 These Christmas light bulbs will look absolutely stunning on your yard. Make different sized-balls using chicken wire and cover them in light strings in different colors and spread them all over your yard for that instant festive fever. via christmaslightsetc
DIY Dollar Store Ornament Wreath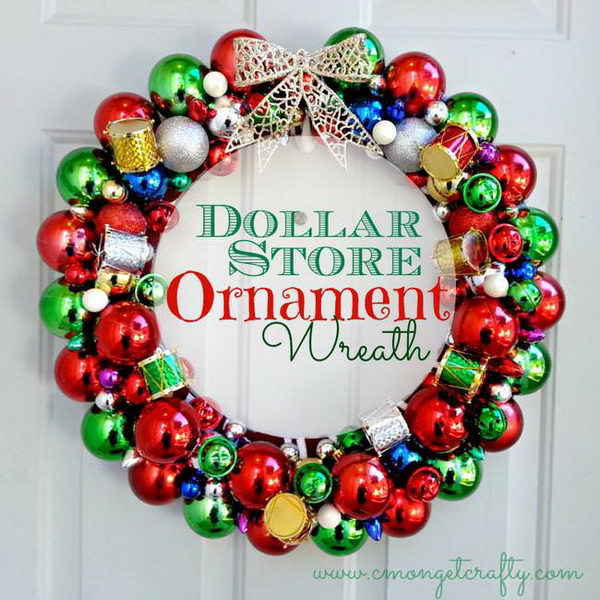 Super simple, inexpensive, and quick to make – buy a wreath frame from the Dollar Store, colorful ornaments, and using a glue gun, stick all the ornaments around the wreath for a pretty display for the holidays. via tipjunkie
DIY Christmas Joy Sign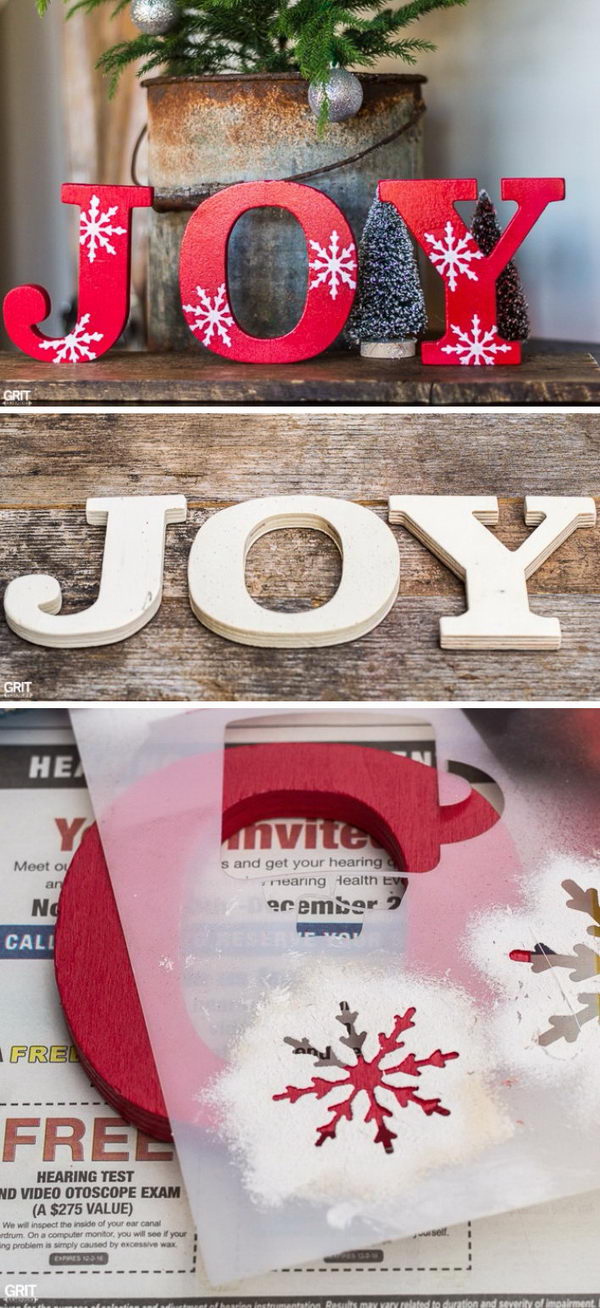 You can buy these wooden letters at any craft store and paint them in holiday colors such as red or green, or even gold or silver. Using stencil, paint the letters with snowflakes to make them look even more festive. via gritantiques
Farmhouse Christmas Mental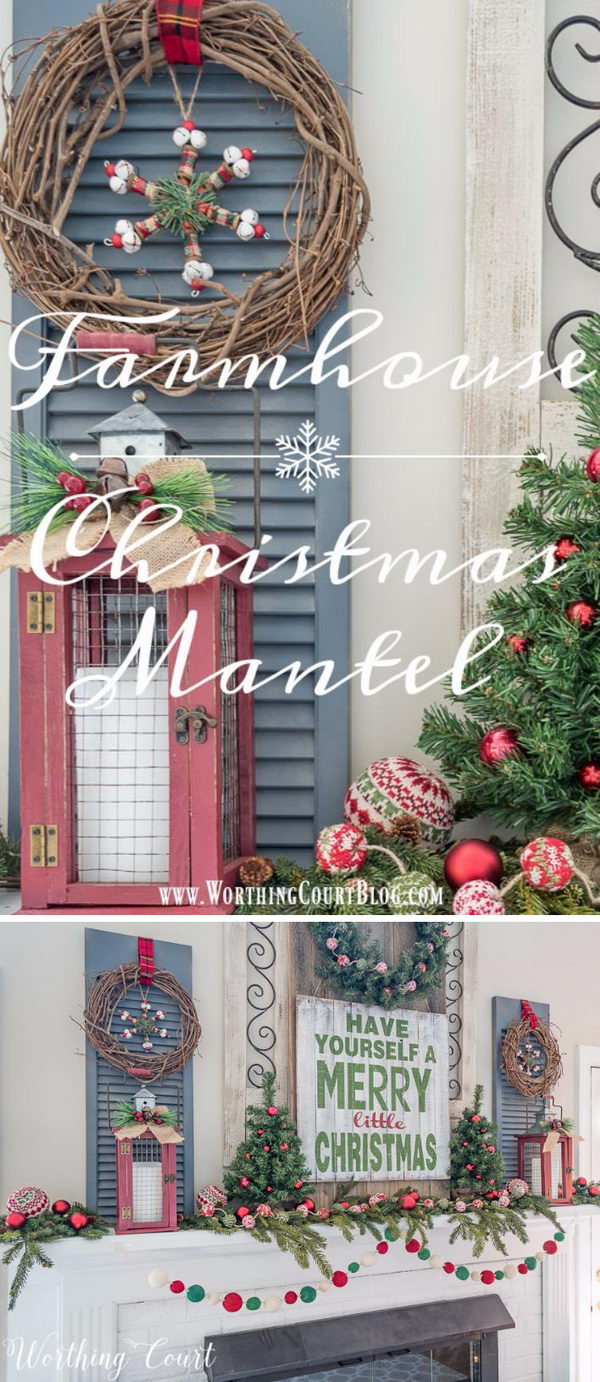 If you really want to go all-out with your mantel with a farmhouse theme, then this is the project for you. Get a large store-bought wooden sign, some wooden shutters, wooden lamps, twig wreaths, and any decor that looks natural and organic. Stray away from metallic ornaments and you're good to go. via worthingcourtblog
Christmas Decoration With Sequin Ornaments Placed In An Apothecary Jar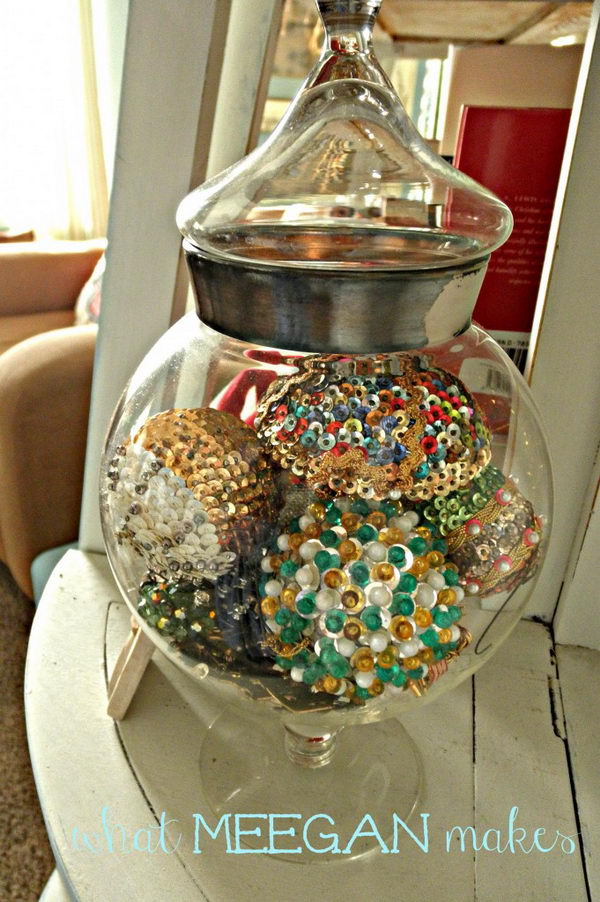 Want to make a Christmas decor that's as simple as fast as saying 1-2-3? Then if you've got an apothecary jar or any glass jar for that matter, fill it up with colorful and metallic ornaments for that lightning speed decor that you can place on a mantel or table top. via debbie-debbiedoos
DIY Snowman Christmas Tree Decoration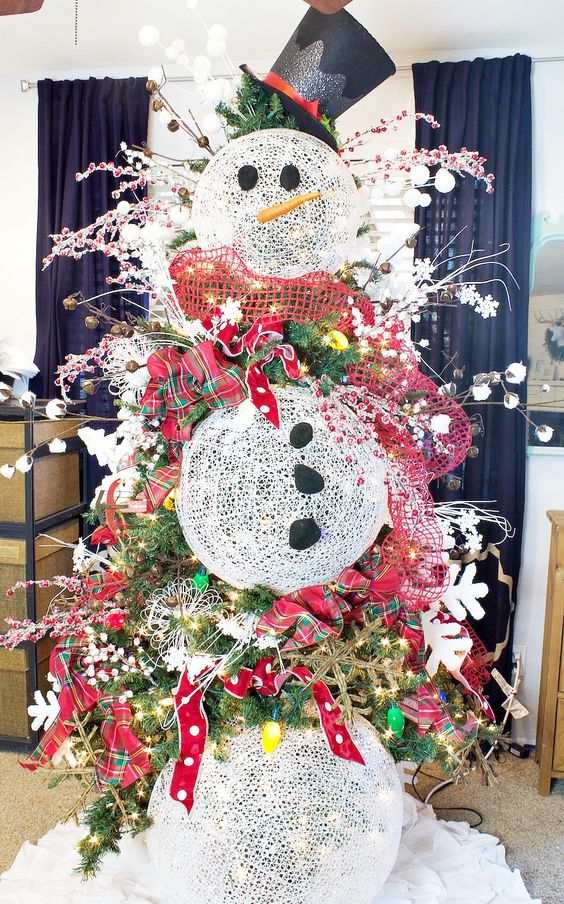 Tired of a good old Christmas pine tree? Then step out of the box with super cool Snowman tree idea. It's 7 feet tall and packed with the Christmas spirit so you won't have to cut an actual tree and drag it to your house. It's a pretty ingenious idea that will surely have everyone in your family talking. via classyclutter
DIY Snowman Hat Using Christmas items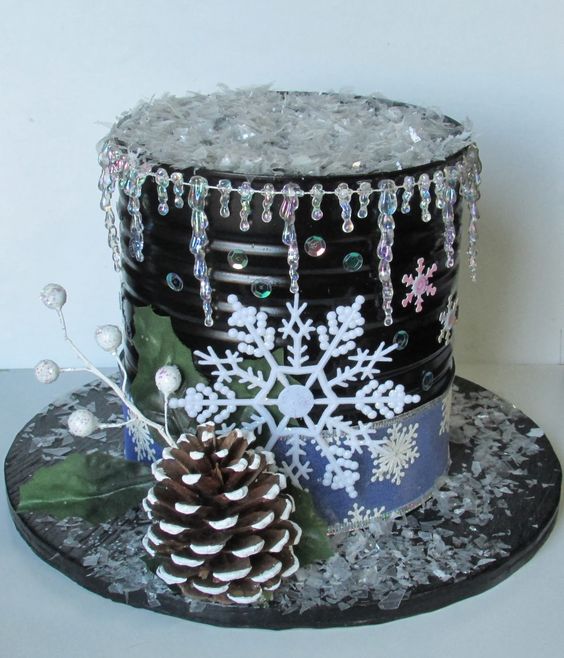 This hat is actually made of a can and some plywood. But you can also use an actual hat and decorate it with a number of Christmas ornaments, such as pine cones and snowflakes. via 4evercarolscreations
DIY Snowman Tea Light Ornaments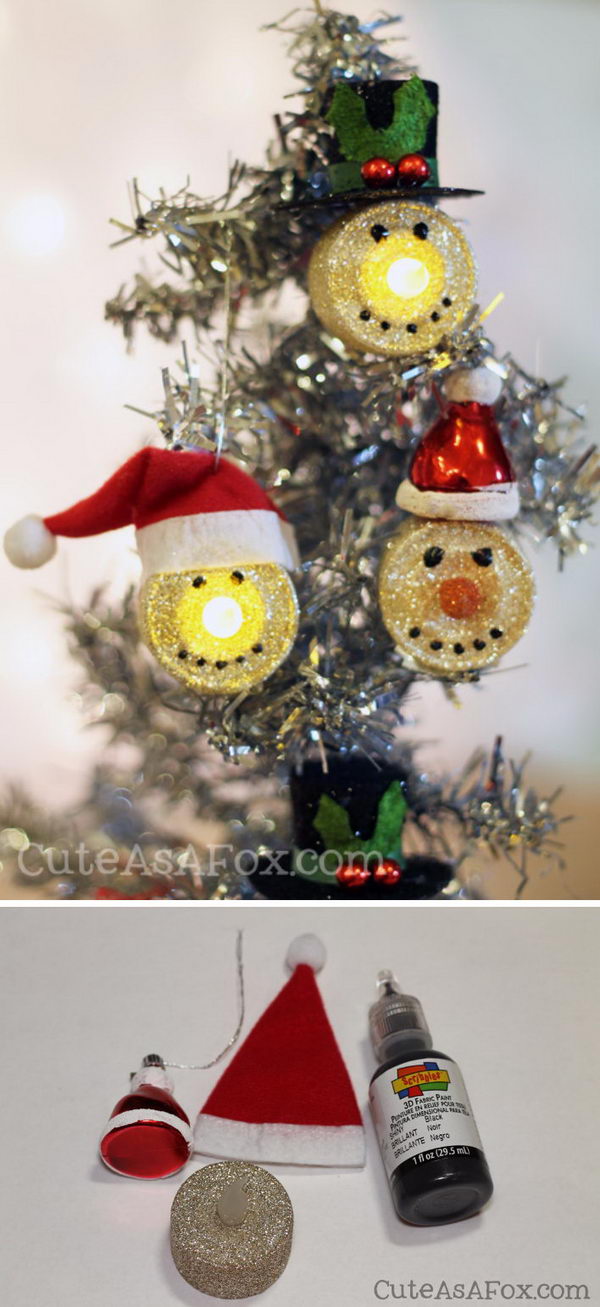 Another quick and easy craft, simply glue a mini Santa hat on these tea lights and decorate them with a pair of eyes and a mouth to create your tea light hanging ornaments. via skiptomylou
DIY Dollar Tree Mason Jar Christmas Snow Globe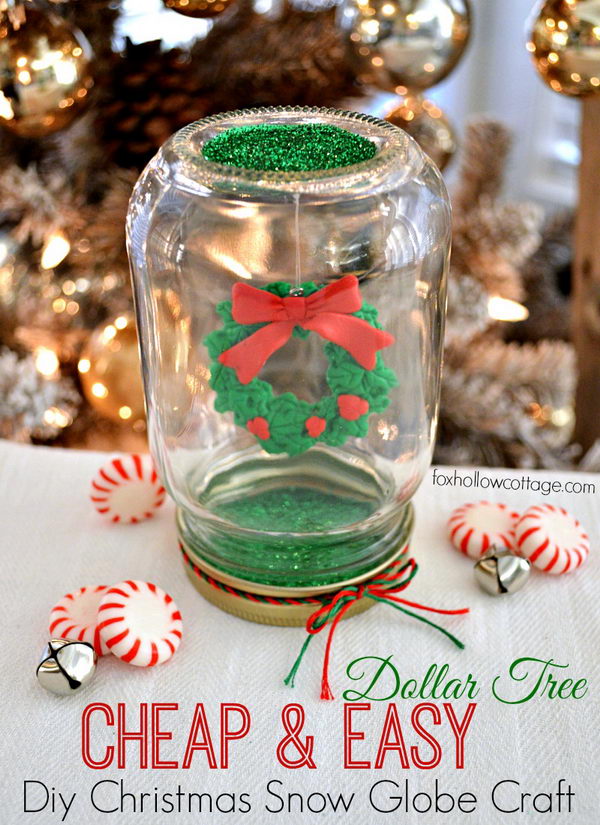 This one-minute snow globe project requires a hot glue gun, a mason jar, and a mini Christmas ornament. Make as many as you want to decorate your mantel or any space, but take it up a notch by hanging an ornament in the jar, just like this awesome mini wreath that moves as you move the jar. via foxhollowcottage
Dollar Store Silver Spoon Christmas Trees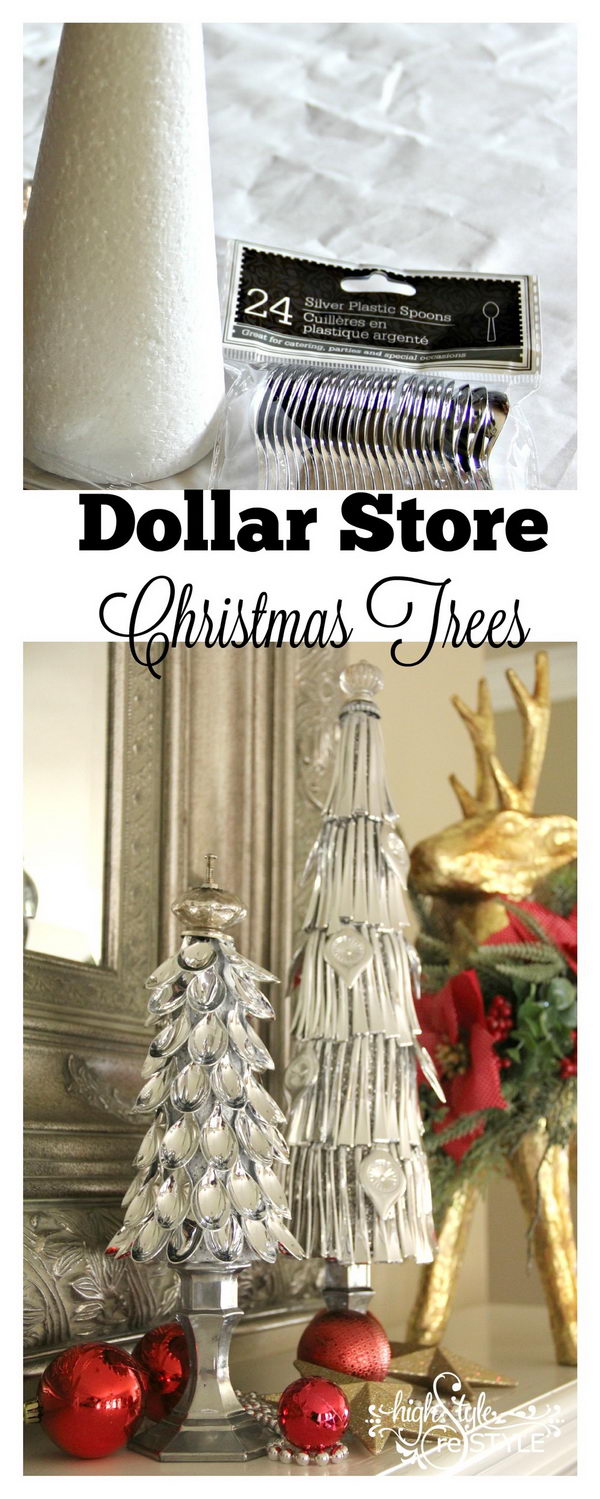 Christmas decor made of metal like gold or silver are super expensive but you can get the same look and feel without breaking the bank with this awesome DIY craft. Using plastic silver spoons, glue, and styrofoam, you can create this sophisticated and elegant-looking Christmas trees to add that touch of class to any room. via highstylerestyle
DIY Tree Of Lights Using A Basketball Pole

A beautiful display of lights can be achieved by using a basketball pole. It's an easy outdoor Christmas decor that's also fun to make but absolutely beautiful to light up at night. You're going to use a lot of Christmas lights on this project and you'll have to stake them to the ground but that's about it – it's simple, easy, and obviously beautiful when you're done. via christmaslightsetc
DIY Spindle Candle Holders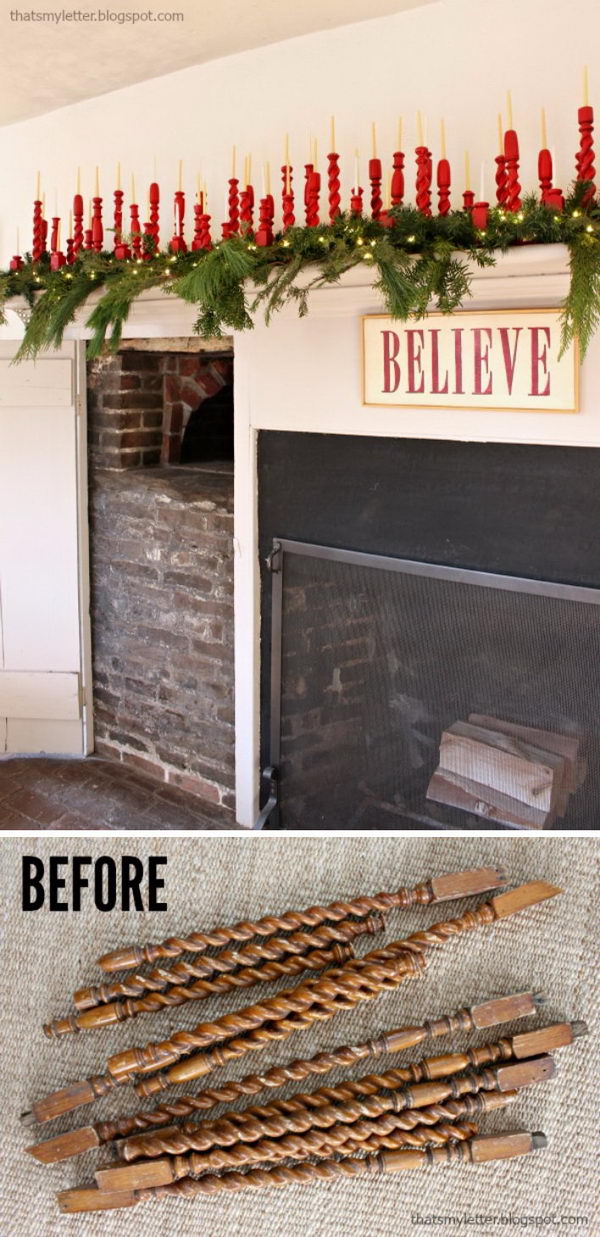 If you have some old spindles, you can turn them into these pretty candle holders that sure make for a beautiful mantel. It does take some woodwork and paint but it's an inexpensive way to decorate your home and gives old spindles a festive new life. via thatsmyletter
DIY Berry And Birch Table Setting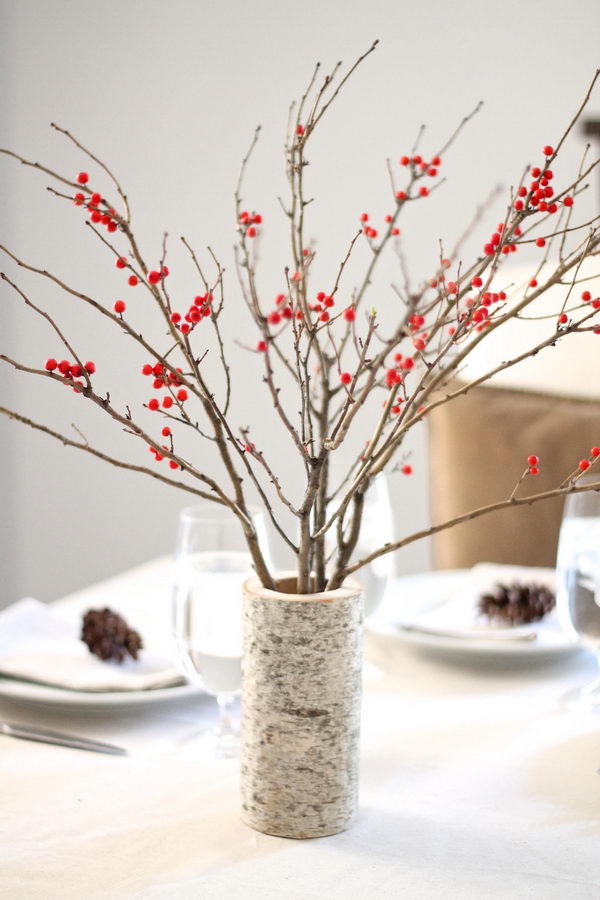 Using a birch vase and berry twigs as the centerpiece, this minimalist table setting spells out winter wonderland without the glitz and glitters. Rustic, charming, and organic, this beautiful table setting is a simple yet delightful way to decorate your dinner table on Christmas eve. via julieblanner
DIY Mini House Wreath With Free Paper House Cut Files

A surprising take on holiday wreaths, this pretty white wreath with paper houses is a refreshing take that does away with traditional colorful displays that are old and dated. This craft features a simple way to create this innovative Christmas decor and it comes with the paper house templates so you won't have to make them yourself. via deliacreates
DIY Sugar String Snowman

This project is great for kids to join in on. Why? Because it involves blowing up and popping balloons, and making a snowman out in the yard. Just add a hat, a scarf, some buttons, and let your snowman decorate your outdoor space and have our neighbors taking a second look each time they pass by. via kidsactivitiesblog
DIY Minimal Chalkboard Tree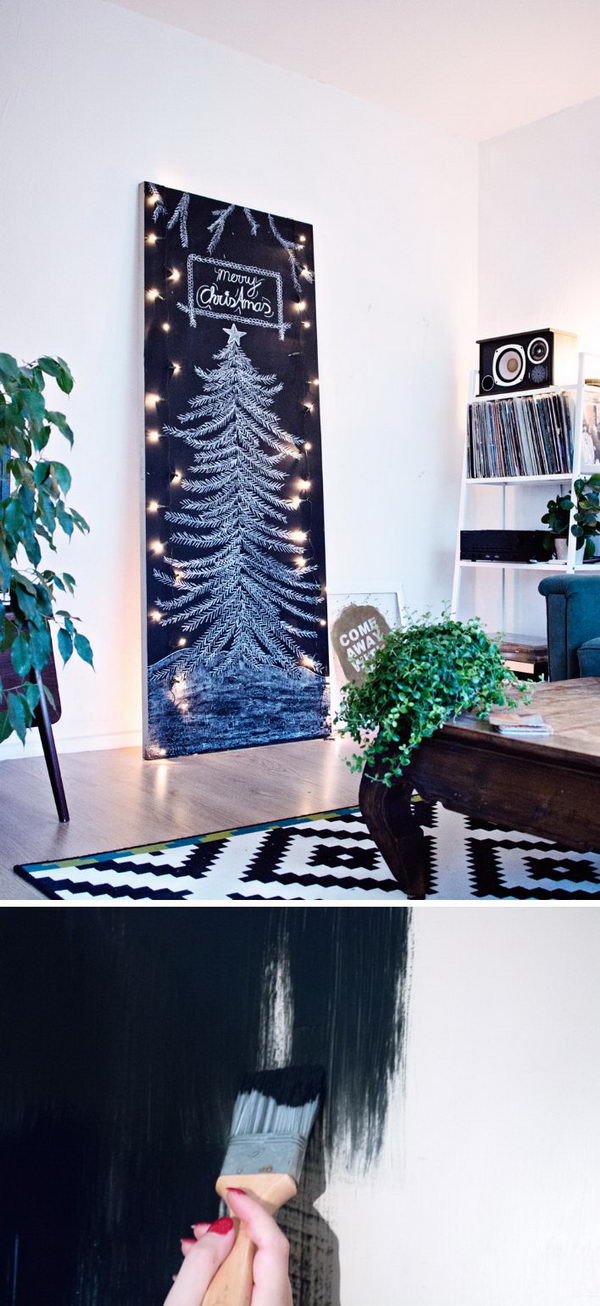 If you've got a cramped space and no place for an actual tree or any big Christmas decor, then this minimal chalkboard tree idea is just perfect. Use any flat surface like a piece of plywood or an old door and paint it with chalkboard paint. Draw your tree or make an advent calendar and you've got your Christmas tree without actually having one. via lanaredstudio
DIY Jingle Bell Tree

Simply fill a cardboard cone with jingle bells, paint them in one color, and add a touch of winter by placing snowflake ornaments around it. Voila – it's a pretty quick and easy Christmas craft that brightens up any dull space in your home. via jenniferrizzo
Rustic Christmas Tree Craft Using Driftwood And Ornaments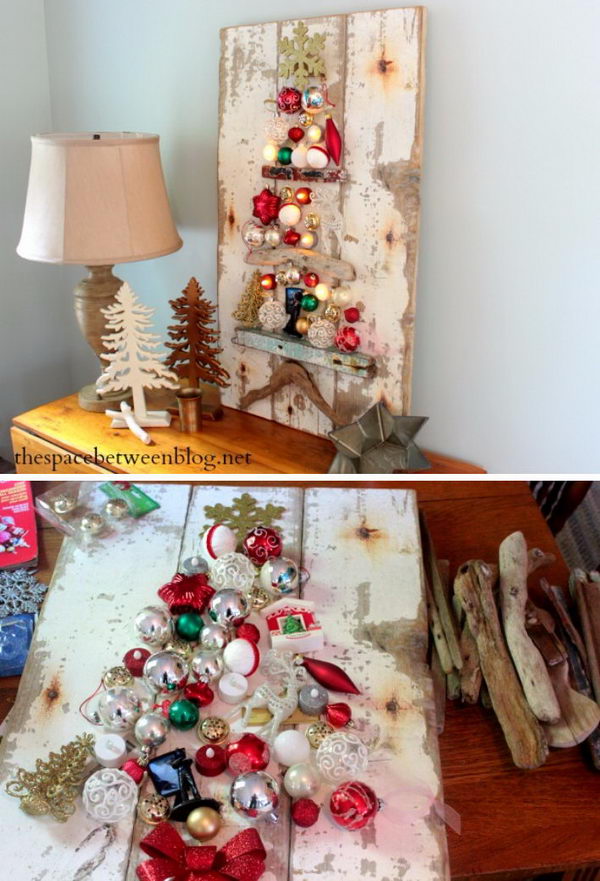 Driftwood is one of the most versatile pieces of materials that you can create any rustic project with – even a Christmas tree. You can paint the wood in one layer of paint or none at all for that organic feel, and create a tree using crystal balls and other ornaments. via thespacebetweenblog