60+ Accent Wall DIY Ideas
Accent walls are an excellent way to spice up any space. They are usually quite unexpected, and they stand out beautifully against the surrounding room.Accent walls can be plainly decorative, but they can also serve specific purposes. They can be used to provide a different background for a special piece or to add color in a neutral toned space.
Accent walls can be done in many ways. They can be painted a contrasting color, have a quote or pattern drawn on and they can also be built using a different material altogether. There are plenty ways to go about creating an accent wall that you may or may not know about, and that is what we're here to show you. We present to you these accent wall DIY ideas.
Reclaimed Barn Wood Herringbone Wall

This rustic accent wall looks absolutely gorgeous, as slim boards of reclaimed barn wood were used to create a herringbone pattern that adds dimension to the room at large. via shanty-2-chic
DIY Wood Accent Wall

The black accent wall is very impressive, as a raised geometric pattern was created using very thin pieces of wood, before it was all painted. The black wall fits right in with the almost-futuristic room decoration and provides a fantastic background for the furniture, particularly the bed. via classyclutter
Mint, Pink and Metallic Gold Plank Accent Wall

It is a very different accent wall, obviously meant to add color to the space. Wooden planks in shades of mint green and different pinks were used here, and an accent was also embedded into the actual accent wall with the use of metallic gold planks among the pastel colors. via traceysfancy
DIY Triangle Design Faux Wallpaper

This black and white accent wall has a very vintage charm to it. No one could fault you for believing this was done with wallpaper, but the look was in fact achieved using several black vinyl triangles. via classyclutter
DIY Stone Accent Wall

The accent wall looks like it came straight from nature, or perhaps another time entirely. It is made of small stone rectangles of different hues stacked together to create this very unique look. via providenthomedesign
Gray Shiplap Style Accent Wall

The dark shiplap style wall looks very elegant in the space it was installed in. The modern gray look wasn't, however, achieved with shiplap but rather real wood planks, which were stacked and painted dark gray to emulate shiplap. via behr
DIY Honeycomb Hexagon Wall Treatment

Here's another 3D accent wall created with very thin wood pieces. Several hollow hexagons were created here to form a honeycomb pattern. Some of the hexagons were painted yellow and orange to make an accent within the accent wall. via vintagerevivals
Chevron Herringbone Accent Wall
This accent wall is much narrower than others we've looked at, and it serves as the background for the couch. The herringbone panel, which has a somewhat tribal look to it, was created using light pallet wood pieces, which were installed diagonally across each other to make the pattern. A small space was left in between the rows, and a circle opening was also created to let the background shine through. via ironandtwine
DIY Faux Brick Wall

The beautiful accent wall looks like it is made from bricks, but the effect was actually created through very clever painting. Taking this option is much easier and less expensive than trying to make a real accent brick wall. via myfrenchtwist
Diamond Accent Wall Using Scotchblue Tape

Here's another very clever painting project. Masking tape was used to create the diamond pattern before painting the wall, so that the white, crisp lines remained untouched as the tape was removed once the wall had dried completely. via thefrugalhomemaker
DIY Birch Wall Panel

This birch wall is absolutely gorgeous. It is made using identical birch disks, which are arranged to fill the whole space and treated to create a uniform look and smooth surface. via marthastewart
Reading Nook with Wood Plank Wall

There's a very pleasing, comforting atmosphere in this reading nook created in a small wall alcove. The wall made of wood planks, from which three lanterns were hung, has that warm, cozy and intimate feel that is great for reading and napping on the couch below. via studiograyhouse
DIY Wood Diamond Wall

This charcoal wall was decorated with a raised diamond pattern which is somewhat different from others, as the hollow wood diamonds are placed sporadically but each column is connected by a single thin wooden piece. via makethemwonderblog
3D Effect Wallpaper Accent Wall

The three-dimensional accent wall tries to copy the style of popular 3D wall panels successfully using craft materials. The different shapes were created by stacking pieces of different thicknesses, and the whole thing was then finished with a coat of white paint so that it all looks seamless. via shelterness
Handwriting Statement Wall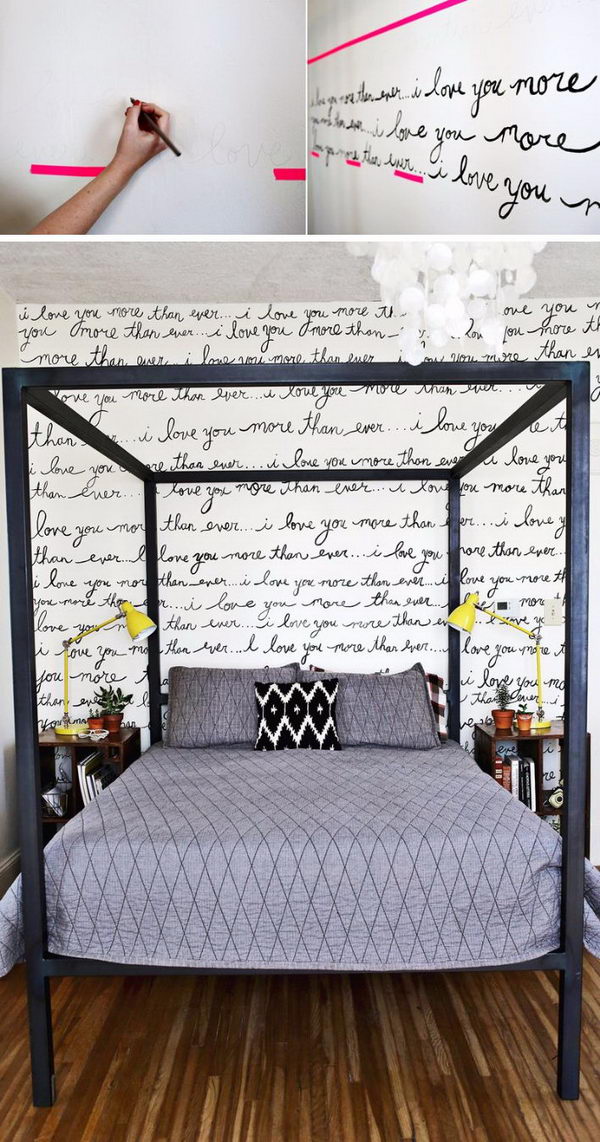 This striking black and white accent wall was actually created with real handwriting. It does take a lot of work, but the customization options are endless, the result is really beautiful and this wall is truly unique. The best part is that while this is meant to last, you can easily paint over any mistakes. via abeautifulmess
Shutter Wall

Here's a fantastic way to reuse old shutters and create a truly unique wall. Stack them in different positions to fill up the space and create an original and colorful pattern. via oliveandlove
DIY Whitewashed Pallet Wall

Pallet walls are really easy, quick and affordable to make, but they don't always match the surrounding decor. You can change their look and make the wall fit for a pastel room by white washing the whole surface. via alexsismae
Peel and Stick Wood Planking Accent Wall

Making a pallet wall is never easier than when you use peel and stick wood, which is self-adhesive. This wall in particular was painted with black and white paint to create a distinctively distressed look. via no29design
DIY Metallic Heart Feature Wall

This metallic gold wall is a feminine shabby chic dream, as cute heart patterns were created before painting so that the original wall could shine through the hearts afterwards. via threelittlemonkeysstudio
DIY Faux Brick Wall World Map

This is definitely a project for those who love geography, as the wall was painted to look like dark bricks and then decorated with the faint impression of a white world map overlay. via classyclutter
Wood Pallet Accent Wall

via shadesofblueinteriors
DIY Pallet Accent Wall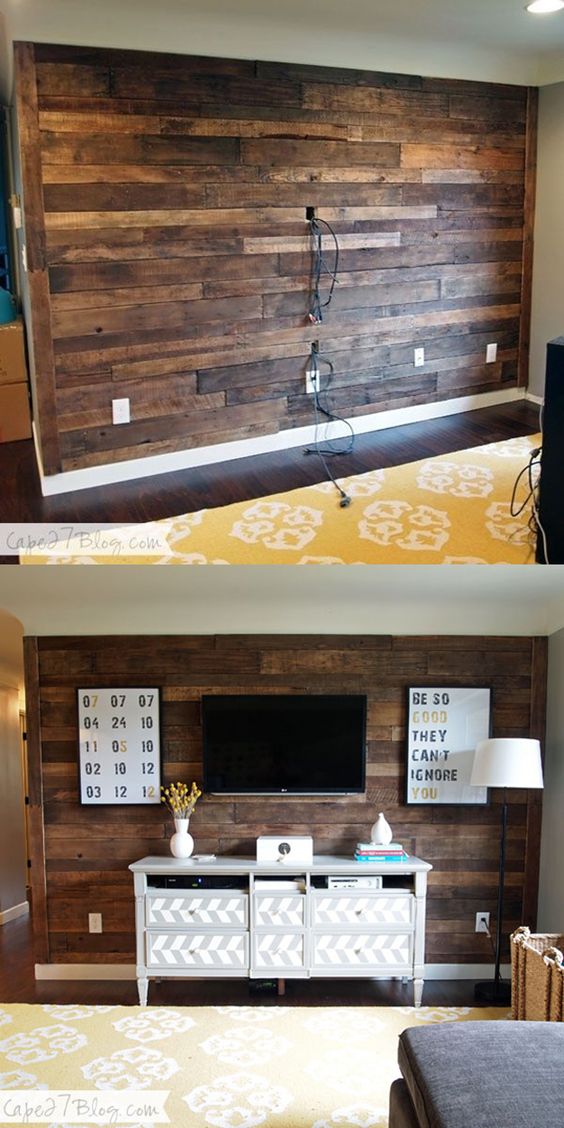 via cape27blog
DIY Brick Veneer Accent Wall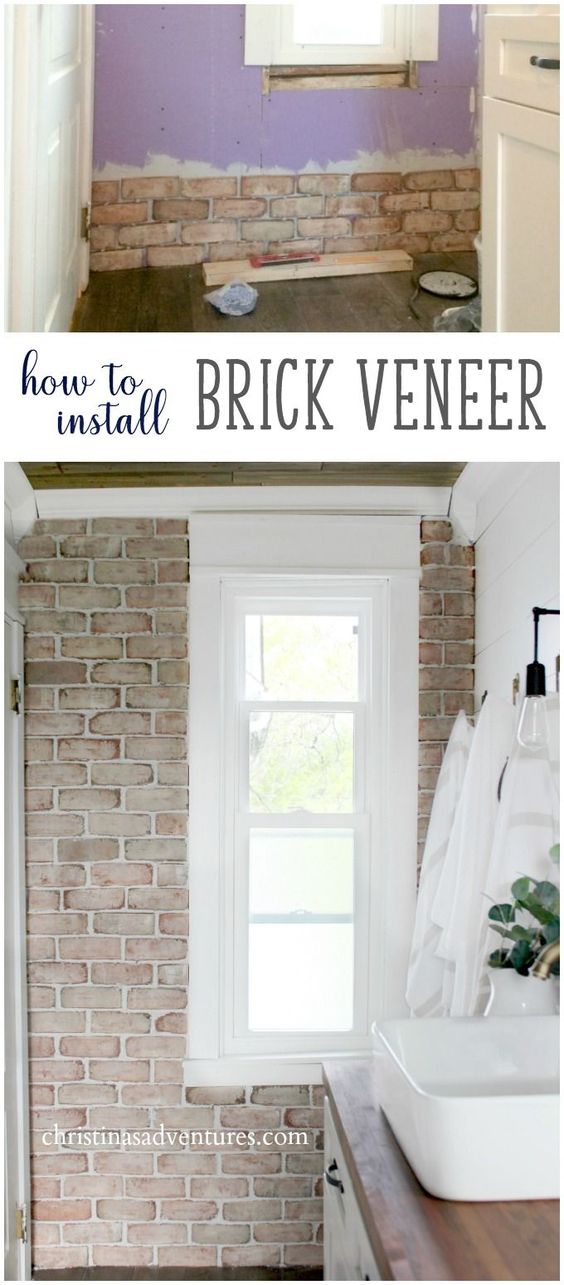 via porch
Stenciled Accent Wall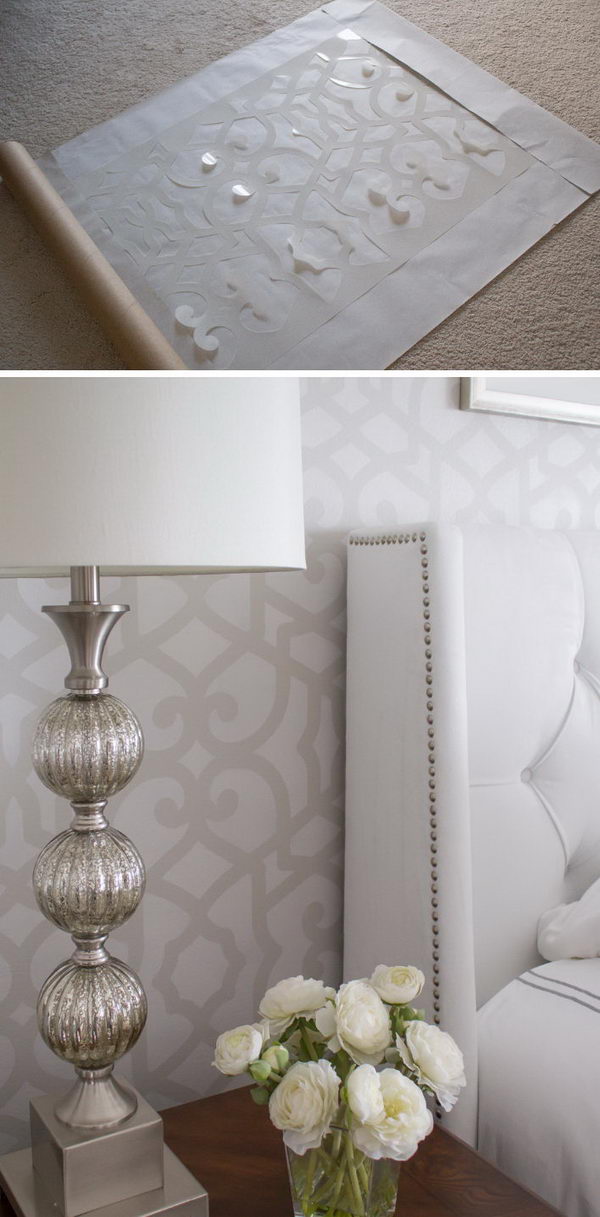 Herringbone Pattern Accent Wall

via thriftyandchic
Reclaimed Wood Accent Wall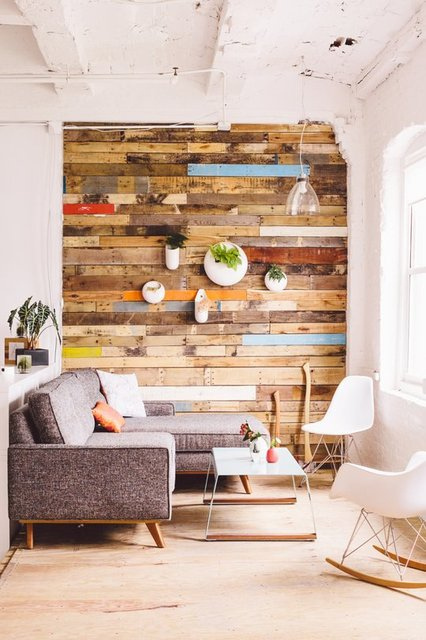 via flickr
Artificial Boxwood Accent Wall

via simplestylings
DIY Lace Accent Wall

via dearbeautifulyou
DIY Scalloped Wood Accent Wall

via classyclutter
Gold and White Scallop Accent Wall

via interiorsbykenz
Blue Stencilled Wall

via iheartnaptime
Gold Polka Dot Accent Wall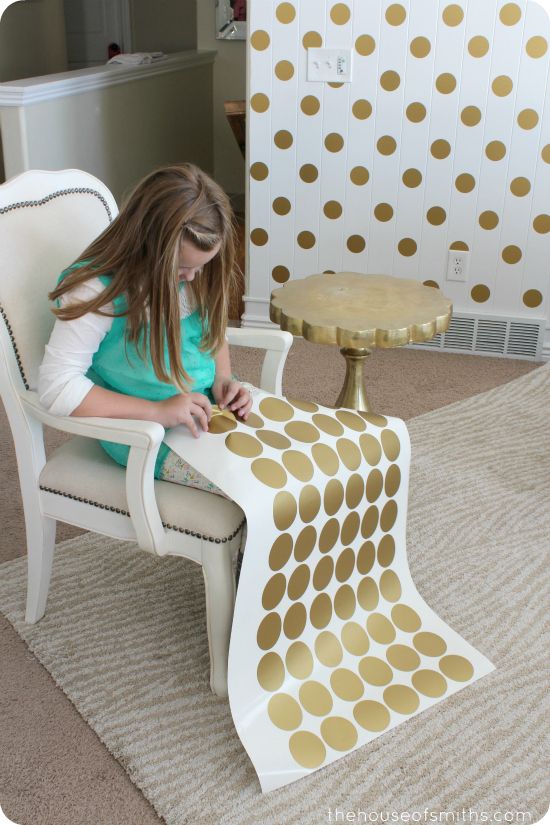 via thehouseofsmiths
DIY Geometric Shape Wall

via chicacircle
DIY Gray Striped Walls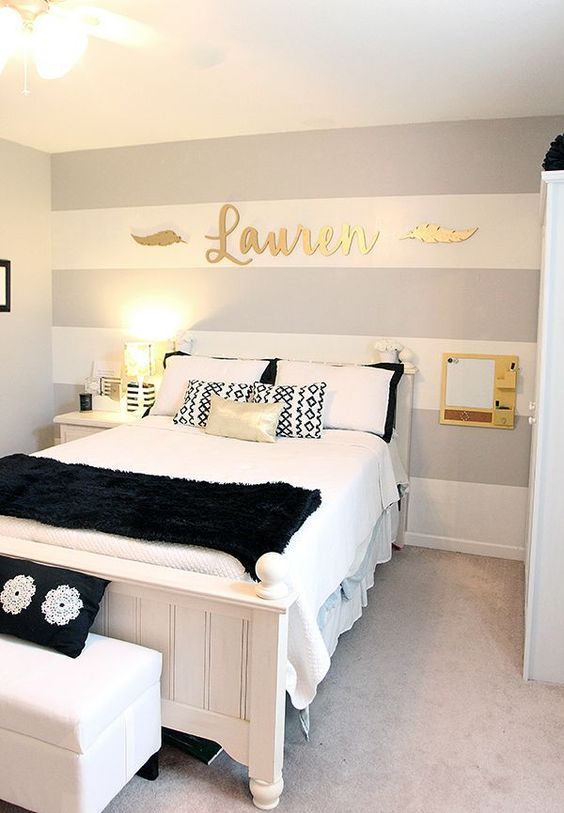 via lessthanperfectlifeofbliss
DIY Wood Accent Wall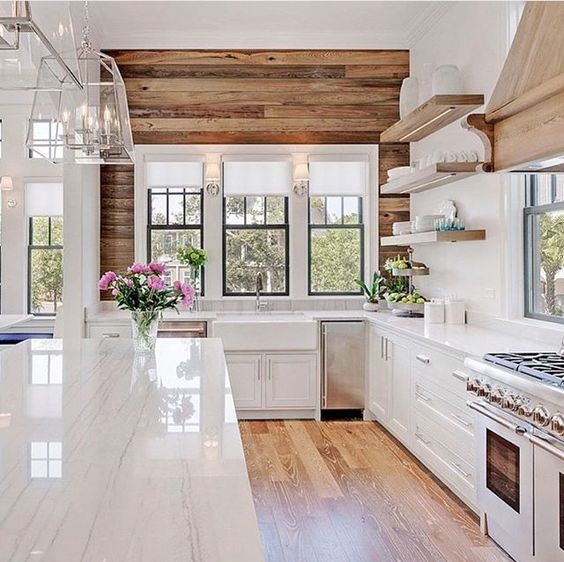 DIY Easy Peel and Stick Wood Wall
via momtastic
DIY Scalloped Accent Wall

via classyclutter
Board And Batten Accent Wall

DIY Painted Accent Plank Wall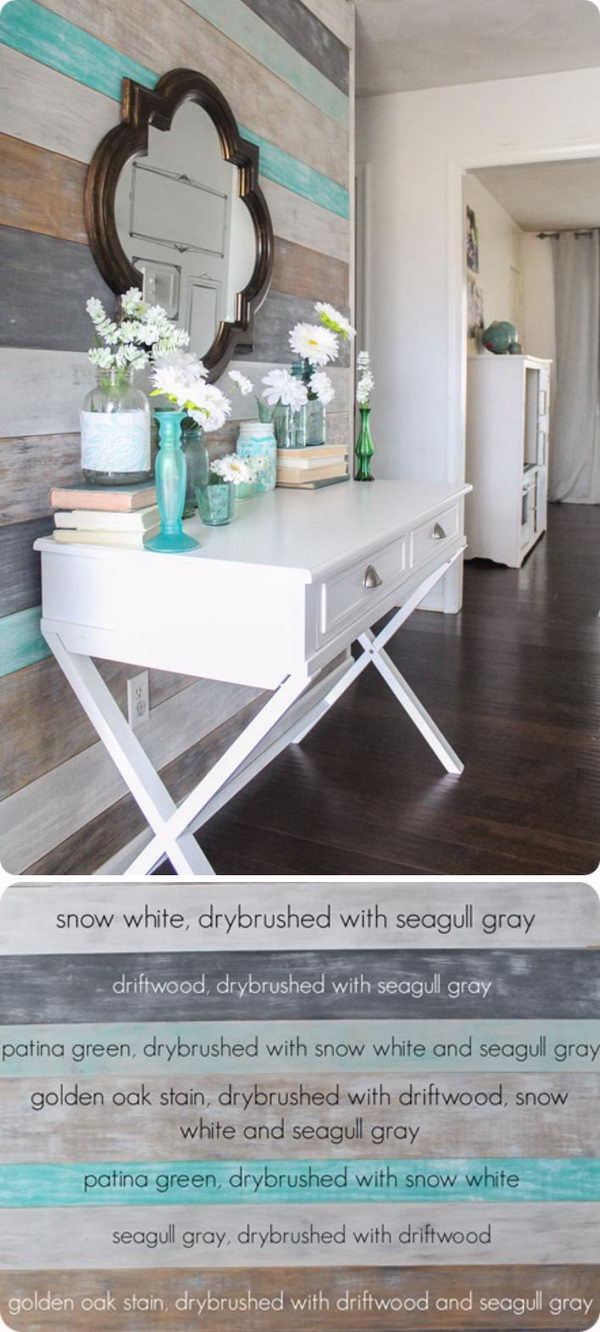 via lovelyetc
DIY Herringbone Plank Wall Upcyled from an Ugly, Old Fence

via designertrapped
DIY Wood Striped Wall

via tarynwhiteaker
Laminate Flooring on Walls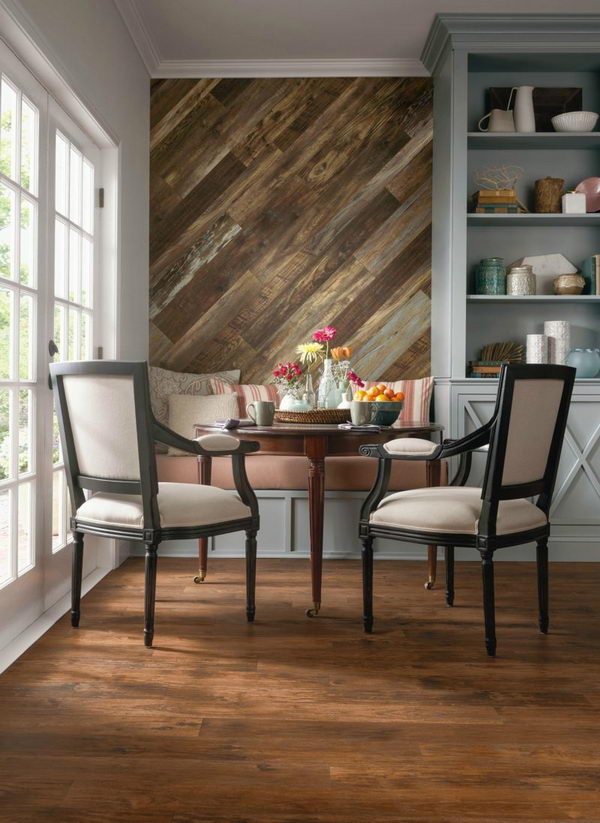 via foxhollowcottage
Branch Wood Accent Wall

via diynetwork
Paneled Wall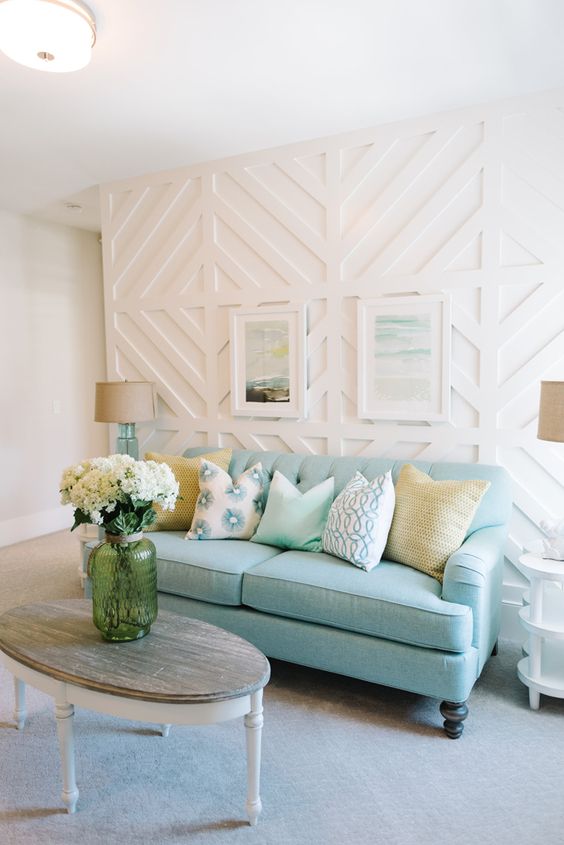 via houseofturquoise
Wood Wall Using $1.67 Fence Boards And Rethunk Junk Furniture Paint
Painted Accent Wall Using Gentleman's Gray by Benjamin Moore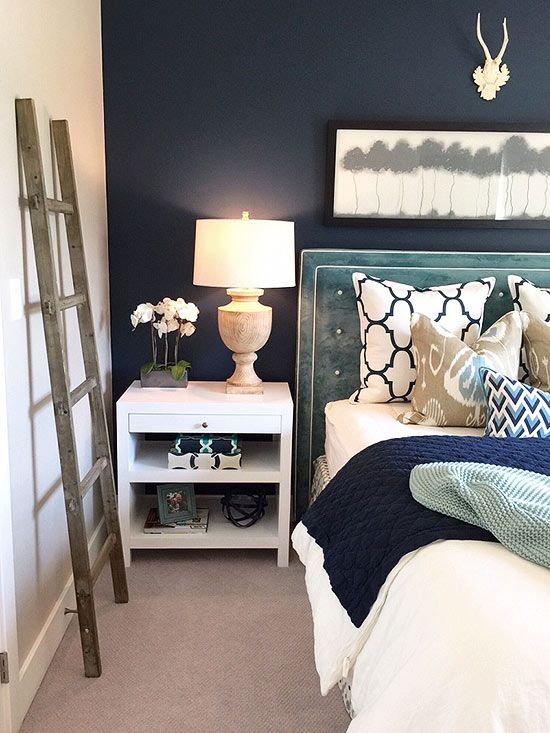 via zdesignathome
Ombre Squares Accent Wall

Corner Herringbone Accent Wall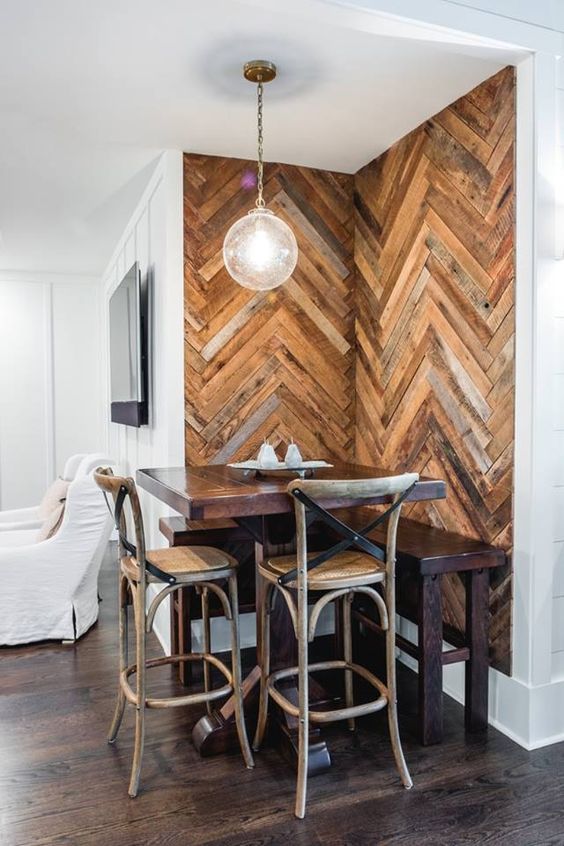 via rustictrades
DIY Ombre Scallop Wall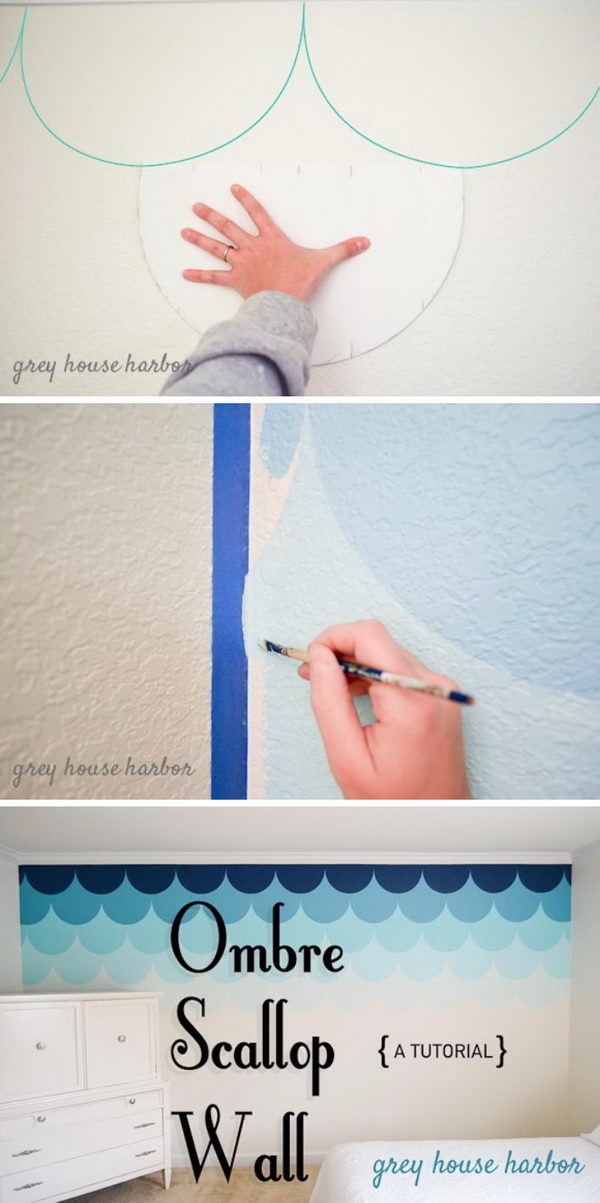 via greyhouseharbor
Ombre Scallop Accent Wall

DIY Mountain Mural Wall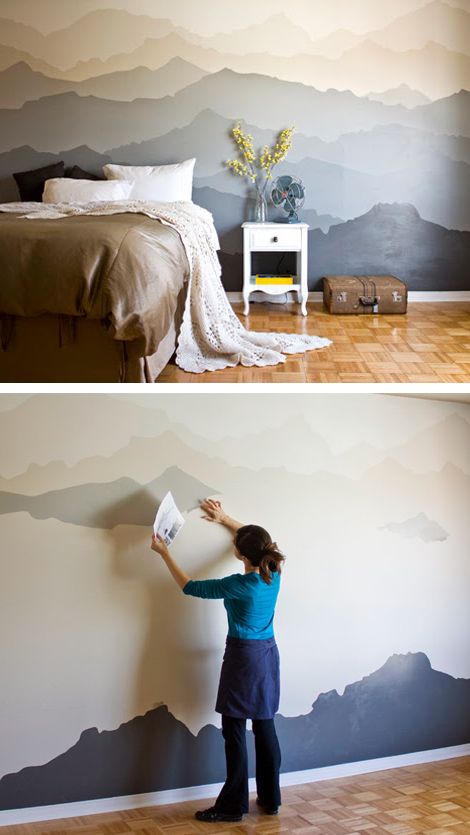 via apartmenttherapy
Pallets Or Old Barn Wood For An Accent Wall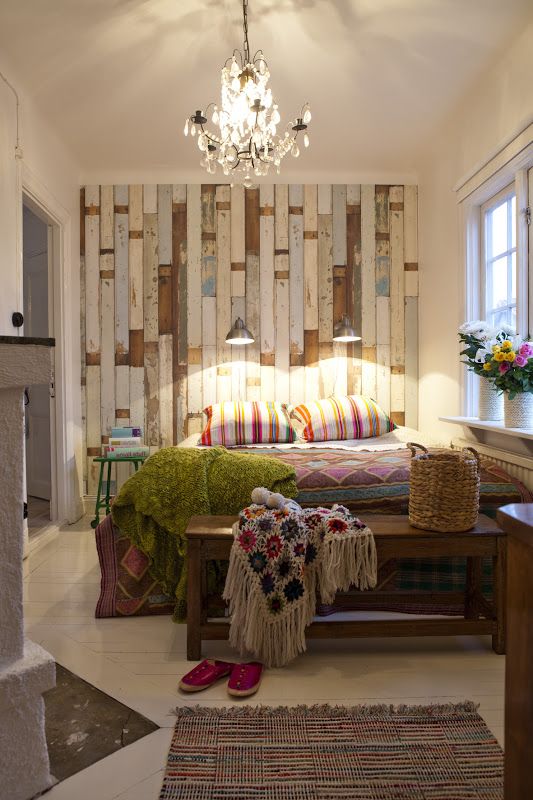 via decomanitas
Washi Tape Patterned Wall Paper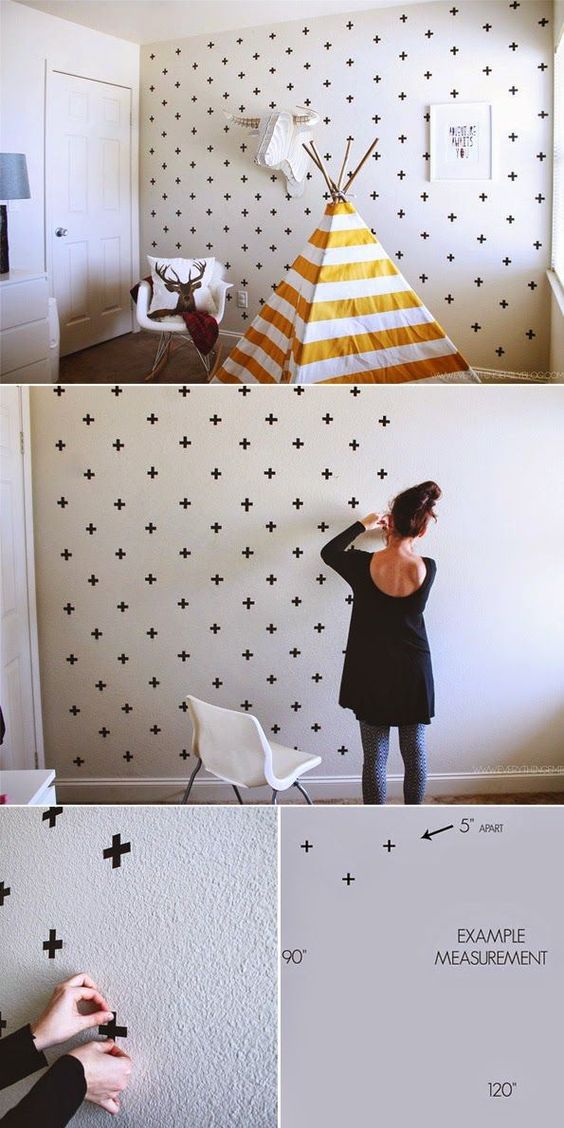 DIY Rustic Tin Wall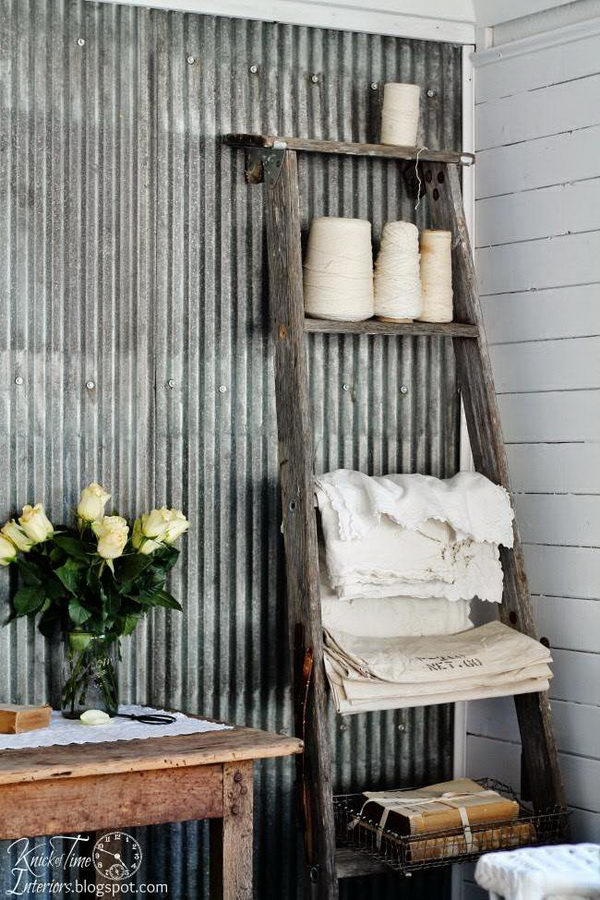 via knickoftime
Recycled Rustic Barnwood Accent Wall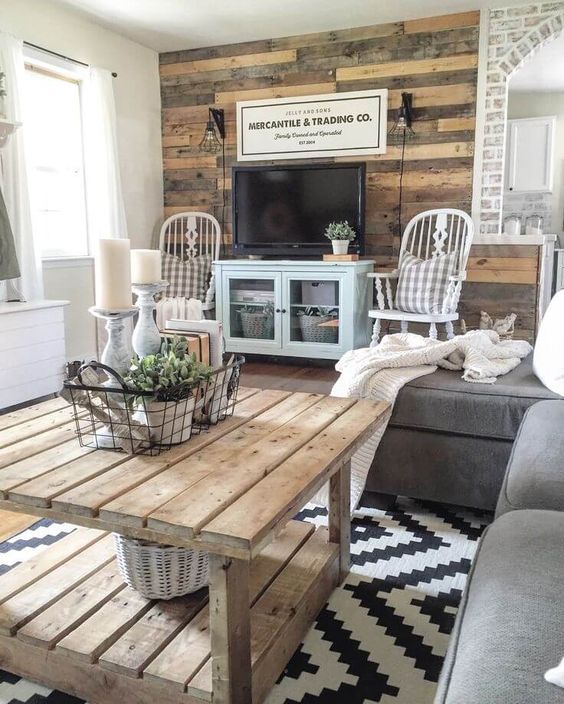 via instagram
Plank Mudroom Wall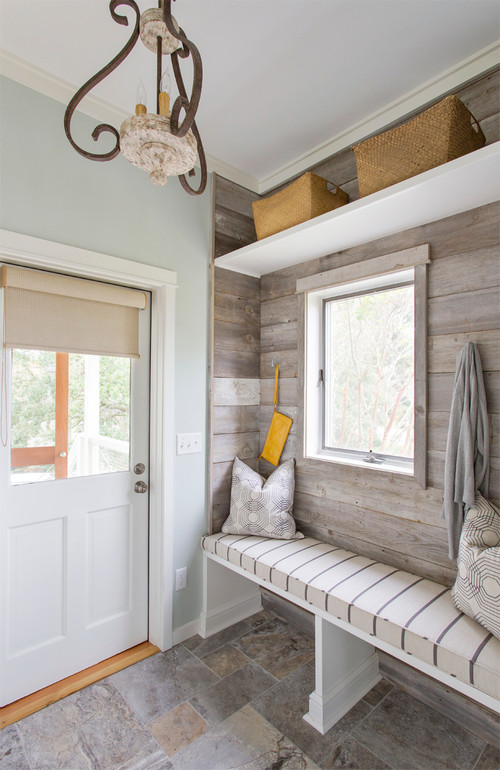 via houzz
White Brick Accent Wall In The Bathroom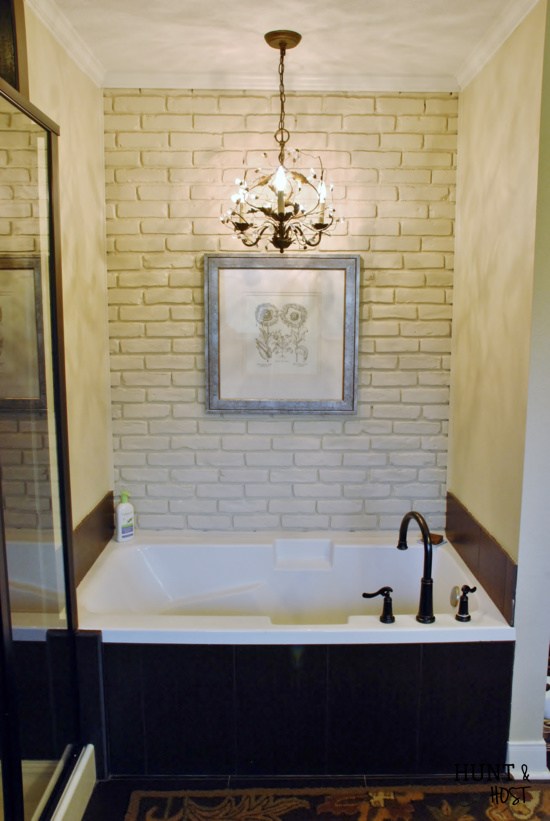 via huntandhost
Black And White Striped Wall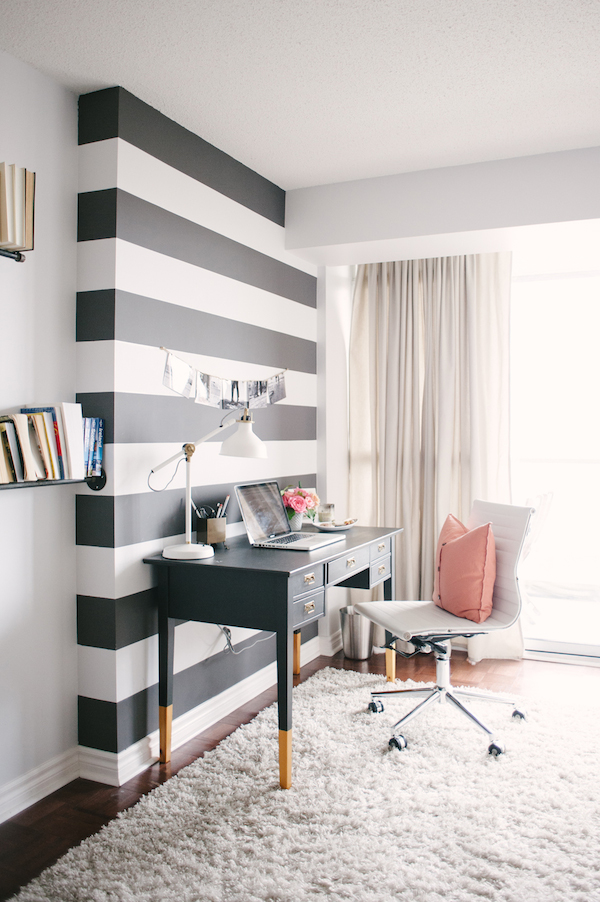 via jacquelynclark
Chalkboard Accent Wall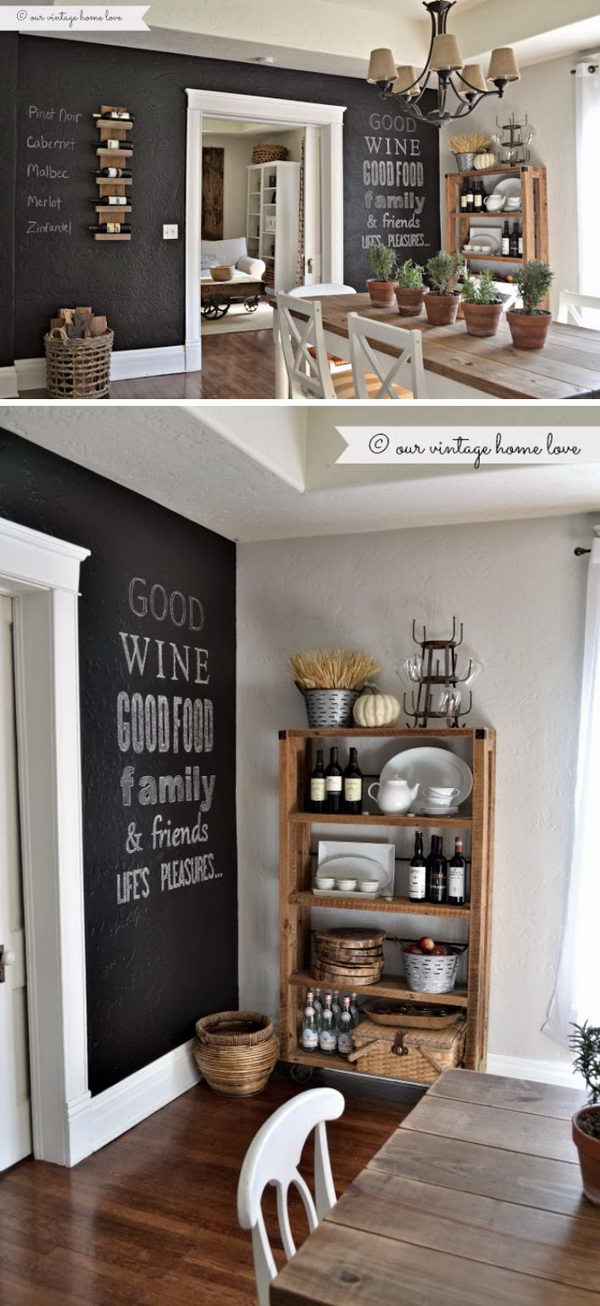 Peel And Stick Accent Wall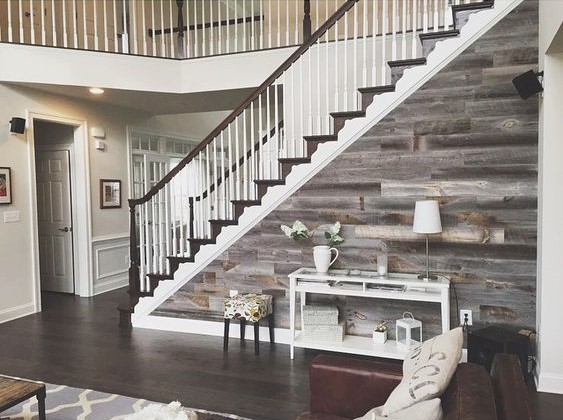 DIY Herringbone Wall With Stikwood

via kristimurphy
DIY Herringbone Wood Paneled Wall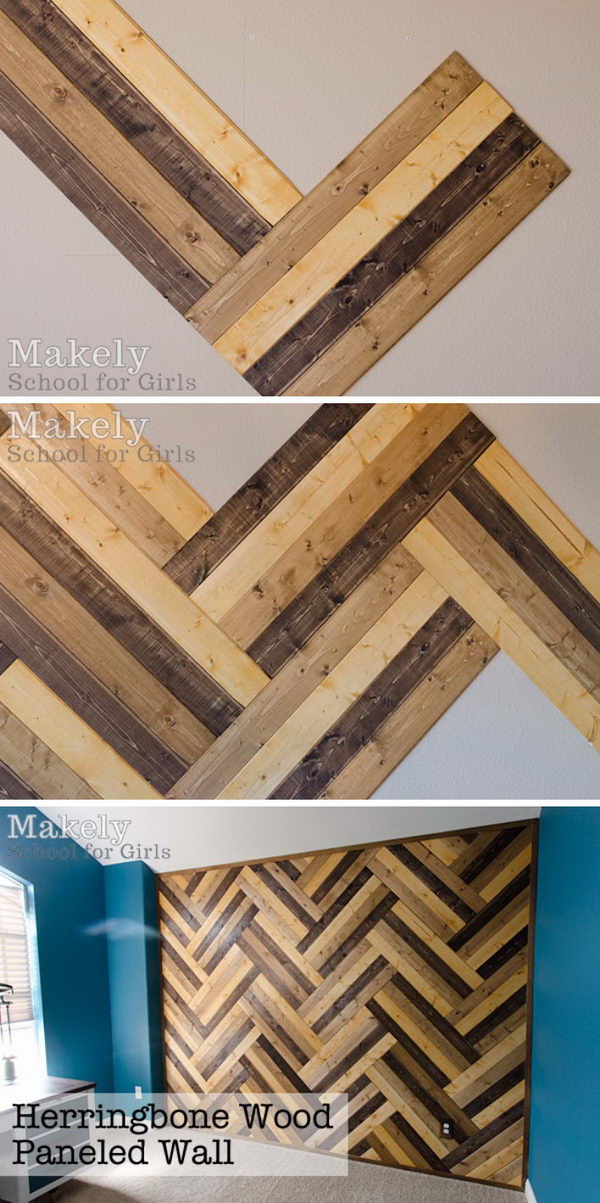 via makelyhome
DIY Accent Wall with Plywood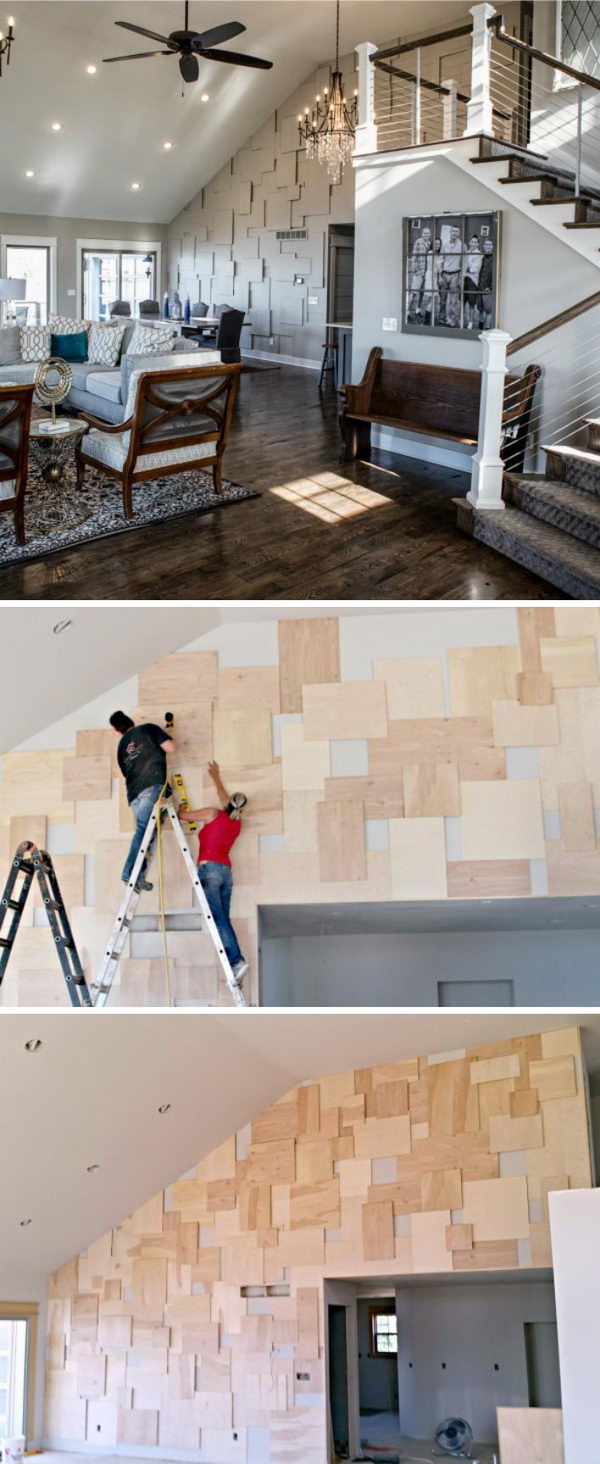 via divaofdiy
Eye-Catching Regency Stacked Stone Faux Panels Accent Wall

via fauxpanels
DIY Reclaimed Herringbone Accent Wall

via thecreatedhome
DIY Instax Wallpaper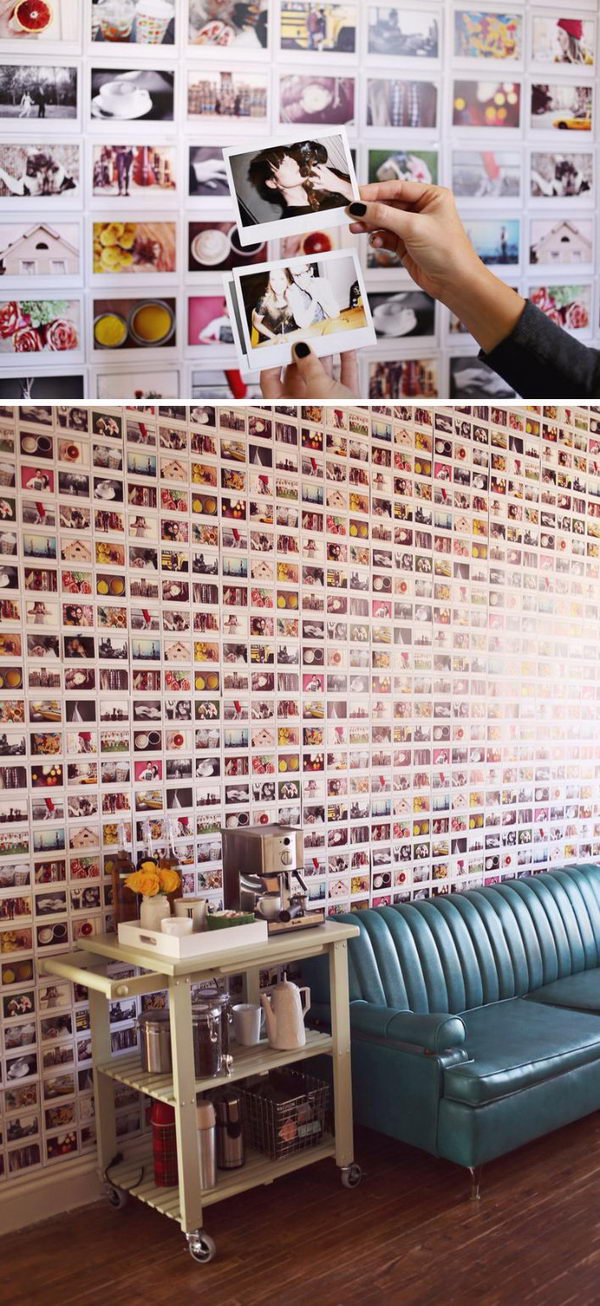 via abeautifulmess