30 Creative Christmas Tree Stand DIY Ideas
When it comes to Christmas decorating, themes and ideas can be boundless. But when it comes to your Christmas tree stand, is a simple metal tree stand the only inexpensive and quick option? The answer is a big no.
There are so many things that you can make into a beautiful stand for your tree and you don't have to be limited by Christmas-themed stands at all. Absolutely any thing that can hold a Christmas tree can make for a great alternative, from an old useless car tire, to a mundane cardboard box – if you have the creative flair and some extra time, you can turn any fabric, any decor, and any container into a fabulous Christmas tree stand.
Doubtful? Here are lots of creative Christmas tree stand DIY ideas to prove you don't have to spend much to have a festive and seasonal tree right at your living room or porch:
DIY Mobile Christmas Tree Stand

If you're the type of homeowner who seems to always move furniture around, then this idea is for you. By simply placing your tree over this mobile stand, you can slide, twist, and reposition your glorious Christmas tree anywhere and anytime as you please. via sandandsisal
Recycled Tire Christmas Tree Base

So what do you with an old tire that's lying on your garage? Well, you can make it into a cool, Christmas tree stand simply by doing a simple spray down and spraying it with some good old spray paint in any color you want. It's dirt cheap, doesn't require much time and effort, but makes for a super cool tree base. via lollyjane
Wood Barrel Christmas Tree Stand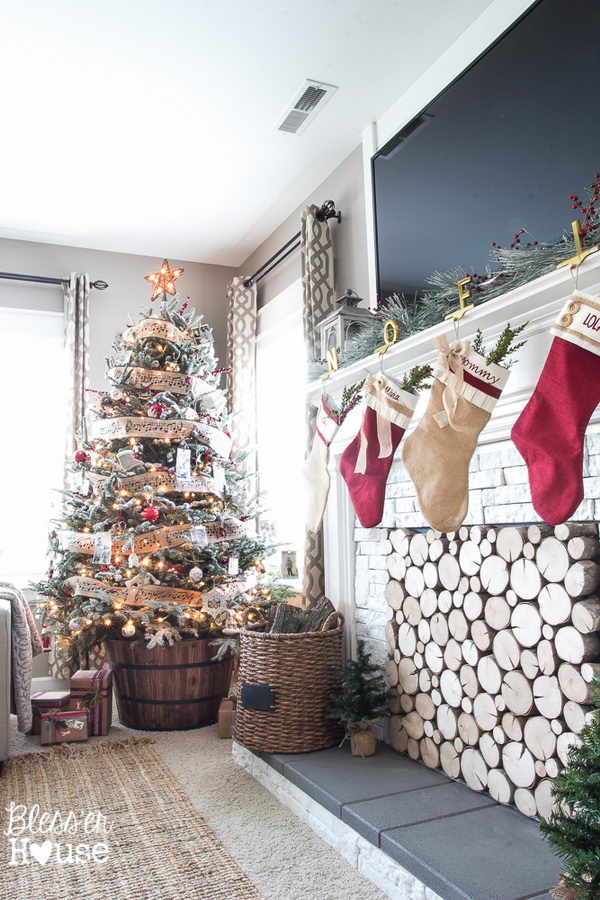 Tree skirts are becoming more boring and dull each year, so why not use a wood barrel as your tree stand for that country and rustic feel to add to your Christmas tree? via blesserhouse
Scrap Wood Crate Christmas Tree Stand

Scrap wood don't need to be thrown away. If you have enough to make a small crate, you can actually make one and use it as a Christmas tree stand. You can paint it in any color you like or keep it natural for that charming feel to your living room. via thekimsixfix
DIY Crate Christmas Tree Stand

You can make a table top tree appear taller and bigger than it really is by making yourself a DIY crate and using it as a tree stand. For under $10, you can buy pieces of lumber to make your crate, and make good use of a small Christmas tree rather than buying a gigantic tree that's expensive to decorate. via shanty-2-chic
Black And White Gingham Drum Light Fixture Christmas Tree Stand

If you don't like the look of a raw tree stand on your Christmas tree, then upcycling an old drum light fixture is another inexpensive way to spruce up your holiday decor. Make sure your drum fixture is big enough to cover your ordinary tree stand. via refunkmyjunk
DIY Baby Doll Buggy Christmas Tree Base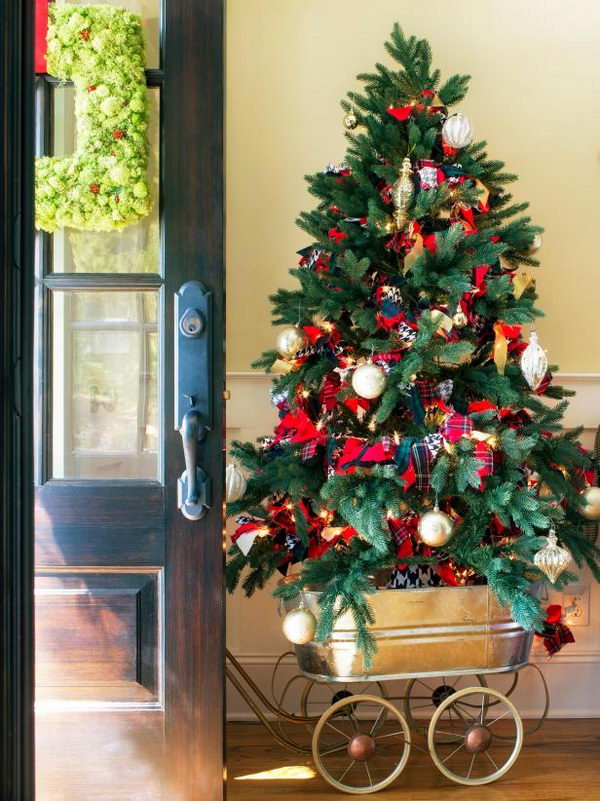 If you happen to have a baby doll buggy lying around the house, you can actually make it into a vintage-looking and unique tree stand that absolutely one of a kind. Simply add some weight to the buggy so your entire tree and the buggy itself won't easily be moved around, and you'll have a pretty interesting tree stand with just the right amount of charm to to add to your festive home. via hgtv
Basket Christmas Tree Base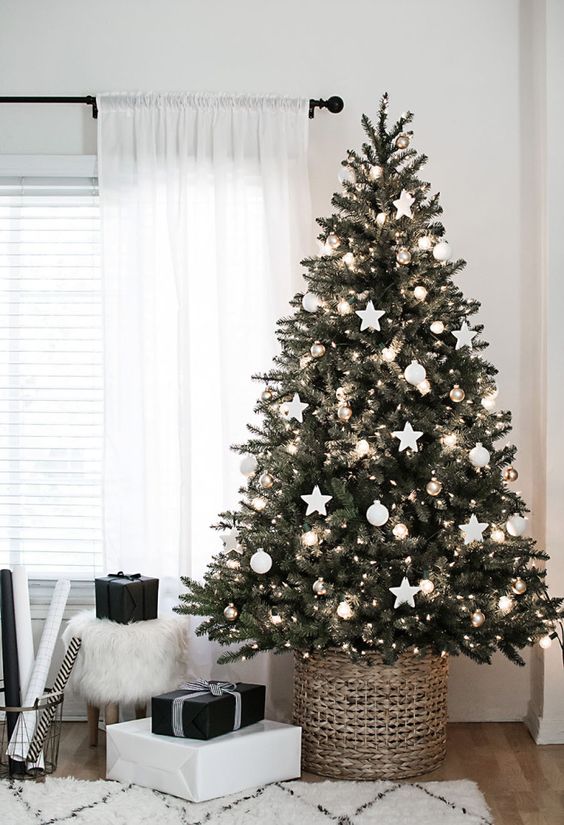 Baskets are beautiful in and of themselves but when your turn them into a Christmas tree stand, it just adds to the natural charm and appeal of a beautiful pine tree. Keep your ornaments minimal like this tree so your tree looks clean and your design aesthetic cohesive. via homeyohmy
Vintage Olive Bucket Christmas Tree Stand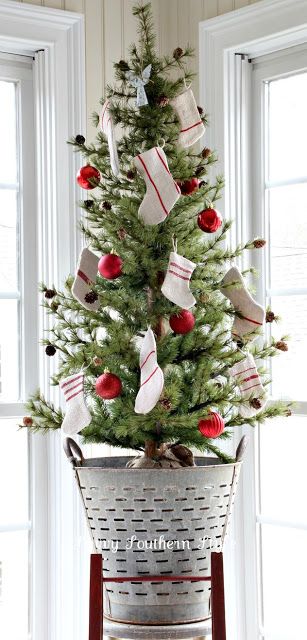 Vintage buckets are great for table top trees since they're smaller and easier to handle. Take this olive bucket for example, it may not hold much but if you add some weight, it can make for a pretty sturdy and of course, unique tree stand that will go a long way with your Christmas decor this year. via savvysouthernstyle
Christmas Tree On A Sleigh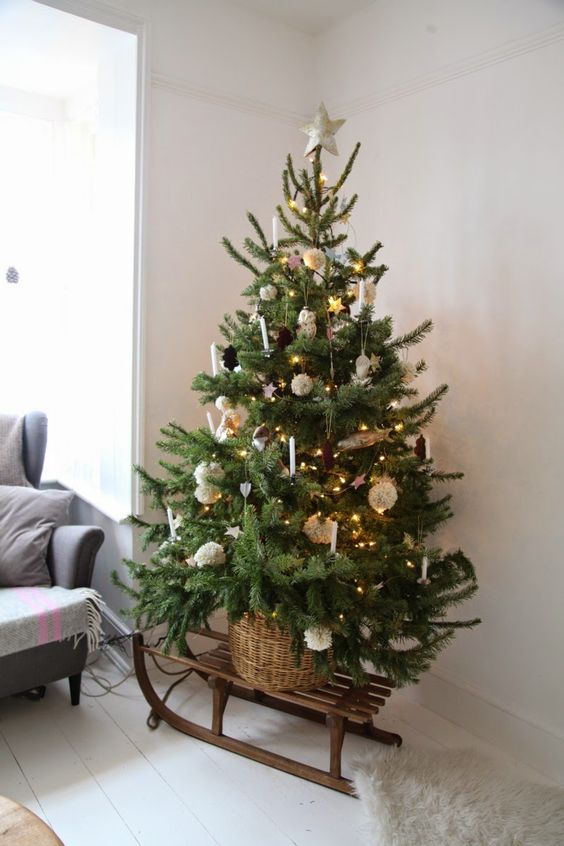 You can pretty much place a Christmas tree on anything that holds it, but if you must use an alternative, then this wooden sleigh is a pretty good option. You won't have to do anything at all, simply place your tree on top of the sleigh and that's it. Add some other rustic elements like placing the tree on a basket or adding some burlap for a themed Christmas tree decor. via junkaholique
DIY Christmas Tree Stand Using Bucket Upside Down In A Large Basket

Baskets are great to use as a tree base and this DIY idea surely doesn't disappoint. Perfect for smaller trees, make the basket your focal point and decorate as you please. via westelm
Wrapped Present Look DIY Christmas Tree Base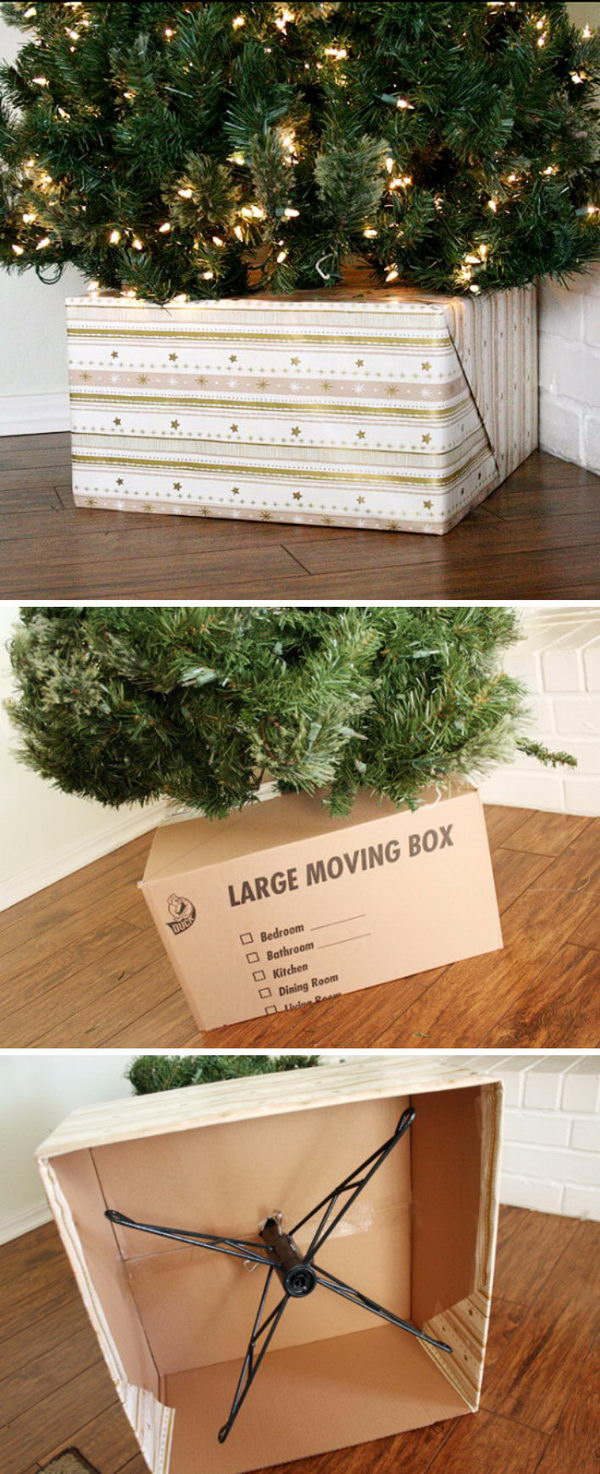 So easy and so fast to make, this tree base wrapped in Christmas wrapper may be too easy that you'd wonder why you didn't even think of it in the first place. It's festive and fun, and jumpstarts your Christmas wrapping to a great start this year. via dreamalittlebigger
DIY Wheelbarrow Christmas Tree Stand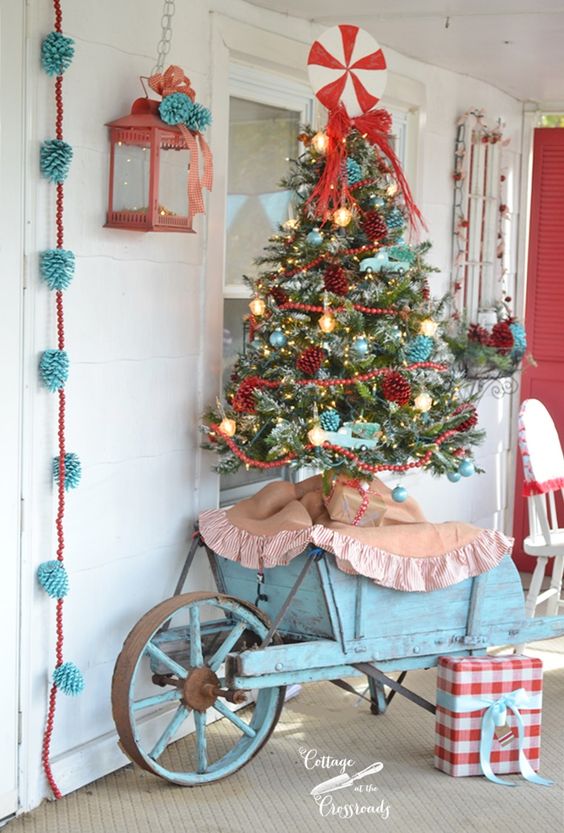 Perfect for porch decoration, a table top or mini Christmas tree will look snug and cozy when placed on top of a wheelbarrow just like this. If your wooden wheelbarrow is too old, there's nothing a new coat of paint won't fix when it comes to any old wooden alternative to your tree stand. via cottageatthecrossroads
Kid's Red Wagon Filled With Packages Sit As Christmas Tree Stand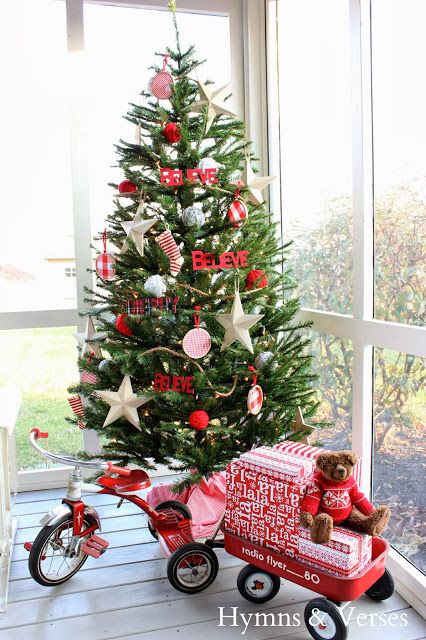 This isn't exactly a tree stand per se but placing it beneath your tree will cover up an ordinary tree stand. You can place an old kid's bicycle in front of the wagon for a more realistic look, and of course, it won't hurt to place a few presents over the wagon to complete your Christmas tree decor. via hymnsandverses
DIY Storage Box Bin Christmas Tree Stand
Okay, so you simply don't have the time nor the energy to create a crate or paint a new coat on an old wheelbarrow. So what do you do? Do you have a storage bin that you don't use? And does it happen to be in red? If you do, then you've got an instant tree stand that doesn't require any work. Wrapping the storage bin with a paper black belt and a paper gold buckle is all it takes to turn it from a regular bin to Santa's tummy in no time. via sewmanyways
Christmas Tree Stand Cover With Picture Frames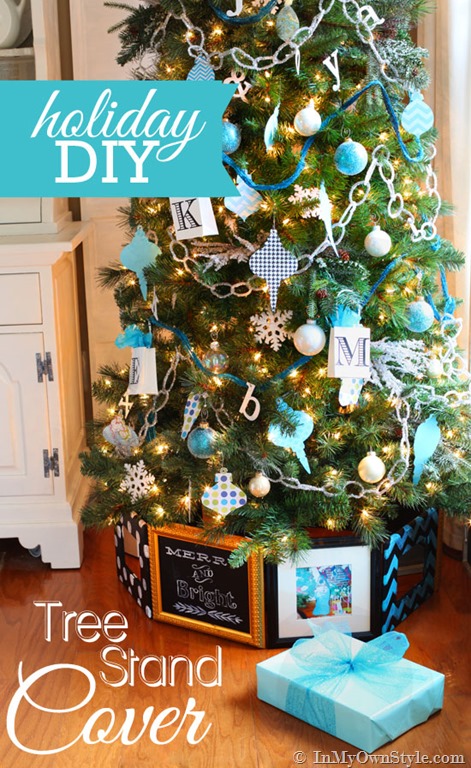 Now this is something you don't see every Christmas. Wrapped around the bottom of this tree is a number of framed mirrors and picture frames that double the light of your trees and the amount of your presents as well. Take out old frames you don't use anymore and using cardboard hinges, wrap them around the bottom of your tree for an extraordinary take on tree skirts. via inmyownstyle
Metal Bucket Christmas Tree Stand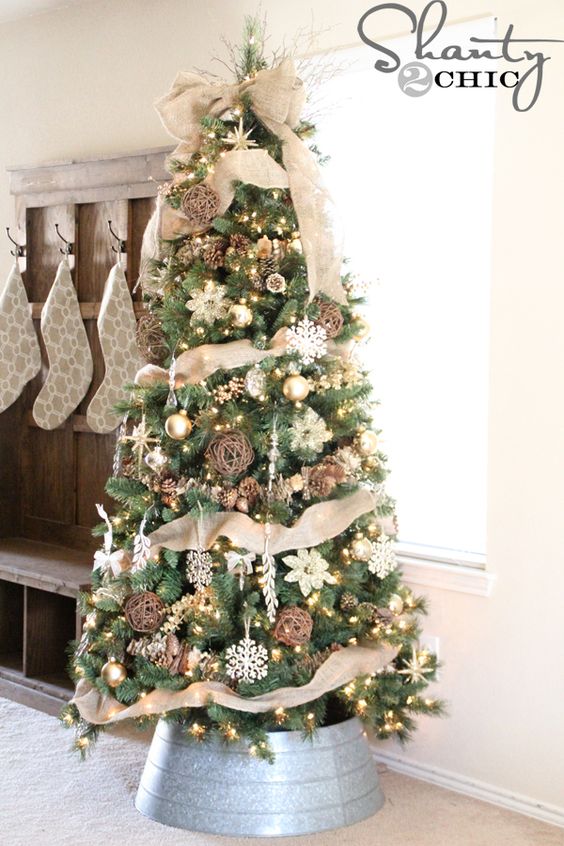 If you don't like the raw look of a metal bucket, follow this DIY idea and create a rustic glam look that merges both sparkle and charm without spending too much or trying too hard. via shanty-2-chic
DIY Wood Christmas Tree Planter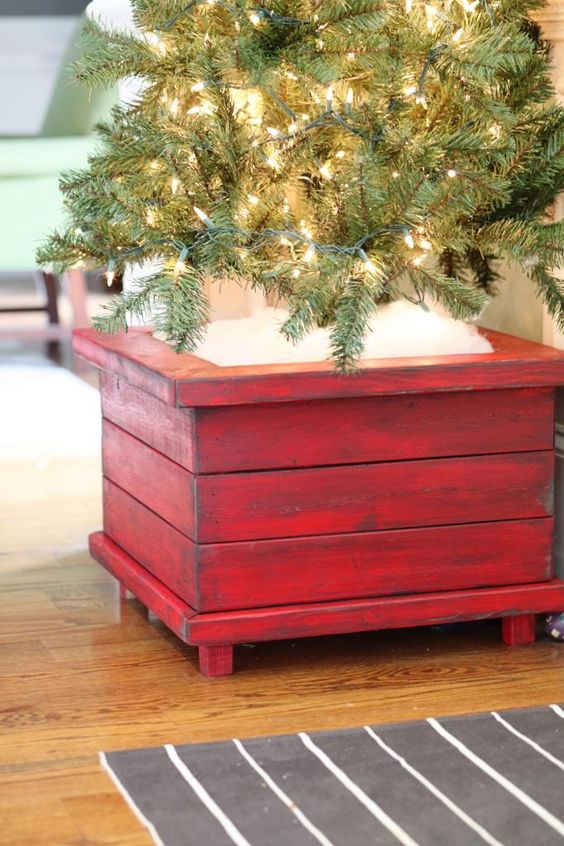 Buckets, crates, and of course, tree planters like this are great alternatives for tree stands. If you like doing woodwork, then you'll definitely enjoy this project. You can also use exterior wood if you plan to place your tree outdoors or on an open porch. via bowerpowerblog
DIY Christmas Tree Planter Using Manila Roping Wrapped Terra Cotta Planter And Concrete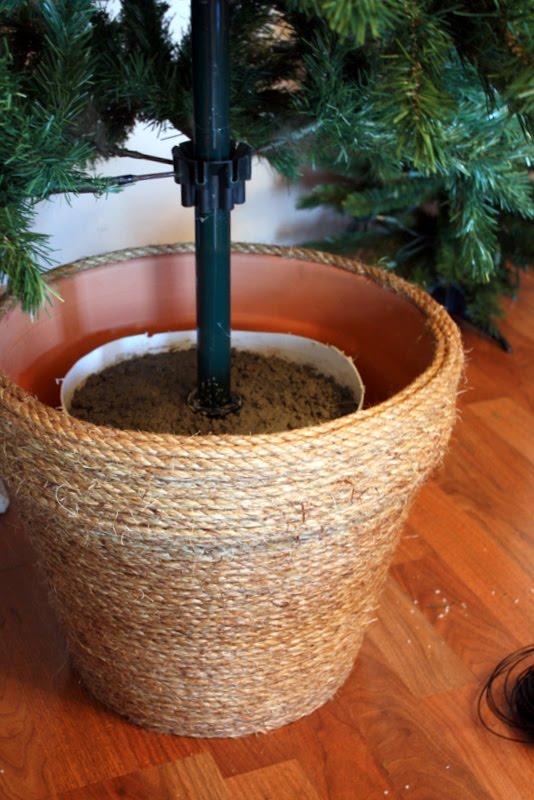 A pot surely makes for a fantastic tree stand, but when you take it up a notch using manila roping, it simply creates an organic charm that can make any artificial tree look even more realistic. via sweetsomethingdesign
DIY Tree Stump Christmas Tree Stand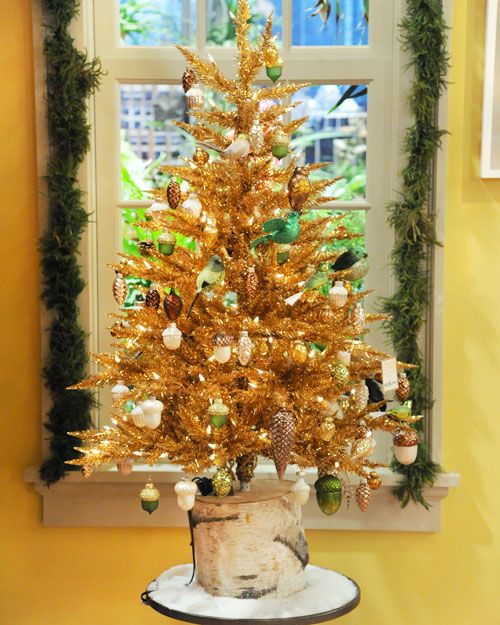 Made from stump of a birch tree, this cool idea creates a natural appeal to any Christmas decor. Make the tree stand the focal point of your decorating ideas and you won't go wrong in terms of coming up with unique and interesting ideas to make your home even cozier and more festive. via marthastewart
Jute Wrapped Repurposed Tire DIY Christmas Tree Stand

Another idea to make good use of an old useless tire. This jute wrapped tire covers up a measly rubber tire and making it fresh and charming beneath your Christmas tree. via ellaclaireinspired
Reclaimed Shipping Crate Christmas Tree Stand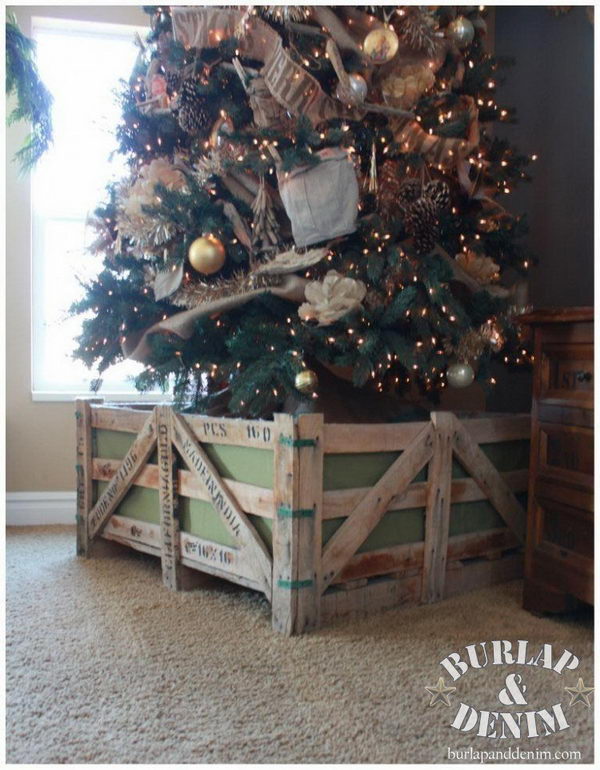 A rustic-looking crate has so many uses and this chipping crate Christmas tree stand is no exception. It came as is and not only does it look absolutely beautiful as a tree stand, you can turn it into a coffee table once the holidays are over, too. via burlapanddenim
Christmas Tree Bottom Wrapped Around Using A Rug
This is by far one of the quickest and most inexpensive ways to cover up a regular tree stand. It's a simple rug or runner wrapped around the bottom of the tree – veering away from traditional tree skirts but still serving the same purpose without looking old and dated. via bowerpowerblog
Burlap Christmas Tree Skirt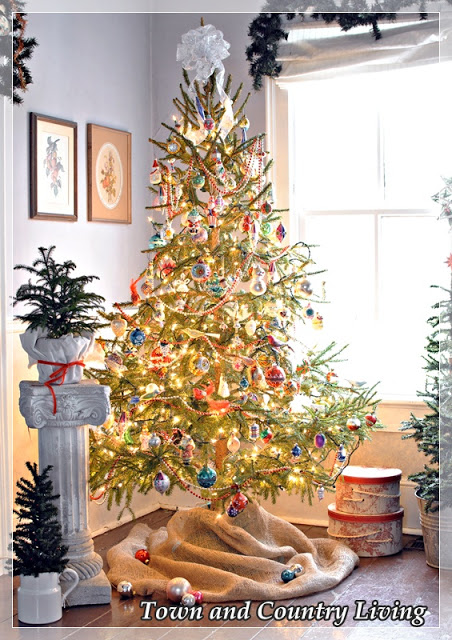 With no sewing needed, you can use a burlap to wrap around the bottom of your tree and placing ornaments on top of it to add weight and keep it in place. via town-n-country-living
Wire Basket Christmas Tree Stand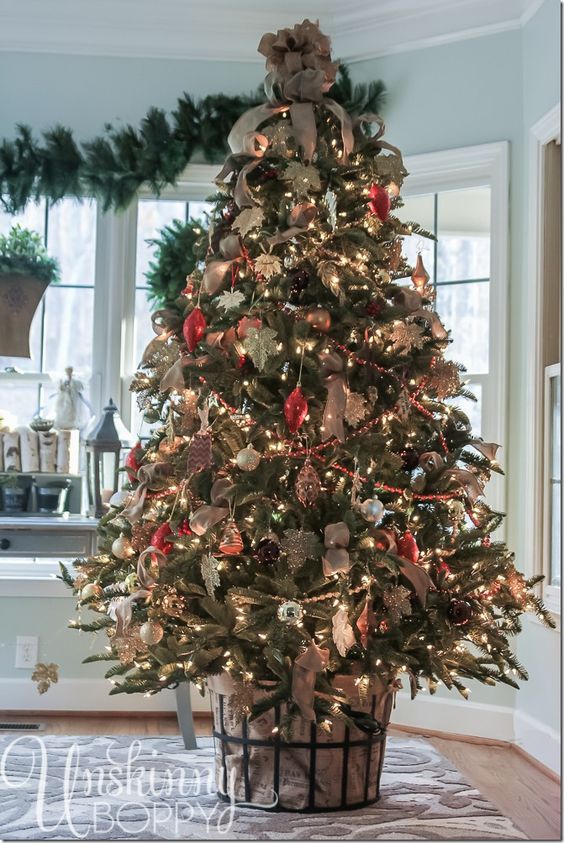 Place a piece of burlap to fill the sides of a wire basket to make it look even more organic and nonchalant. This wire basket tree stand looks cool and easy-breezy, like you just had it lying around and you simply used it to hold your newly bought Christmas tree. It looks effortless and modern, while still staying charming and of course, festive for Christmas season. via unskinnyboppy
DIY Crate Christmas Tree Stand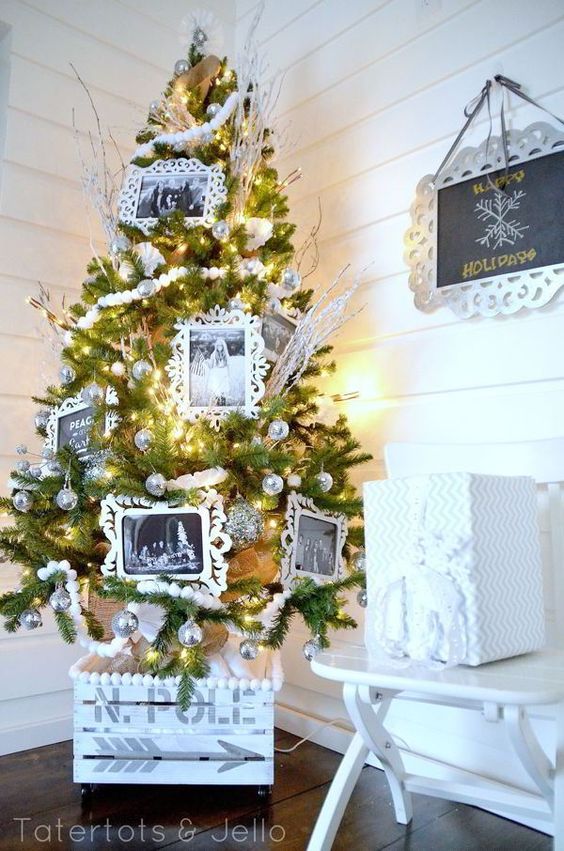 When you have unconventional ornaments, it's only fitting that you have an unconventional tree stand for your Christmas tree, juts like this idea. With the same color schemes, the ornaments on the tree and the base look put together and although they're not your typical Christmas decor, they somehow work and are perfect to add that holiday spirit to your home. via tatertotsandjello
DIY Rustic Wood Tree Stand

You can replace your metal tree stand with this crafty wooden project. It's made of specially-shaped small blocks of wood that's made into a stand and makes for a perfect DIY alternative to a regular stand that requires a tree skirt to make it look appealing. via finditmakeitloveit
DIY Christmas Tree Crate Stand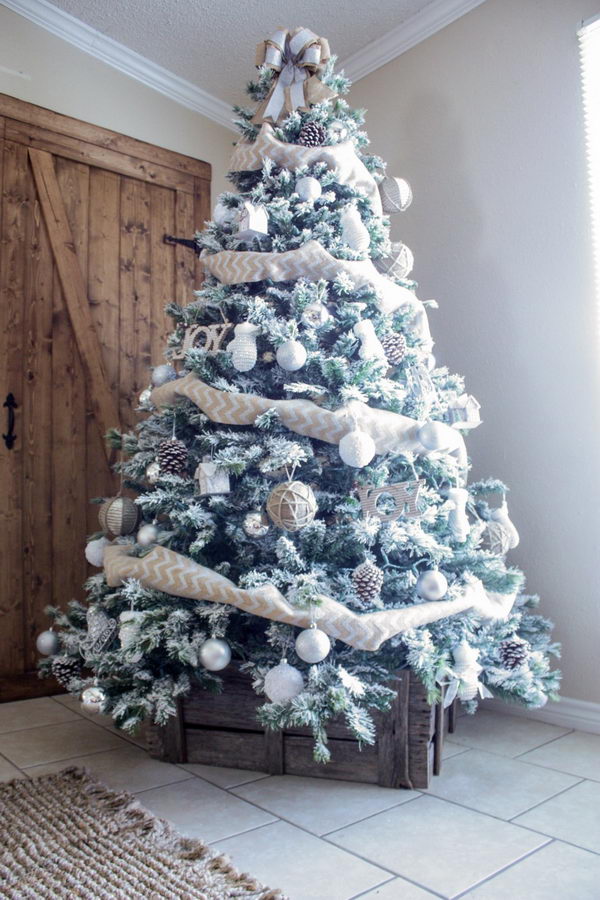 Get this perfectly imperfect look by picking up different sizes and shapes of wood on the road, around your house, or just about anywhere actually. Just make sure you ask permission if you notice the pieces of wood lying on the road actually belong to someone. It gives off another effortlessly cool vibe and creates an interesting focal point in your Christmas decoration. via builditcraftitloveit
Whimsical Christmas Tree Stand
An ordinary cardboard box turned into Santa's bag for a tree stand? Yes! Wrap the box with fleece throw and tie a ribbon around it for an easy DIY option to your regular tree skirt. via livingandlearningwithluisa
Galvanized Bucket Christmas Tree Stand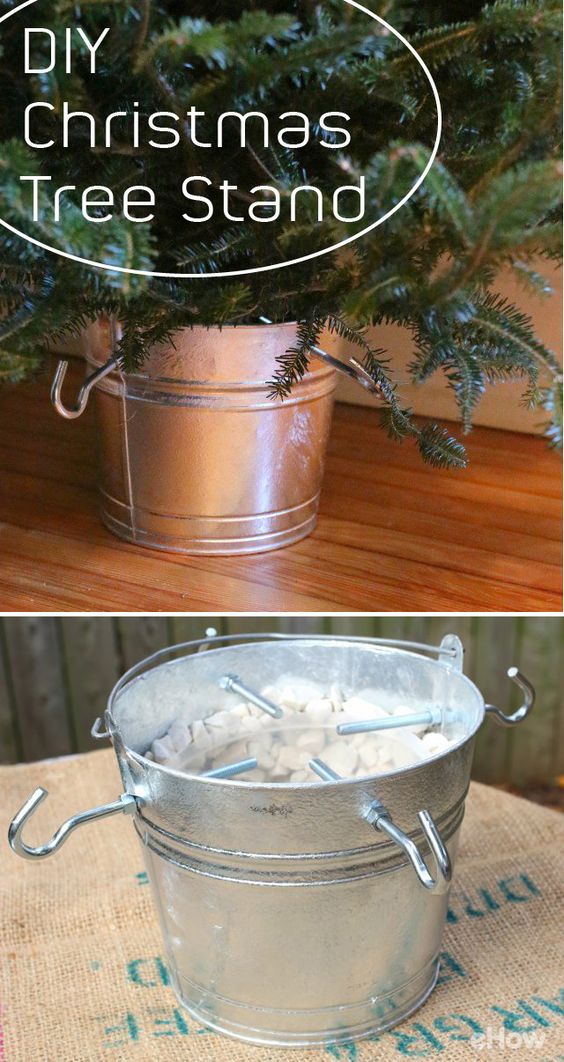 To create the farmhouse style of this idea, a metal pail is all you need. Great for smaller spaces like a tiny house, a loft, or a condo unit, this DIY project is super fun and fast to make, and makes for a perfectly look and modern tree stand. via ehow