Amazing DIY Ideas To Transform Your Old Furniture
You don't have to throw away old furniture that's lying around. With the right amount of time and some creativity, you can easily infuse new life into something old that's in dire need of a furniture makeover.
Do you have an old wooden cable spool, or a couple of drawers left at your garage to rot? These small objects can literally become new furniture that look spanking brand new. Turn these pieces of seemingly useless objects into bookcases, tables, or even planters! The possibilities are endless with the right tools, time, and imagination.
Take a look at these clever hacks that make super fun and functional pieces from old furniture.
Upcycled DIY Corbel Foyer Table

If you've got a couple of beautifully carved pieces of wood lying around, paint them stark white and use as a corbel in a small corner of your home. Absolutely pretty and functional at the same time, too. via monicawantsit.
Wood Tilt-Out Recycling Bin Cabinet

The sight of open trash cans around your house is never pretty. So if you've got a wooden tilt-out bin cabinet, or if you happen to find one at a flea market, then why not make it a bin for your trash can? Simply paint it in a pretty color, place your trash can inside, and that ugly sight will no longer be. via tonyastaab.
DIY Tufted Coffee Table Bench

Did you know you could turn a coffee table into a bench? Why, yes you can. Simply have the table top tufted in a beautiful fabric, and it now becomes a pretty bench or ottoman. via designeddecor.
Bookcase Makeover With Before and After
If you already have all the space you need for all your books, you don't have to throw away a decent bookcase. Paint it in a pastel color, and use it to store pretty objects such as jars of candy or baskets. via kellyhicksdesign.
DIY 70's Set to Outdoor Beauty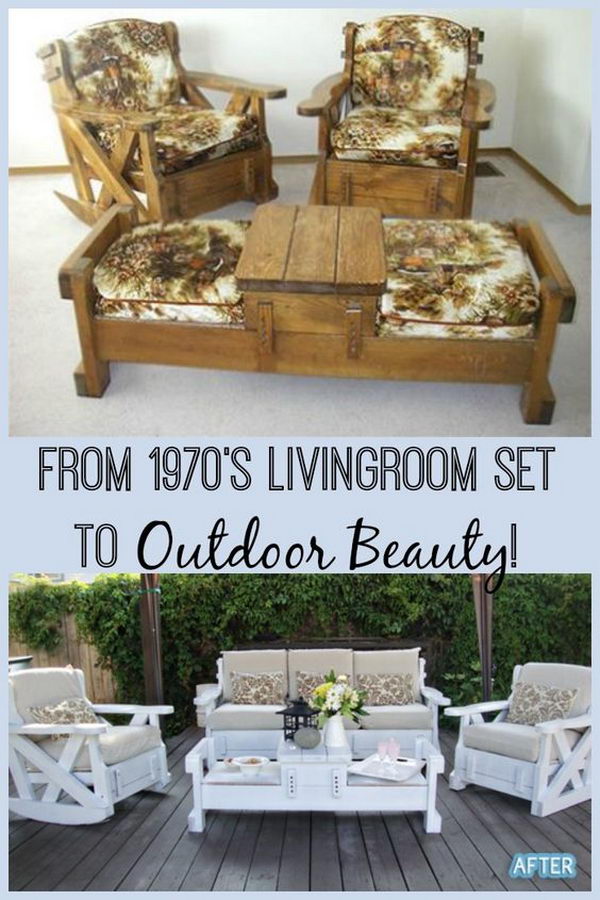 Dirty and old wooden seating can be given new life with new paint, and some covered padding. Perfect for a patio, you'd never guess this beautiful living room outdoor set used to be tattered pieces of furniture. via hometalk.
$10 Garage Sale Dresser Turned TV stand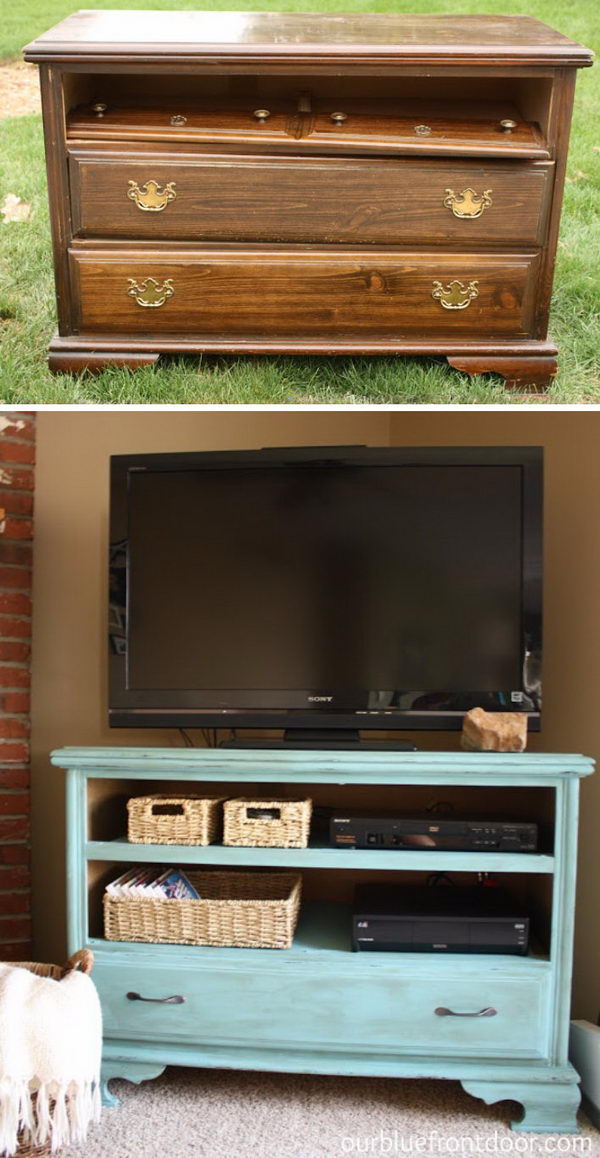 From a mere $10, you can turn an old, damaged dresses into a rustic-themed TV stand that can store your DVD player, VCR, and everything you need for home entertainment. via ourbluefrontdoor.
DIY Nautical Spool Side Table for Under $12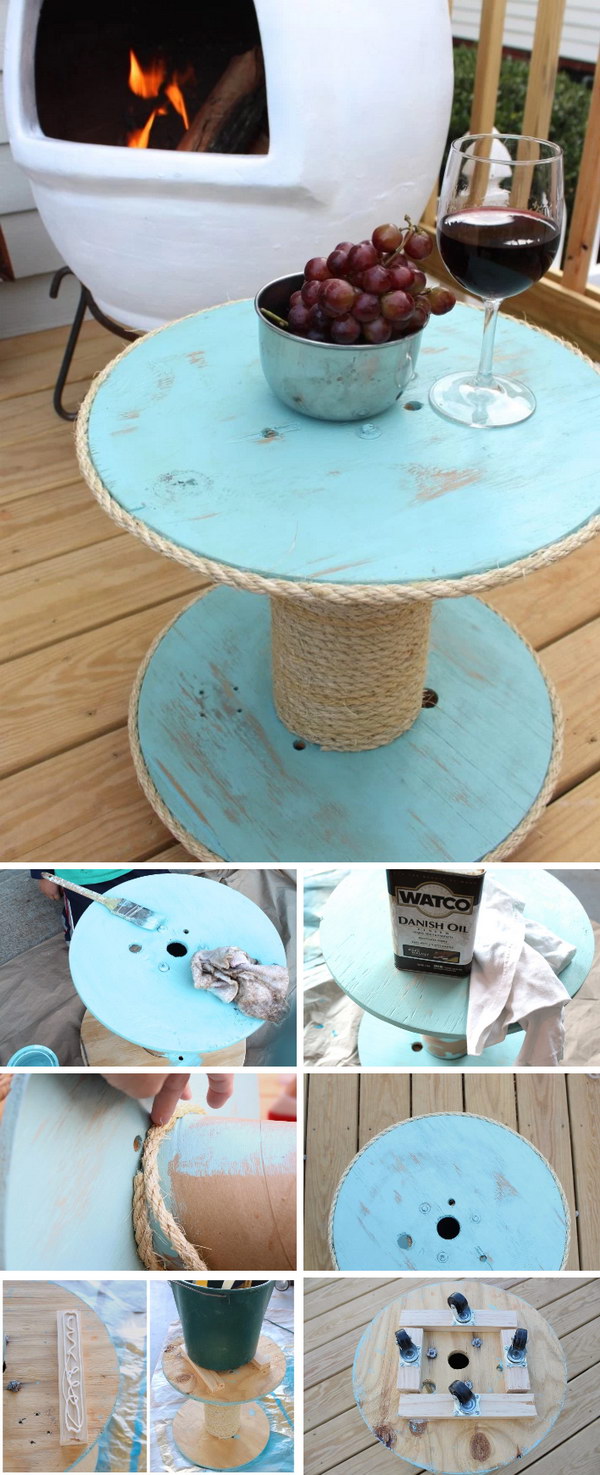 Cable spools are great objects for craft projects. With some rope and paint, you can easily turn an old spool into a nautical side table for those cold night caps out on a patio. via simplestylings.
DIY Wine Rack Out of Old Dresser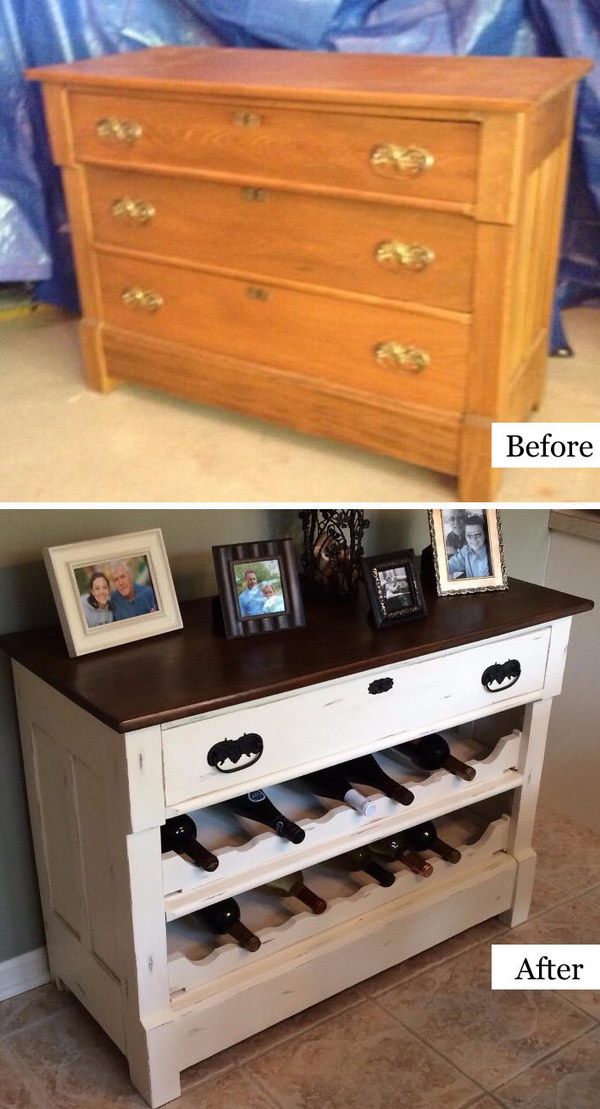 Why buy a wine rack when you can turn an old dresser into one? Take out a few of the drawers, make some wooden racks to hold the bottles, and you've got both a wine rack and a table for one. via thehappyhousewife.
Turn an Old Dresser Into a TV Stand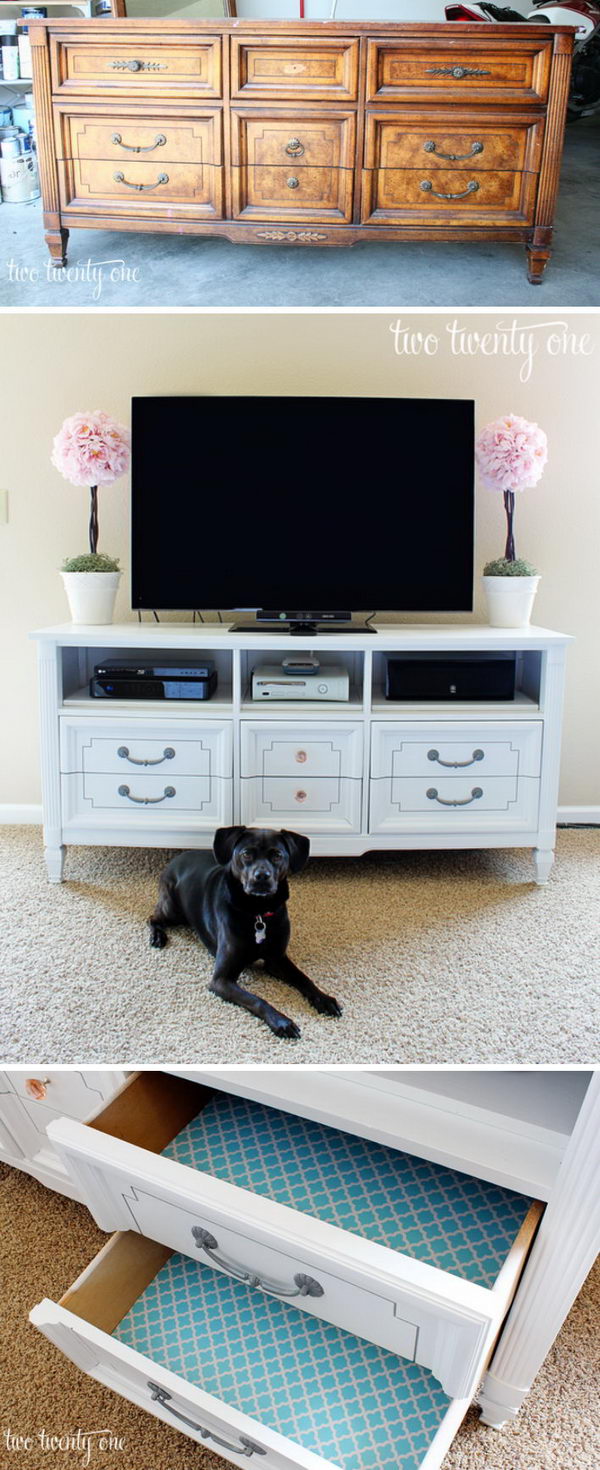 Take out the upper drawers of a dresser, paint it in a new color, and use it as a TV stand. Keep the lower drawers so your stand can still store other objects and keep your TV room clean and organized. via twotwentyone.
The Old and Dated Dresser was Totally Unrecognizable after The Fabulous Makeover

Old, wooden, and drab dressers no longer look good in new homes. Paint an old and dated dresses in rustic white, change the knobs, and turn it into a side table in your living room to store knick knacks that would've otherwise added clutter to your space. via ellaclaireinspired.
Make a Giant Reclaimed Wood Clock from an Electrical Reel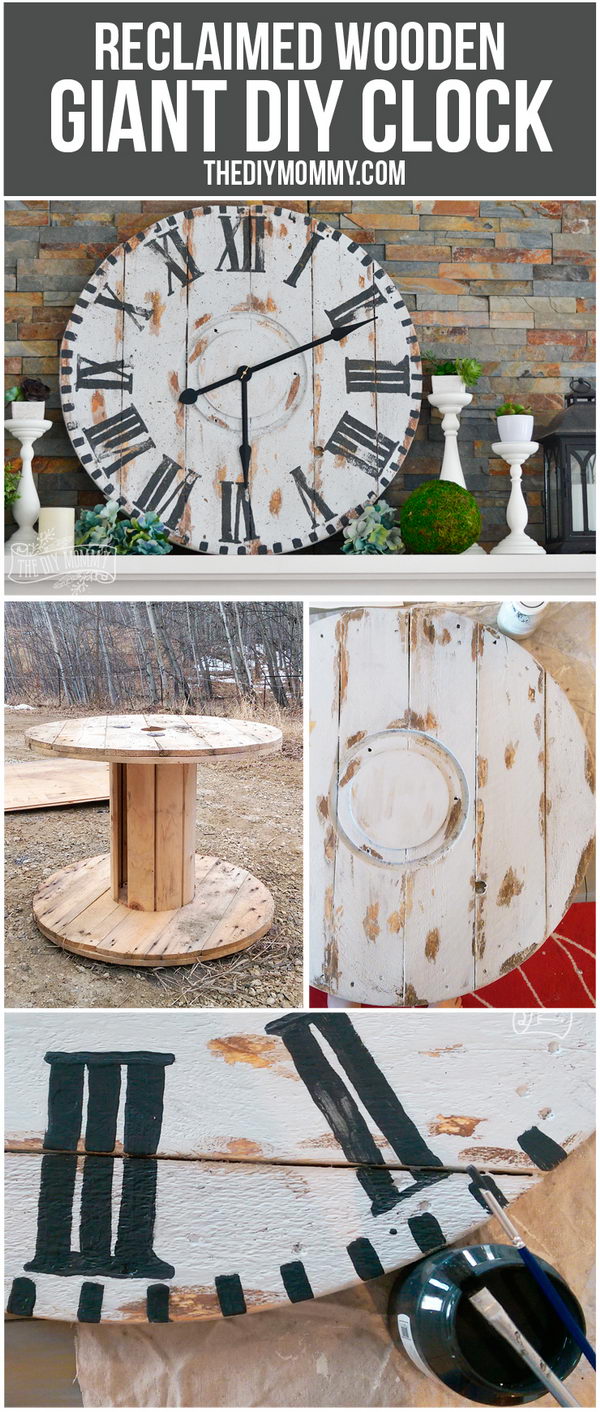 Add some rustic charm to your home or party by using one side of an electric reel as a giant clock. Simply clean the reel, take one of the circles out, paint it over with one layer of white paint, add roman numbers for the clock design, and lean it on a wall for a rustic home decor that's sure to delight. via thediymommy.
Genius DIY Under The Bed Storage Solution

Big and old bookcases are hard to store. They take up space in your garage and make it look dreary. It's time you take it out and paint it in a light color, add some knobs, wheels, and place it under a bed for some added storage for your clothes, shoes, or just about anything. via diyfunideas.
Dresser to Bathroom Vanity and Bench

Did you know that you could turn one piece of furniture into two? This clever idea can turn a dresser into both a bench and vanity for your bathroom! via libler.
Old Drawers Turned Into Porch Planters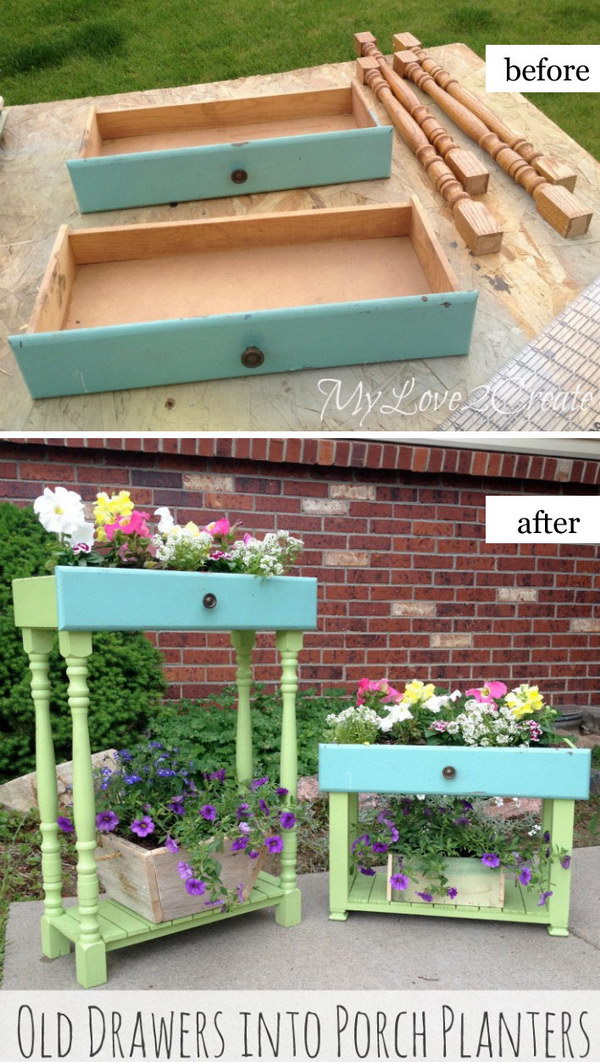 Add a rustic charm to your garden with these drawer porch planters. Simple paint some unused drawers and fill them with flower plants. via mylove2create.
Upcycled Dresser Drawers Into Shelves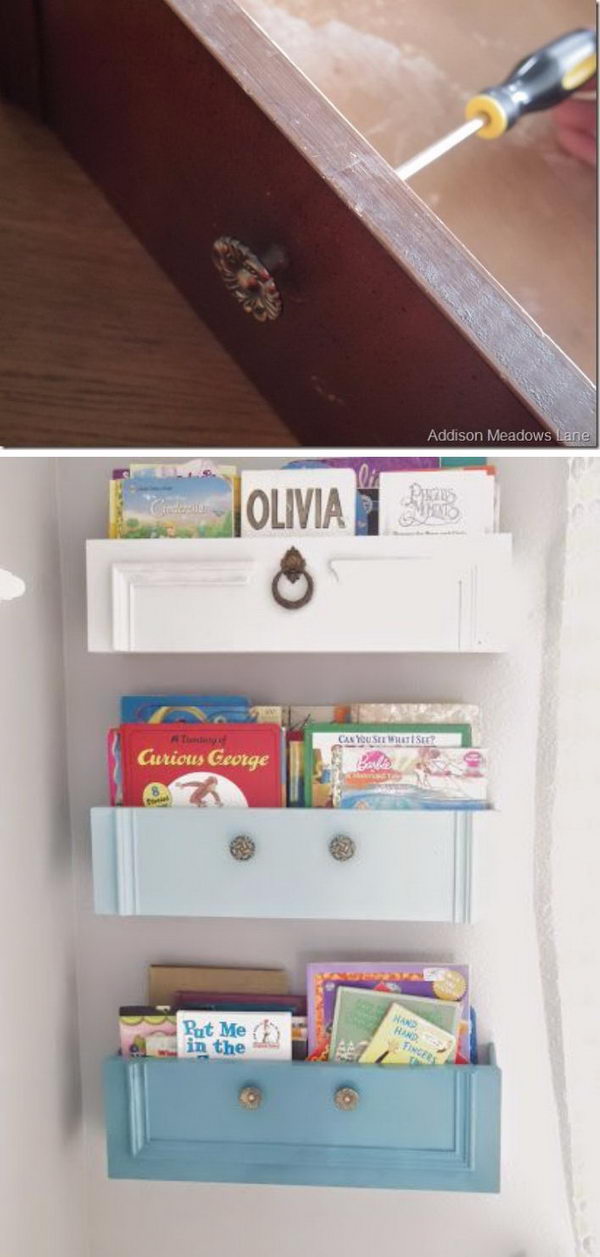 An ingenious idea for a bookshelf, take some old drawers, paint them in pastel colors, and replace the knobs with new ones. Mount them on a wall, and you've got a clever bookshelf idea that can't be found in any store. via addisonmeadowslane.
Old Door Coat Rack With Photographs in The Window Panes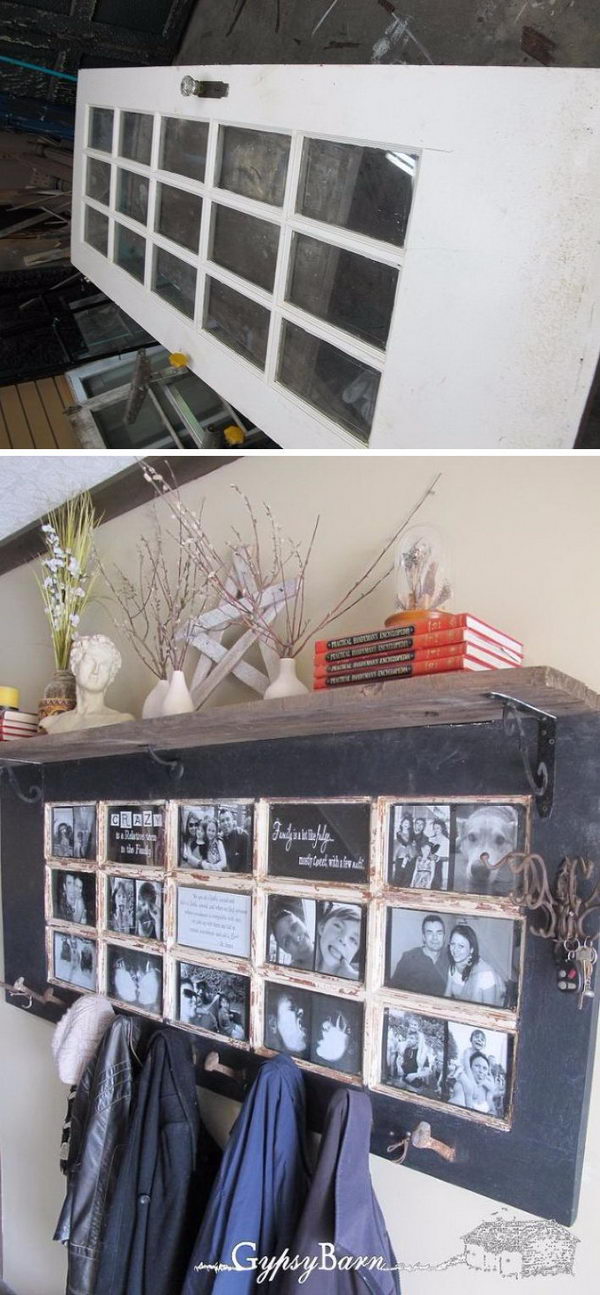 An old door with window panes can make for the perfect family photo wall decor. Turn the door horizontal and place pictures on the window panes. Mount on a wall and add hooks on the bottom for the perfect coat rack. via hometalk.
$50 Faux Planked Coffee Table Makeover from a Trunk Coffee Table

With only $50, you can turn a simple table into a luxurious faux planked coffee table for your living room. via blesserhouse.
Kitchen Island Out Of Old Windows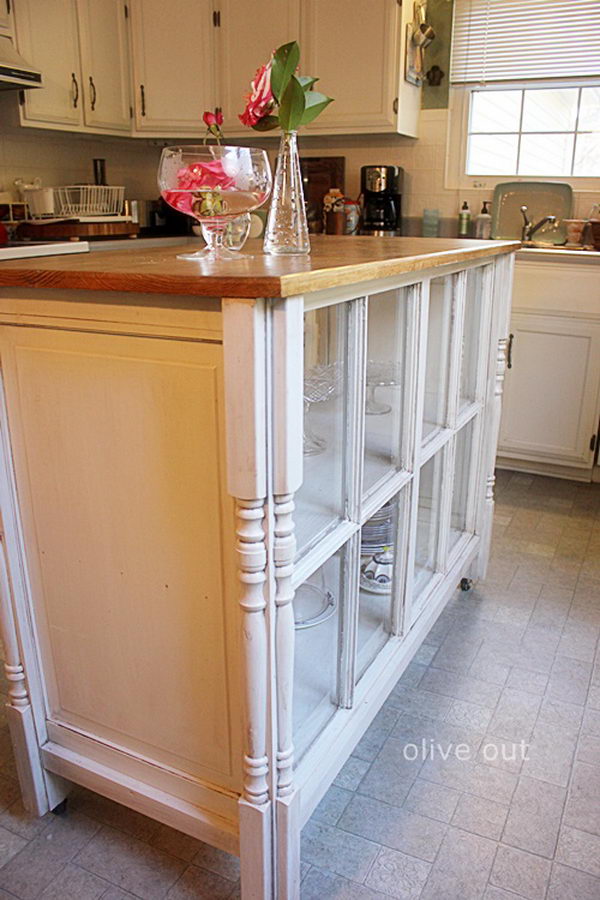 Use old French windows to make this classic style kitchen island. What's great about it is you can have your best ceramics and wine glasses on display. via oliveout.
Turn a Ladder Into a Light Fixture

Add a country vibe to your dining room by using an old wooden hanger into a lighting fixture. Hang it over your dining table and use it to hold chandeliers or other lighting. via craftsmandrive.
$35 DIY Pet Feeding Station From an Old Dresser

We just adore our pets, but not when they make a mess of their food. If you've got an old dresser lying around, turn it into a pet feeding station. Simply take out one of the lower drawers, cut out holes big enough for your pet's bowls, place the bowls inside, and your pet's got a special feeding station just for him or her. via craftywifecraftylife.
DIY Farmhouse Bathroom Vanity From an Old Dresser

Old dressers are great for bathroom vanities. They add that classic, vintage, and romantic feel to your bathroom that no modern furnishing can do. Use an old dresser to upgrade your bathroom vanity. via littlevintagenest.
DIY Repurposed Wooden Cable Spool Table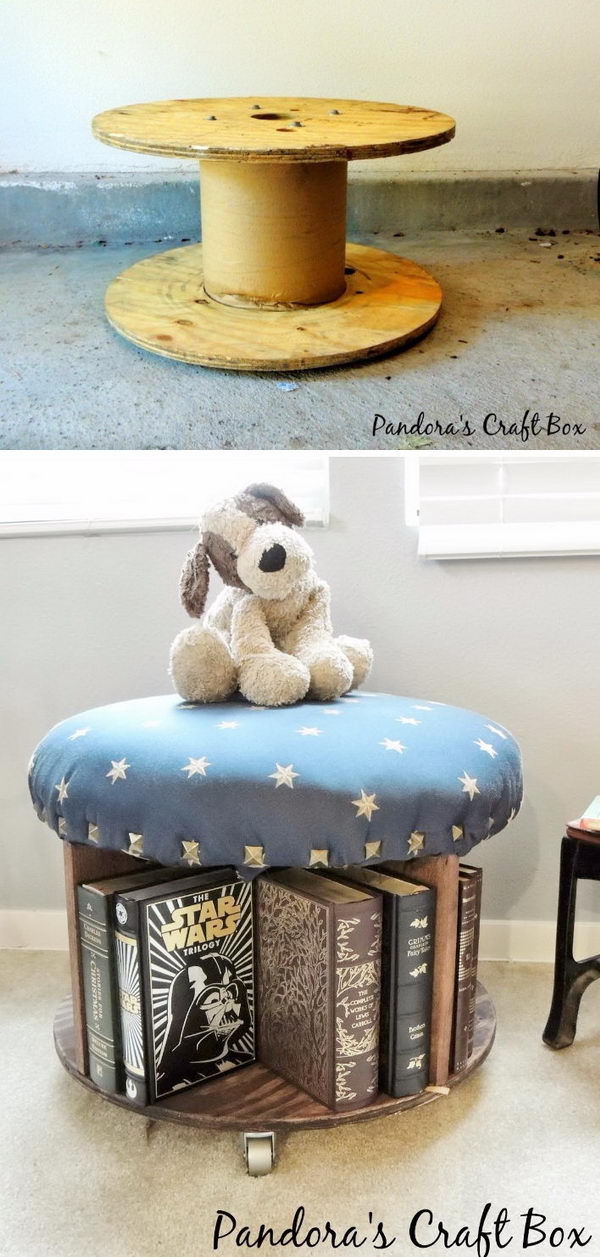 And another wooden spool project, this super cute padded table/bookcase project is sure to add that simple touch of charm to any room. Simply add some wooden planks to create separate space, and have the top of the spool tufted in a super cute fabric and padding. via diyinspired.