40+ Clever Closet Storage and Organization Ideas
Organizing and tidying up your closet is never an easy task, especially when you don't have enough closet space. With some clever organization tips, your closet will be more spacious and tidy. If you are starting to makeover your closet, the first thing to consider is what the elements you have and how to organize them. And here're some good pieces of advice.
1. Make an inventory of all your clothing and accessories to look at what do you have. Then divide them into groups for different season.
2. Put all your stained, ripped or overly worn items in a pile to discard. Place good clothes that you haven't worn in more than two years to donate.
3. Store your out-of-season clothes and gear into storage boxes with items tags to easily find them for long-term storage and place them on high shelves.
4. Keep shoes and other smaller items in boxes and write an inventory or take a photo of the items inside and tape it to the outside of the box to visually identify its contents.
5. Add extra shelves to create lots of spaces to place sweaters, shirts and shoes. Use high shelves to store out-of-season clothes and gear, while lower shelves to store items you wear often.
6. Invest in more hooks and racks to keep purses, jackets, hats on the empty walls and back doors. And It's a budget friendly way to simply add multiple rows of hooks.
7. Store accessories in clear plastic drawers or hang them up on old thread racks. You can also use recycled items like PVC pipes to storage shoes and scarves.
8. Learn how to hang and fold clothes properly to save space. You can use one smart solution to a storage crunch: a customizable unit of wire drawers made out of paper shoe cases.
9. Utilize the vertical space : Hang up more clothes using s hooks or pop bottle tops. You can also store suitcase in the space above the closet door or install a second rod below your first rod.
Here we collected more than some clever closet organization ideas and DIY projects to help you expand and save your closet and have a organized and neat closet. You can never have too many organization tips! Put some of these creative ideas into practice and you'll be surprised how helpful they are!
Simple Storage for Less PVC Pipe Scarf Organizer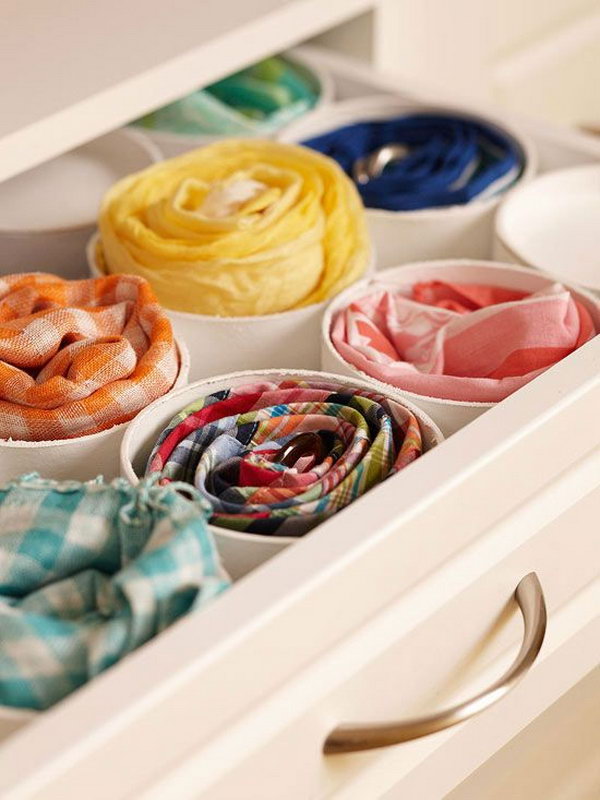 Install a Second Rod below Your First Rod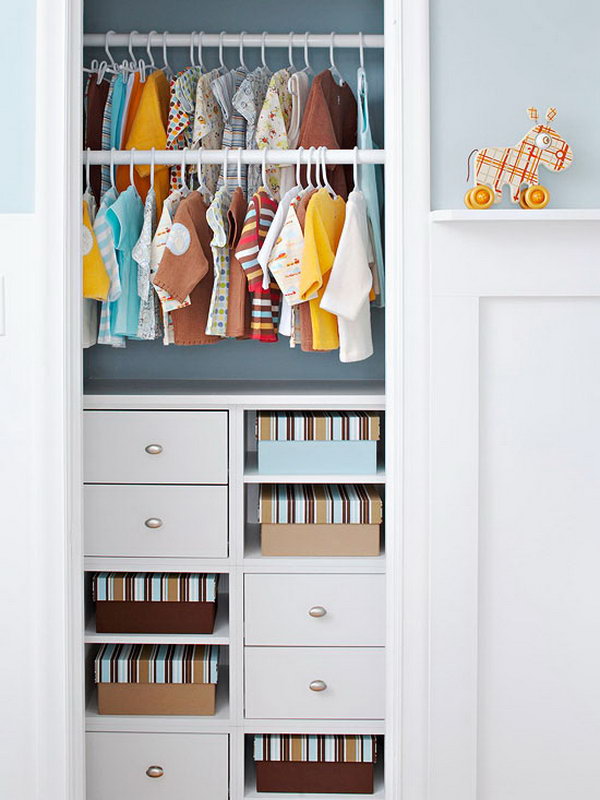 Make Flip Flops Hangers from Wire Coat Hangers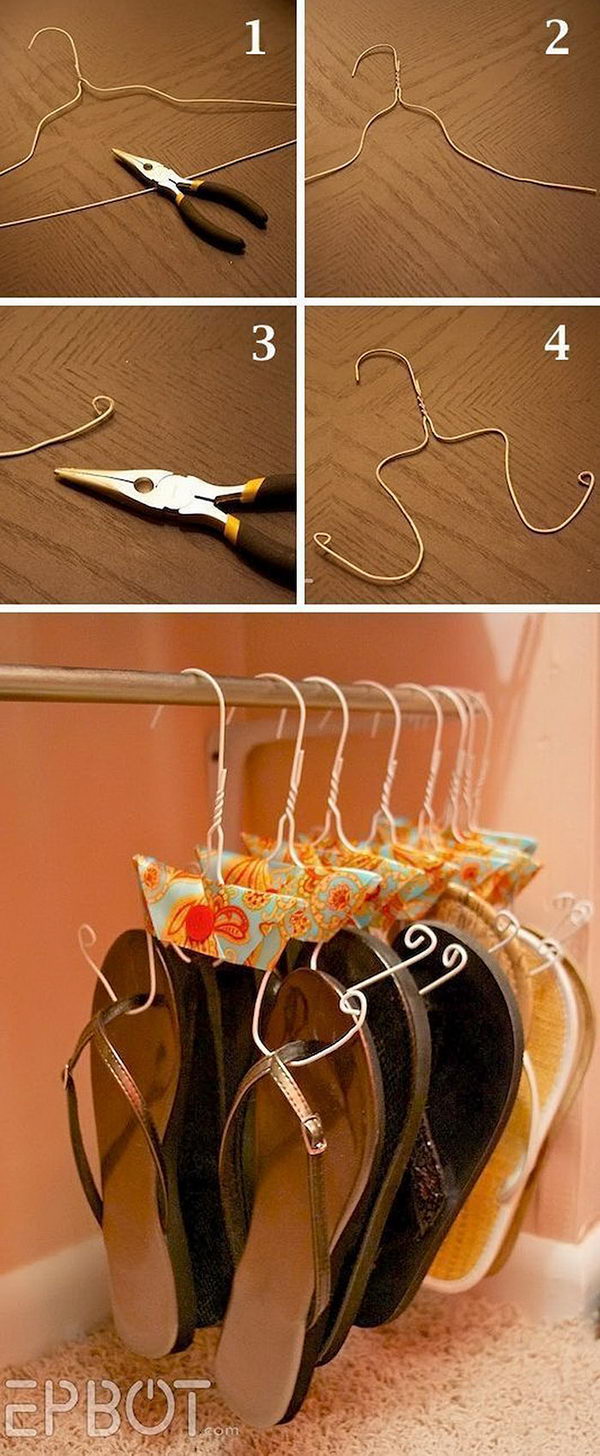 Use S-Hooks and Chains to Hang Multiple Garments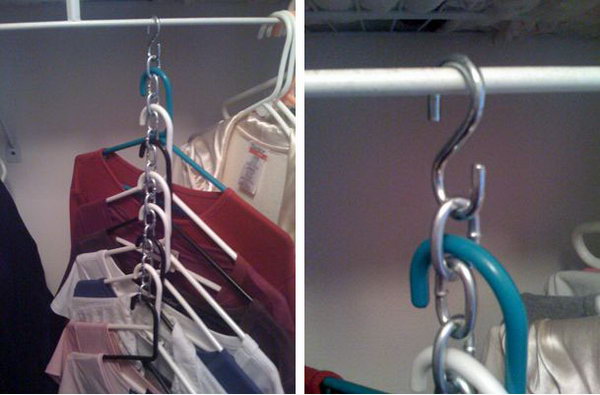 DIY Double Clothes Hangers Using Soda Can Tabs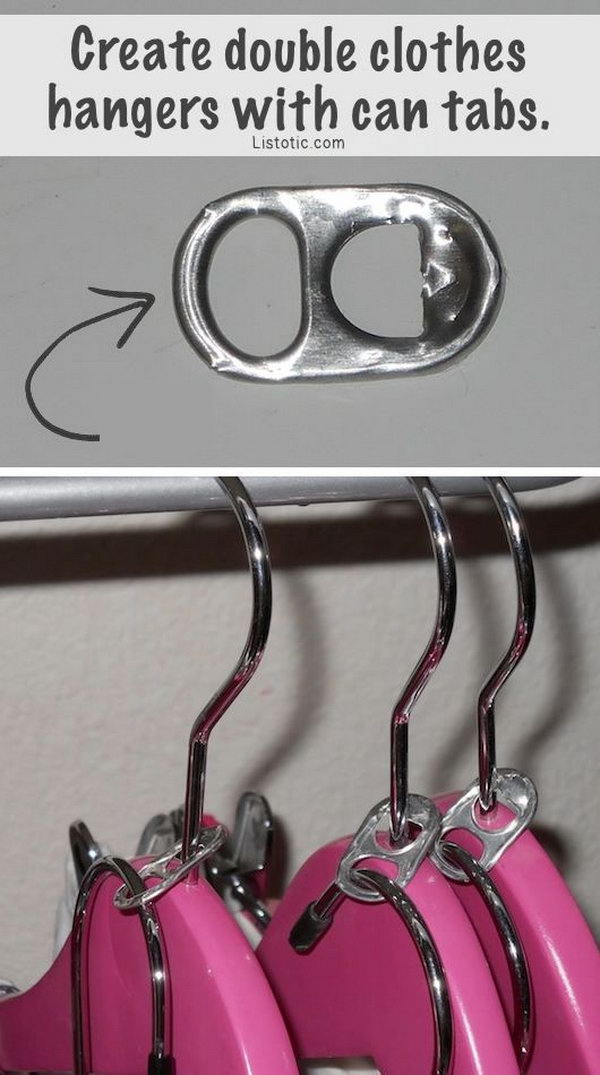 Use Old Shoe Boxes as Drawer Organizers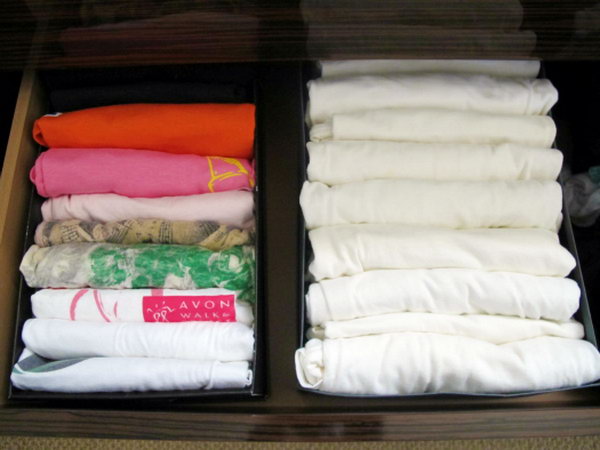 Use Shower Curtain Rings to Organize Scarves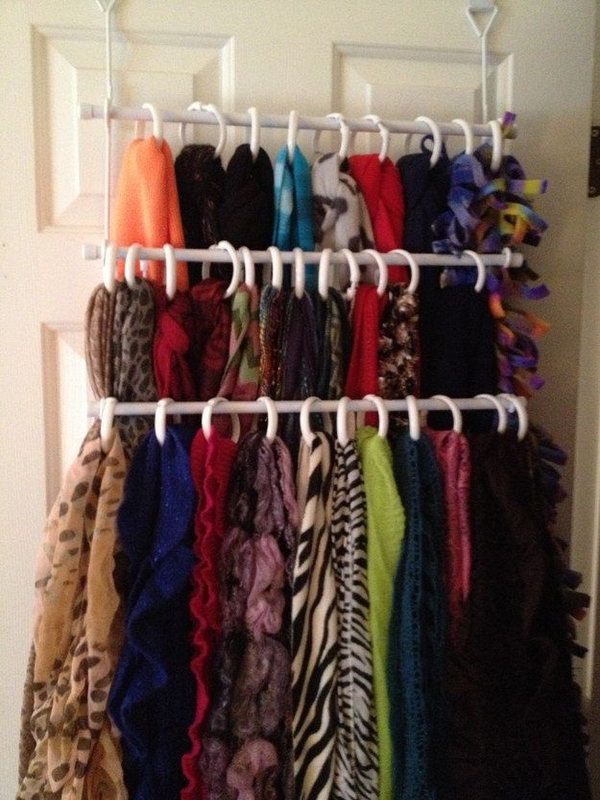 DIY Cork Board Storage for Him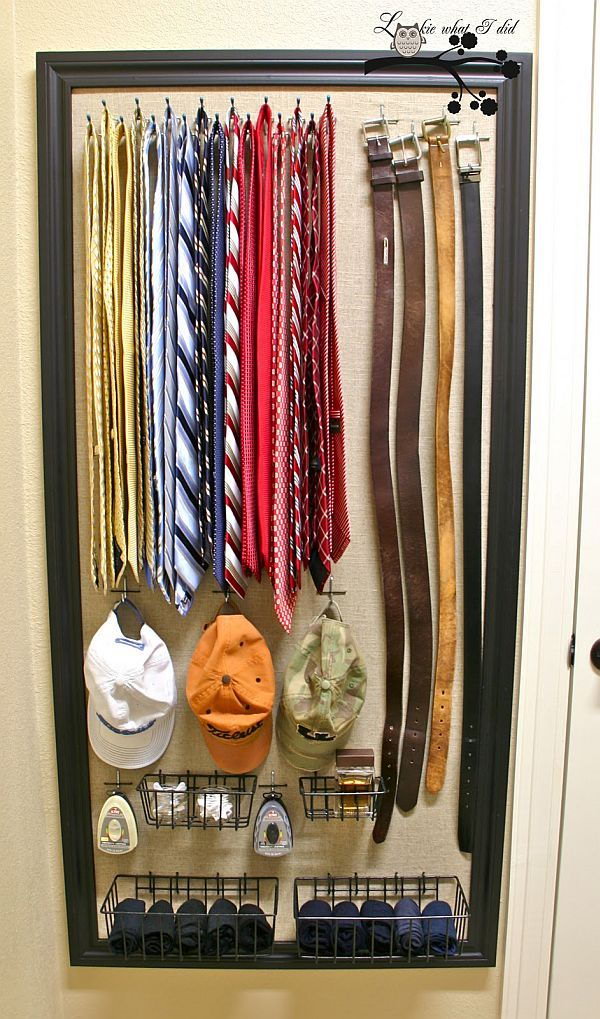 Use Towel Racks and Curtain S-hooks to Organize Necklaces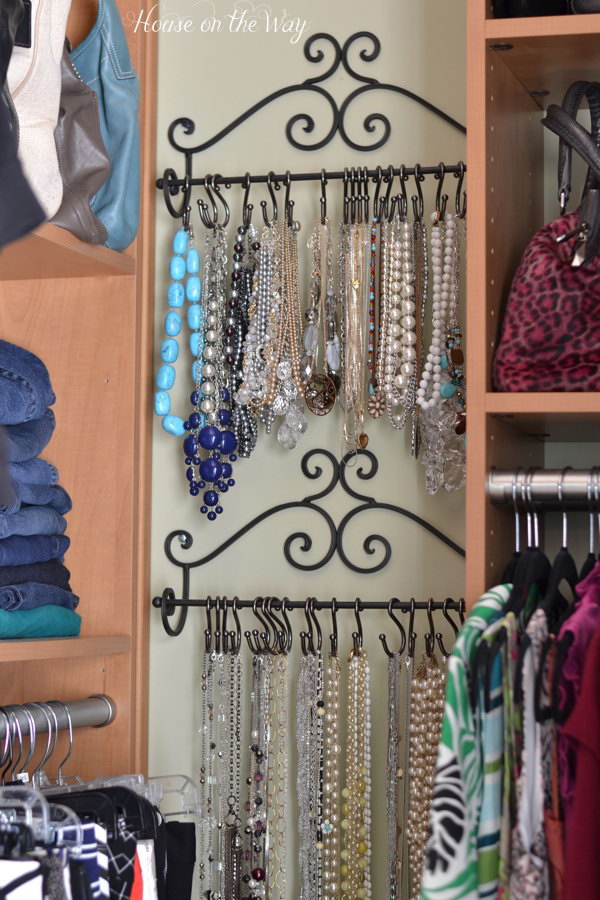 Add a Closet Door Shelf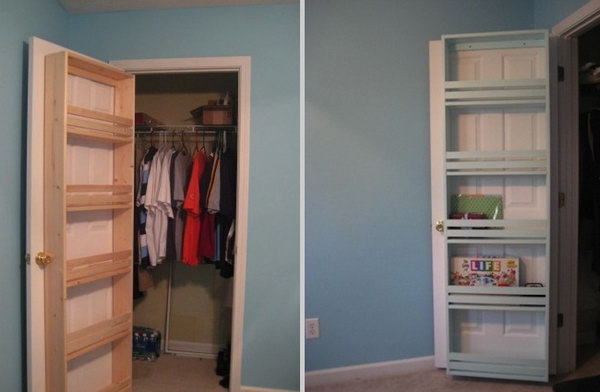 Storage-Go-Round for Corner Unit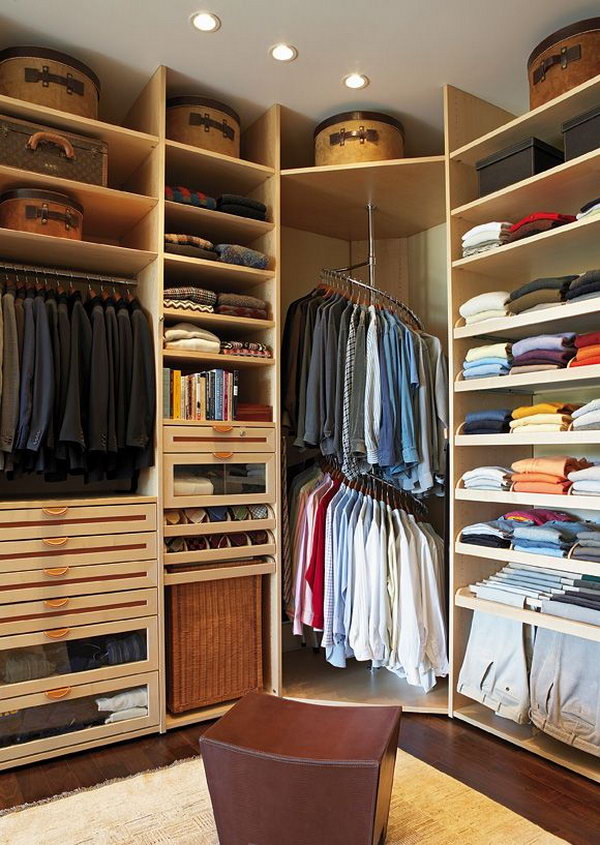 This is really the ultimate hanger I've ever seen. A rotating stainless-steel clothing rack maximizes corner closet space. source
Wine Box Shoe Organization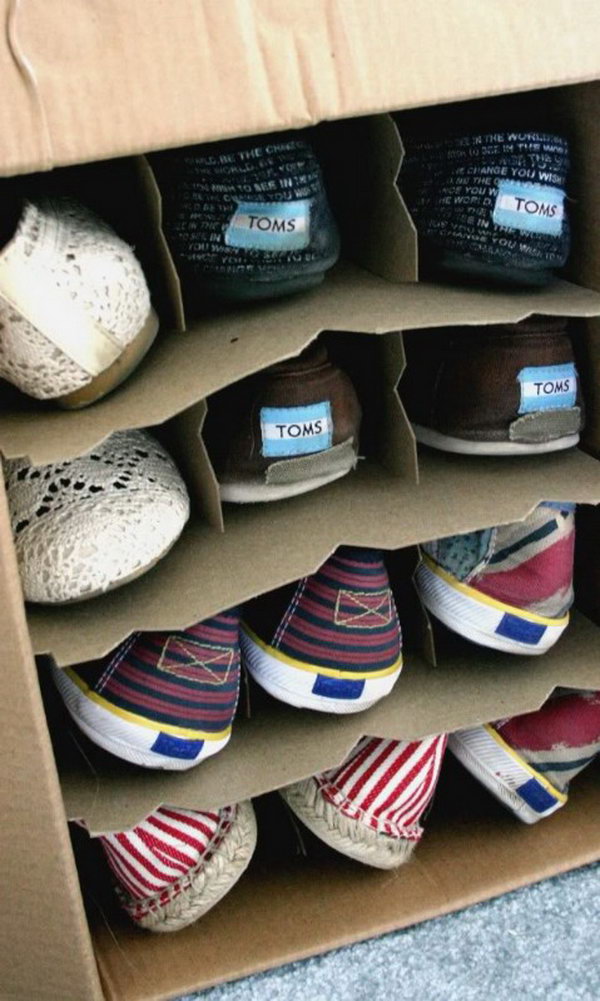 Shower Curtains Rings and a Velvet Hanger Tank Top Space Saver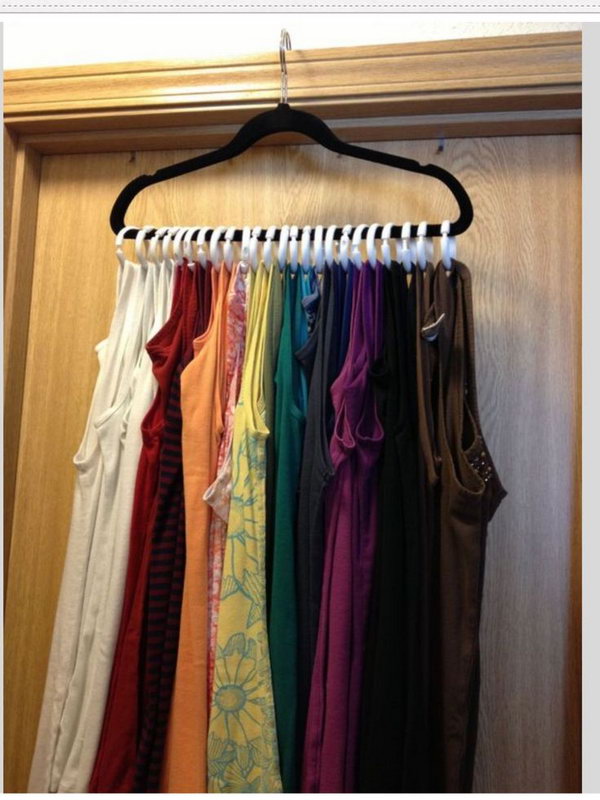 Fix a Sliding Pants Rack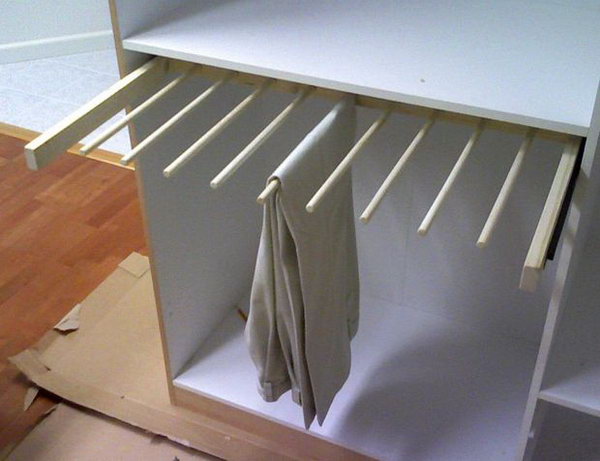 Organize Your Shoes With Tension Rods Rather than Throwing Them on the Floor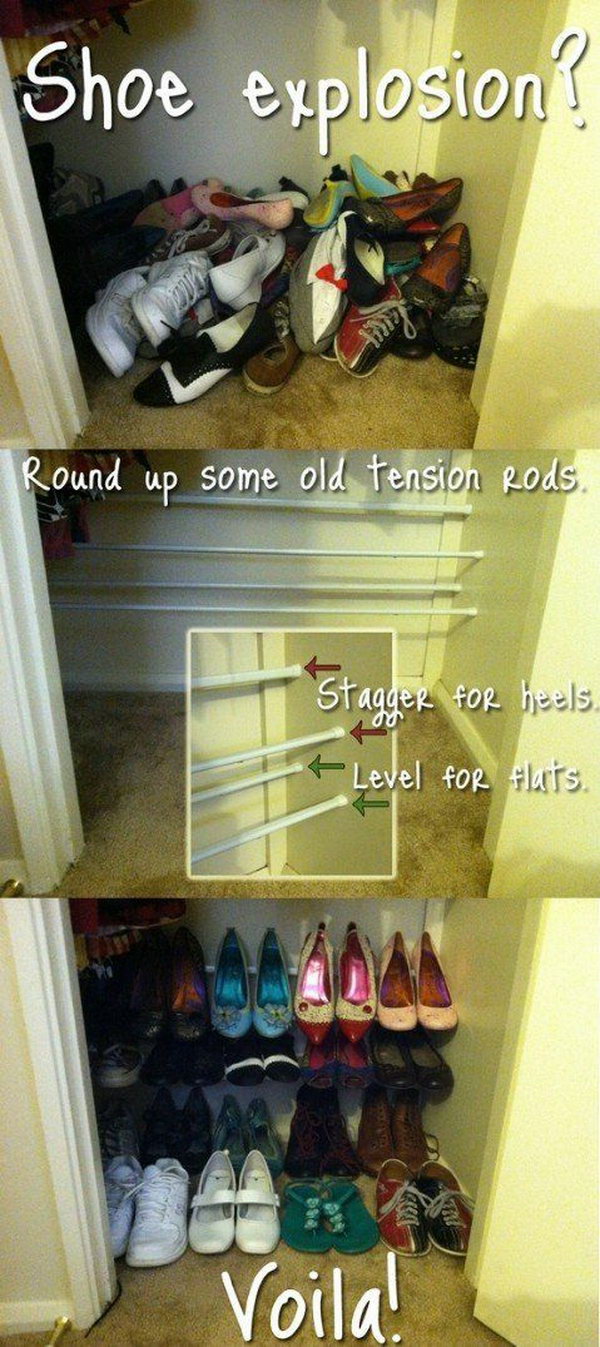 Install a Built-in Ironing Board in the Closet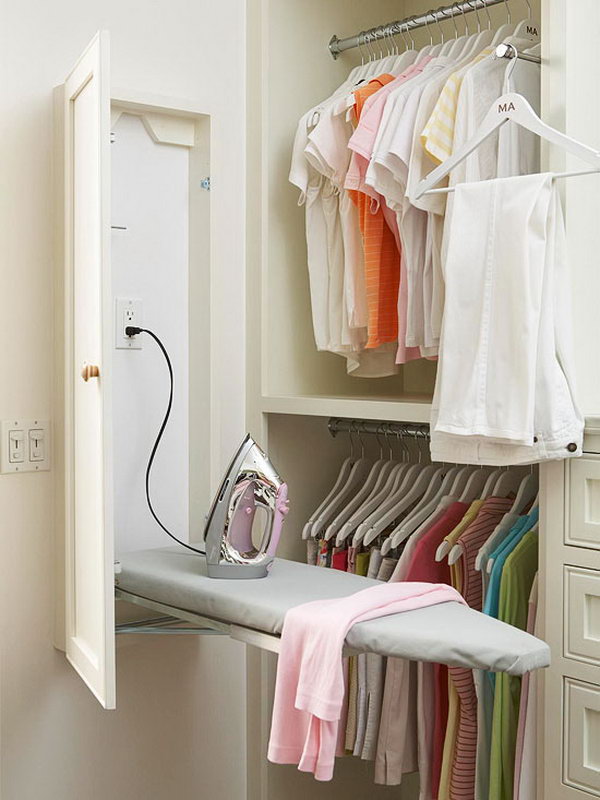 Use Shoe Boxes as DIY Dividers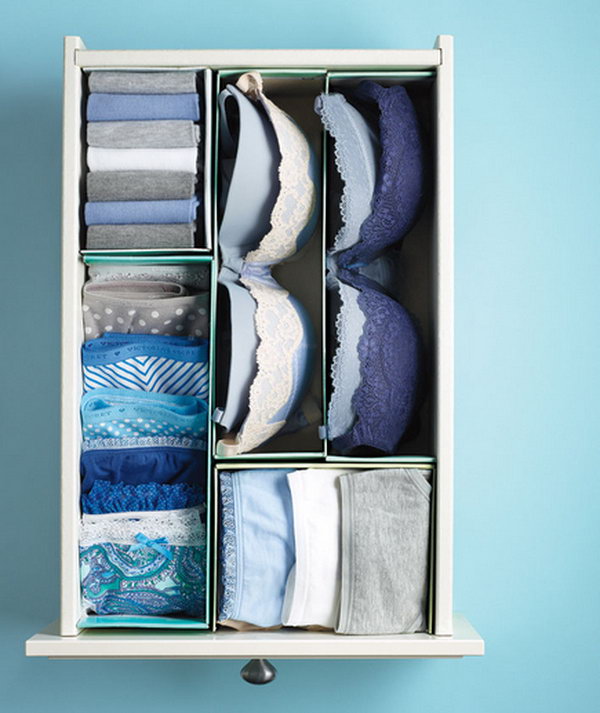 Install Shelving for Purses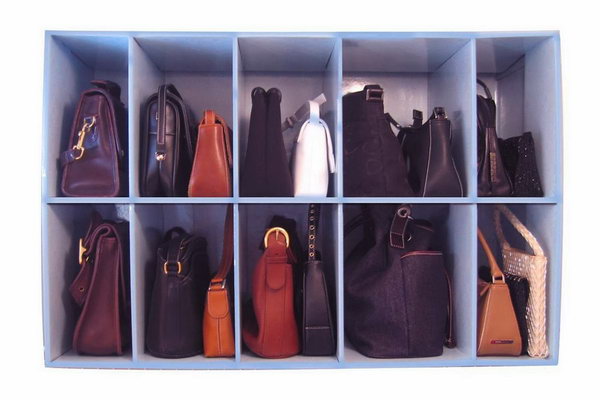 Use Coat Racks to Organize Shoe Storage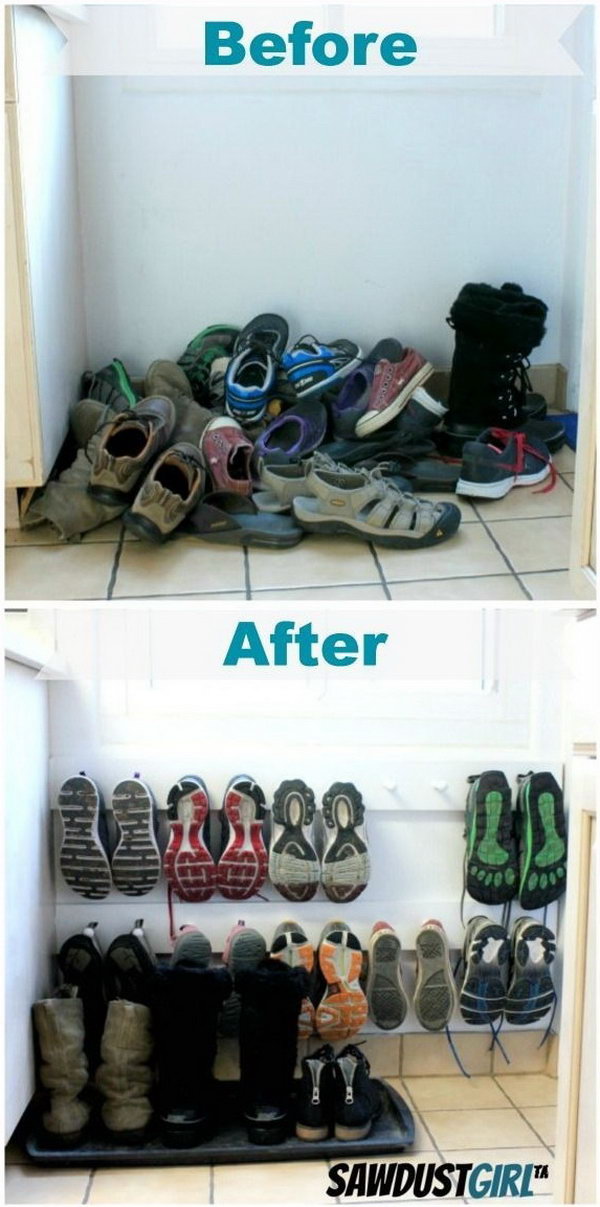 Create Bag Hangers with Shower curtain hooks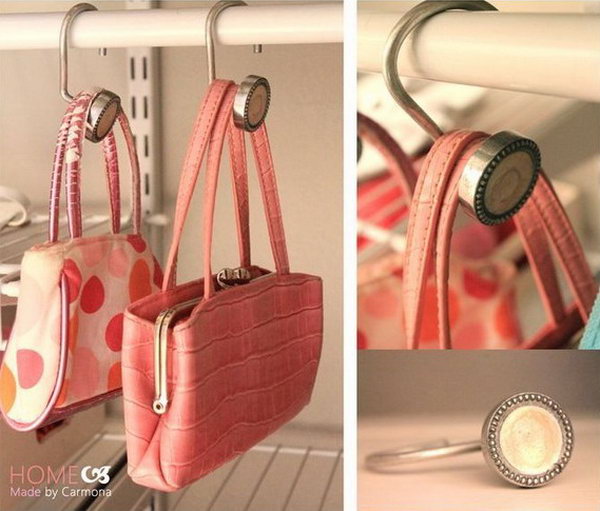 Use Drawer Printables or Tags to Identify the Inside Items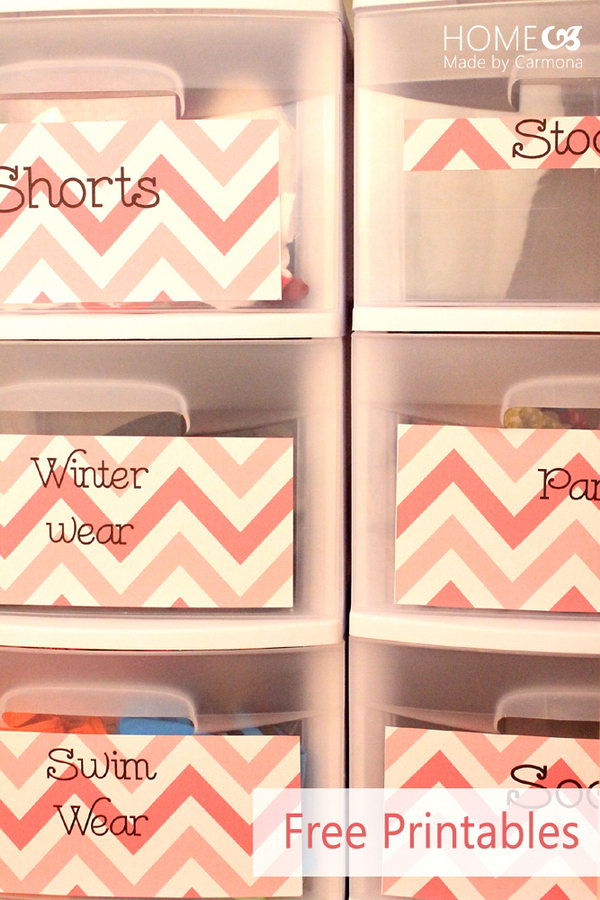 DIY Hat Hanger with Curtains Rings and a Hanger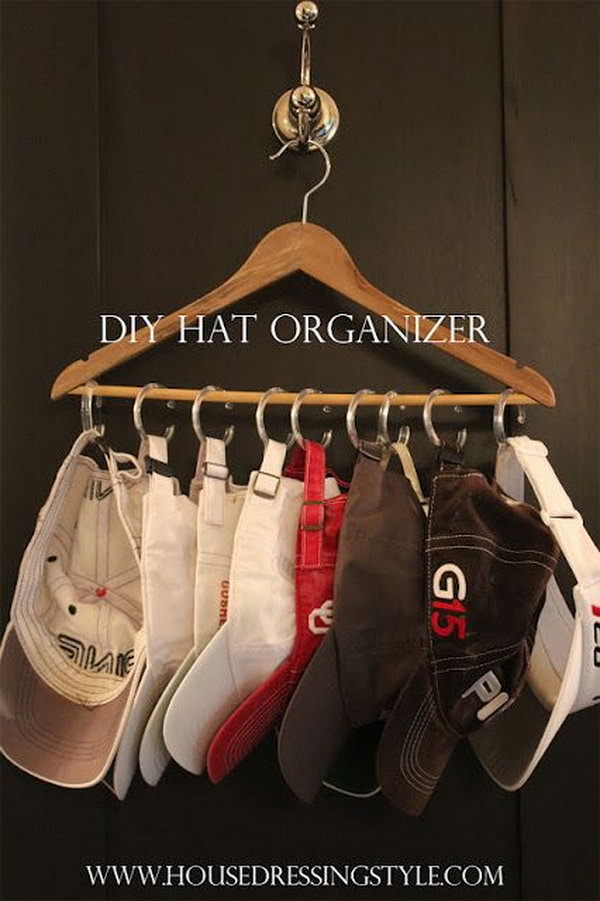 source
Use Crown Molding as a Place to Store your Heels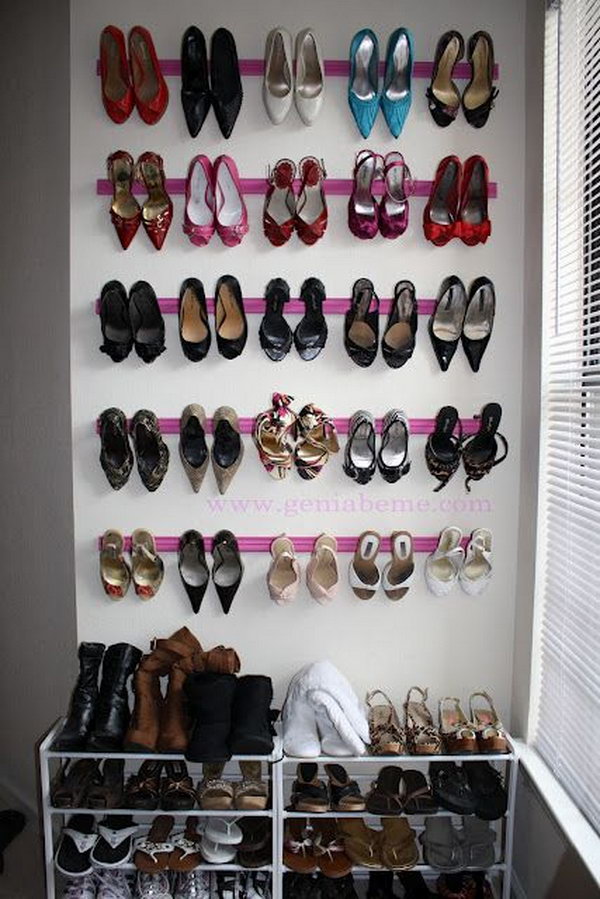 Behind-the-Door Storage Idea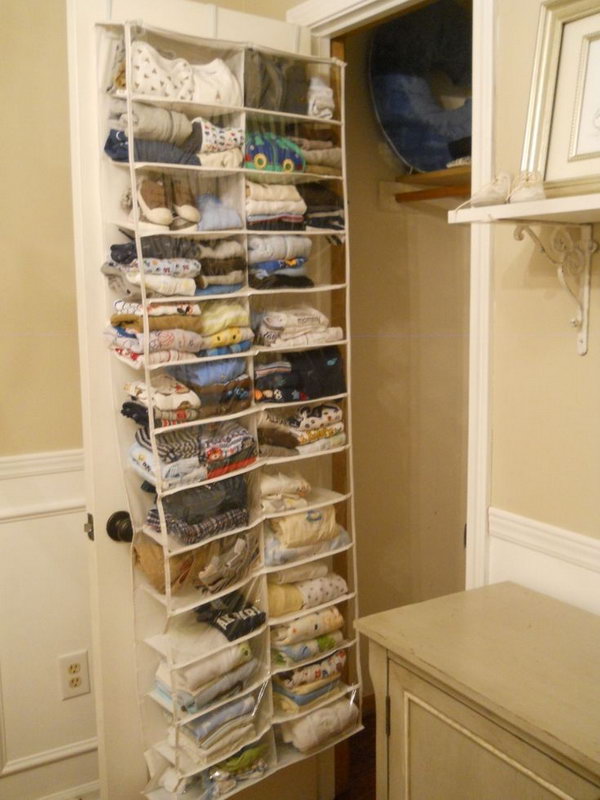 Door space is as good as floor space! You can use the extra pockets to store other small accessories. To buy here
Simple but Useful Scarf Organization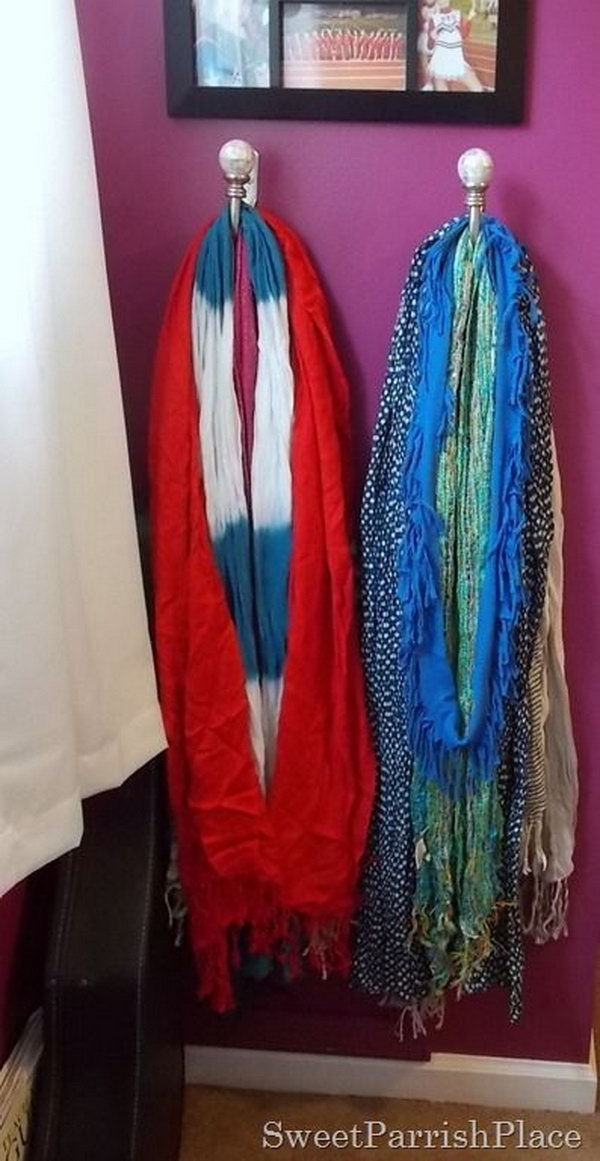 Inexpensive Scarves Holder Made out of a Hanger and Shower Curtain Rings

Use Hooks to Hang up Your Purses in Your Closet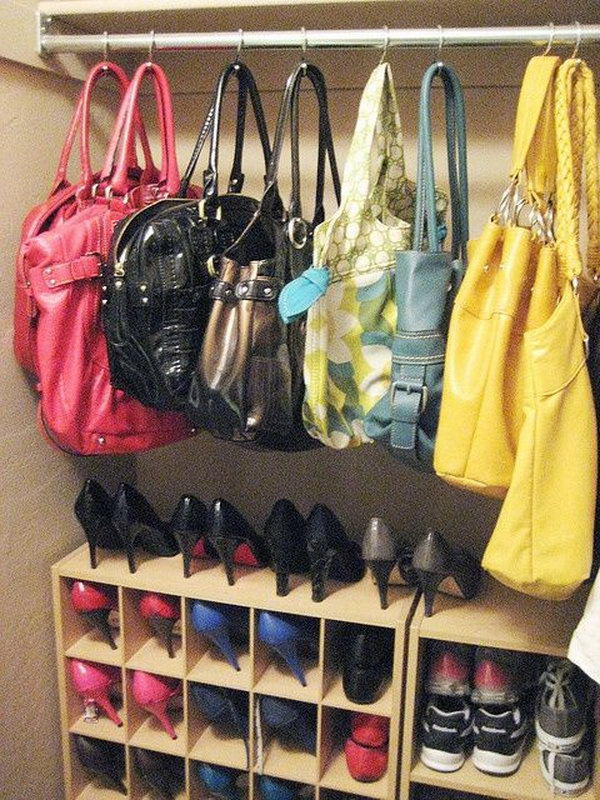 Purse Rack behind the Door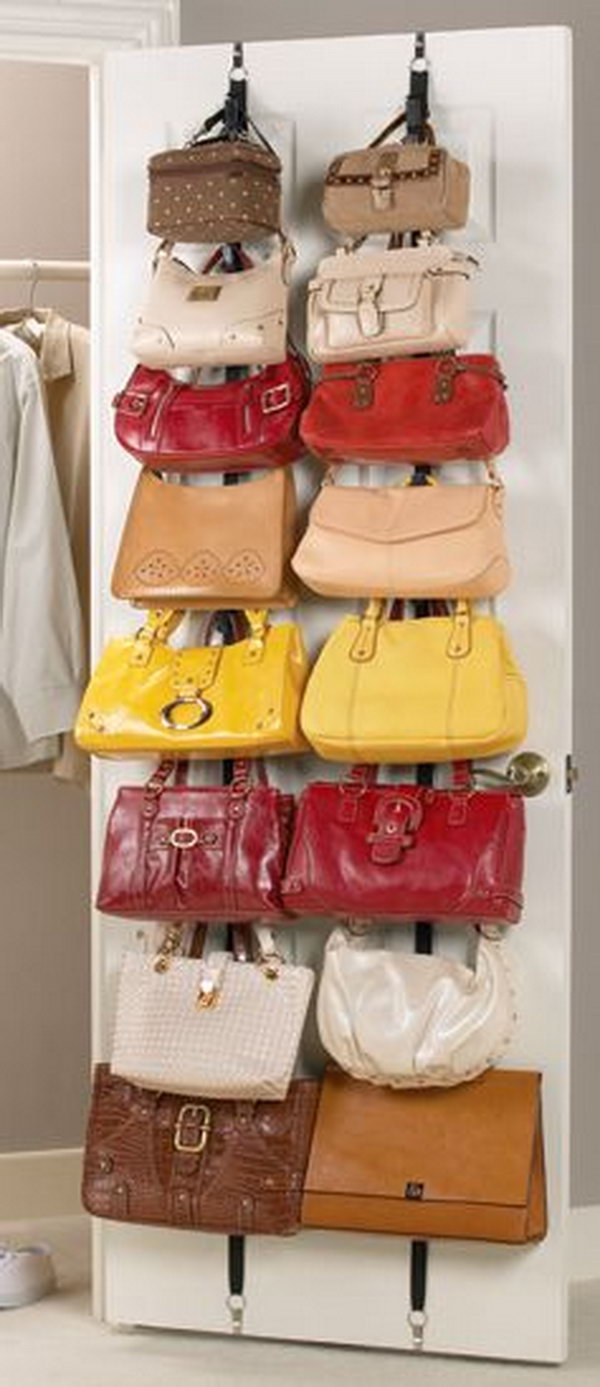 Organize and store your handbags with the Jokari Purse Rack to save space and keep your purses behind the door! It has eight adjustable hooks per rack hold purses, belts, scarves, hats and more. Stretch tension system keeps organizer against the door and the lo-profile spring steel door hooks insure your door jams will not be damaged. To buy here
Use Drawer Dividers to Organize Underwear Drawer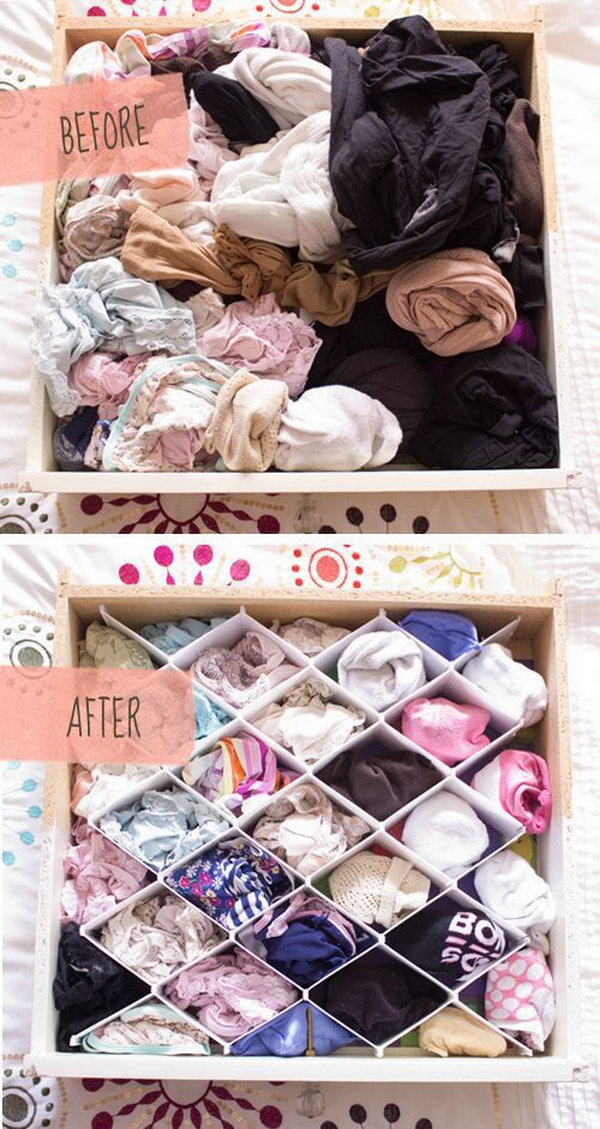 T-Shirt Drawer Organization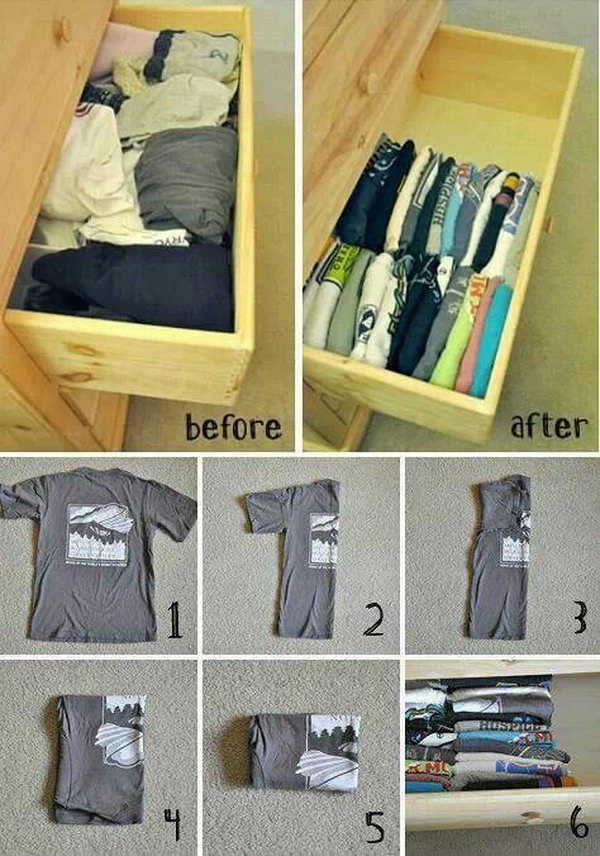 Store Sheets in Their Own Pillow Cases.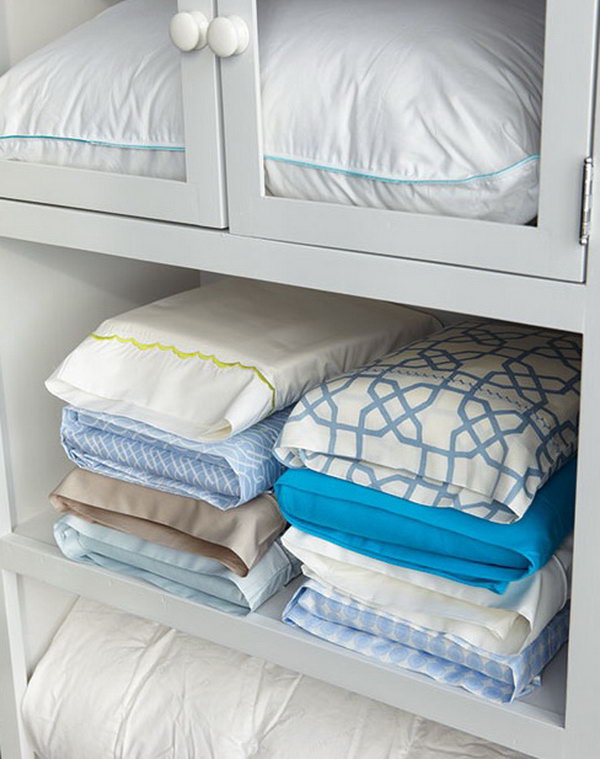 Use Pants Hangers to Organize Your Boots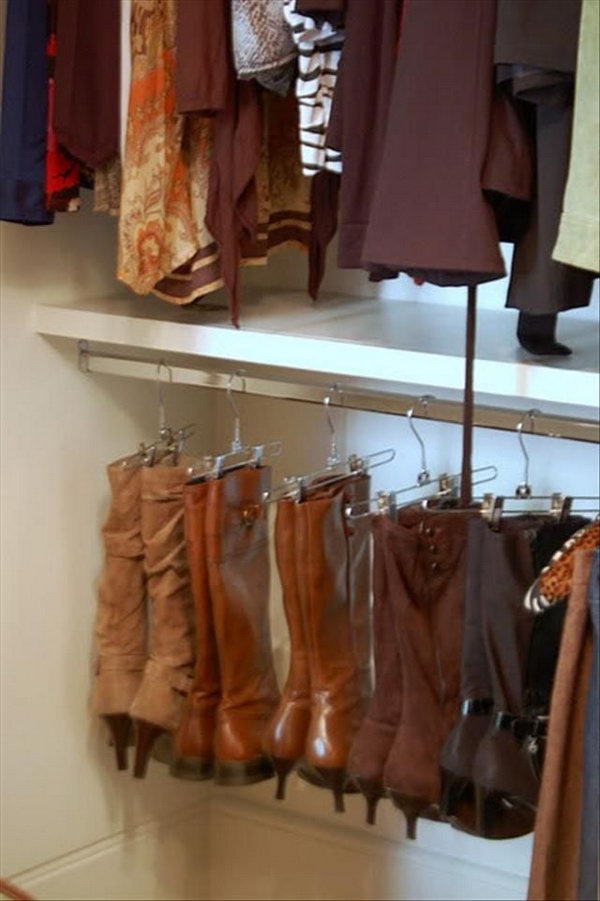 Use pants hangers for boots storage to keep your season shoes boots in good condition. source
DIY Hanging Bra Organizer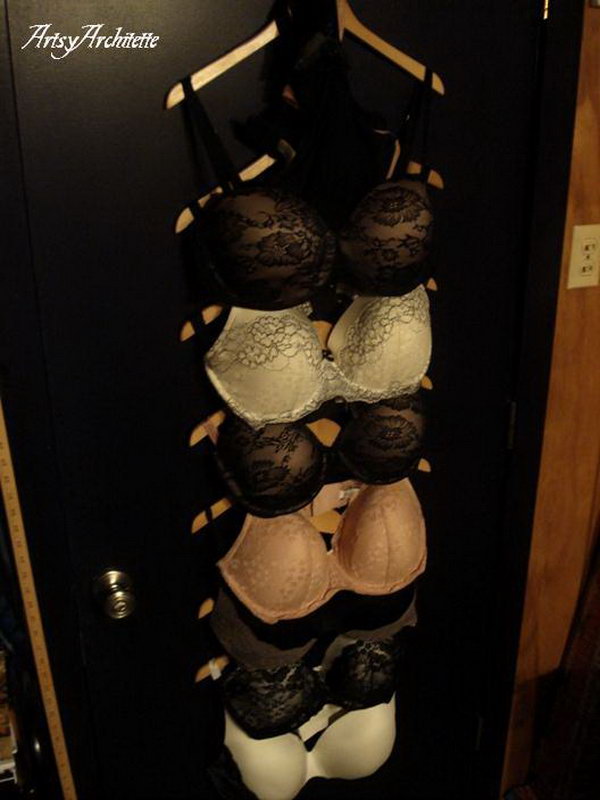 Expand Your Closet space with the Closet Nook Shelves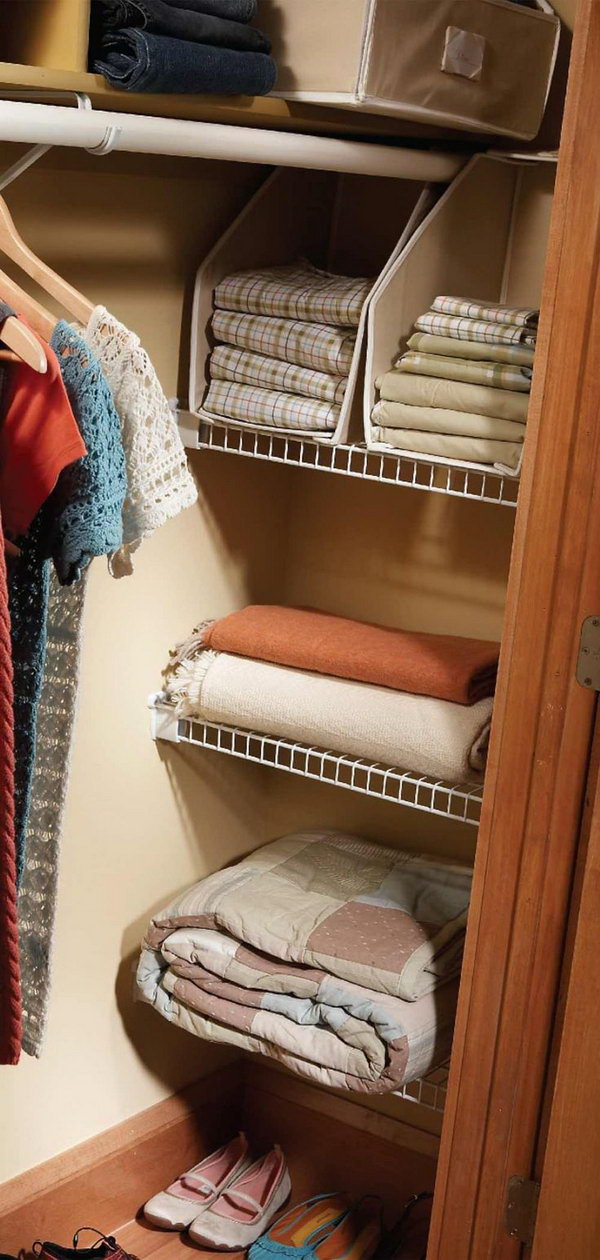 Use Bookcase as Shoe Storage inside a Small Walk in Closet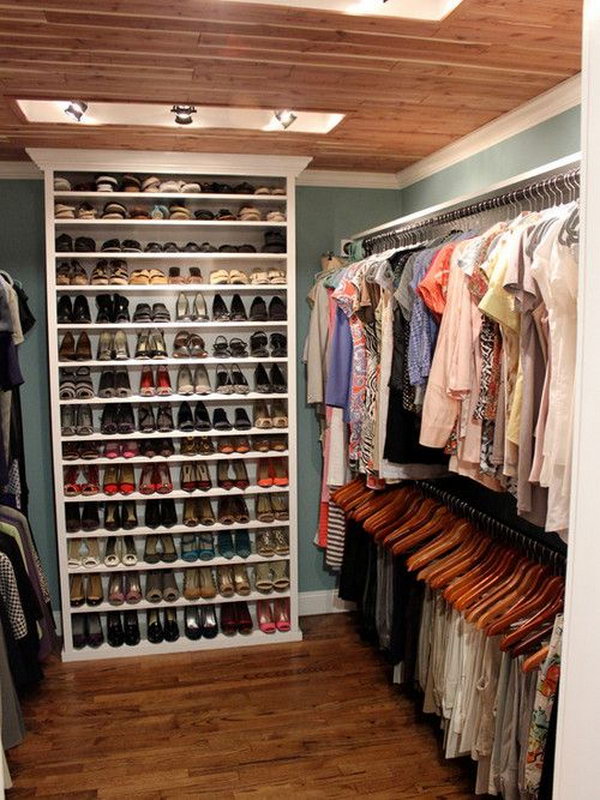 I love the idea of using a bookcase inside a small walk in closet as shoe storage. It makes it feel a lot bigger and you can keep your shoes neatly organized. source
Store Suitcase in the Space above the Closet Door on Hooks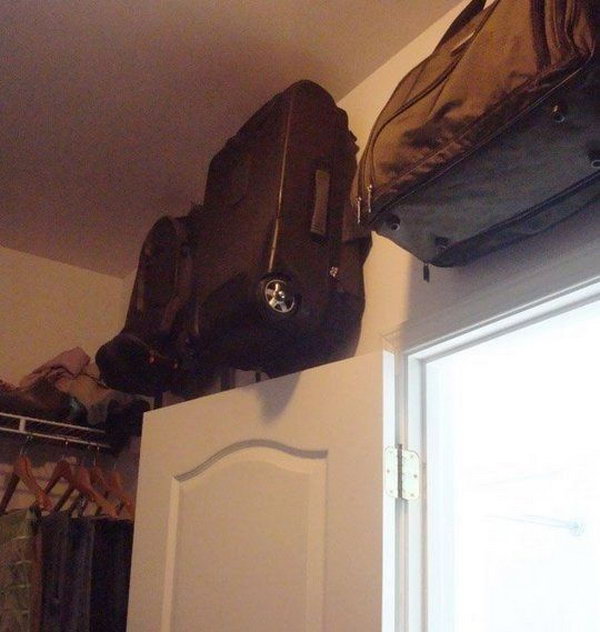 How to utilize the dead space way up high in your closet. You can take advantage of high-up wall space by installing hooks to hang luggage on or build a shelf at the tip top of your closet to stash luggage. See more instructions here
Store Clothes on Shelves More Efficiently with Shelf Dividers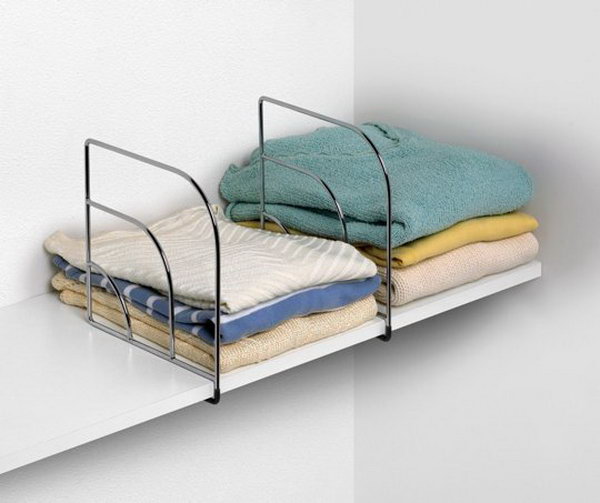 Add Space To Your Master Closet Unused Wall and Put Some simple Baskets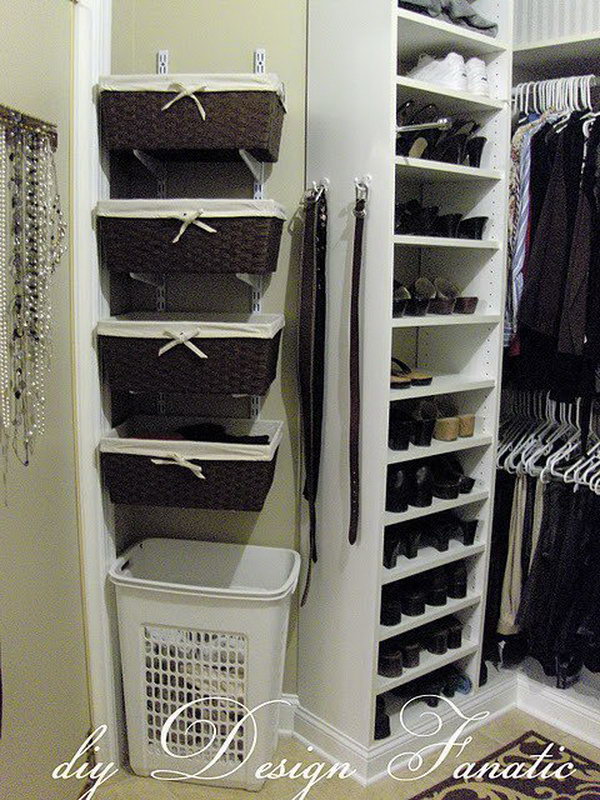 From Thread Rack To Jewelry Organizer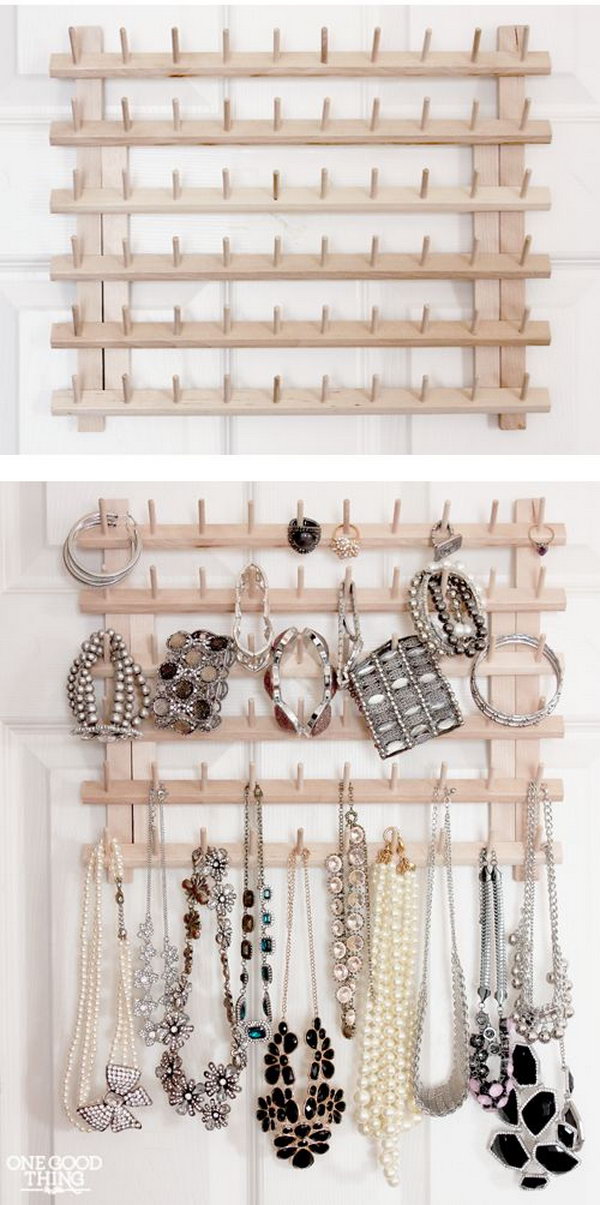 Daily Outfit Hanging Closet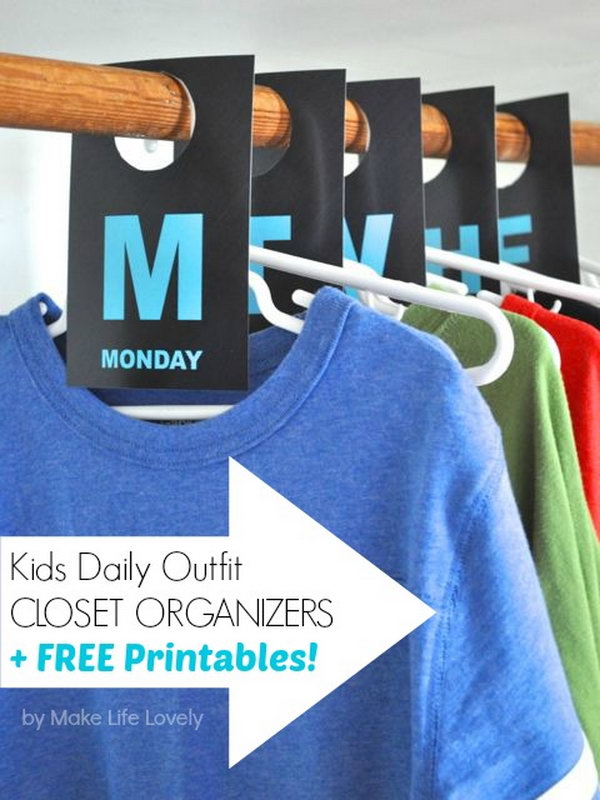 Smart Use of the Not Usual Utilized Place in the Closet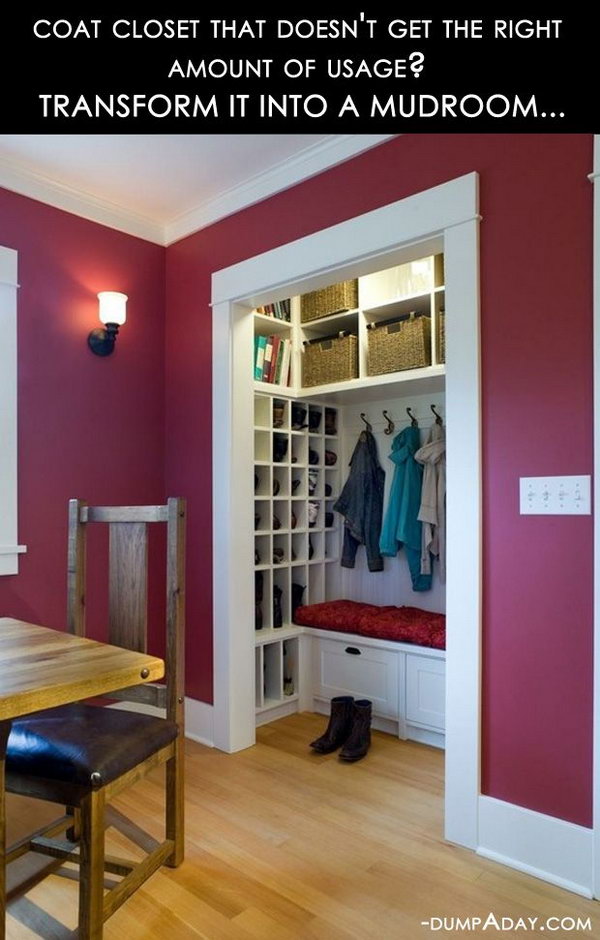 Shoe Cabinet Update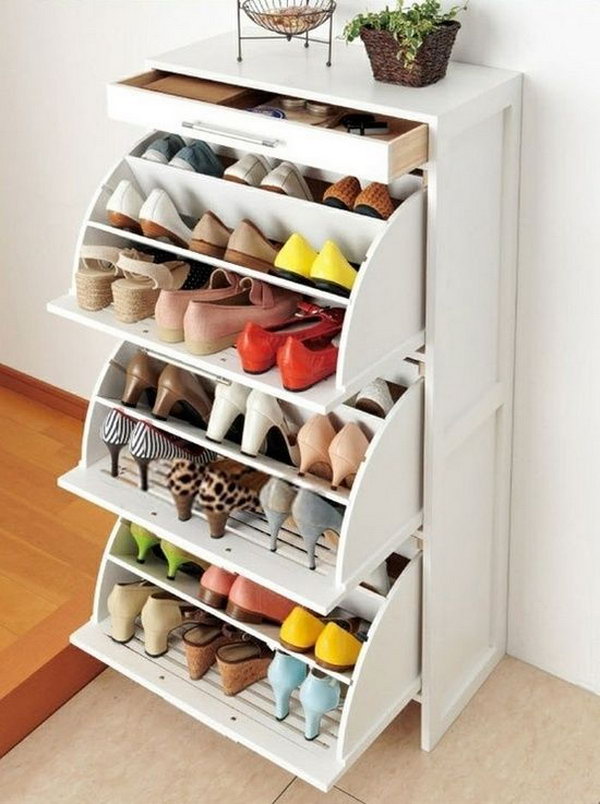 Hang Your Jeans on Shower Hooks from the Belt Loops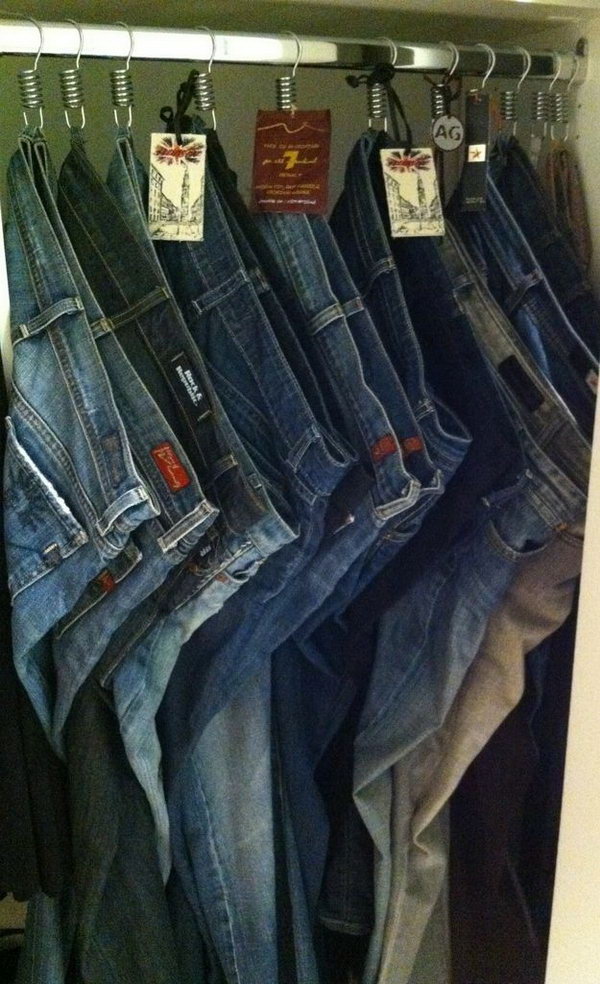 Stack Clear Shoe Boxes