35 Beautiful Kitchen Backsplash Ideas
A backsplash is never just a backsplash – it provides context for a situation, or in the case a room's decoration, sets the mood and style and brings all of the other decorative and functional elements together. In a kitchen, however, the backsplash is quite essential, and one of the things you need to choose first, because it not only is likely being installed before any other elements, but it also needs to match and complement them.
Here are some of the most beautiful kitchen backsplash ideas to be found on the web.
Retro Cream White Kitchen Set with Marble Countertop Plus White Ceramic Subway Tiles Backsplash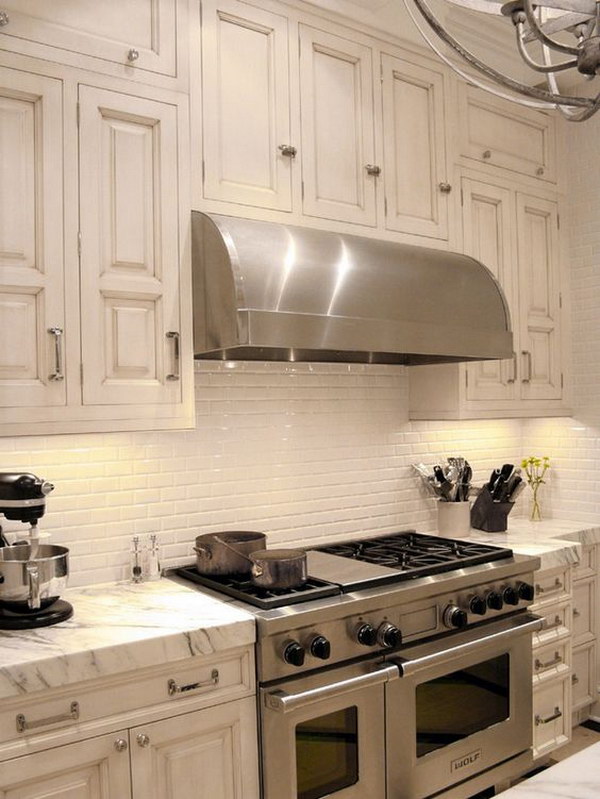 All White Kitchen with Mini Subway Tile Backsplash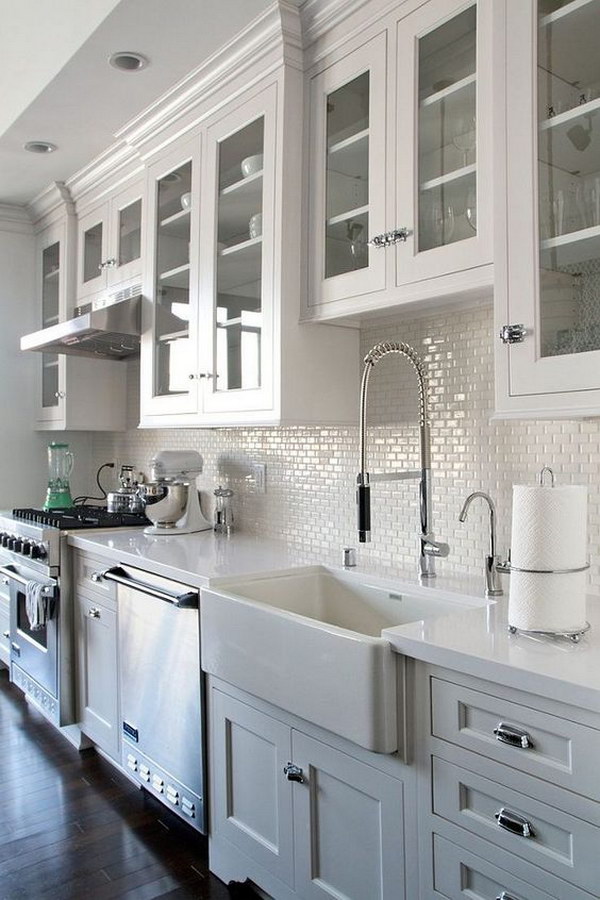 Open Shelving around Range Hood with White Subway Tile Backsplash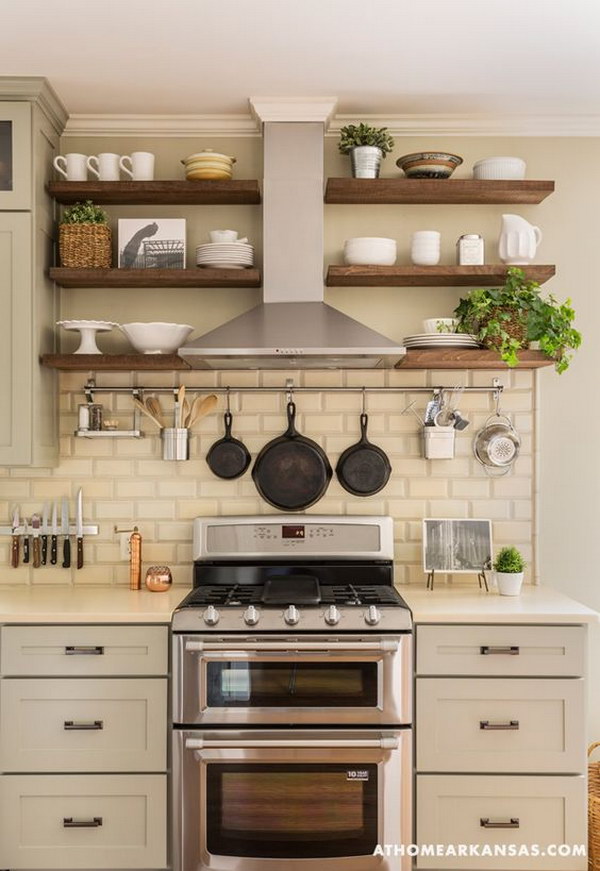 Black Rangehood and the Charcoal Grout on the Subway Tiled Splashback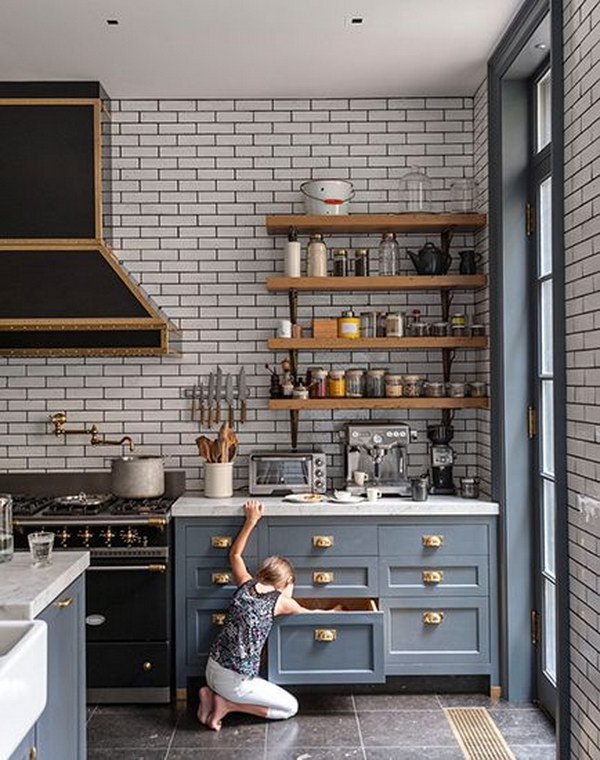 Daltile Rittenhouse Square White Modular Wall Tile ($21) via homedepot.
White Subway Tile Backsplash and Black Grout in a Classic White Grey and Black Kitchen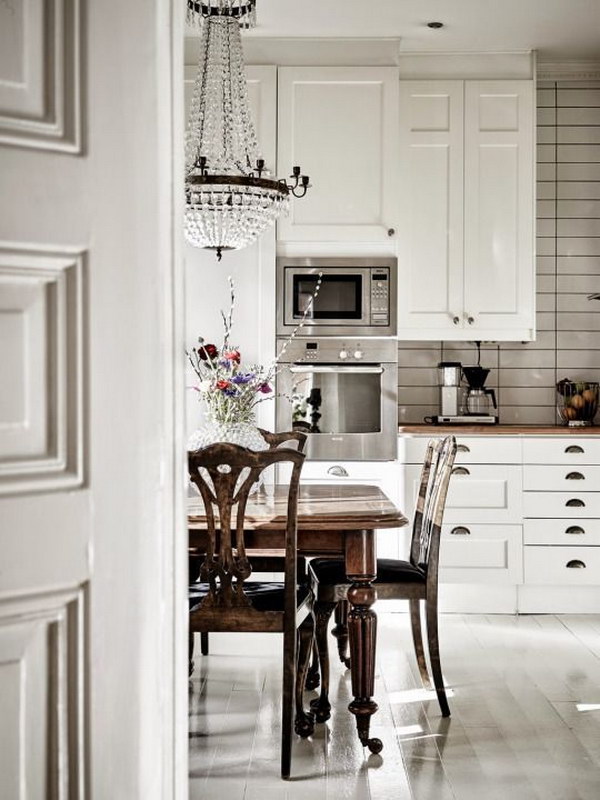 Via atnumber67.
There is a lot that goes into choosing a kitchen backsplash, from colors, to materials and even placement. It needs to be beautiful but also functional, easy to clean but not so simple that it loses its decorative appeal. On top of that, there are also budgeting options to consider, since backsplash materials are usually somewhat expensive, as kitchen remodel projects tend to be, in general.
Soft Turquoise Glass Subway Tile against the Carrera Marble Countertops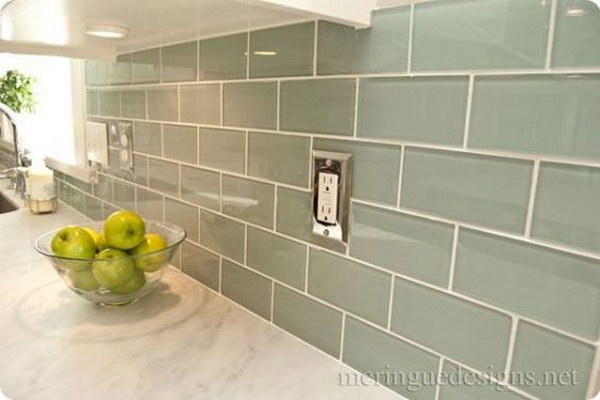 A Pop of Color: White Cabinetry with Pale Turquoise Tile Backsplash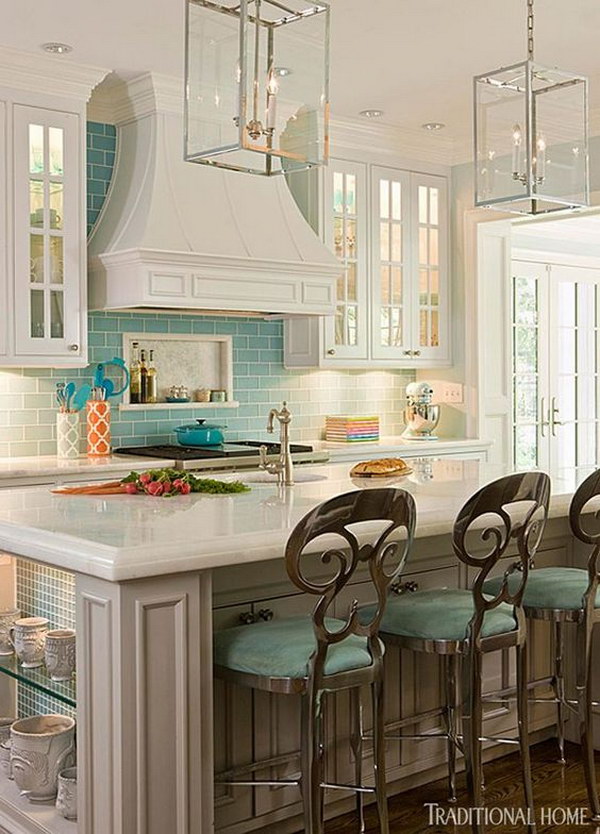 Via raditionalhome.
Blue Island Livening up the Grey Subway Tile Backsplash and White Cabinetry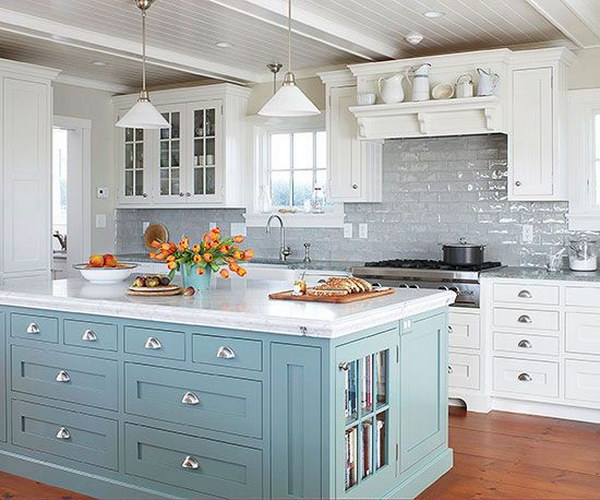 Via vitainterface.
Green Glazed Ceramic Subway Tile Backsplash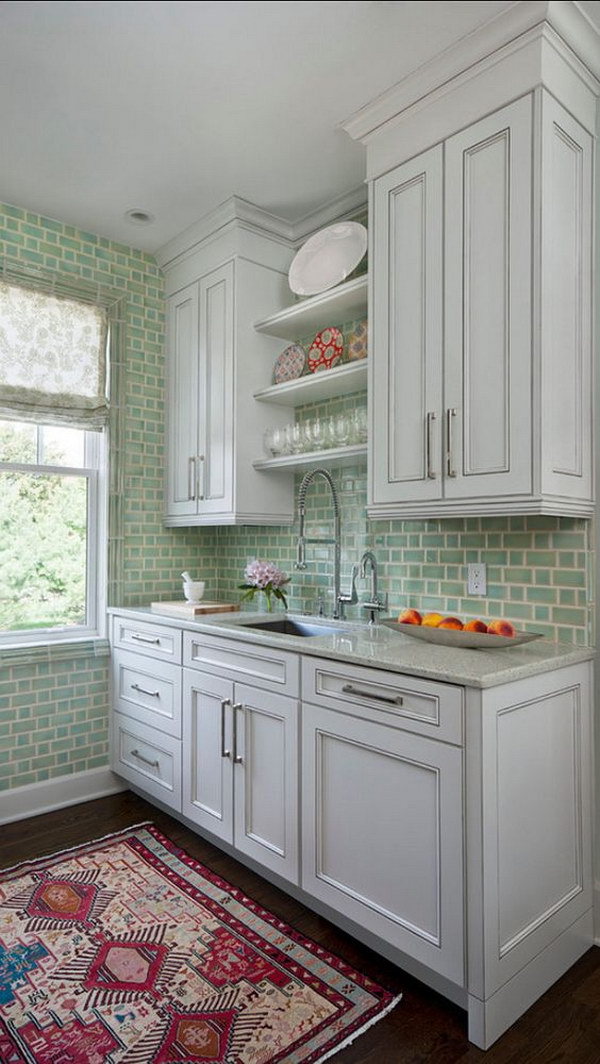 Yellow Subway Tile Backsplash against the Sleek White Cabinets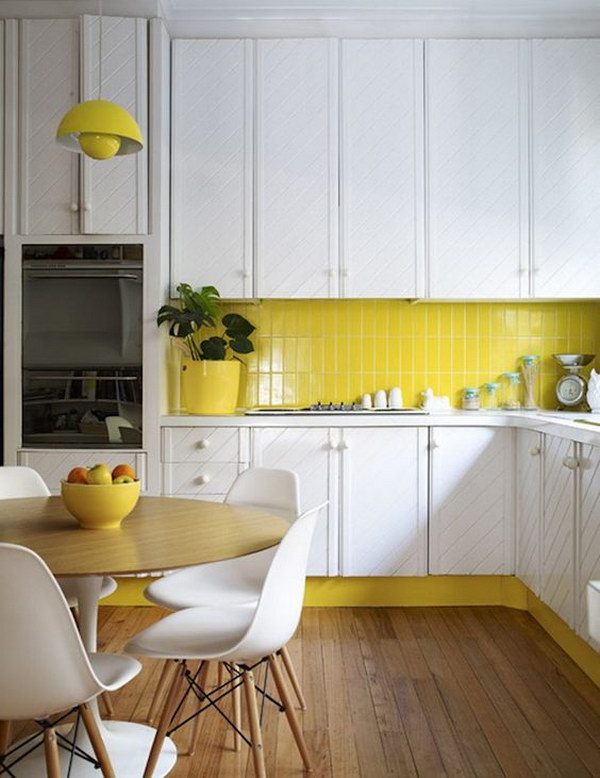 Via designsponge.
We don't mean to scare you, if you are going into a kitchen remodel project. Our aim is exactly quite the opposite – to give you an idea of what works and how it will look, so that you feel inspired and certain when you start working on your new kitchen. However, we'd like to give you some pointers before you start looking at backsplash ideas blindly.
Gray Glass Subway Tile Backsplash with Openshelving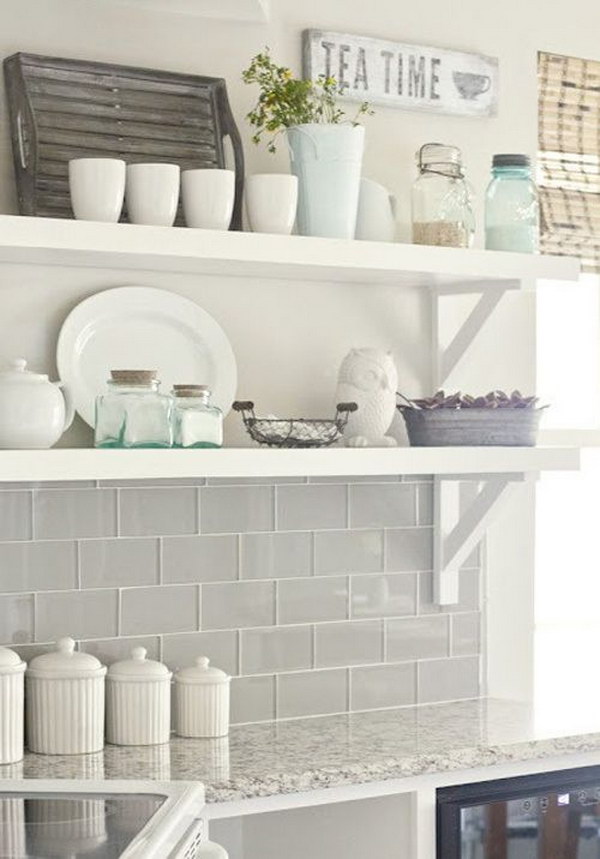 White Kitchen with a Black Subway Tile Backsplash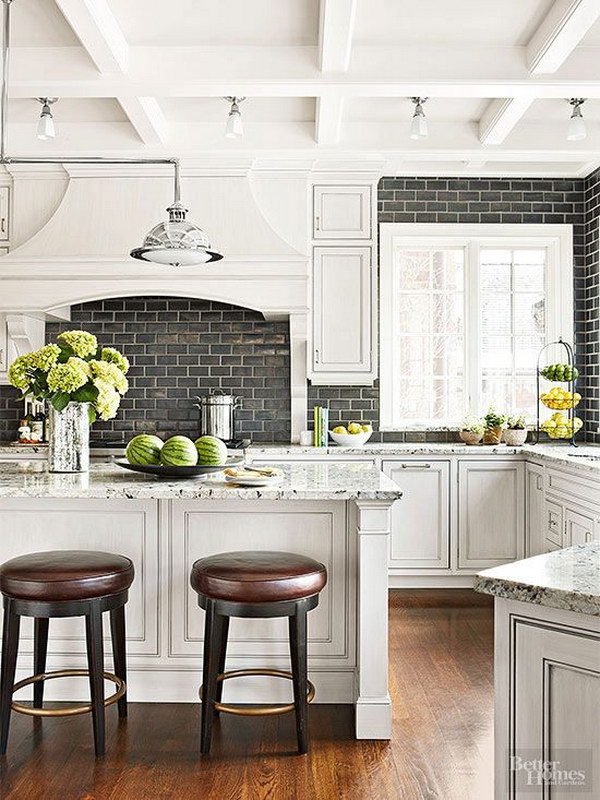 White Kitchen with Moroccan Tile Backsplash Beneath the Openshelves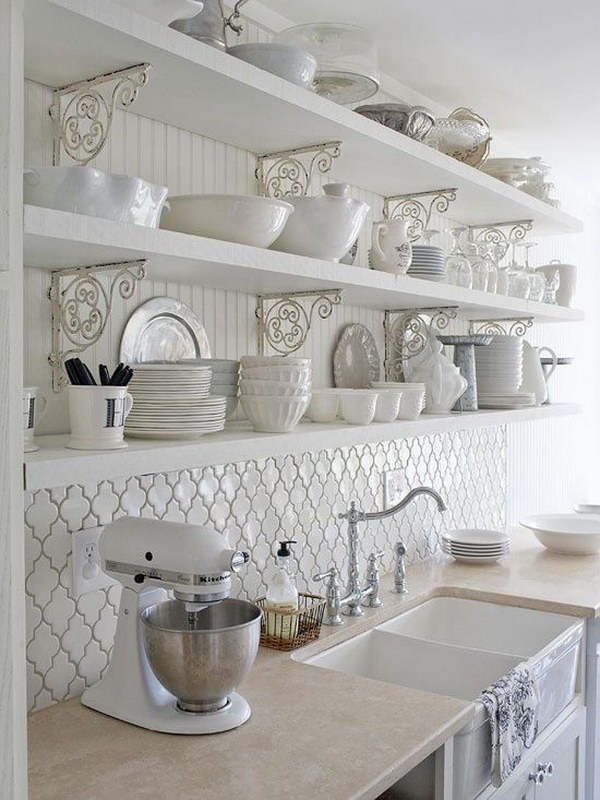 Beautiful Walker Zanger Contessa Arabesco Silver Leaf Tile Backsplash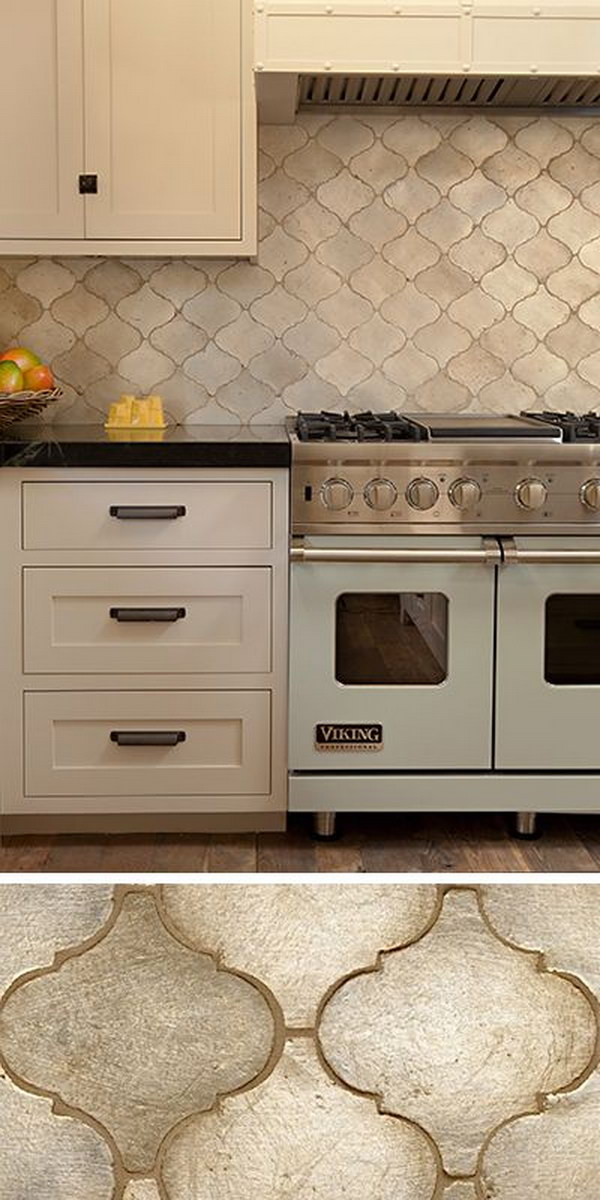 Grey Arabesque Shape Mosaic Tile Backsplash against White Cabinets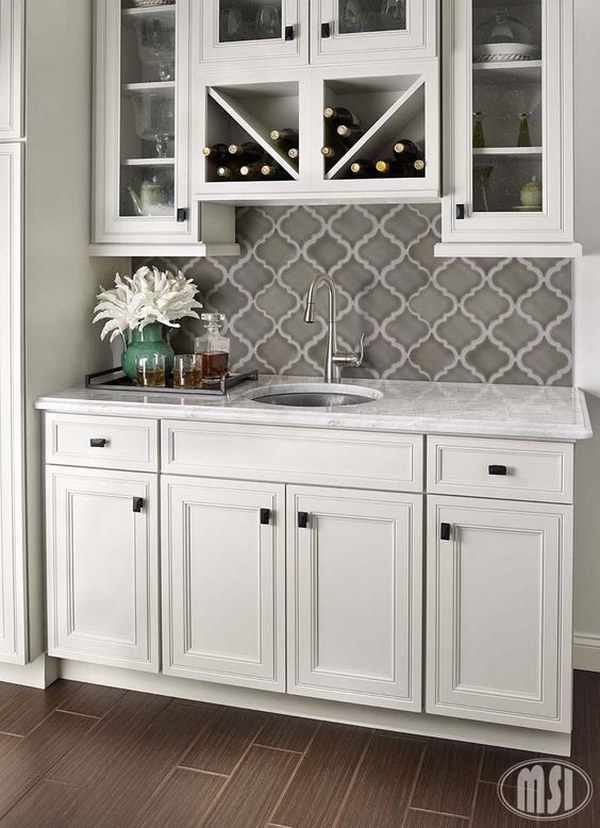 First of all, you need to be aware of the backsplash-countertops relationship, as countertops and backsplashes are usually situated quite close together and are made in a similar way, but can easily clash. Matching your countertop and backsplash can be a cool idea in some cases, but it can also become overwhelming to the eye as well as expensive. Contrasting colors can look quite striking, but you need to make sure they don't clash with each other and the furniture. Your best bet is thus to stick to the same color family but work with different patterns and/or materials.
The Pale Blue Ceramic Tile in a Moroccan Shape Backsplash with White Grout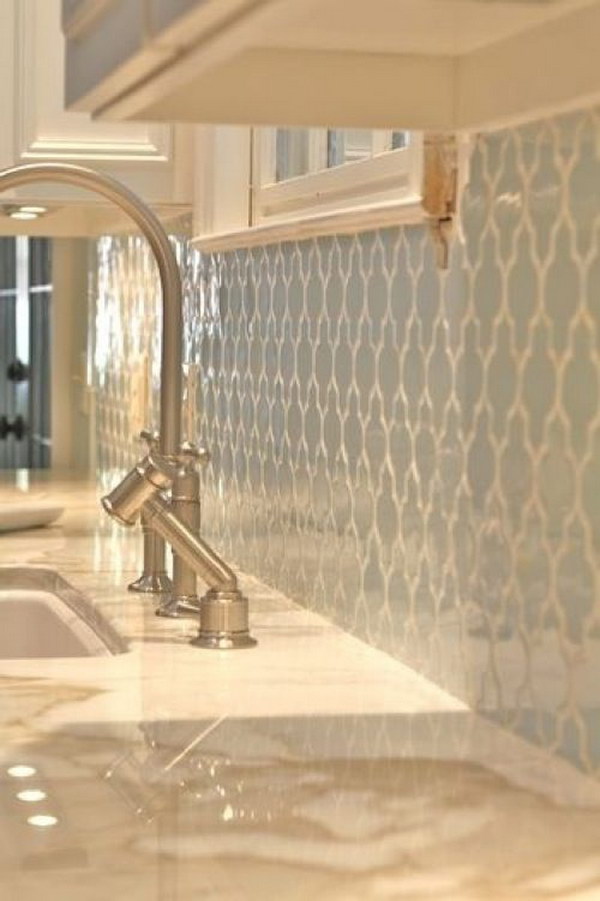 Stunning Calcutta Gold Marble and Grey Glass Backsplash with Beautiful White Cabinetry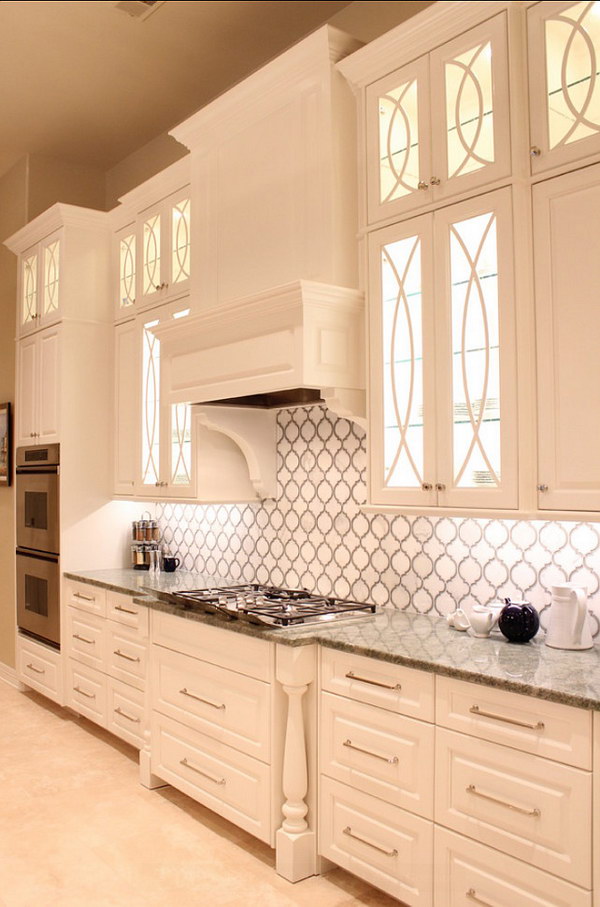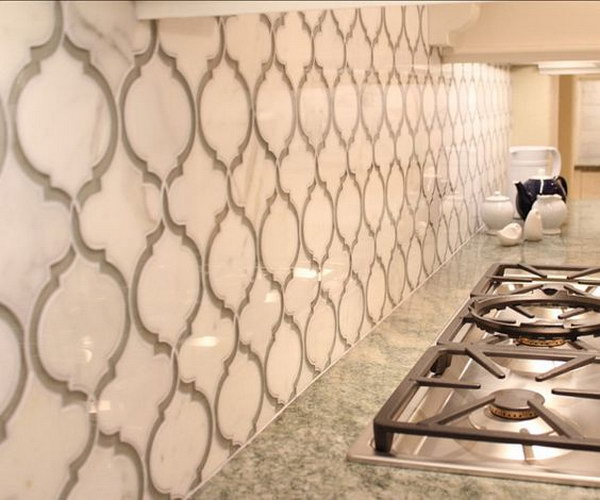 Herringbone Subway Tile Backsplash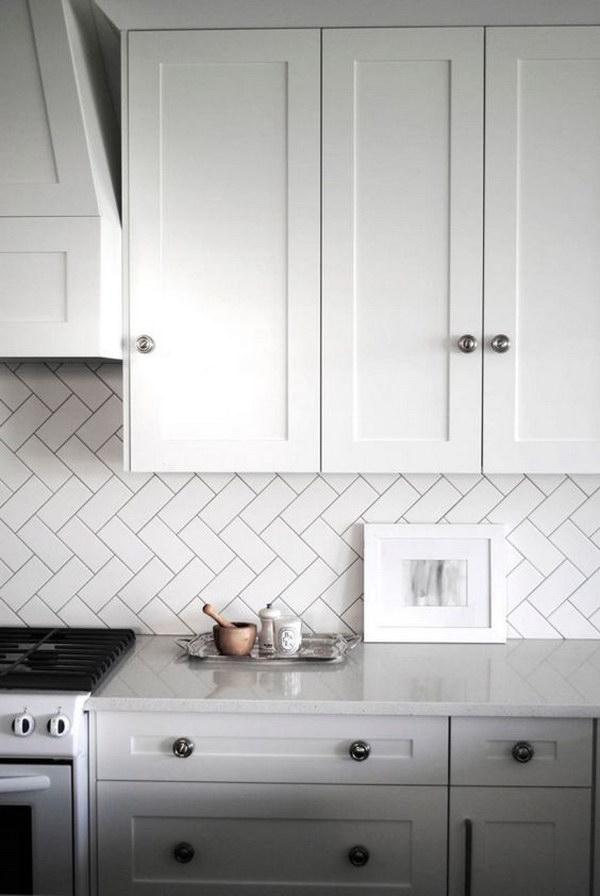 White Herringbone Subway Tile Backsplash Teams with Grey Countertops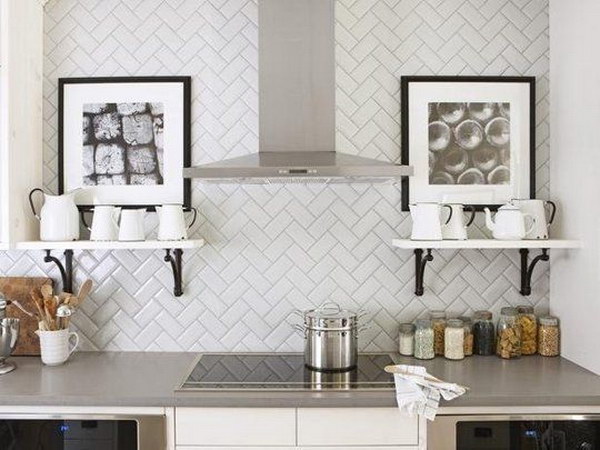 Speaking of materials, there are a lot of them that can be used for backsplashes. Tile is a great option, as it is relatively affordable and easy to maintain, which is why it is also a great and popular choice for kitchen floors, which you can match to the backsplash too, sometimes.
Subway Tiles Backsplash in a Herringbone Pattern with Blue Cabinets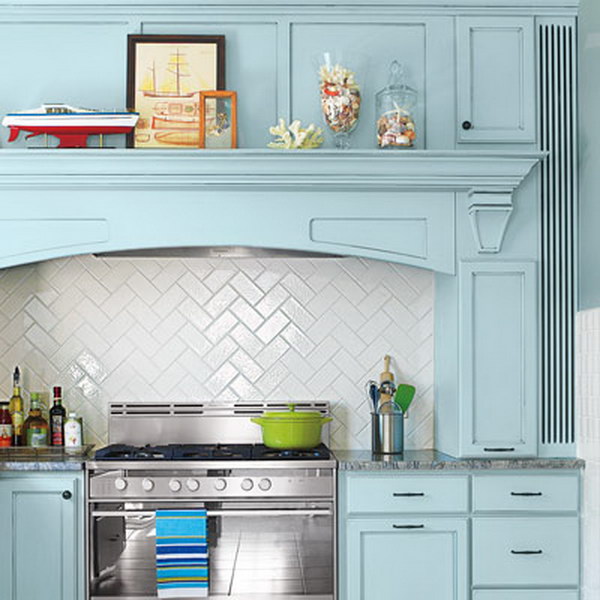 White and Grey Carrara Marble Herringbone Tile Backsplash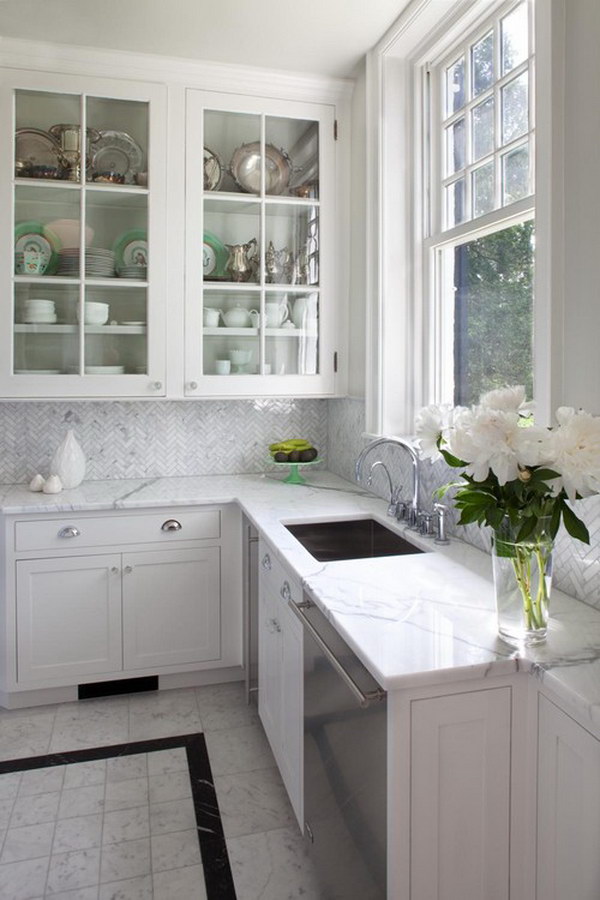 Herringbone "Picture Frame" Edged with a Chair Rail Backsplash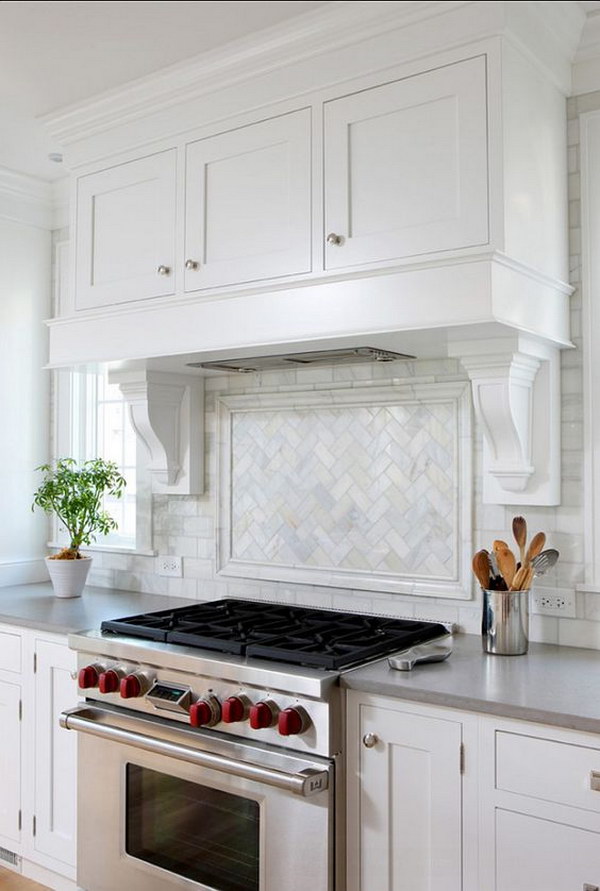 Grey Herringbone Subway Tile Backsplash Works with the Stainless Stove against White Cabinetry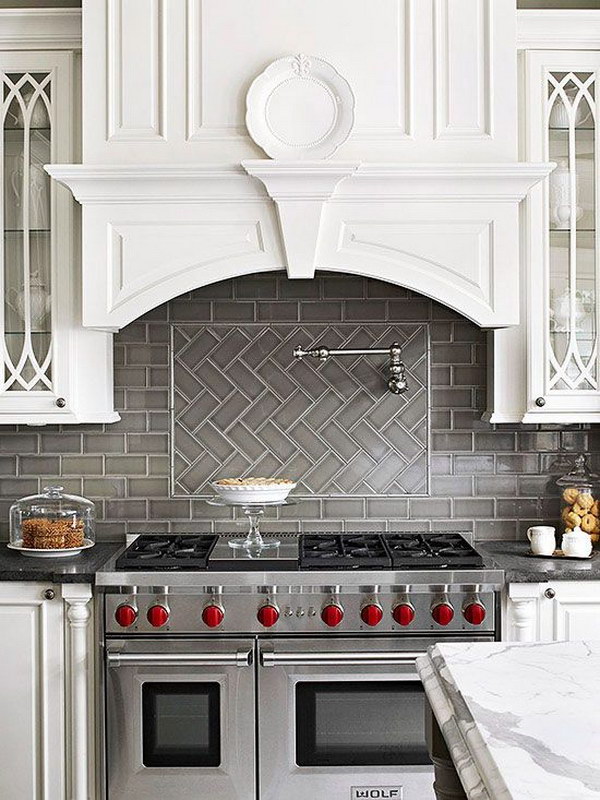 Via vitainterface.
Light Blue Chevron Tile Backsplash in a Modern Costal Kitchen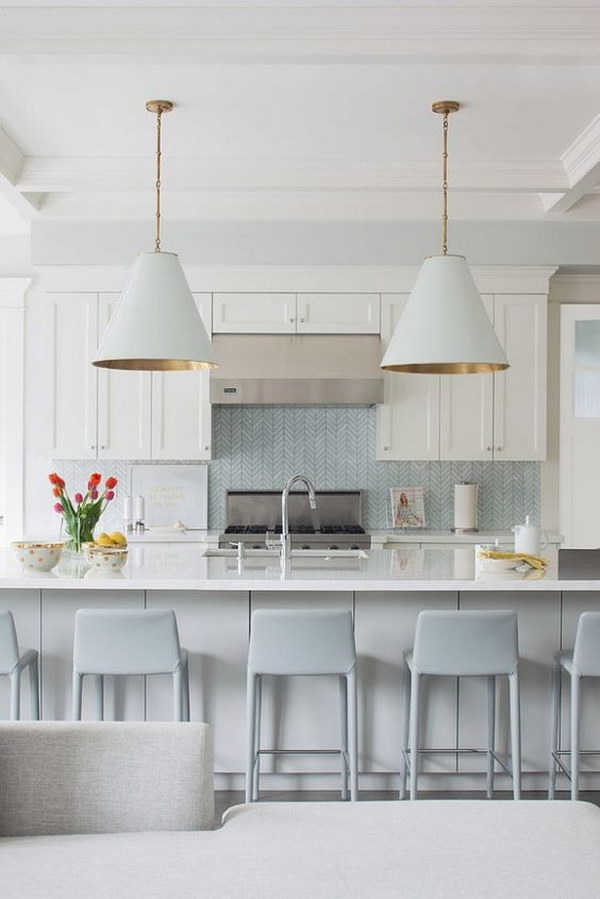 Brick is also a very popular choice, as it is quite durable and can be gorgeous if done right. Ceramic, glass and marble can also be great materials, but they are often more delicate and expensive to install.
Grey and White Chevron Tile Backsplash in a Stylish Kitchen with Contrasting Cabinets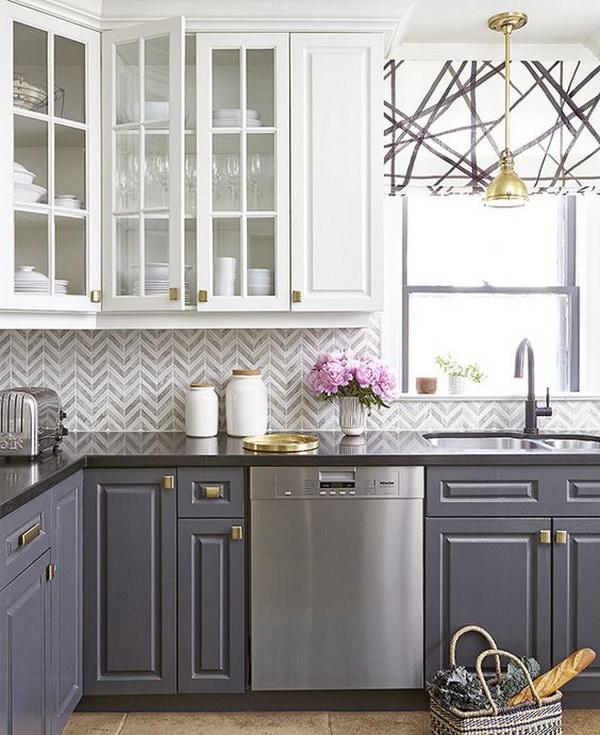 Marble-Tiled Chevron Backsplash with Light Grey Cabinetry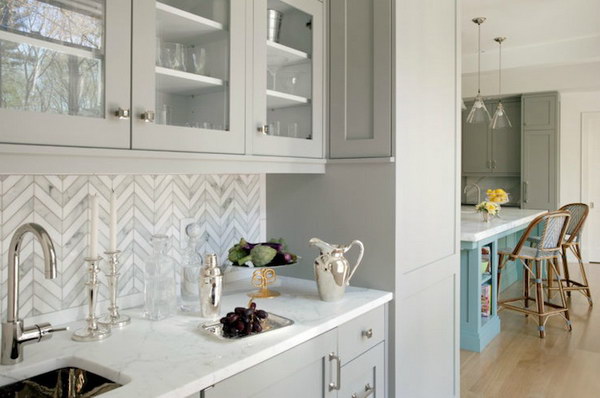 White Kitchen with Light Gray and Silver Accents and a White Tile Backsplash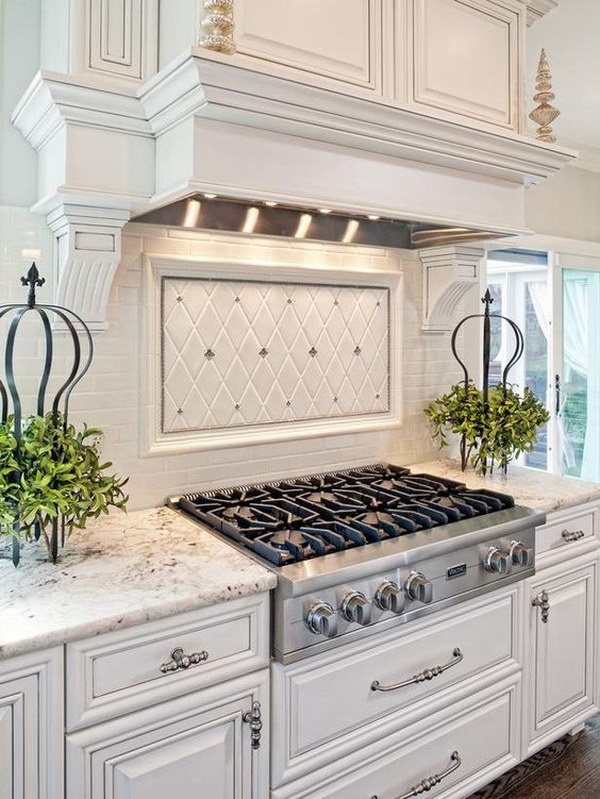 Modern Multi Color Hexagon Tile Backsplash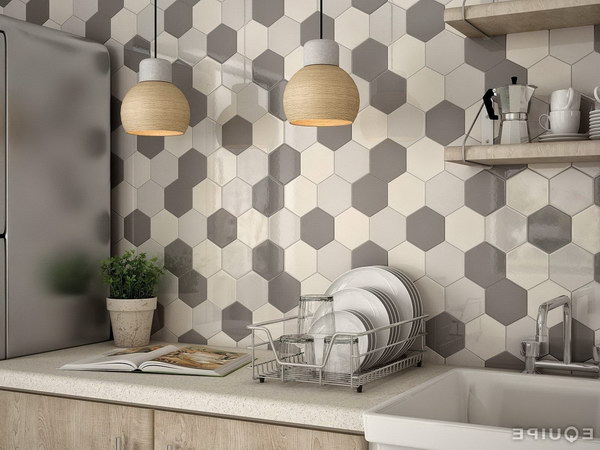 Grey Hexagonal Carrara Marble Backsplash with Minimalist Cabinetry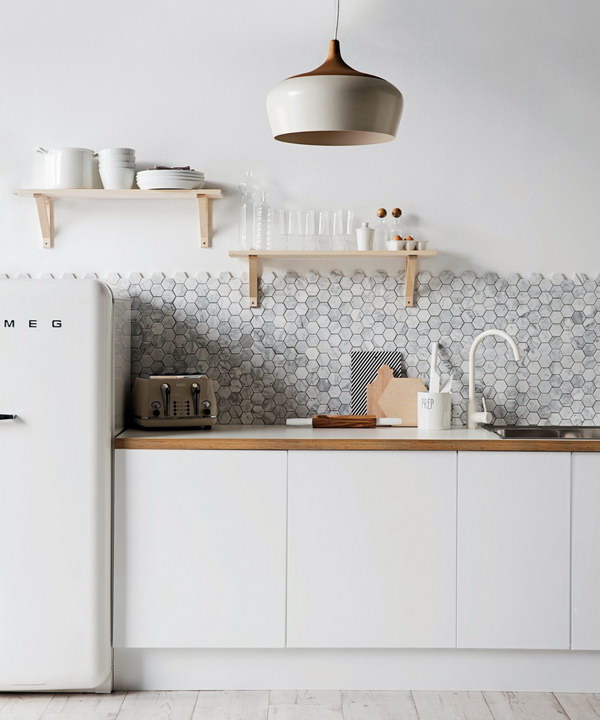 As for style, subway tile is a classic that has retained its popularity and seems to be quite trendy at the moment, so that is definitely something to consider and which you will see a lot of among the gorgeous and inspirational projects we've selected for this article.
DIY White Hexagon Tile Backsplash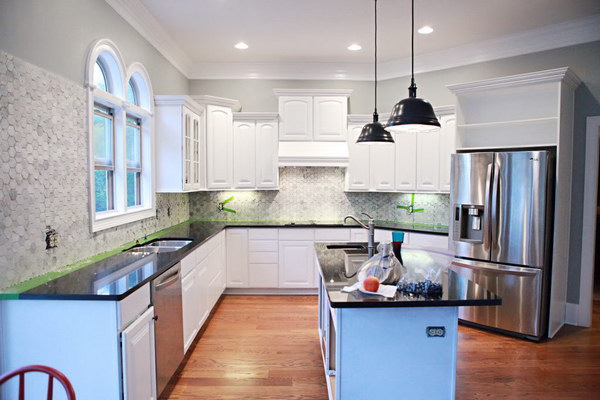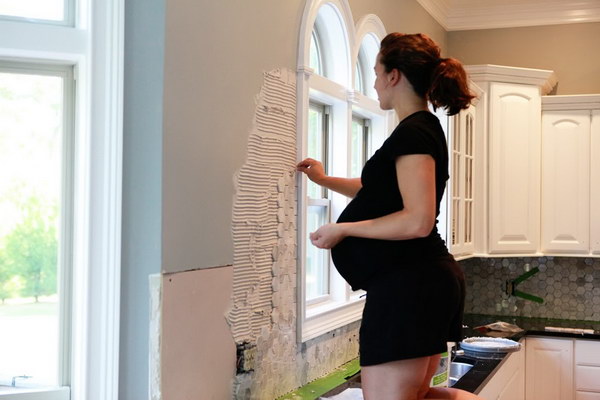 Granite Counters with White Subway Backsplash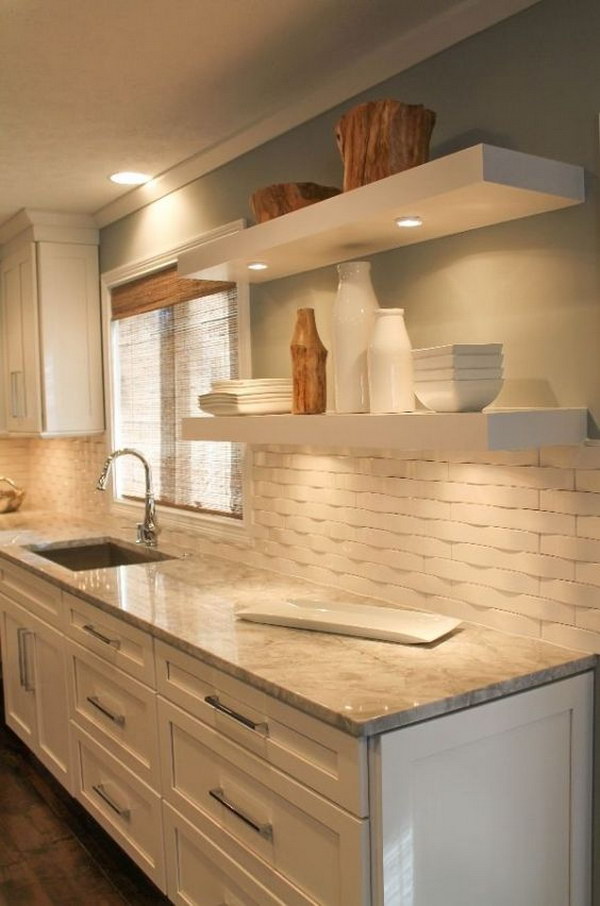 Gray Kitchen with Gray Granite Countertops and White Basketweave Subway Tile Backsplash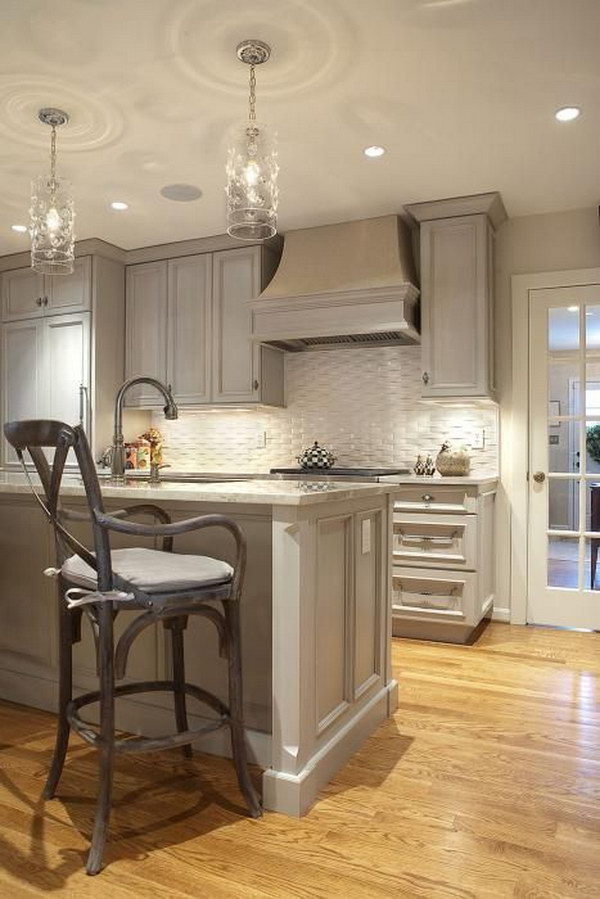 White Milk Glass Subway Tile Backsplash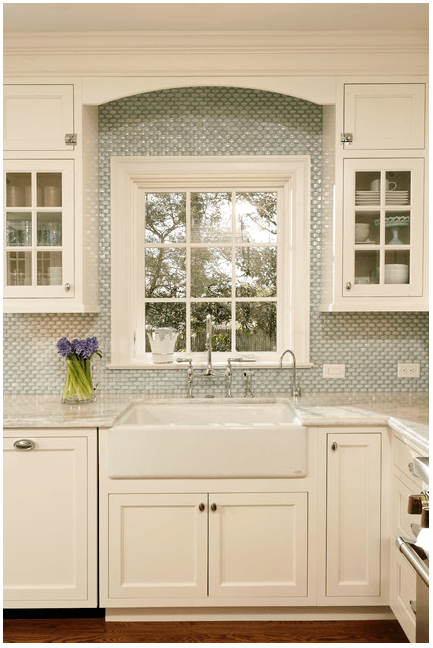 Black/Grey Linear Glass Tile Backsplash with Crisp White Cabinetry and Marble Countertops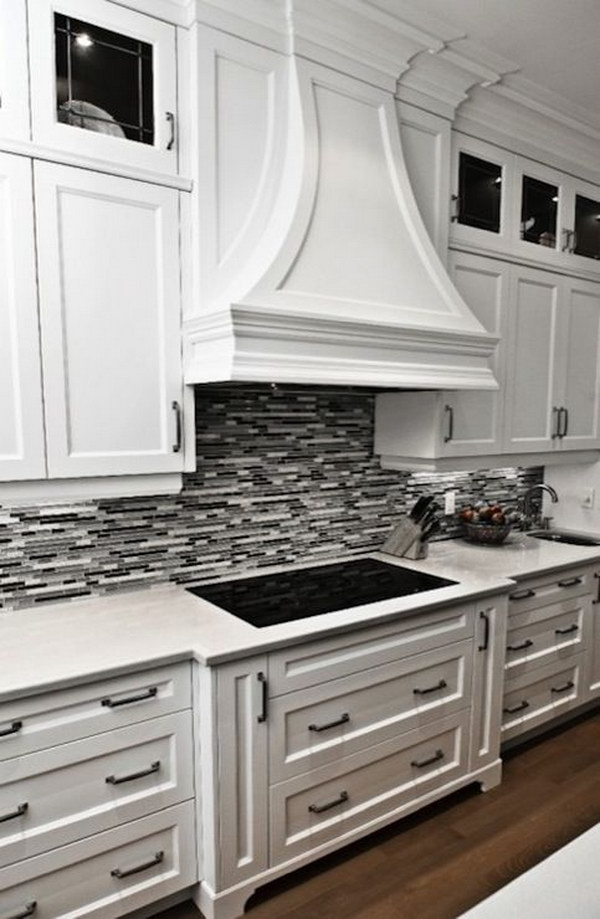 DIY Linear Mosaic Tile Backsplash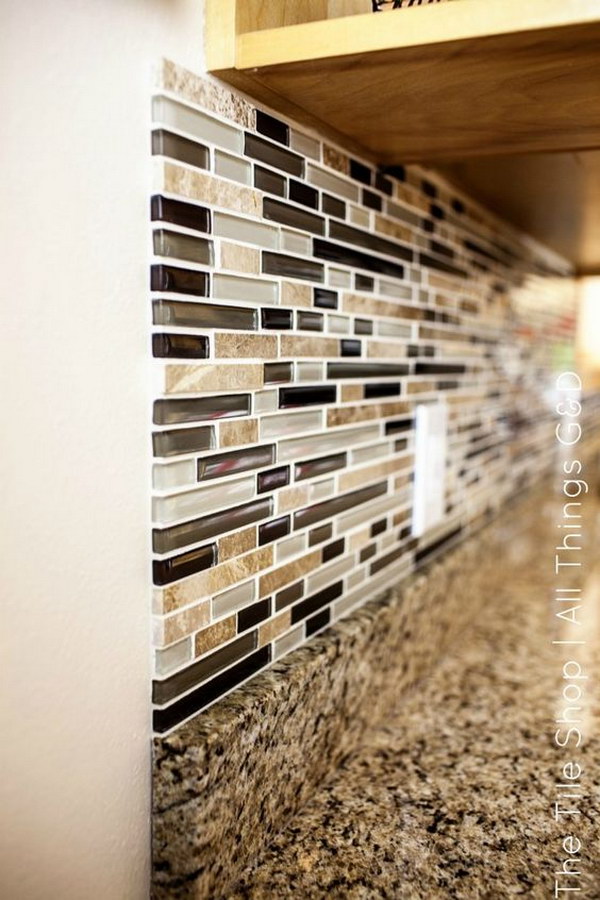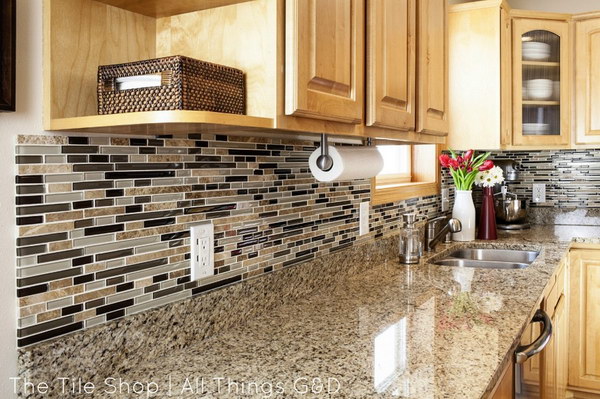 Classic or trendy, subtle or attention grabbing, you are guaranteed to find something that inspires and tickles your fancy in this article full of gorgeous kitchen backsplash ideas. Actually, there are so many gorgeous examples here, you might be wishing you had multiple kitchens to remodel by the time you finish reading, so take a deep breath and prepare to make some hard decisions.