20+ Clever Storage Ideas For Your Attic
Attics are usually the most appealing rooms in the whole house. Some people correlate them to secret rooms or private rooms where their ideas can flourish. In either case, these rooms have a special appeal to them.
Designing such a space has many challenges. This is why we have decided to try to simplify things for you. This is a compilation of some of the best ideas of how you can use your attic out there. The first step to making use of it, is to admit that this space is extremely versatile. This room can be used for almost anything you wish.
Install Built-In Attic Desk Organization for an Amazing Office Space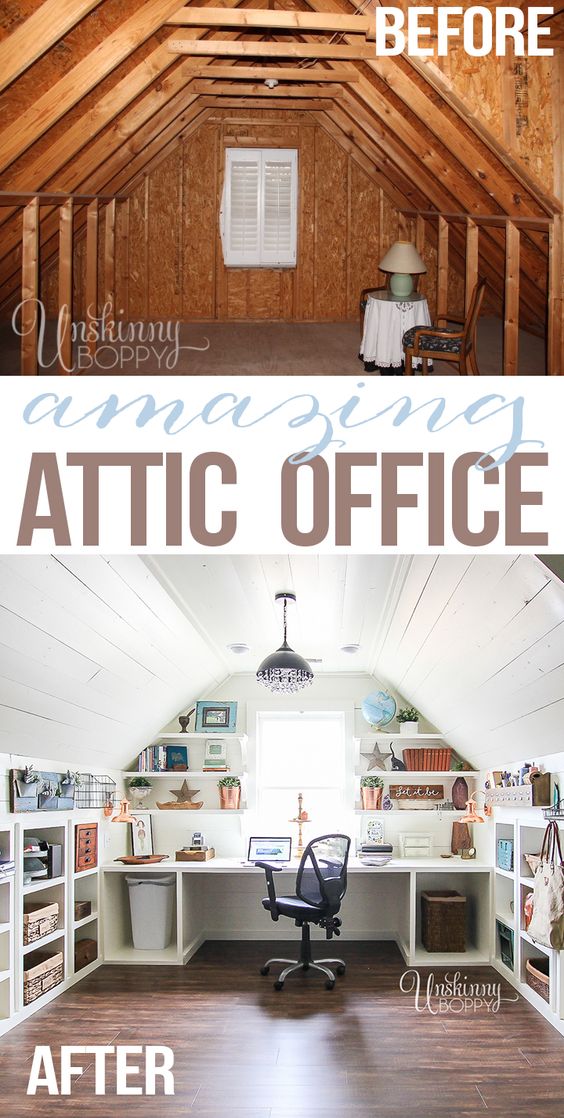 The whole idea behind having a home office is to have a quiet area in the home where you can work in peace. This makes the attic the perfect place for this purpose. You are not likely to be interrupted by people walking unintentionally into the area. Since it is located above all other rooms, any noise in the house is also likely to escape you. via unskinnyboppy
Add Bookcases at The End of The Bunk Beds in The Attic

In a house with limited space and many children, the attic can be turned into a bunkroom. A pair of double-decker beds can be fitted into the attic. Besides that, bookcases have been added to the room, which provides storage space for the occupants. A great use of the attic space to cope with space challenges. via thriftydecorchick
Build a Library with a Reading Bench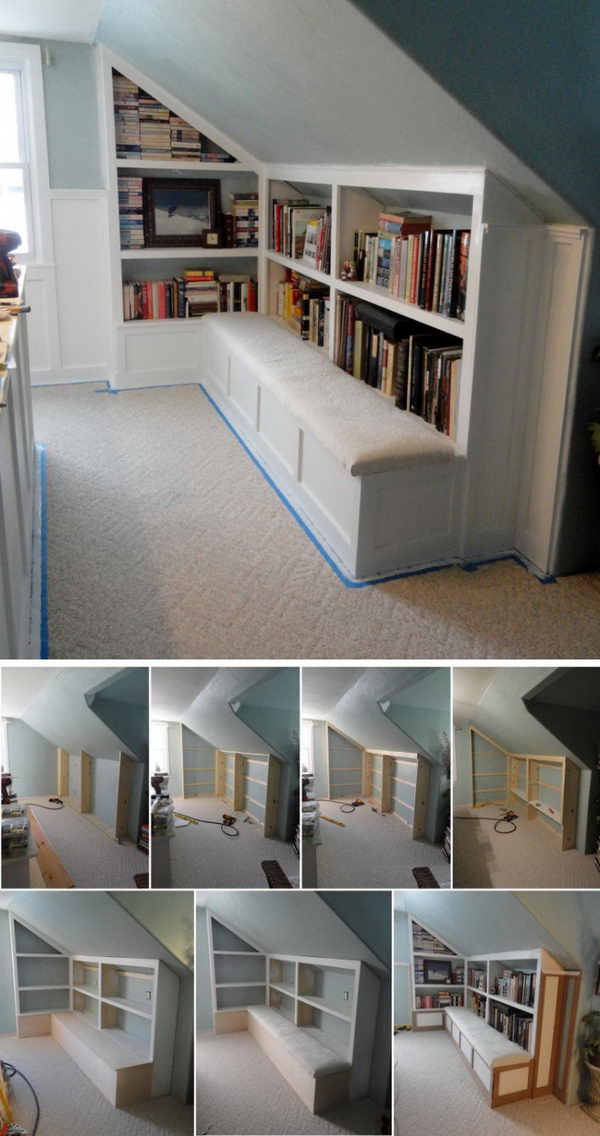 If you have limited space in your home, the attic can be a great place to establish a mini-library. The owner of this attic has converted their attic into a library with a reading bench. It is a compact and quiet place, where one can catch up on some reading. via source
Build a Built In Bed With Storage Drawers and Shelves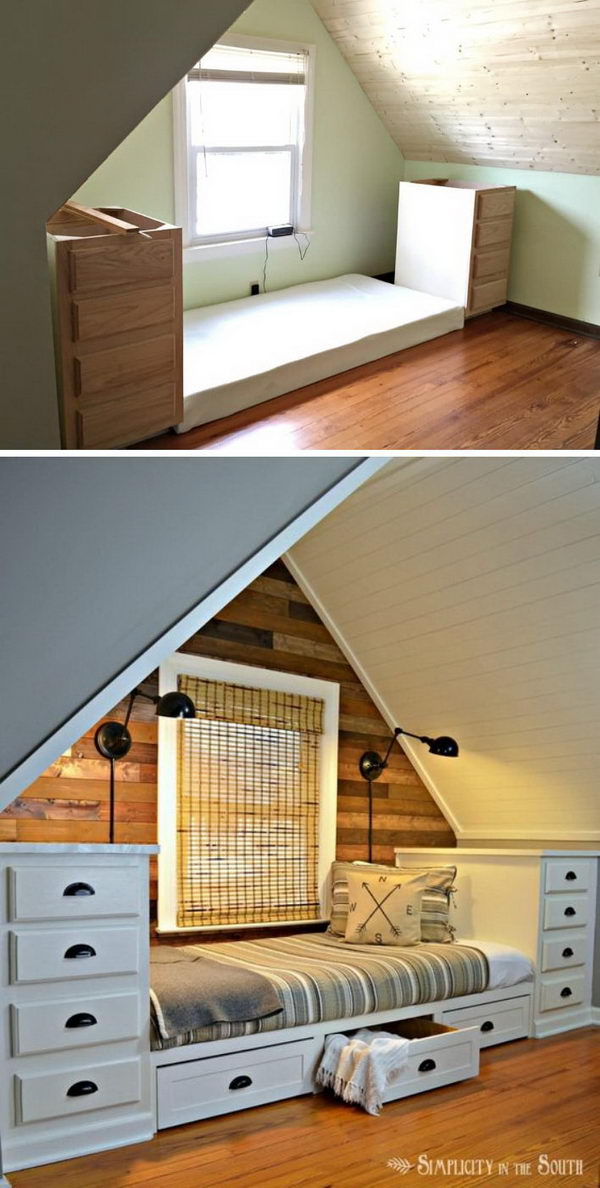 Another great idea is to use the attic as a bedroom with storage drawers. If you have a teen that needs their room, the attic is a great option. Besides that, you can build shelves into the attic to provide them with space to store any of their baggage. via simplicityinthesouth
Turn Your Ordinary Attic Stair Railings into Beautiful Builtin Bookshelves

If you have a house full of kids, you may want to keep books in an area that are a bit out of reach for them. The owner of this attic has placed bookshelves in there. This is a wise use of space, which would otherwise have been laying idle. via source
Build Shoe Cubbies in Slanted Walls and Window Seat with Bookshelf at One End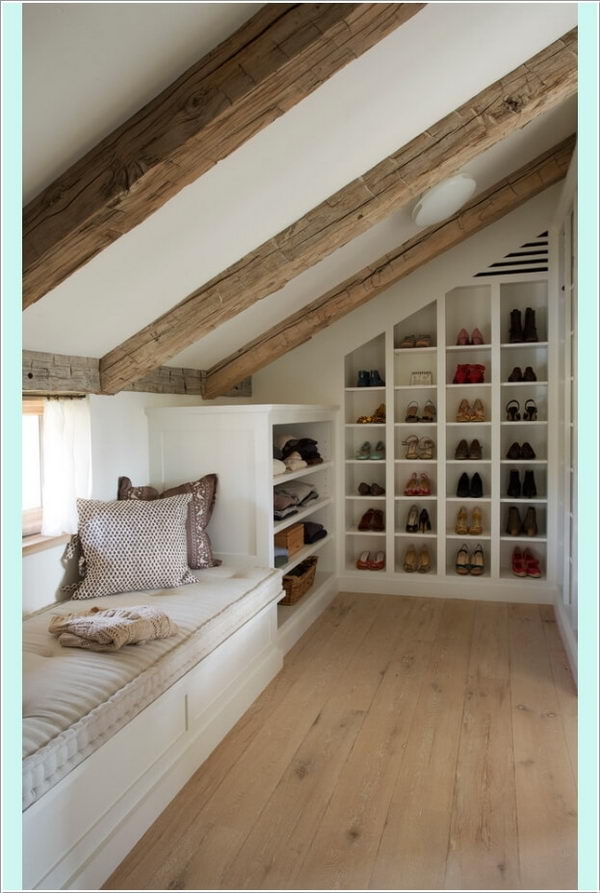 This attic owner has made use of the attic as a space for storing shoes and books. Besides that, they have added a couch where one can rest as they read their books. It is far away from other rooms in the house, which means there is a lot of peace and quiet to read books. via houzz
Use Wood Crate to Make Storage Shelving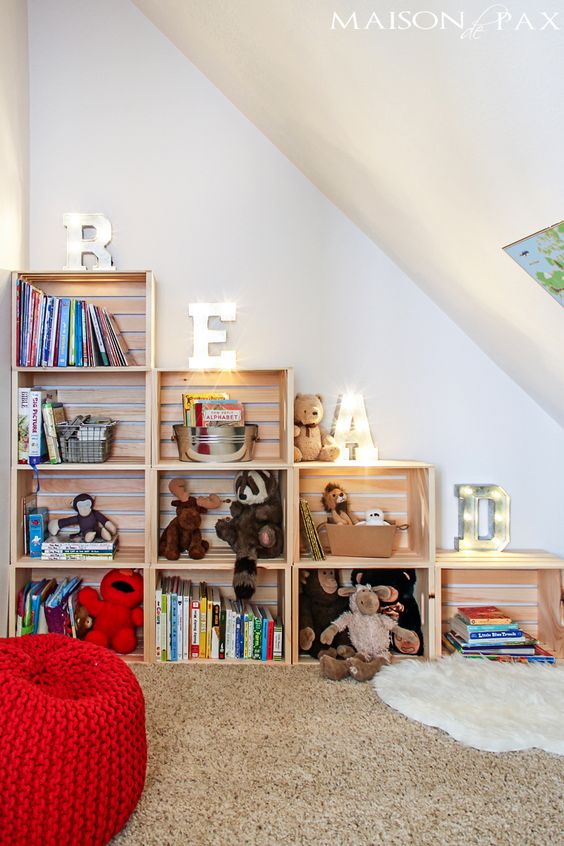 The attic is a great place to store staff. However, you do not need to spend a lot of money creating the shelves. You can just stack wood crates and use them as storage shelves. Wood crates cost little, but they are quite effective. You can see how they were designed by this owner. via maisondepax
Build a Built In Closet with Hanging Rods and Storage on Bottom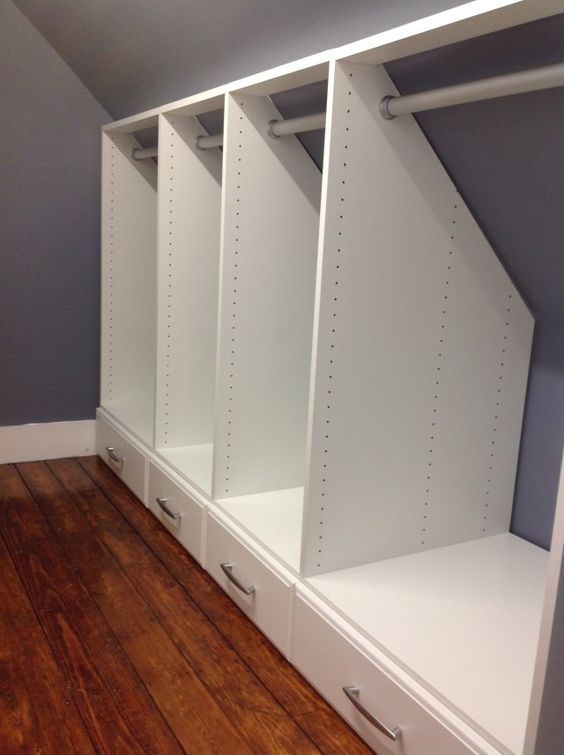 If you have many clothes, you may wonder where to place them. A closet with hanging rods is a good idea to install in the attic. The closet can be used to store clothes that you do not wear often. For instance, your winter coats and other gear could be placed in this attic closet. via houzz
Build An Attic Closet on The Lower part with Shelves and Drawer At The End Of The System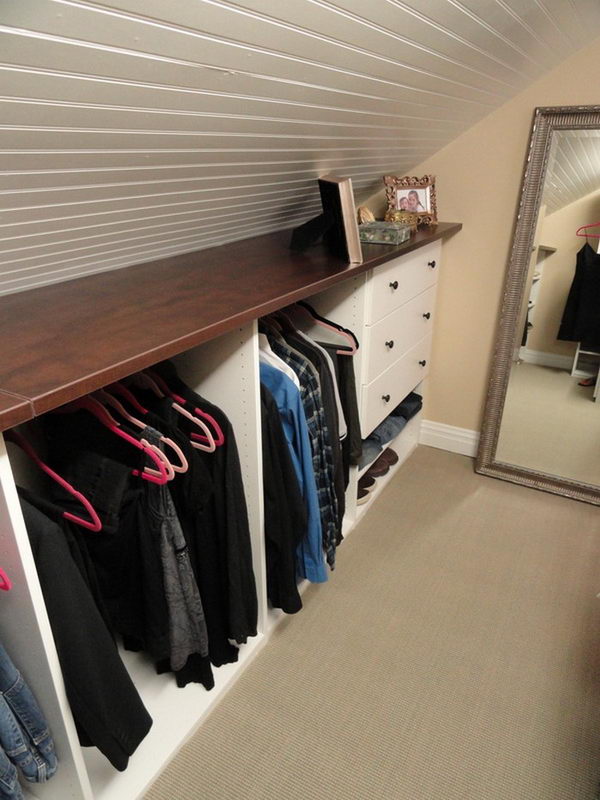 This homeowner has turned their attic into both a closet and added some drawers. The drawers can be used as storage, and the closets can be used to store extra clothes. Additionally, this homeowner has added a mirror, which means they can use it to try on their clothes. via houzz
Use Space Saving Attic Clothes Drawers

This homeowner has used their attic as a clothes drawer. It is a wise use of space, especially if you have a large family and limited space below in which to store your clothes. The clothes drawer can be cleverly slid back into the wall to leave space for storing other things. via functionality-world
Add to Storage Space Beneath Window Seat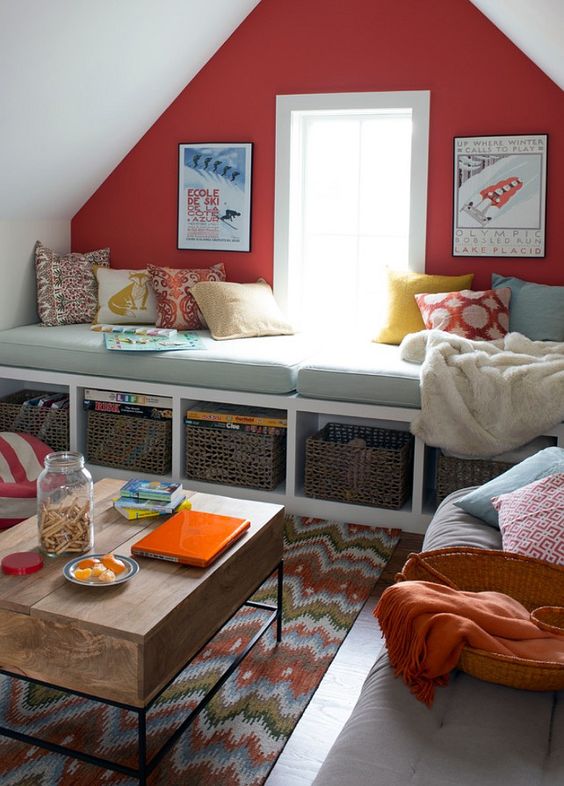 This homeowner created a nice window seat in the attic. It is a nice place to relax with a book or with friends. Besides that, the homeowner has added some storage space below the window seat. via homebunch
Create a Guest Bedroom in the Attic with Storage Space and Pull out Bed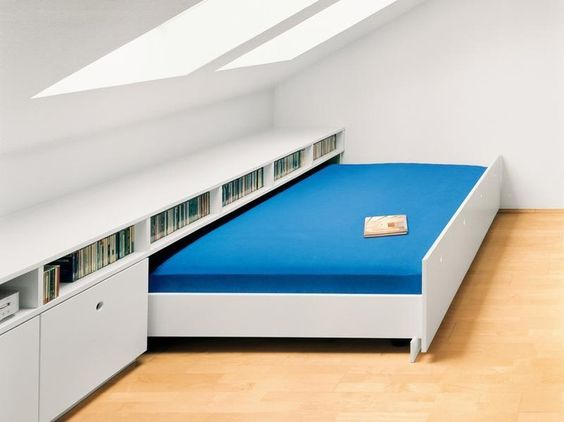 The homeowner has seen it fit to create a pullout bed in the attic. Besides that, he or she has created some shelves where they store books. via anderhuis
Create a Wall Library to Store and Display Your Child's Books in The Attic Room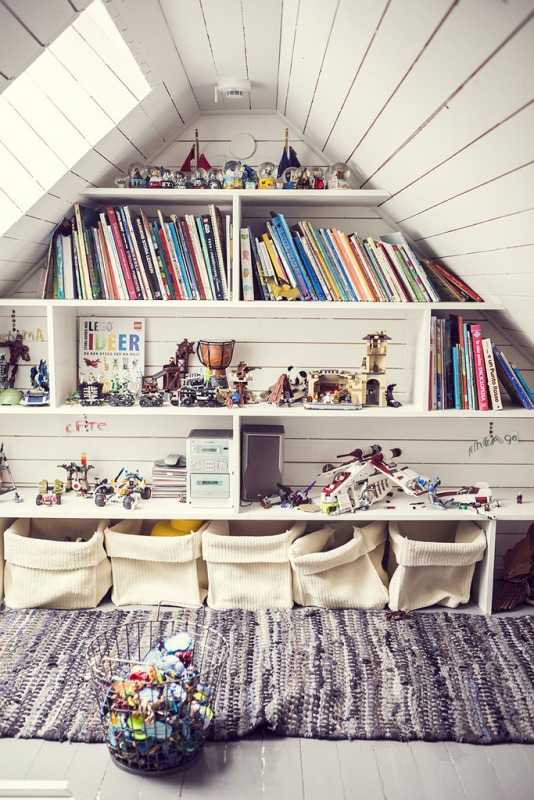 For this homeowner, they decided that they would use their attic as a wall library. Besides storing their kids' books, they also store their trophies in it. The attic is also used to store the kids' toys. via myscandinavianhome
Create Extra Storage Space Against The Otherwise Un-Utilized Exterior Wall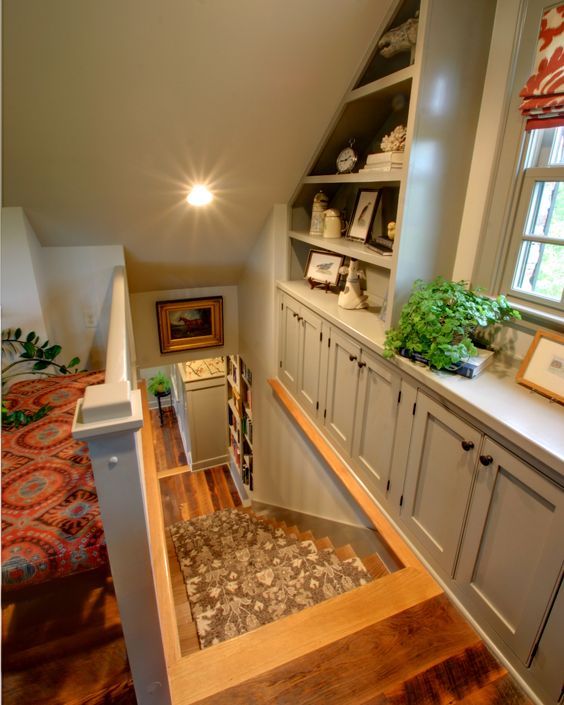 The owner of this attic decided to create some closets in the exterior wall. It is a great way to create storage in a small house. via architectinheels
Make a Attic Storage Assistance by Using a Pulley System to Help Load Up The Attic Ladder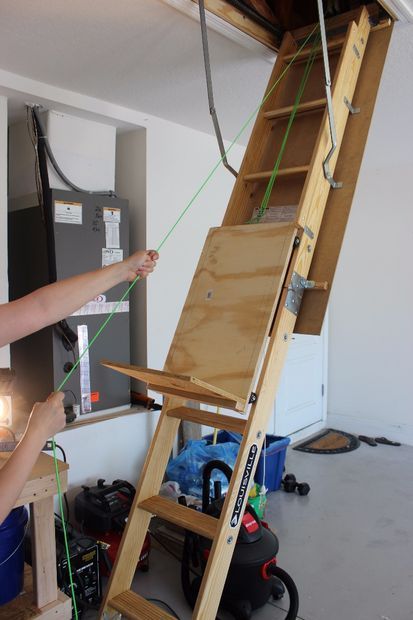 Getting things in the attic can be hectic. This homeowner has designed a pulley system that can be used to transport items into it. With a few ropes and a bit of ingenuity, he has created a pulley system. via instructables
Build a Storage System with Wooden Attic Shelves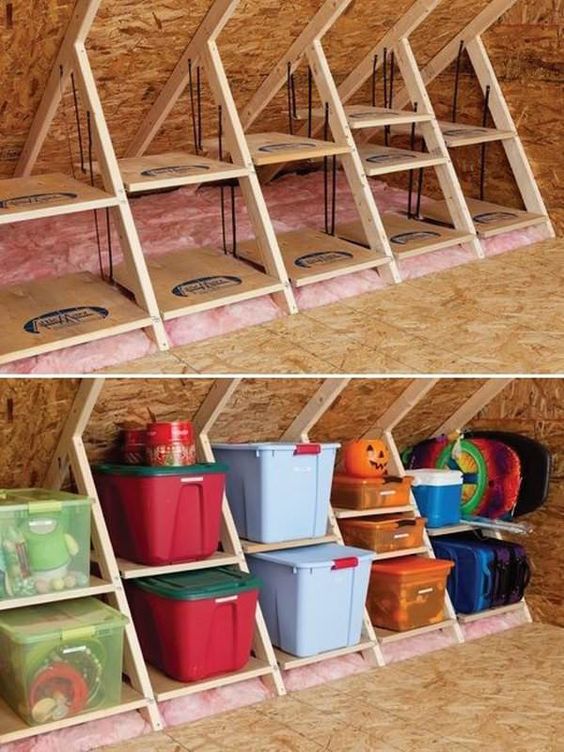 The attic has been turned into a storage space by creating shelves. The owner has then placed storage containers on the shelves. It is a great way to store items such as Halloween costumes. via atticmaxx
Add Sliding Barn Doors to Cover Knee Wall Storage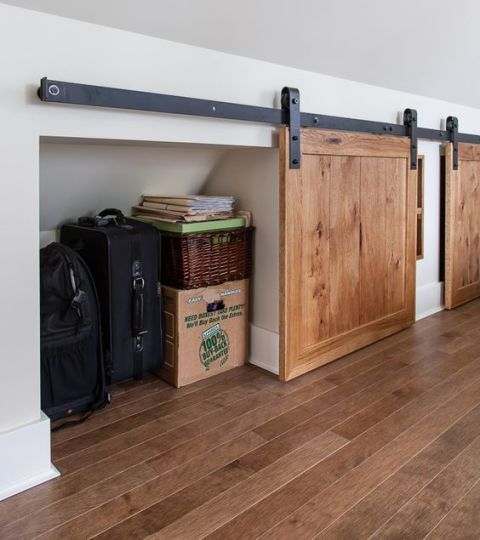 The homeowner has created a tight space where they store their travel suitcases and other items. The space is kept out of view with sliding doors. via thehousediaries
Build a Simple Wood Shelf Unit to Hold Storage Bins in The Attic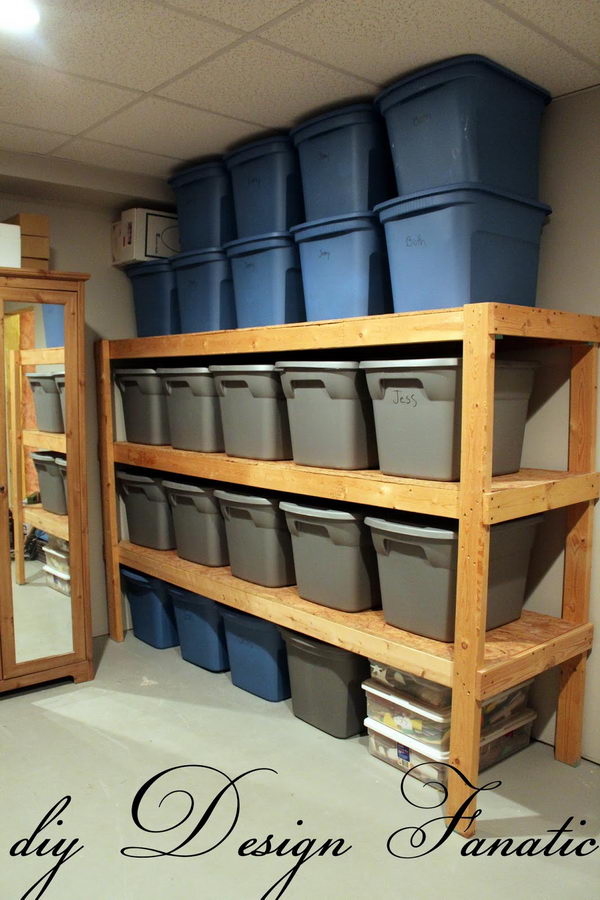 The homeowner created wooden shelves. On the shelves, he placed storage bins. These bins are a great way to store items that are rarely used. via diydesignfanatic
Create More Attic Storage Space Using Stacking Cabinets, Book Shelves and Drawer Units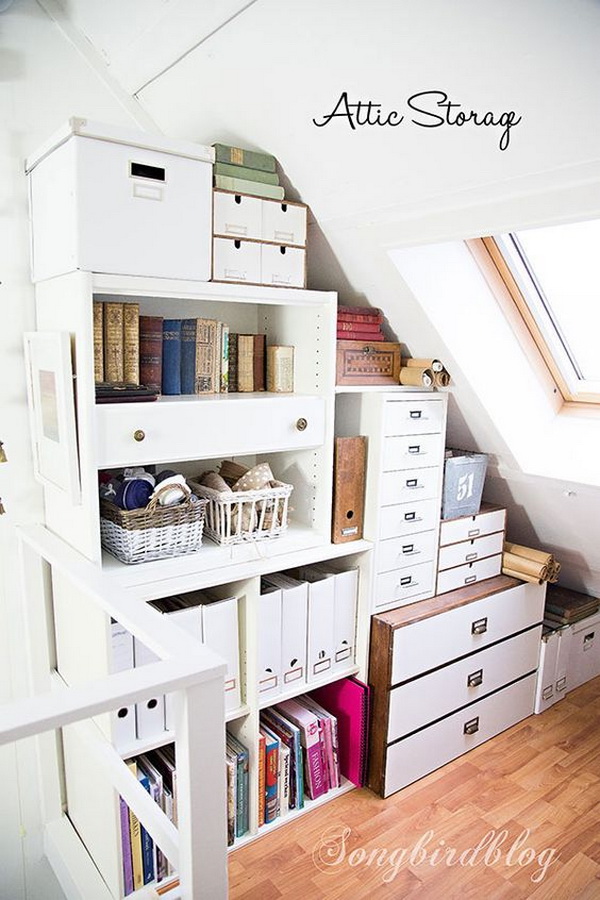 via songbirdblog
Make an Extra Walk In Closet for Off-Season Clothing Storage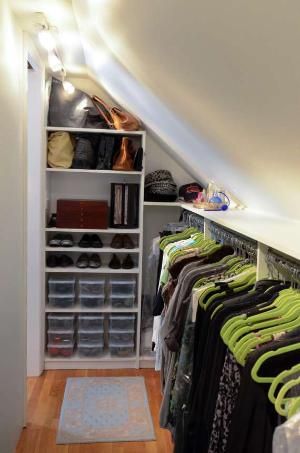 The owner of this house has used their attic to create closets and shoe storage space. The items stored here are used seasonally. It is a great way to get them out of the way.
Build an Attic Bedroom Which Provides a Ton of Room for Storage and Organization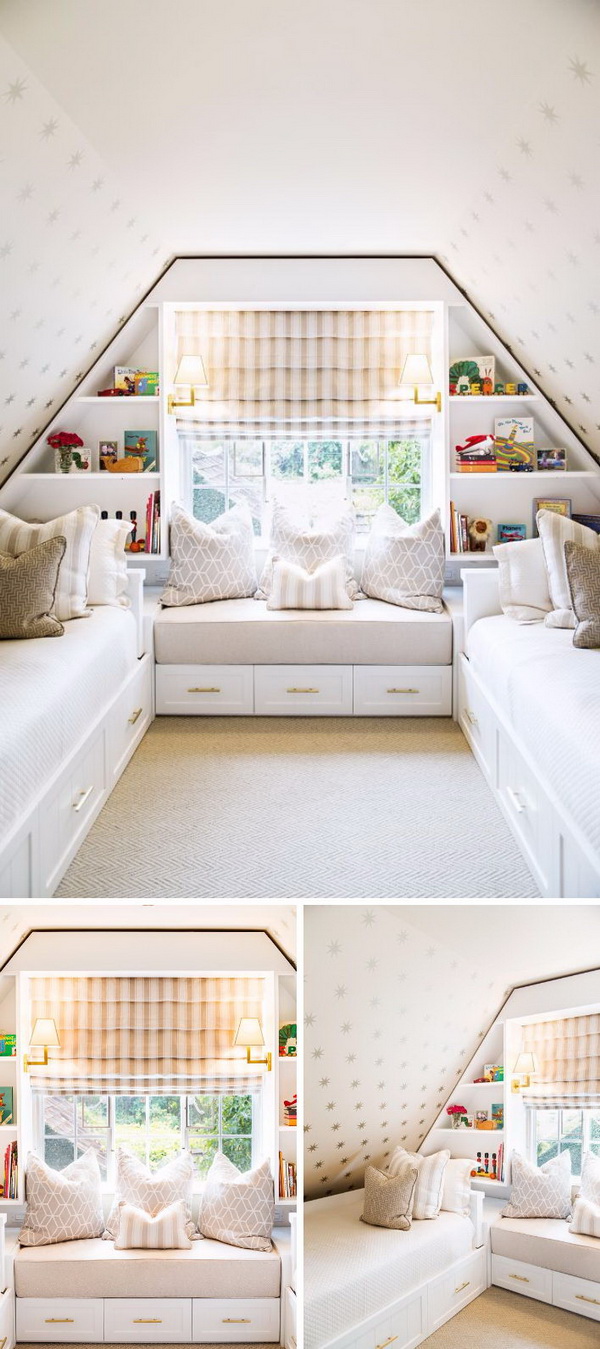 Utilize every square inch of this attic bedroom with pull-out trundles, window seat and the built-in bookshelves. via mydomaine
Use Storage Shelves on Sloping Wall for Attic Home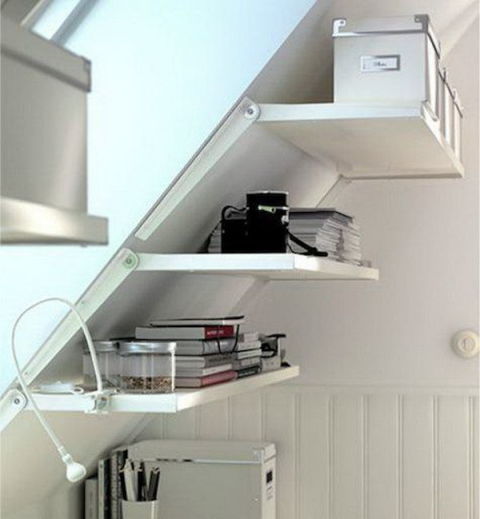 The owner of this home decided to make use of the sloping wall in their attic. The homeowner has used some great looking shelves that appear to be emerging from the sloping wall.
Create a Wonderful Space Even When Ceiling Height is an Issue in The Attic Room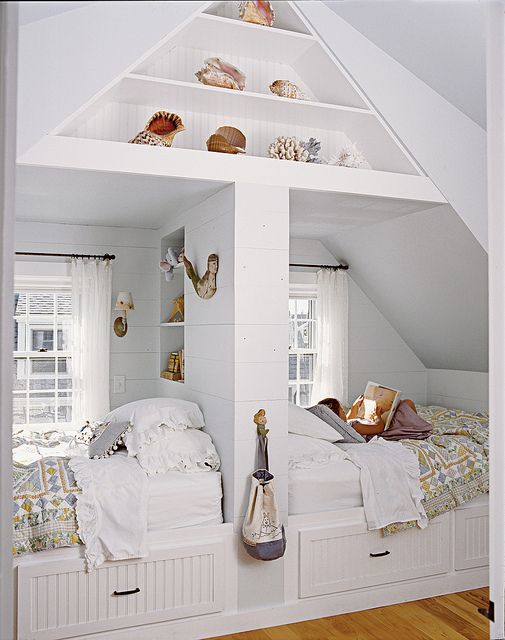 Make Best Use of Space with Built-in Drawers and Corner Shelves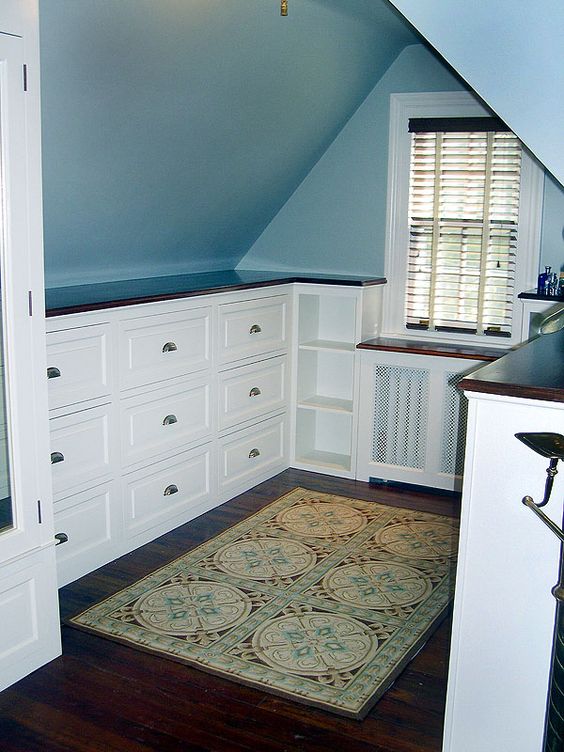 Use Angled Brackets to Maximize Space in Attic Closet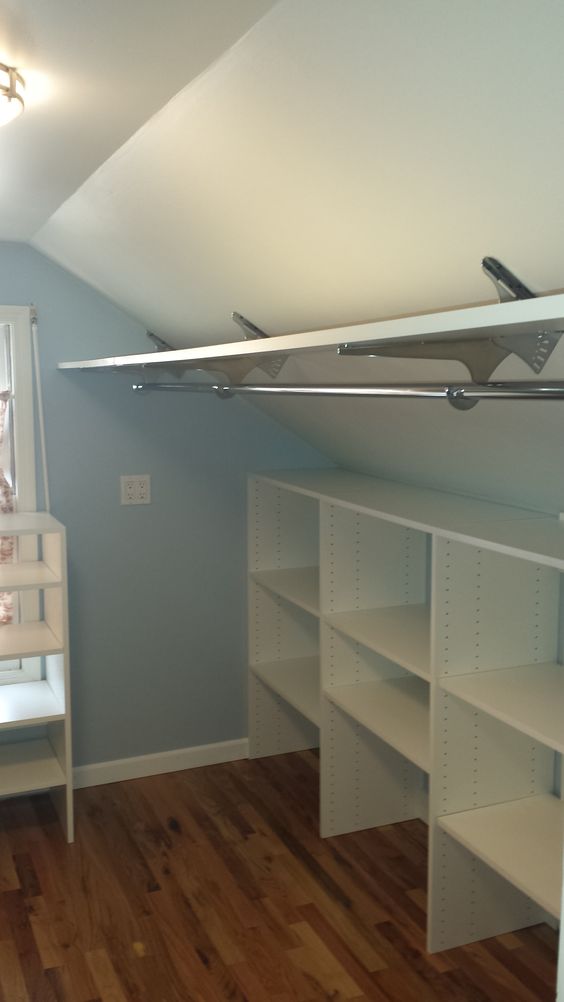 Arrange Storage Boxes With Labels On Open Shelves For Holding Kids Toys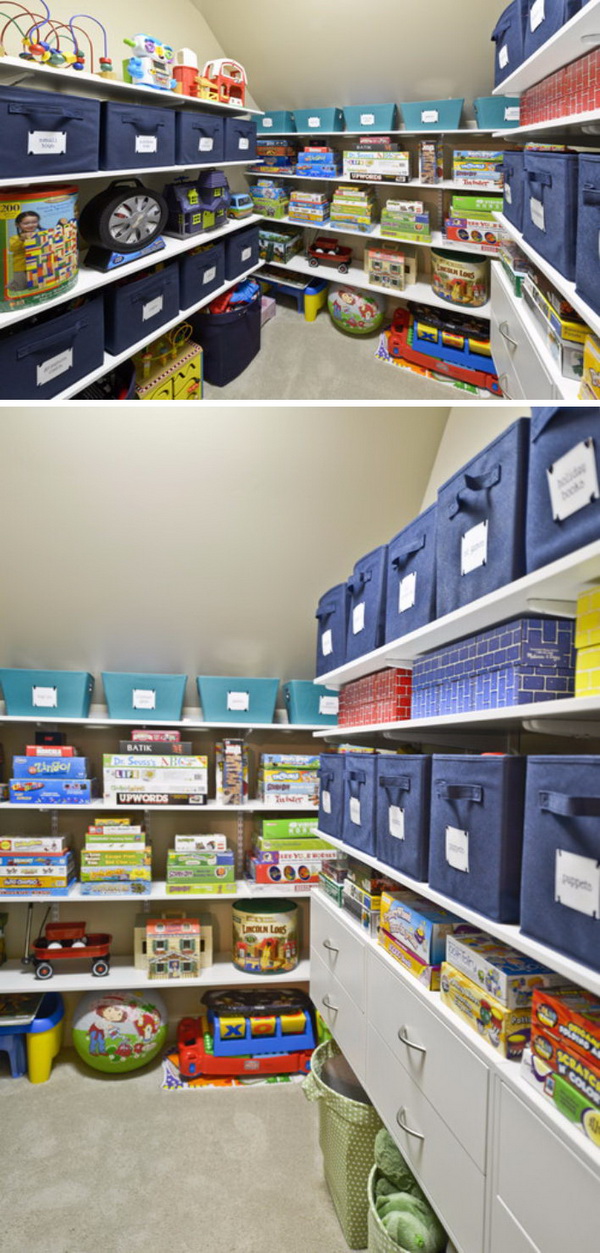 Turn your attic into a great playroom. Labelling the storage boxes and placing them on open shelves makes kids easily access toys and play inside the attic. via houzz
Build an Attic Closet Against the Attic Wall Using Shelves and Low Hanging Rod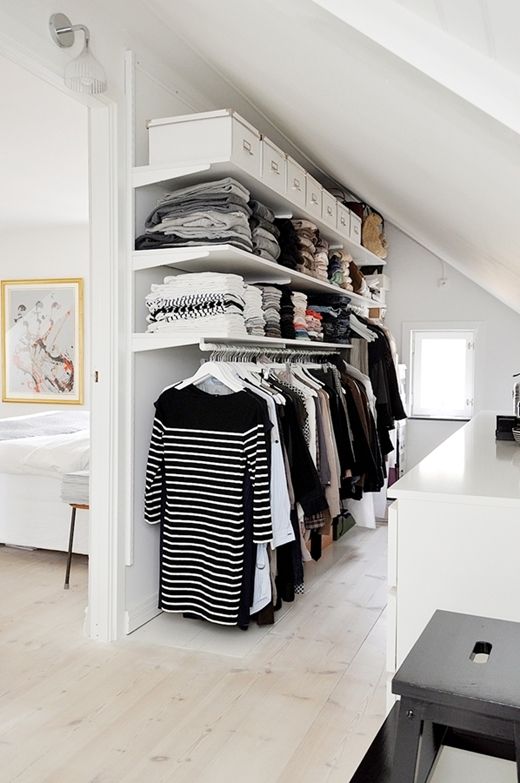 Find Space In The Attic With Bank Of Drawers Built Into The Eaves
Work with the Angles to Create Dynamic Shelves and Cubbies for Holding Books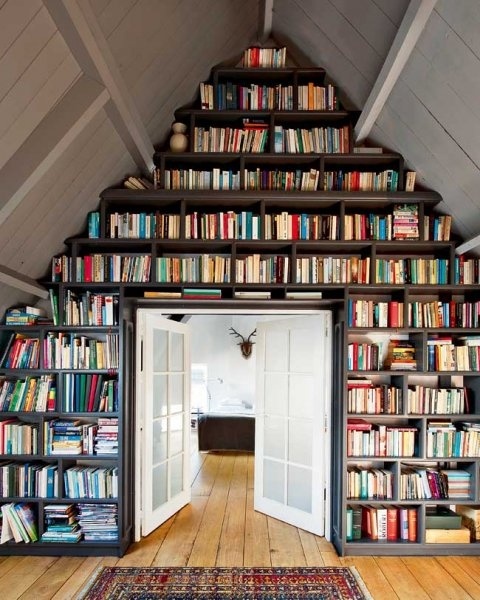 Add Window Seat and Tall Cabinet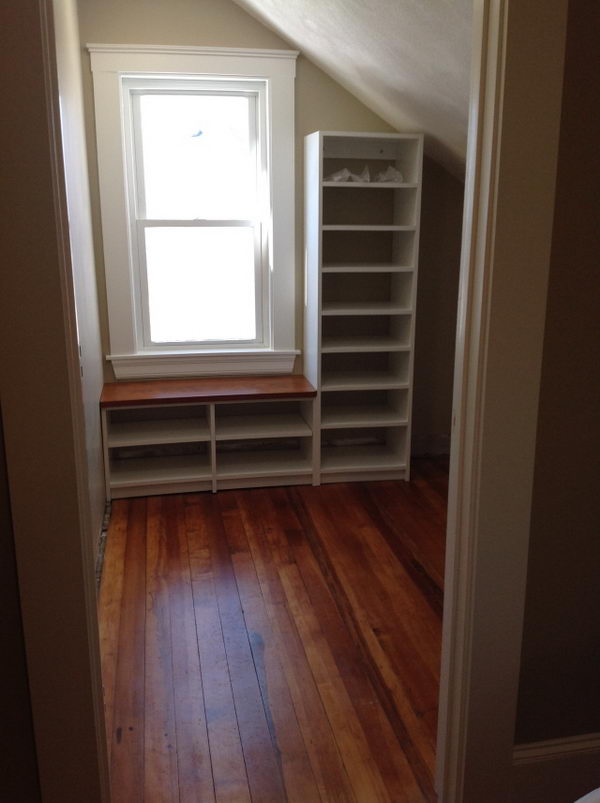 Add a Little Dresser in The Walk-In Attic Closet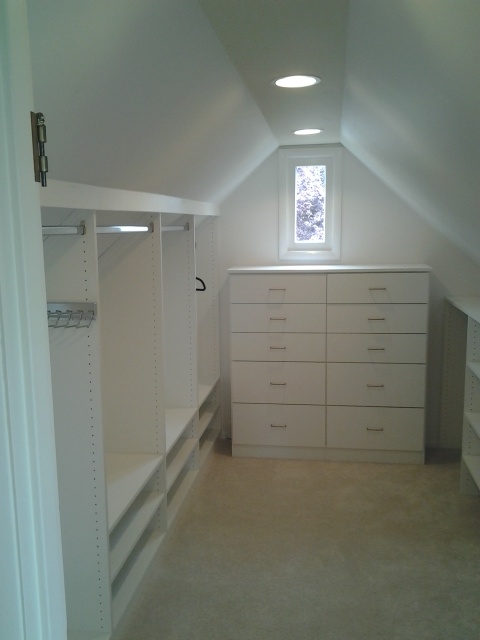 Add Accessible Storage Along The Short Wall In The Attic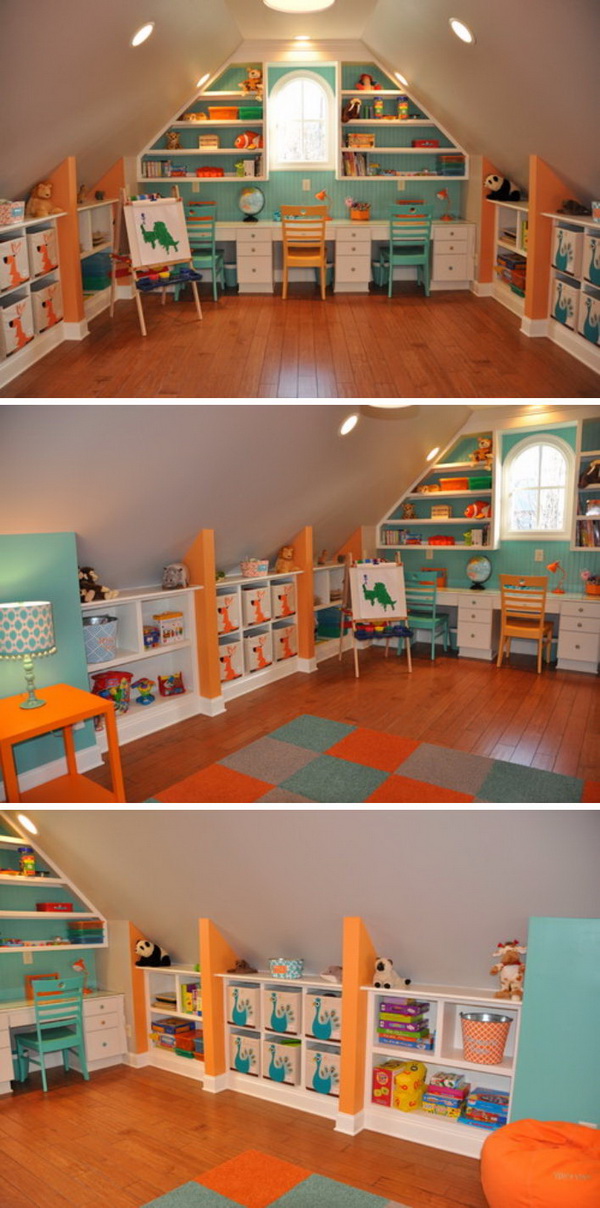 via houzz