40+ Rustic Wall Decorations For Adding Warmth To Your Home
Rustic style highlights natural beauty, the art of repurposing old materials and simple earthy colors. If you want to add some rustic touches to your home, we have some awesome wall decorations for you that you can copy or use to generate your own ideas.
Many of these ideas started with items that were around the house and were repurposed. Some items were provided by family and friends who were not using them or were going to dispose of them. Other items were garage sale or other finds. It just proves the old saying: One man's trash is another man's treasure. These repurposed finds have certainly been turned into beautiful wall decorations.

Take a look at these great ideas and start gathering what you need to add them to your home. Also keep a creative eye and mind open for anything you might find.
DIY Rustic Giant Wall Art
via placeofmytaste
Use This Rustic Pallet Plaques To Show Off Your Photos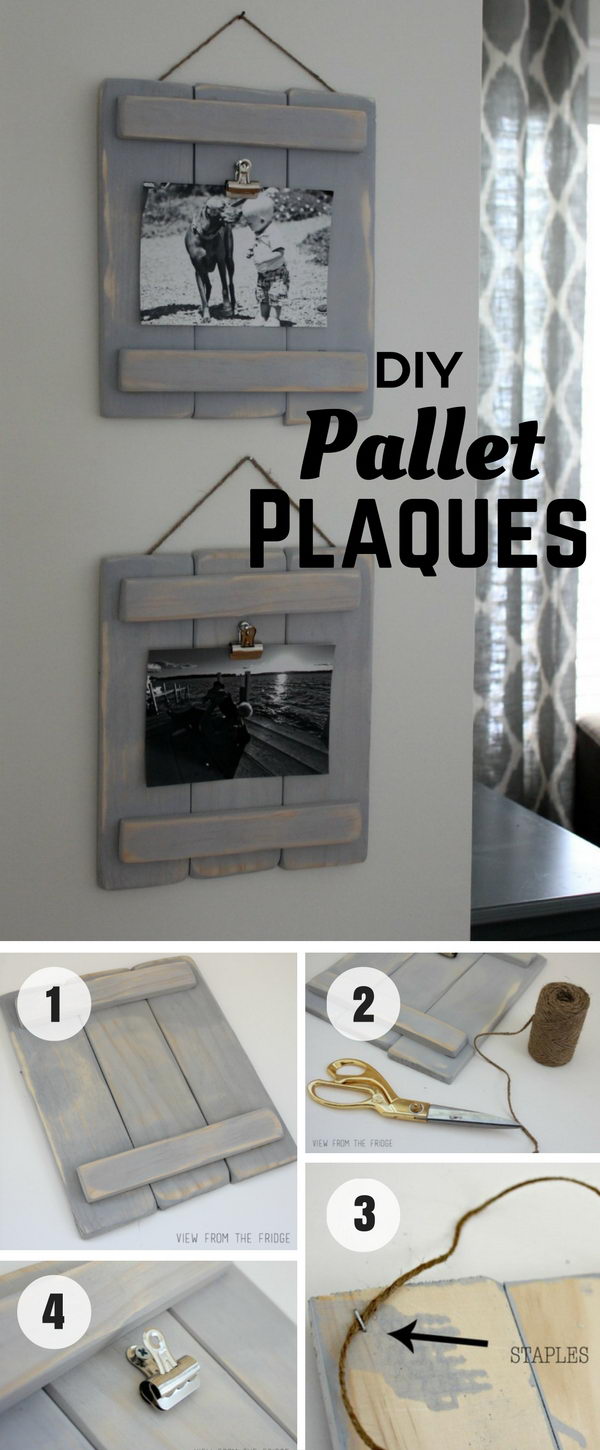 These Pallet Plaques with a clip for photos and a jute hanger create a barn door-like background for your photos. This unique idea is sure to catch the eye. The pallets can be painted any color to coordinate with your decor. Hang them singly or in groupings. via source
DIY Rustic Wood Wall Art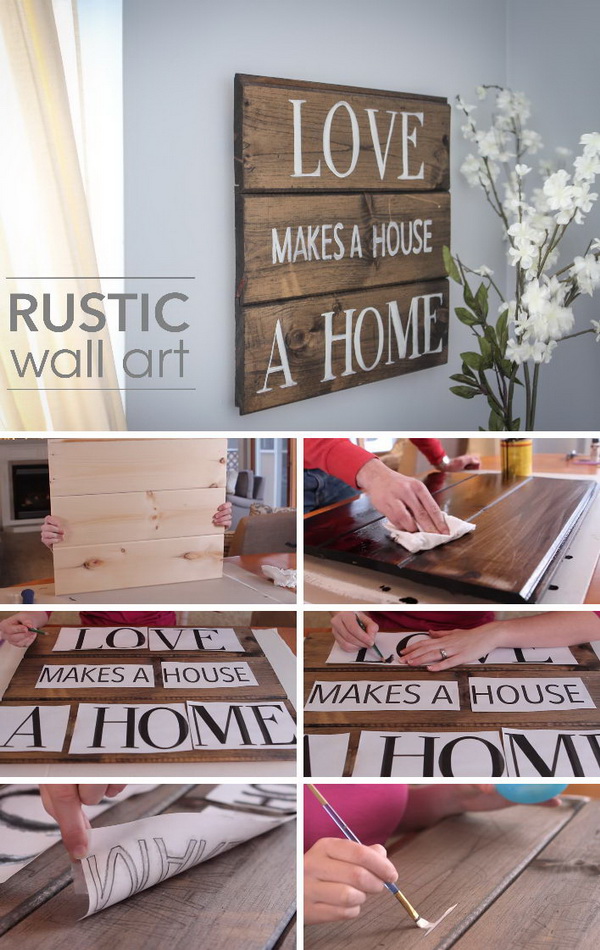 via youtube
DIY Rustic Barn Wood Corner Gallery Wall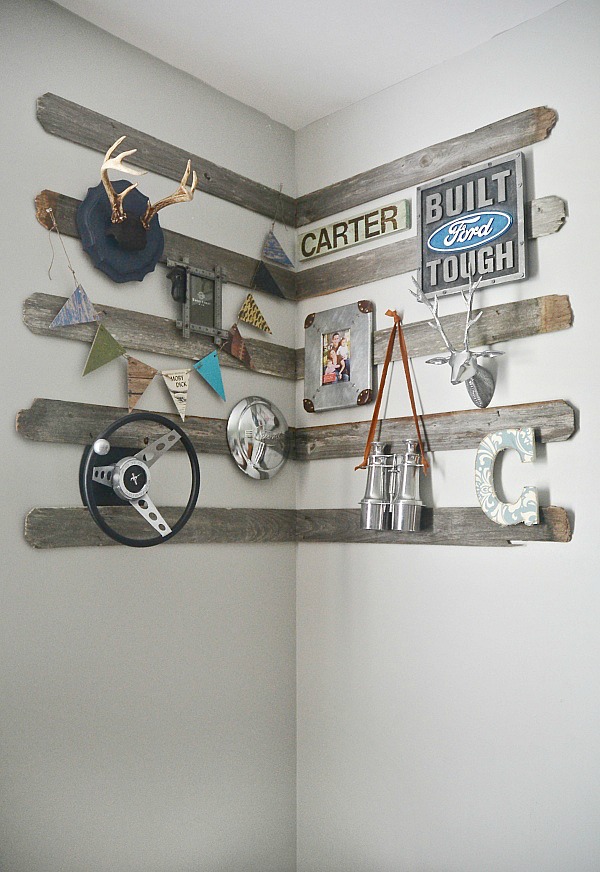 Repurpose a picket fence to create this Barn Wood Corner Gallery. Again the fence posts can be finished to coordinate with your decor. Then use this area to display items that have meaning to your family. via lizmarieblog
DIY Wood Sunburst Mirror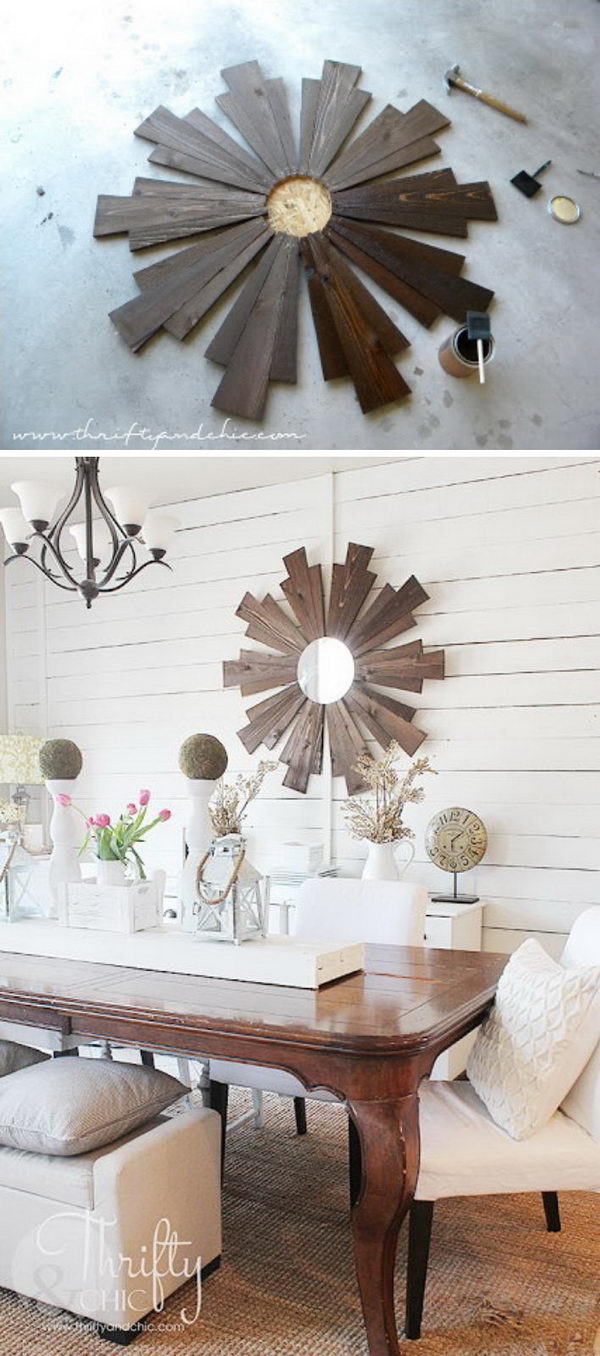 This Wood Sunburst Mirror will create a great focal point in any room. The ten arrowhead-shaped sunbursts radiating out from the center are each comprised of three wooden wedges. via thriftyandchic
Mounted Kraft Paper Roller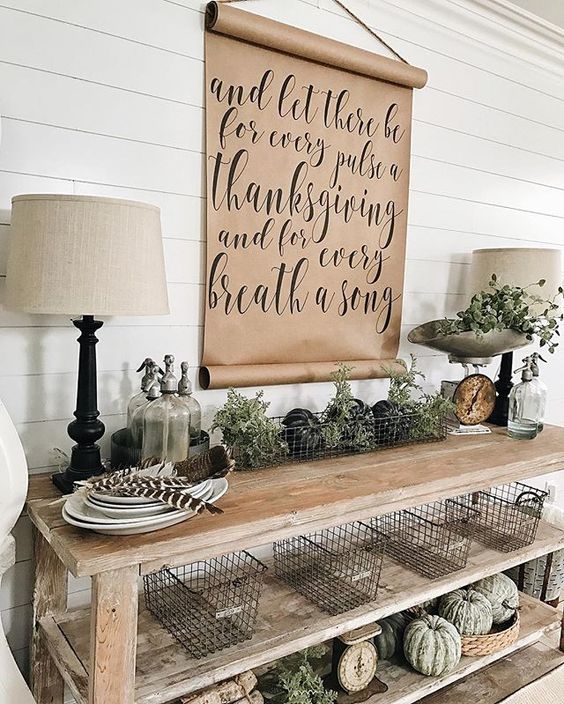 The Mounted Kraft Paper Roller is a large wall-art sized scroll of brown Kraft paper. The saying on the scroll is written in beautiful cursive script. This would also be eye-catching in any room. via lizmarieblog
DIY Home decor with a Pallet or Barn Wood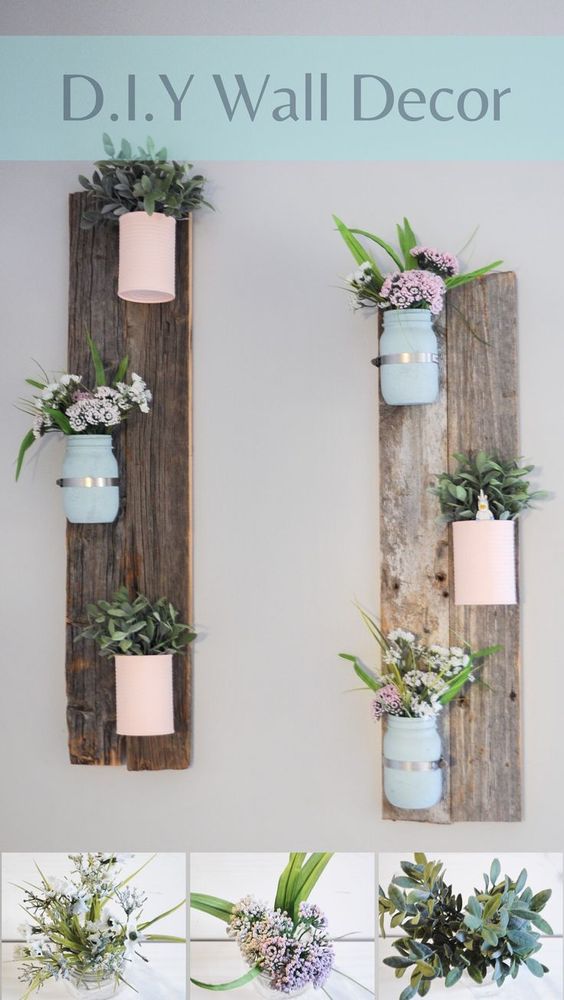 This Pallet or Barn Wood Wall Decor is simple, unique, and gorgeous. The wood planks can be left with the weathered-look or finished to coordinate with the room. The tin can and canning jar planters can be painted to coordinate with the room also. The plants can be changed to match the season. You can hang just one in a narrow space or create a grouping of two. via followthesprinkles
Rustic Wall Decoration with Old Window and DIY Shelf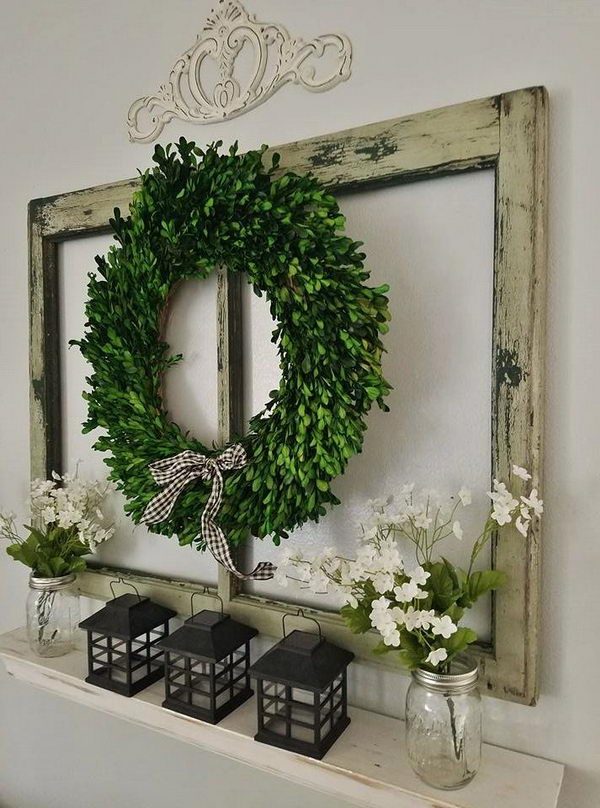 Creating this farmhouse style wall decor by using an old double window frame with a boxwood wreath hung in the center is easy. On both sides are vintage black metallic sconces. Underneath is a whitewashed shelf with three small black metallic lanterns and two canning jars with flowers in them. Over the top is a vintage white and gold metallic wall ornament. This simple idea creates a more interesting display than just hanging pictures. via thequaintsanctuary
DIY Scrabble Letters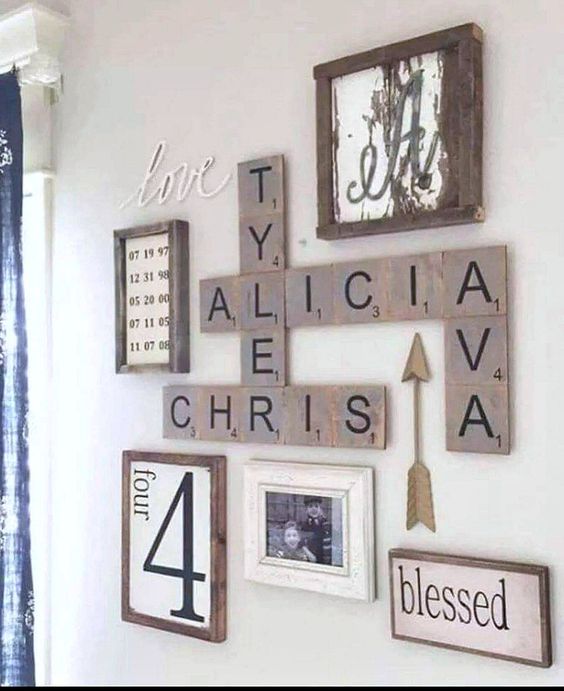 Scrabble letter tiles made from squares of wood, stencils, and paint can be arranged on the wall to celebrate your children or share a message. Add other related elements to create a wall gallery. via pinterest
DIY Rustic Faux Pallet Picture Frames

These pallet picture frames are just seven strips of wood with two cross strips on the back to join them. Mat your pictures, and then attach them to the front Then use them in a grouping. via source
DIY Chalkboard Calendar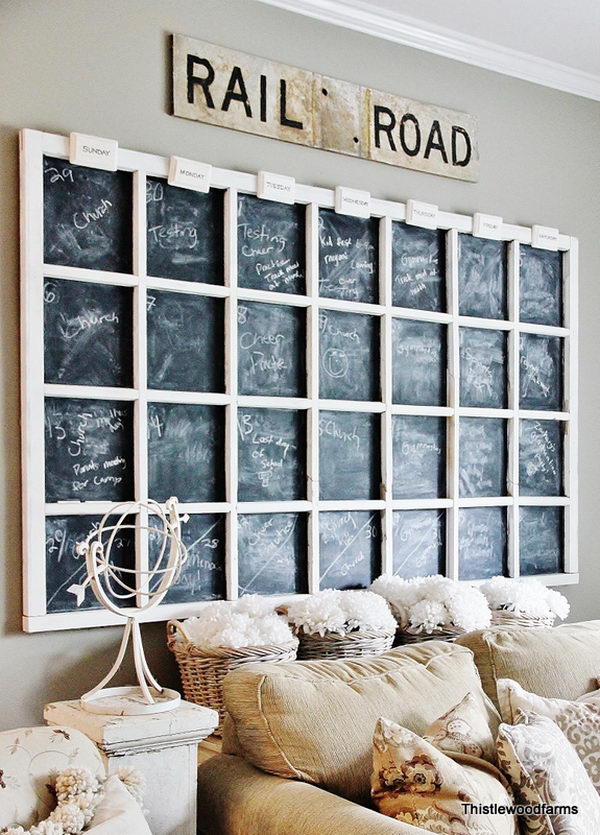 A repurposed 40-pane window frame was cut down to 28 panes to create this chalkboard calendar. A piece of plywood painted with chalkboard paint was attached to the back and an outer frame was added. Blocks of wood were used for the days of the week. This is perfect for a busy family. via thistlewoodfarms
Rustic Milk Bottle Floral Holder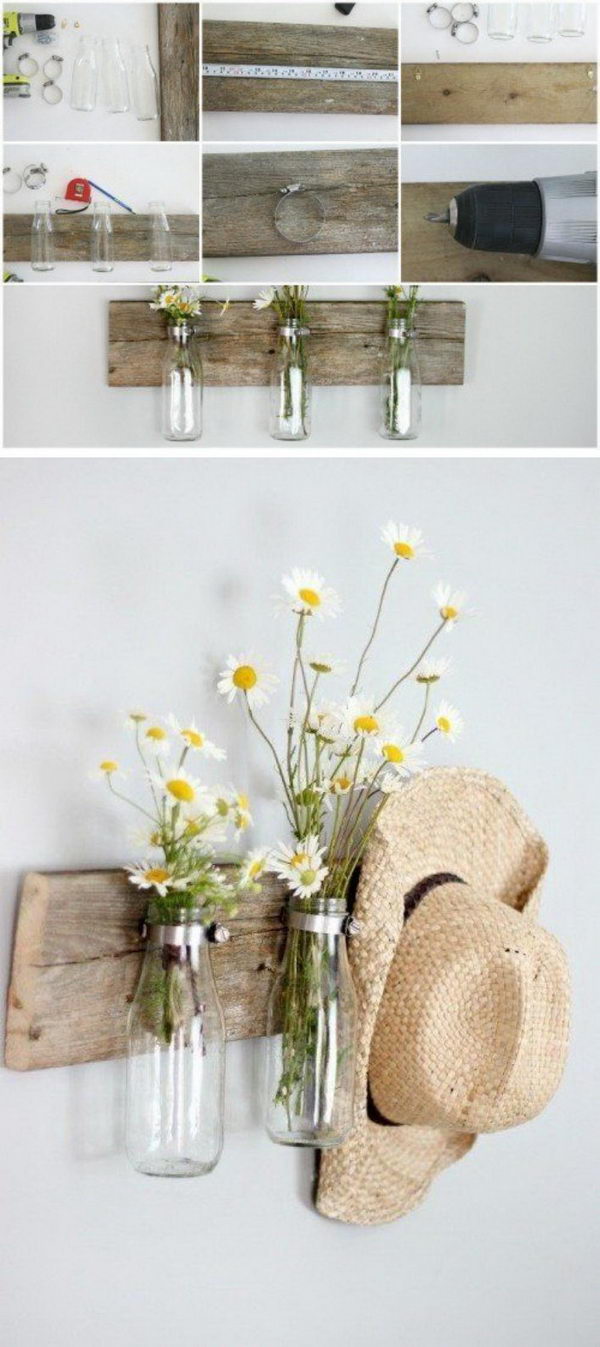 The Milk Bottle Floral Holder showcases vintage-look milk bottle flower holders on a weathered board. The milk bottles are actually modern iced coffee bottles. So they are easy to find. You can also use canning jars or tin cans for flower holders. via magnoliamarket
Craftberry Bush DIY Laurel Wreath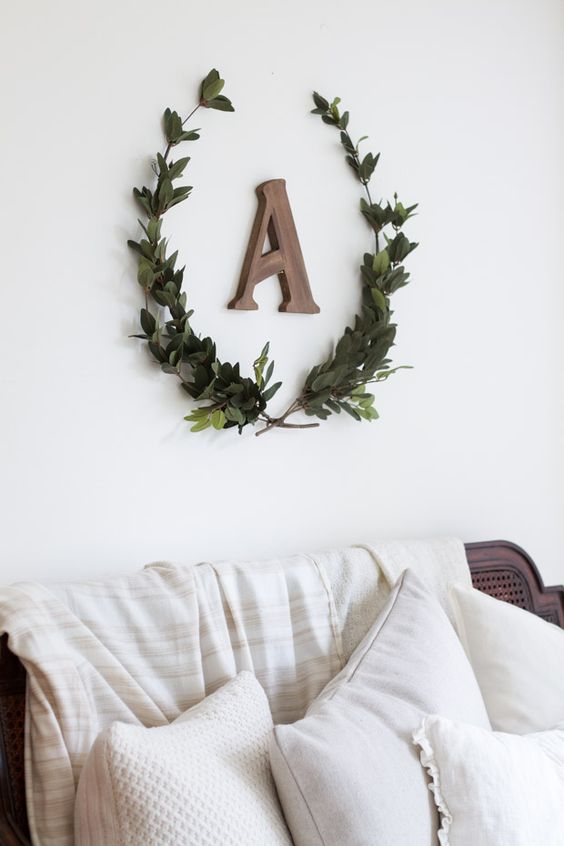 Bring a touch of nature into your home with this simple and elegant Craftberry Bush Laurel Wreath. Just two branches wired to a frame create the wreath around a single wooden letter that could be a wall monogram. via craftberrybush
Reclaimed Window Frames Displaying on the Floating Shelf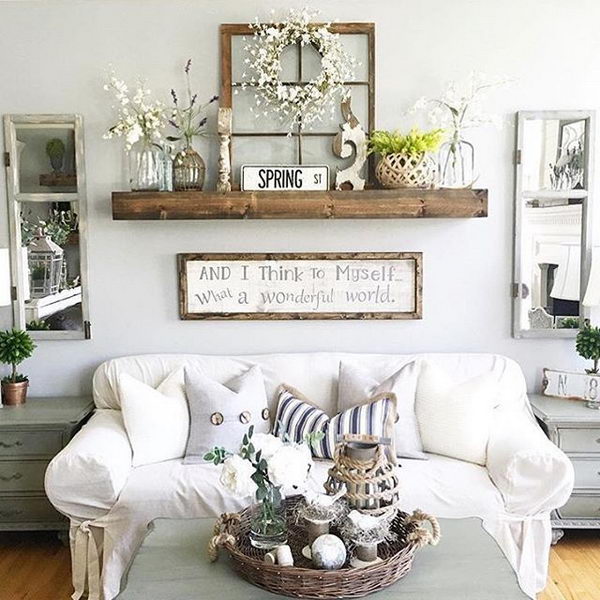 A thick wooden shelf with a vertical six-pane window frame is the focal point of this shelf gallery area. A white floral vine wreath hangs in front of the window frame. Large bottle vases, a planter, a wooden candlestick, a piece of wooden trim, and a street sign complete this gallery but you can use your own ideas. via instagram
Repurposed Shutters Gather Sign with Galvanized Flower Buckets on the Wall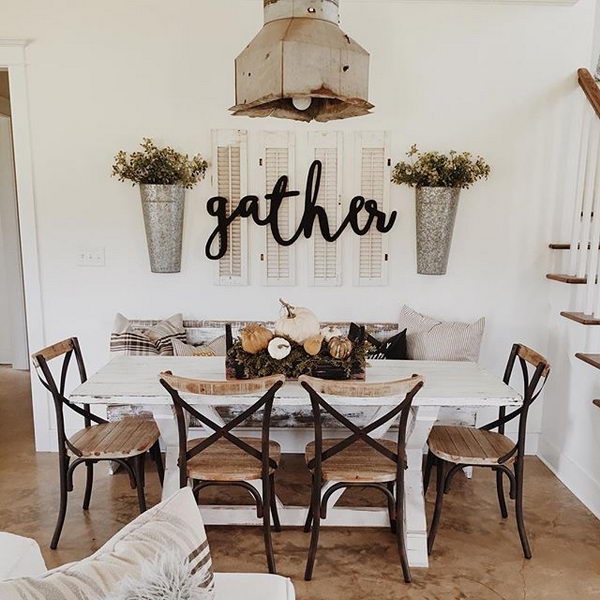 The word "gather" written in cursive hanging in front of two white wooden shutters with a large galvanized floral bucket filled with flowers hanging on each side is a perfect wall display over a dining room table. via instagram
Old Windows Decorating A Blank Wall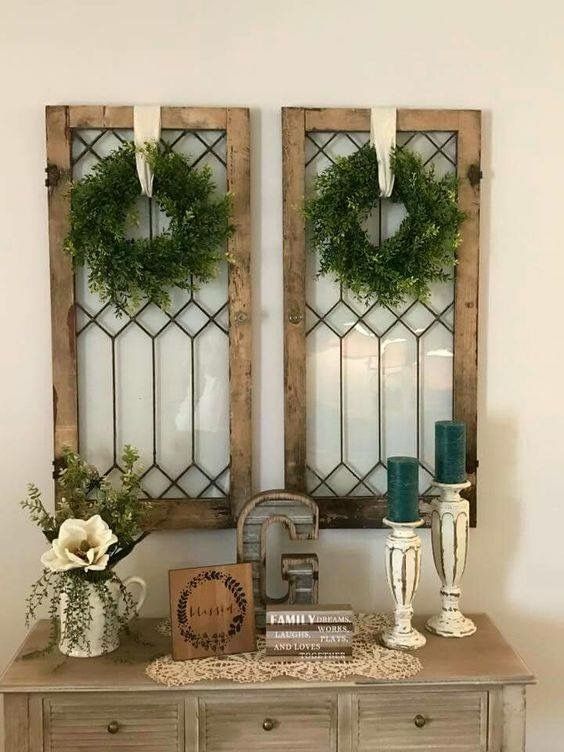 A pair of leaded glass windows with a wreath hanging from a ribbon in front of each window creates this beautiful wall display over a hall table.
DIY Rustic Wall Mirrors Made from Plywood and Cheap Frameless Mirrors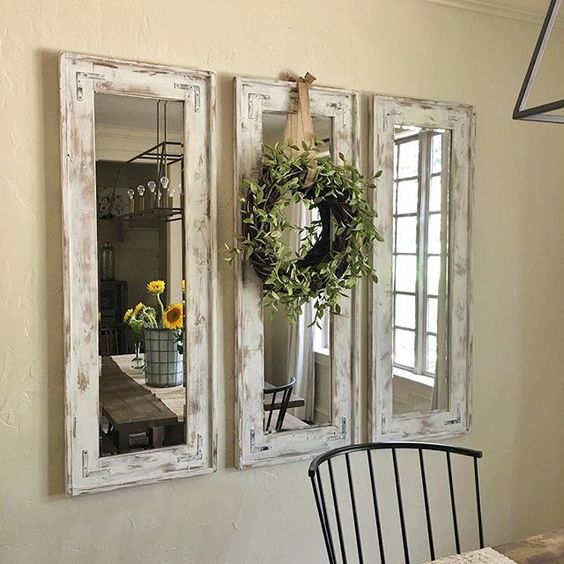 These three vintage-look mirrors with a wreath on a ribbon in front of the center mirror were actually made from frameless mirrors and plywood. The mirrors were glued to plywood, and plywood pieces were stained, painted with chalk paint, sanded, and then glued on to frame the mirrors. With some metal hardware in the corners and you have vintage-look mirrors. via instagram
DIY Rustic Coat Rack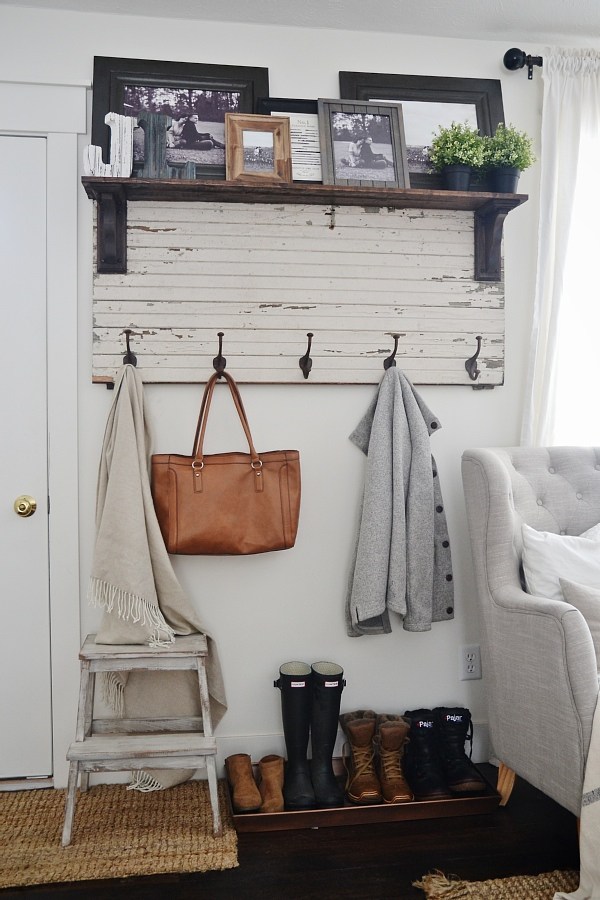 A piece of a barn door was used to create this coat rack. A shelf was attached to the top and coat hangers were attached to the bottom. The weight requires a heavy-duty canvas hanging product. via lizmarieblog
Rustic Windmill Wall Decor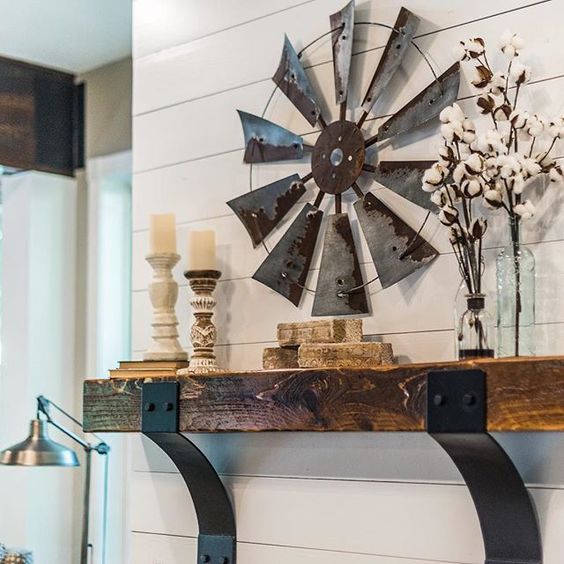 This windmill was a rare find that was repurposed as wall decor. Finding items like this to repurpose will give your home a unique touch. via instagram
Vintage Warehouse Window Frame Mirror and Metal Wall Vases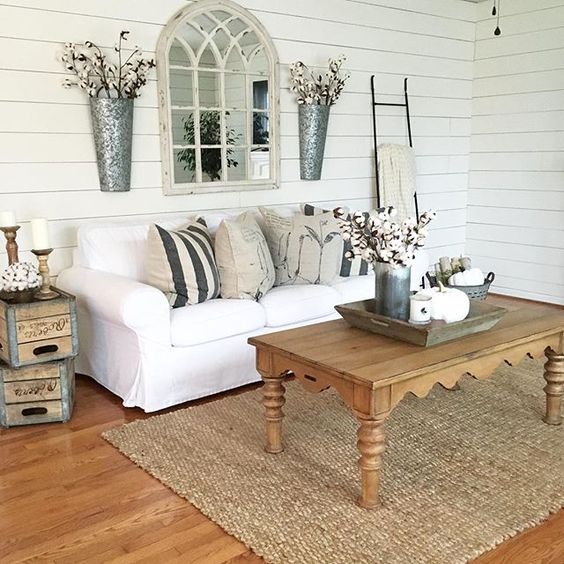 This arched window frame mirror with the galvanized flower holders are available from a retailer. However, if you find a unique shaped window frame like this one there are companies that can custom cut mirrors to fit. via instagram
DIY Rustic Letters With Flowers For Wall Decoration

Make a statement or spell a name with these Rustic Letters with Flowers. The outer edges of these light-toned wood letters frame the flowers. Adapt this idea to your decor by changing the tone of the wood and by changing the color and type of flowers used. via source
Antique Metal Clock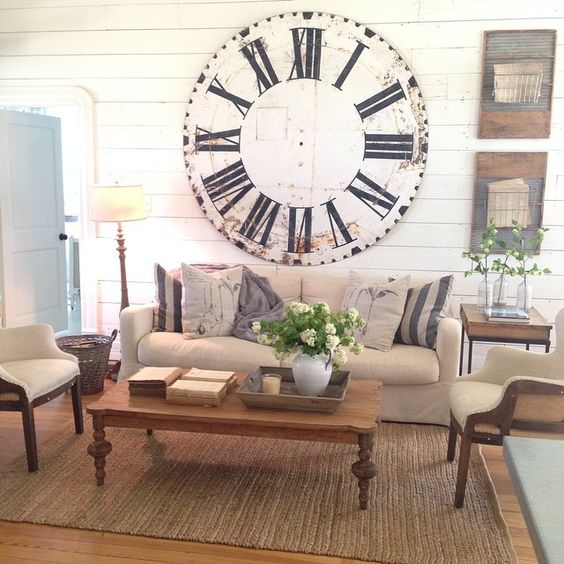 This antique metal clock is another lucky , but you could recreate it by having someone cut a round board for you then paint and sand it. Finally, you can stencil the numbers on it. via instagram
Chippy Doors for Decorating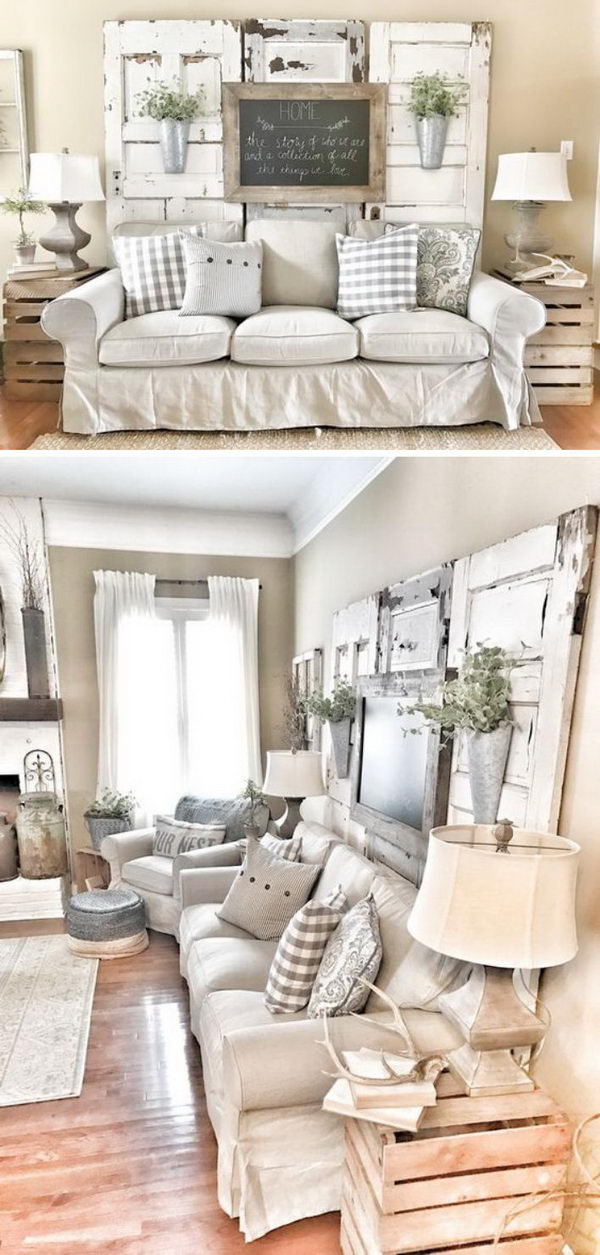 Plates on Wall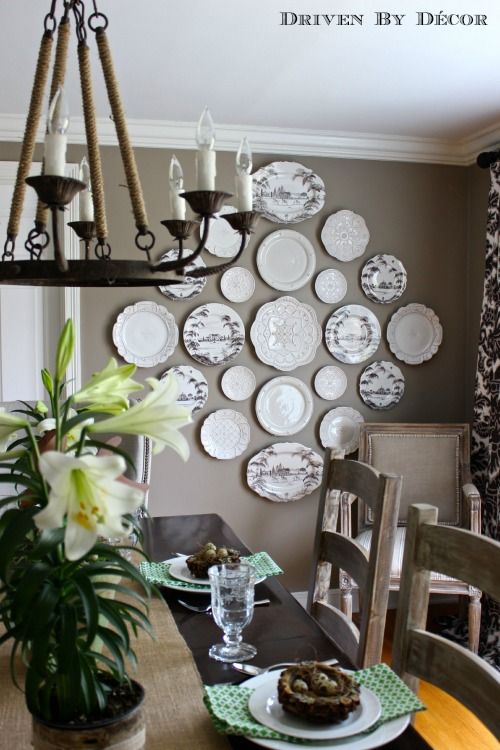 via hometalk
A Frame of Chicken Wire Makes a Perfect Backdrop for a Wreath

Wall Clock Decor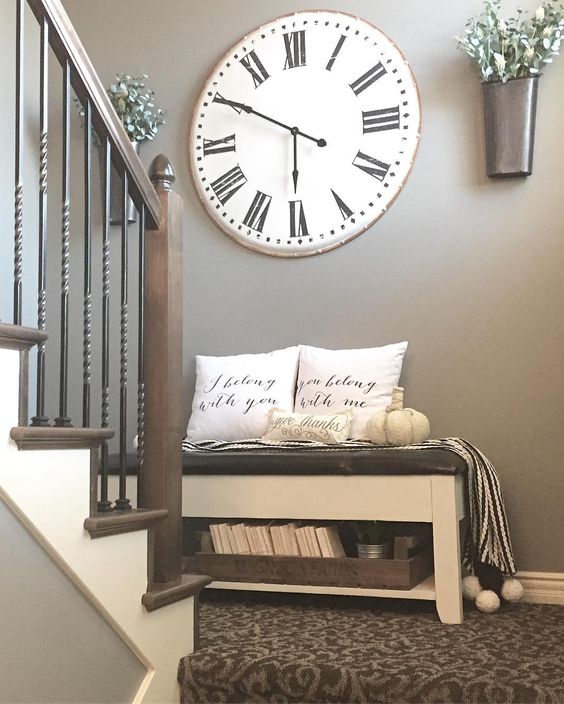 via instagram
DIY Wooden Arrow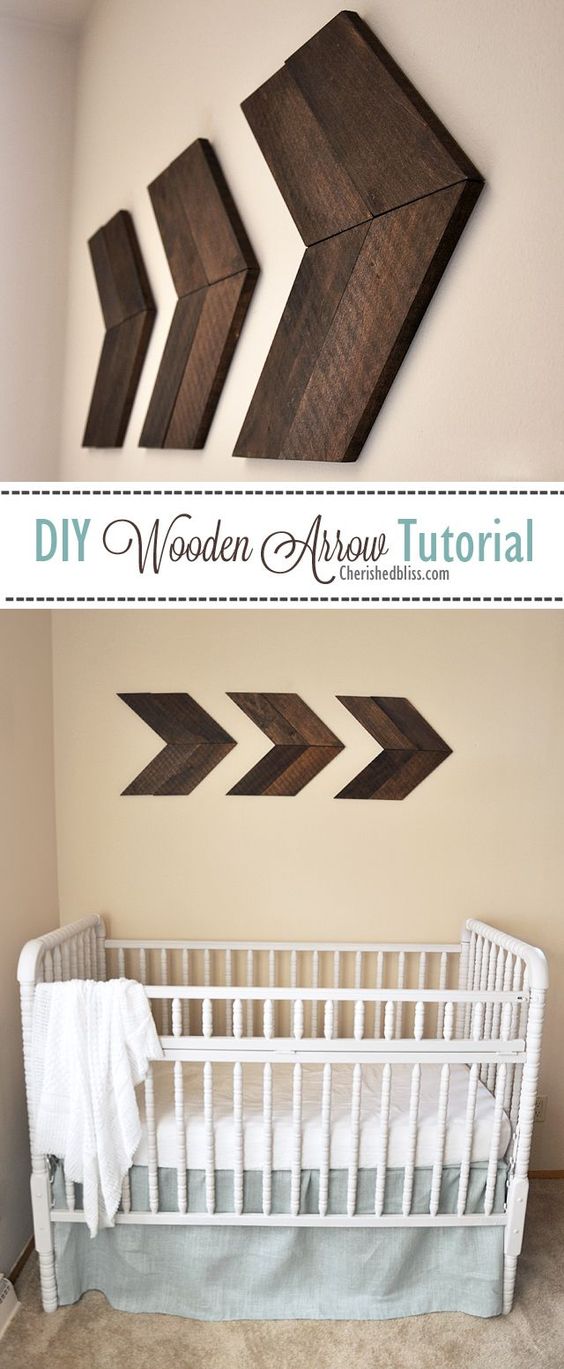 via cherishedbliss
DIY Picture Frame Jewelry Holder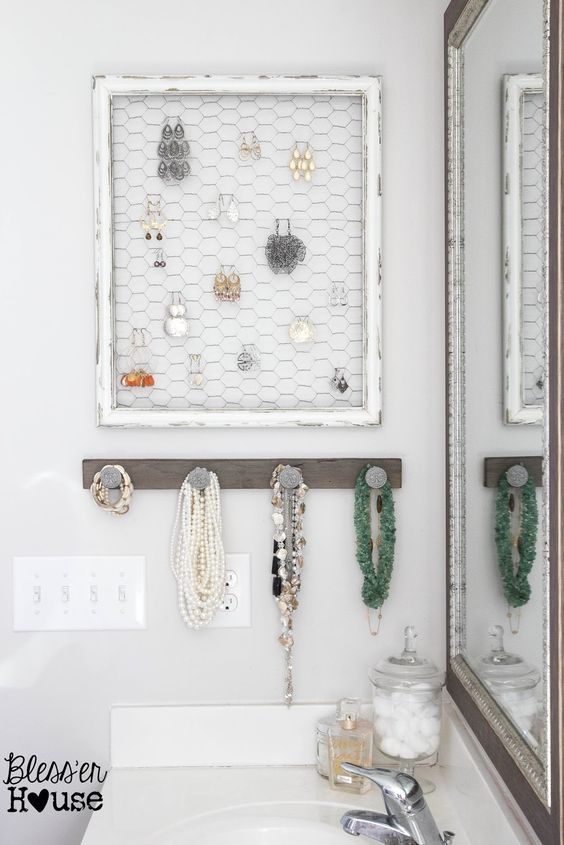 via blesserhouse
DIY Chevron Wooden Arrows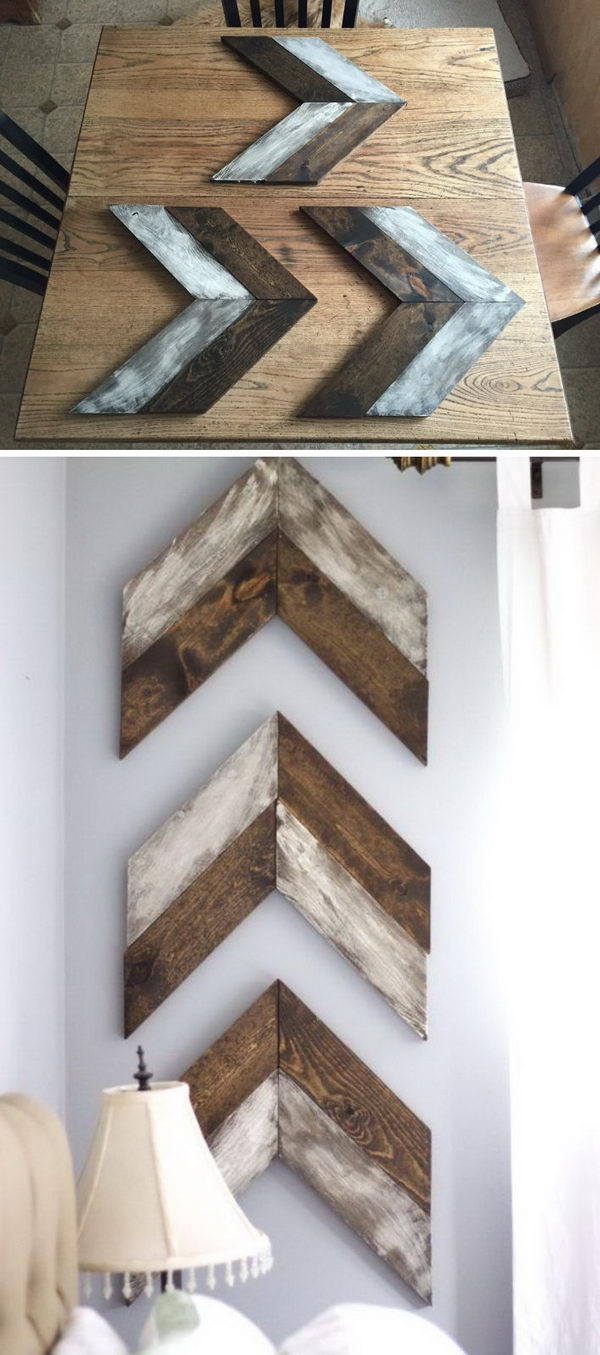 via mlavioletteblog
Wall Collage with Reclaimed Metal Farm Fixtures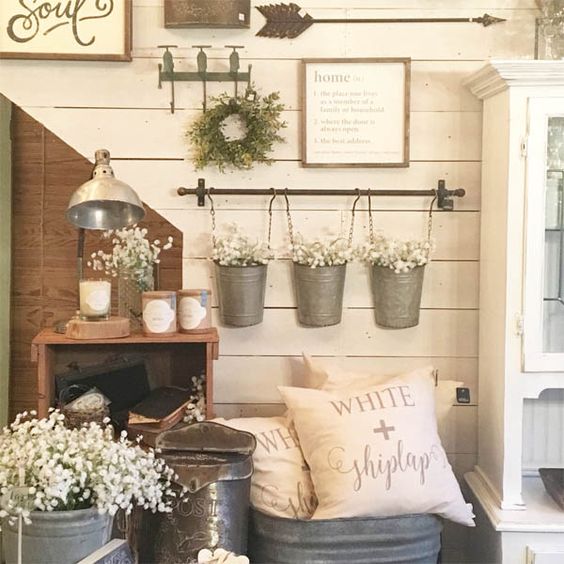 Rustic Ladder Shelf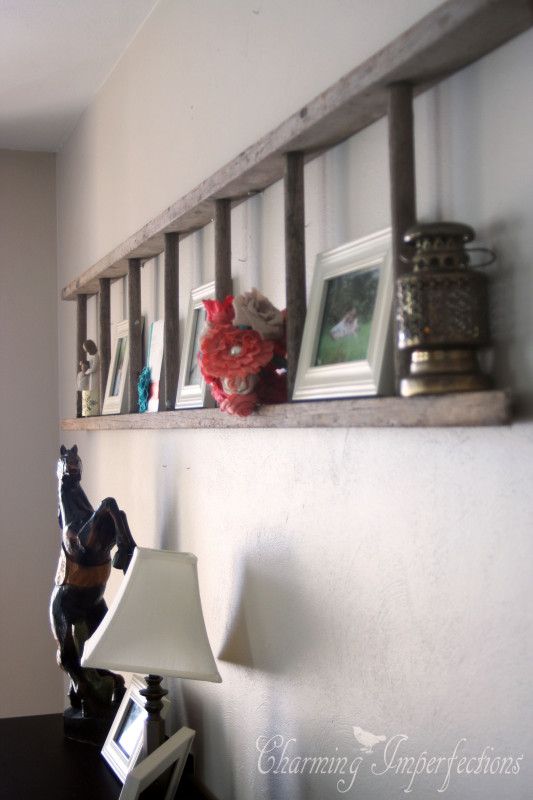 DIY Rustic Wall Hanging from Salvaged Wood

Basket of Floral Twigs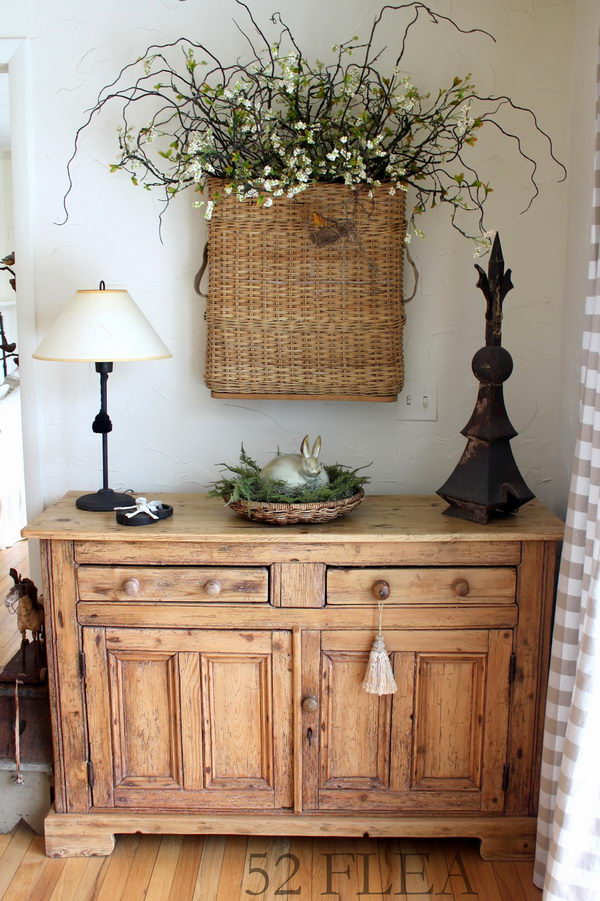 via source
DIY Branch Shelf

via homedepot
Farmhouse Style Lantern Hanging and Wire Basket Filled with Vases and Sprigs of Greenery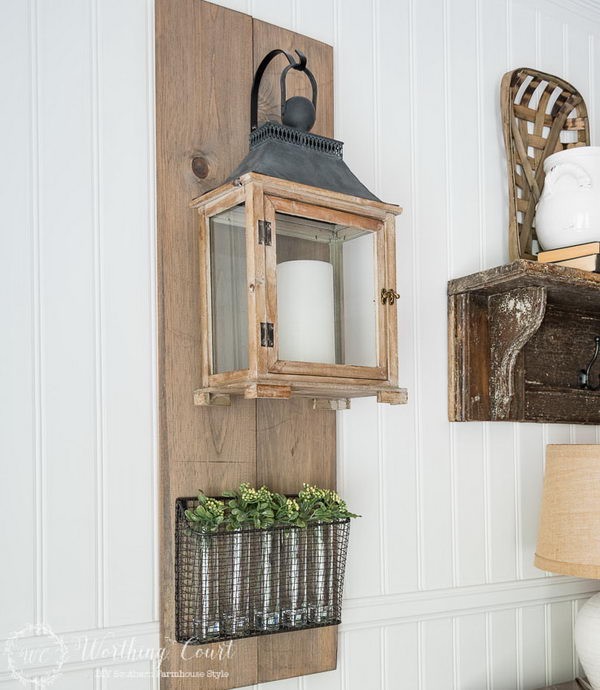 via glavportal
Rustic Painted Arrows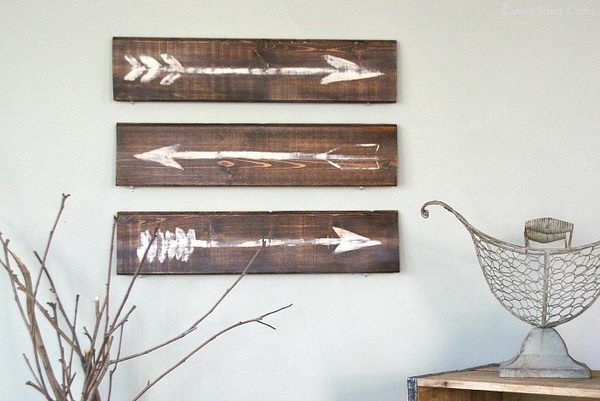 DIY Wooden Eat Sign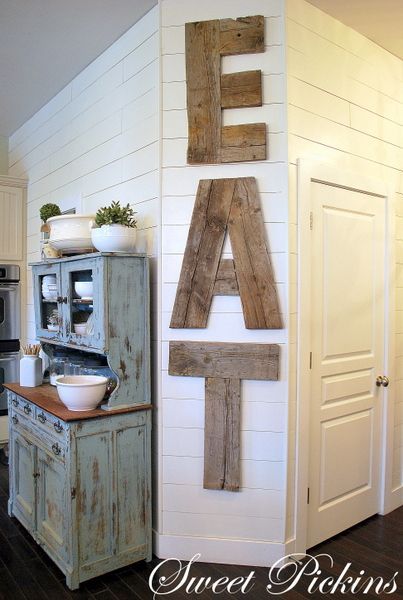 DIY Farmhouse Sign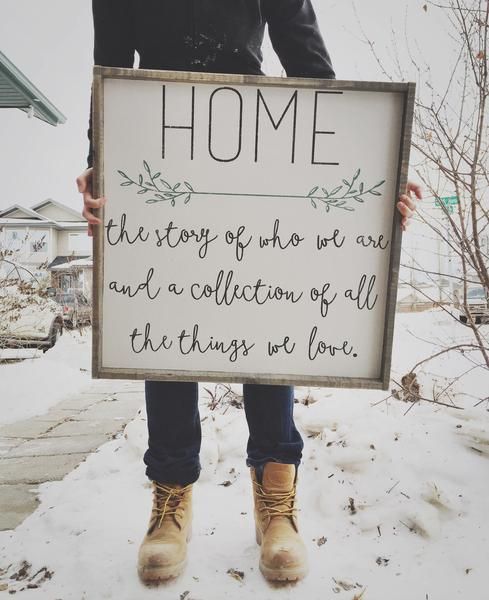 via timberandgray
Reclaimed Barn Wood Picture Frame Hangers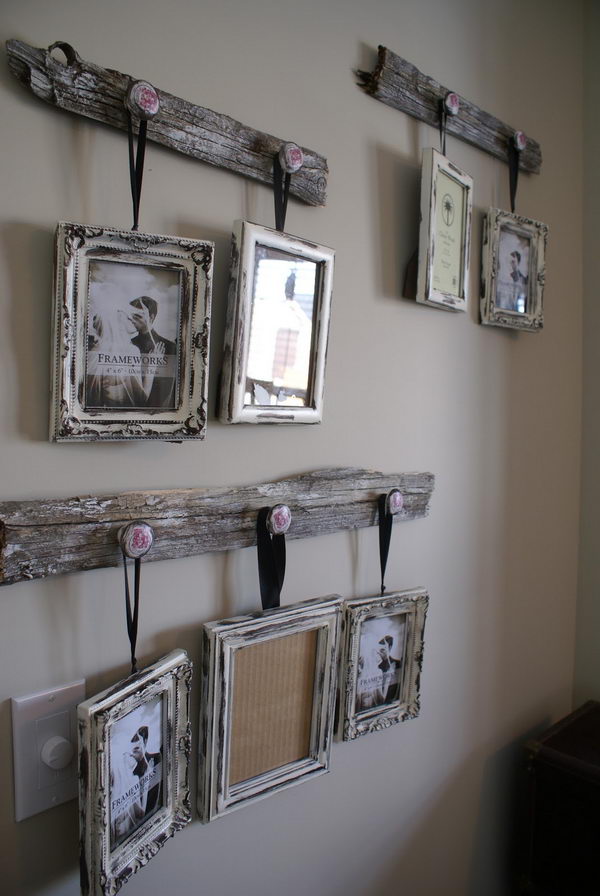 Industrial Metal Letter Sign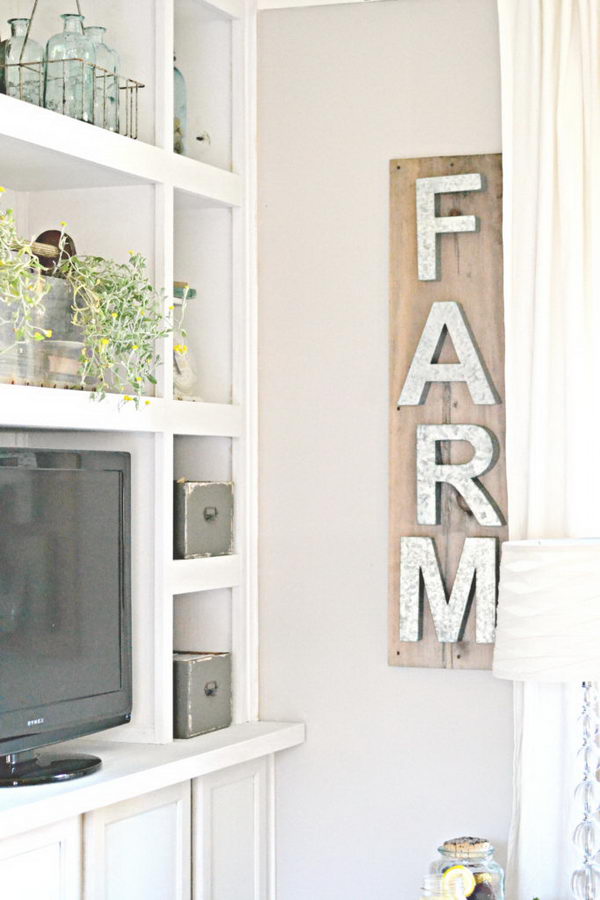 via theweatheredfox
DIY Rope Letters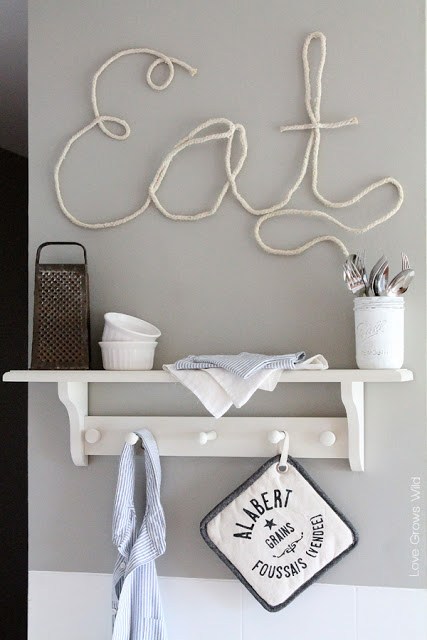 via lovegrowswild
Old Window Decorated With Dollar Store Cotton Wreath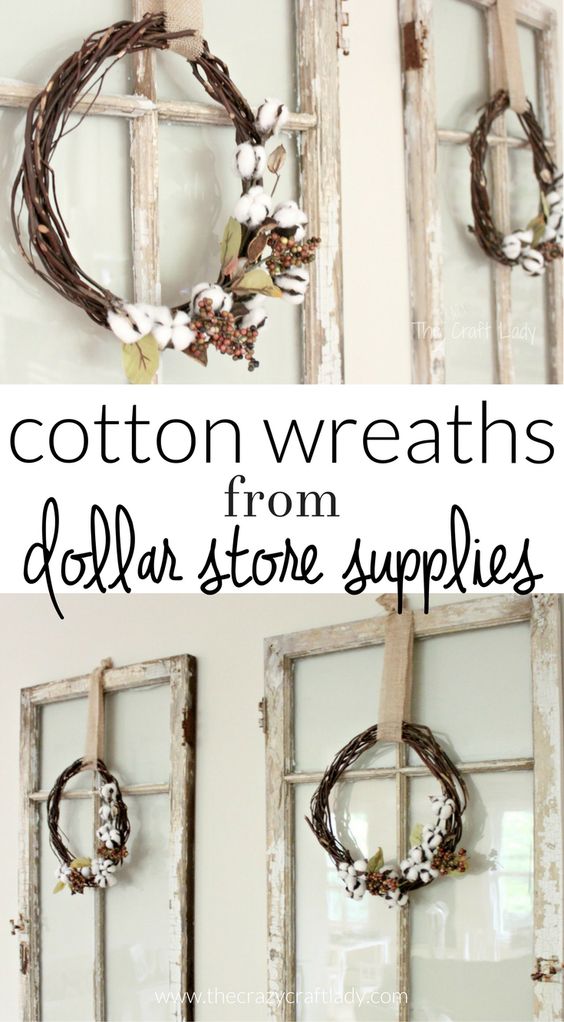 Rustic DIY Bookshelf with IKEA Ekby Brackets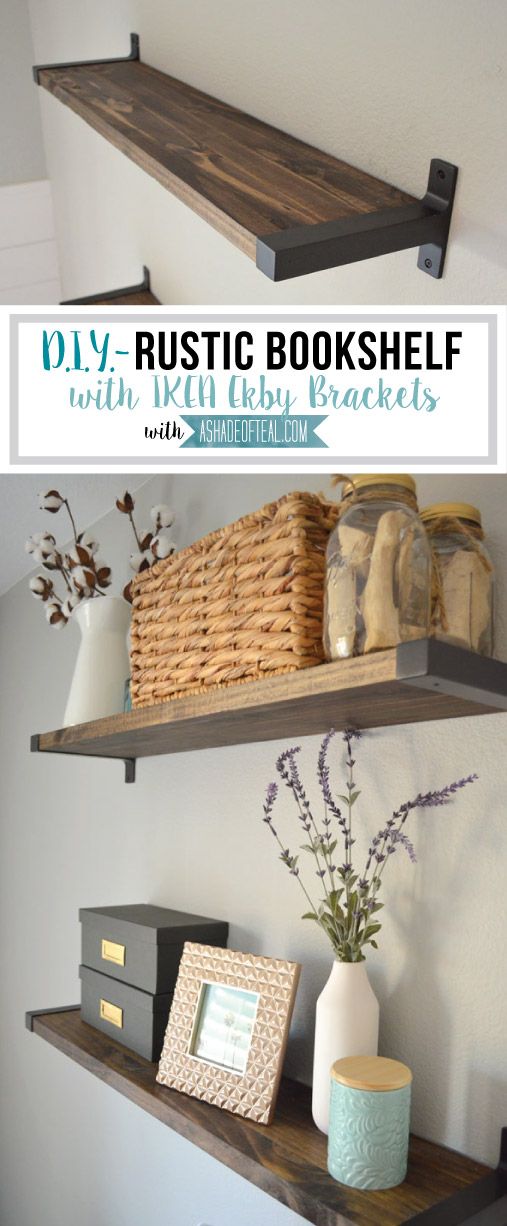 via ashadeofteal
DIY Rustic Pallet Wall Plaque

via craftcuts
DIY Fence Wood LOVE Sign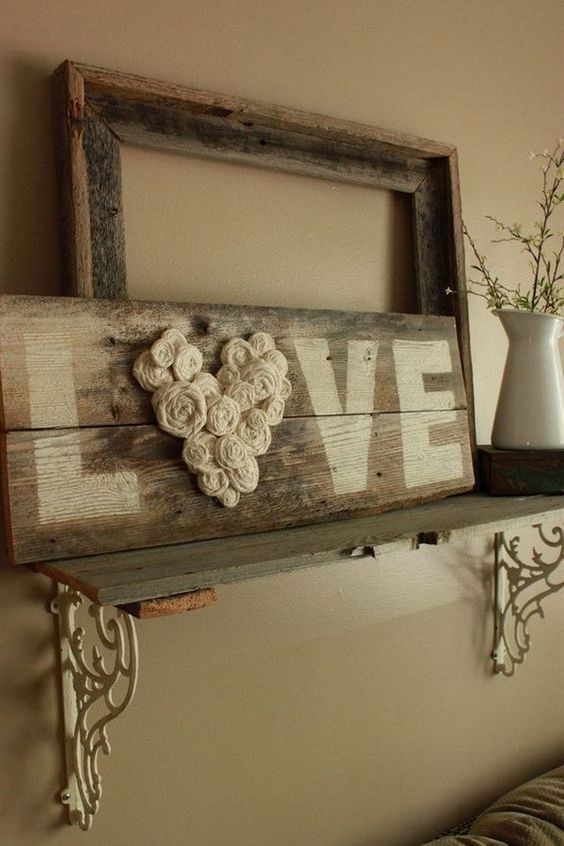 via shanty-2-chic
DIY Farmhouse Rustic Wooden Frame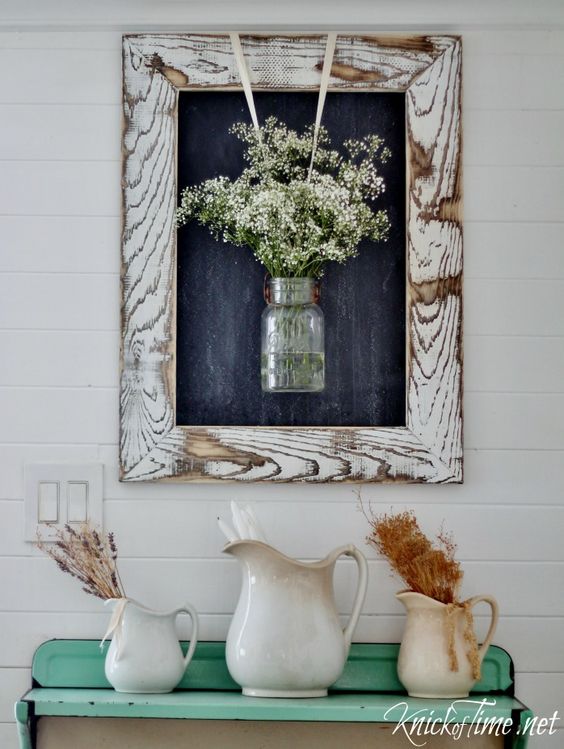 via knickoftime
Reclaimed Wood Frames with Burlap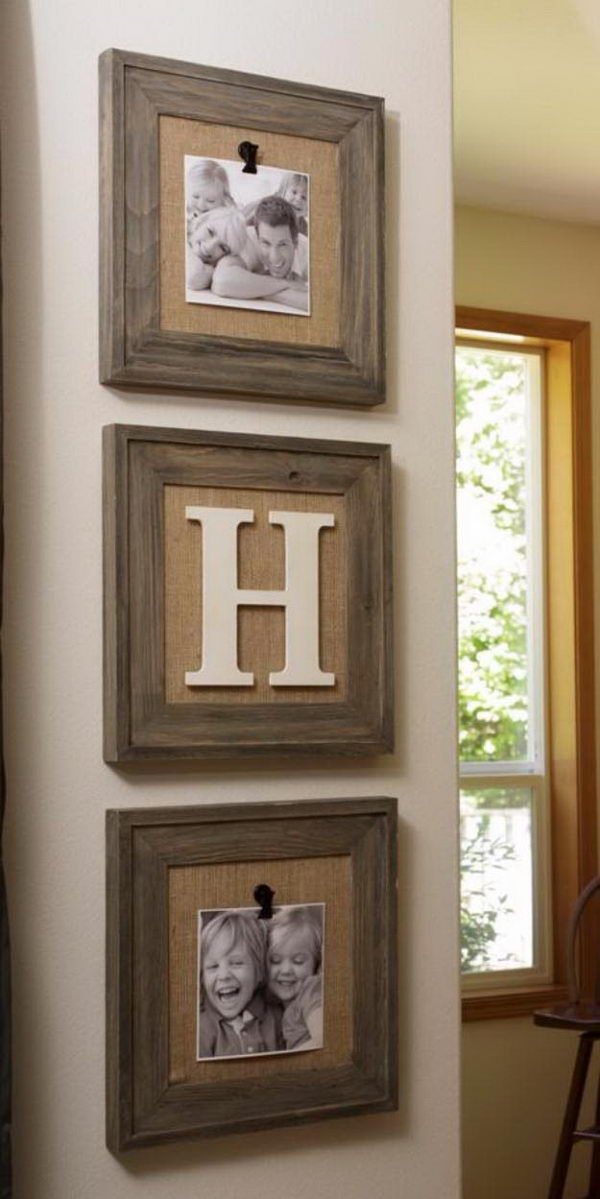 via shopcraftwarehouse.blogspot
Vintage Style Tobacco Basket