10 Wall-Mounted Breakfast Bar Ideas For Small Kitchens
Are you tired of struggling to find space for a proper breakfast area in your small kitchen? Look no further than wall-mounted breakfast bars! These compact and versatile options provide an ideal spot for a quick bite or a cozy meal with loved ones. Here are ten wall-mounted breakfast bar ideas to inspire you:
Upgrade Your Kitchen With A Half Wall Breakfast Bar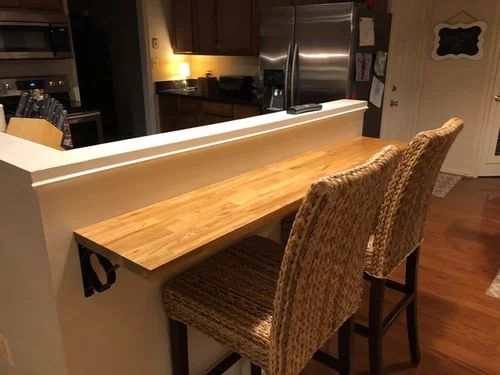 Want to add a little something extra to your kitchen without the hassle of a full renovation? A half wall for a breakfast bar might just do the trick! This simple and stylish solution creates a natural divide between your kitchen and dining area, and offers a convenient spot for quick meals or morning coffee. via source
DIY Live Edge Breakfast Bar Floating Shelf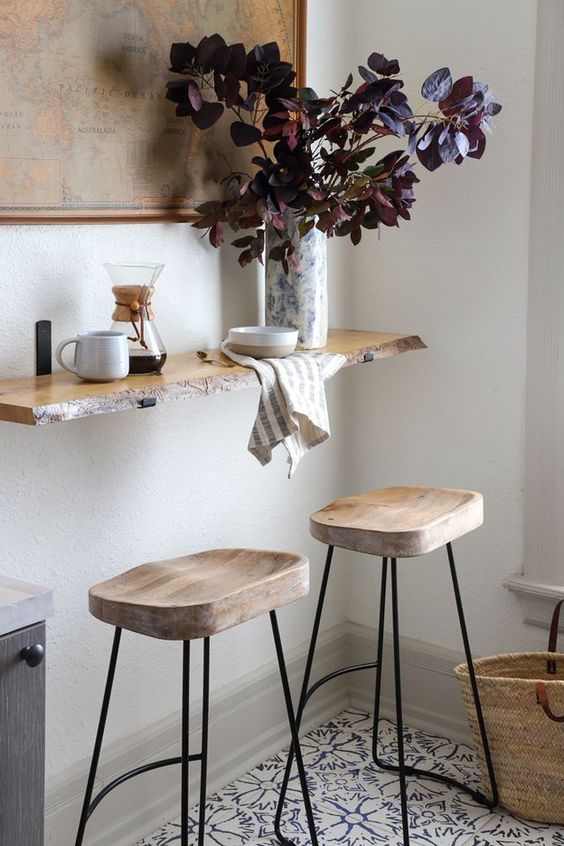 Are you a DIY enthusiast looking for a fun project to enhance your breakfast nook? Consider building a live edge breakfast bar with a floating shelf! This project is both functional and stylish, and will add a touch of rustic charm to your kitchen. Voila – you've got yourself a cozy and unique breakfast bar! via source
Color Pop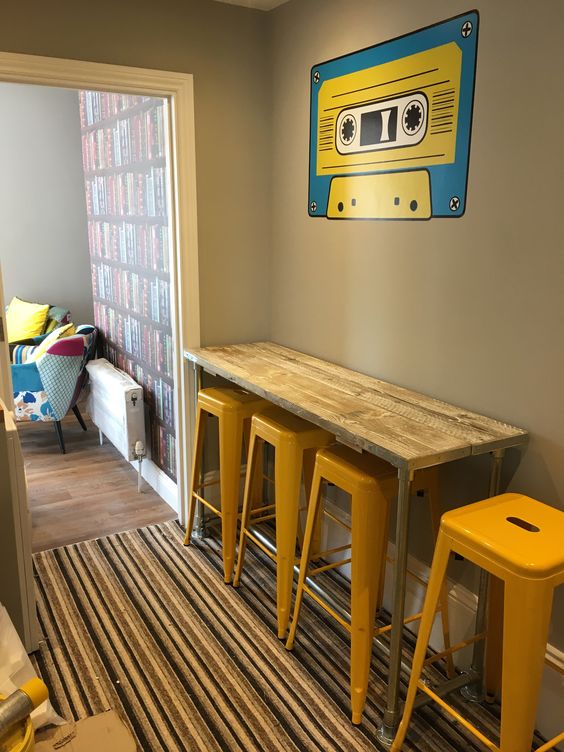 Add a pop of color to your kitchen with a bright, wall-mounted breakfast bar. Choose a bold hue like turquoise or coral, and pair it with matching stools for a fun and lively vibe. Serve up some colorful smoothie bowls for a delicious and nutritious breakfast.
Breakfast Bar With Wall Hanging Folding Dining Table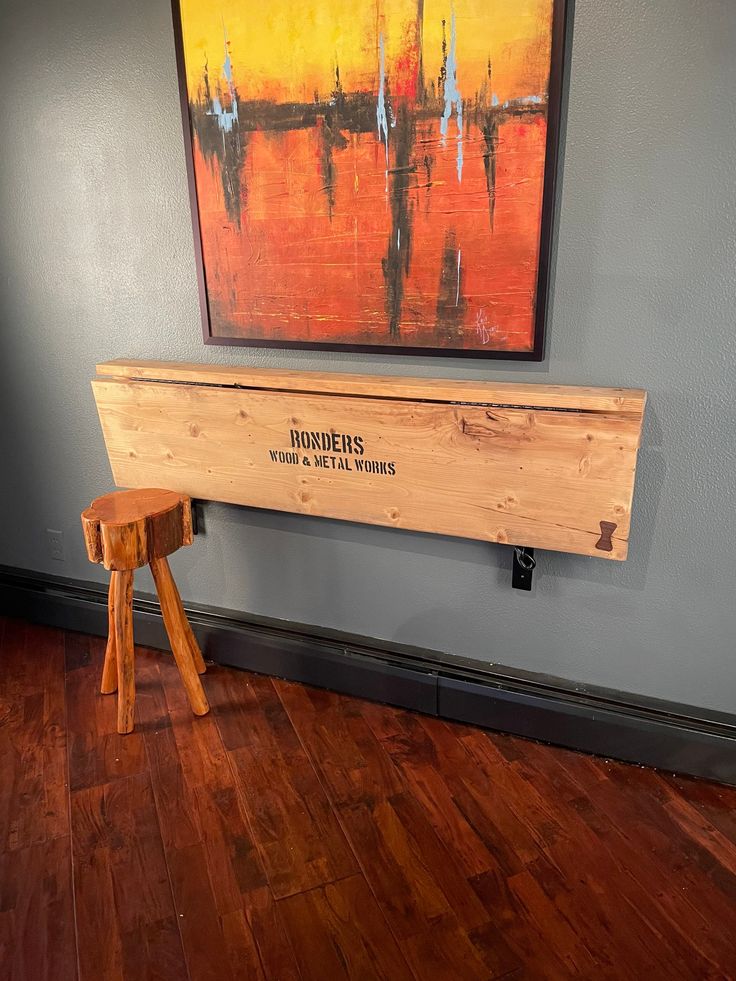 Looking for a space-saving solution for your small kitchen? Why not try a breakfast bar with a wall hanging folding dining table! This clever design allows you to easily fold up and tuck away your dining table when not in use, freeing up valuable floor space.
Get Cozy with a Corner Breakfast Bar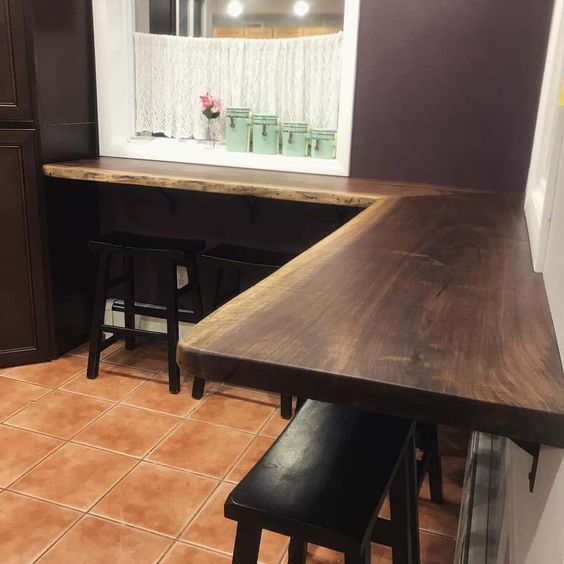 The little nook is perfect for enjoying a quick meal or a cup of coffee, while saving valuable space in your kitchen. You can customize the shape of the bar to fit your kitchen layout – whether it's straight or L-shaped.
Industrial Pipe Breakfast Bar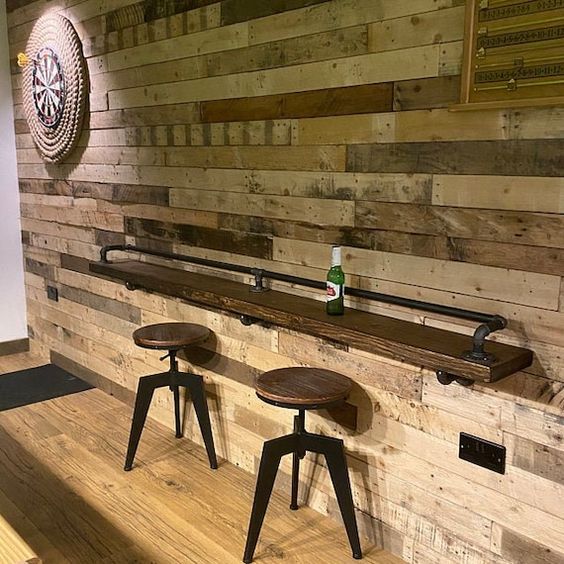 For a unique look, create an industrial pipe breakfast bar. Use metal pipes as the legs and attach a wooden tabletop to it. Paint the pipes a bold color for a pop of color. via source
Chalkboard Bar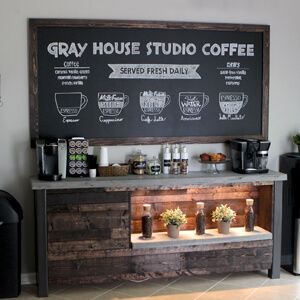 Make your breakfast bar multi-functional by creating a chalkboard bar. Attach a chalkboard to the wall and add brackets for support. Use chalk to write out the menu for the day or jot down a grocery list. via source
The Cozy Charm of a Wall-Mounted Breakfast Table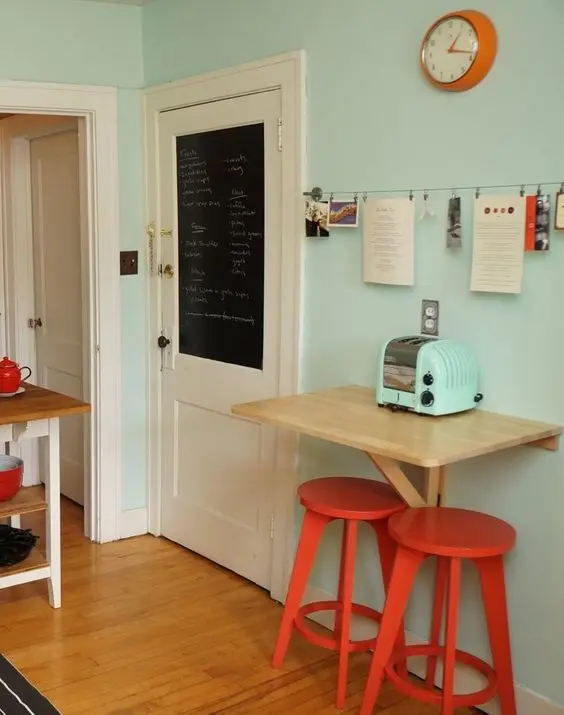 Imagine starting your day at the cozy and colorful breakfast bar. The space is small, but it's packed with character. The wall-mounted table is a smart feature that maximizes space, while the vibrant red chairs invite you to sit down and relax. The blue toaster adds a touch of playfulness to the scene. Take your time sipping your coffee or tea, and savor your breakfast in this charming and intimate setting. This is the perfect place to start your day off on a calm and cheerful note.
A Sleek Breakfast Bar with Wood and Metal Accents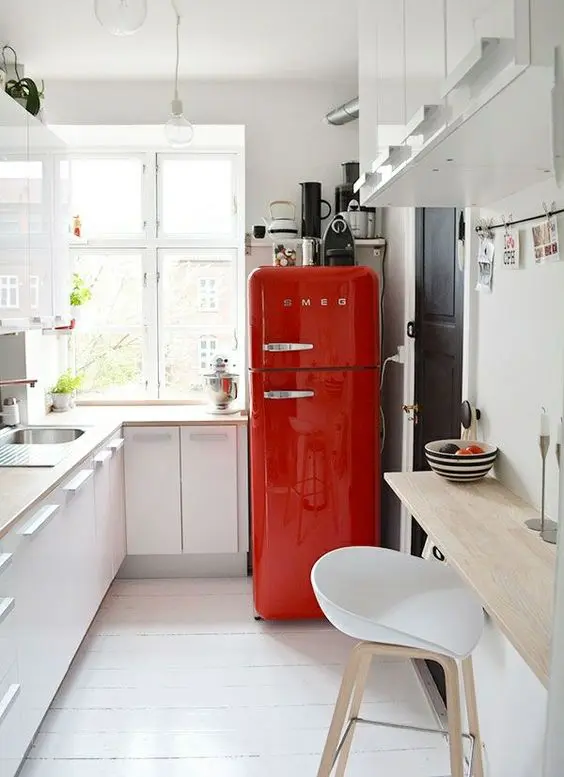 The wooden and metal industrial stools bring a touch of rustic charm and add to the cool aesthetic of the decor. The combination of wood and metal gives the bar a sturdy and durable feel, making it a practical choice for daily use.
Cozy Breakfast Space with a Wooden Tabletop and Upholstered Stools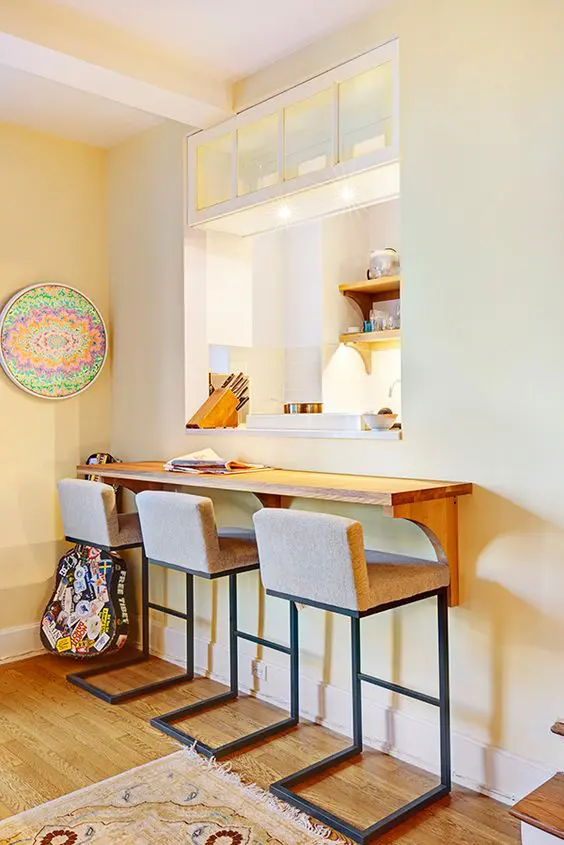 This breakfast space features a wall-mounted wooden tabletop and tall upholstered stools to create a comfortable atmosphere. The combination of wood and upholstery provides a warm and inviting ambiance, making this breakfast space perfect for a leisurely morning meal or casual gathering.
A Breakfast Bar with Roman Shades and a Wall-Mounted Tabletop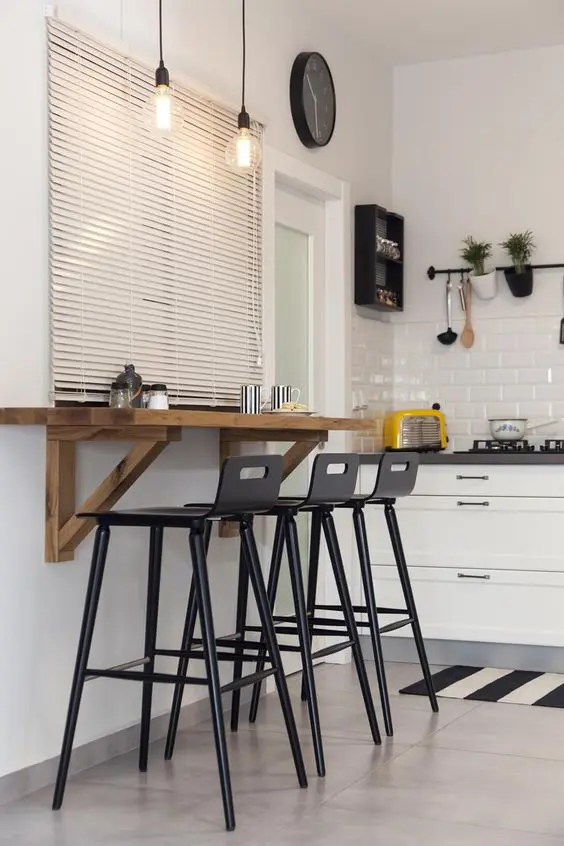 The window covered with Roman shades brings a touch of elegance and provides privacy while still allowing natural light to filter through. This breakfast bar is perfect for those who want a stylish yet functional space for their morning routine.
Rustic Wall-Mounted Breakfast Bar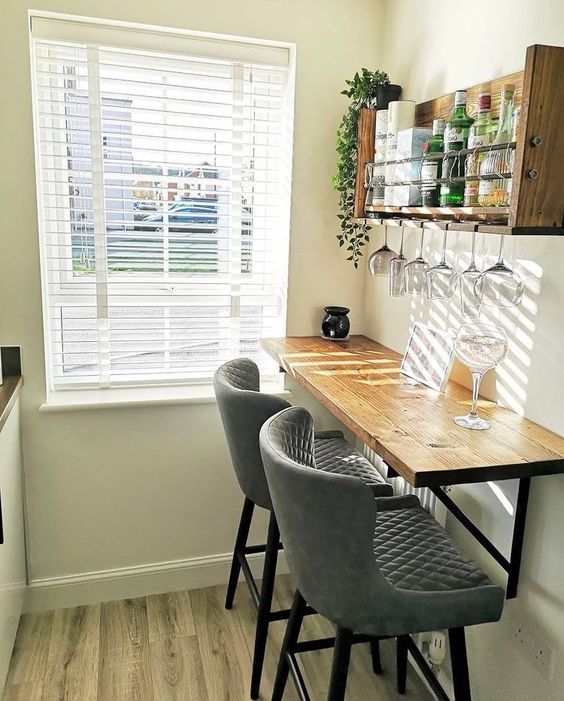 A wooden plank mounted to the wall with wrought-iron brackets and accompanied by metal stools brings a touch of warmth and rustic charm to any kitchen. Top it off with some fresh fruit and yogurt for a healthy start to your day.