20 Amazing Outdoor Lighting Ideas for Your Backyard
Your backyard should be a comfortable place that is enjoyable to spend time in. Something that is easy to forget about is the lighting. However, it can prove to be very useful and can even give your backyard that extra something it needed.
Summer is already here and that means backyard parties are about to be in full swing. If you are looking to really set your backyard apart, a new, unique, outdoor DIY lighting project can really do the trick.

Lighting can really set the mood for an event. Luckily, there are many different styles you can choose from for your DIY lighting project. You can try any of these amazing outdoor lighting ideas if you want to really make your backyard glow!
Glowing Watering Can With Fairy Lights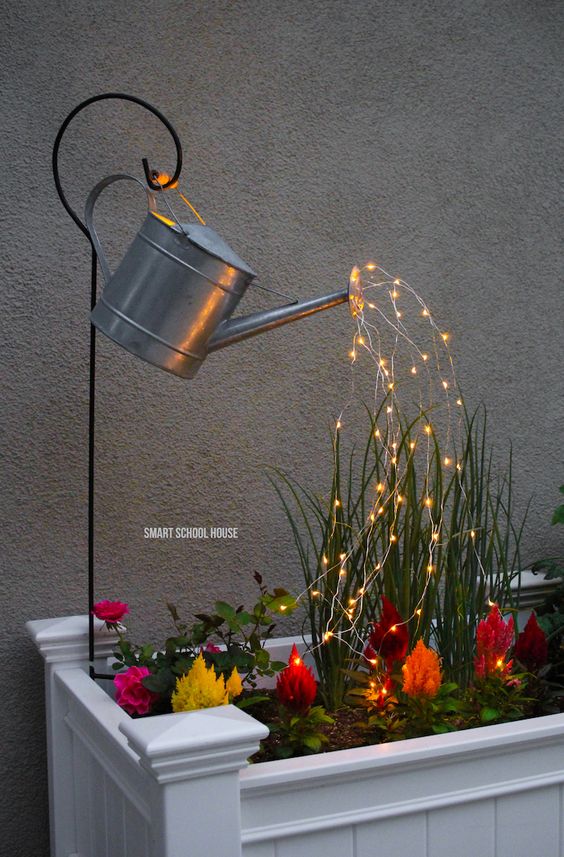 This a very easy and beautiful outdoor lighting idea. It is a delightful addition that can be placed anywhere in your garden or yard. Watching the Fairy Lights pour from the watering can is absolutely mesmerizing. There are very few supplies required and you could pick them all up from a local craft shop. via smartschoolhouse
Outdoor DIY Tea Light Chandelier

This tea light chandelier is perfect for a candle lit summer evening, on a deck or enclosed porch. It can really set the mood for a perfect night. These could easily be used for special occasions, as they are quite beautiful. They are a little challenging to make, but definitely worth it. via decoracion2
DIY Lights from Recycled Pallet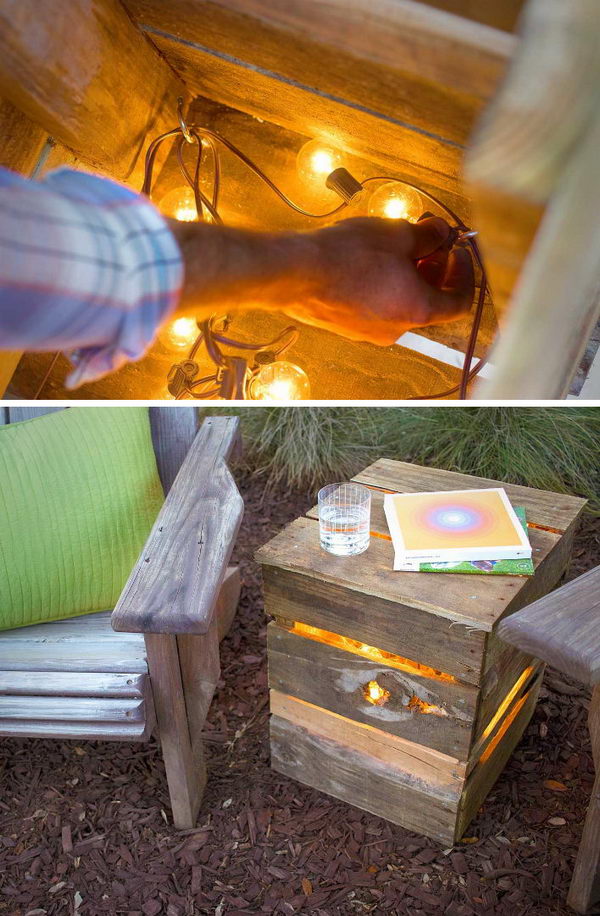 This a great way to reuse old pallets! It's also very easy to make, requiring only basic tools. These light boxes will add the perfect touch to any yard or deck. What's convenient is that pallets are usually free from local stores. That makes this a perfect, easy and affordable summer project. You could even make these with the family! via fiskars
Easy And Cheap String Lights Around The Deck

This is the perfect solution for adding lights to a deck. Most poles are too flimsy, but this innovative DIY idea will have your porch surrounded with string lights and glowing bright. This is a rather inexpensive project that will produce an astonishing effect and make your deck perfect for late night events! Follow the directions via source
String Lights for a Country Cottage DIY Circular Firepit Patio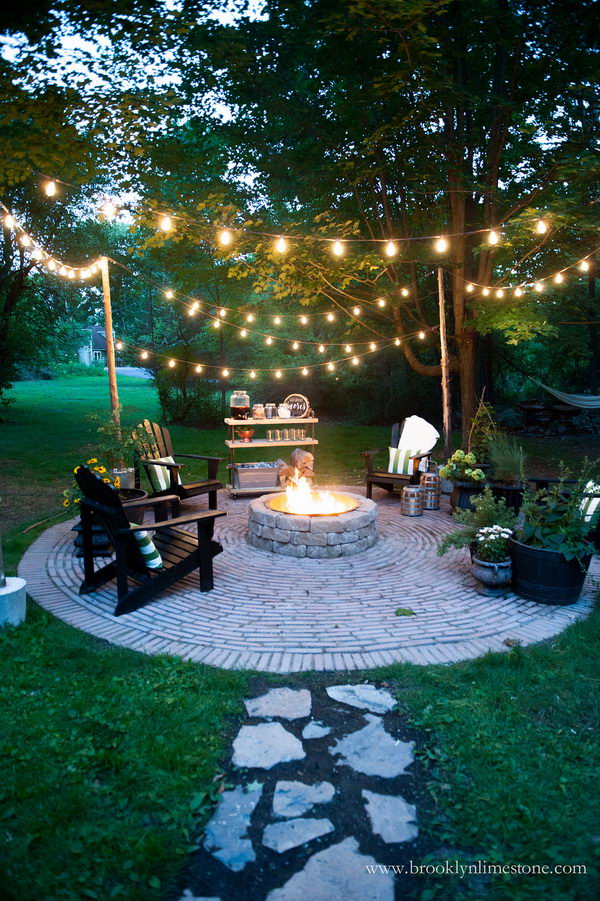 Adding string lights throughout your yard or around a fire pit is a great idea. They have an elegant and modern touch about them and can provide the light that you need to keep your events running into the late night! via brooklynlimestone
DIY Patio Area with Texas Lamp Posts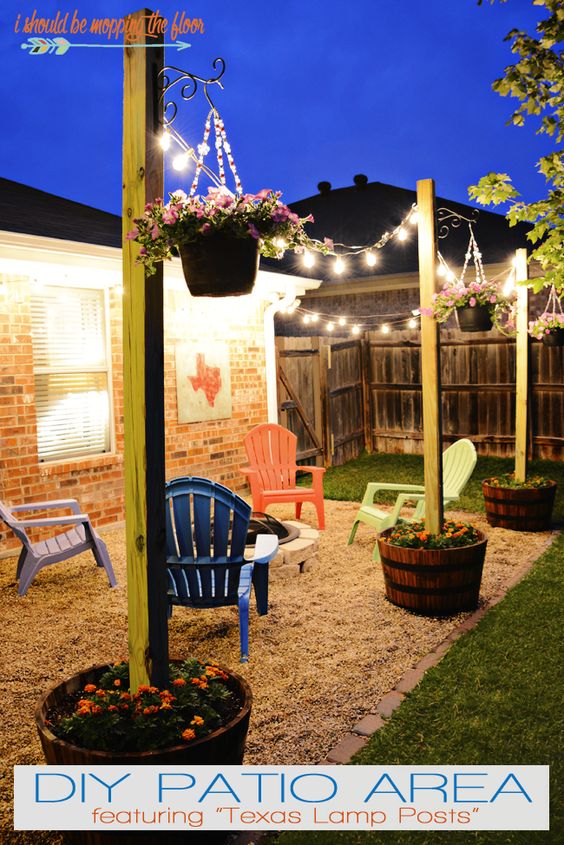 Hanging a vintage strand of lights in your yard can really bring the entire area to life. These lampposts are actually not too difficult to make, and the necessary materials would be available at a local hardware store. This would be a fun summer project that would spice up any yard! via ishouldbemoppingthefloor
Fairy Light Globe Made Out Of Wire Baskets

These globe lights would be a lovely addition to line any deck, porch, or yard. They are quite simple and require only a few materials. You could even get different size hanging baskets to create a variety of sizes, creating the look that fits you! via fromtheblueshed
Outdoor Walkway Lights Using Roap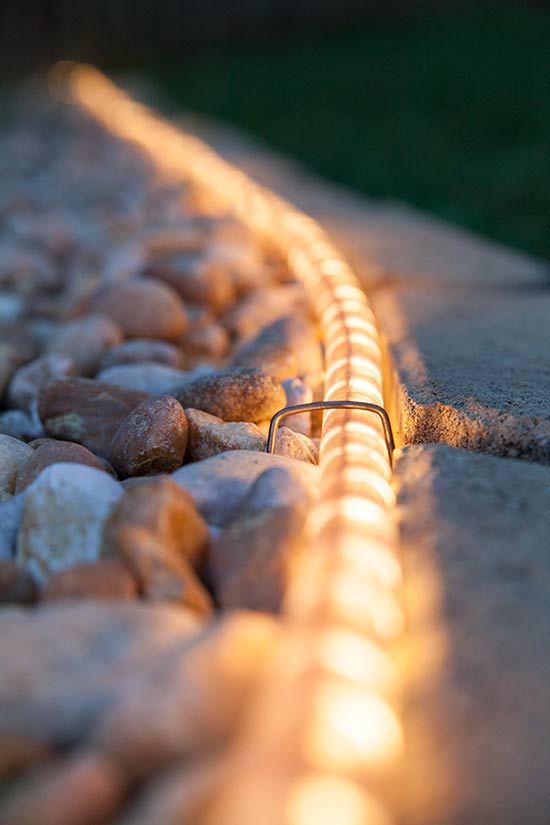 Rope light is always a crafty, classy addition for any yard. Adding a rope light pathway can really emphasize the beauty of a yard. Rope lights are also quite versatile. You could add them to your deck or porch as well. Installation is easy and directions are provided via christmaslightsetc
Twinkle Lights On The Back Porch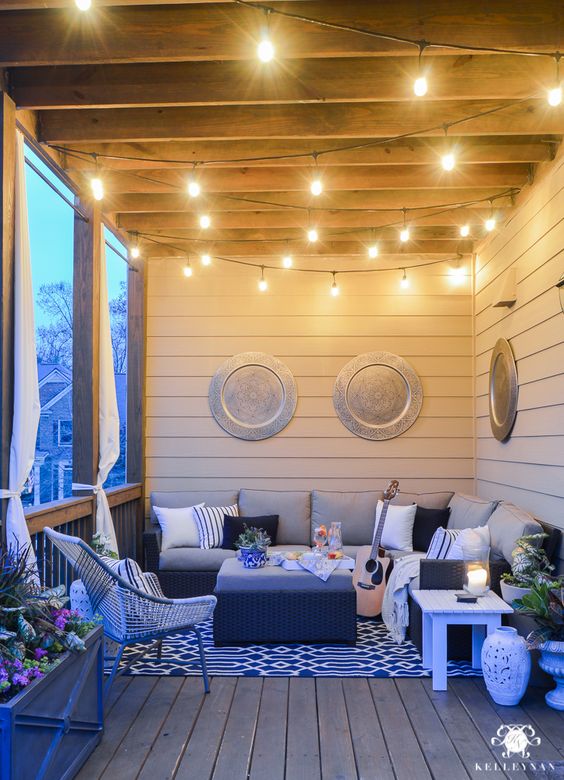 Adding lights can really make the mood. If you are looking for a romantic night or an evening with friends, this project is perfect for any variety desired looks. The twinkling of the lights will carry you into the late hours of the evening, keeping your night illuminated. via kelleynan
A Multipurpose Patio With Lights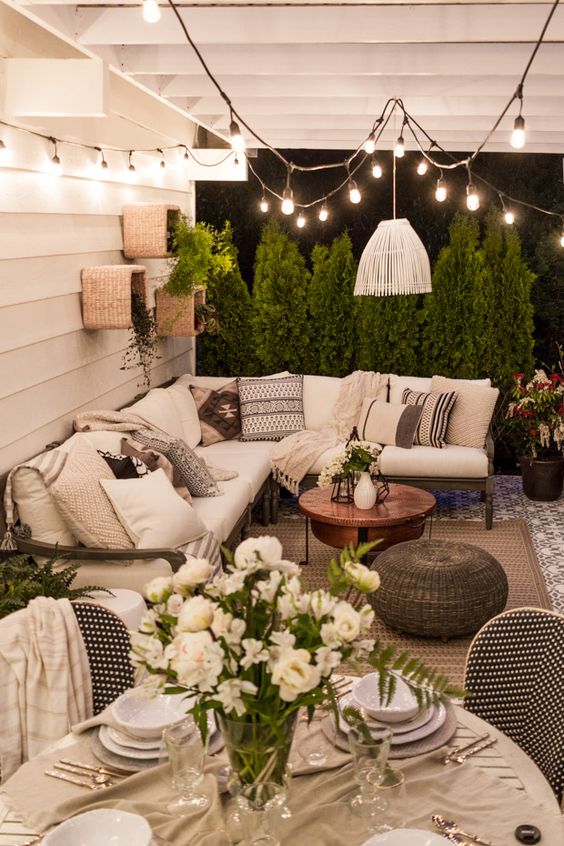 The patio can be the place to be in the summer. Having lights in this area keeps events going from the day through night. Adding lighting to this versatile area will keep your summer bright! via zevyjoy
Outdoor Lantern Made From Clay Pot

This is a very simple and fun DIY project. These lanterns make for a beautiful addition to any yard. All of the products needed for this project can even be found at your local dollar store. The flexibility of the use of the clay pots is genius. This look is guaranteed to jazz up your backyard. See directions via theartofdoingstuff
DIY Shuttlecock Lights Garland

This garland is a cute summer themed idea that would be a great for any summer party. This easy DIY project will light up your yard, while offering a fun look the whole family will enjoy. via kittenhood
DIY Wine Bottle Tiki Torch

These DIY tiki torches are adorable and are very cheap to make. Reusing your old wine bottles is a great idea. These lanterns provide an escape from mosquitoes, while still maintaining an attractive look. Directions can be found via redeemyourground
PVC Pipe Lights

These pipe lights are quite creative and offer a unique look. These will give off a soft light that can add a touch of character to your yard, deck, or patio. What's nice about this light project is that it can be customized to what ever style you desire. Check hometalk for materials and instructions!
Solar Spotlights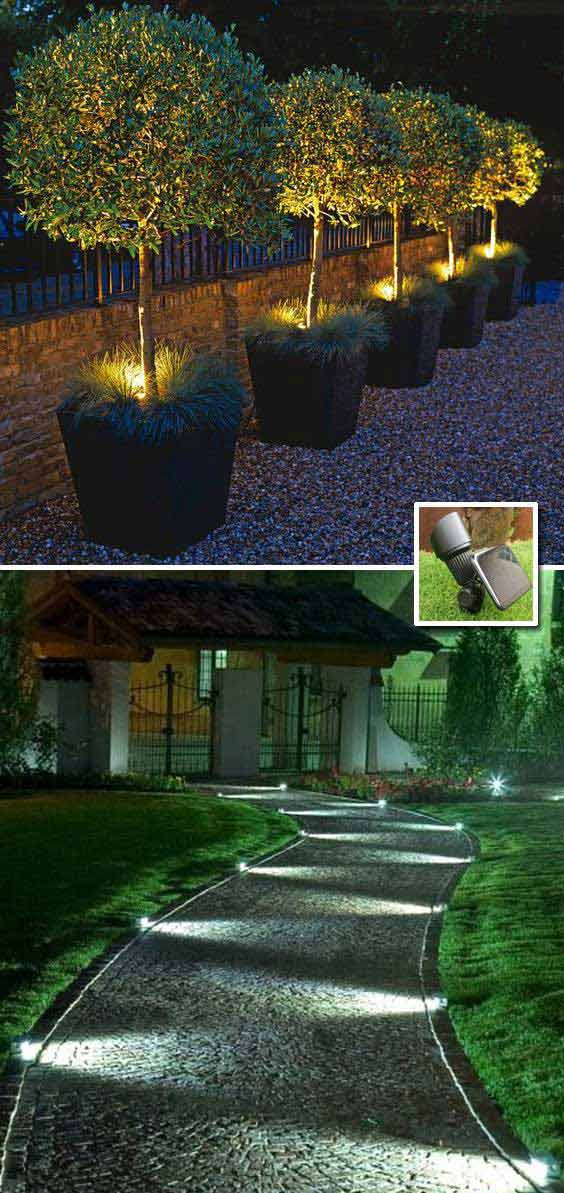 These spotlights are an easy an effective addition for any yard. They add a classy glow throughout, illuminating and emphasizing any aspects of the yard you wish. You can even add these lights to plants, so their beauty can be seen in the evening as well. via homedesigninspired
Ping Pong Ball Lights

This innovative idea is great for summer events. It adds a bit of a fun character to the yard and is actually very simple to make. These lights could be used throughout the yard, or on a deck, or patio, making them a good choice for light decoration. via thesurznickcommonroom
DIY Twine Garden Lanterns
This adorable lantern project will add a rustic feel to your yard. It is a straightforward DIY project that the whole family would enjoy doing. Try making different sized lanterns to try out a new look! via splashofsomething
DIY Concrete Fire Pit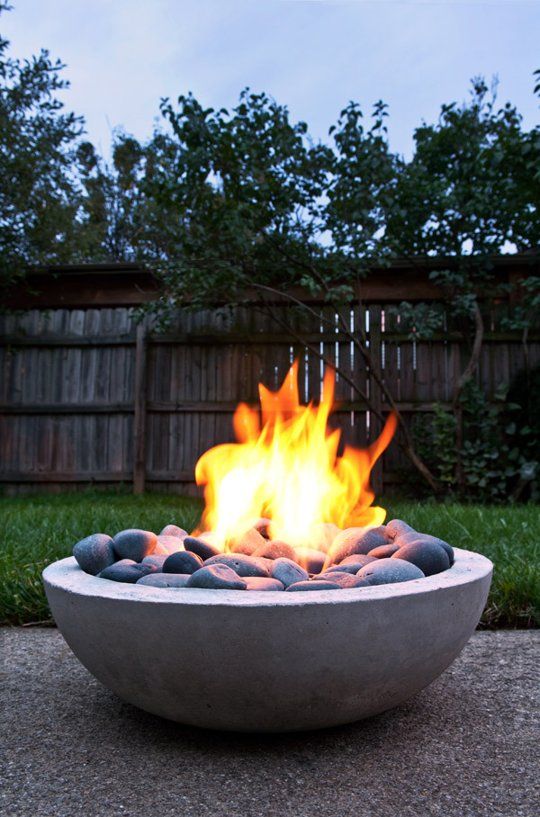 An easily overlooked light source for your yard is a fire pit. A fire pit can give off a warm, inviting vibe that can set your yard apart from the rest. Making a fire pit is actually much easier than you may have thought. Follow the directions via manmadediy
DIY Hula Hoop Chandelier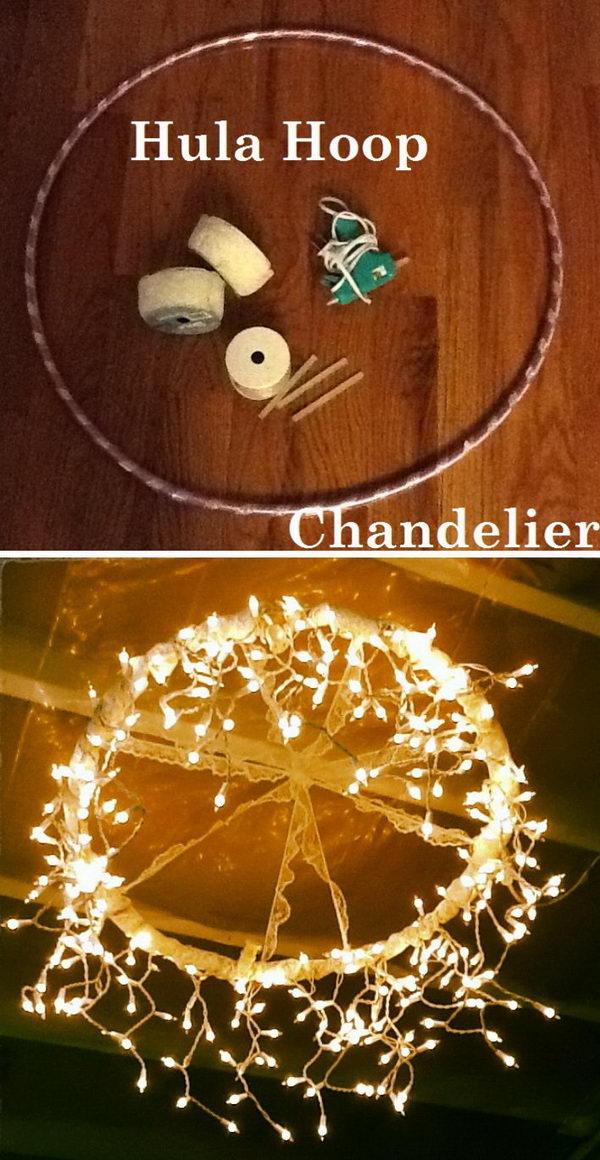 This chandelier is an adorable DIY project. Simply wrapping the hula hoop in lace and lights will give you a very unique light fixture. Hang this above a table for a perfectly lit dinner! via source
Easy DIY Mason Jar Lamp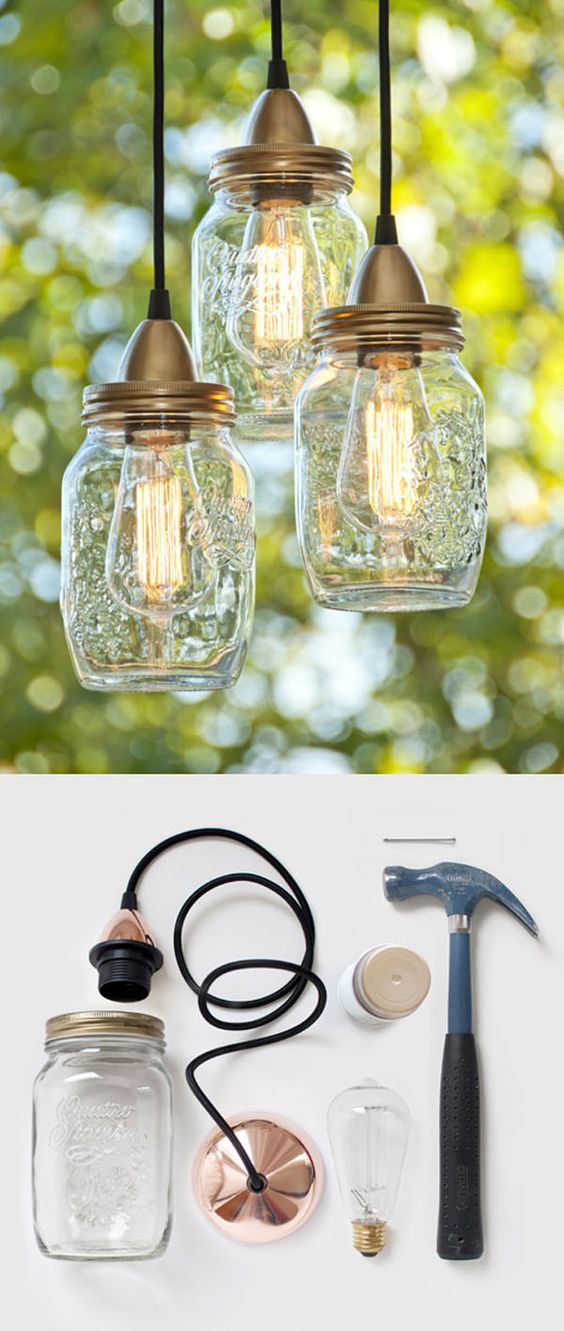 Using mason jars for lamps is an excellent idea. This project is creative and aesthetically pleasing. This DIY project is low budget and will illuminate your evening. Whether you're reading a book, or hosting an event you will love these mason jar lamps! Instructions are available via decoist