Awesome DIY Christmas Decorations Made From Pallets
With Christmas around the corner, this is probably the best time to try your hand at some DIY decorations made from pallets. It is a great way to test your DIY skills while creating a nice display of ideas for visitors and friends.
Decorations made from pallets are among the best. There are different types of decorations and items that can be made from rustic woods. So what are pallets and why are they ideal for Christmas decorations?
Pallets are leftover woods or simply that are considered to have no meaningful use. However, you can easily turn them into beautiful decorations by choosing any of the ideas we will discuss below.
It is an Eco-Friendly way to use these wooden pieces and create meaningful crafts that add value to your home while enhancing the beauty.
DIY Silhouette Wood Shim Sign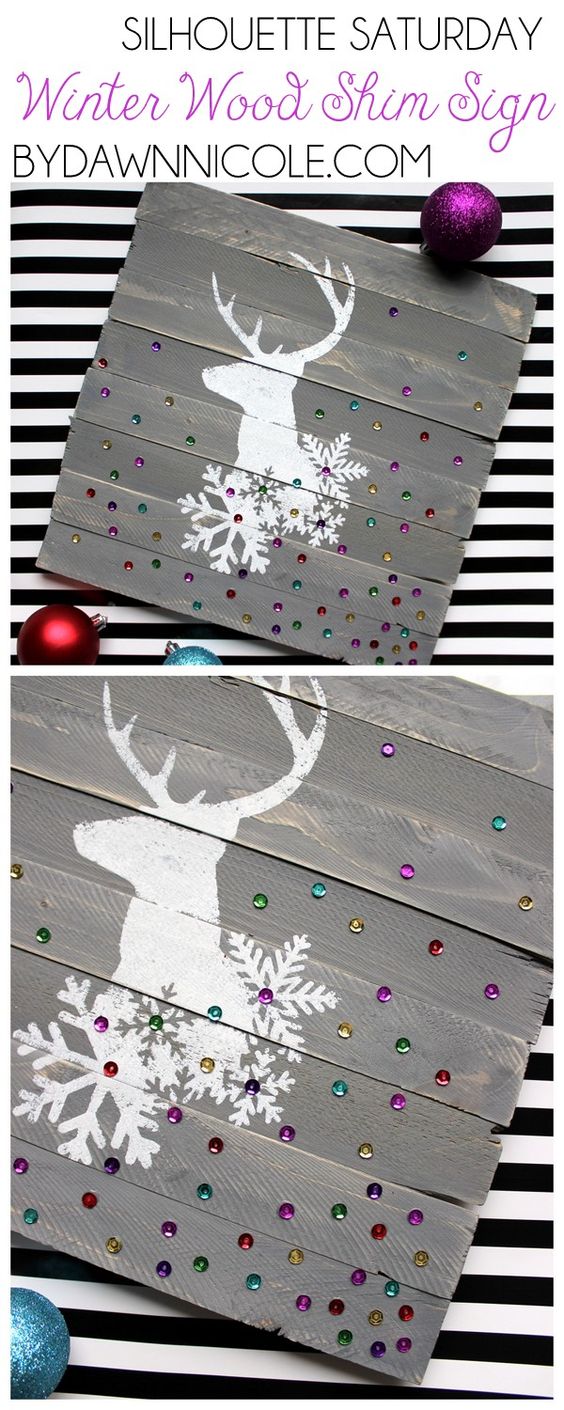 These rustic glam winter signs appear beautiful with the deer image. They can be placed anywhere in the living room for everyone to see. It is quite easy to create a scrapbook and some white acrylic paint. The small signs are cheap and add a rustic feeling to the wood making it a great addition to your Christmas decorations. via bydawnnicole.
DIY Pallet Christmas Tree Decorated With Fabric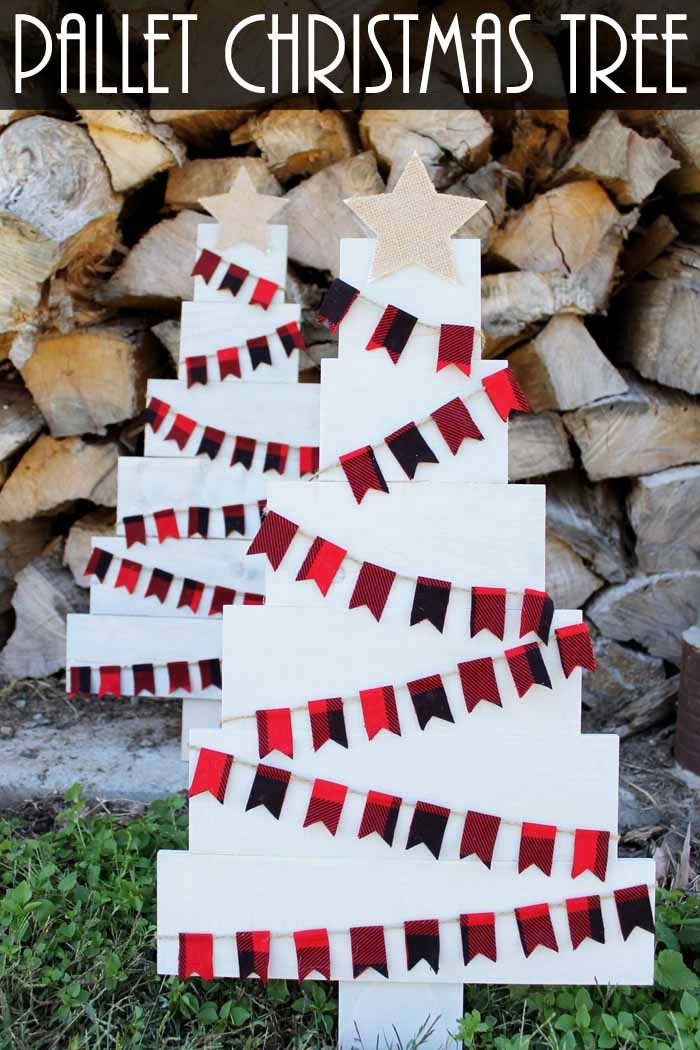 DIY Christmas Tree Glitter Sign with Cutting Edge Stencils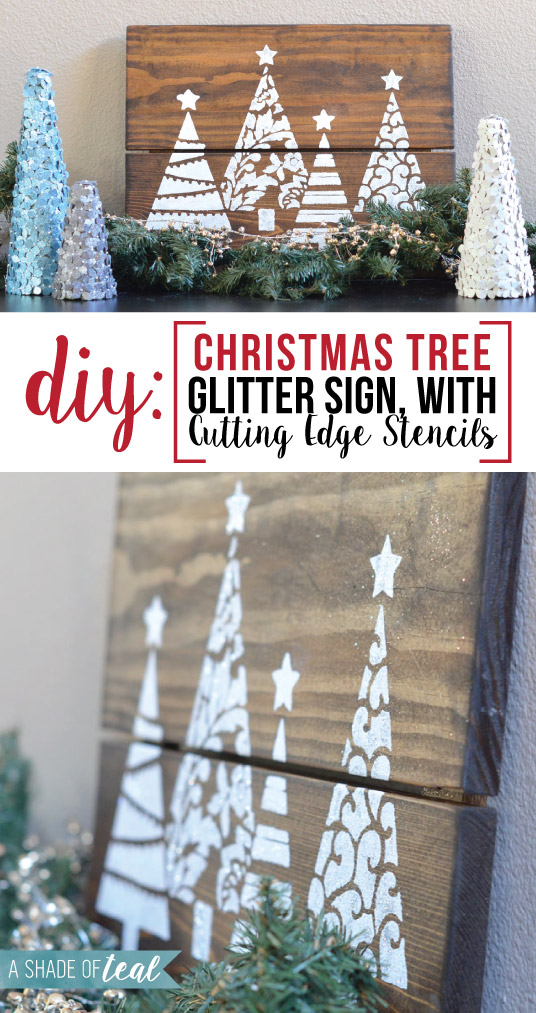 Everything with this decoration is fine starting from the board to the colors. It is a great style that is beautiful and allows the trees to come out great. The stains and the glitter on the wood look gorgeous. This is one of the simplest Christmas decorations you can do with ease. via ashadeofteal.
DIY Pallet Christmas Tree and Presents

We all love presents in Christmas season, and you can reward yourself with this Christmas tree with presents. It is a simple project to do that will create much fun for your family. It is time to take some attention away from the Christmas tree and start a present project that you can place next to the wall where everyone can see. The bows and ribbons nailed to the presents just come out fantastic. via loulougirls.
Reclaimed Wood Christmas Tree and Star in Chippy White Boards

Even wood that you think has no use can be put to good use by creating this beautiful reclaimed Christmas tree. That chippy wooden fence is all you need to get the project started. The pallets have been arranged nicely to appear like a tree with the star at the top being a great addition. via funkyjunkinteriors.
Lighted Pallet Christmas Tree for Under $10

This is another unique idea where the pallets have been lighted nicely in the shape of a Christmas tree. The rustic feel of the pallets and star at the top of the lights come out beautifully. In a dark room, this will appear fantastic and will be great to see. The shapes of the lights are also fantastic and make the tree appear unique. via redheadcandecorate.
DIY Stocking Hanger Made out of an Old Pallet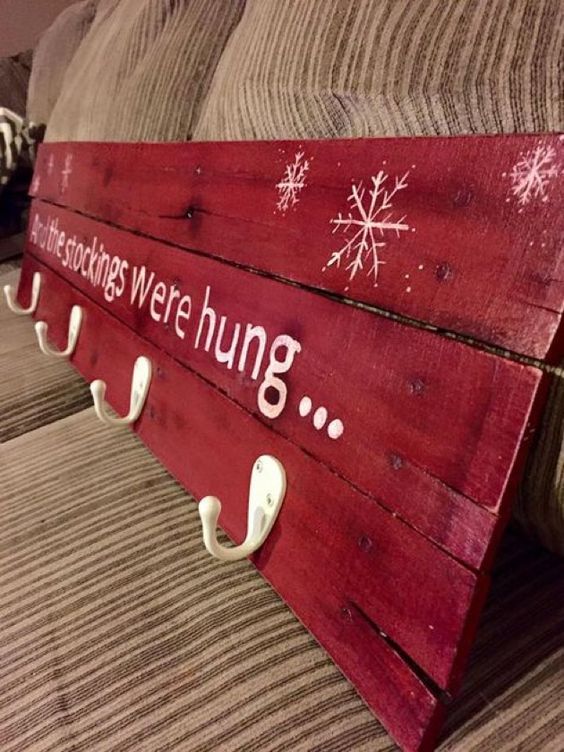 These old pallets have been nicely painted and printed with small but visible Christmas trees on the upper area. The hangers on the pallets give it extra meaning when hanged on the wall. You can choose to write anything apart from what is written or what you think should hang there.
DIY Rustic Pallet Christmas Mantel Decoration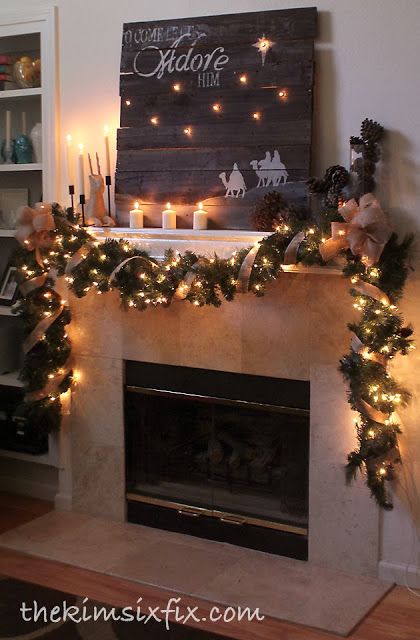 This is the perfect pallet decoration for the mantel with images of people camels as indicated in the Bible to witness the birth of Jesus. The stars above have been created by small lights and appear beautifully. The addition lighting around the pallets makes it a focal on the mantel and easily noticeable. via thekimsixfix.
DIY Holiday Mantel Joy Marquee Sign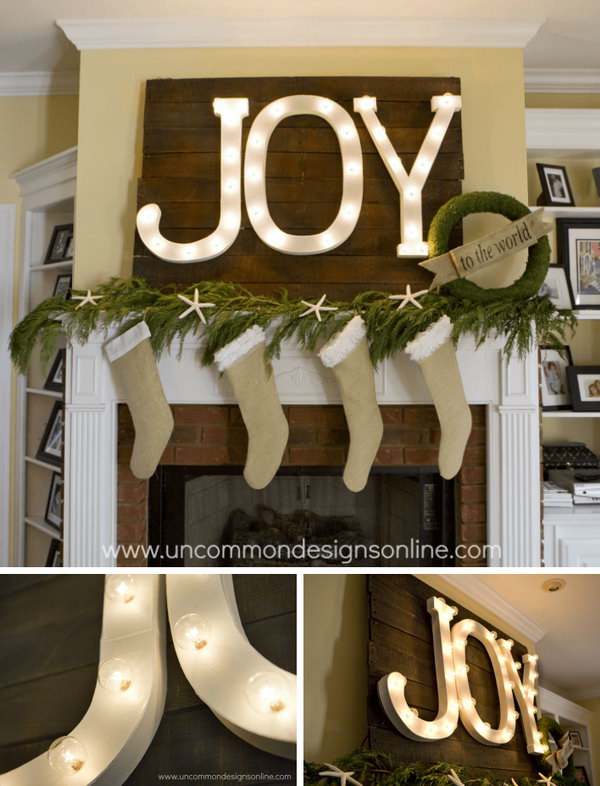 Christmas is a good time to be joyous, and nothing brings the joy out better than this marquee joy sign on the pallet piece. The addition of lights to the word "JOY" makes it come out and seen clearly even in the dark. It is a great way to share and show your joy to the world. via uncommondesignsonline.
Ho Ho Ho Wood Sign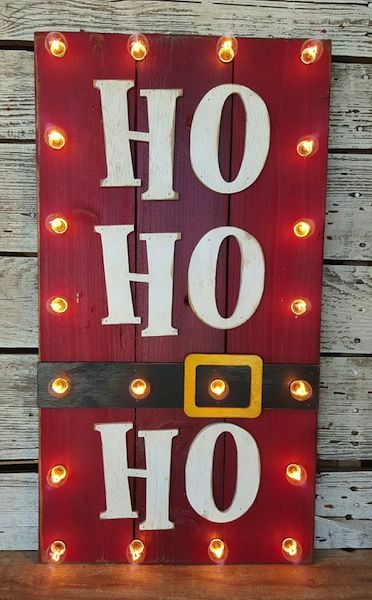 Great your guests, friends, and Santa with the words Ho Ho Ho this holiday with this pallet wood sign. The letters will be great fun to create and pin them down. You can even challenge the family members to create a letter each as you test your DIY skills. via etsy.
Winter Sign Sled Made from Pallets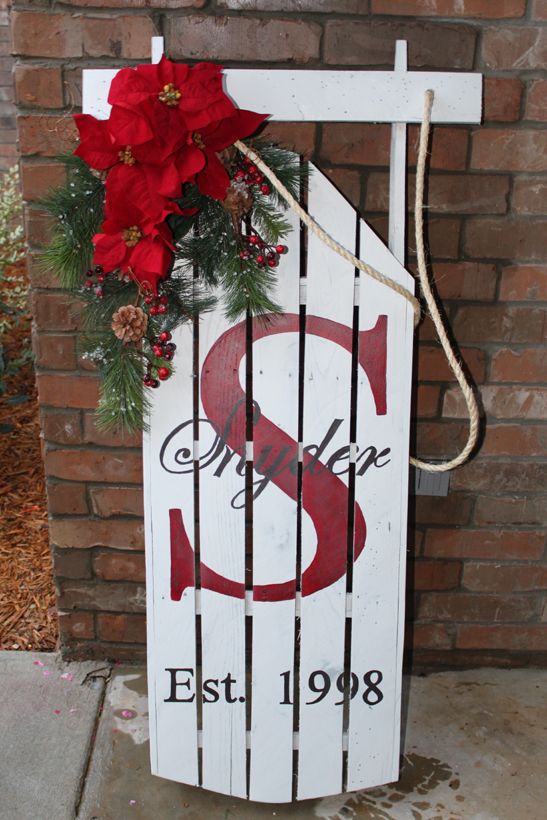 You can have your Christmas tree or part of it with flower hang from this white painted pallet. Indicate the year at the bottom to always remember how you celebrated the Christmas.
DIY Wood Pallet Christmas Card Display

How to display your Christmas cards on a DIY wooden pallet? Hold the pieces of pallets together with nails and them tie them with a string that will double up as your hanger for the cards. via shanty-2-chic.
Lighted Pallet Christmas Tree

This is a super easy design with the tree appearing to have been cut through but held at the center to create the shape of a Christmas tree. via palletfurnitureonline.
DIY Giant Wooden Star for the Christmas Mantel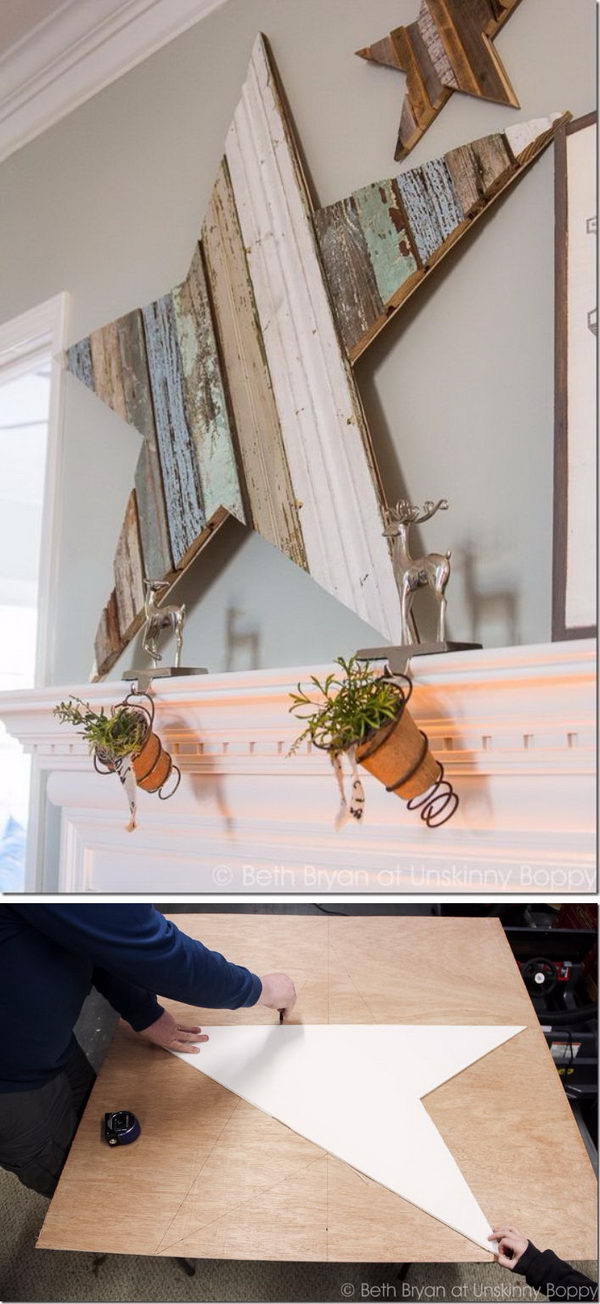 The mantel always goes well with stars and what better way to highlight it than with a giant wooden star. The Giant star appears rustic but cool on the mantel. via unskinnyboppy.
DIY Two Sided Pallet Scarecrow to Snowman Pallet

This is a great combination of a snowman and a scarecrow pallet. Painted on both sides of the board, this adorable scarecrow and snowman is perfect and can be used from October through March! via 4theloveoffamily.
DIY Pallet Joy Christmas Sign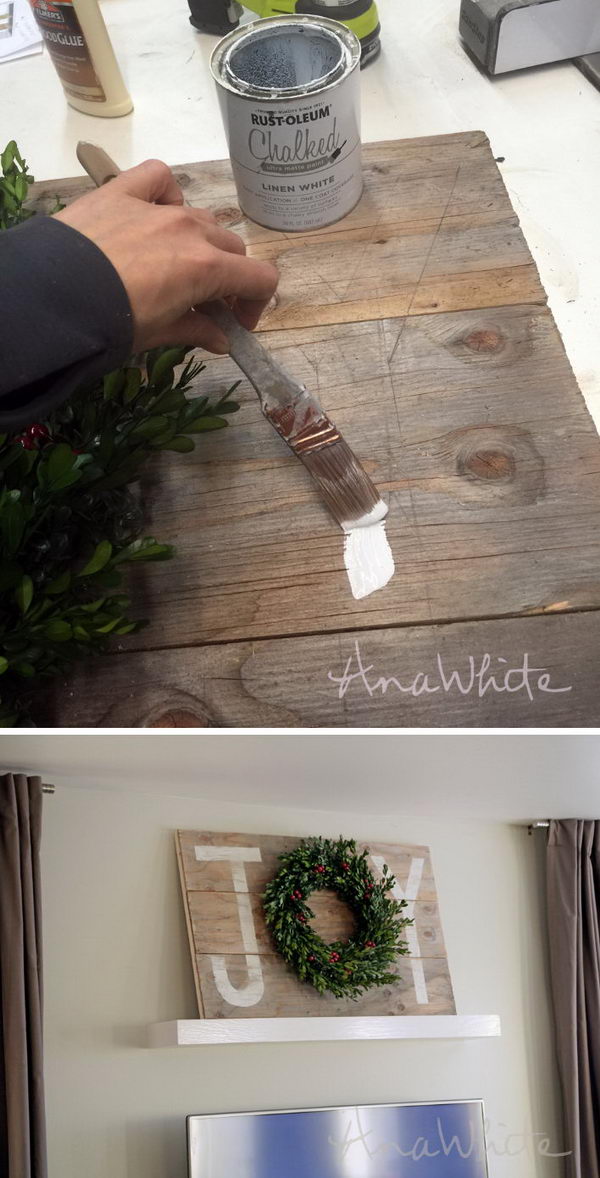 What a great idea for the word "JOY" on the mantel with letter "O" being shown by a circle of tree branches. via ana-white.
DIY Joy Pallet Sign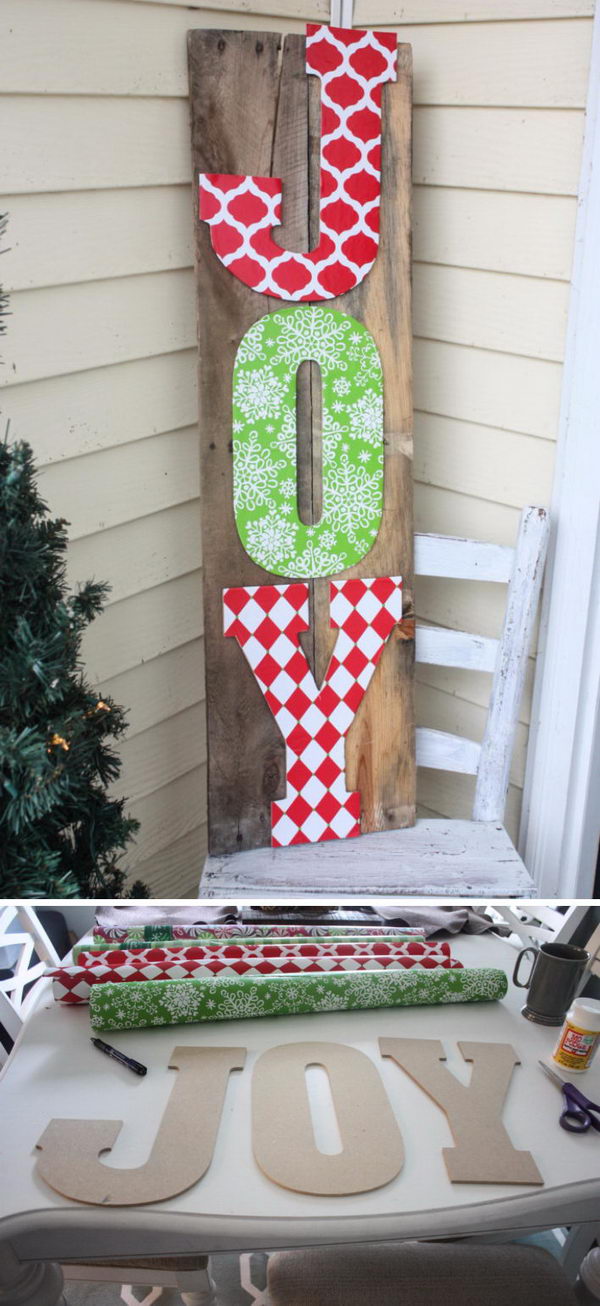 You can have the JOY sign on the pallet printed with different colors to bring contrast. You can use different Christmas wrapping papers to bring out the word JOY on your pallet beautifully. via re-fabbed.
DIY Pallet Tea Time Advent Calendar

Use inexpensive large pallet board and other simple things to create this great tea time advent calendar. What an amazing way to remind yourself to get those tea breaks in the holiday season! via thirstyfortea.
DIY Pallet Christmas Tree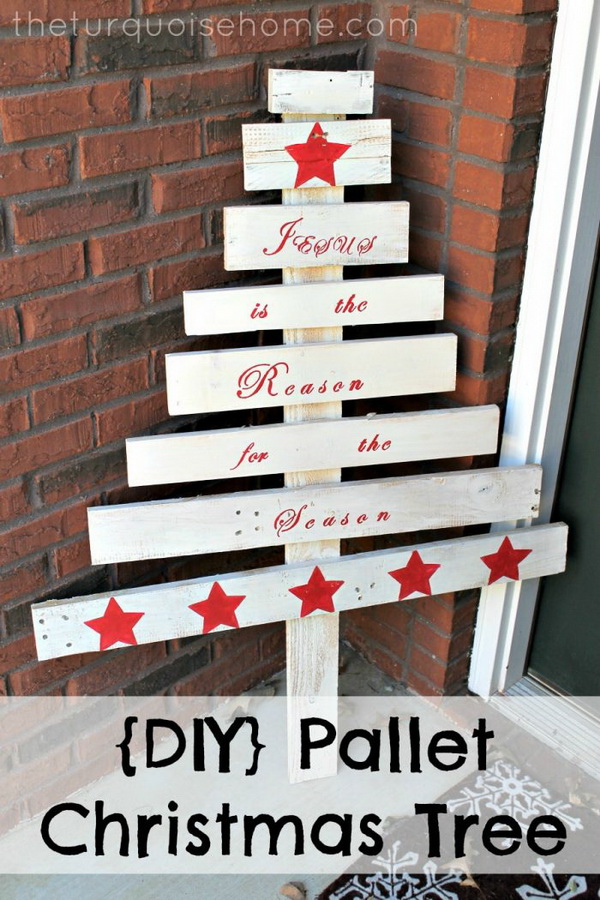 via theturquoisehome.