Awesome DIY Christmas Tree Topper Ideas & Tutorials
Tree toppers are a staple in any Christmas home decor. They take many forms, such as starbursts, rosettes, bows, Santa hats, but the most common ones are the star of the angel tree toppers. The star as a topper is said to symbolize the Star of Bethlehem, and although you can easily buy one from a store, there's no fun in topping off your tree without much effort.
Create your very own and save some money with these brilliant and unique tree topper ideas. Here are some awesome DIY Christmas tree topper ideas and tutorials to get your Christmas spirit going.
DIY Starburst Tree Topper

You don't have to go all-out and buy an expensive tree topper to dress up your Christmas tree. With some spray paint, a styrofoam ball, a 3″ PVC pipe, and some wooden skewers, you can make this sophisticated golden starburst to complete your tree. It's super easy to make, super fast, and best of all, inexpensive. via dwellingsbydevore.
Recycled Sweater Star Christmas Tree Topper
Don't throw away an old sweater you've outgrown. Fill your Christmas tree with handmade ornaments and top it off with this adorable and DIY sweater star topper. All you need is a sturdy cardboard where you can trace your start, hot glue, and cut pieces of the sweater. Cut two pieces of stars from the sweater, place the cardboard in between to make it stand, and glue them all together. via whilewearingheels.
Book Page Christmas Tree Topper

Have some old books or magazines lying around? Copy this ingenious way of making a starburst Christmas tree topper. With only some glue and pages off a book, you get to have an instant and truly upcycled topper. source.
DIY Glitter Tree Topper with Glittered Paper

Glitter paper can make the prettiest of tree toppers. This Christmas tree star topper looks expensive but it'll cost you next to nothing. Make sure the glitter paper you buy has some stiffness, so a glitter board paper is a great choice. Create a 3-D effect by creating folds and gluing one layer on top of the other. via hellolidy.
Starburst Tree Topper out of Pipe Cleaners

Pipe cleaners are a crafter's best friend. You can make so many different craft projects with this versatlie material, even a Christmas tree topper. Gather a bunch of pipe cleaners and tie them together in the center. To make your star appear fuller, make two bunches and tie them together. via lovemaegan.
DIY Moravian Star Tree Topper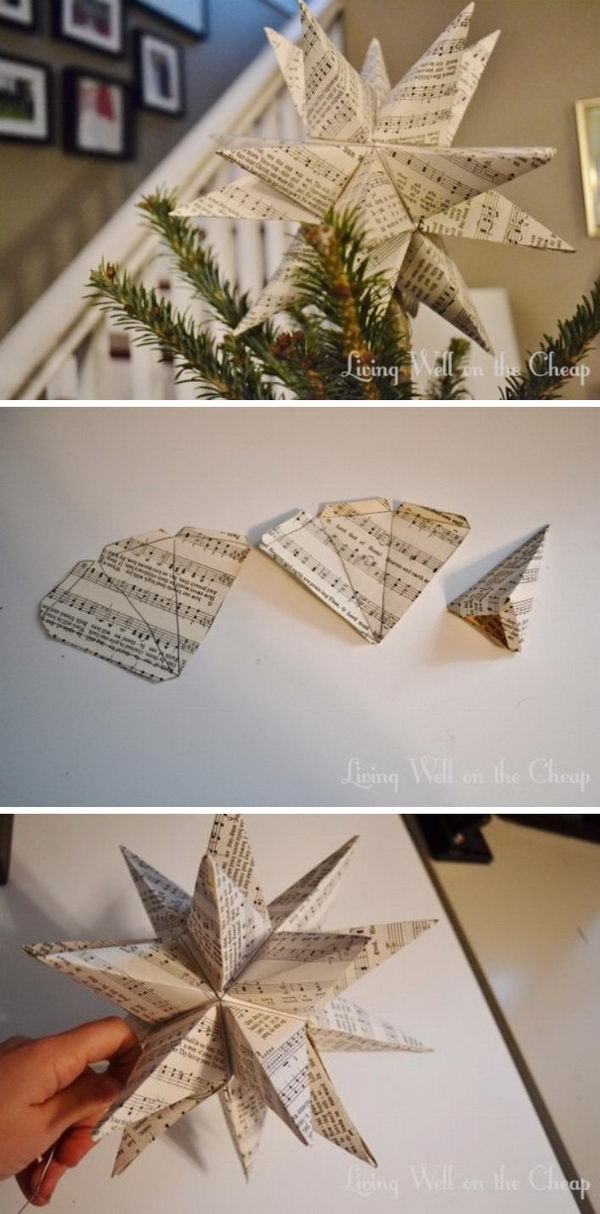 This topper requires some paper folding skills, but don't worry, it's as easy as 1-2-3. You can pretty much use any kind of paper as long as it has some stiffness to it. Cut out your patterns, start folding, and glue them all together. via livingwellonthecheap.
Sparkly CD Mosaic Christmas Tree Topper

Every home has got some old CDs lying around, so why not make use of them instead of throwing them out? Cover a party hat with cut pieces of CDs to make your sparkly star Christmas tree topper. via pureplanetrecycling.
DIY Christmas Tree Topper Bow

Christmas ribbons can liven up any home and bring the Christmas spirit just like that. And you can even top your tree with an awesome and large bow. via southerncharmwreaths.
Mickey Mouse Christmas Tree Topper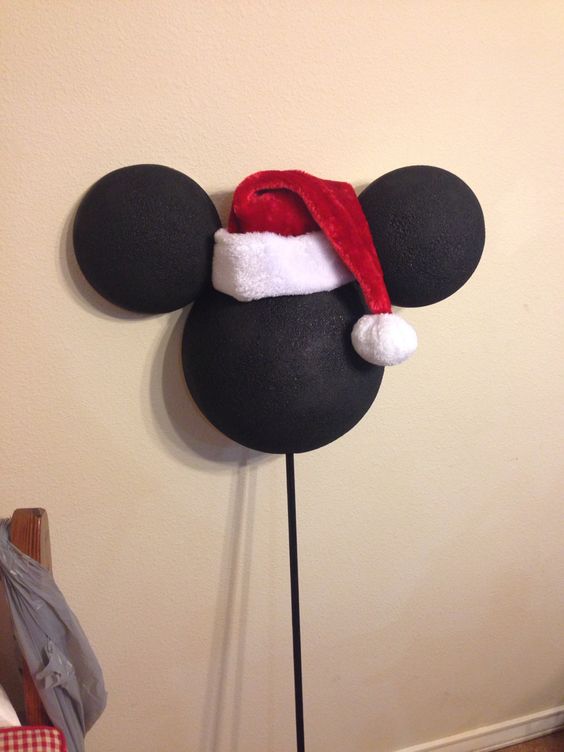 Make this super cute Mickey Mouse Christmas tree topper with 3 styroballs, a stick, and a Santa hat. All you need to do is paint your styro balls black, glue them together to make your Mickey Mouse silhouette, glue the Santa hat on its head, and stick a wooden skewer, that's it! via pinterest.
Christmas Tree Topper Made With a Chinese Lantern, Some Pompoms and Felt

A Snowman for a Christmas tree? Why not! With a Chinese lantern, some pompoms, and felt, your regular tree can become a super cool Snowman with this tree topper. via sowanddipity.
Pine Cone Christmas Tree Topper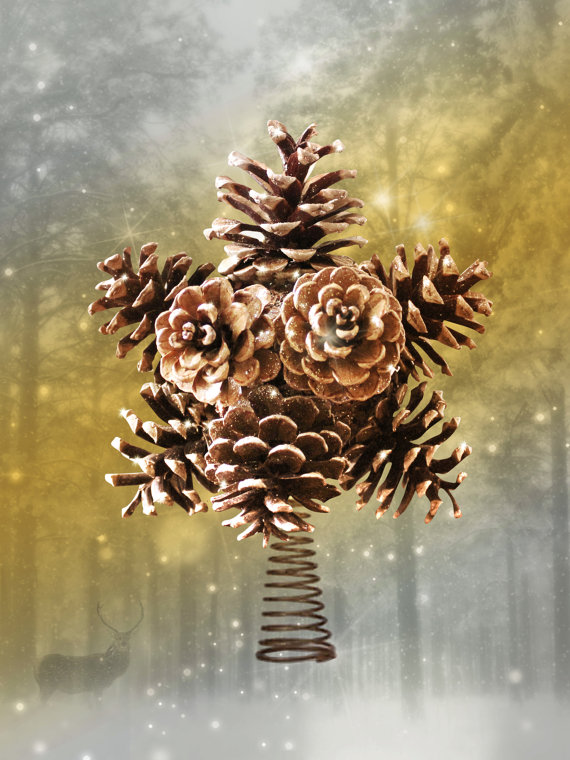 You can definitely make star tree toppers with just about anything. Take this pine cone for example, it's super easy, super fast, and super affordable to make. via etsy.
Huge Colorful Tree Topper Made With Foam Balls

You don't have to make an elaborate Christmas tree topper nor do you have to buy an expensive one. With a simple large styro ball, you can complete your Christmas tree without spending too much. Paint a large styro ball in whatever color you like, but make sure it's in a festive color like red, green, aqua, or maybe even gold or silver. via akailochiclife.
DIY Sparkly Monogram Tree Topper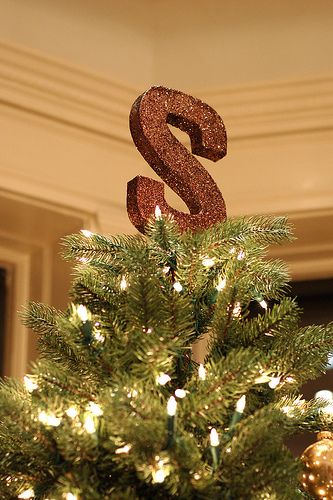 Customize your tree topper with this super easy idea. You can buy any styro letter from a craft store, spray paint in gold and cover it with glitter, stick a wooden skewer, and top it on your tree. via brooklynlimestone.
Glittered Toilet Paper Roll Tree Topper

Toilet paper roll is another material that can be made into various different craft projects and it comes as no surprise that you can make them into a super easy Christmas tree topper. Add some glitter and you not only saved a ton on your Christmas tree decor but you've successfully recycled, too. via heynowwhoanow.
Woven Paper Tree Topper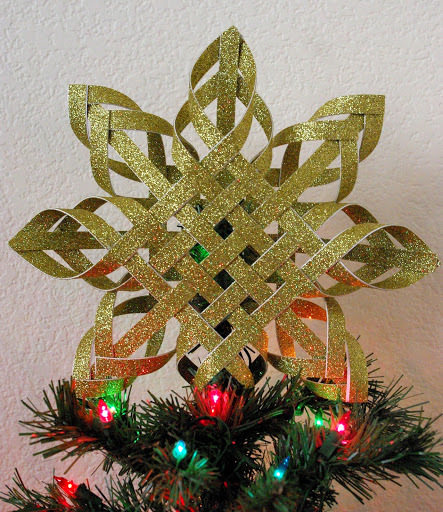 If you enjoy weaving and paper art, then this Christmas tree topper is perfect for you. It's super pretty and chic. All you need is a 12″ x 12″ glittered cardstock that you cut into strips, hot glue, and a pair of scissors. via happinessishomemade.
Cardboard Tree Topper

Cardboards can make for a fun 3D star topper. Using tape, some glue, cardboard, and gold paint, your Christmas tree topper will look like it was bought from a store. via hometalk.
Giant Paper Snowflake Tree Topper

Snowflakes are a great symbol of winter and Christmas. You won't have to go to a crafts store to make this pretty and cute Christmas tree topper. Follow this simple way to make your topper and you've got a beautiful and no-cost way to complete your Christmas tree decor. via boxycolonial.
Snowman Tree Topper

And another snowman topper to complete your tree. Use a styroball this time instead of a Chinese lantern. Styro balls are easy to work with so you won't have any problems making this project in a jiffy. via grinninglikeanidiot.
Super Mario Lamp Tree Topper

Christmas tree toppers need not be festive to complete your tree. Any cute star is just as good for that matter, such as this Super Mario star-inspired topper. You can buy a star lamp from any hardware or home appliance store and simply wrap it with yellow paper. via themetapicture.
DIY Paper Star Christmas Tree Topper

Paper is one of the best ways to make crafts and if you don't want to spend for your Christmas decor, then this paper star Christmas tree topper is for you. Using scrapbook paper, some glue, and a gold pen, make this easy and simple star Christmas tree topper in minutes. via thehappyhomebodies.
Pipe Cleaners Tree Topper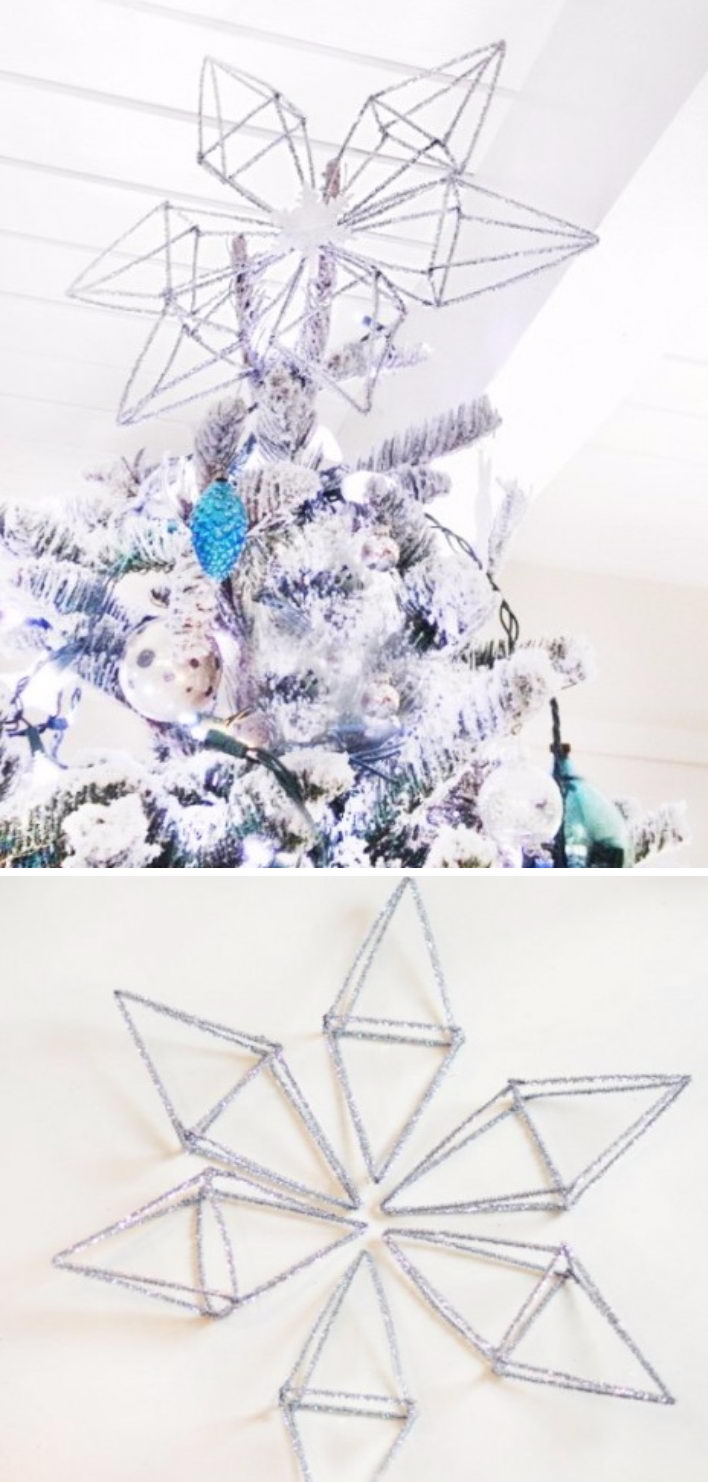 This is a super fun way to use pipe cleaners. Make fun 3D geometric shapes and form them together to make your very own DIY Christmas tree topper. via shelterness.
Rustic Star Tree Topper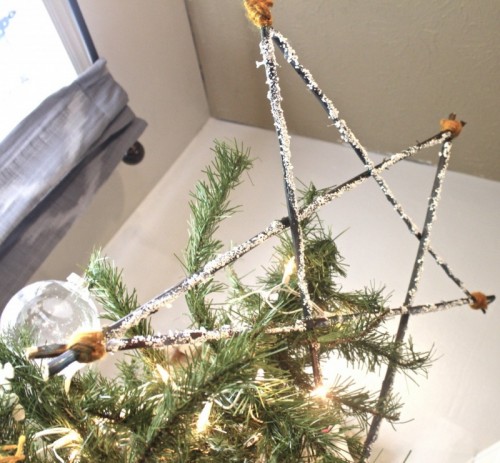 Stars are very easy to make and you can basically make one with just about any material, such as this rustic star tree topper made of wooden sticks. Form your star, paint in a color that you like, and add some other Christmas-themed ornaments for that festive look.
Coffee Filter Tree Topper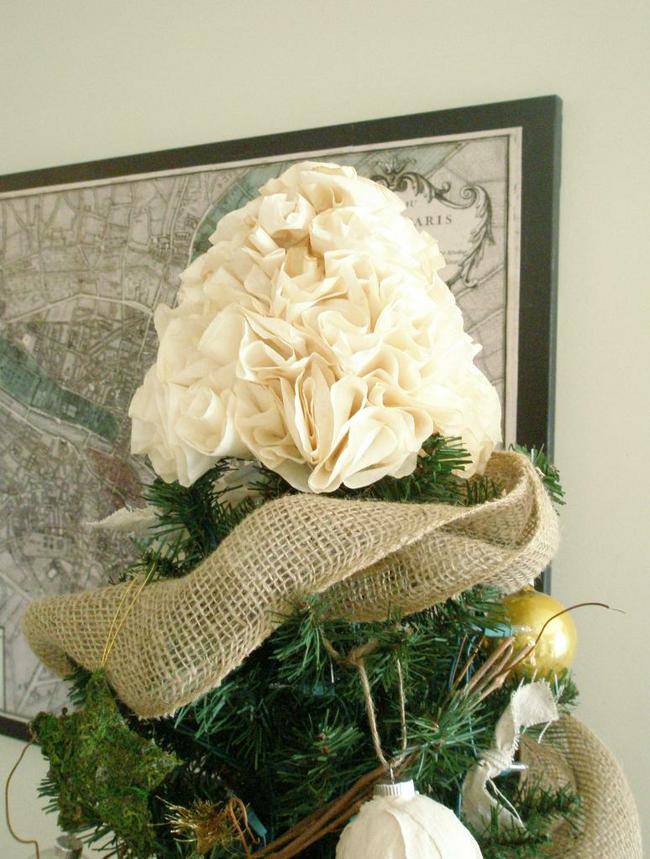 Gather a bunch of coffee filters together to make this super cute tree topper that looks more like a flower than actual coffee filters.
Rustic Burlap Bow Tree Topper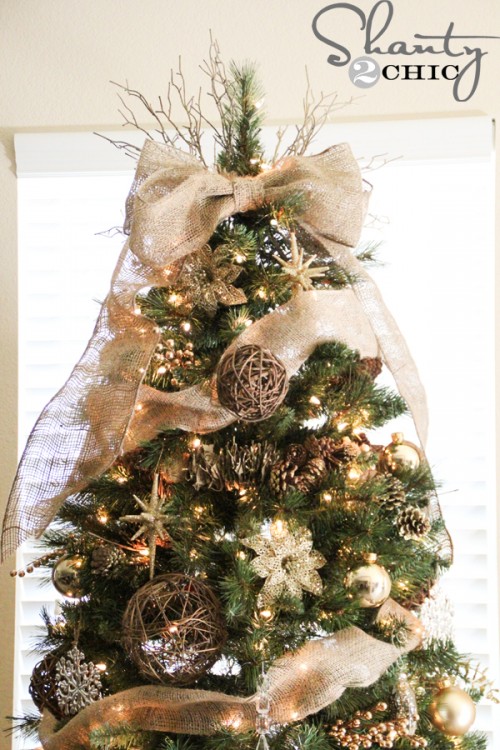 This is the perfect finishing touch to a rustic-themed Christmas tree. Simply make a bow out of burlap and use it to top your tree. via shanty-2-chic.
Yarn Wrapped Tree Topper
Using yarn, white glue, and a cardboard paper, this DIY yarn-wrapped tree topper will make for a pretty cute tree topper. Simply cut a star out of your cardboard paper and wrap yarn around it. Use glue to make the yarn stick to the board. via emilees87.
DIY Pearl Star Christmas Tree Topper
Gather some pretty pearls together to make your Christmas star tree topper. Place some Christmas bulbs behind it to make it "glow."
Christmas Tree Bow Topper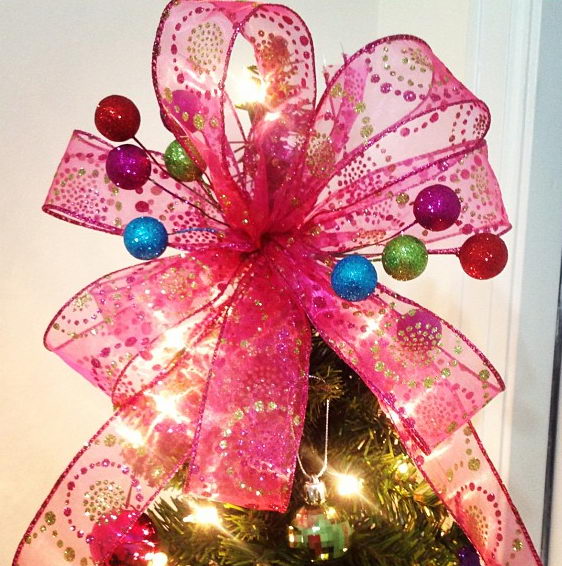 Christmas-themed ribbons are aplenty when Christmas is about to come, and you can definitely make use of these ribbons to decorate your tree. Create a beautiful and large bow and use it as your tree topper. via thedenverhousewife.
Star Christmas Tree Topper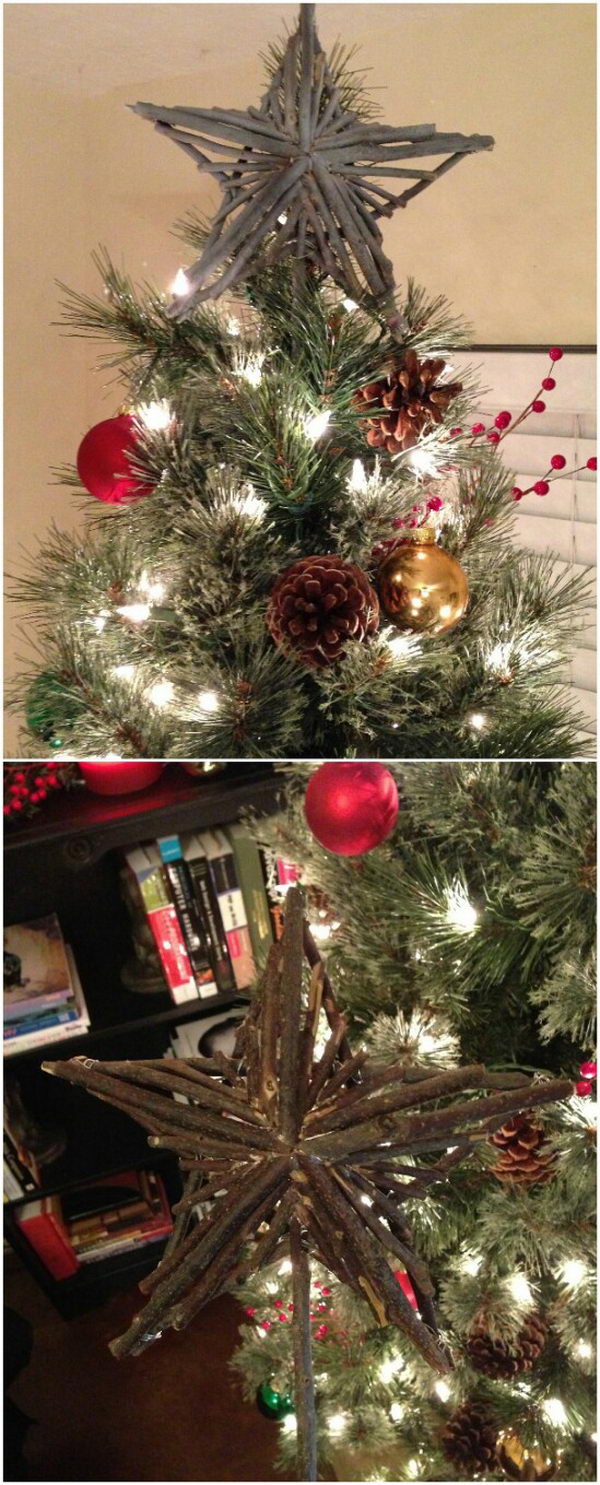 Add a rustic feel to your tree with this creative tree topper project. You can pretty much use twigs that are lying around your yard to make this. Clean up a few twigs, paint them in a color that you like, form a star and glue them together with hot glue. via sheffiel.