25+ DIY Plant Stands With Thrift Store Finds
Sometimes plant-lovers face a problem: they have the perfect spot to add some new green to their homes or yards, but no ideal surface for their new plant to be placed.
That is why you need a plant stand. Not only do they allow you to grow some green wherever you see fit, but they will also make the new addition stand out that extra little bit.
Like all decorations and garden supplies, however, beautiful and well-made plant stands can be expensive, and while doing so is a matter of personal choice, you don't need to make that investment.
If you enjoy gardening, there's a good chance you love to get your hands dirty and make your own things too. And if that's the case, then you're also very likely to already have most of the materials you need to make a plant stand. All you need is to find the missing pieces and your inspiration, which is something we can definitely help you with.
This article will show you some DIY Plant Stands With Thrift Store Finds for you to attempt without making a big investment.
DIY Vertical Planter Stand

This outdoor plant stand is quite unusual as it is quite literally a wood board placed against the wall, with a matching frame and legs. You can display three identical plants vertically in this stand using the wire holders mounted in even spaces. via angelamariemade
DIY Plant Stand – West Elm Knock-off

The decidedly rustic plant stand is pretty easy to make and looks great in the garden or yard. All you need are six pieces of wood, two of which are in installed horizontally as an X-brace that connects the other four diagonally and supports the plant from the bottom. Paint the ends to match your pot and it's ready to use. via 100things2do
DIY Rolling Tree Slice Plant Stand

This rolling tree stand is so easy to make you'll be surprised. All you need is a round piece of treated wood and wheels like those used for carts or swiveling chairs. Glue the wheels to the bottom of your wood stand and you'll be able to move your plants very easily. via biggerthanthethreeofus
DIY Hanging Planter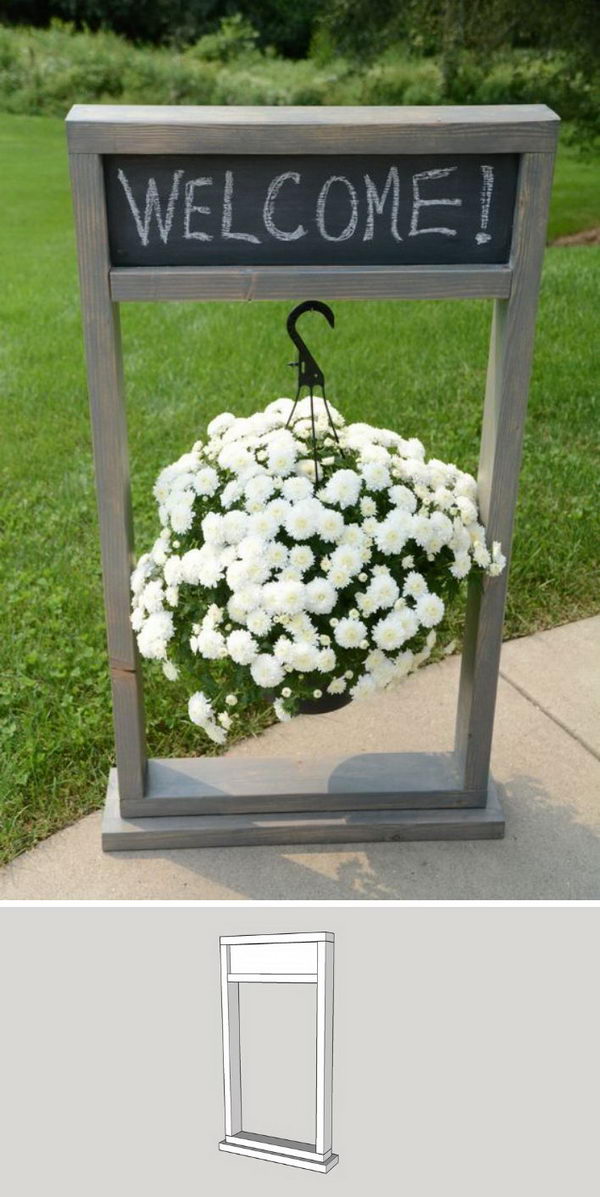 This isn't exactly a traditional plant stand, but rather a sign with a tree hanger. The sign itself is propped on a stand and reads "welcome" in chalkboard style. The plant is suspended right below in something similar to a closet hanger, which looks quite nice and unique. via decorandthedog
DIY Step Ladder Plant Stand

Making this tiered stand takes very little work. All you need to do is find a four legged step ladder, restore and repaint it, and finally organize your plants on the steps after making sure the ladder is in a safe position to take the added weight. via songbirdblog
DIY Concrete Plant Stand

Cute and simple are the perfect words to describe this plant stand. If you want to make one, you will need to pour some concrete into a bucket and then let it dry with three wooden legs sticking out at the same length. Take it out, paint the ends and your stand should be ready for use. via dwellinginhappiness
DIY Modern Cube Plant Stand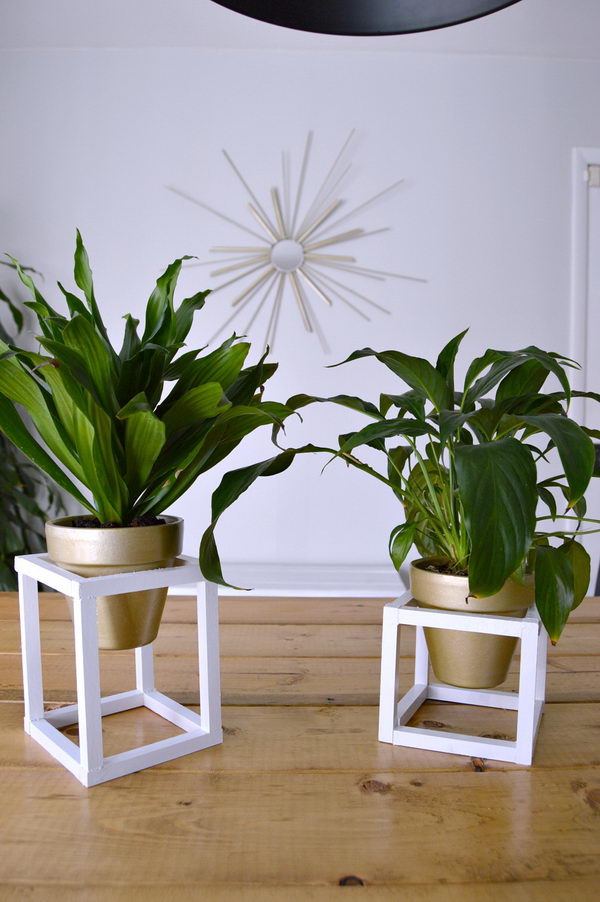 These stands are quite modern and minimalistic, but the concept is easy enough to understand. They are simply hollow white cubes, in which you install a bigger pot so that it dangles inside and sticks out at the top. via mominmusiccity
DIY Plant Stand For Outdoor Potted Plants

This is another rustic wooden plant stand featuring an X-brace as a middle support. This one is tall and narrow, so it holds smaller potted plants, which look quite nice on either side of the porch. via shanty-2-chic
DIY Acacia Wood Plant Stand

This is a great way to customize a plant stand. By adding the round acacia wood plates to the top you change the shape of the piece and add much needed contrast, not to mention that this little touch makes it your own, as opposed to something everyone can find at the store. via sugarandcloth
DIY Clay Pot Turned Plant Stand

This beautiful periwinkle plant stand was made using stacked large clay pots and a matching tray, which serves as the top. It's definitely something anyone can pull off nicely. via kreativk
DIY Striped Plant Stand

Here's a DIY project that is classic and different at the same time. This stand is just a bucket that was was covered in two-toned lace to create a striped effect and then turned upside down to boost the plant up in a decorative way. via homedepot
Hanging Baskets Plant Stand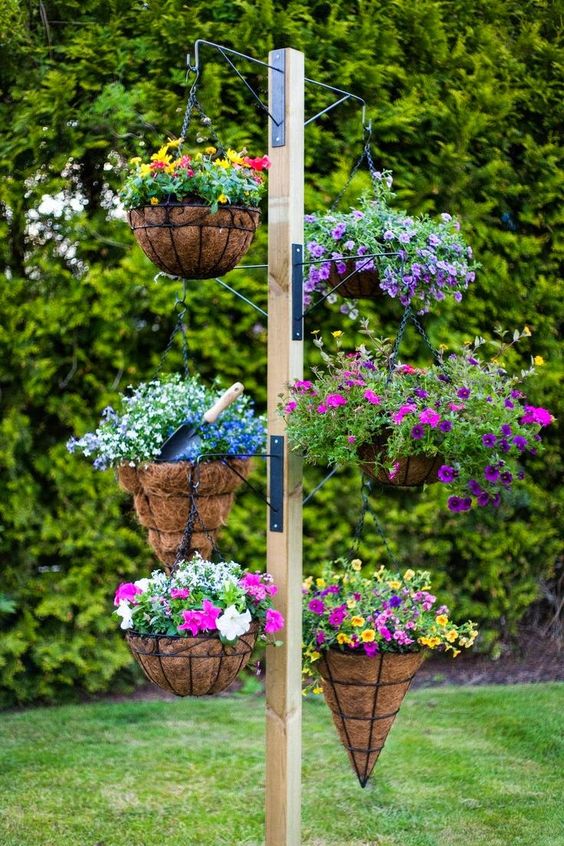 This may look quite busy, but the stand itself is quite simple. Only two main pieces are needed: a tall, sturdy piece of wood and hooks which you will install unevenly on both sides to hang your beautiful plants at different heights.
DIY Copper Round Plant Stand

These gorgeous round hollow plant stands look quite luxurious for a DIY project that mixes raw materials and thrift store pieces. They were made using two brass rings – one at the top and another at the base, which were then connected using long wood sticks at the sides. You can either paint the sticks to match or leave them as is – the final product is gorgeous either way. via darleenmeier
DIY Copper Pipe Marble Plant Stand

This is somewhat similar to the previous idea, but it features hollow stands at the sides and then a marble top to hold the plant, framed by wooden sticks that connect to the sides seamlessly. via abubblylife
DIY Modern Plant Stand

This modern, minimalistic white stand looks very much like a bar stool with its round top and four legs. The top was enhanced using paper or plastic triangles placed in a geometric pattern. via classyclutter
Wood Ladder Plant Stand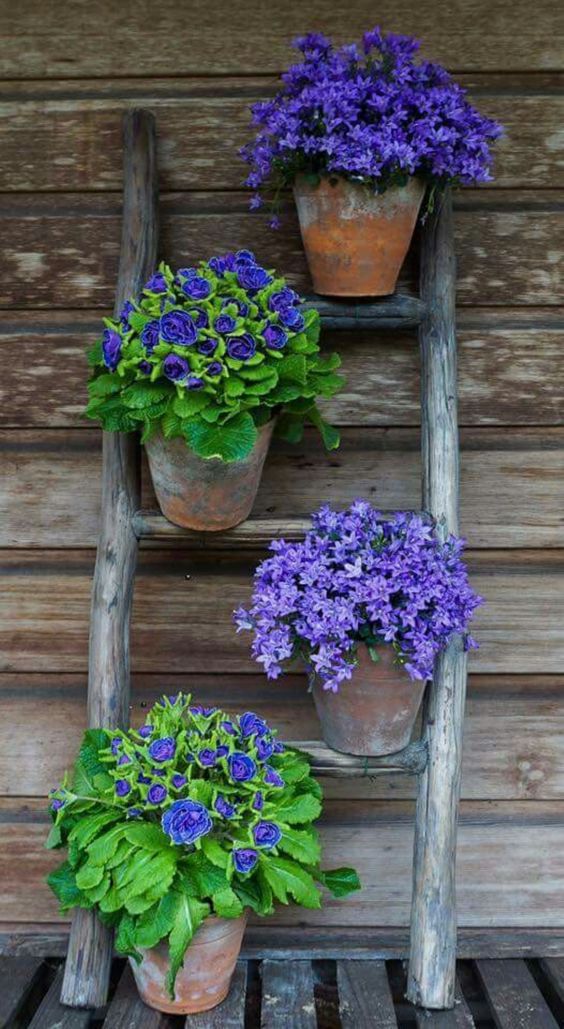 Here's another fantastic stand idea for a rustic outdoor space. In this case, a simple distressed wood ladder was propped against the wall of a barn with colorful plants placed on the steps in an alternate pattern, adding color to the area.
DIY Tomato Cage Plant Stands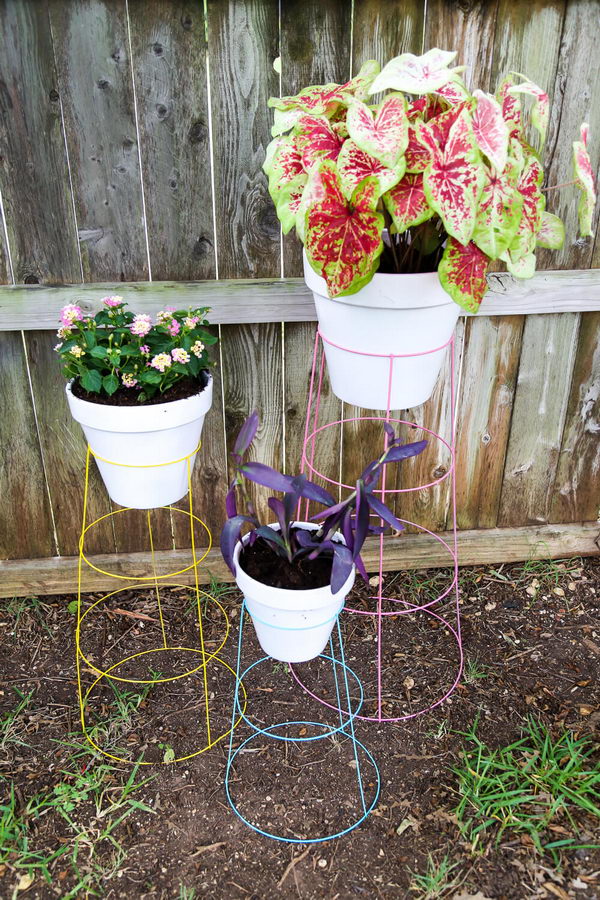 Building an elegant plant stand from a tomato cage is pretty simple, as they already have the hollow cone structure that resembles the legs of a high stool. All you need to do is cut and bend your cage to your desired height and then spray paint it in the color of your choice. via loveandrenovations
Easy DIY Wooden Plant Stand

This stand is deceptively simple to make. All you need to do is take four wood sticks and then join them with an X-brace at middle length. This way, your box planter will be encased in the stand, which can be seen from the sides. via abeautifulmess
DIY Copper Pipe Pot Plant Holder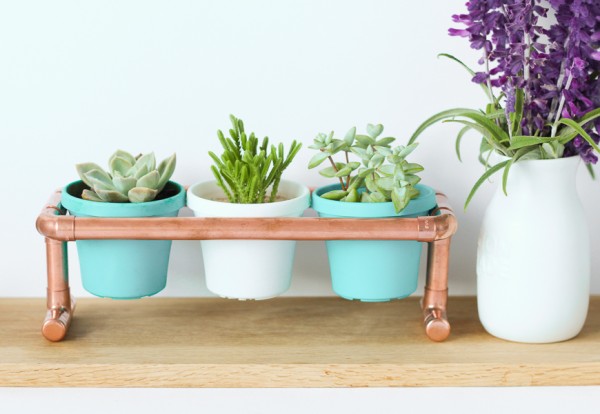 This fantastic low and long plant stand proves that copper pipes can be used for a lot more than plumbing. In fact, the rounded rectangle piece, which houses three plants inside, looks quite elegant and luxurious, even. via puresweetjoy
Wire Spool Table Plant Stand

Here's how you can upcycle an old spool as a plant stand. The first step is to restore the piece, then give it a new look. After that, you can take advantage of the top and use it to house a large plant, while also placing smaller flower pots around the base. via 2beesinapod
DIY Barstool Using Only 2x4s

This plant stand is literally a wooden stool built using only identical pieces in size and length, which were cut and mounted as the stool's legs and top before it was all painted white, which gives the final product a more polished look. via sawdustsisters
DIY Copper Pipe And Wood Slice Plant Stand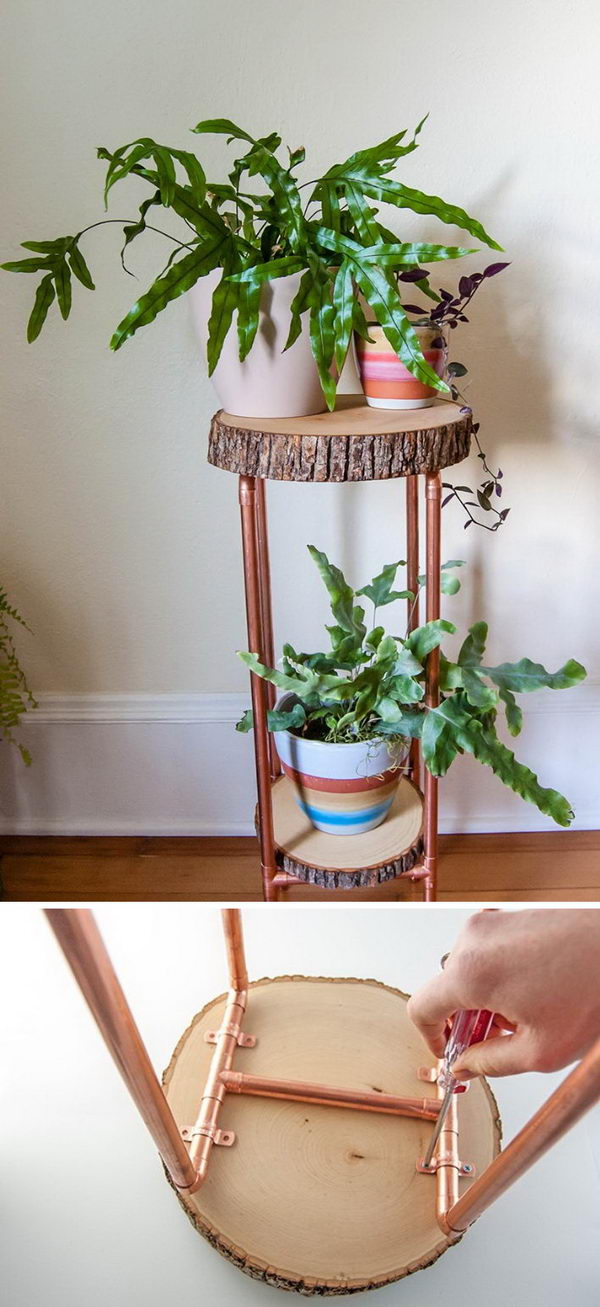 Here's another stool-like plant stand that proves copper pipes can be quite elegant. In this case, they were used to build the structure that holds the rustic wooden top, giving the stand its beautiful shiny legs. via diyinpdx
DIY Tiered Plant Stand
This is quite an unusual-looking stand, as it was built as three joined stands of different heights, thus creating a tiered effect. The geometric design and the contrast between the white legs and dark tops make the piece look modern and elegant. via centsationalstyle
Cute Wooden Ball Plant Stand

This low stand has a very unique look and it's perfect for small, table top plants. It was made by securing round knobs to the whole bottom perimeter of a wood slice using sticks and glue. The secret to its stability is the placement of the knobs, so you should definitely pay attention to that. via abeautifulmess
DIY Vertical Garden With Planters On Stair Risers

This is the way to build a vertical garden: take a stair riser and mount planters in the place where the stairs would be to create that unique tiered look. You should, of course, prop your garden against a wall or add a couple of columns at the back for support, as you see here. via helpfulhomemade
Crate Plant Stand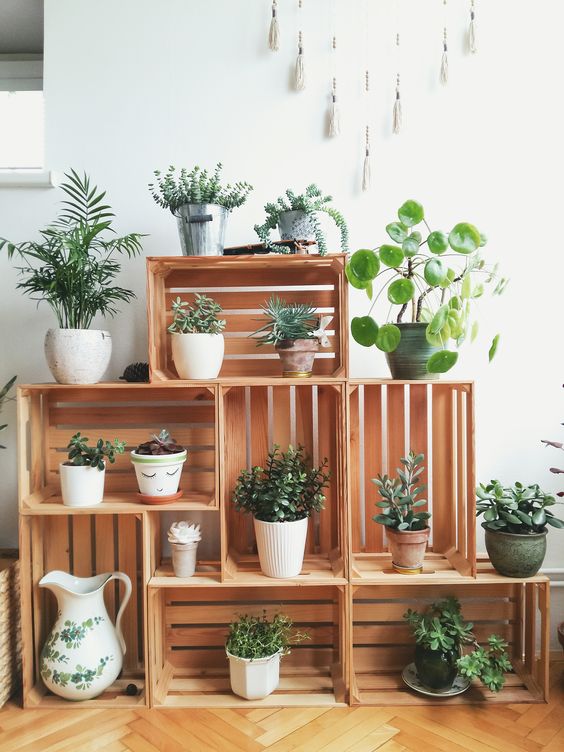 What you see here isn't any ordinary stand – it even looks like a nice piece of furniture at first glance. It is, however, a pyramid of crates and wood dividers mounted in different directions against the wall to house an assortment of different plants in a rustic yet elegant way.
DIY Mid-Century Plant Stands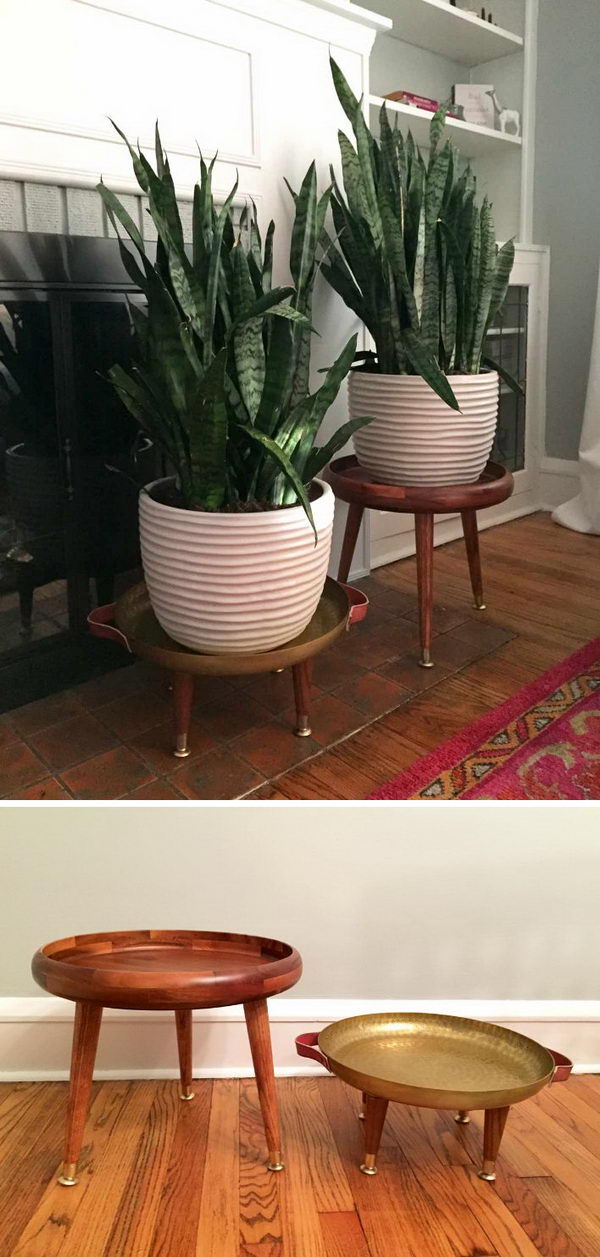 These mid-century stands have a vintage-charm to them, as they look like low stools with their angled short legs, but they also feature trays as their tops, which makes them perfect to hold plants. via andthenwetried
DIY Tiered Plant Stand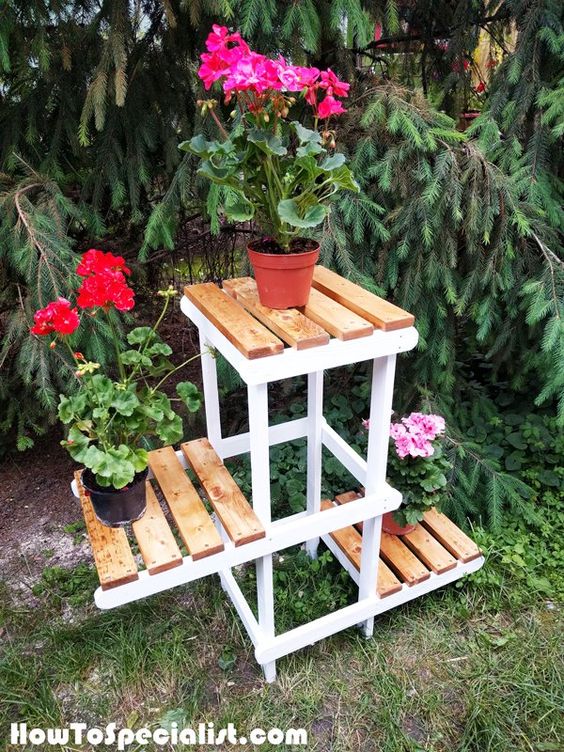 This last piece is another tiered stand made from equal pieces of wood cut in different sizes to fit the different sections. It looks quite different because it features secondary stands to both sides of the main structure, but also because the tops were left untouched while the sides were painted white. via emilyevanseerdmans
DIY Space-Saving Planter Stand From A Wooden Ladder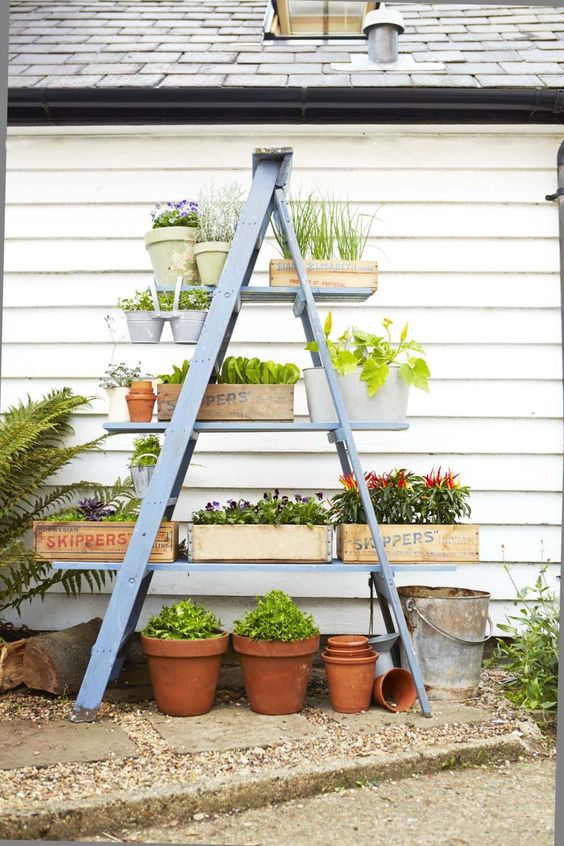 via goodhousekeeping