20+ Awesome DIY Garden Trellis Projects
A trellis is definitely a lot more than just a supporting structure. It serves as the background for your beautiful plant arrangement and, when showing, which happens more often than not nowadays, it becomes a decorative piece itself.
While the plants themselves will always be the center of attention, it is the trellis that dictates their shape and disposition, and it is also this background piece that oftentimes allows the plant to shine fully against the wall, railing or wherever else it may be placed.
You should never underestimate or overlook the trellis if you want your beautiful plants to look their best and your decoration to be coherent.
If you find yourself short on funds or ideas for a trellis though, this is definitely the right article for you. Check out these Awesome DIY Garden Trellis Projects.
DIY Cedar Trellis for $20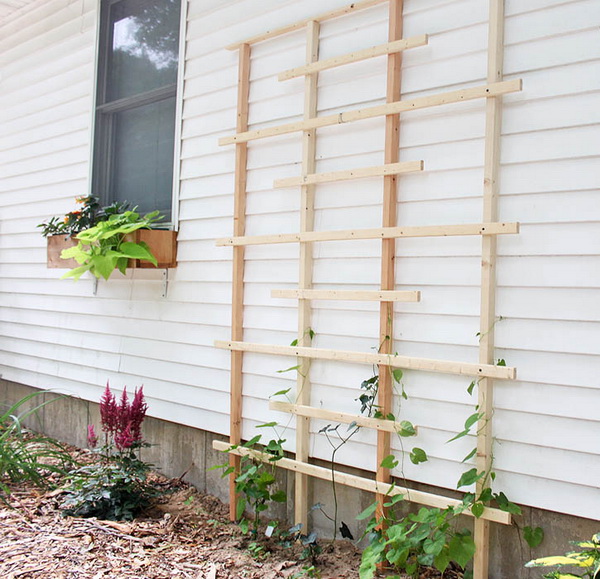 Get the tutorial via gina-michele
DIY Trellis Made of Branches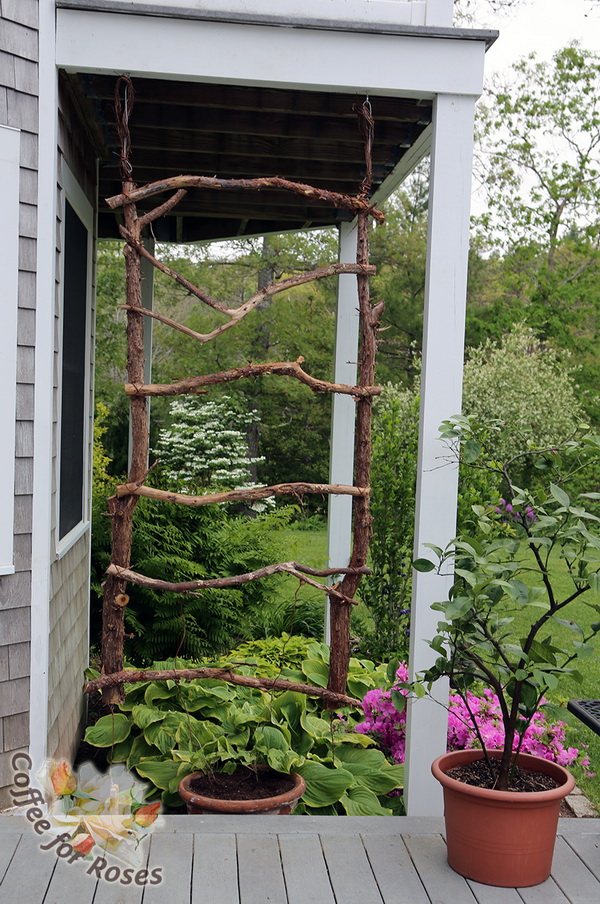 Get the tutorial via coffeeforroses
DIY French Tuteurs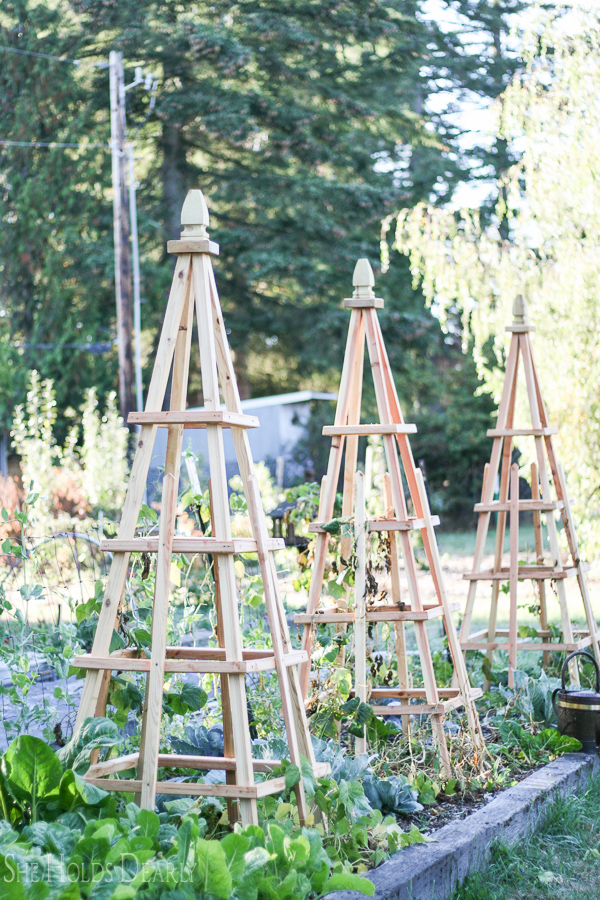 Get the tutorial via sheholdsdearly
DIY Mirrored Trellis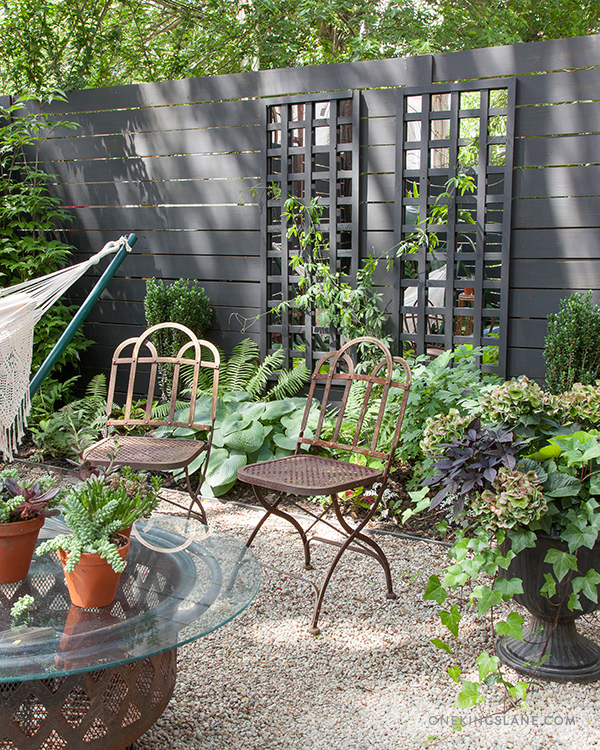 Get the tutorial via designsponge
DIY Trellis Screen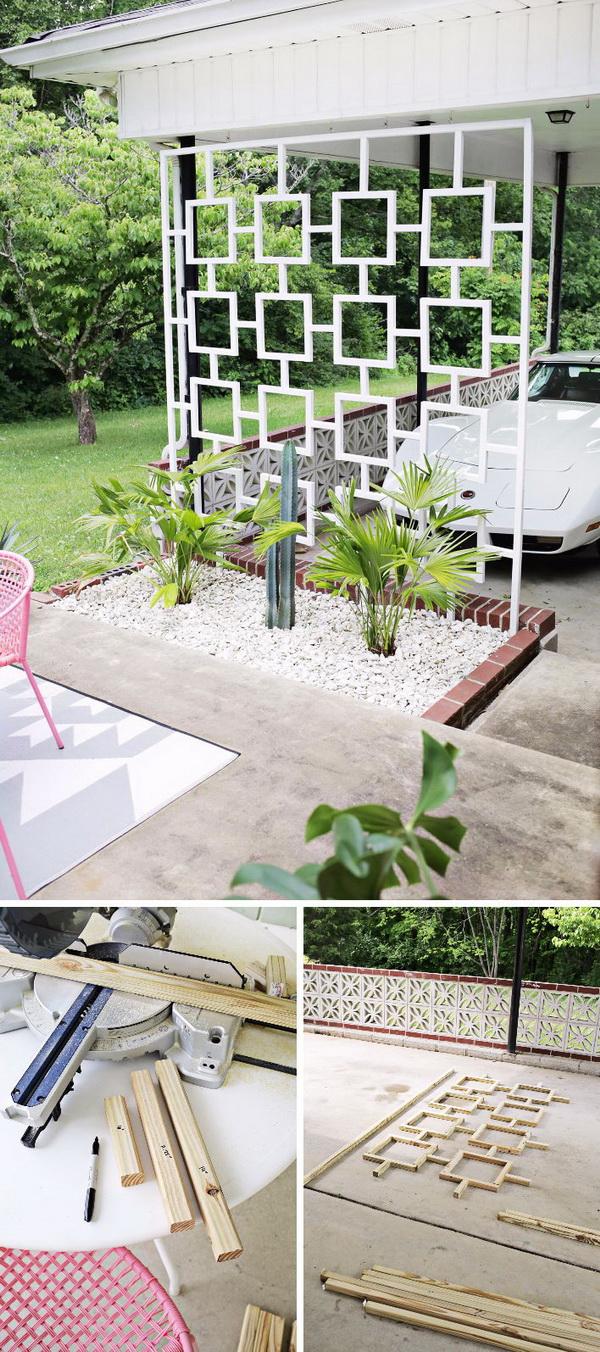 This trellis has a very intricate design crafted from thin slabs of wood boards arranged in different geometric shapes. The whole structure was then finished off with white paint, which really allows it to stand out in the yard. via abeautifulmess
Build a Fence Trellis To Train Beans Using Small Space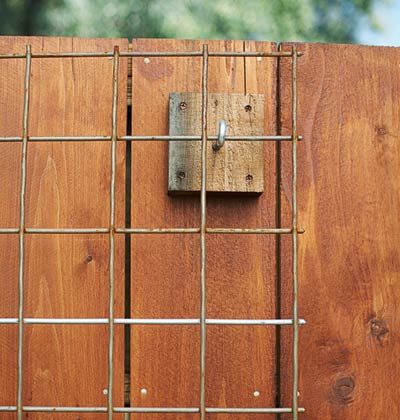 This project is one of the best ways you can find to train beans while maximizing your yard space. Make a trellis using wire mesh and wood, then affix it to your fence and you'll be ready to start training your beans. via myhomeideas
DIY Chevron Lattice Trellis With Tutorial

This beautiful wooden trellis looks really sophisticated once finished with its smooth black color and chevron or herringbone design. While it looks very impressive as a final product, it is fairly simple to put together using narrow pallet wood or something similar. via remodelaholic
DIY Simple Pea Trellis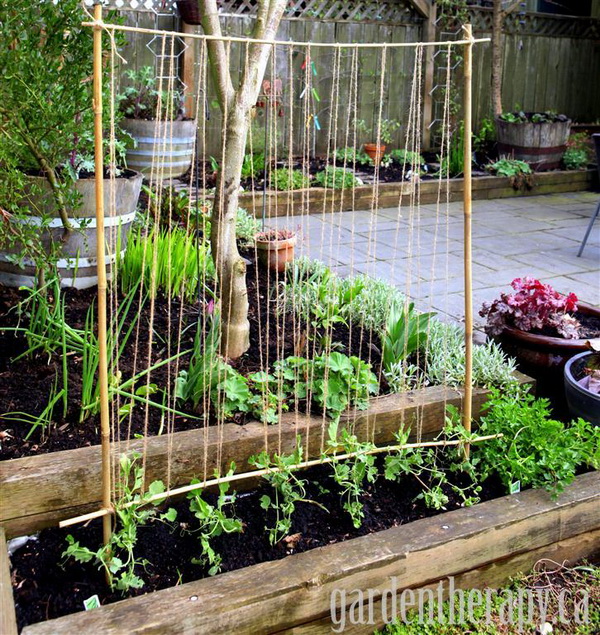 Get the tutorial via gardentherapy.ca
DIY PVC Trellis

Yet another impressive trellis. In this project, white PVC was used to create an intricate crisscrossed pattern, which was then affixed to a main prebuilt frame to achieve the final product. via offaithfiber
Hide The Downspout With A Trellis

If you have an unsightly downspout to deal with, then installing a trellis with some plants along the wall can be a great fix. This simple, dark structure does its job of supporting the beautiful plants and hiding the offending piece while not calling too much attention or detracting from you really want people to notice. via pinterest
DIY Twig Ladder For Trellis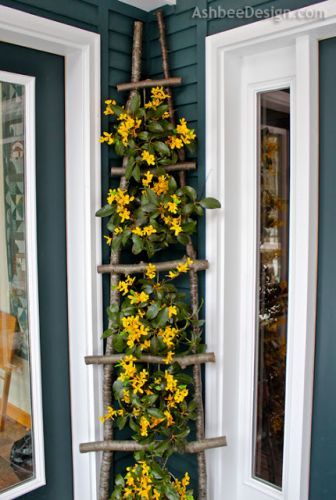 This trellis is once again made from twigs, but in a very different way from what we've seen previously. In this case, some longer and thicker branches were arranged in a ladder shape, holding the gorgeous plant up almost like an actual tree. via ashbeedesign
Recycle Old Mattress Springs As Trellis For Your Garden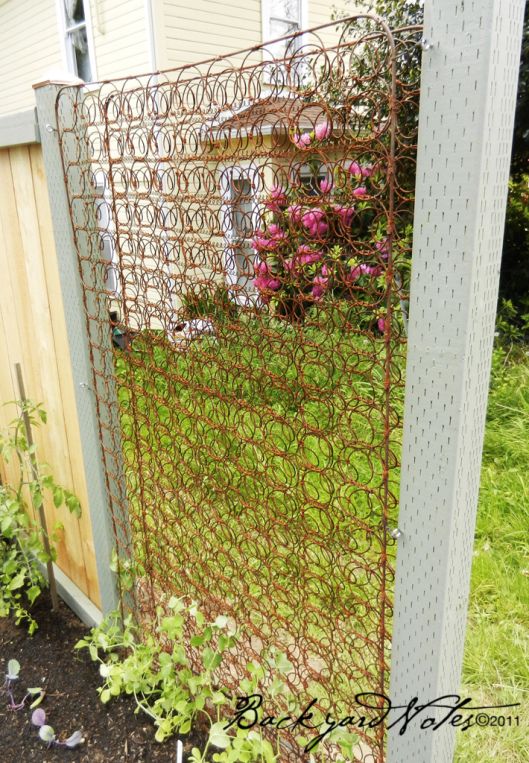 Recycling is always a great idea, and in this case reusing the mattress springs was a stroke of genius, as they make for a really unique, yet functional trellis. Painting them a brighter color would surely have made them stand out more, but that isn't always necessarily the goal when installing a trellis. via 1001gardens
DIY Freestanding Trellis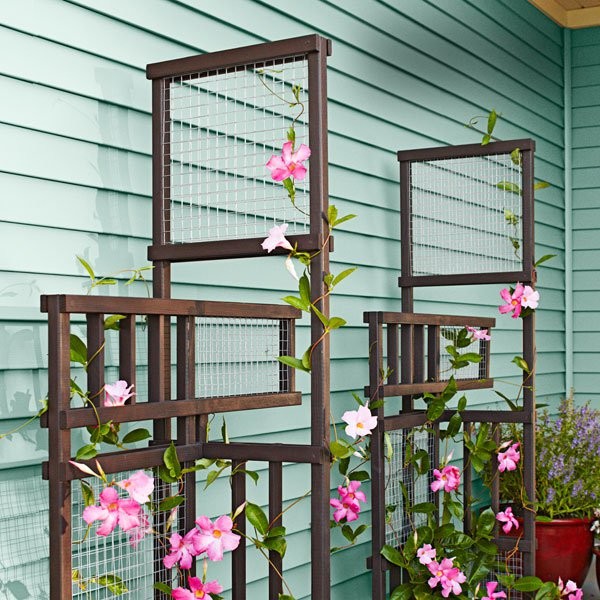 This smooth dark wood freestanding trellis looks really cool with its interlocking geometric shapes that work both for function and aesthetic. It isn't the easiest project to complete, but it is surely worth the effort. via lowes
DIY Copper Trellis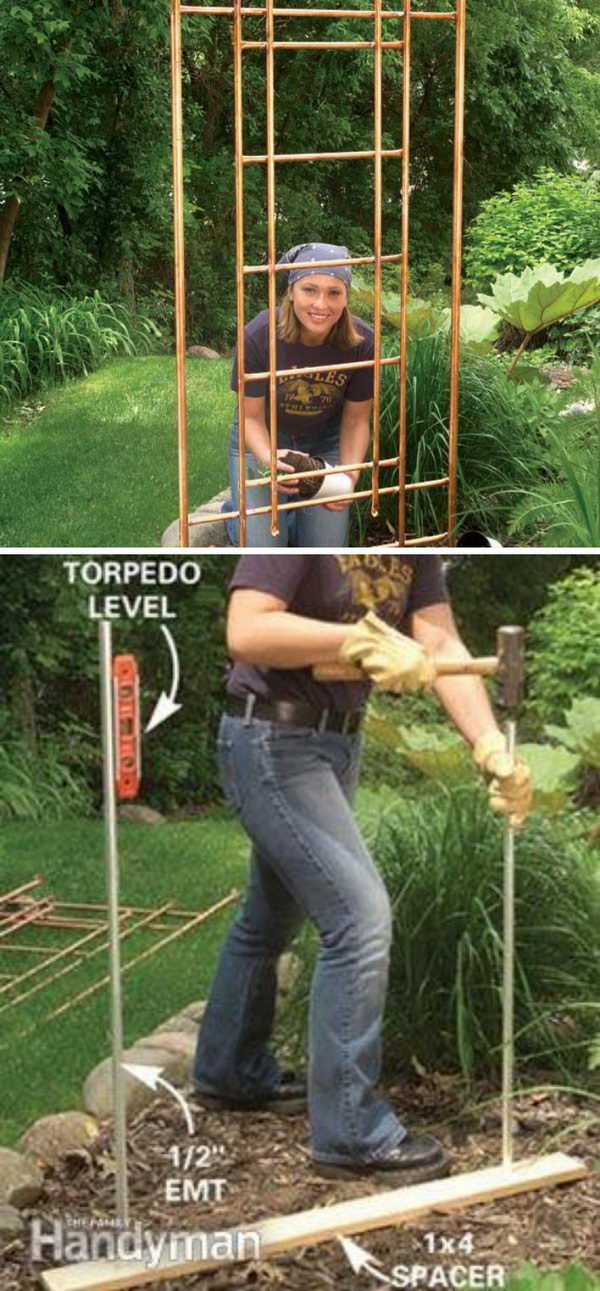 Copper is said to be a very durable material, so it is ideal for outdoor projects. This copper trellis is very simple, only consisting of two ladder-like structures, and it was built into the garden, among the plants. via artistic-garden
DIY Cattle Panel Arch Trellis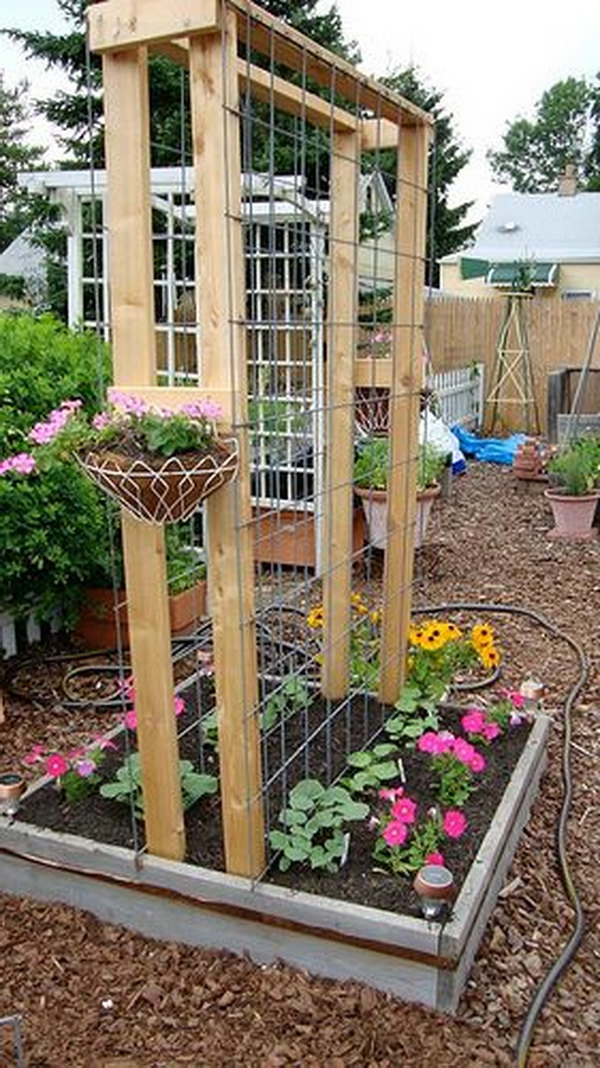 Get the tutorial via forums.gardenweb
DIY Privacy Planter with Trellis

People always love projects that serve multiple purposes. This is a DIY craft that adds curb appeal to your home while also allowing you to have privacy from the world. via goodshomedesign
DIY Trellis and Planter Box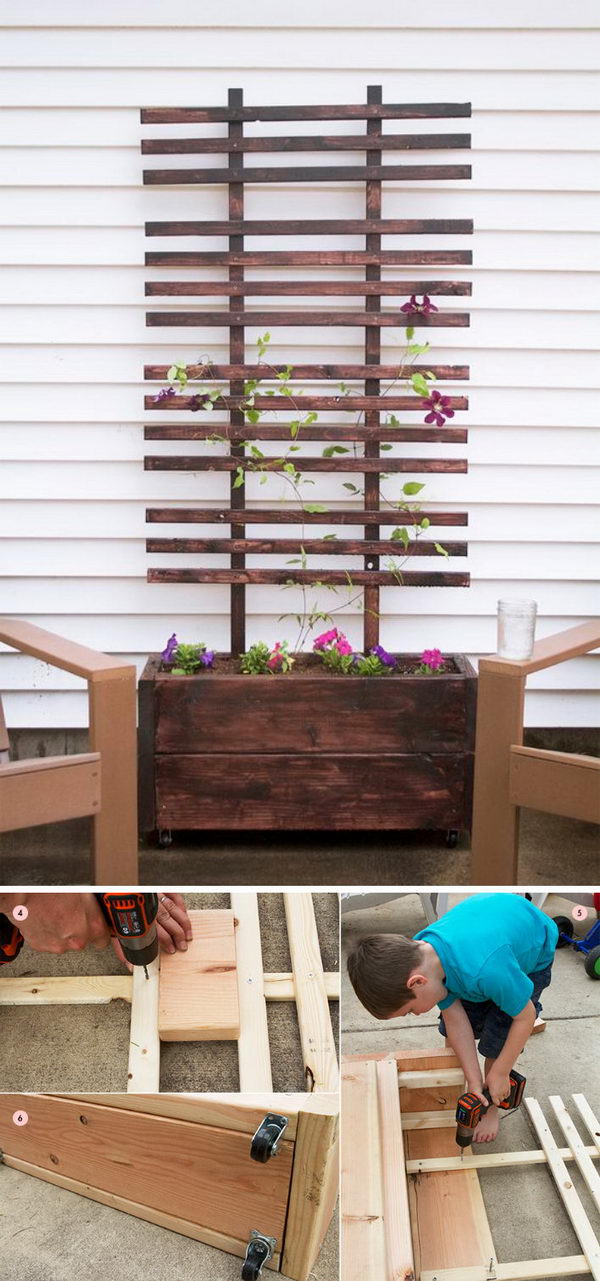 This trellis was built from dark, pallet like wood, and arranged in a crossed formation: two long pieces placed vertically while the rest sit across them in clusters of three. The plant climbs up the structure from a matching planter where the trellis is installed. via deucecitieshenhouse
DIY Wood Lattice Trellis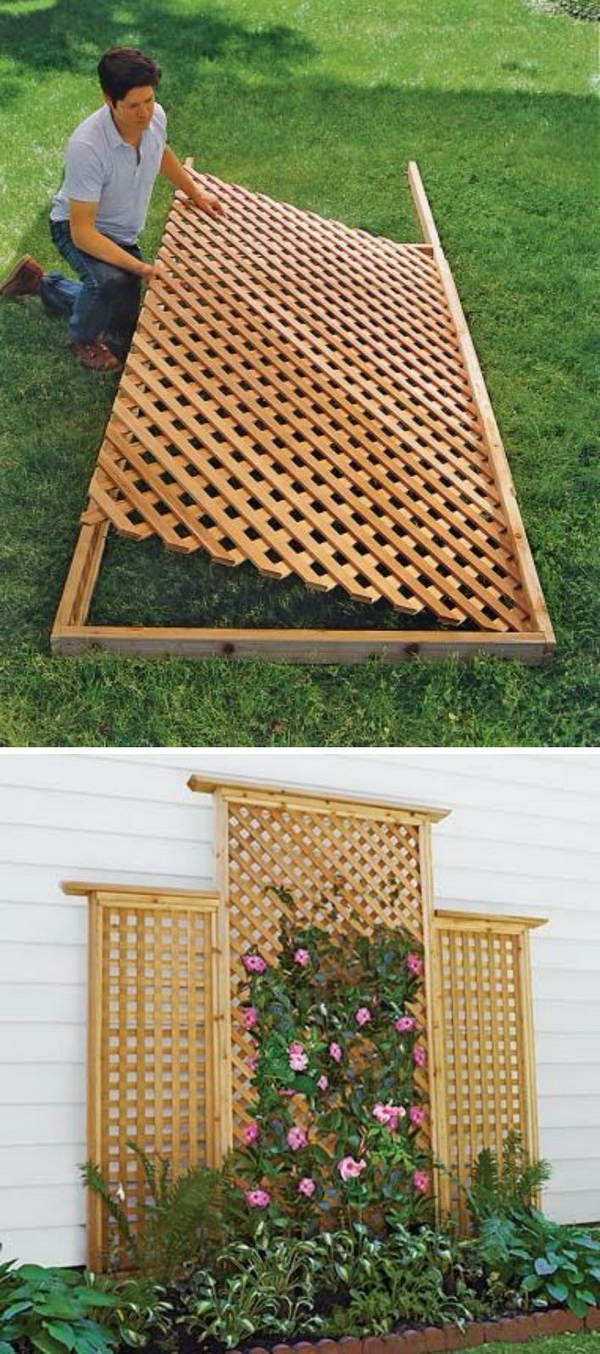 Get the tutorial via thisoldhouse
Invisible Wire Frame Around Tree For Trellis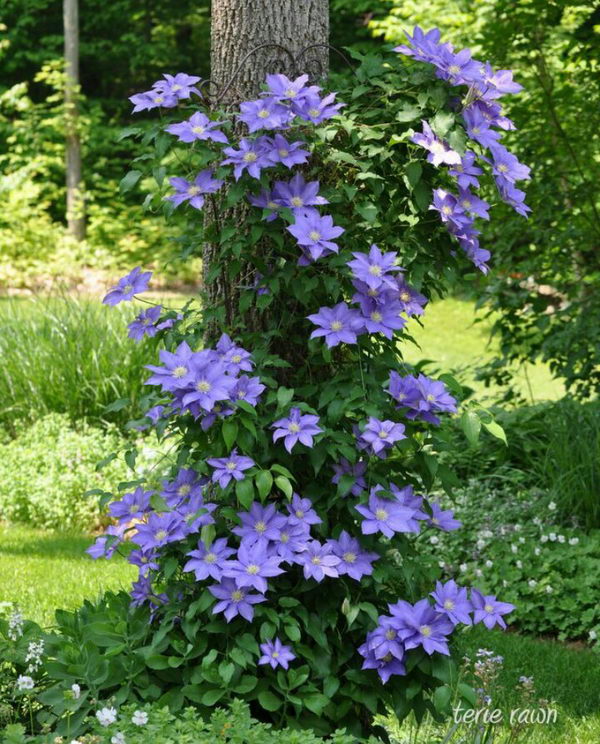 This is certainly the ideal trellis for you if the idea is for the flowers to look like they are climbing the tree. It is made using a thin, hidden wire wrapped around the trunk to make it look like the plant grew in that position naturally. via pinterest
Repurposed Door Find New Life As A Trellis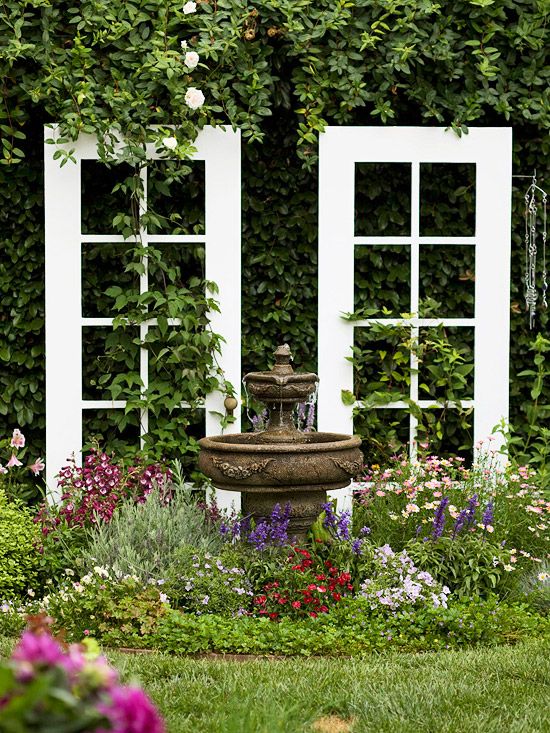 We are all in favor of repurposing old materials and pieces, so this is obviously one of our favorite projects. In this case, two white doors were installed in the garden as freestanding trellises, with the plants peeking through the squares where windows used to be. This makes for a unique look in itself, but even more so when combined with the flower bushes and fountain right in front. via bhg
DIY Bamboo Trellis

This is different from your traditional trellis, which is made from crossed pieces of bamboo secured with wire string at their joints. Not exactly the most original or ingenious idea, but it works well and looks charming at any rate. via artesanatopassoapassoja
$6 DIY Garden Trellis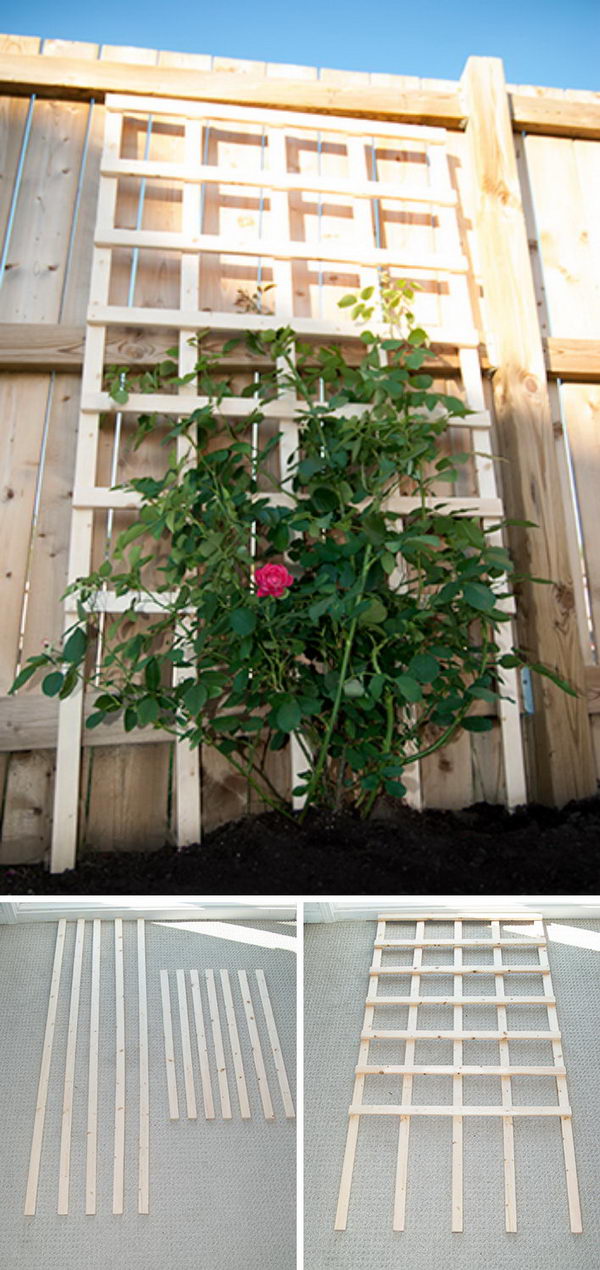 Now this is what we call an efficient and inexpensive garden trellis. The trellis is made from long pieces of strapping wood that are simply glued into shape at the joints with the appropriate kind of glue. And it works. You can choose to leave yours au naturel or paint it a different color for a couple more dollars. via stephaniewhite
Awesome DIY Garden Trellis

This truly awesome trellis is a full DIY project, from shaping the salvaged wood, to affixing the pieces together and installing the finished product. The metal grid was also installed manually, and it serves its purpose beautifully. via blueroofcabin
Trellises From Cedar Boards And Wire Cabling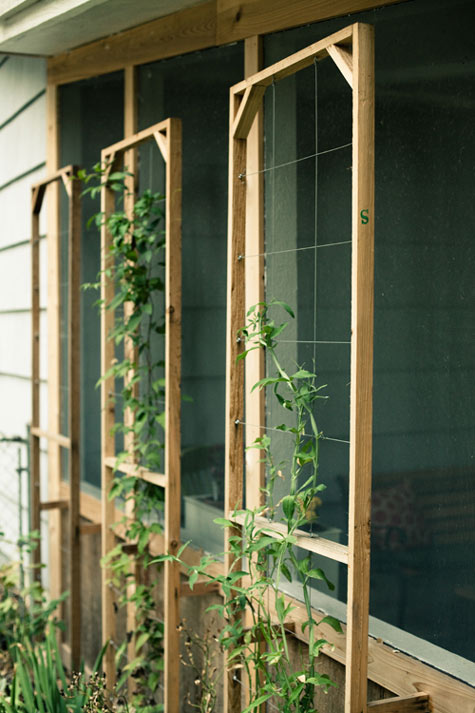 These trellises are really beautiful in their smooth simplicity. The main frames are made using cedar boards, which are complemented with grids made from wire cabling, to actually support the plants. via designsponge
Painted Trellis From Accordion Coat Rack

This wooden accordion coat rack had the ideal shape for a trellis already, so all your really needed to do was to repaint it and install the finished product in a potted plant, as you can see here. via sybilalfano
DIY T-Post Trellis Using Branches and Zip Ties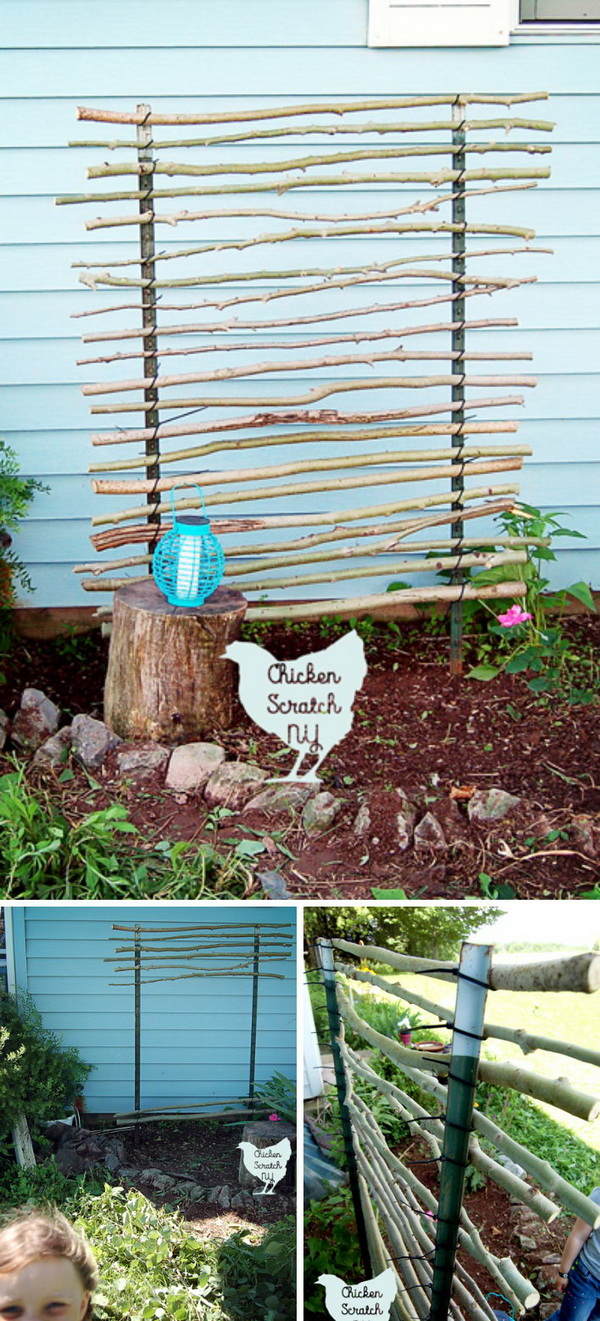 Get the tutorial via hickenscratchny
Wall Mounted Outdoor Trellis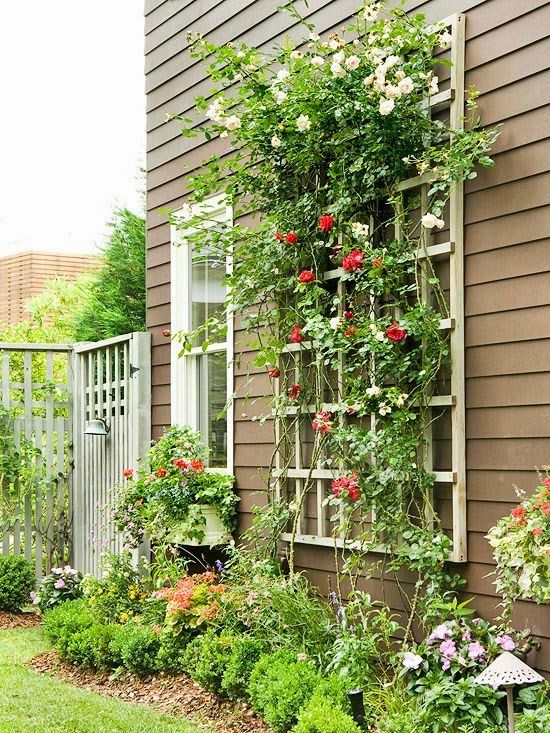 This is a usual light wood grid trellis, but with a twist. In this case, the trellis was affixed to the wall of the house instead of being set on the ground. via ourdailyideas
DIY Trellis Using Wire Fencing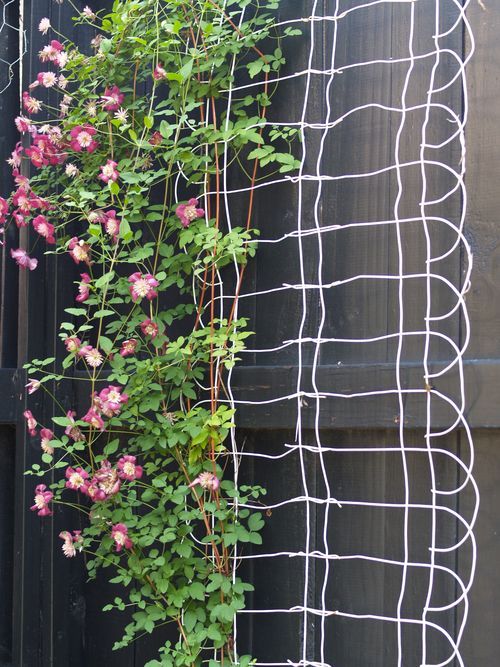 Wrapping plants around wire for support isn't a new idea, but that is the concept of this trellis. The white wire grid may not be the prettiest or seem the sturdiest but it works, as you can clearly see in the picture. via pinterest
Bamboo Trellis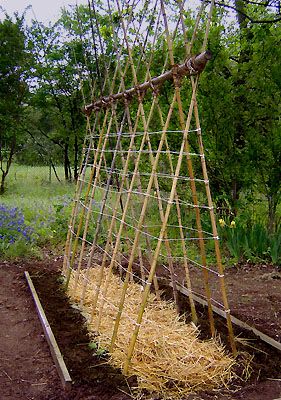 This is not exactly your traditional bamboo trellis. It has some hay at the base, from which two tall grid structures rise. The two structures are connected by a woven cotton string, which creates the grid, and they intersect at the top. It's a truly ingenious and durable design that looks good and works well. via ecosnippets
DIY Rustic Trellis Using Branches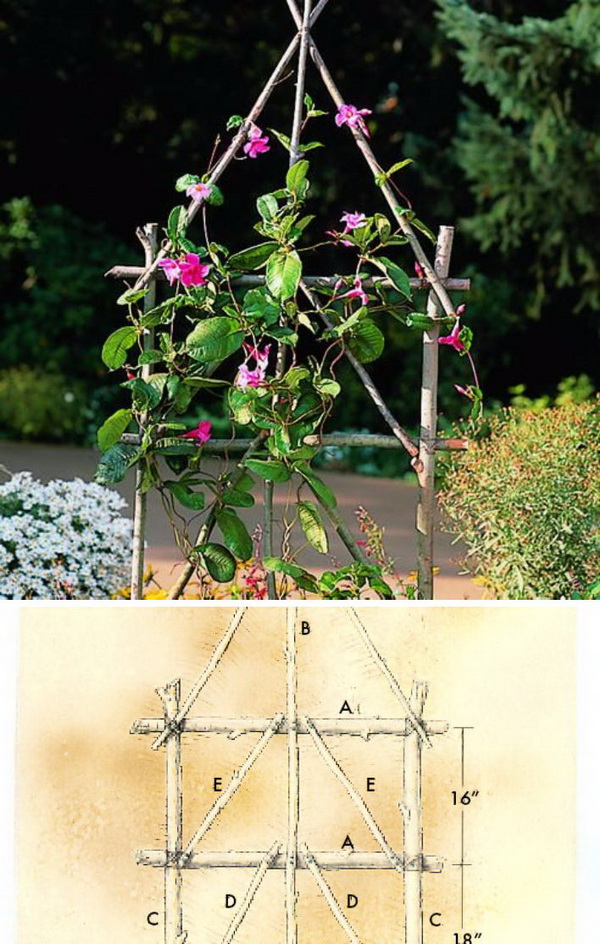 Get the tutorial via sunset
Homemade Twig Trellis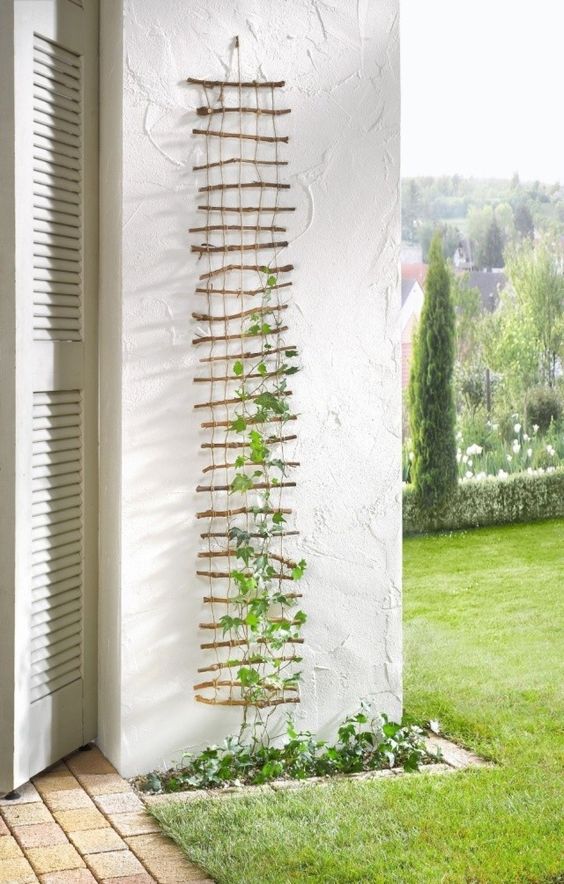 This trellis is as simple as they come, because it is made from a series of small, thin twigs held together by three thin strings and affixed to a nail on the wall. It works out nicely with the sparse leaves wrapped around the twigs, though. via al-hfifa-arabians
DIY Blue Obelisk Trellis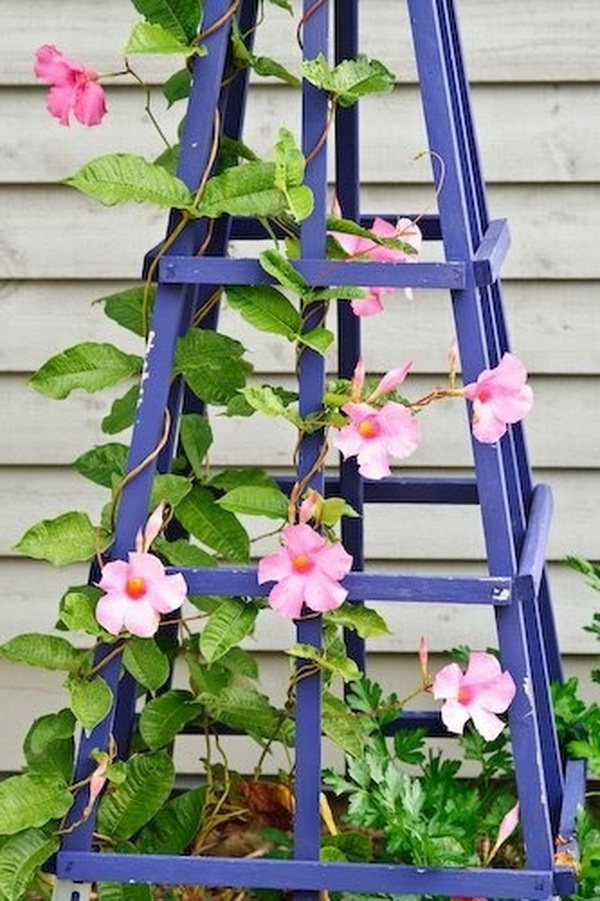 This blue obelisk is perfect for showing off that gorgeous pink flower. Get the tutorial via countrygardener
DIY Planter Box with Screen Trellis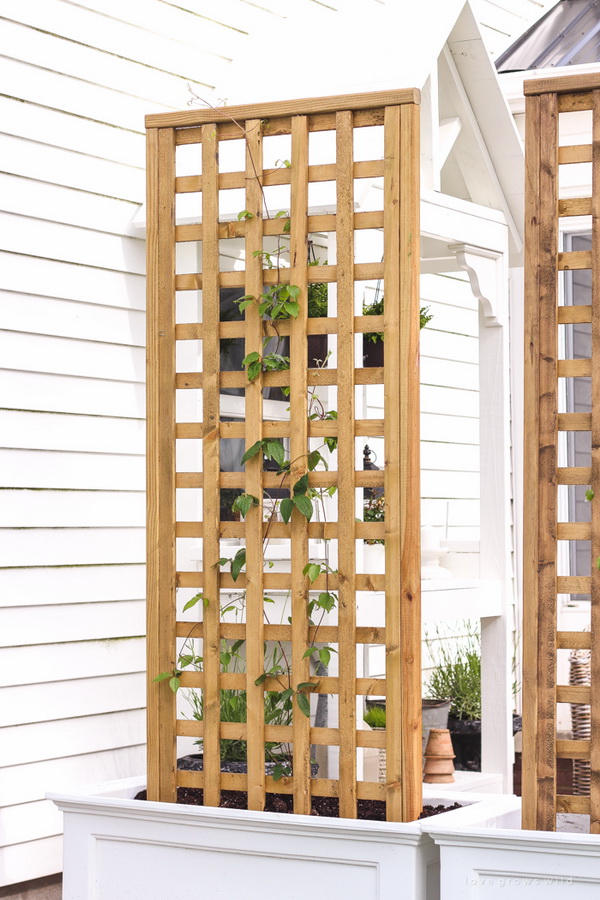 Get the tutorial via lovegrowswild