20+ Awesome DIY Projects To Decorate A Girl's Bedroom
There are so many thrifty and creative DIY projects you can add to a space for the perfect additions to a girl's bedroom. You don't have to break the bank for her room to look like some of the ideas you many have noticed in a model home or in a magazine. You also don't have to be a home-decorating or craft guru.

In fact, many of the DIY projects shown below can be completed in a short amount of time with materials you might already have around your house. Use one or more of these ideas to create a whimsical, unique, and comfortable space for your girl's bedroom.
3D Paper Flower Window Treatment

Large and colorful paper flowers above a window can be customized to coordinate with the existing decor. Since the flowers are made from paper and hot glue, this project is an inexpensive way to easily spruce up a bedroom. via thecraftpatchblog
Paper Flower Decorated Mirror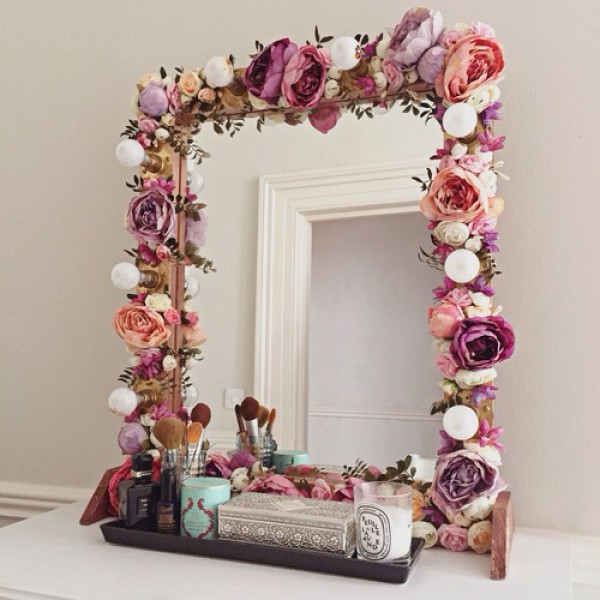 With a little time and effort, you can add poly-fabric flowers that have been dipped in plaster to the border of a beveled mirror. Paint the flowers to resemble dried flowers and add some lights for the perfect vanity. The charming end-result is worth the effort of this DIY project. via familycircle
Wallpaper Backing On Bookshelf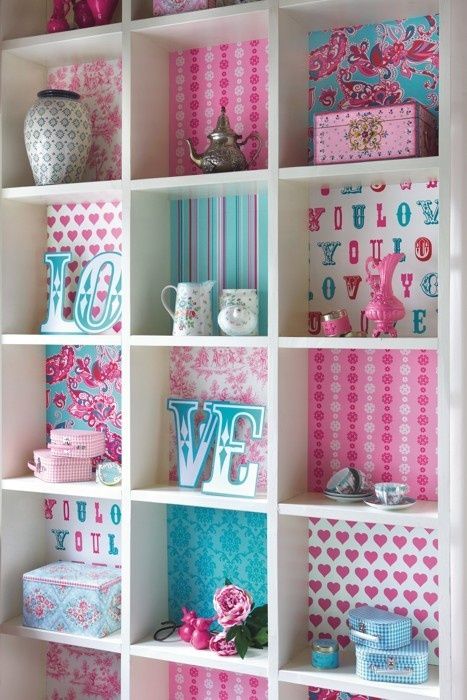 A bookshelf is a wonderful way to keep a room organized, but adding wallpaper to the back of the shelves will add a pop of color. Using a variety of coordinating designs and colors will bring visual interest to an otherwise plain bookshelf. via arquitrecos
DIY Whimsical Canopy Tent or Reading Nook Made From Curved Curtain Rod And $4 Ikea Curtains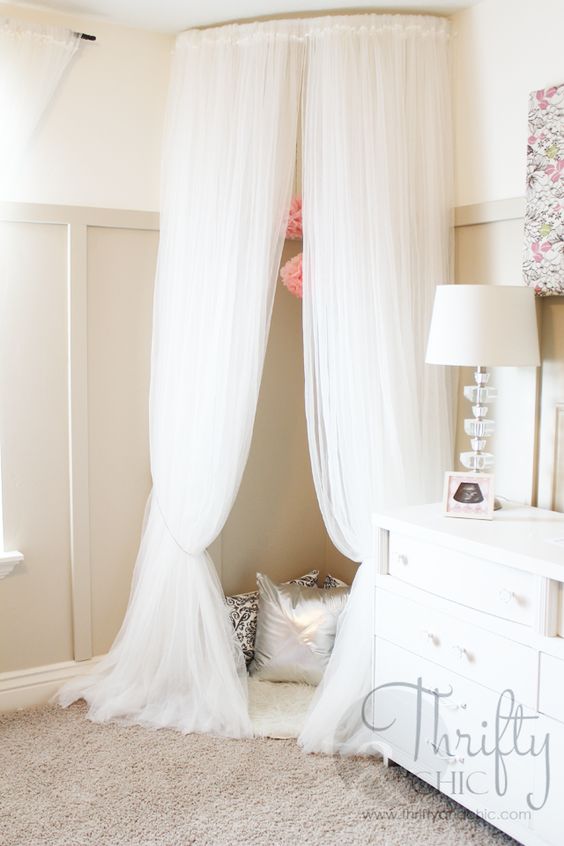 Most children love to have their own hideout or place to relax. A reading nook can easily be created with a small curved curtain rod and some whimsical curtains from IKEA. A few coordinating throw pillows and a cozy rug will make the space inviting and cozy. via thriftyandchic
DIY Jewelry Wall Display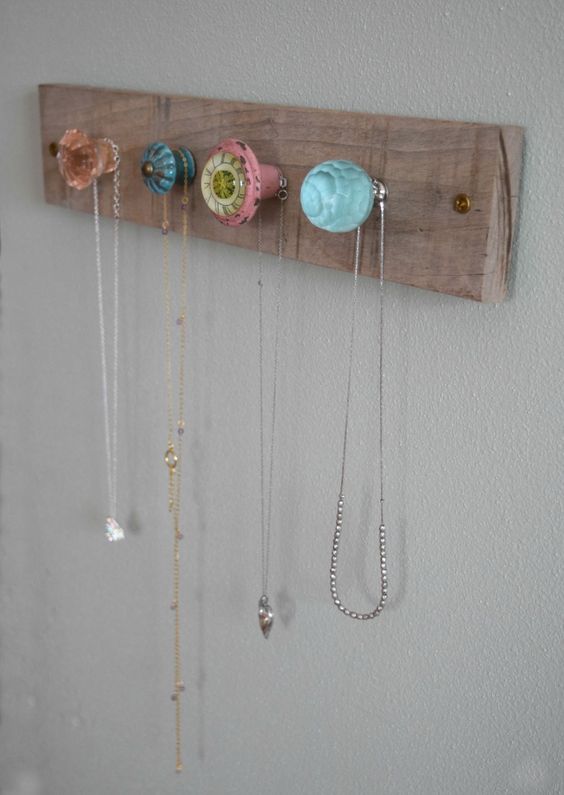 Keep everything in its place by creating a jewelry wall hanger. You can make this jewelry wall display by attaching some funky or colorful knobs to a piece of wood. Organize necklaces, bracelets, scarves, or any other hangable accessories. via ourhousenowahome
Glitter Light Switch Plate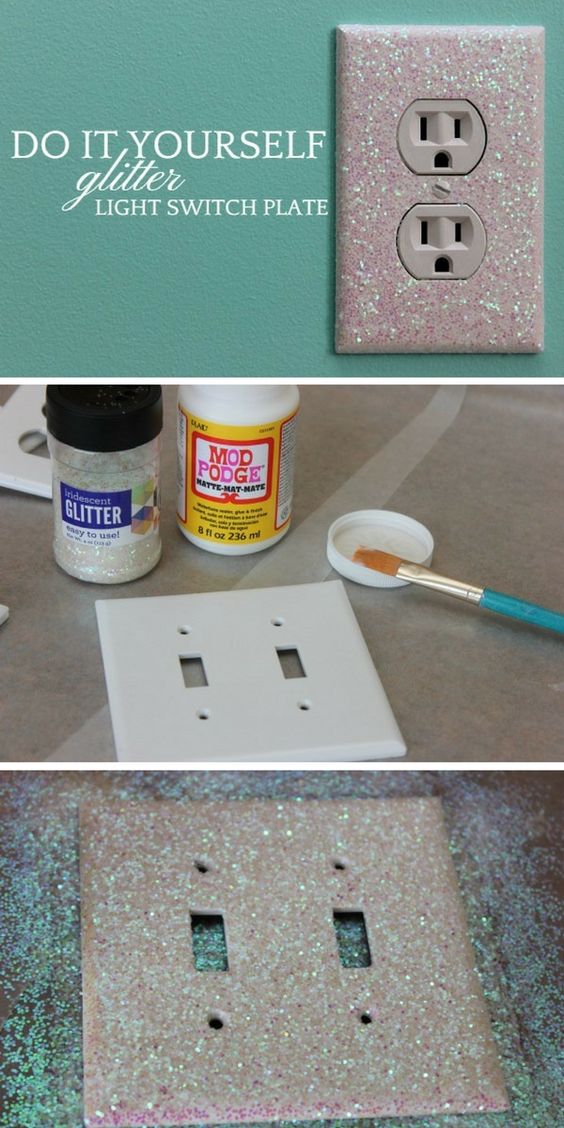 What girl does not like glitter? A glittered light switch plate is simple to make with Mod Podge and sparkling glitter. This project will take you less than ten minutes and will add some pizzazz to your sweet girl's bedroom. via faithfullyfree
Coral & Aqua Girl's Room Makeover

A coat of paint can completely change the feel of a room. Use one color for an accent wall and paint the other three walls another color. Add a monogram to personalize the wall. Not to mention, a can of spray paint can do wonders to help existing knickknacks to match the color scheme. via source
A Little Girl's Mint Green Bedroom Tour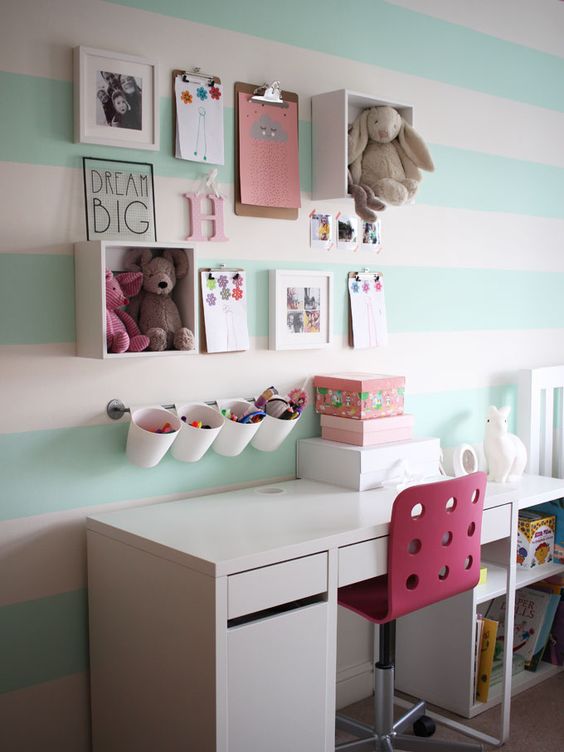 A gallery wall will personalize your child's bedroom and can also display important moments in her life. Hanging a few clipboards to display her original artwork will add personalized ownership to her bedroom. Adding a few square shelves is perfect for providing a display of her favorite stuffed animals. via tamingtwins
Cute Curtains For Closet Doors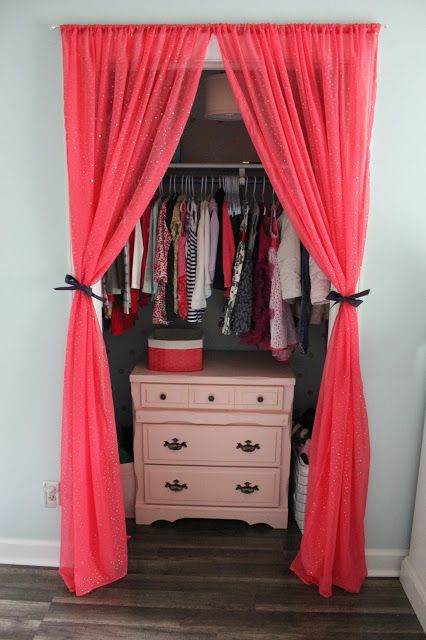 Replace closet doors with some cute curtains. Tie them back with eye-catching ribbon or keep them closed to hide what's inside. Curtains are prettier than plain closet doors and you can purchase curtains with colors and designs that coordinate with the rest of the room. via peahenpad
Awesome Makeup Vanity For Girl's Bedroom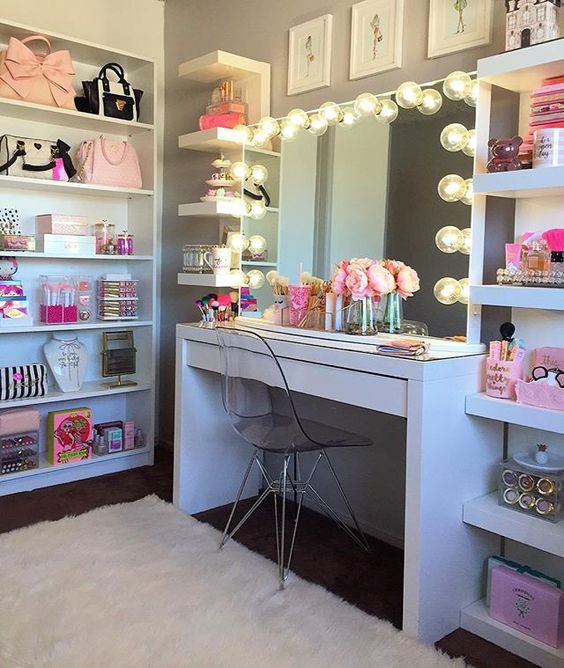 You can create a makeup vanity by using a mirror as a focal point in the room. Deck it out with some lights around the border and your girl is sure to be thrilled with her new vanity. via instagram
Shabby Chic Lamp Shade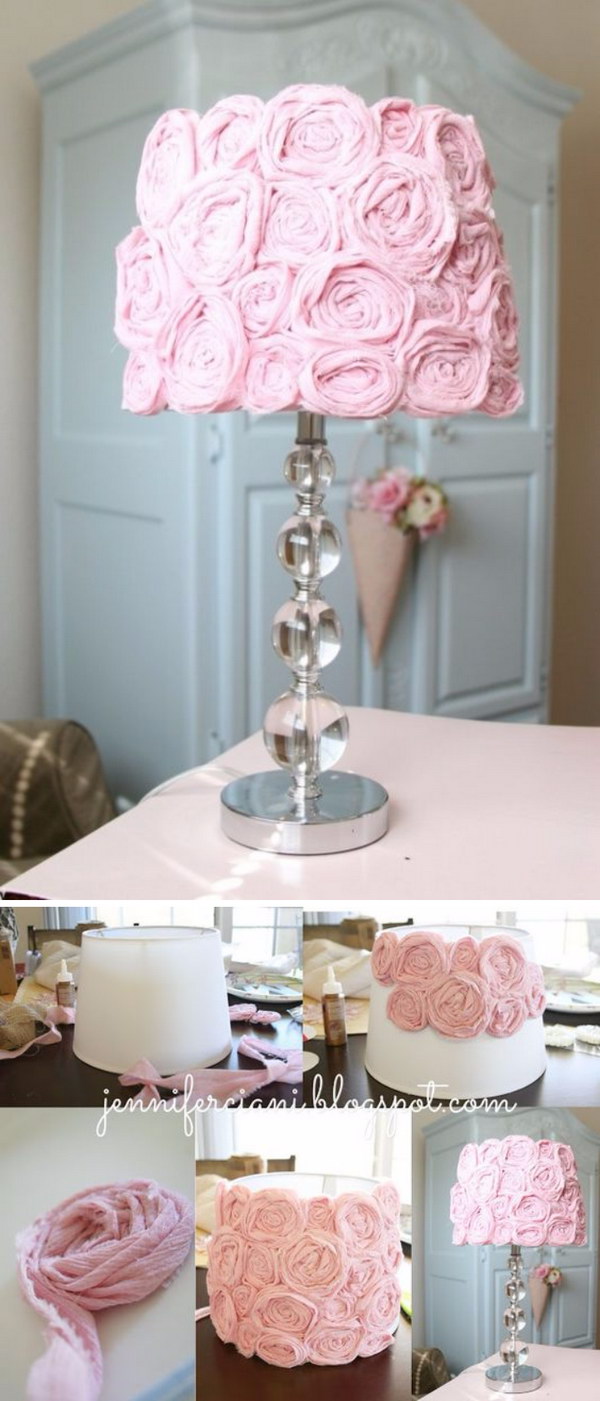 This beautifully detailed light pink rose lamp was not bought at any high-end decoration shop but rather a DIY project made from a simple white lamp and several big fabric roses. The result is simply elegant and feminine. via source
DIY Pink Ombre Painted Dresser
Pastel colors are always a top choice for a girl's room, and they can look amazing on furniture as well as the walls. The blue and baby pink look quite beautiful alongside each other in this dresser. via projectnursery
Crate shelf with fabric back and painted sides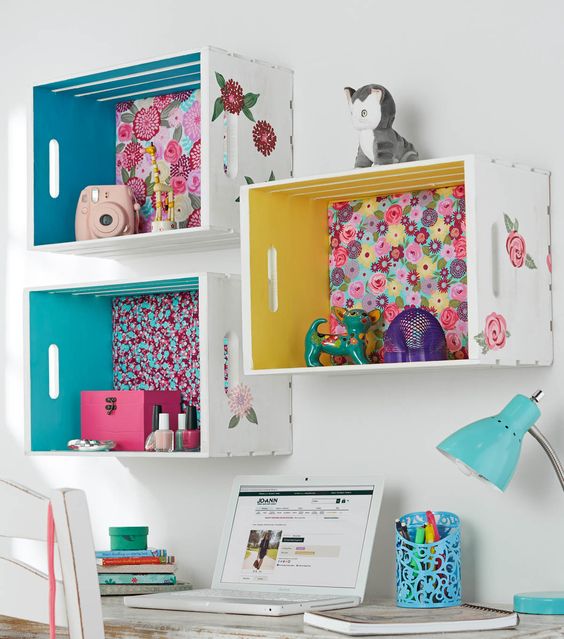 You can easily adapt crates for a storage area, but personalizing each crate with fabric and coordinating paint will make them a striking addition to the room. Cluster the crates on a wall to create a functional display area. via joann
Multi-colored picture frames & wall decor
Picture frames of all shapes, colors and textures is a great way to create a cheerful display of memories. You can keep this project frugal by purchasing frames at garage sales or local thrift stores and spray-painting each frame. via projectnursery
DIY Light Up Headboard

If you have a curtain rod, mini lights, command hooks, and sheer curtains, you are on your way to creating a DIY light up headboard. The soft glow of lights is the perfect addition to a girl's bedroom. What a fun idea that can also double as a nightlight! via Youtube
Yarn Wrapped Ombre Monogrammed Decorative Letters

Easily create a beautiful, yarn-wrapped Ombre monogram with a few simple materials. All it takes is yarn, a wooden letter, and some glue. Embellish the monogram with flowers, buttons, or bows to take the letter to the next level. If you have an hour to spare, you can put this monogram together to adorn your girl's room. via catchmyparty
DIY Gold Foil Letter Art
Another cute idea for creating a monogram, is to use painters tape to divide a letter in half. Then, add color to half of the letter and some gold foil to the other half. This project is so simple that you could have younger children help complete it. via purejoyhome
Shopping Bag Supply Holders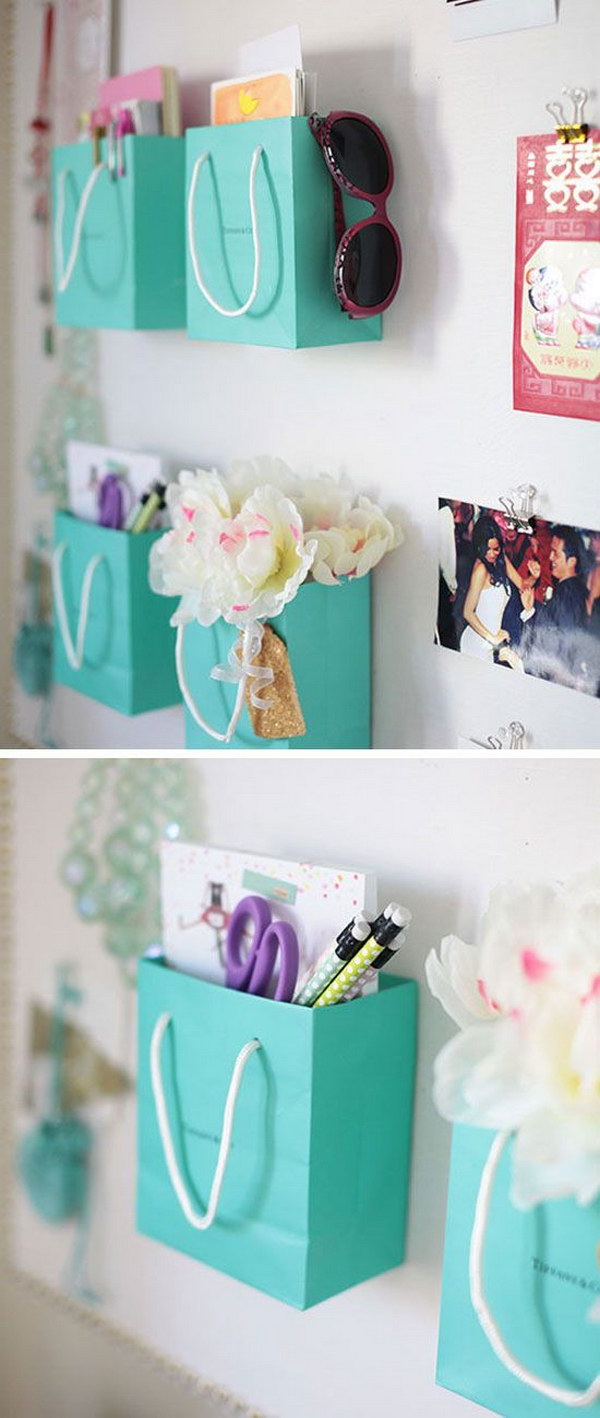 A cute shopping bag can be so much more than just a cute shopping bag. It has the potential to be a place for organizing items like notecards, pencils, jewelry, and more. Start saving bags that stand out or have an interesting pattern, and repurpose them for storage. via lezoemusings
Handmade Hammock Chair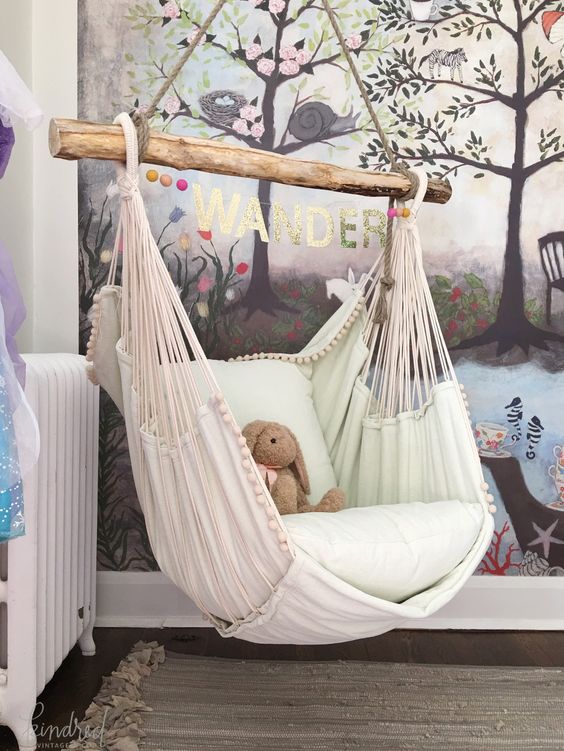 Create a whimsical reading space by hanging a hammock chair to the ceiling. What a great idea for someone who loves to read, or just sit and relax. A few throw pillows and a favorite stuffed animal will make the space even more inviting. via kindredvintageco
Stylish Curtain For Girl's Bedroom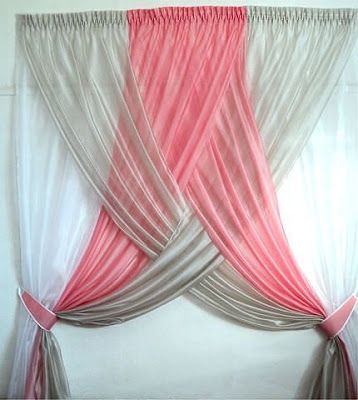 Weave some colorful floor-length curtains together to create an eye-catching window treatment. Use more than one color for visual interest and keep in mind that the feminine and wispy curtains will also diffuse bright sunlight. via source
DIY Beauty Station from an Ikea Rolling Cart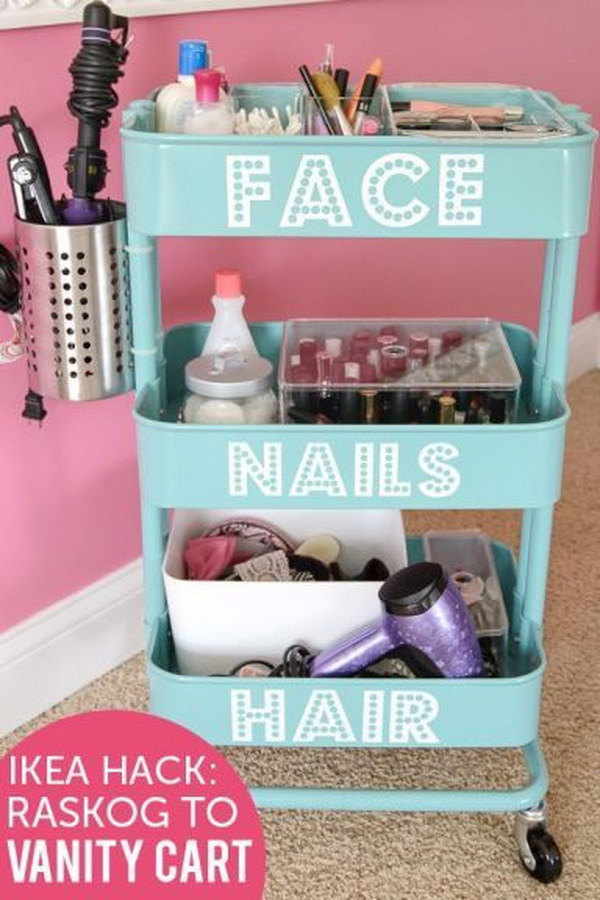 An IKEA rolling cart makes a useful DIY Beauty Station for the girl who enjoys doing hair and makeup. The cart is convenient because it can be rolled between the bedroom and bathroom. via polkadotchair
DIY Rope Throw Basket Made Out Of A Dollar Store Laundry

A simple laundry basket from the dollar store and about fifty feet of ? inch jute rope will make a beautiful storage area for blankets, toys, shoes or other trappings. You will also need a hot glue gun and paint if you want a color other than the natural hue of the jute. via lydioutloud
DIY Air Freshener Decoration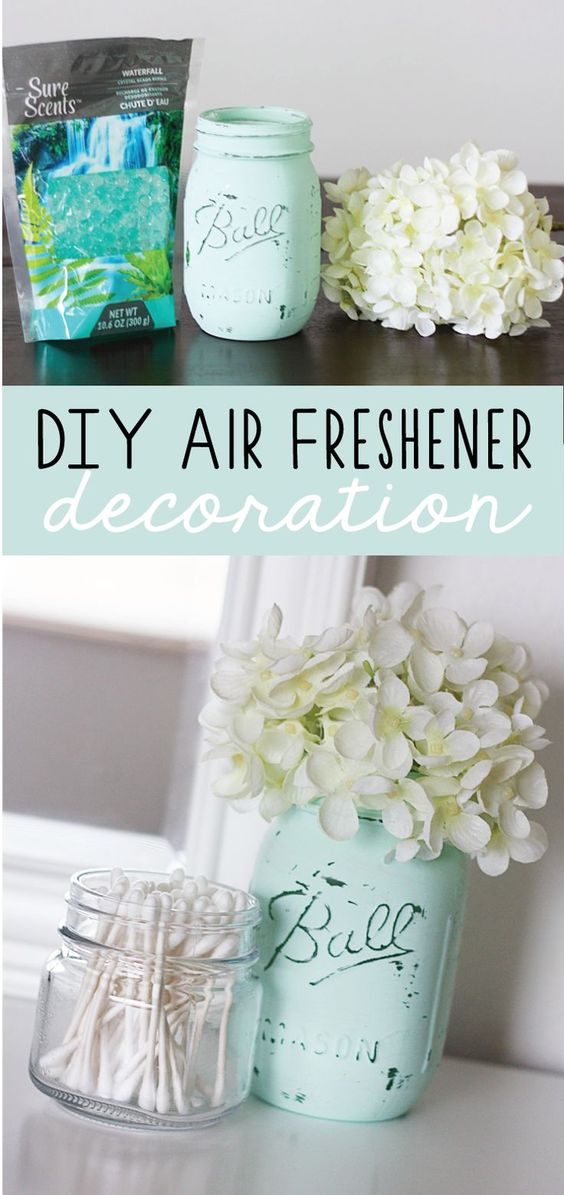 via eighteen25