20+ Creative Kitchen Organization and DIY Storage Ideas
You dream of a perfectly organized gorgeous kitchen with clean sparkling counter tops, the latest appliances, and more storage than you know what to do with. The reality is much different and even a little depressing. In real life kitchen counters are piled up with cellphones, car keys, kids' toys, and unread mail.
A cluttered kitchen can really suck the joy out of meal preparation and reduce efficiency. The good news is that easy and inexpensive organizing ideas for your kitchen can be right at your fingertips. Here are some creative ideas for organizing your kitchen and creating attractive storage.
DIY Inside Cabinet Plate Rack

Most of us simply stack our plates and dishes inside cabinets without much thought. But, the truth is, we're wasting a lot of space. Why not custom build a plate rack inside of those cabinets? Instructions can be found via remodelandolacasa
Fake Drawer Towel Bar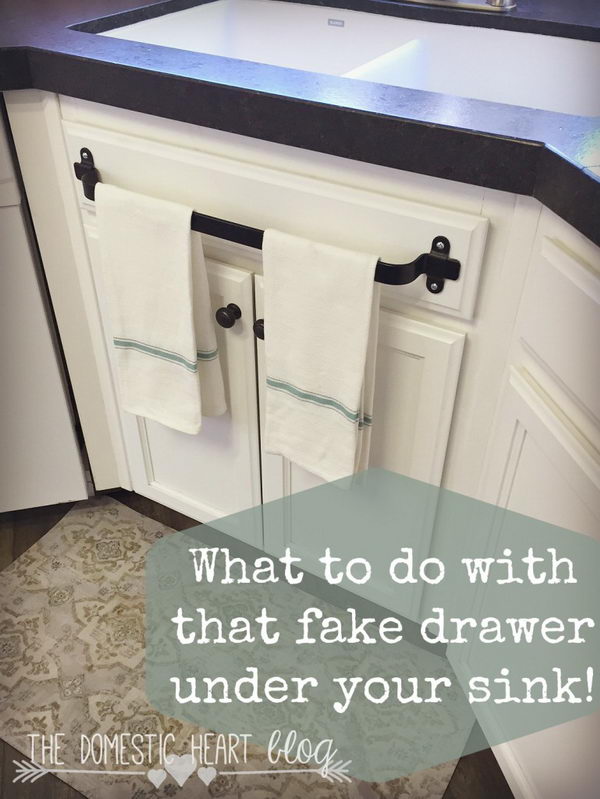 Ah, those fake drawers below the sink that don't serve any purpose. Well, that doesn't have to be the case. Just put that fake drawer to work as a towel bar. You can purchase the hardware at your nearest home improvement store and install it yourself. via thedomesticheart
Uncluttered Kitchen Counter Using the IKEA Fintorp Series

In case you're wondering what that is, the Fintorp system is a rail-based, stylish organizer that includes hooks, wire baskets, and metal buckets (sold separately). The rail comes in 2 lengths – 22.5 inches and 31 inches. If you want it to be longer, you can put two together. For now it comes in 2 colors, black and nickel-plated. via no29design
DIY Shelf for Extra Storage Under Kitchen Cabinet

Microwave taking up precious counter space? Think vertically. A shelf under the cabinet may be the answer. via joeandcheryl
DIY Kitchen Utensil Drawer Organizer

A drawer may have a lot of storage space, but without dividers everything ends up in a jumbled pile. Premade drawer dividers can be expensive and don't always work for your individual needs. Your best bet is to make them yourself. via kevinandamanda
DIY Charging Station Using Ikea's Fintorp System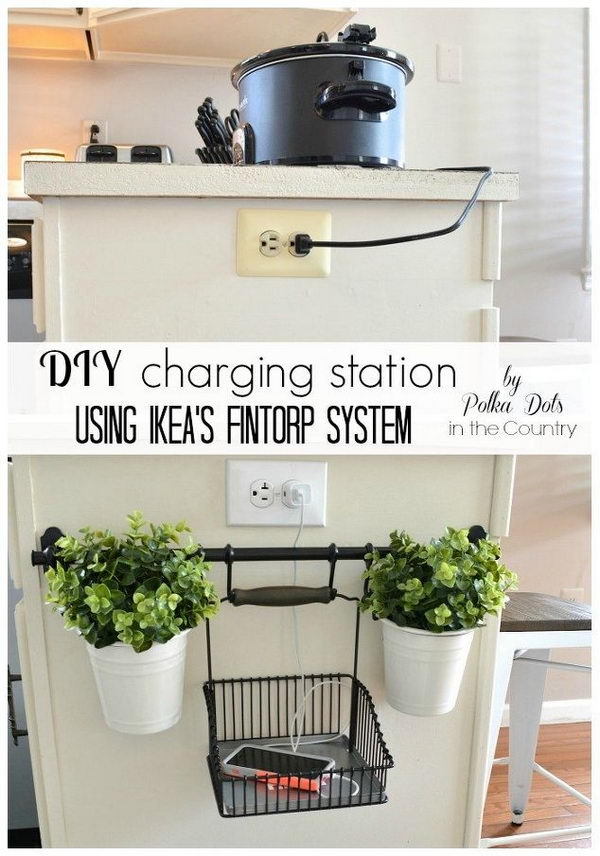 Here is another great use for the Fintorp system. If you don't like the look of cell phones charging on the kitchen counter, this is a more attractive alternative. Once you decide where you want it (near an outlet, of course), install the Fintorp rail and add the special hooks plus the wire caddy with handles. Now the cell phones and their chargers are out of sight and out of the way. via hometalk
Repurposed Enamel Mug Organizer

Wondering what to do with that set of pretty mugs you can't use? Here's an idea that you probably haven't thought of. Attached with screws and glue to a piece of reclaimed wood, these mugs become unexpected storage.
In this photo, one mug is attached upright and the rest sideways. The upright one is holding flowers, but you can also have a mini herb garden. Use the handles for hooks. via homeroad
Vintage Cheese Grater Organizer

Attached to a board and hanging from a chain, this antique cheese grater becomes a rustic storage space. Use it to hold cooking utensils or put a jar inside for flowers. The handle below is perfect for hanging towels. via homeroad
DIY Open Shelving Storage

Inspired by a country store, this simple approach to storage and organization is both easy and affordable. They also make the kitchen look more spacious and open. To keep the shelves looking neat, it's advisable to use same-size jars that look alike for storage. via ellaclaireinspired
DIY Coffee Mug Wall Rack

The Ikea Fintorp system makes yet another appearance, this time as a cute mug hanging wall. Instead of hiding them away in a cabinet, hang these mugs on display from the special hooks. A couple of the wire baskets add storage for things like K-cups. Did I mention how cute it is? via afarmhousereborn
DIY Slide-Out Pantry

Got a tiny kitchen and no place for your canned goods? Make use of narrow, but deep spaces (for example, between the fridge and the wall) and create a slide out pantry (see tutorial here). Sleek, narrow, and with several shelves, it is the perfect hide-away storage for canned goods, spices, etc. Castor wheels on the bottom make it slide in and out easily. via classyclutter
Functional Corner Shelves for Extra Space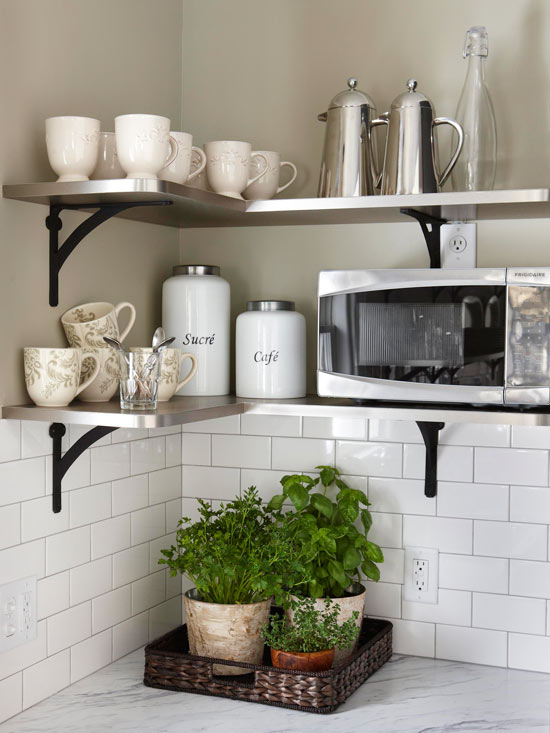 Don't forget about the corner spaces in your kitchen with corner shelves. That's dead space just screaming to be used. Try stainless steel for a more industrial look. via bhg
DIY Spice Rack Made From Old Coke Bottle Boxes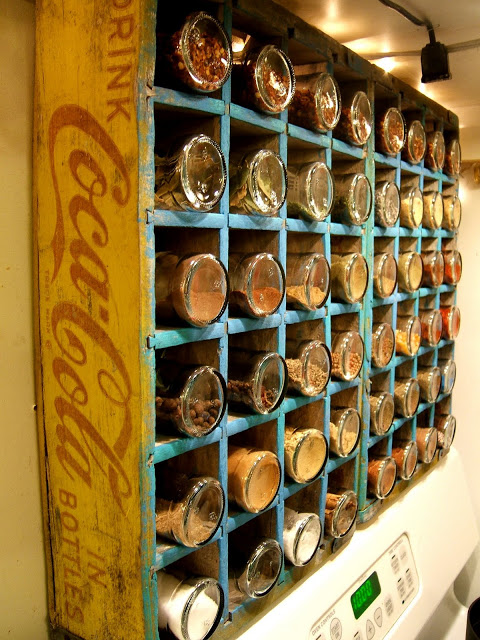 If you have an old Coke bottle box or two lying around, these can be made into a unique spice rack. Paint them for a more polished look or leave them as they are for a more natural, vintage look in your kitchen. via source
Metal Circular Rack That Holds All Of Your Coffee Cups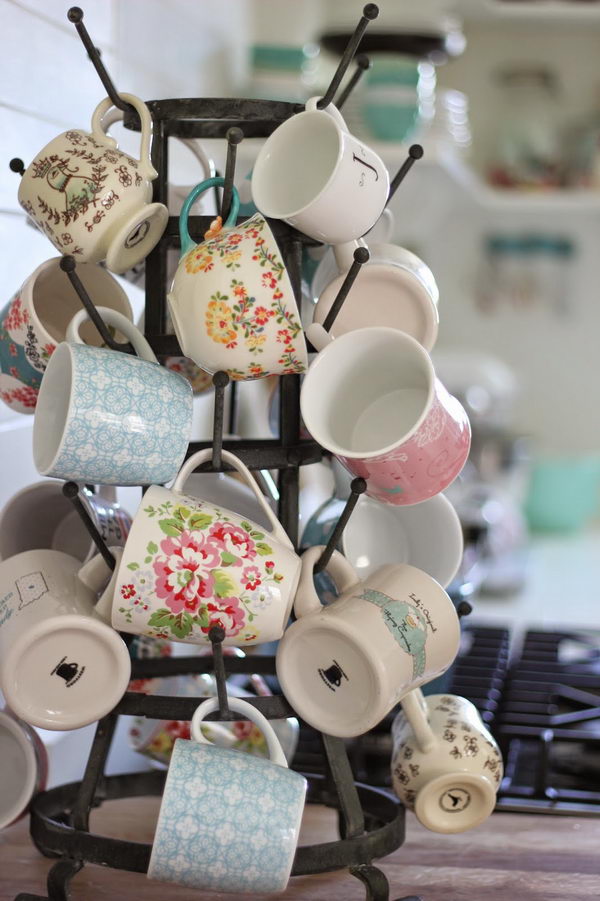 Originally intended as a glass drying rack, this handy little accessory also serves as a "mug tree." Place it next to your coffee maker and you have convenient, attractive storage for your mugs. via source
DIY Produce Stand

You want a way to store your beautiful fruits and vegetables. This wooden, multi-tiered produce stand takes up very little space. It both stores your produce and displays it, perhaps encouraging you or a family member to grab a piece of fruit for a healthy snack. See link for instructions to build one for yourself. via overthebigmoon
Cutlery Holder Made From Recycled Cans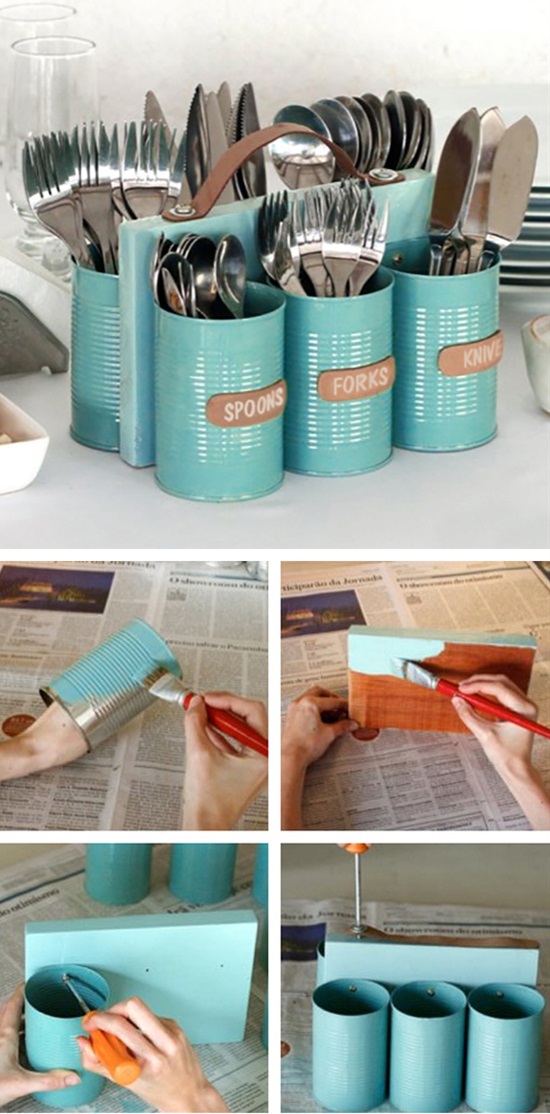 This DIY holder is great for a barbecue or picnic or just every day in the house. No searching around to find where the forks, spoons, or knives are. Making one of these holders is fun and also reduces the number of cans in the landfill. Just be sure to clean out the cans first. via madamecriativa
Hang Cleaning Products Under The Sink With a Tension Rod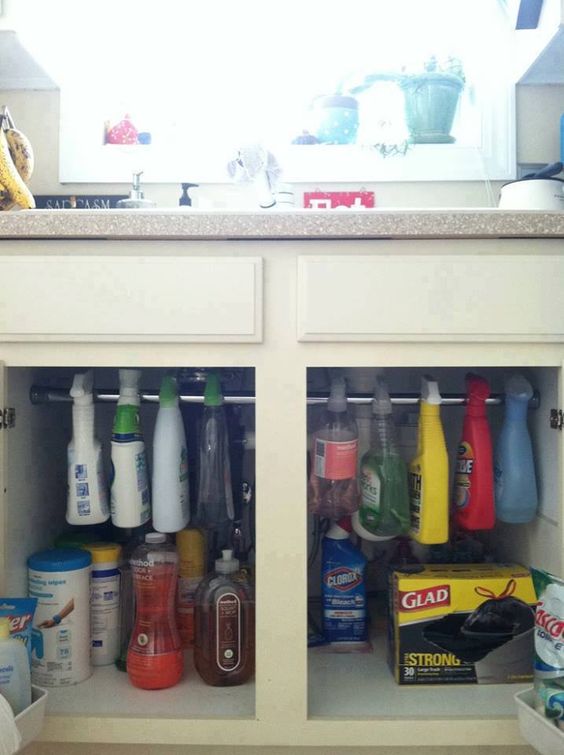 Who would have thought something meant to hold a shower curtain could be used to organize cleaning products? Because it's a tension rod it's one of the easiest (and cheapest) ways to organize household cleaning products and keep them visible. via littlebitfunky
DIY Magnetic Wall Display

Make use of vertical space to store knives if you don't have the drawer space. Magnetic knife racks are a very popular way to display and store kitchen knives. They come in all sorts of materials, styles, and colors. The one pictured here is made from reclaimed wood and ceramic magnets. via ehow
DIY Pantry Door Spice Rack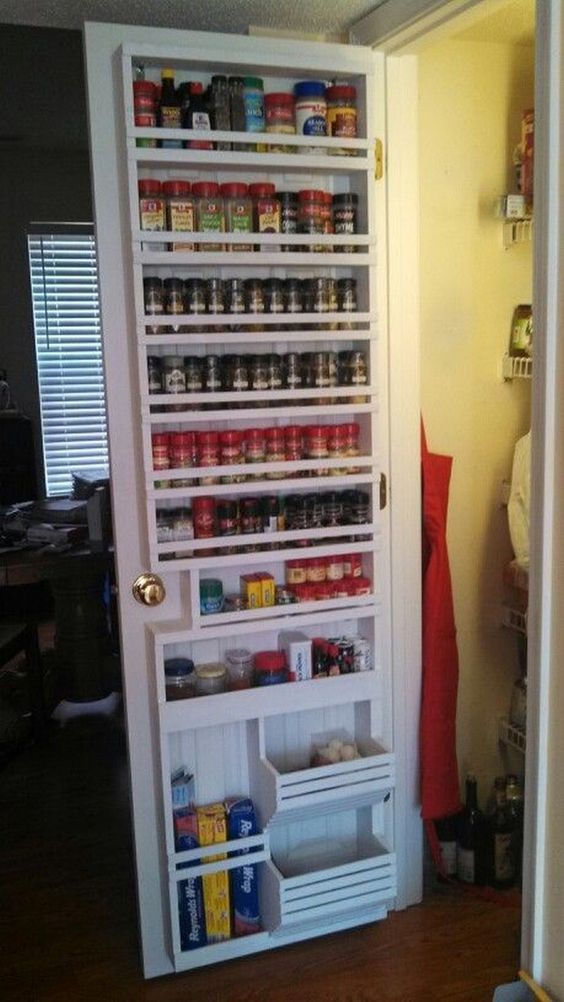 For anyone who cooks, searching for that spice in a dark cabinet can be frustrating. A DIY pantry door spice rack might be just the answer. via theownerbuildernetwork
DIY Floating Shelves for Kitchen Cabinet

Pull Out Hanging Utensil Drawer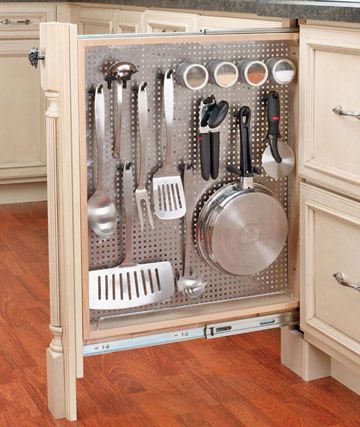 Think of a drawer that is turned on its side and you'll get what this utensil drawer is all about. Hanging utensils next to the stove keeps them within easy reach, but out of the way. via amazinginteriordesign
DIY Kitchen Pegboards

Another possibility for a tiny kitchen with little storage space is a wall-mounted pegboard system. It's affordable, versatile, and can be painted any color. A simple solution to storing pots and pans. via abeautifulmess
DIY Pull Out Kitchen Sink Storage Trays

Nobody likes looking under the sink for anything. It's a dark, messy place. Roll-out trays can change that. You can pull the trays out, bringing everything into the open (and the light, I might add). Plus it's all organized. via familyhandyman
Pan Organizer Rack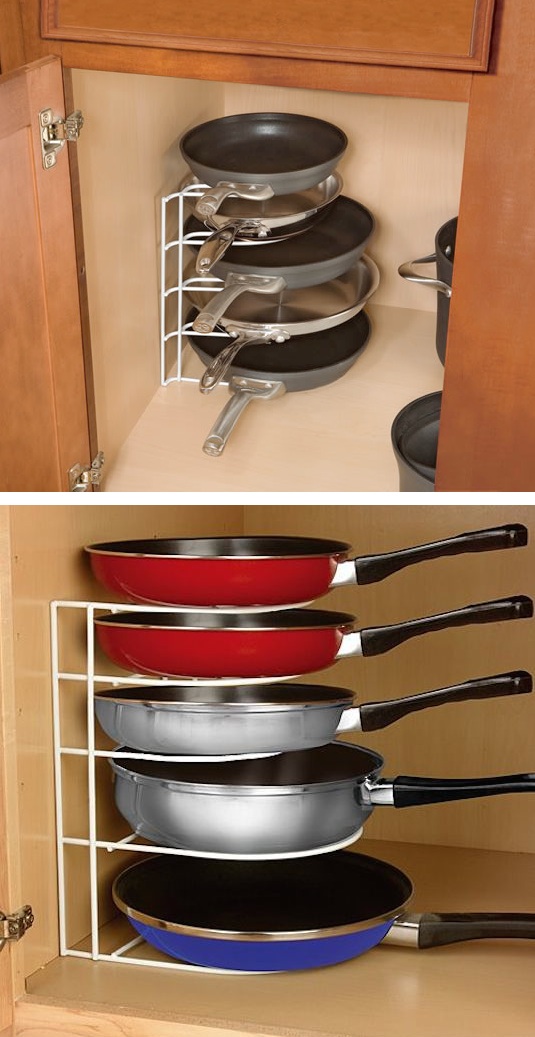 Instead of stacking pans inside one another and risk scratching that no-stick surface, try using a rack designed for storing pans. Rubbermaid not only makes affordable racks, but they can be found in most Target or Walmart stores. The best part is – no assembly required. via buzzfeed
Use Small Tension Rods to Hold Wire Baskets Under Sink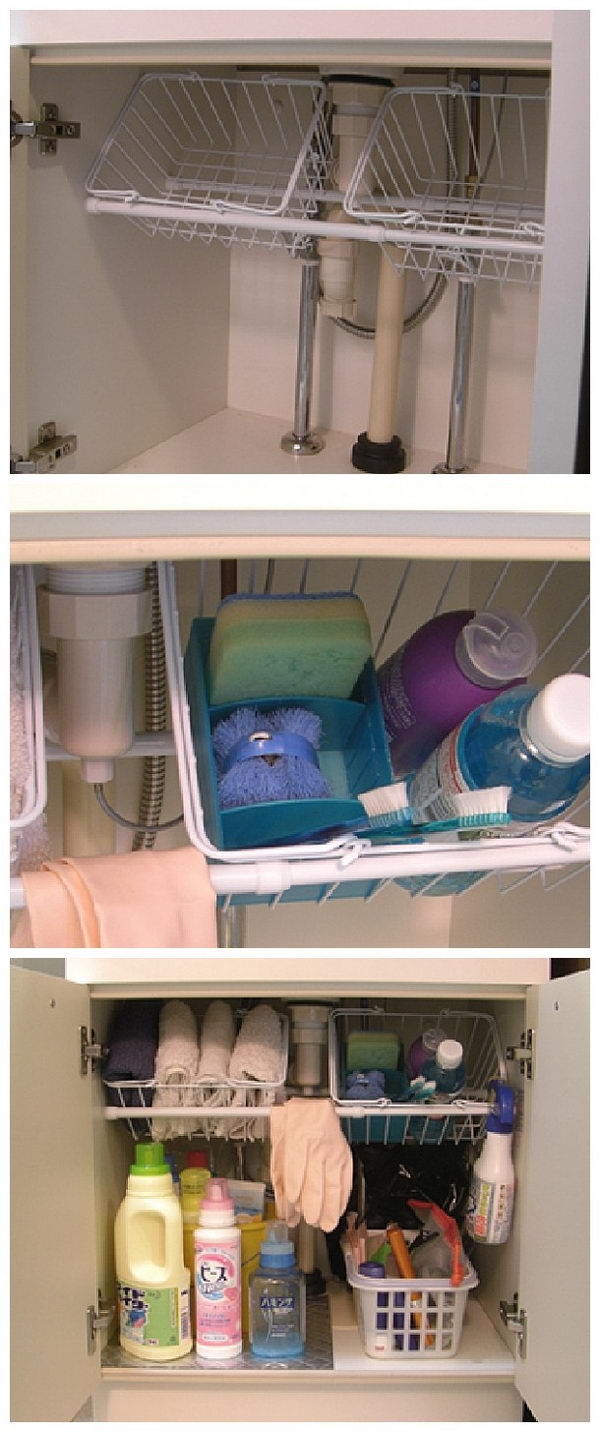 Similar to using the tension rod to hang cleaning supplies, this approach takes it a step further. Instead of just one rod, two are placed parallel to each other just wide enough to fit a wire basket between them. via source
Kitchen Cabinet Door Cutting Boards Holder Organizer

Almost all of us use cutting boards. The trick is finding a place to store them. Storing them flat doesn't usually work and storing them on their sides requires just the right height and width space. A possible solution is to purchase a wire organizer that holds foil or plastic wrap boxes and mount it to the inside of the cabinet door. via thatswhatchesaid
Easy Plastic Wrap Holder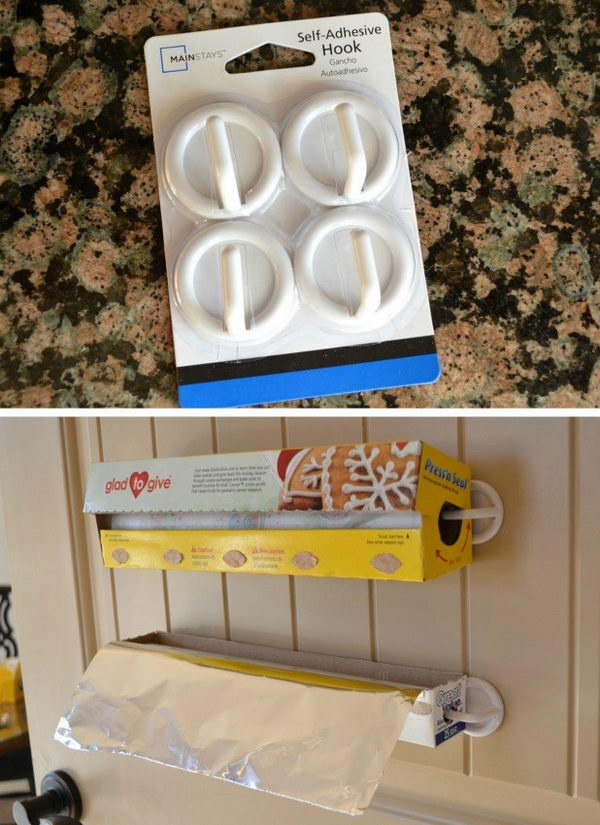 Instead of storing those boxes of plastic wrap (or foil) in a drawer, try purchasing self-adhesive hooks. Stick them to the wall just far enough apart for the boxes to fit and insert the hooks (most boxes have holes on the ends). via askannamoseley
DIY Spice Rack Attached to Kitchen Cabinets

Adhesive Hooks Pot Lid Organizer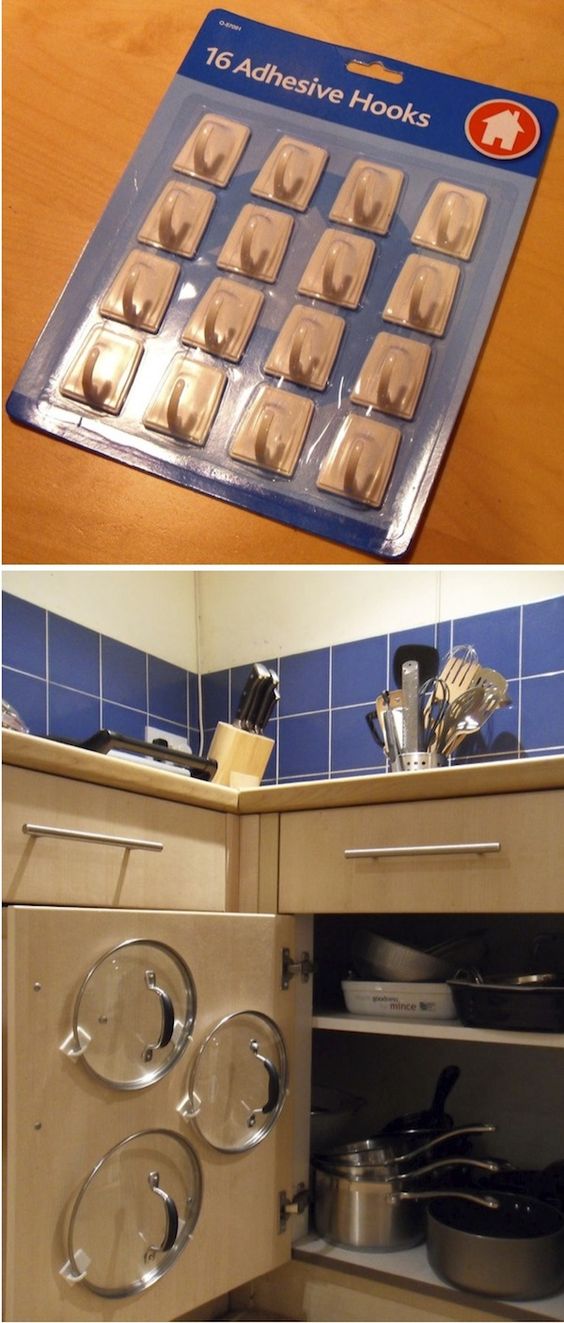 Spend more time cooking and less time search for the right pot lids. Adhesive hooks can be found at the dollar store (or something similar depending on where you live). via instructables
EASY DIY Rustic Utensil Rack

via grillo-designs