First Impressions Count – How to Increase Your Curb Appeal
If there's something everyone should be aware of is that other people always make their first impressions about someone else's house right at the door.
Logically, that means you should pay attention to every detail of your house's indoor and outdoor decoration, from the walls, to the front yard, from the steps to the curb.
If you've never given much thought into these areas though, it might seem quite daunting and overwhelming to come up with feasible makeover ideas.
That is alright though, because we have done all the work for you, so you don't need to scramble for ideas to make your front door and curb Instagrammable. We can safely say this article does cover almost any kind of space as well as seemingly every decorative style under the sun.
Check out these Creative Curb Appeal Ideas for a Wow-Worthy First Impression.
Stencil Your Concrete Front Floor to Create a Cement Tile Look

Do you happen to have a boring concrete floor in your front yard? Then this incredibly simple and affordable project is just right for you. All you need is paint and a stencil, which you can use to create an elegant faux tile aesthetic which is sure to impress guests and passersby. via cuttingedgestencils
Add a Punch of Color to a Porch with DIY Screen Door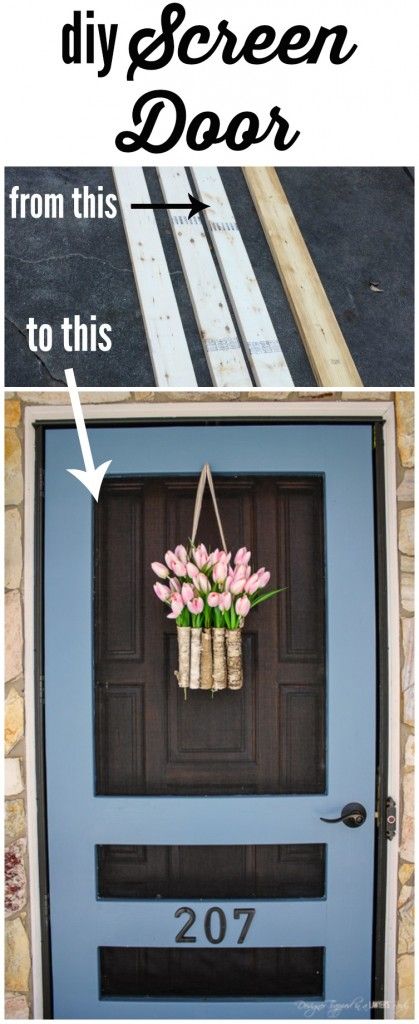 Screen doors can serve many purposes, from being simply decorative to adding a second layer of security. This one is meant to add some color and vibrancy to this house's entrance, as its bright color provides great contrast against the dark door and the light neutral wall. via designertrapped
Make an Easy DIY Address Post on A Budget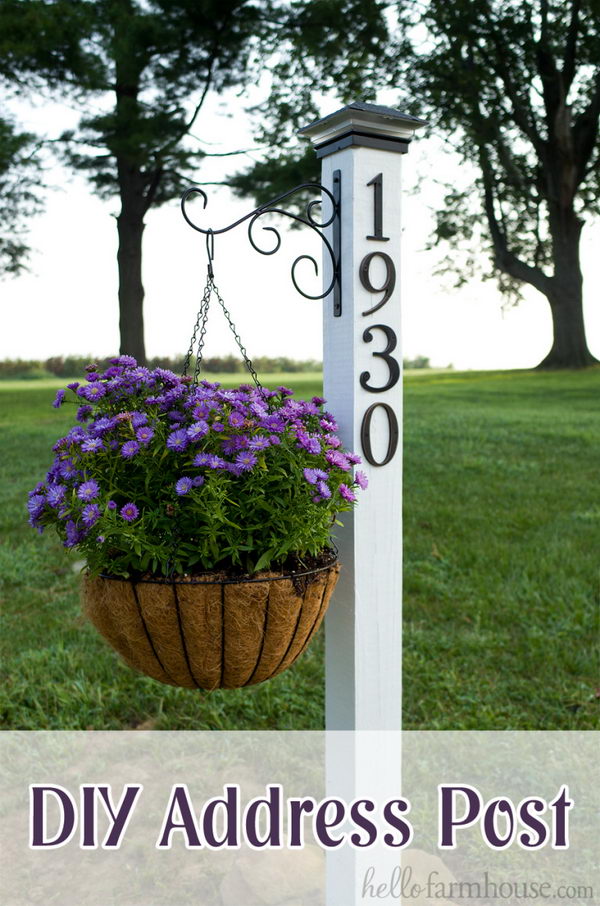 Making a decorative address or door number post is just as easy as it looks. You need to get a post – obviously – and either it comes with a decorative top or you can attach or even sculpt one yourself. After painting the whole piece and stenciling your door number, you can add a hook like you see here and hang a flower pot from it for some added charm. via hellofarmhouse
Add Edging to Flower Beds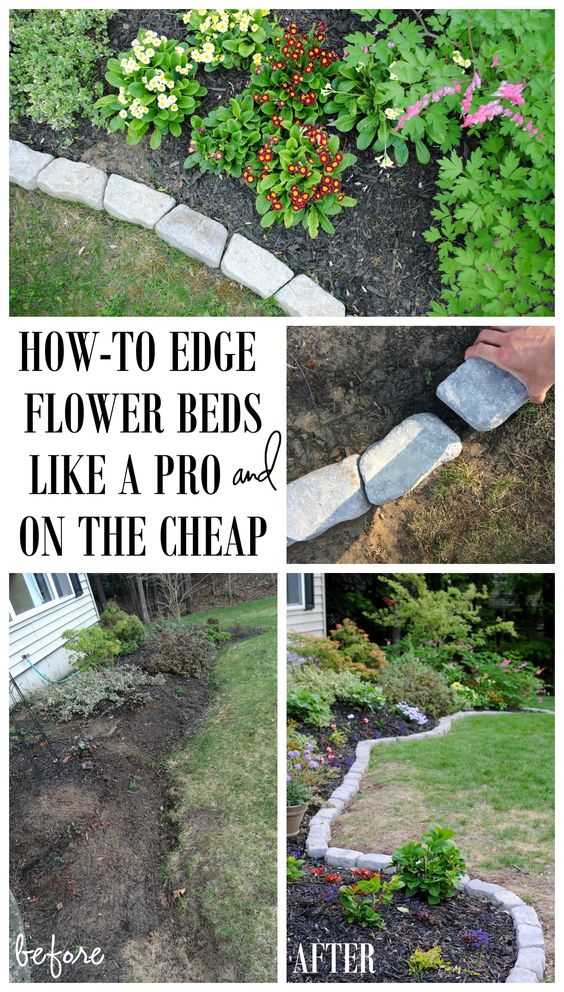 Edging always makes plots look much neater, and it's certainly not hard to install. All you need are some appropriate pavers or slabs which you can easily install along your plots as decorative markers. via jennaburger
Accessorize a Giant Eye-Sore with DIY Rustic Box Cover

The utilities that hang on the wall beside this rustic staircase were definitely an eye sore. The solution? Add a matching rustic box cover with your door number and a little charming sign above it as camouflage. via designertrapped
Make Your Porch More Inviting with Built-in Plant Hangers

This porch is really beautiful, but it looked a little empty and cold without any decoration. The addition of some plant hangers and a deck chair brought some life into it. via thepaintedchandelierblog
Add to Finishing Touches to Your Deck with DIY Lattice Porch Skirt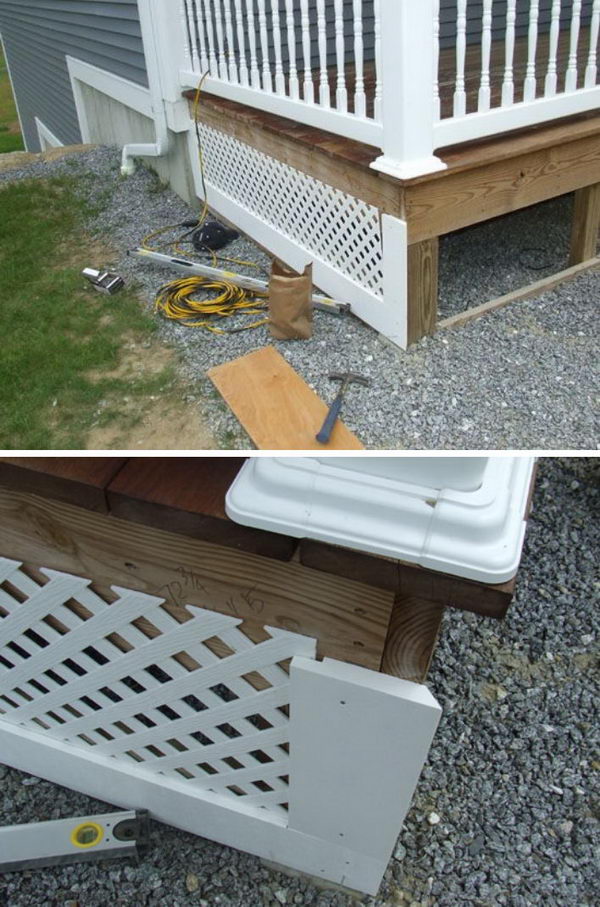 The underside of this deck definitely looked empty and lacking, so adding a lattice skirt provided the finishing touch it needed to look like a complete project. via homeconstructionimprovement
Inspire Your Outdoor with a Simple Chevron Privacy Wall

It is true that privacy walls aren't always absolutely necessary, but they can definitely look good and add some interesting detail to your outdoor space. This chevron design is actually fairly easy to achieve, as all there is to do is install even sized slabs of wood diagonally in one direction and then the opposite way to create the chevron pattern in each section of the wall. via diypassion
Add Character to Your Porch with a Simple Hello Welcome Sign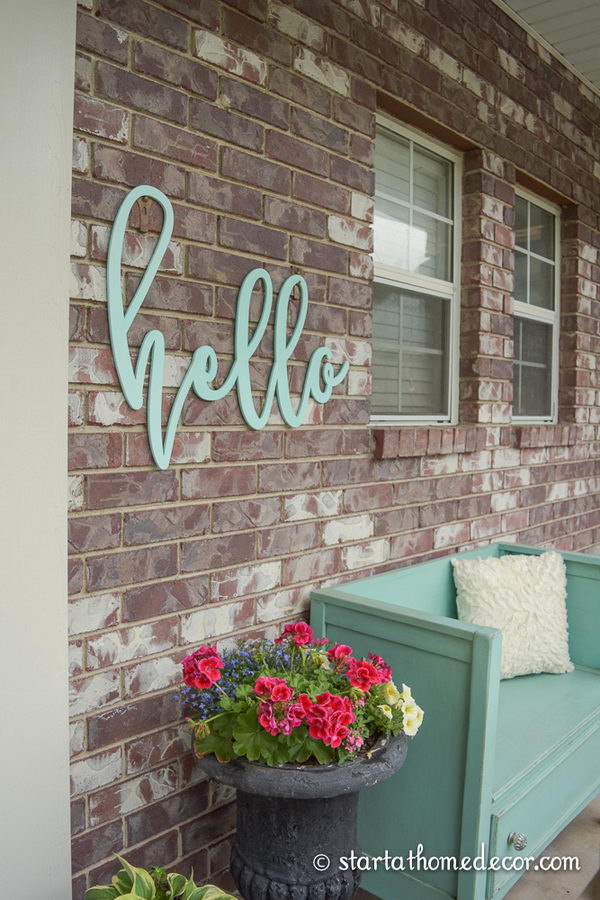 Welcome signs add life and character to your front door, and they actually do make your house feel more welcoming. You can easily find these at the store nowadays, but you can also stencil your own. It is an affordable project that takes little time to complete and makes all the difference. via startathomedecor
Enhance the Exterior Using DIY Window Box Planter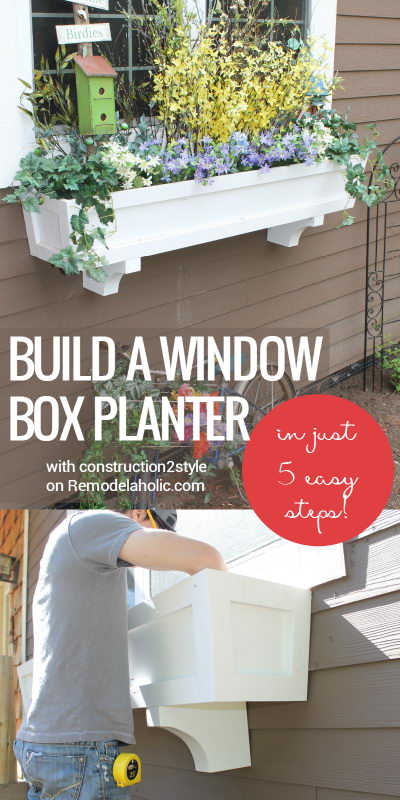 This is one of those easy projects that enhance both the outside and the inside of the house, as you can admire the plants from your window and they also add color to the outdoor space. You can easily buy box planters like these and install them on your windowsills, but you can also make them from repurposed materials you have lying around. It will look gorgeous either way. via remodelaholic
Keep Cool Using Window Pergolas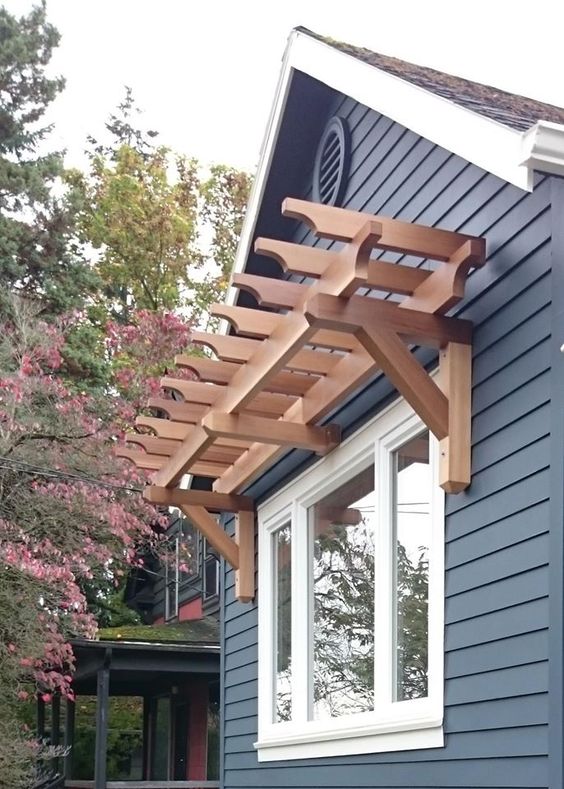 Here's how you can keep your windows cool and sheltered: build a window pergola. This one is really beautiful in its rustic style, and it really complements the decoration of the surrounding area. via arbororiginal
Create A Walkway That Will Instantly Beautify Your Front Door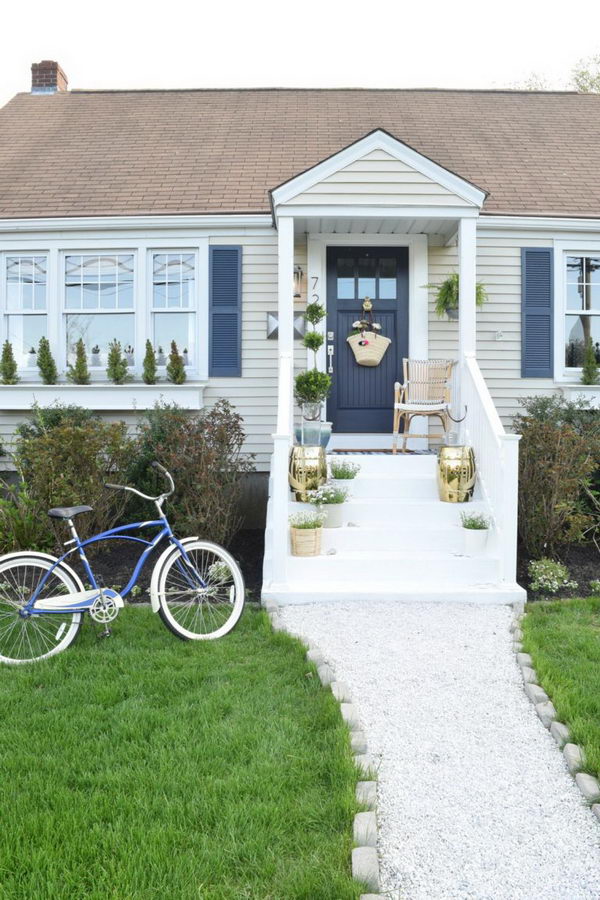 There's something special about walkways that always seems to add a special charm to the door they lead to. This one is really simple, but the light gravel truly complements the staircase and door, making it all look almost seamless. via nestingwithgrace
Make Cute Criss Cross Planters for Your Porch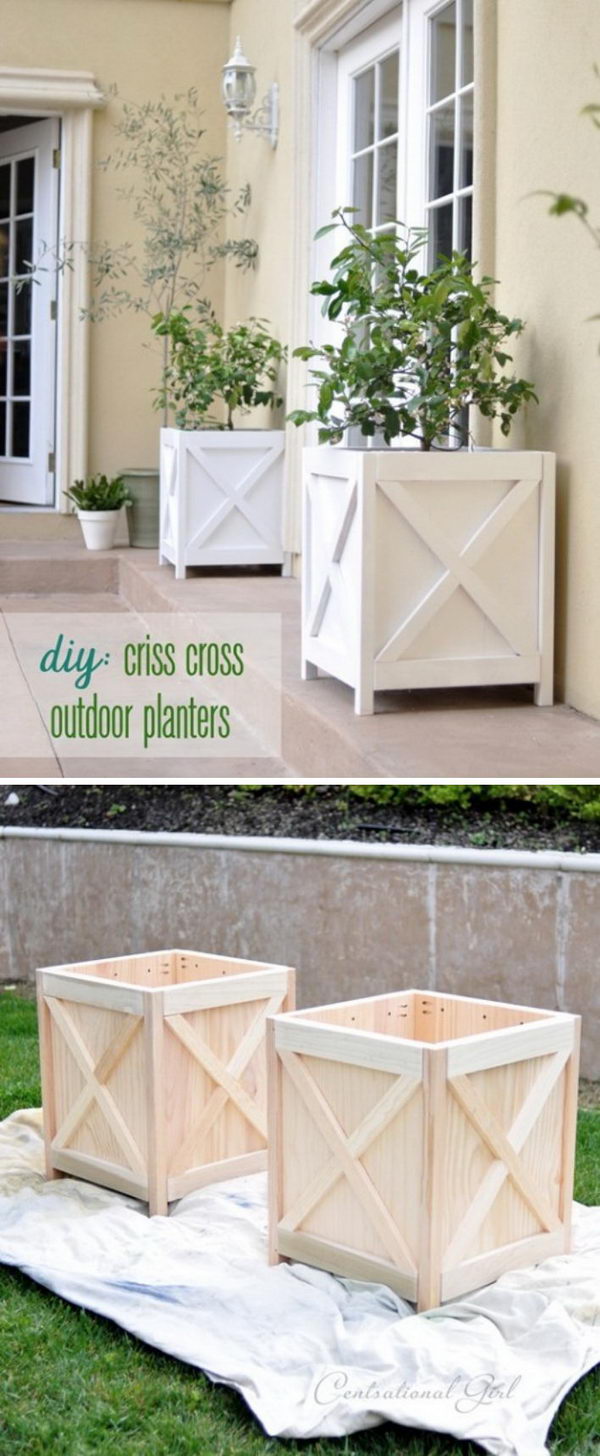 These large doorway planters are incredibly charming and easy to make. They are adapted from large wooden crates which were used to house some beautiful plants in a unique way. via centsationalgirl
Keep Your Garden Hose Neat with a Simple Hose Holder

Keeping your hose neatly organized will always enhance the look of your garden, but doing so with a beautiful, elegant and vintage-looking holder like this one will take the simple organizational detail to the next level. via shanty-2-chic
Hide the Downspout with a Trellis

Downspouts are always simply unseemly, so you can definitely take advantage of a trellis to hide it while also growing some beautiful plants that will totally turn the aesthetic of the space around. via gardeningforlife
Decorate Your Front Porch or Patio with This Doormat Quote DIY

This is another easy, quick and affordable DIY that proves details make all the difference. You can make your house feel instantly more welcoming by personalizing your doormat with a stencil. A quote always works really well, but you can also do pictures or patterns if it strikes your fancy. via settlinginsawdust
Rebuild Your Porch Columns with Wood and Stone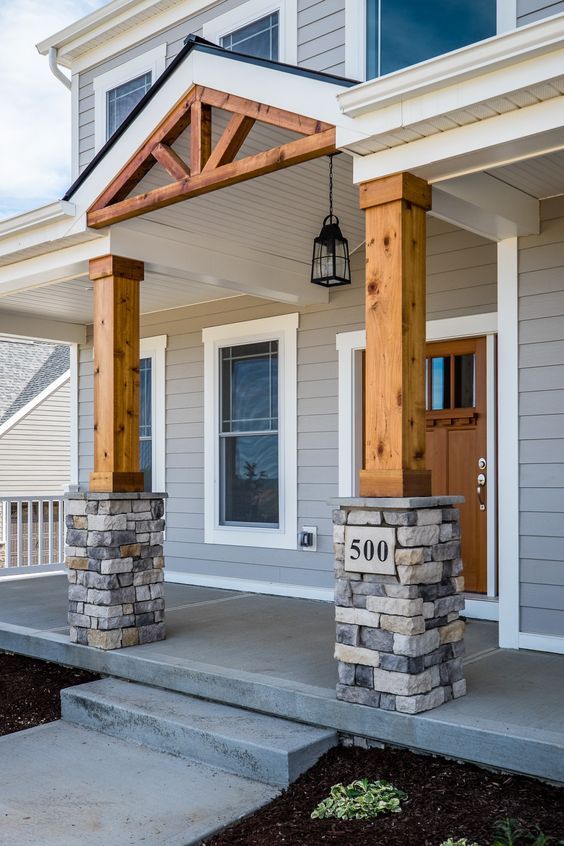 Here's a great project to try if you want to build or rebuild some porch columns. The mix of textures adds visual interest to this project, but also allows you save some money while being able to afford the security and durability of a stone base, which looks beautiful against the wood columns themselves.
Wrap the Deck Posts with Barn Wood Tiles to Get a Different Look

via suburban-bees
Pretty Up the House with Shutters and Window Boxes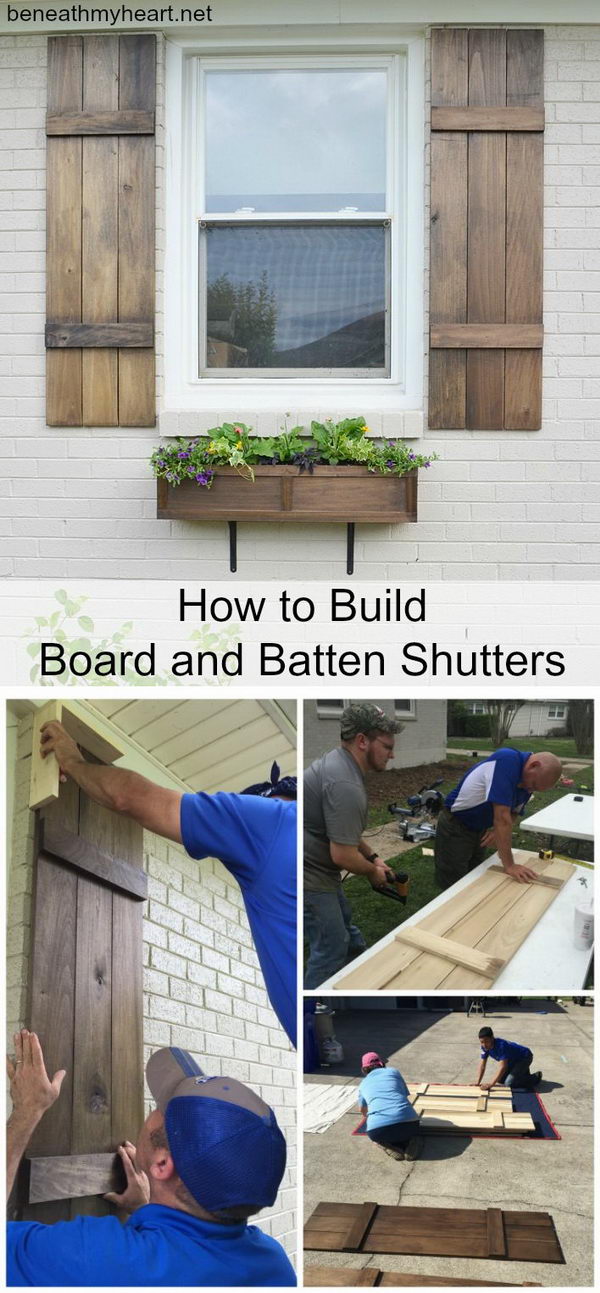 Here's how to enhance a simple window in an easy and functional way. Build some shutters and then add a matching wooden planter on the sill to further beautify the outside. via beneathmyheart
Lay a Front Entry Brick Walkway

It isn't exactly a yellow brick road, but this walkway is just as charming. You can use reclaimed bricks to save some money and create the distressed look you see here. The pattern doesn't need to be chevron like in this example, but you can't deny it looks cool. via wildinkpress
Build a Cool Outdoor Bench

You don't need to spend a lot of money creating an outdoor sitting area, especially if you're envisioning a modern piece like this wooden bench. All you need is some textured wood, woodworking tools and a certain degree of skill. Doing it yourself will give you a sense of accomplishment, save a good amount of money and obviously allow you to have a beautiful modern bench to sit on in the end, if all goes well. via diycandy
Spruce up Your Front Yard with Flower Bed around Tree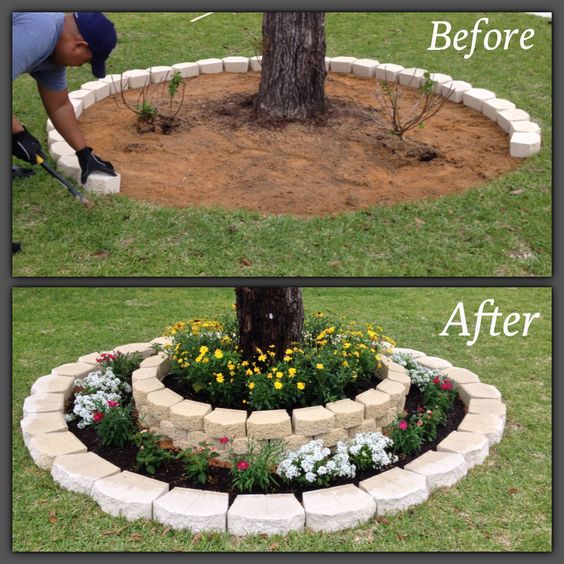 Buid A Flower Bed along the Sides of the House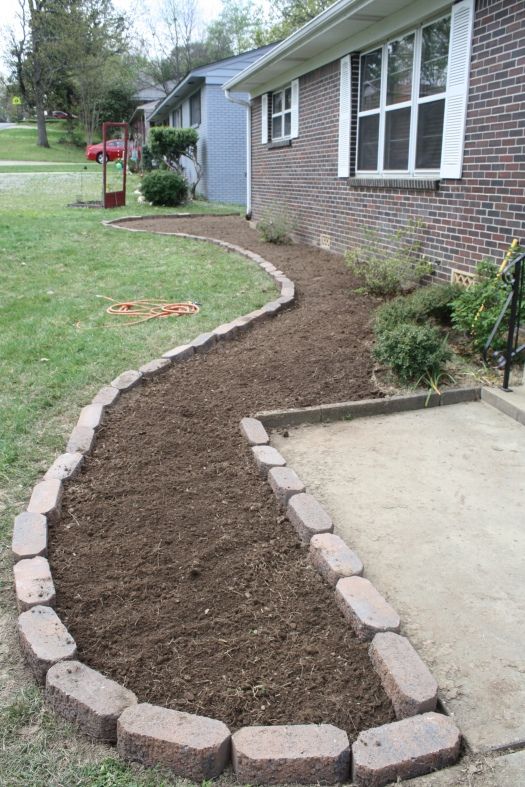 via rosemaryonthetv
Transform Your House with a Little Paint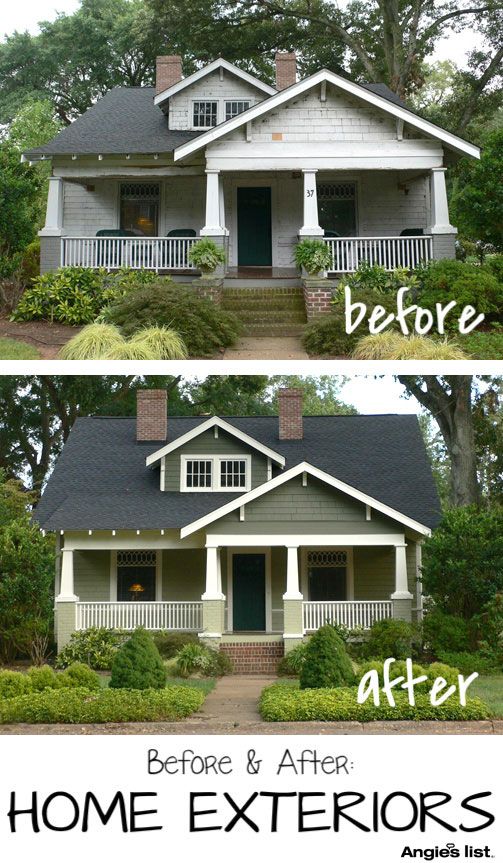 via angieslist
Add Character to the Garage with Arbor Painted to Match House Trim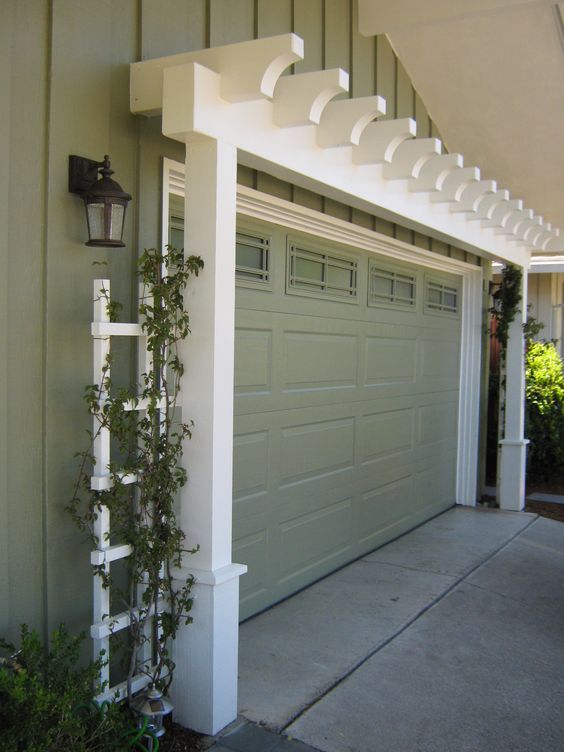 via sterleyconstruction
Install a Slate Tile Entryway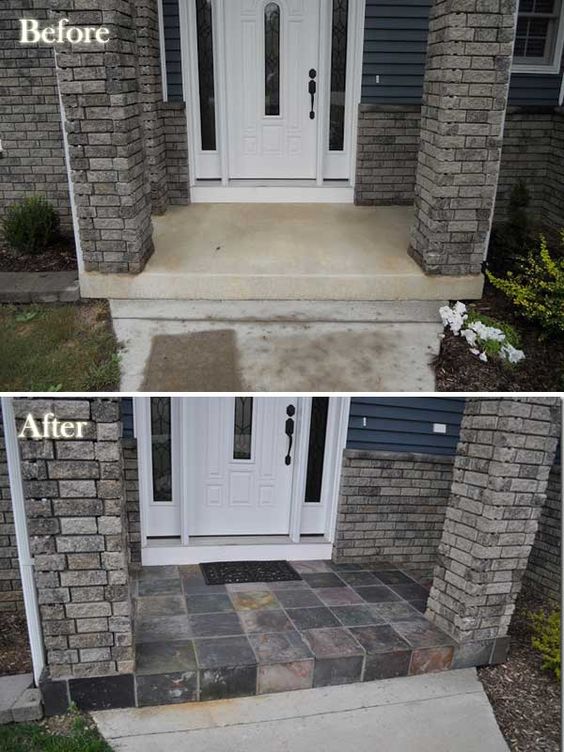 via decorandthedog
Flank a Window with Decorative Outdoor Shutters

via shadesofblueinteriors
Paint Exterior Brick on the House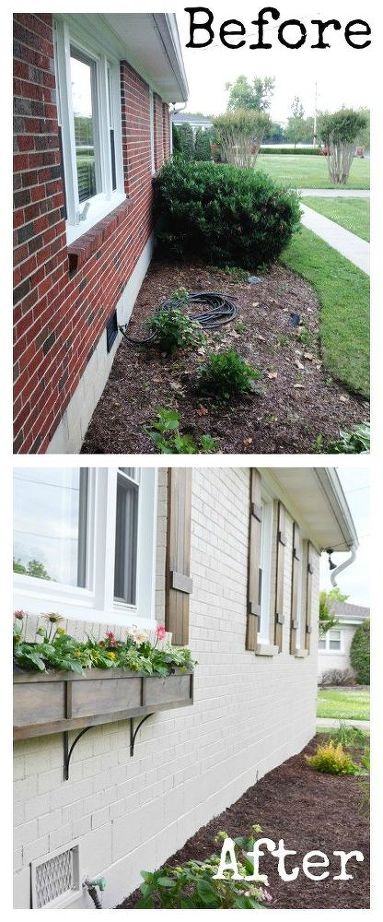 via hometalk
Install Salvaged Beadboard on the Porch Ceiling
via cedarhillfarmhouse
Reface Concrete Front Steps with Stone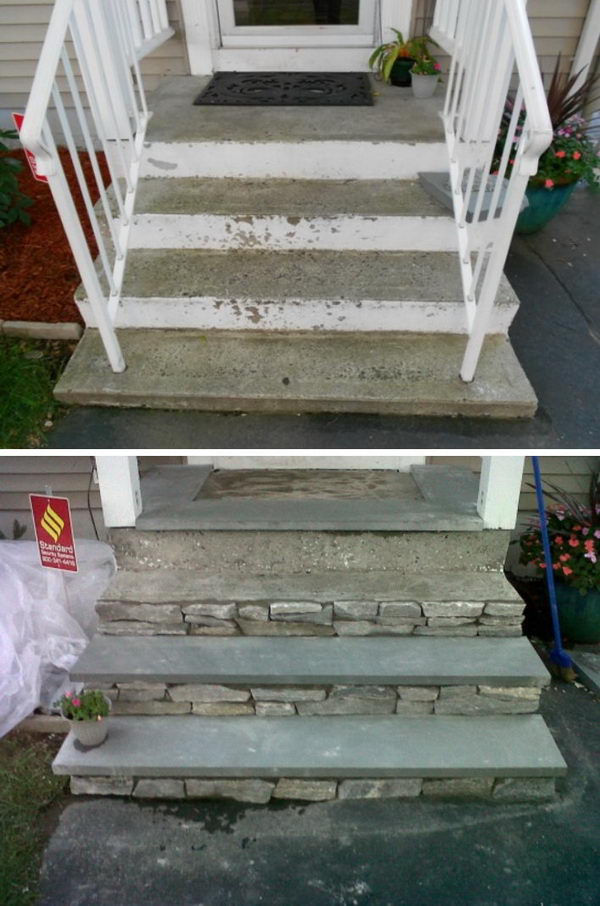 via diychatroom
Dress up a Standard Entry by Lining Pavers along the Walkway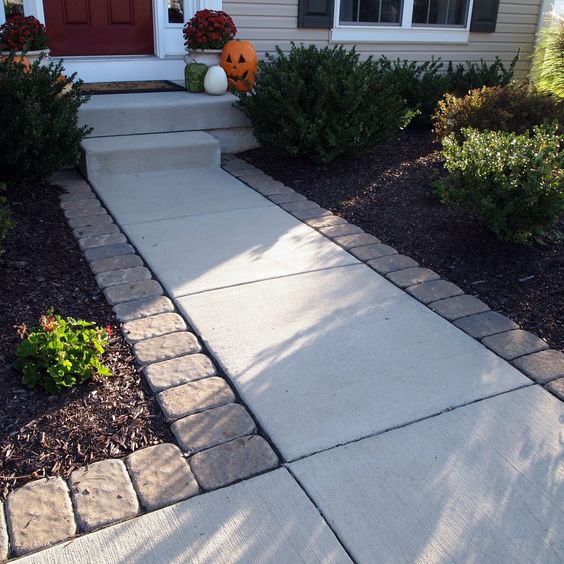 via source
Give a Great First Impression with This DIY Brick Mailbox

via beneathmyheart
Spruce Up the Flat Colonial with a DIY Portico

Camouflage Those Meters and Electrical Boxes with Paint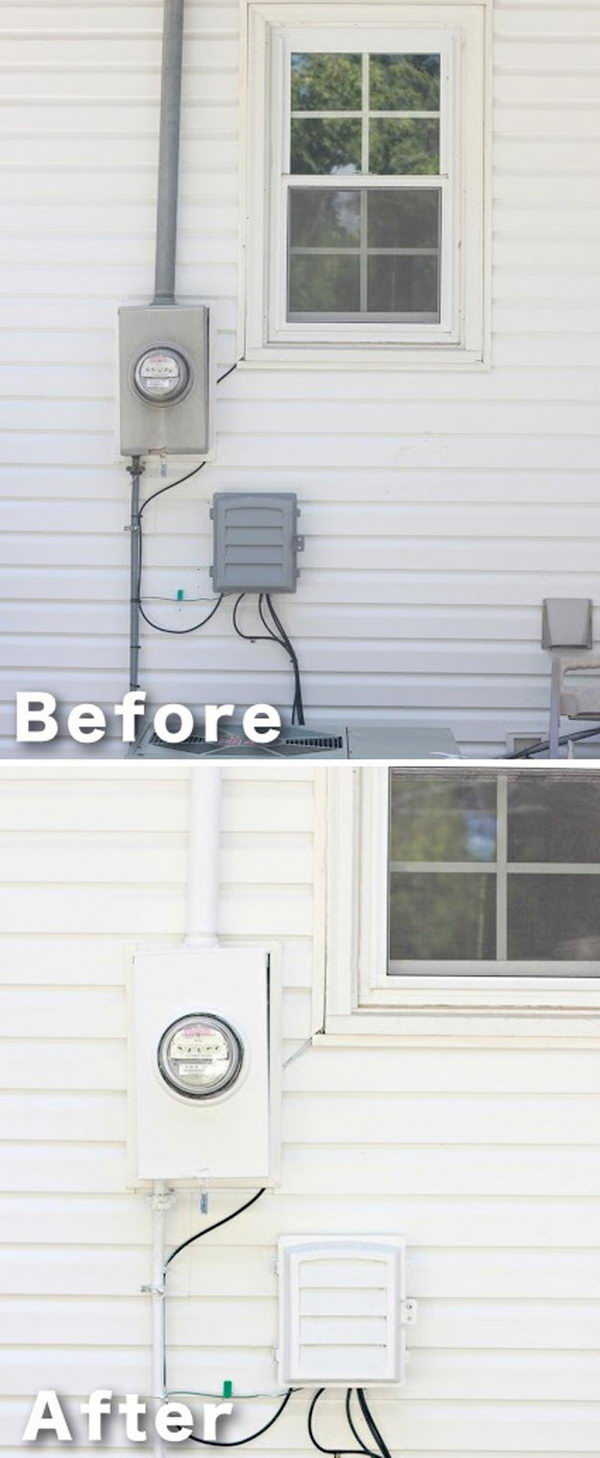 Build a Covered Patio

via brittanystager
Install a Statement Trellis

via abeautifulmess
Add a Touch of Luxury and Create Some Privacy with Hanging Outdoor Drapes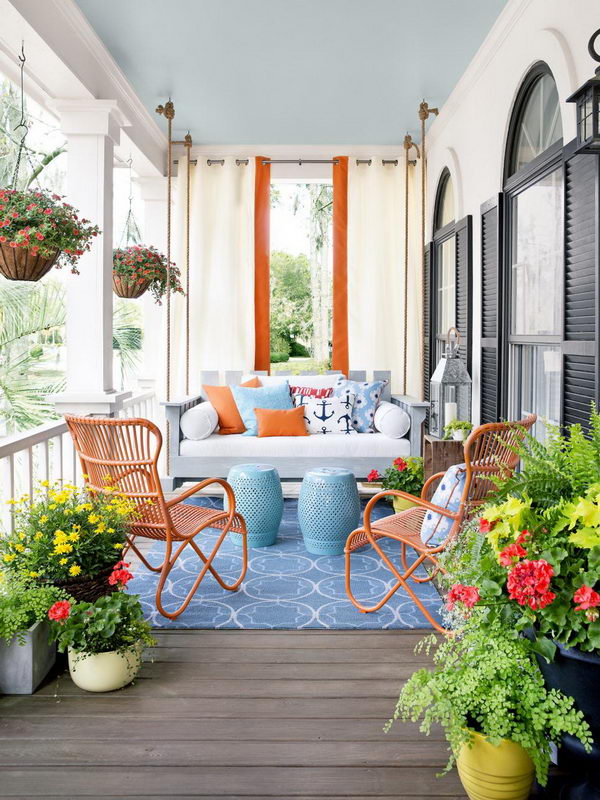 via hgtv
Create a Beautful Stone Paver Patio in front of Your Porch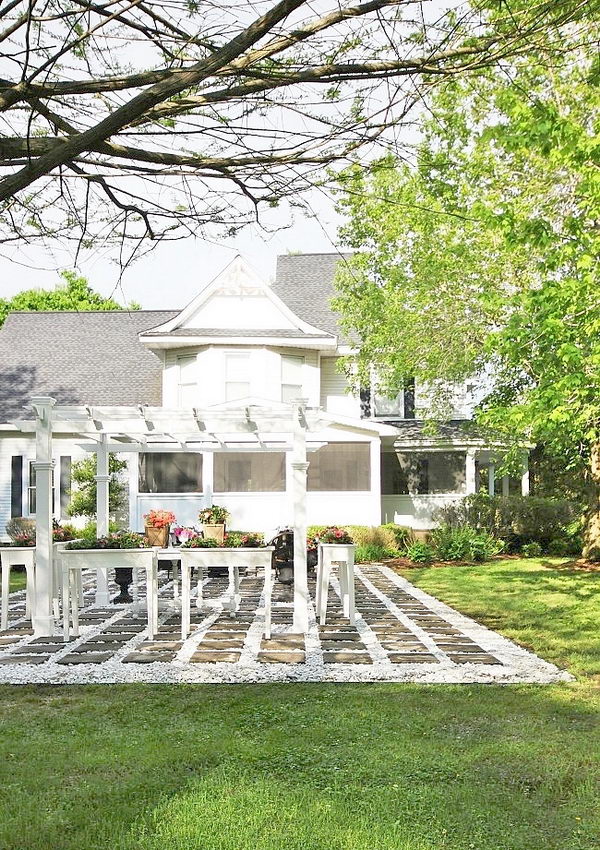 via thistlewoodfarms
Add a Fun Pop of Color to Your Front Door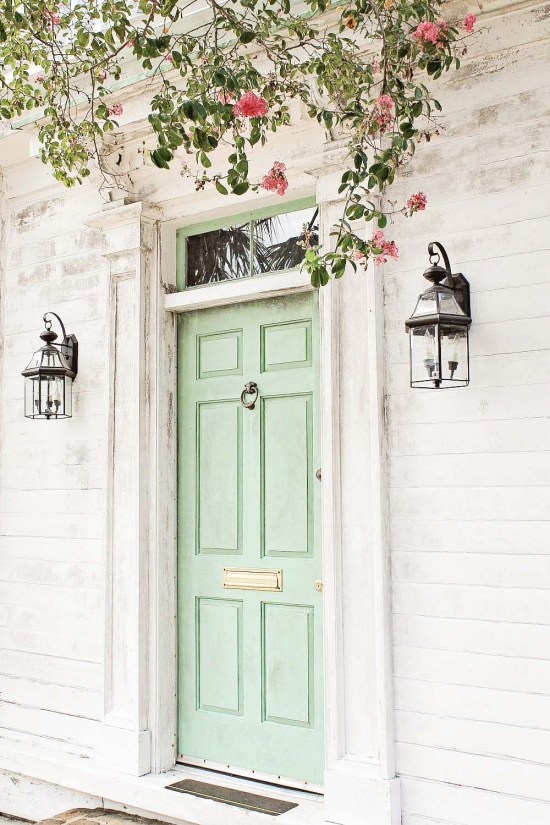 Decorate Your Outdoor with Gorgeous Outdoor Lighting

via julieblanner
Create an Inviting Front Porch with Hanging Baskets and Flower Boxes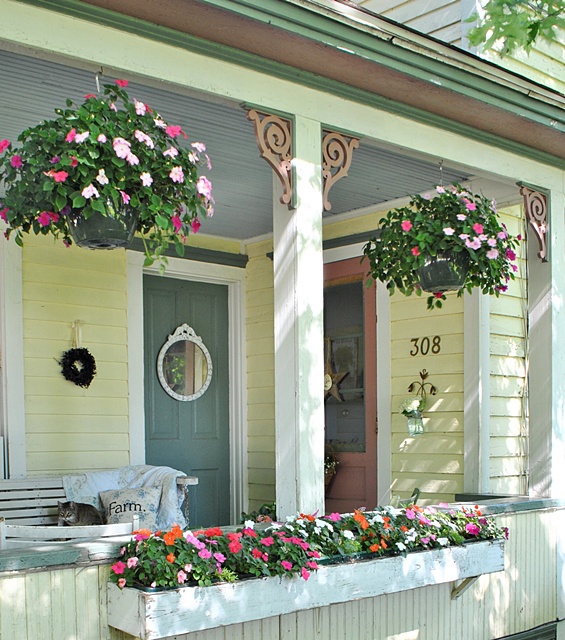 Cover a Concrete Foundation Wall with Stone Veneer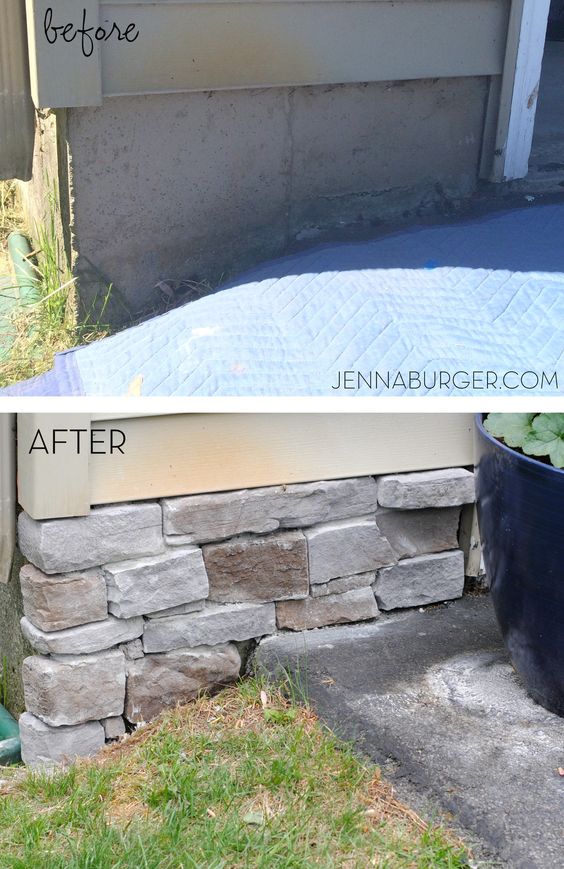 via jennaburger
Stain Your Wood Deck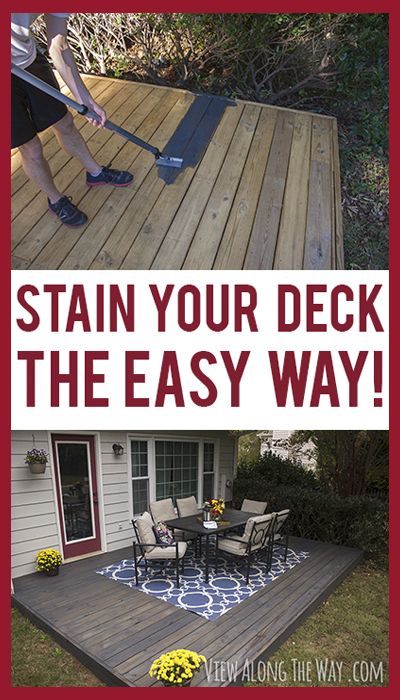 via viewalongtheway
Add Interest by Painting Your Deck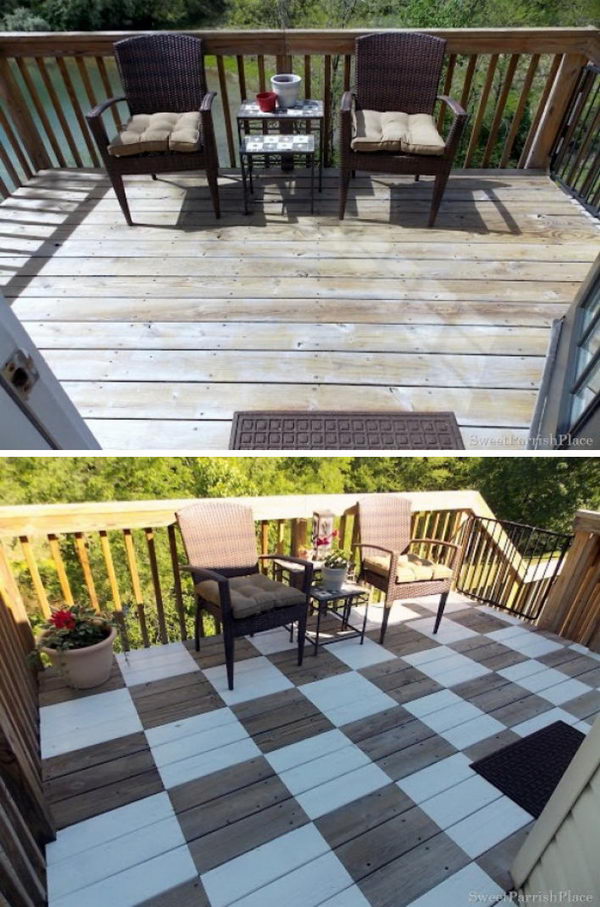 Liven Up the Front Door with This DIY Flower Tower

via simplydesigning
Create a Cozy Porch Area with Swings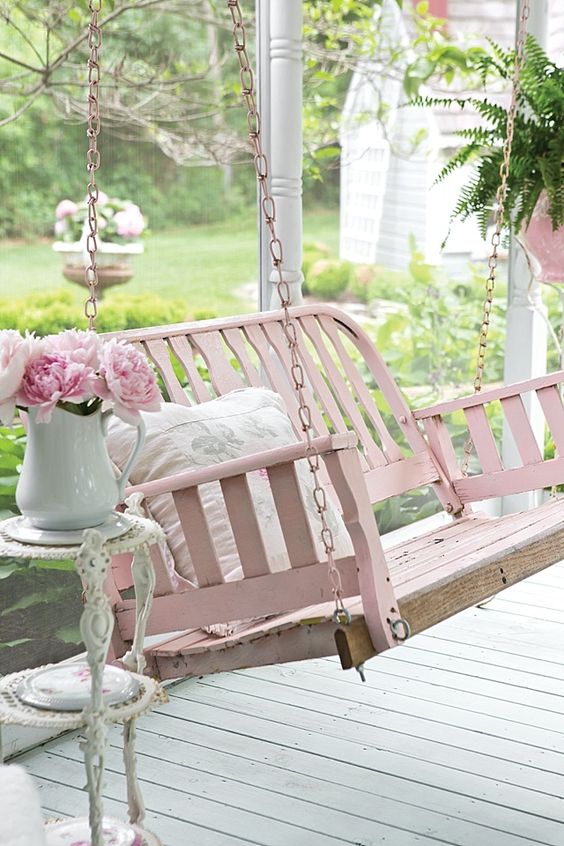 Illuminate Pathways Using Wine Barrel Planter with Lamp Post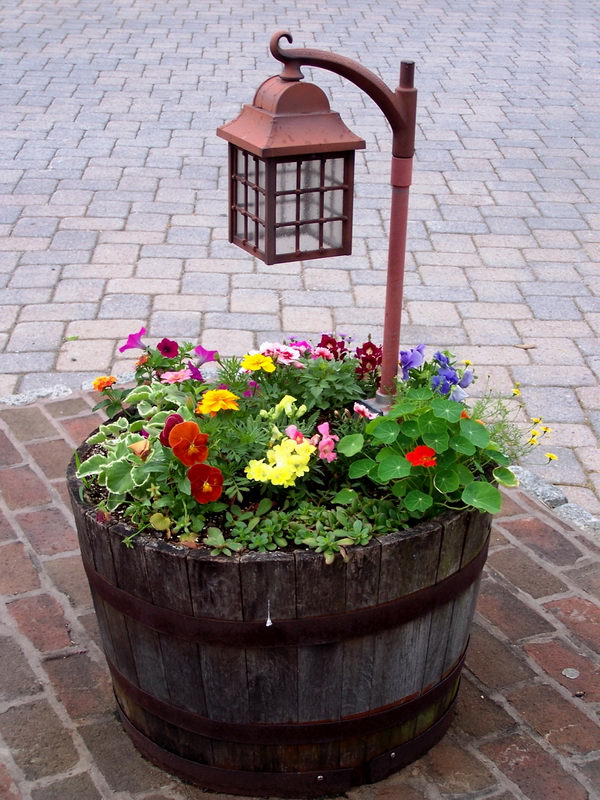 Beautify Your Outdoors with Clematis Climbing Wall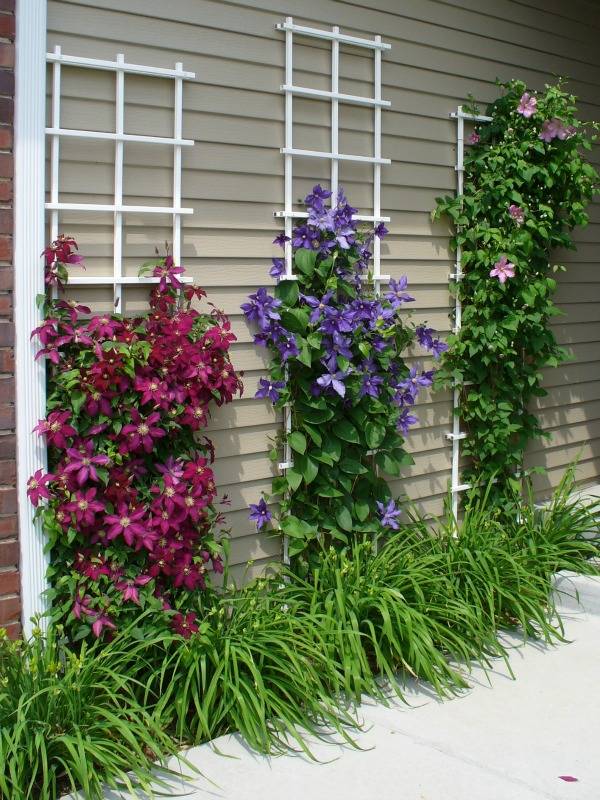 via perennialgardens
Create Landscaping with Concrete Decorative Balls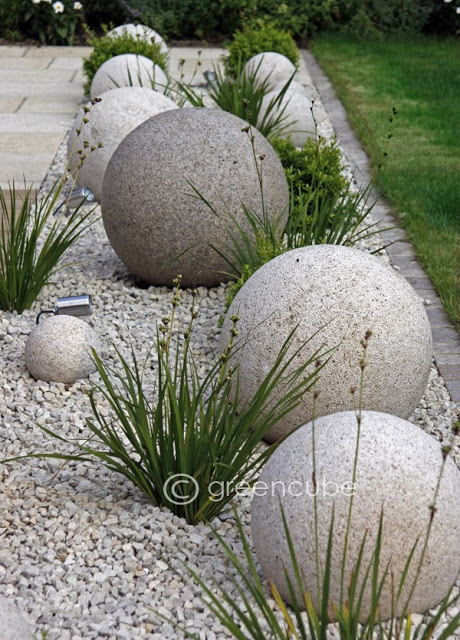 Make a Solar Light Lamp Post with Flower Planter
Built Custom Flower Beds on The Sides of The House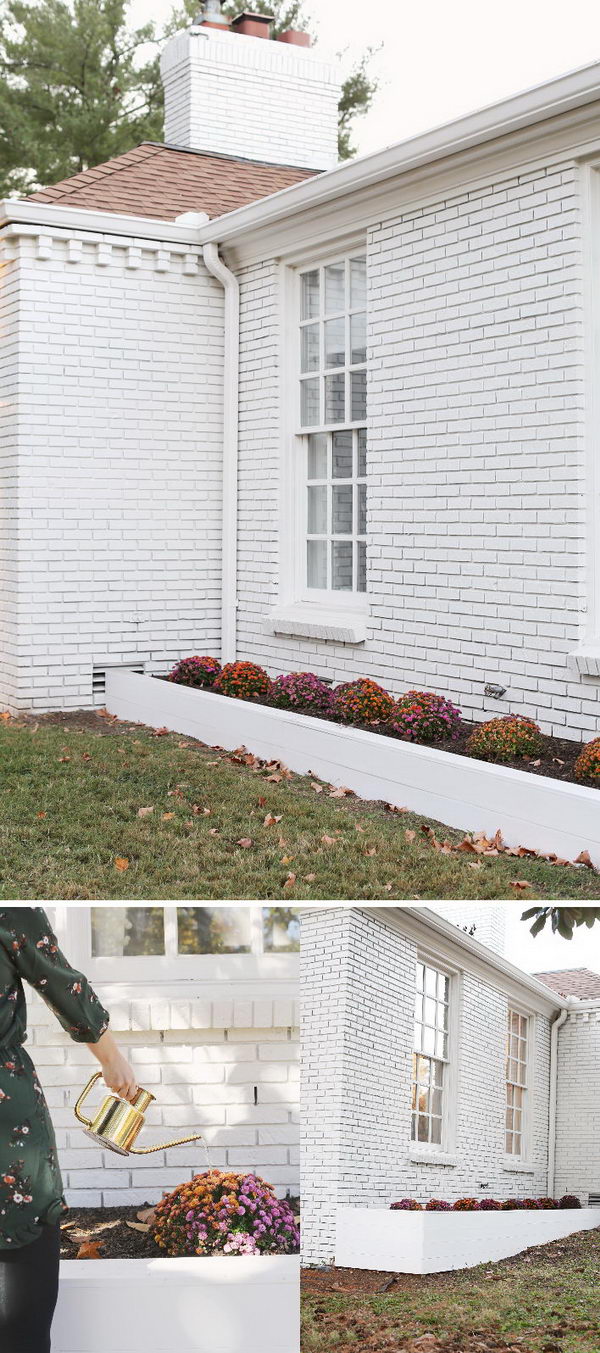 via abeautifulmess
Add Style to Your Outdoor with Simple Lighted Driveway Bed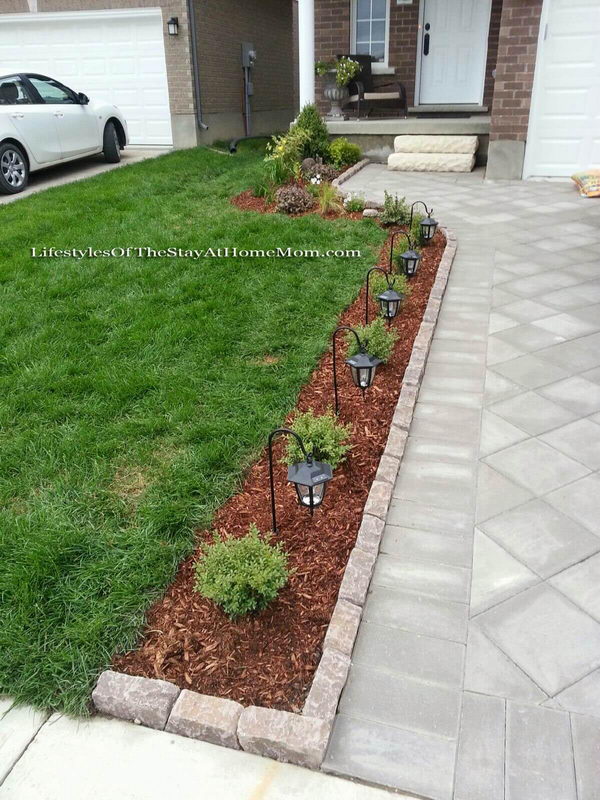 via lifestylesofthestayathomemom
Make an Outdoor Post for Hanging Signs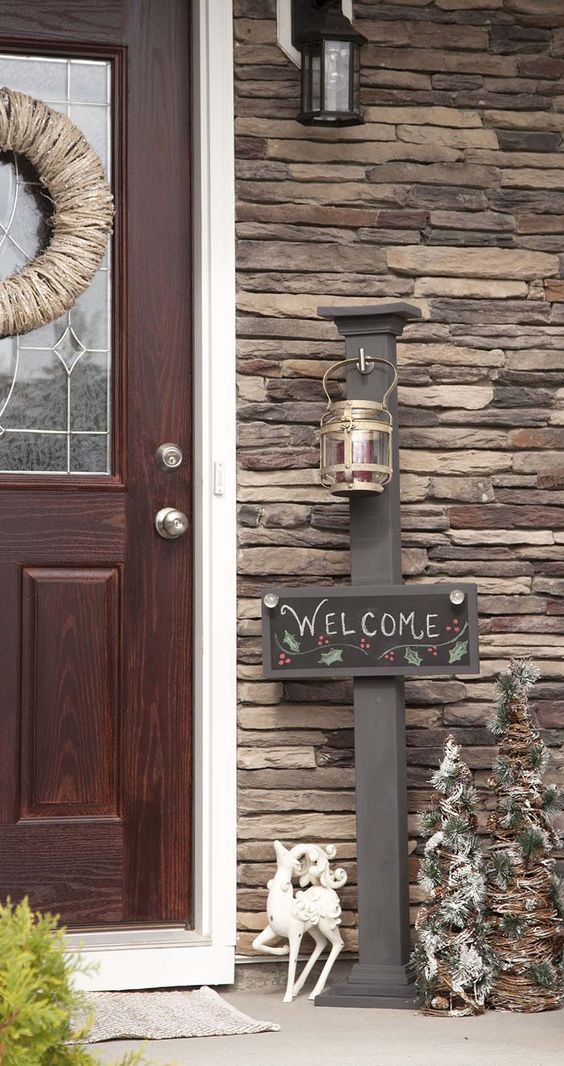 via homedepot
Design a Short Stone Walkway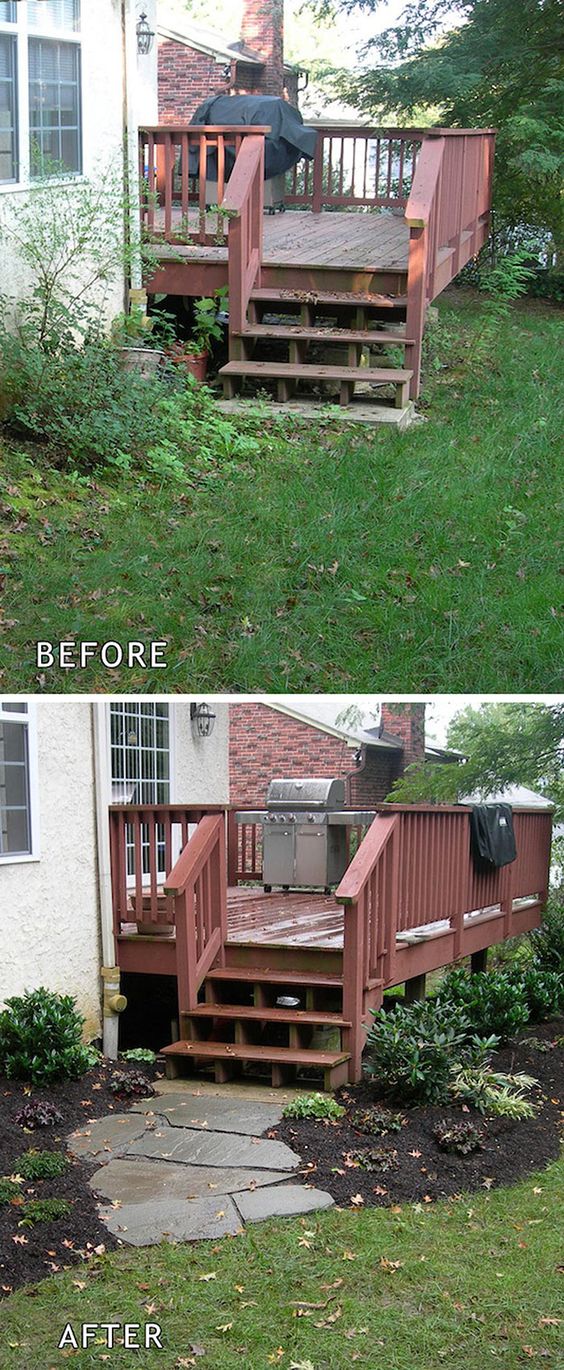 via naturescapes-pa
Beautify Your Mailbox by Creating a Flower Bed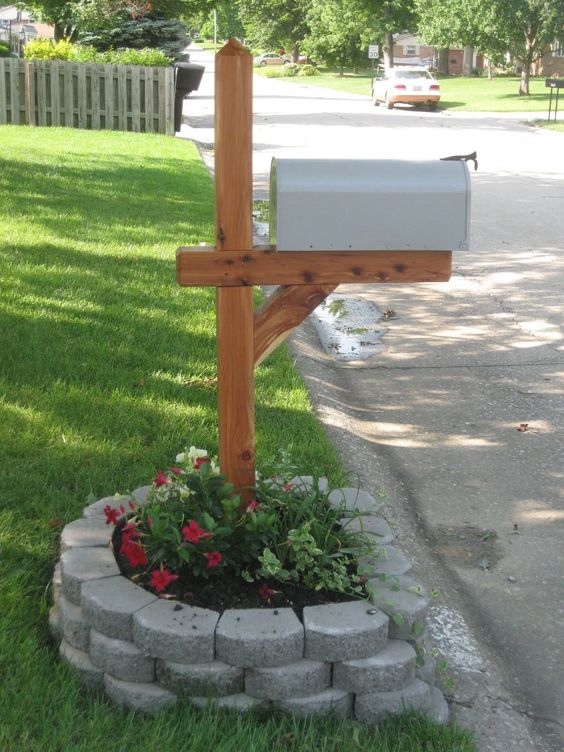 via gibbsspot
Build a Side Gate with a Decorative Window

Transform Your Front Walkway with Lava Rocks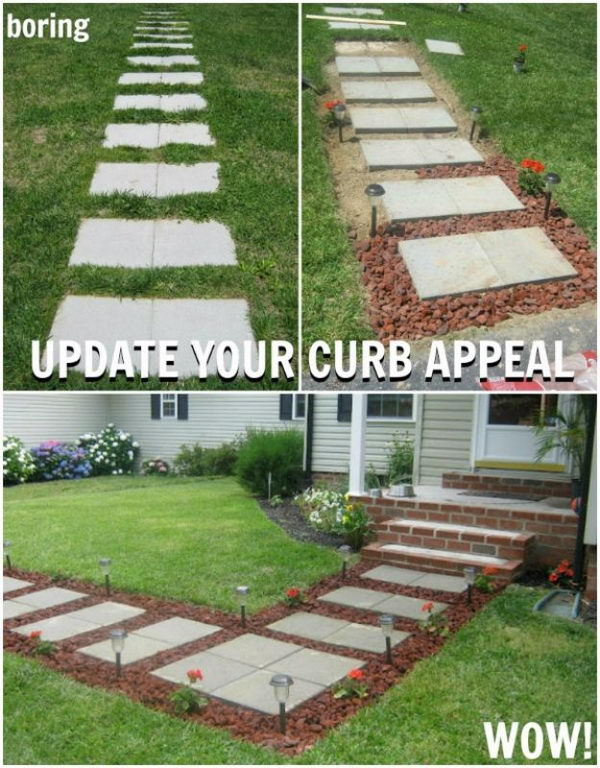 Decorate the Front Porch with DIY Birch Ladder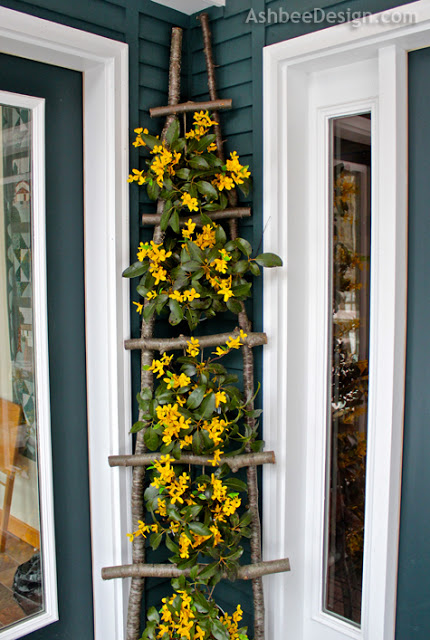 via ashbeedesign
Decorate the Front Porch with This DIY Vertical Wall Planter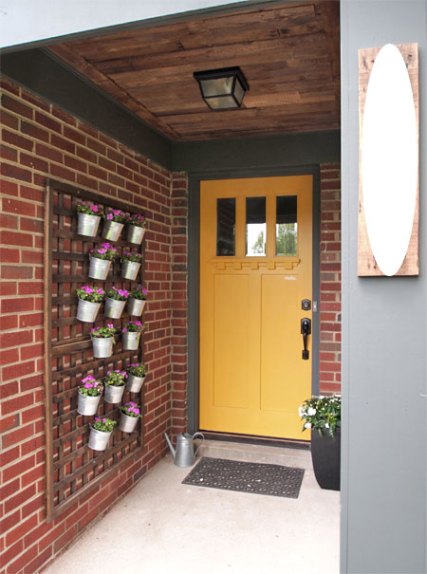 via cape27blog
Make an Interesting Corner Landscaping Fence in Your Yard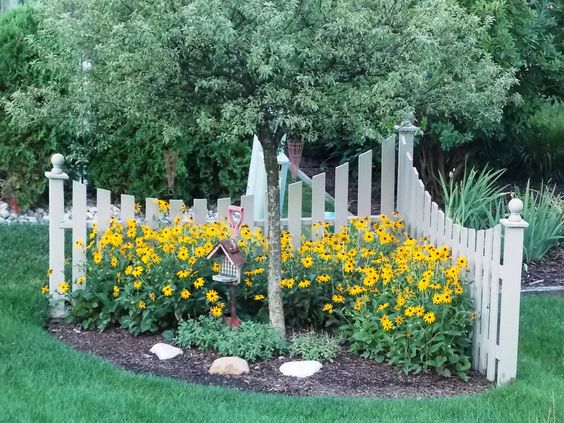 Build A Hexagon Cedar Bench for the Front Yard Tree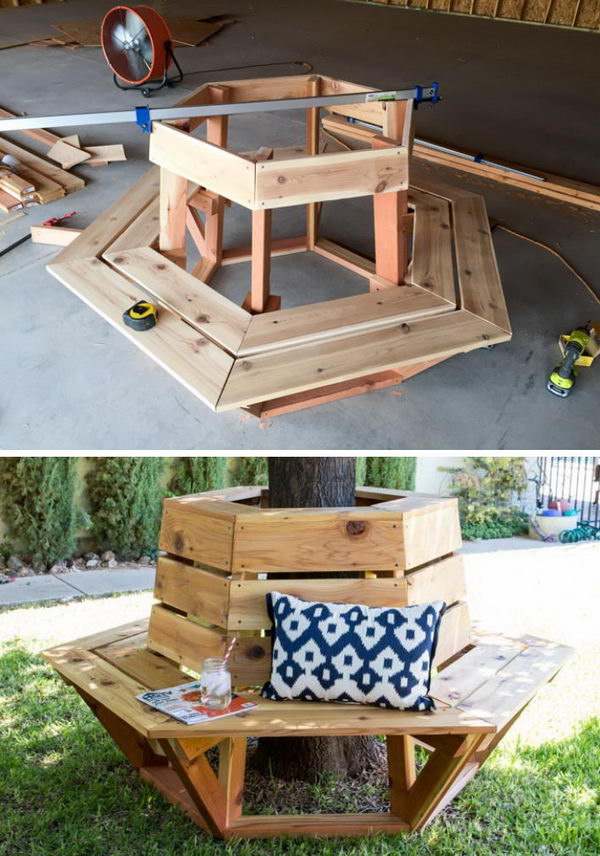 via addicted2diy
Create a Sitting Area with Pallet Wood and Old Shutters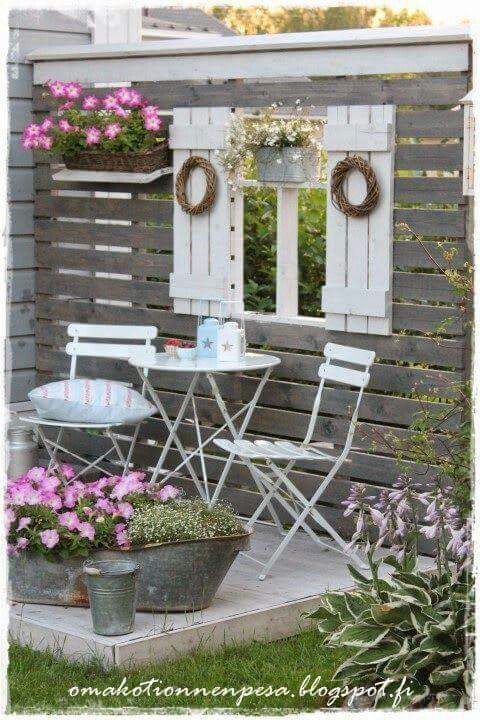 via omakotionnenpesa
Build an Outdoor Fold Up Potting Bench

Add a Deck Bench with Potted Plants for a Relaxing Place to Sit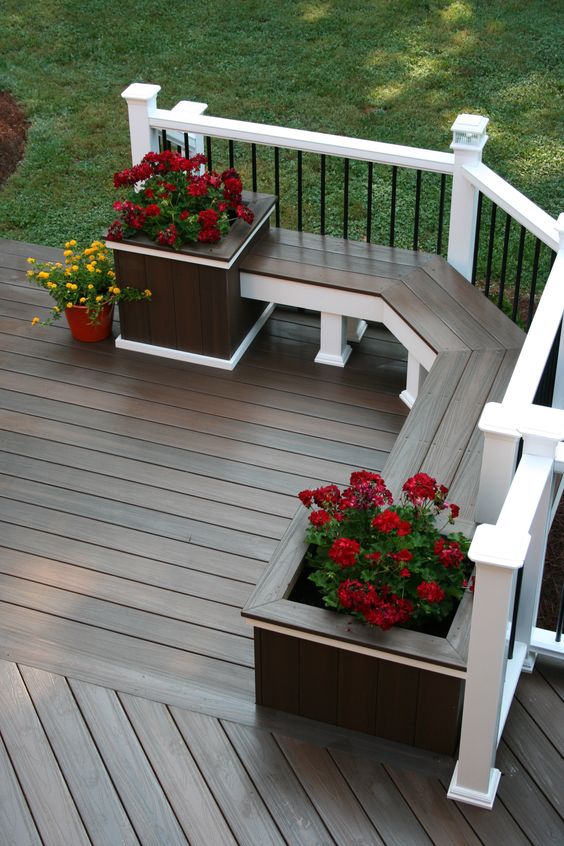 Display Potted Flowers on Your Porch Steps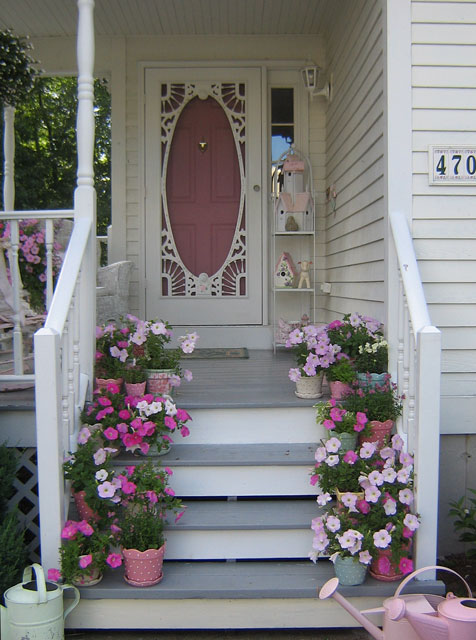 via vintageindie
Build an Address Display with a Planter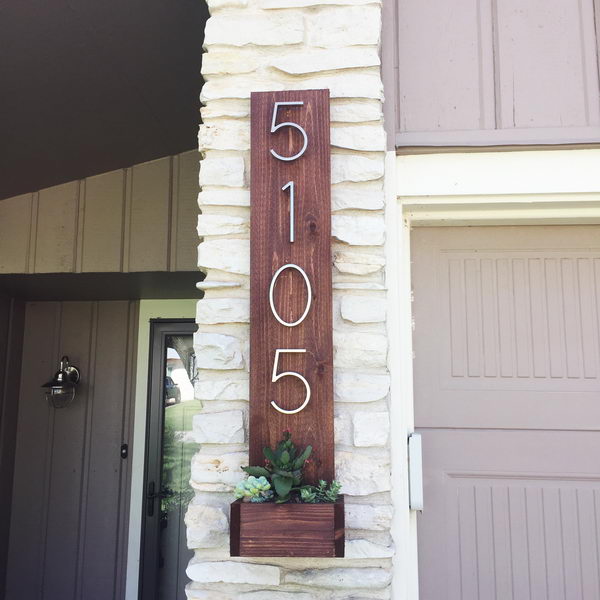 via ana-white
Beautify Your Outdoor Decor Using Pots Planted at the Border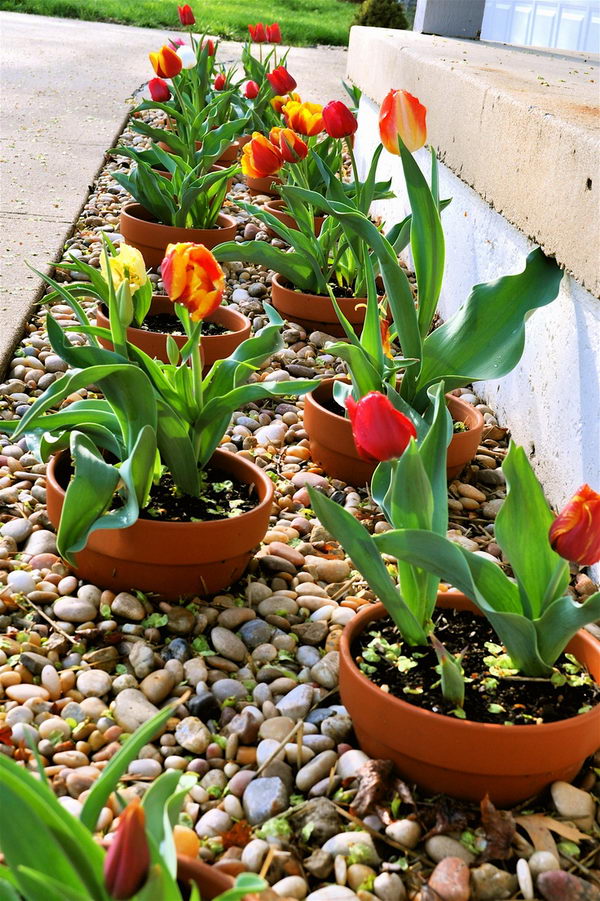 would make it easier to pull up and re-plant flowers via coolanz
DIY Beautiful Landscaping with Tree Logs

via tampahomebody
Design a House Front Garden
via clipgoo
Add Some Charm with This DIY Monogram Planter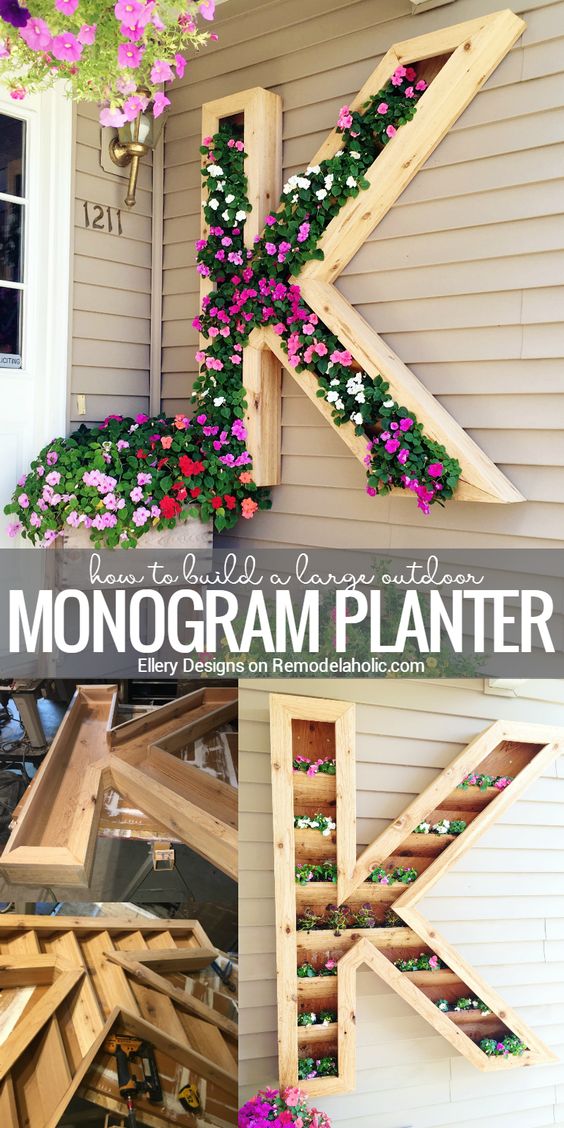 via remodelaholic
Add White Picket Fence and Arbor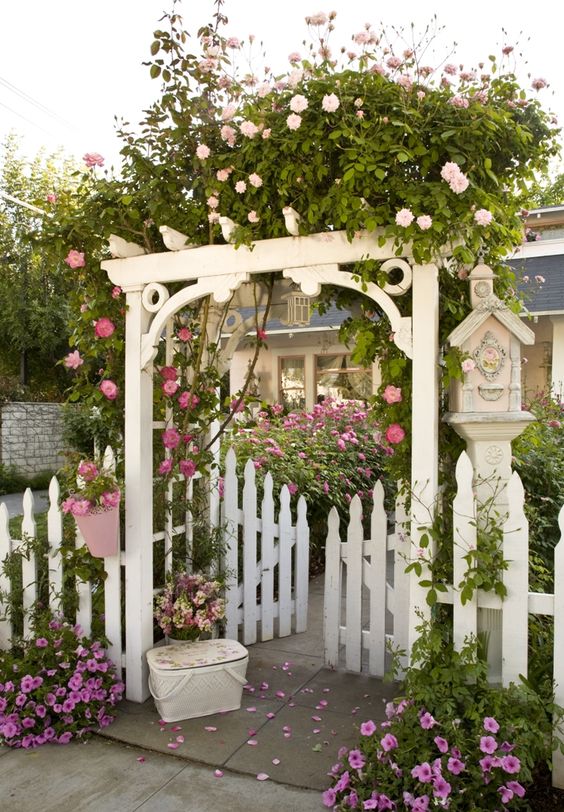 Plant Seasonal Flowers Outdoor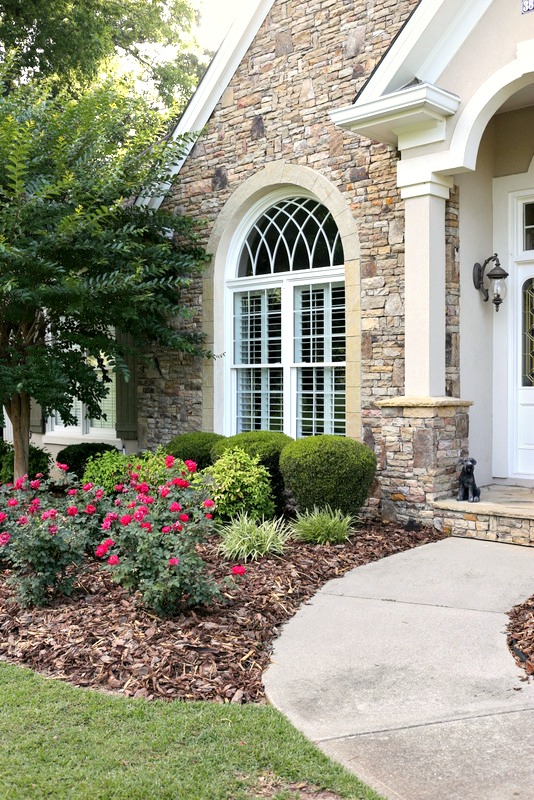 Make a Big Difference by Updating the Front Entry Lighting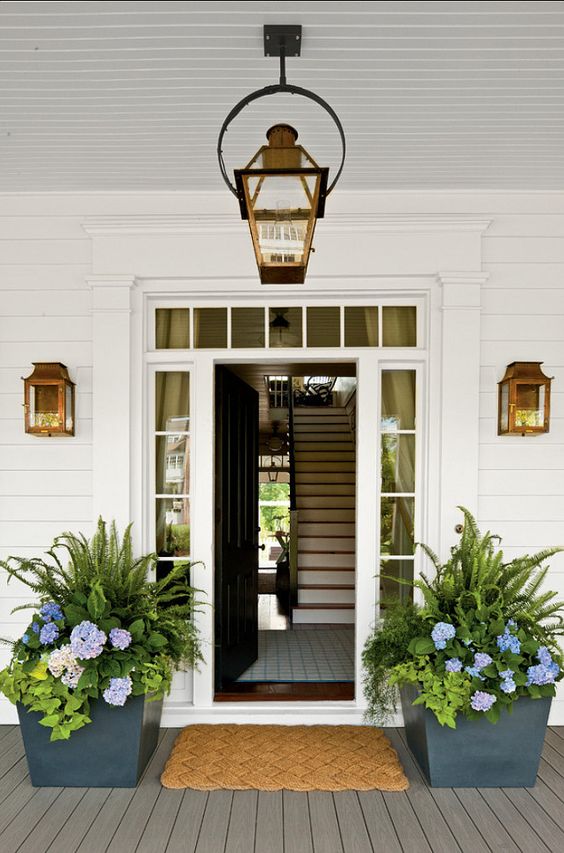 via homebunch
Build a Water Feature for a Front Porch that Everyone Admires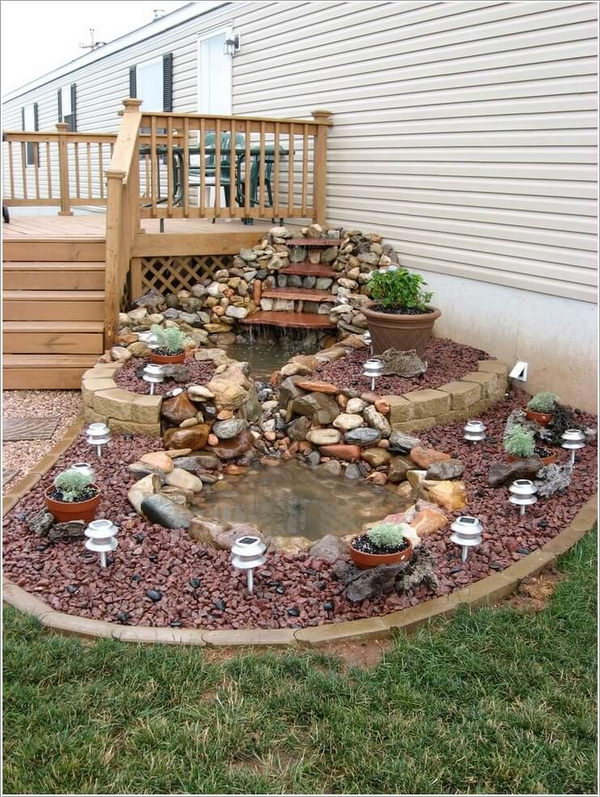 via pinterest
Decorate Your Front Door with An Umbrella Full of Flowers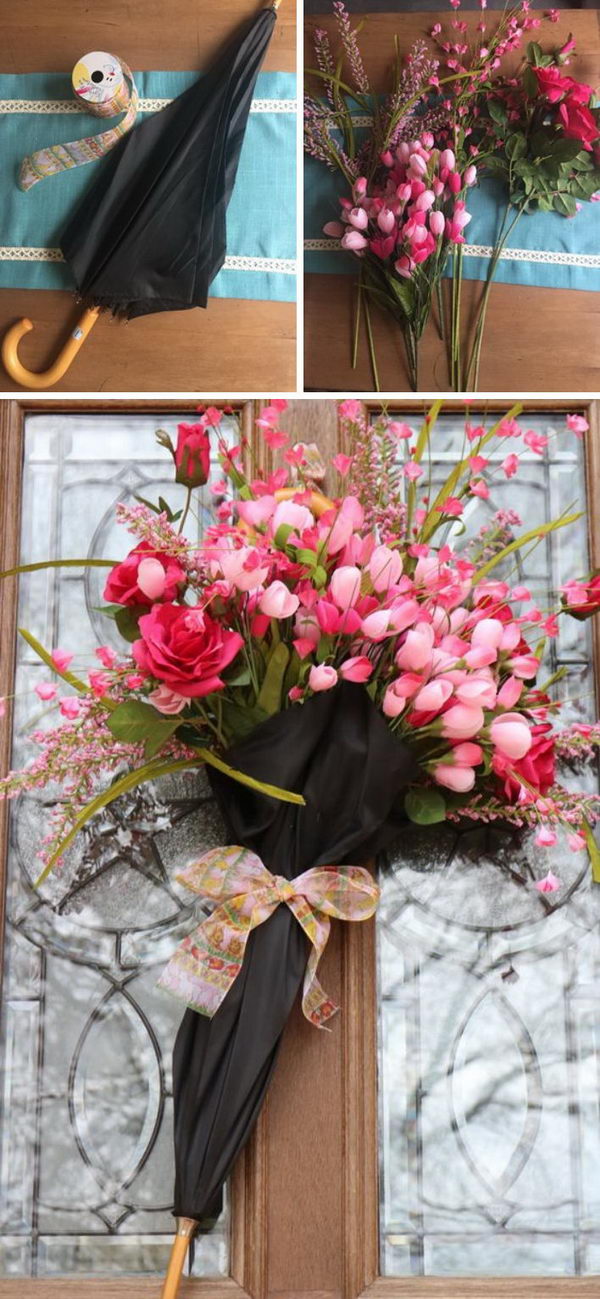 via jacqueline-gilbreath.squarespace
Spruce Up Exterior Wall with Climbing Plants

Build An Beautiful Trash Can Shed for Curb Appeal

via withinthegrove