8 DIY Weekend Projects to Boost Your Home Value
Without a doubt, home improvement projects can enhance the visual appeal and the value of a property. In 2015, the estimated U.S. home improvement and repair expenditure amounted to USD 326 billion with homeowners involving interior designers and architects for the job.
Though home improvement professionals are experts in their domain, even simple and inexpensive do-it-yourself projects can add special charm to your abode without burning a hole in your pocket.
Regardless of whether you desire to put your house on sale or make it look attractive, the undemanding tips mentioned in this post will help you spiff up every corner of your dwelling, boosting its overall appeal.
Here are eight DIY home improvement projects that you can tackle starting this weekend in order to boost your home value.
1. Pay Attention to the Exteriors
Enhancing the home value and its curb appeal is all about making an excellent first impression. Easy DIY renovation projects such as cleaning the exterior with a pressure pump-up sprayer, repainting the fence and the main door, and adding a few colorful annual plants can make your dwelling look strikingly beautiful.
Revamp your front door with a fresh coat of paint to give an eye-catching charm to your home exteriors. This simple upgrade can give an instant facelift to your main entrance.

via haydenscharrer
Placing a few ornamental plants, vintage wind chimes, decorative items, and solar lamps along the area that leads to your main door will render a warm appeal to your home.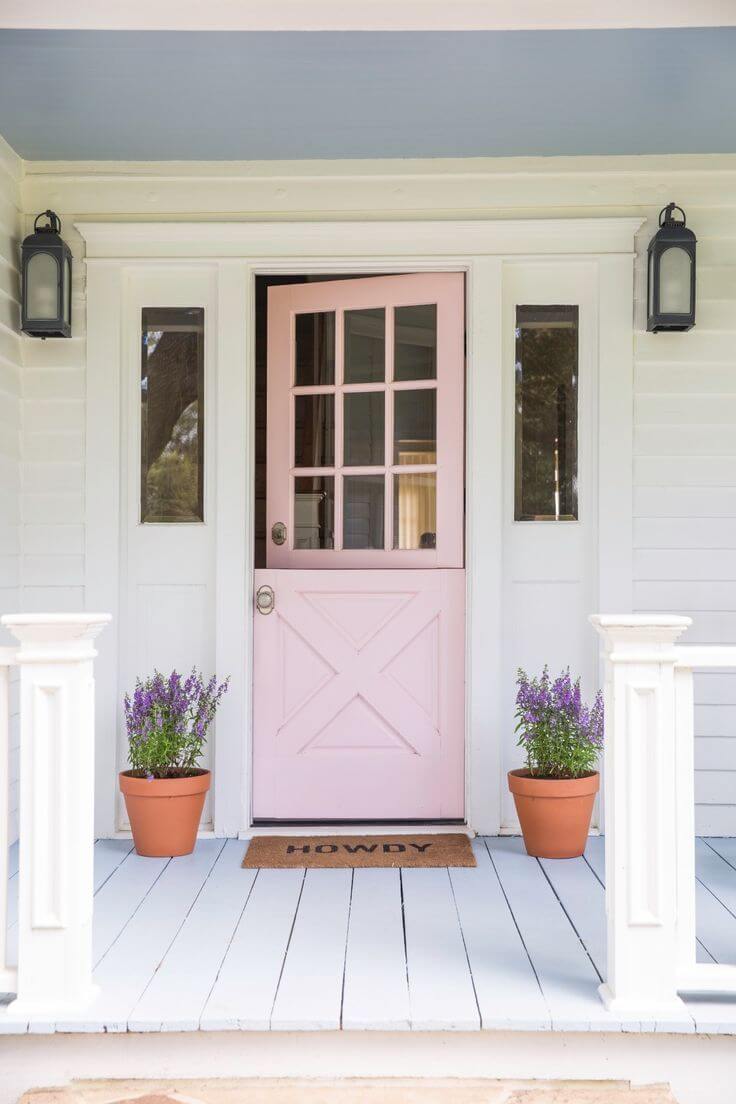 via onekingslane
2. Upgrade the Foyer
Simple do-it-yourself projects can spruce up your entrance hall, ensuring a luxurious entry for you and your visitors.
Placing an attractive floor runner along the foyer will draw your guests towards the living room, exuding a warm welcome. Engage your guests by putting up a collection of self-made artworks, eclectically-framed mirrors, or family photographs along the hallway wall.
Lining your foyer with family pictures is a classic way to attract your guests' attention. Make sure you use a tight arrangement of classy frames in different sizes to create a dramatic effect.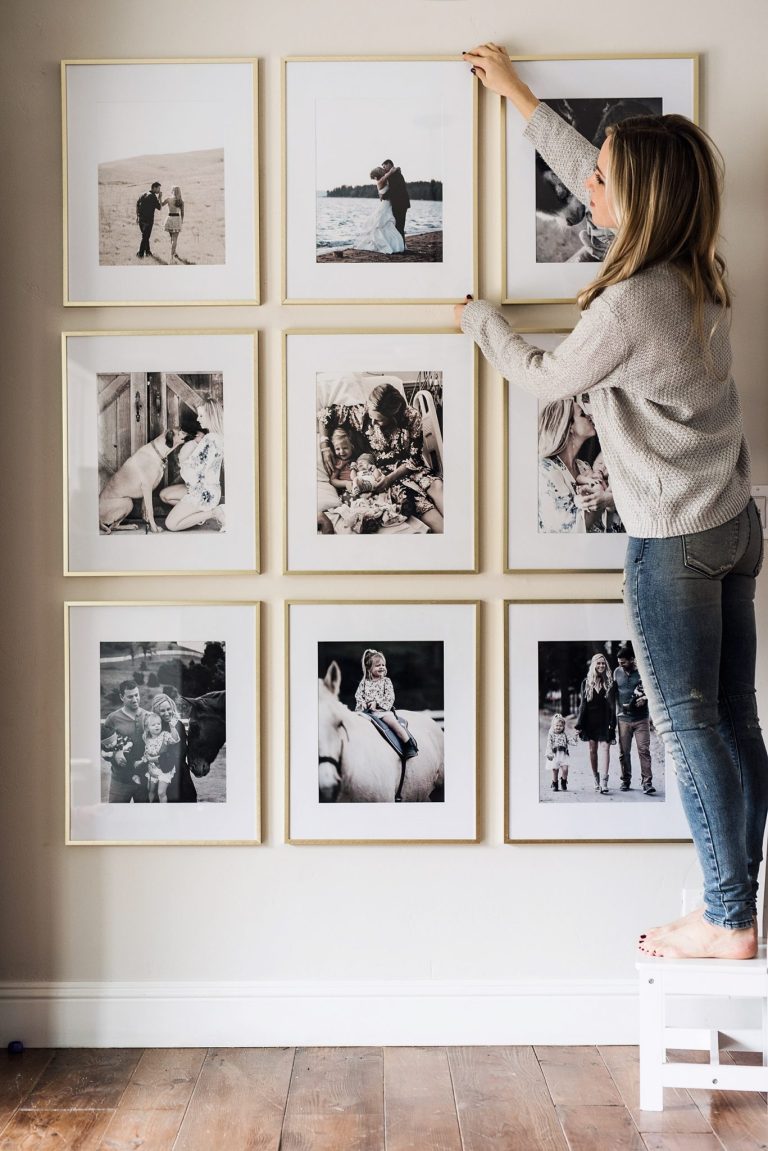 If your entrance way is spacious enough, tuck in a table with a vase of fresh flowers or indoor plants to give a touch of warmth and elegance.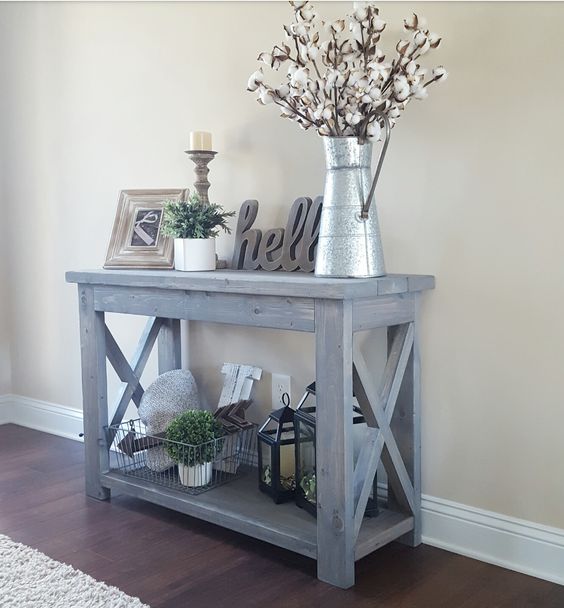 via thrifthomedecor
The foyer also demands extra storage space for a multitude of belongings. This attractive DIY ladder shoe-rack can be easily made over the weekend and is a smart way of organizing shoes, umbrellas, hats, and jackets, adding a rustic appearance to your foyer.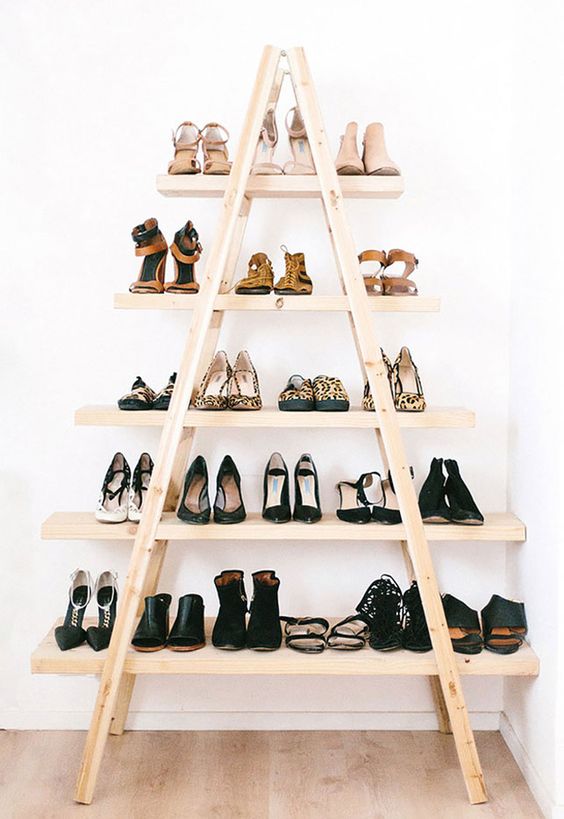 3. Accentuate the Feature Wall
An attractive feature or accent wall with a stylish focal point can instantly uplift the feel and atmosphere of your rooms. Choose a wall that holds the focus of the room and consider elements such as a fresh coat of paint, textured wallpaper, or a huge artwork to bring color, pattern, and visual interest to the area.
For instance, if you have a fireplace as the focal point, refurbish the wall using textured wallpaper that complements the furniture and other walls of the room. You can also use wall stencils to add patterns or transform your fireplace surround by covering it with ceramic or natural stone tiles.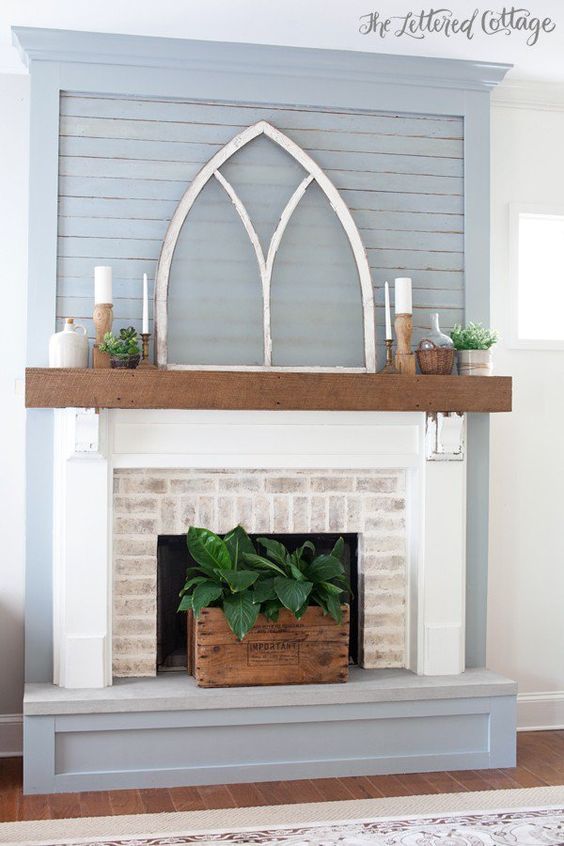 4. Give Your Ceiling a New Life
Ceilings do not always have to be plain and boring. Add drama to your living area by converting them into feature ceilings. Using décor elements such as wallpaper, an uneven texture, or a decorative ceiling medallion can spice up your ceilings, boosting your home's visual appeal.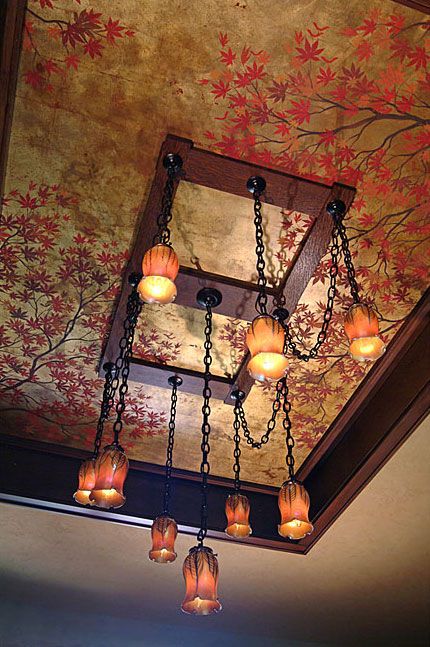 via cuttingedgestencils
Adding texture using tissue paper is an easy DIY home improvement project that hides the defects in the ceiling while enhancing its look.
5. Make Attractive Light Fixtures
Replace the old and dull light fixtures with innovative ones to jazz up your living area. Recycle unused everyday objects, namely cheese graters, wine bottles, mason jars, pipes, cane baskets, art paper, and plain coffee cups and cans to light up your dwelling, giving it an artistic appeal.

via hometalk
Embellishing your dwelling with handmade decorative light fixtures is a great way to make a noticeable change in your home.

via lifeispoppin
6. Install Baseboards and Crown Molding
Crown molding and baseboards are easy to install, inexpensive, and add a touch of sophistication to the home décor. Depending on your budget you can invest in wooden, MDF (medium density fiberboard), plaster, and flex crown and baseboard molding to create a visual and physical connection between the walls and the flooring.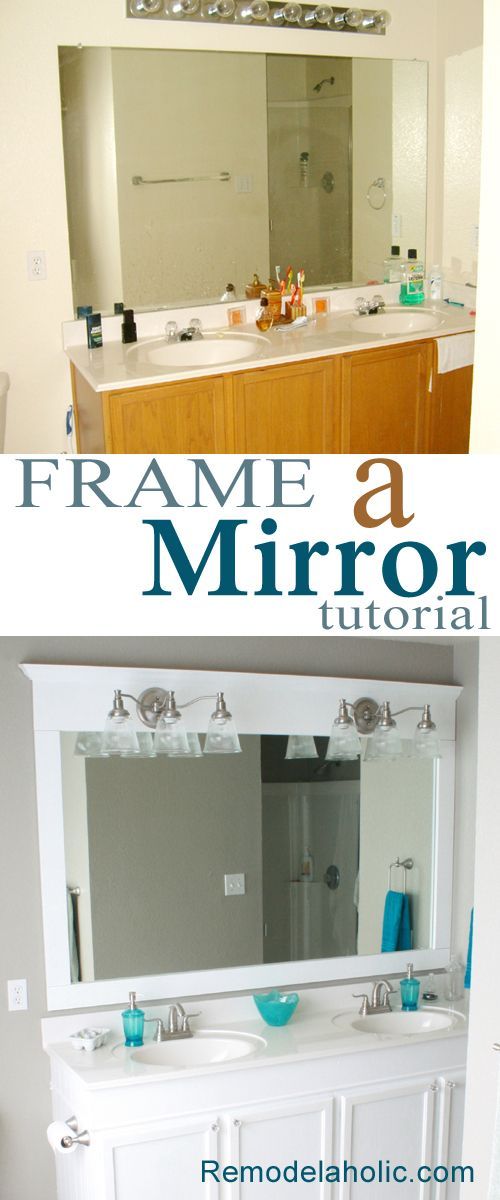 via hometalk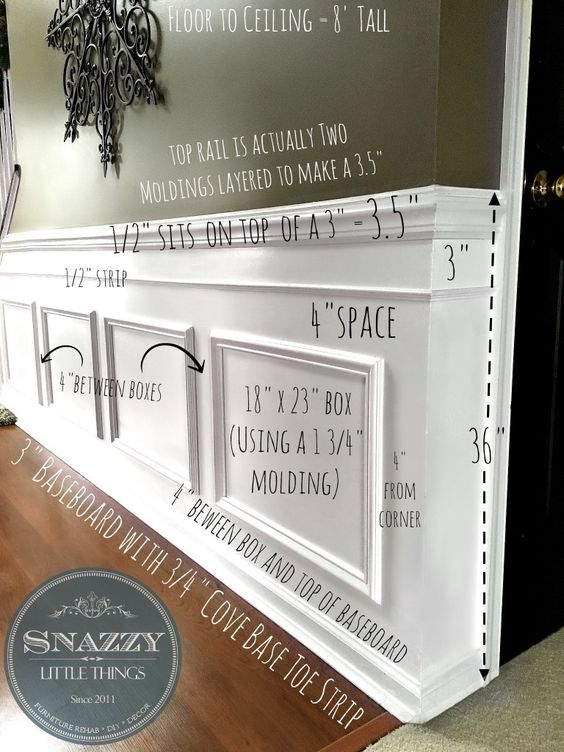 Installing crown molding and baseboards is an easy weekend project that will add depth and dimension to dull walls, enhancing their aesthetic appearance.
7. Refinish Old Cabinets
You don't have to spend thousands of dollars on upgrading the kitchen or the bathrooms just because your cabinets look worn out. With a little elbow grease and creativity, you can give a new life to the old cabinets in the cooking area and the powder rooms, making your home feel upscale and neat.
Spray paints are easily available in all home improvement stores and used by most professional painters to give an ultra-smooth appearance to the cabinet doors and drawers.
As an alternative to paints, consider using natural furniture polish to clean and refurbish the cabinets. A cup of olive oil and one-fourth cup of white vinegar mixed together makes an excellent natural polish for wood.
8. Organize Your Belongings
Random clutter in the living room, the bedrooms, and the kitchen can make your house look messy and unappealing. Find a place for each of your belongings, namely stationery items, gadgets, bags, books, cosmetics, laundry, and others to keep your room neat and organized. Every weekend, spend time getting rid of unused items by recycling, donating, or discarding them.
For instance, in order to get rid of the clutter in your kitchen, donate the dishes and bowls that don't belong to your crockery set. Likewise, you can organize your bedroom closet by donating clothes that aren't in vogue anymore or don't fit you well.

A simple weekend chore like clearing your household clutter can significantly enhance the look of your dwelling, making it look orderly and clean.
Refurbishing a dwelling doesn't require huge investments or massive interior designing projects. Use your creativity and the above-mentioned weekend project ideas to boost your home value and happiness quotient.