30+ Easy and Budget Friendly DIY Fall Decorating Ideas
Fall is officially here! This is the time for falling leaves, Pumpkin Spice Lattes, fireside nights and of course the earlier holidays like Halloween, Thanksgiving and the much antecipated Black Friday. It is time to put all your beach and nautical themed decorations away and opt for cozy, warm pieces instead.
A house that is decorated for fall should be cozy and welcoming to everyone who lives there and visits for the holidays. The color scheme should convey that warmth and coziness, while also letting light – a luxury at this time of year – filter in.
If you're just now decorating your house for fall, you might be scrambling for ideas of how to do it quickly and properly. That is the issue this article aims to solve. Read on to uncover these Easy and Budget Friendly DIY Fall Decorating Ideas.
Glitter Pumpkin Candles

Candles and Pumpkins are both unmistakable Fall must-haves. This project features both, as small pumpkins are carved, then filled with wax and glitter to create the perfect Fall candle. via adventures-in-making
DIY Pom Pom Pumpkins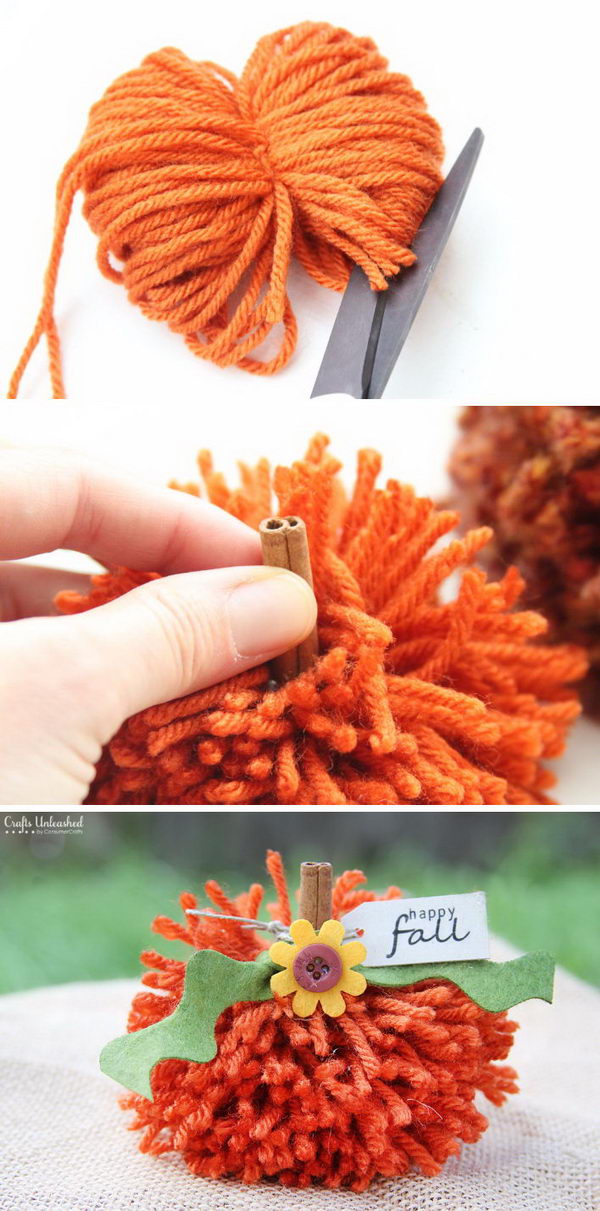 These pumpkin pom poms are the cutest Fall decoration you can ever make, and they are so simple that you could even get the kids involved. All there is to them is woven orange yarn which is then cut to create the pom pom look, so you should definitely spread a bunch through the house. via consumercrafts
Fall Floral In A Pumpkin String Art

These hanging floral pieces with string pumpkin vases are not as hard to make as you might think. All you need to do is create the webbing pattern using an actual pumpkin and orange string, then put your flowers at the top opening and hang the piece. via sugarbeecrafts
Bourbon Bottle Pumpkins & Gourds

Turn old licquor bottles into cute pumpkin bottles or vases by painting them fully orange, adding fake leaves to the side and covering the upper neck with string. via sadieseasongoods
DIY Fall Olive Bucket Pumpkin Planters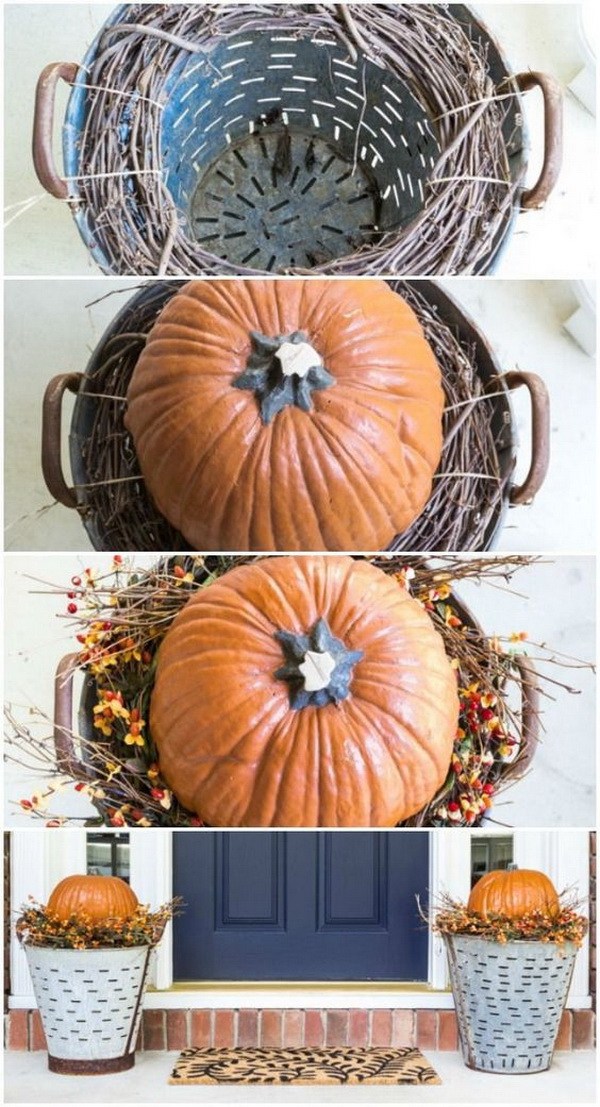 Here's how you can "plant" some pumpkins on your front porch. Take a tall olive bucket, fill it in with some greens and then top it off with the pumpkin so that it peeks out and adds that Fall touch to the area. via onsuttonplace
DIY Topiary Tree Using Fake Fall Leaves And Fairy Lights

Using a tomato cage, collect some plastic or fabric autumn leaves and wrap it around the cage. Place it on your doorway or living room for your very own autumn tree. Place some Christmas lights inside for a glowing tree at night. via thriftyartsygirl
DIY Gold Dotted Vases For Displaying Fall Flowers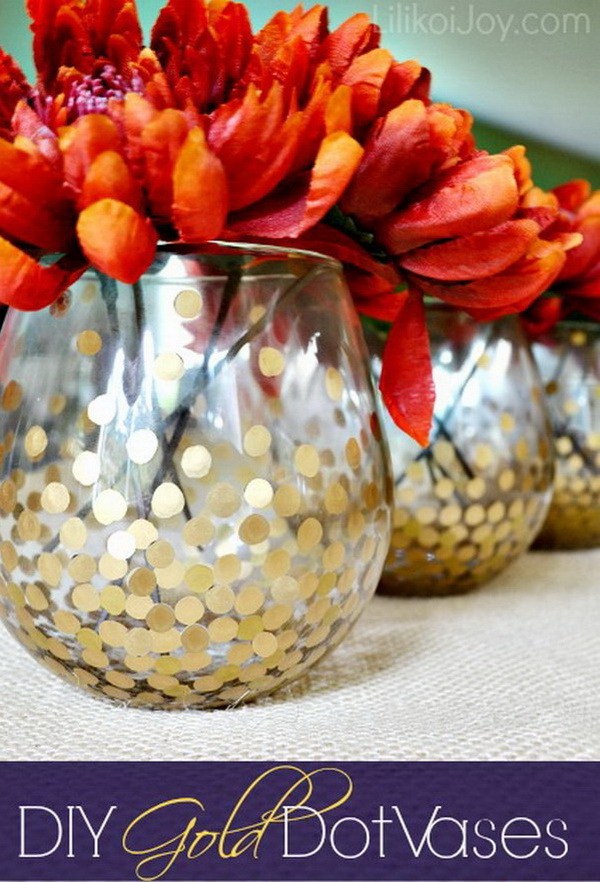 Gold is very warm and festive, so it's a great color to use if you want to add shine to any Fall or Holiday projects. This vase in particular is very easy to make, because you can create the gold dots with paint, foil or even stickers, which you could then remove if you ever tire of them. via lilikoijoy
DIY Wooden Turkey Decor For Thanksgiving

If you have some wood pallets lying somewhere in your garage, you should try this beautiful Thanksgiving decoration. It entails taking the pallets apart and using a little creativity and imagination to shape the wood pieces into a turkey that you can place on your porch or backyard. You should also remember to stain or paint the turkey to create a more realistic look.
Pumpkin Candle Holders

These pumpkin candle holders were created like this: first, the pumpkin was painted and carved, then a little flowery nest was created inside, and finally the candle was placed in its holder to light and warm up the house at Falltime. via bystephanielynn
Big Barnwood Pumpkin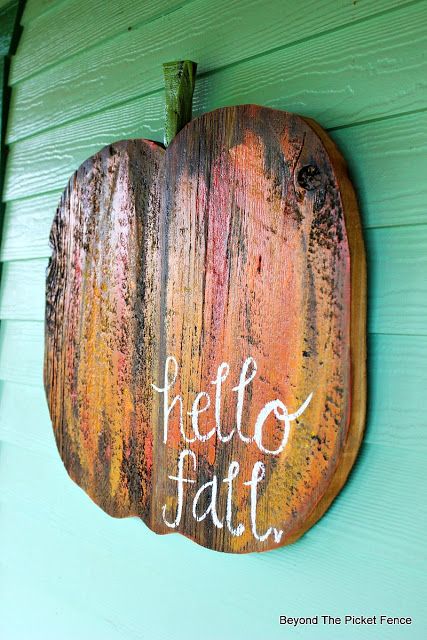 Making this barnwood wall sign is relatively simple. You need to take a few pieces of barnwood, put them together and carve the pumpkin shape freehand or using a stencil. Then all you need to do is paint it to look realistic and add your message, before hanging it where you feel like it. via beyondthepicket-fence
DIY Fall Leaf Art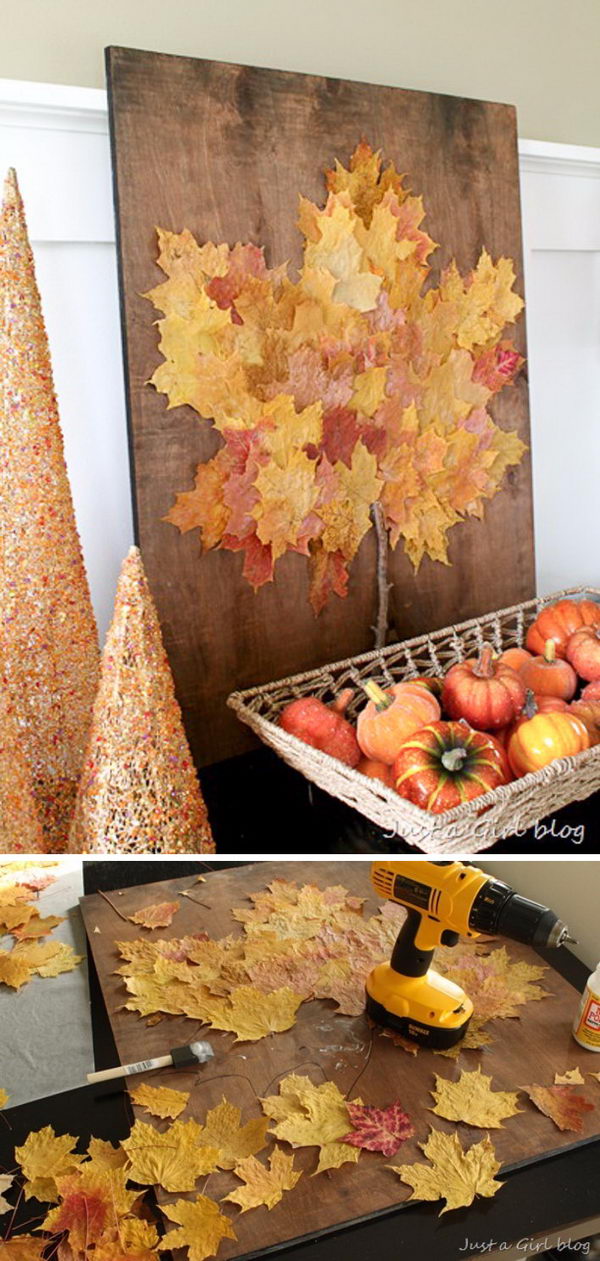 This is another pretty easy, almost childlike project. Take a canvas and glue some dried out Fall leaves in a cluster or a random pattern to create similar art for your walls. via justagirlblog
DIY Fall Craft Luminary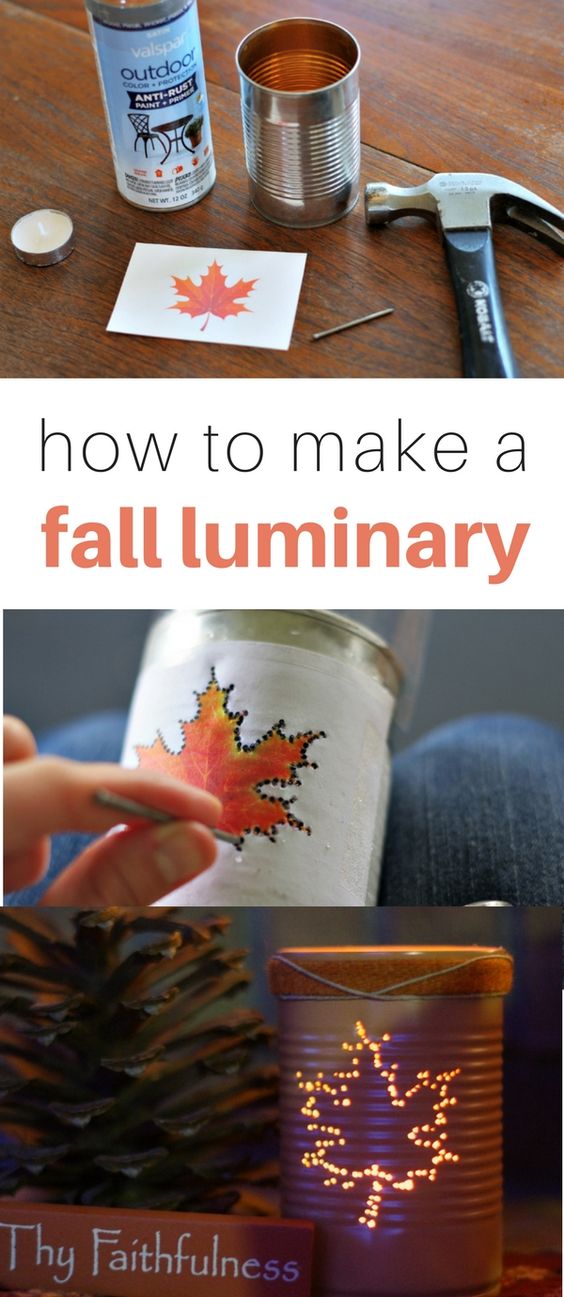 This luminary is very simple, but it takes some skill to make. You need to choose a tin can and then carve the outline of a Fall leaf on it, so that light shines through when you actually place your candle inside. via cleverlysimple
DIY Leaf Pillows For Fall And Thanksgiving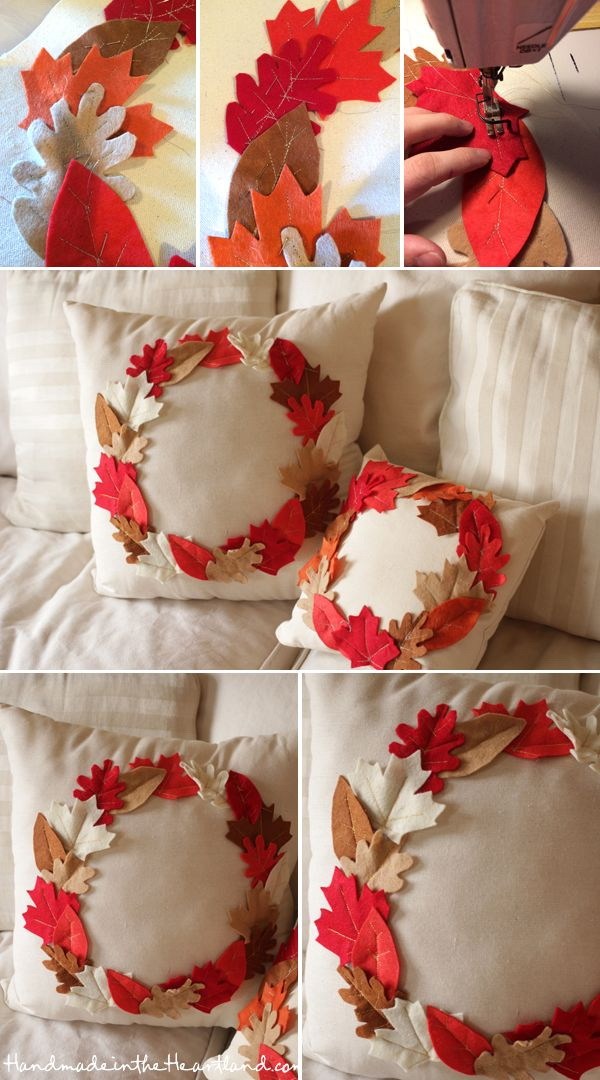 Bring the color of autumn into your home with these easy to make Thanksgiving leaf pillows. via handmadeintheheartland
Framed Fall Pumpkins Wall Art

The wall art is easy to make, if you find the right materials. You need a decorative frame, to which you will glue a real or fake half pumpkin with floral decorations, so that it stands out right at the center. Make a second frame with the other half, add a Fall banner on top and your wall art is complete. via craftaholicsanonymous
DIY Glitter Leaf Garland

It is yet another classic fall project you can make with the kids. Pick up some fallen leaves, dry them up and cover them in glitter. When they are fully dry, string them all up and you'll be ready to hang your garland. via prettymyparty
Easy Fall Hydrangea Wreath

This hydrangea wreath is indeed quite easy to make, as all you need to do is get some arrangements and a big wooden hoop, then perfurate the hoop and stick your arrangements in the holes. The colors of the flowers will help bring the Fall spirit to any room. via anightowlblog
Easy Ombre Pumpkin Button Craft

The wall decoration is so cute and easy to make. All you need is a long piece of wood and buttons in different pumpkin colors, which you will then arrange in order to create several pumpkins down the length of the piece. This piece will add some Pumpkin Spice to your house in no time. via acultivatednest
Rustic Inspired Mason Jar Sign

Now here's a really original project. A mason jar with a quote was painted or drawn on a wall under a small flower alcove, so that it looks like a vase for the flowers above it. via simplymadefun
Rustic Pumpkin Stand for Fall Flowers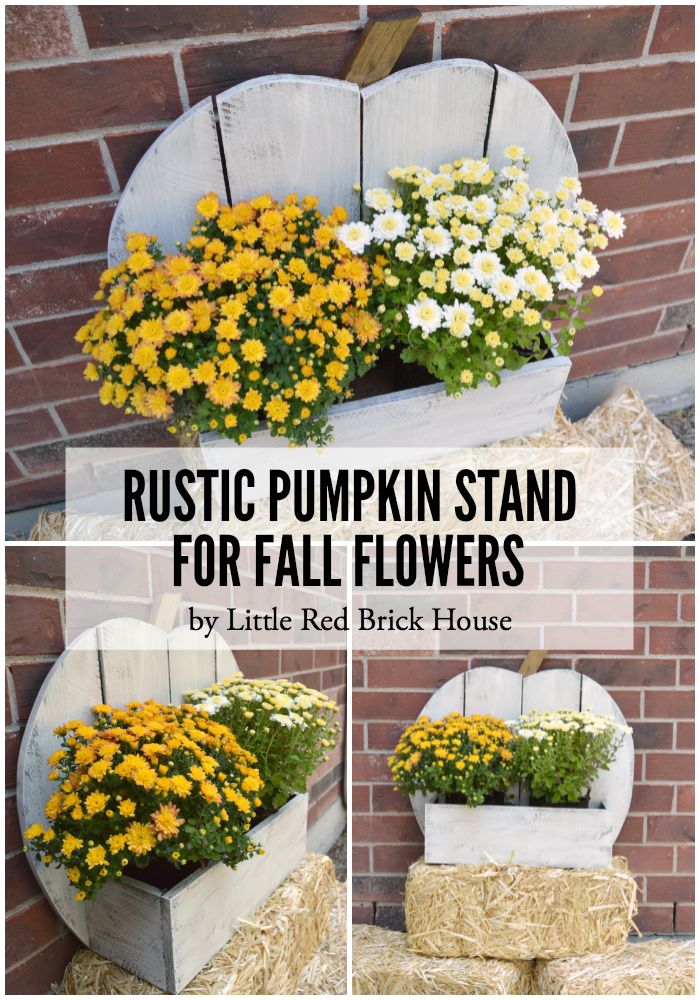 This rustic flower stand was shaped and painted like a pumpkin so that it peeks out from behind the autumn flowers, providing both support and decoration. via littleredbrickhouse
Spray Painted Dollar Store Pumpkin

This is definitely the way to go if you want to add some glamour to your Halloween decorations. Go to the store and get some cheap colorful plastic pumpkins as well as some metallic spray paint. Spray the pumpkins evenly until the color is opaque and after drying they will be ready for use. via hip2save
DIY Pottery Barn Inspired Fall Wreath Pillow

This decorative Fall pillow is a great accessory for your bed or couch. You can make your own by getting some felt Fall leaves pr soft coasters, like in the picture, and then gluing or sewing them on the front of your chosen pillow in the shape of a wreath or another pattern you like. via onsuttonplace
Rustic Pumpkin with Mason Jars

The giant rustic pumpkin is very similar to the stand we've looked at before. The big difference is this one serves as the backing and support for a row of mason jars which hold silverware, adding a Fall touch to the kitchen or dining room. via livelaughrowe
DIY Marquee Light Letter Pumpkins

This project takes DIY letters to a new level. They are simply pumpkin orange Marquee light letters glued to the front of whited out pumpkins, but details like that make all the difference. via karaspartyideas
DIY Thanksgiving Table Runner

This table runner is yet another incredibly simple project. All you need is an actual plain table runner or a piece of fabric with the right dimensions and fabric paints in Fall colors. Then all you need to do is paint or stamp polka dots of the different colors throughout the piece and let it dry before use. via shopruche
DIY Yarn Pumpkins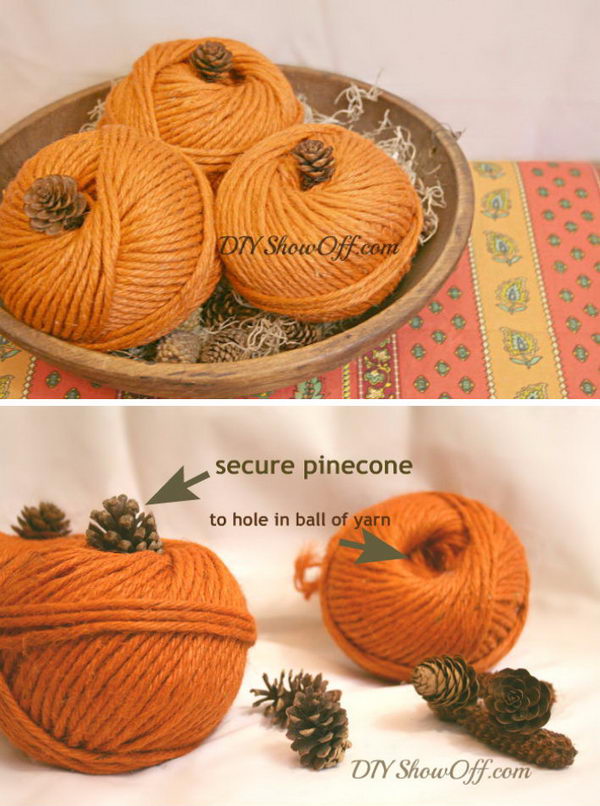 These pumpkin decorations are as good as pre-made. All you need to do is winding a ball of yarn and adding a pinecone. It's really as simple as that. via diyshowoff
Twig Sunshine Wreaths

This wreath is made from a wreath base, which is then covered with yellow rosettes. The Fall twigs that have been secured around the outside perimeter help create the "sunshine" image, in spite of their color. via yellowmums
Easy DIY Fall Sign

This Fall sign has undeniable rustic charm. It was made with long, even pieces of wood as the background, then decorated with big white letters. The "A" was crafted using thin twigs or sticks. via littlevintagenest
Aqua Painted Wheelbarrow With Topsy Turvy Stacked Pumpkins In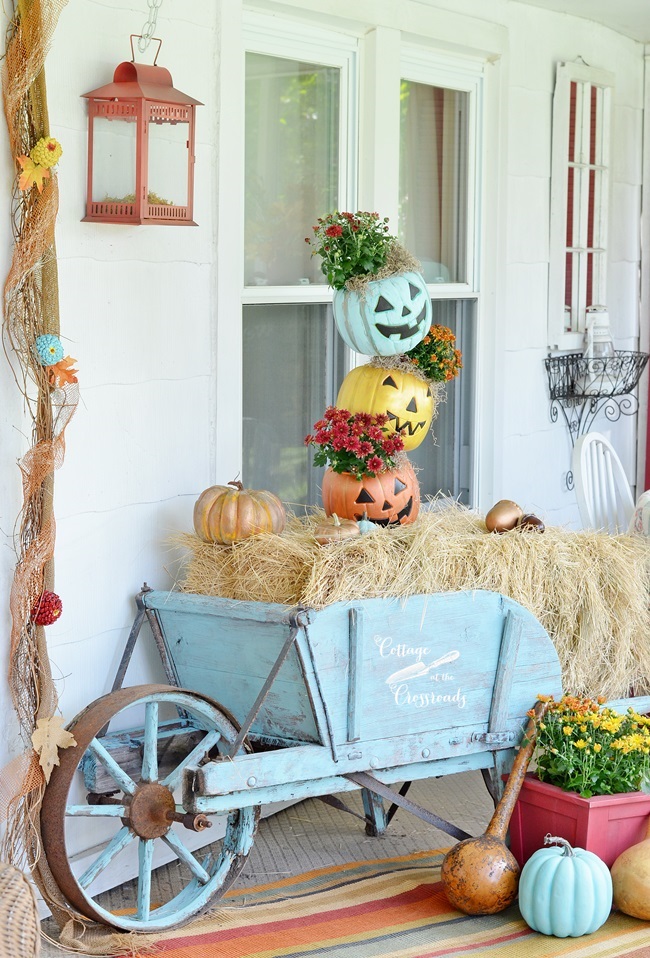 The barrow was painted in a watercolor style, then filled with hay or straw and a tower of topsy-turvy Jack-O-Lantern planters. via cottageatthecrossroads
DIY Fall Mason Jar Decoration

These tall mason jars make for a very versatile Fall decoration. Each of the four was completely painted in a seasonal color, then decorated with burlap or something similar wrapped around the middle and a twine bow at the top. Each of the jars, which serve as vases here, features one letter. When put together, they spell the word Fall. via littlemscraftypants
DIY Toilet Paper Roll Pumpkins

These pumpkins are fashioned from evenly thin pieces of cardboard cut from toilet paper rolls. These have then been painted a glittering orange to actually look like a pumpkin. The center can be used to hold candles, flower arrangements or anything else. via domesticallyblissful
DIY Burlap Table Runner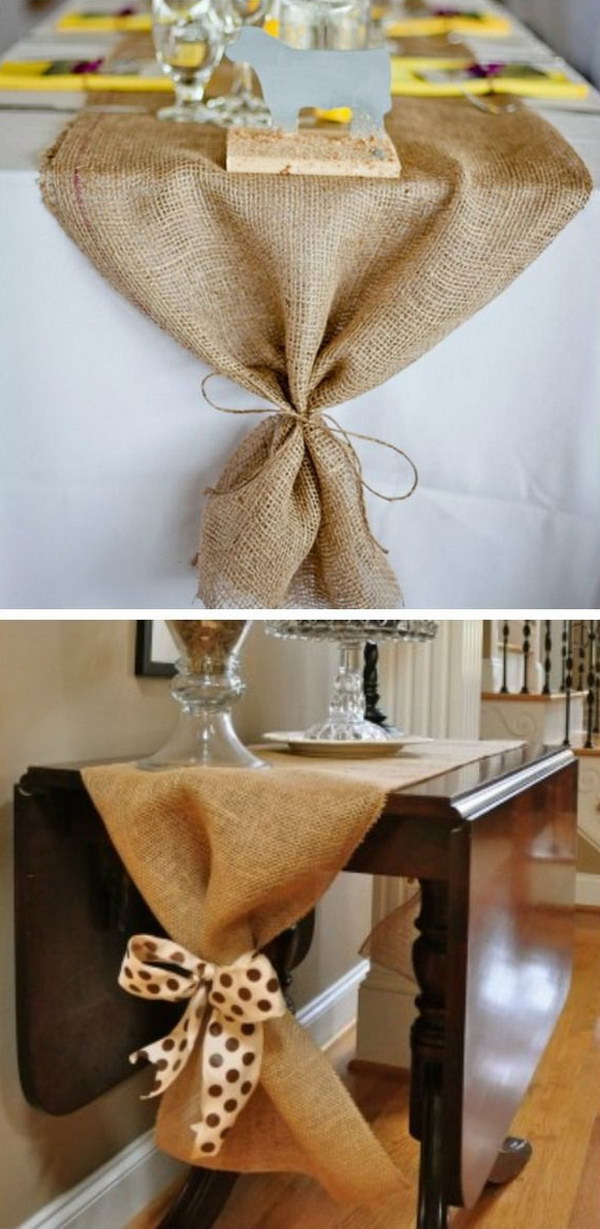 This could be just any taupe burlap table runner, except for the fact that it was tied at the sides with large polka dot bows, which help weigh it down while also adding decoration. via thekitchn
Simple DIY Candle Holders
These rustic candle holders are made from two distresed pieces of wood which were carved and arranged to create a miniature bench on which a small row of candles can be displayed. via itsoverflowing
Cute and Simple DIY Pinecone Garland

Picking pinecones is a classic Fall/Winter activity, and this project makes your bounty useful. Let the cones dry, then string them along with some fabric decorations and hang the finished piece up for decoration. via ellaclaireinspired
DIY Pumpkin Vase Centerpiece

This centerpiece vase is in fact shockingly easy to make. All you need to do is carve the inside of your pumpkin, clean it all up and then prep the inside to host your flowers. Once all that's done, all there is to do is install the blooms and set the piece on the table. via jennysteffens
DIY Fall Planter Box Door Hanger

This piece is in fact really cute. It features a window frame with a planter at the bottom and 3D caligraphy style letters spelling the word Fall. Add the flowers and hang it all up so you can take full advantage of this project. via consumercrafts
DIY No Sew Yarn Pumpkins Garland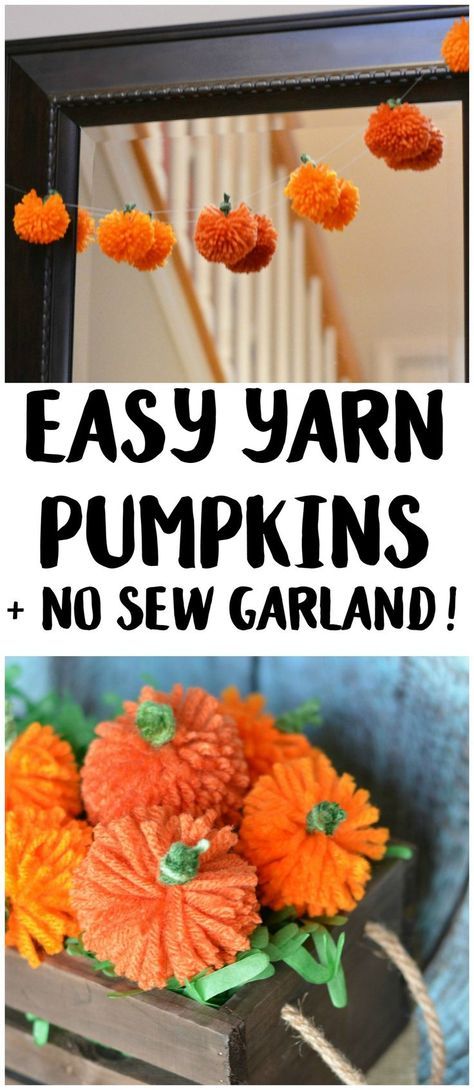 Here's another project featuring yarn pumpkins. This time, the orange yarn was actually looped towards the green center and then all of the pieces were hung up as a garland. via notquitesusie
Burlap & Glitter Place Cards For Thanksgiving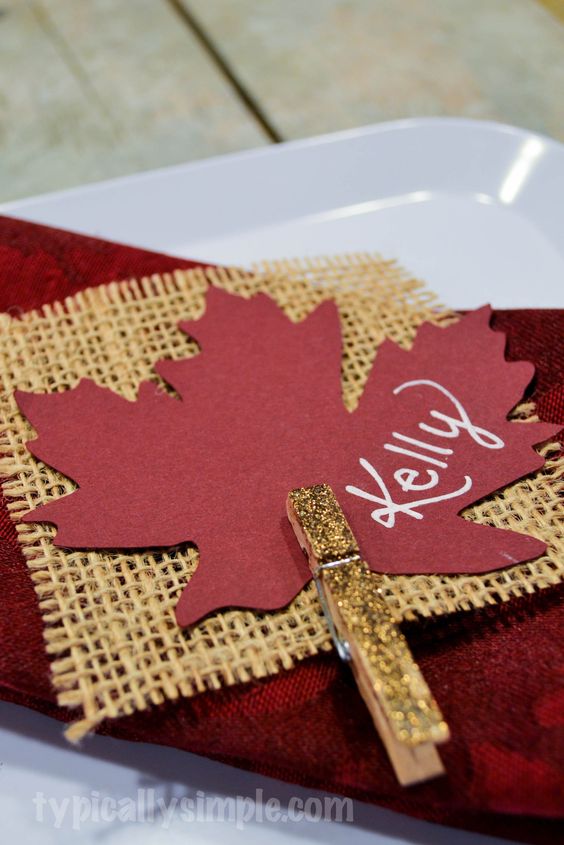 These place cards have a burlap base with what looks like a handle or holder, and they are then deccorated with a rich burgundy fake leaf, on which you can see the guest's name was written. via typicallysimple
DIY Thumb Tack Pumpkin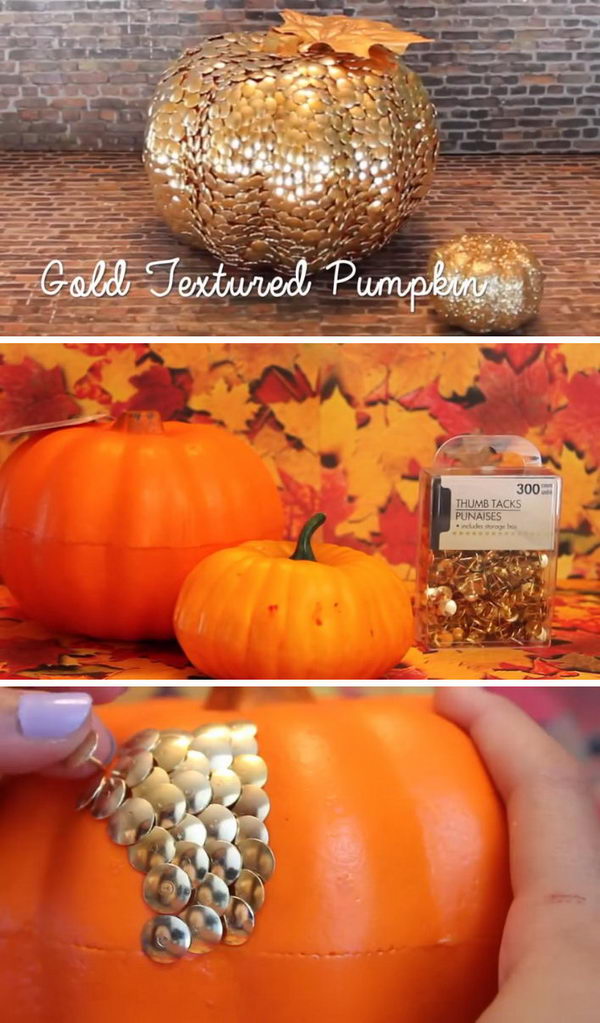 This is another very glamorous pumpkin. Its outside was fully covered with metallic thumb tacks to create that unique look that is sure to earn you compliments. via Youtube
Glittery Book Page Fall Leaves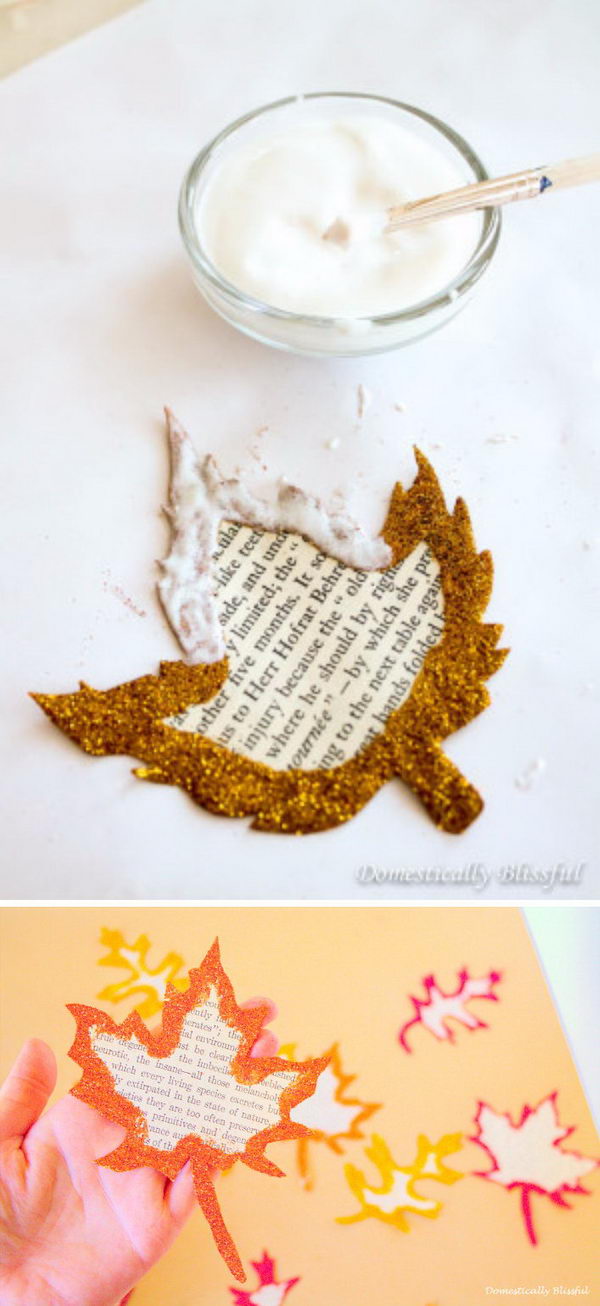 These Fall leaves with text were made from old book or newspaper pages. A thick glittering edge was then created around them. Something like these can be used in many ways, from wall art, to garlands and beyond. via domesticallyblissful