40+ Cool No-Carve Pumpkin Decorating Ideas
The pumpkin has long been a favorite for Halloween. As an integral part of fall's festivities, no home decor is complete without pumpkins. In all the fall's holiday celebrations, pumpkins as jack-o-lanterns are your go-to decor that never fail.
But is carving faces onto pumpkins the only way to use them? Do you really need to make them into jack-o-lanterns? The answer is no – there are endless possibilities to using the pumpkin for your Halloween or Thanksgiving decoration. All it takes is a few paint, some art supplies, and a little bit of imagination.
Here are 40+ cool no-carve pumpkin decorating ideas that jazz up your home:
Decorate Your Pumpkins with Thumb Tacks Ghost and Painted Spider Web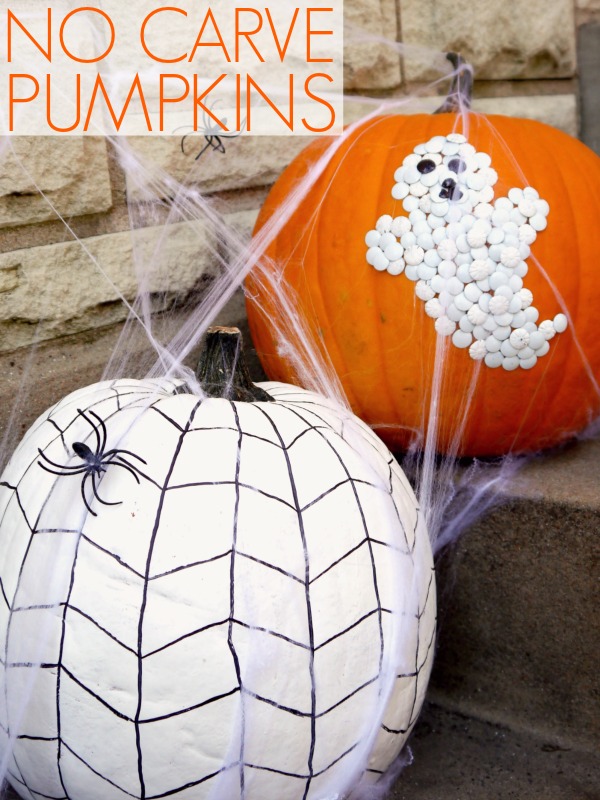 Get creative and use ordinary art supplies to decorate your pumpkin. Take this super easy idea by using white thumb tacks to form a ghost on your pumpkin. Or, you can simply paint a pumpkin white and draw spiderwebs. via creatingreallyawesomefunthings.
DIY Creepy Crawly Spider Pumpkin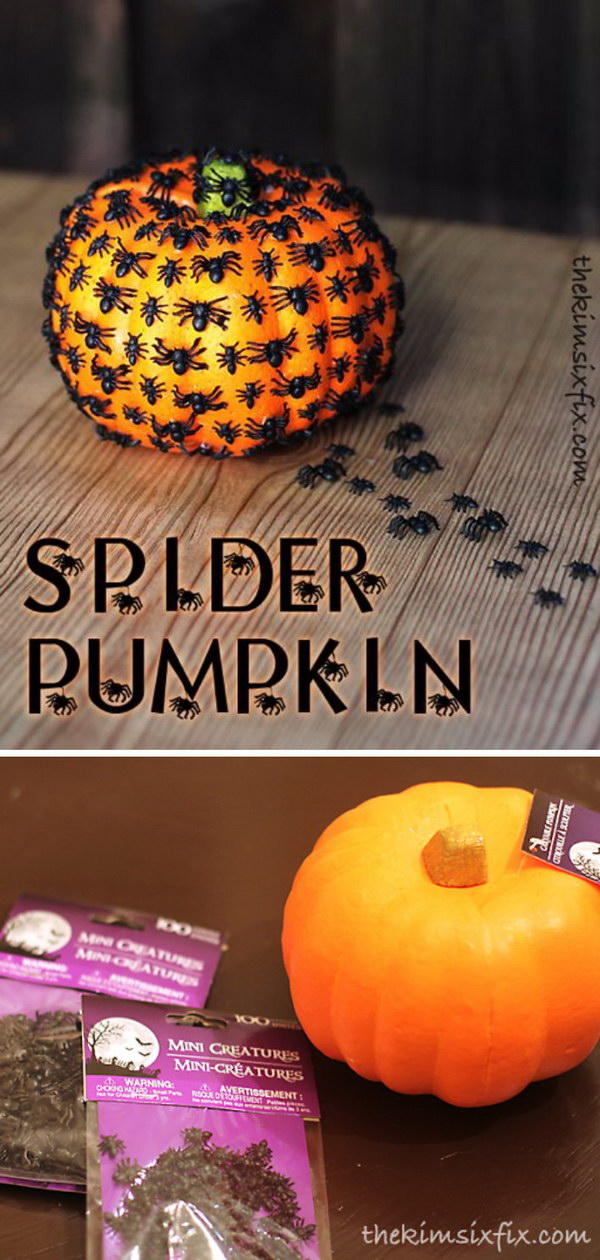 Get the tutorial via thekimsixfix
DIY Sequin Polka Dot Pumpkins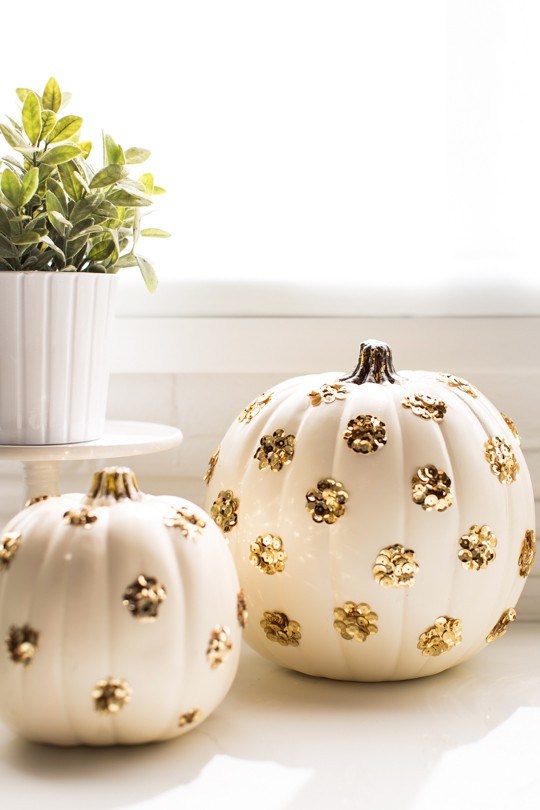 If you love all things shiny, why not use sequins on your pumpkins? Paint them white and decorate with sequins formed into flowers. via sugarandcloth.
Blue Porcelain Painted Pumpkin
Fool your family and friends into thinking your pumpkins are precious blue porcelain. Paint them white, then paint precious blue flowers to make them look like priceless porcelain. Decorate on the dining table and blend them in with real blue porcelain objects for the full effect. via craftberrybush.
Frozen Elsa Pumpkin

Did you ever imagine you can turn your pumpkin into a Disney-themed ornament? Transform your Halloween pumpkin into Frozen's Elsa by painting it blue, bedazzling it with white gems and snowflakes, and topping it off with a super cool tiara. via apumpkinandaprincess.
Dripping Paint Pumpkin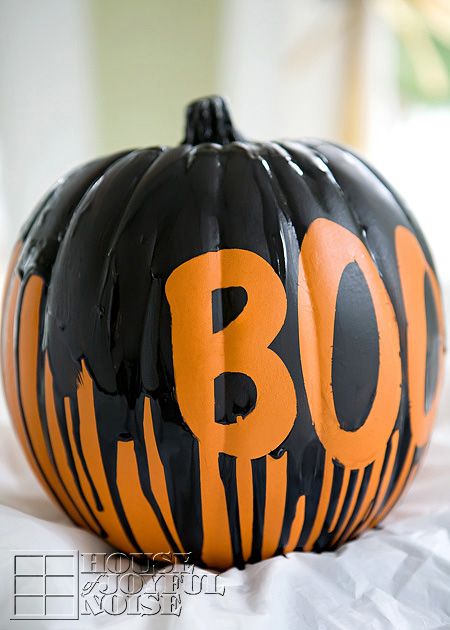 Things that drip are always creepy and nasty. Melt some black candles or crayons and create a messy dripping effect from the top of your pumpkin. Spell out the word "BOO" for the complete Halloween appeal. via houseofjoyfulnoise.
Paint The Pumpkin Stem Gold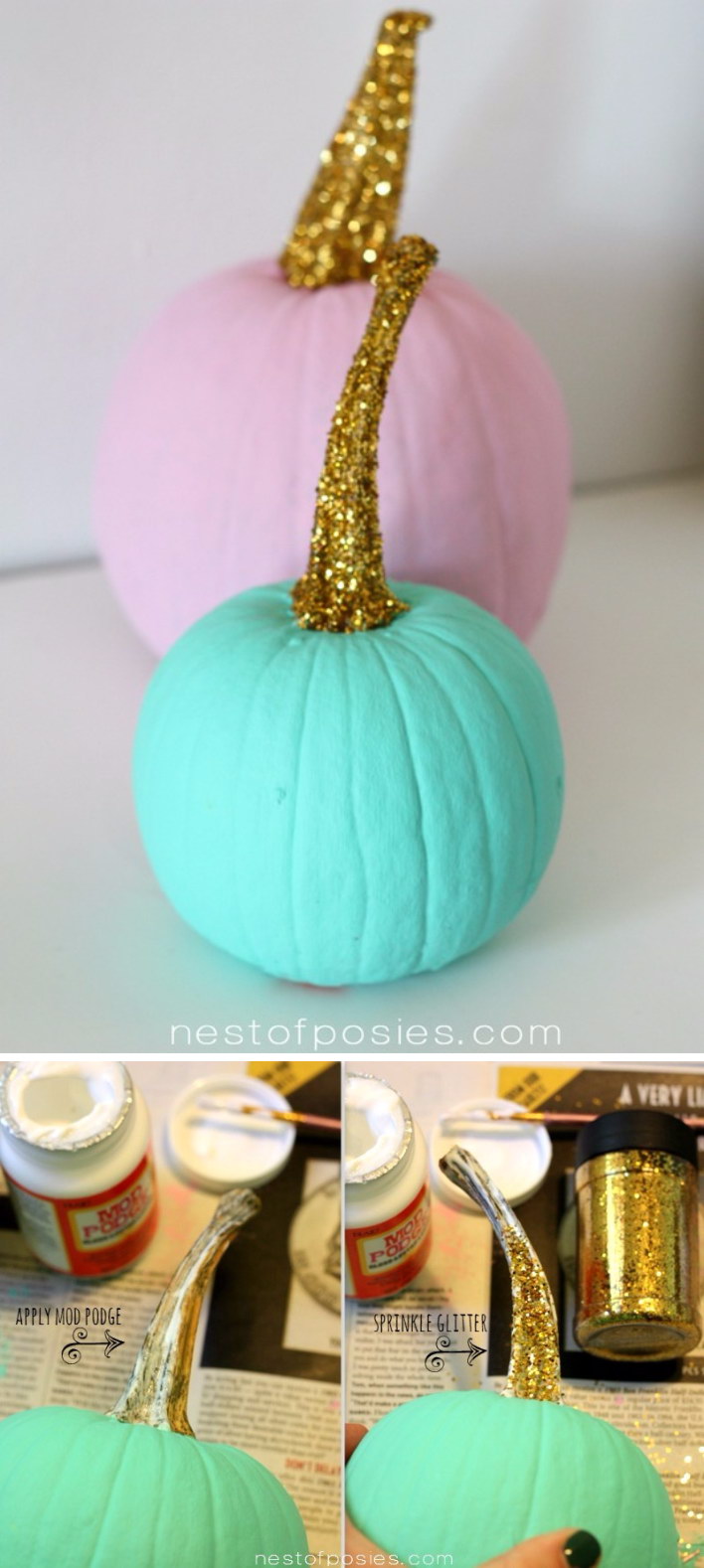 Pumpkins don't always have to be creepy. Paint your tiny pumpkins in pastel colors and cover the stems with gold glitter – simply perfect for some super cute and kitschy Halloween decor. via nestofposies-blog.
Simple Spray Painted Pumpkins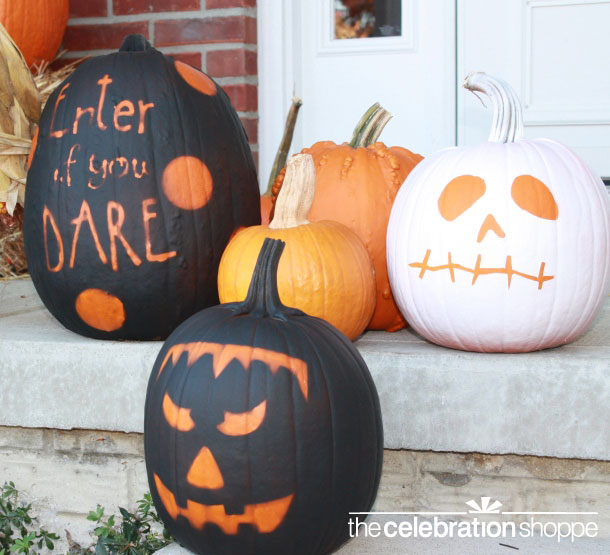 Even without carving your pumpkin, you can simply paint creepy faces to make them look like actual jack-o-lanterns. via blog.thecelebrationshoppe.
Easy No Carve Sugar Skull Pumpkin Decorating

Do you happen to love skulls? Buy a simple skull mask and glue on your pumpkin. Add some flowers on the skull's head for a classic Day of the Dead Halloween decor. via fivebirdsonparade.
No Carve Decoupage Pumpkins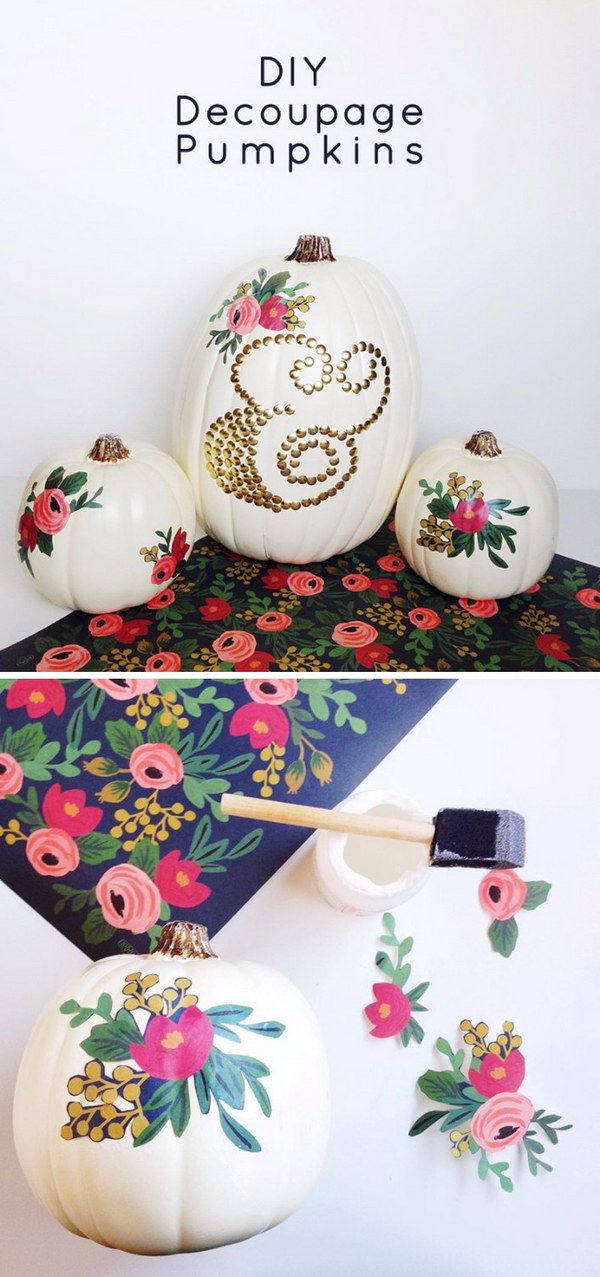 If you don't like the idea of using sequins, paint, or using other objects on your pumpkin, you can simply use cut outs of images. Simply cut out pictures of objects that you like – be it flowers, or even pictures of your family – and paste them on your pumpkin. Don't forget to paint white glue over the images for a full decoupage project. via goldstandardworkshop.
Tiered Princess Pumpkins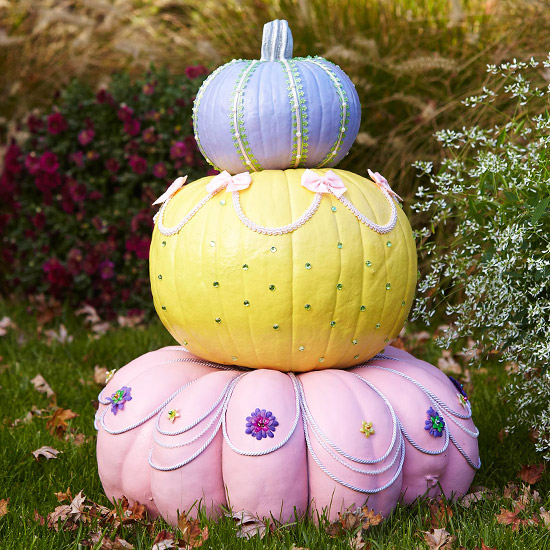 Don't you just love fondant cakes? Especially multi-tiered ones that look so scrumptious? Well, you can actually make your pumpkins look like an actual tiered fondant cake by simply painting them in pastel colors, decorating them with gems, and putting them on top of the other. Make sure the pumpkins are of different sizes from large on the bottom to small on the top. via bhg.
Glow in the Dark Puffy Paint Polka-dot Pumpkin

Your pumpkins can still light up in the dark! Use glow-in-the-dark puffy paint to decorate your pumpkin. Spell out the word "BOO" or paint any Halloween image for that matter – be it a bat, a cat, or a ghost! via club.chicacircle.
Day of the Dead Skull Pumpkin Candle Holders

Just like the skull pumpkin, you can create your very own Day of the Dead Halloween decor by simply painting your pumpkins white, and drawing a skull. Again, don't forget to add some flowers for the complete sugar skull look. via bloglovin.
Silver Leaf Pumpkin

Merge the look of fall and Halloween by using spray-painted leaves to decorate your pumpkin. Paint the entire fruit in black, spray paint a few leaves in silver, and glue the leaves on the bottom for an elegant and unexpected pumpkin decor. via ahomefordesign.
Cupcake Pumpkin

Who would've thought you could turn a pumpkin into a giant cupcake? It's not exactly creepy but it's undeniably supercute and something kids would surely love to see. Paint your pumpkin white, decorate with pink ribbon, glue the top with cotton to mimic marshmallows, and add some pink covered buttons to mimic candies. Kids would never think the thing is a good old pumpkin. via hellowonderful.
Chain Ghost Pumpkin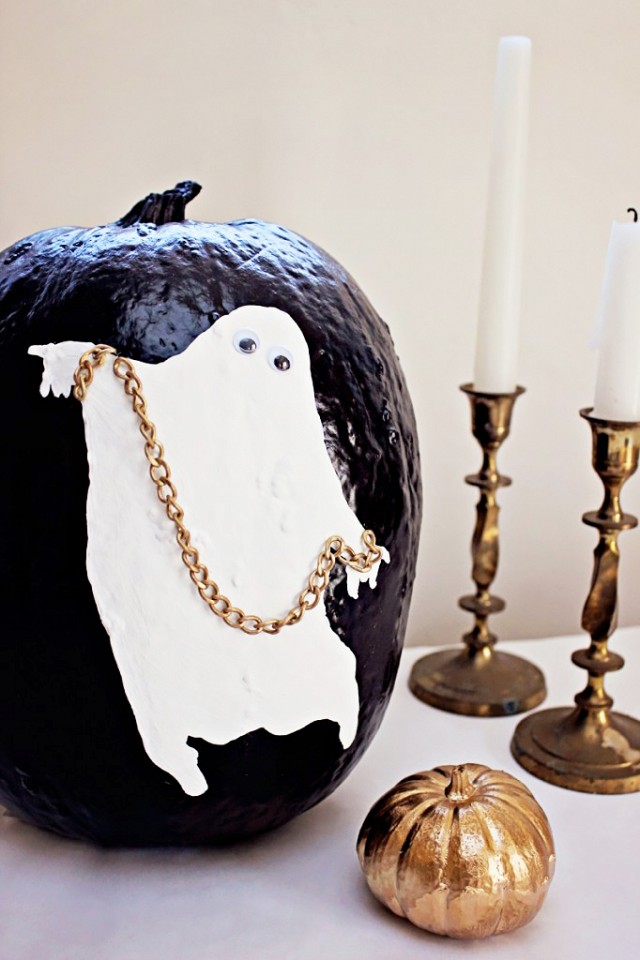 A super fast DIY project, paint you pumpkin in black and paint a white ghost over it. Simple yet on the spot for a super cool Halloween ornament.
DIY Fresh Floral Moon Pumpkin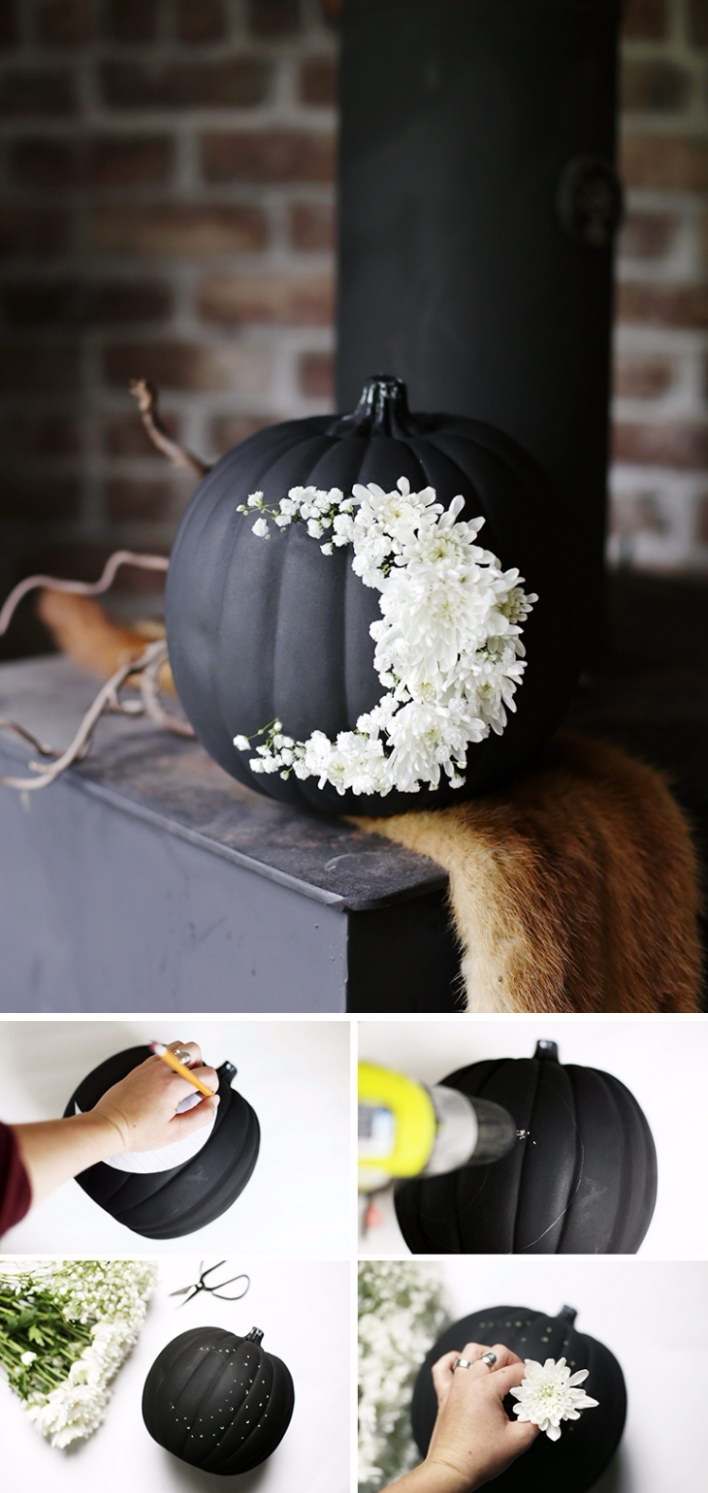 Aside from an image of a white ghost, you can also make several other images that symbolize Halloween. The moon is another integral symbol of the season, so get creative and use tiny white flowers to create an image of the moon on your painted pumpkin. via themerrythought.
Gold Thumbtack Message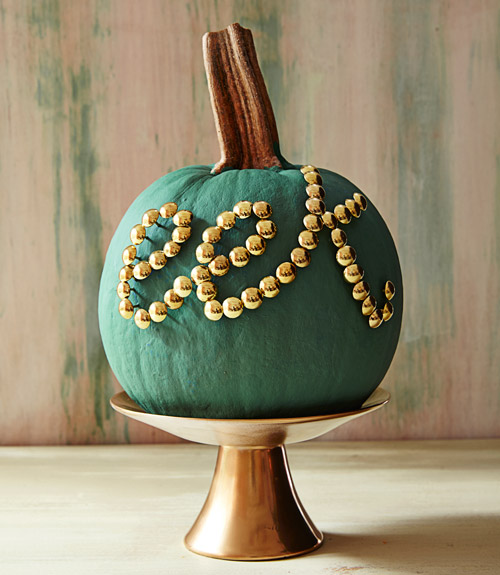 Spell out any word on your pumpkin by using golden thumb tacks. Spell out "Boo" or "eek," or whatever creepy message you want to use. via brit.co.
Black & White Striped Pumpkins

Beetlejuice is an epic Halloween character and famous for his black and white striped suit. Turn your pumpkin into the famous character by painting it with black and white stripes. via brit.co.
Spider Web Pumpkin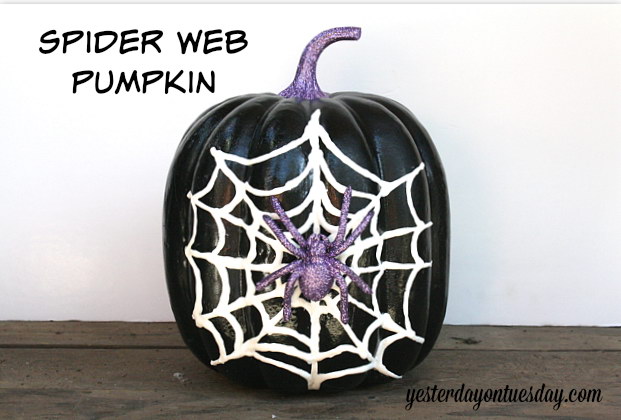 There are many different images that you can paint on your pumpkin, and the spiderweb is just one of a few iconic images associated with Halloween. Paint the fruit black, and create a large spiderweb on the body. Don't forget to glue a plastic spider in the middle of the web, too. via yesterdayontuesday.
Neon Paint Dipped Pumpkins
via anightowlblog.
Candy Corn Crayon Pumpkin DIY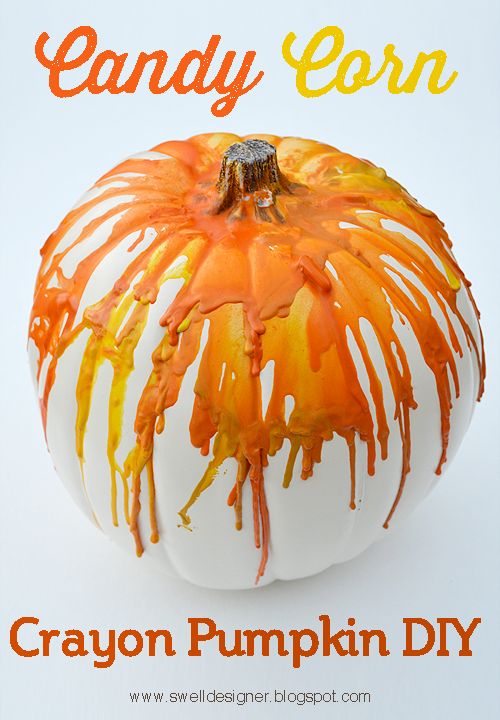 Another crayon-melting project. Create a candy corn dripping effect by melting yellow and orange crayons on top of the pumpkin. via theswelldesigner.
Pumpkin Decoration with Bows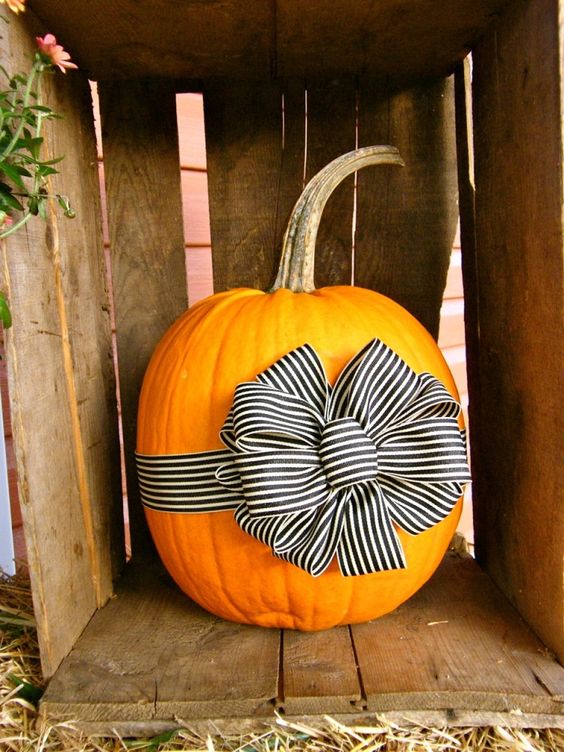 You don't have to go all-out with your no-carve pumpkin ideas. By simply wrapping it with a pretty bow, you can turn a drab old pumpkin into a pretty Halloween or Thanksgiving decoration. via mayarts.
Cinderella Butterfly Pumpkin

Everyone loves butterflies but blue butterflies are the rarest. Paint your pumpkins blue and glue some blue-painted plastic butterflies for a whimsical decoration little kids will surely adore. via sisterssuitcaseblog.
DIY Unicorn Pumpkin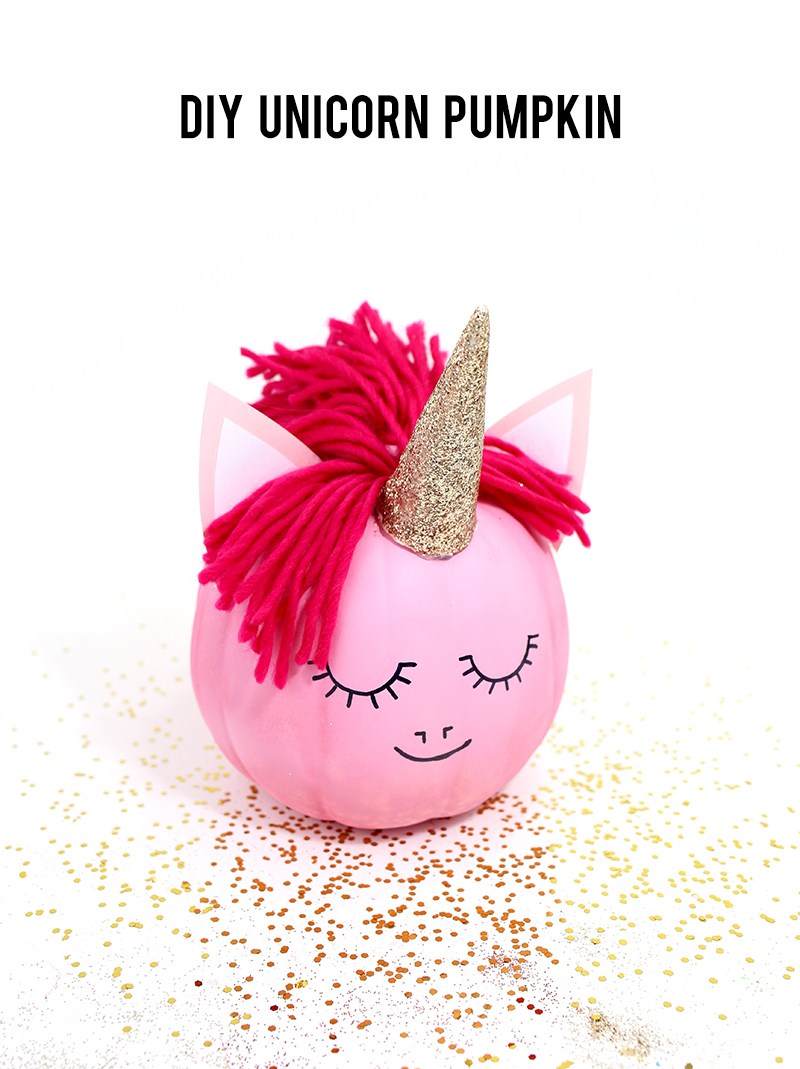 Yes, you can turn your pumpkin into a majestic creature like the unicorn. Simply paint the pumpkin pink, add some horse ears, and of course, a cone on its forehead to turn it into a beautiful unicorn decoration. via linesacross.
Pumpkin Decoration with Spooky Eyes Paper Crafts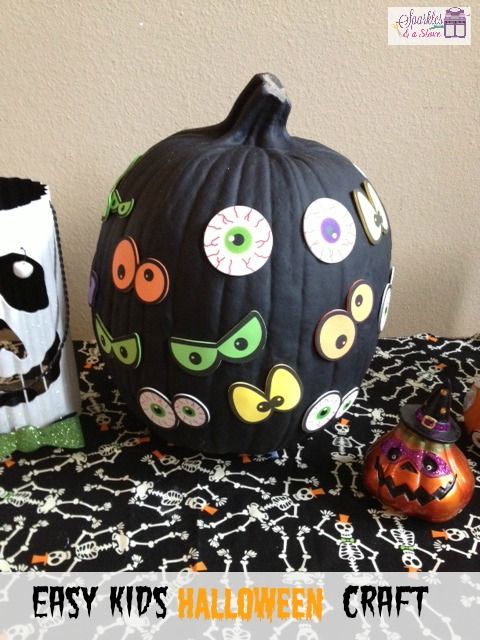 Cut out some eye ball images on paper and simply glue them all around your pumpkin for an easy-to-do and quick Halloween pumpkin decoration.
Use Alphabet Stickers to Leave Message on Pumpkins Easily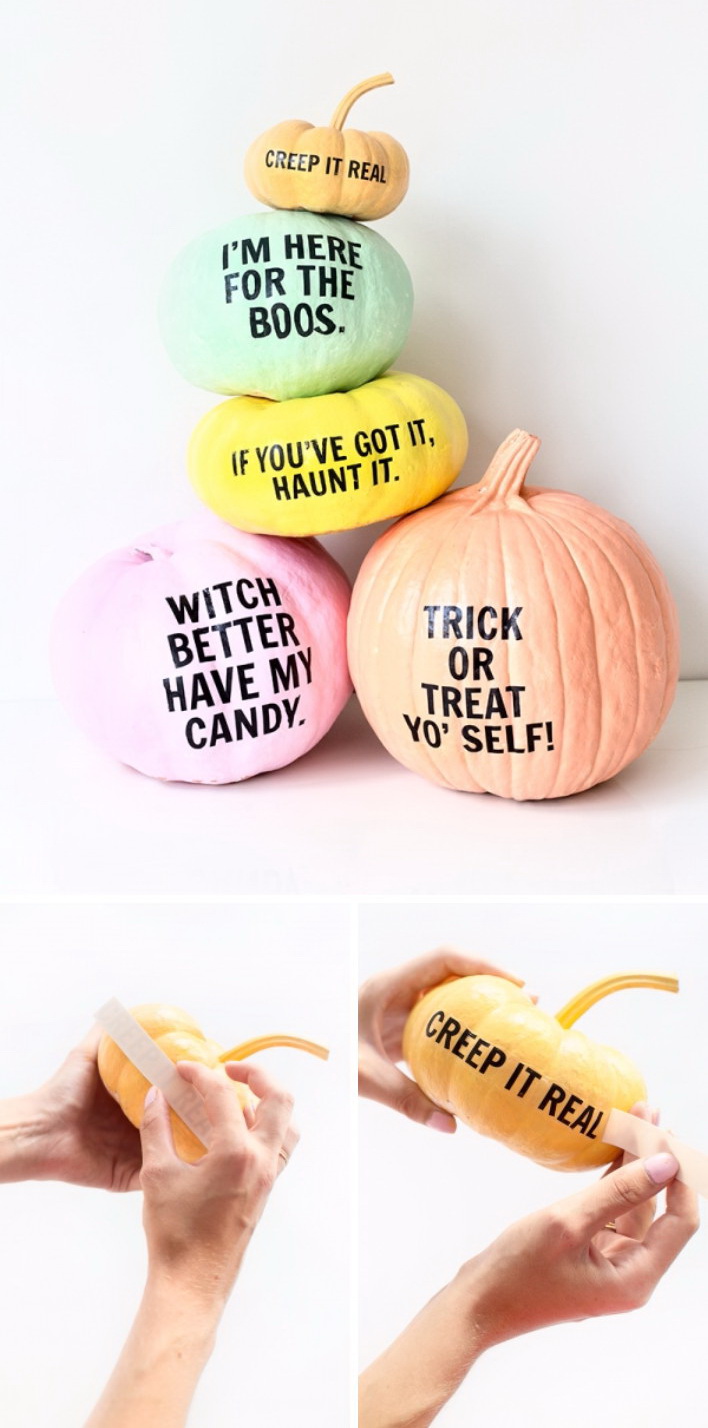 If you want to get a few messages across without saying anything, why not write them on pastel-painted pumpkins? Write down "Happy Halloween" or "Boo" or "Witch Better Have my Candy" for some sense of humor as guests enter your home. Place them on your doorway for a few laughs. via studiodiy.
Glitter Pumpkins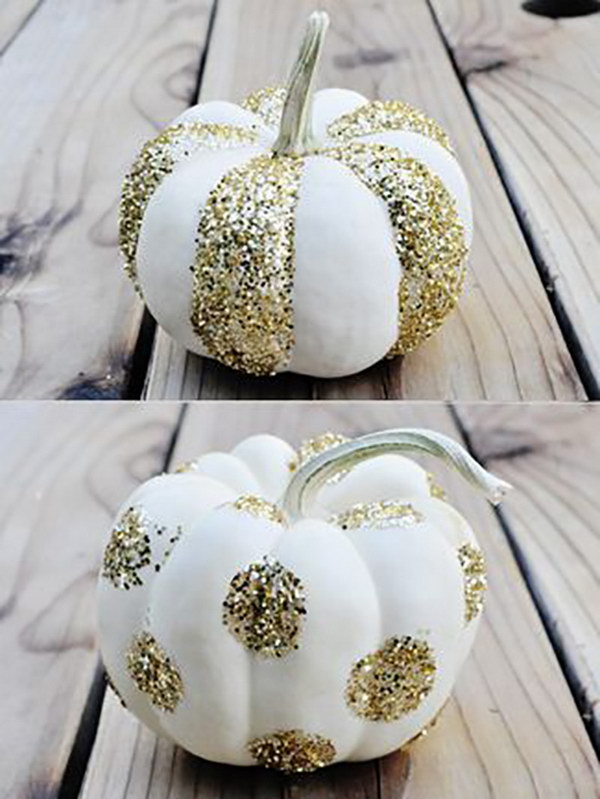 You can also play around with glitters and turn your pumpkins into precious little ornaments for your home. Paint them white and glue some gold glitter all around. Make stripes or polka dot with the glitters for a super girly effect. via fabulousdiydecor.
Paint a Monogram with the First Name for Pumpkin Decoration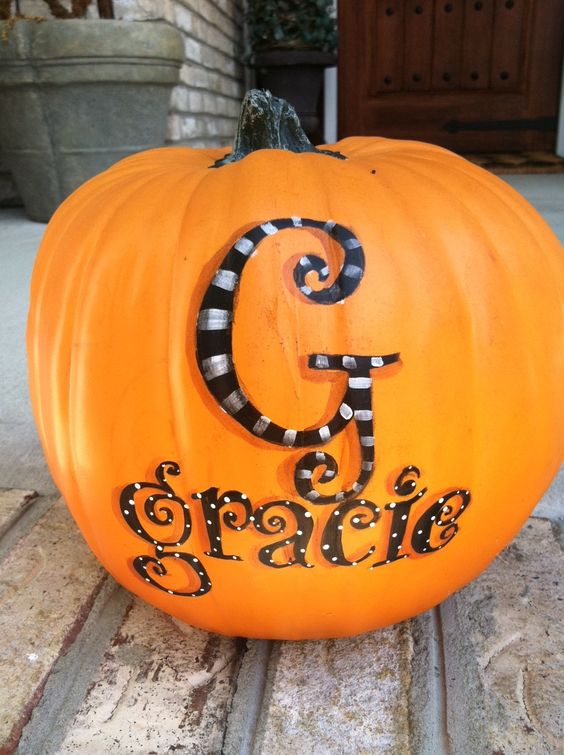 Decorate your pumpkins with initials of loved ones, or your own. You can use paint, or cut out paper, or any material to make your monogram. via preppyandpinknc.
Lace Wrapped Pumpkin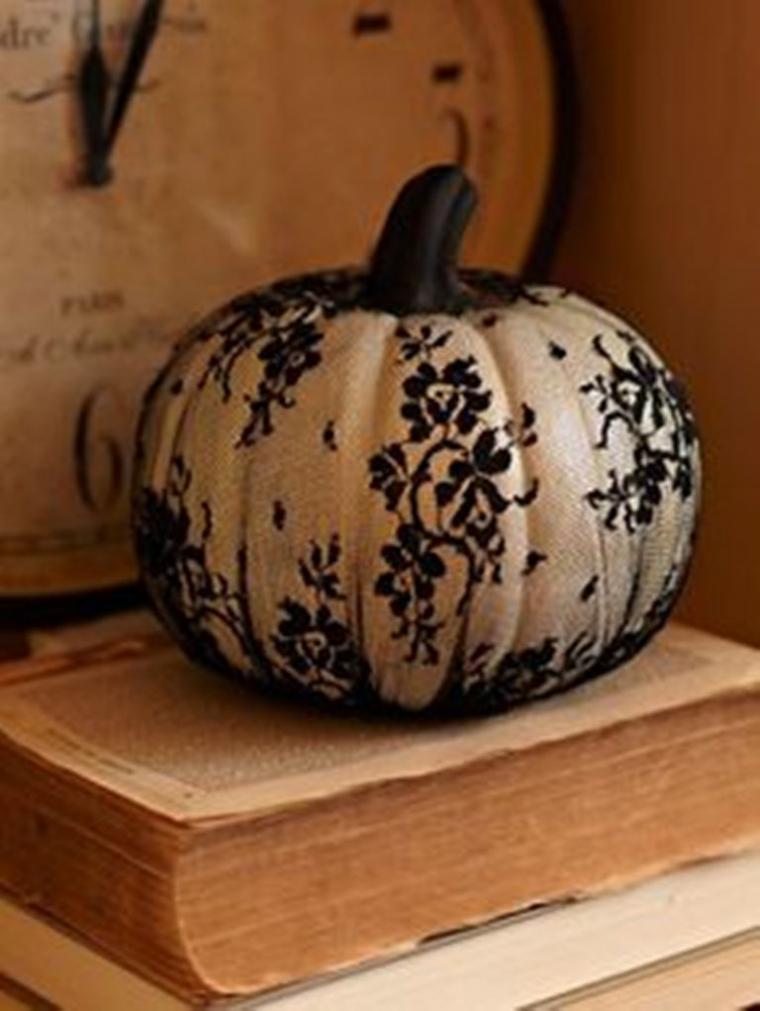 Channel your inner Morticia Adams by wrapping your white-painted pumpkins in black lace – eerily mysterious and beautiful at the same time. via bhg.
Coastal Pumpkins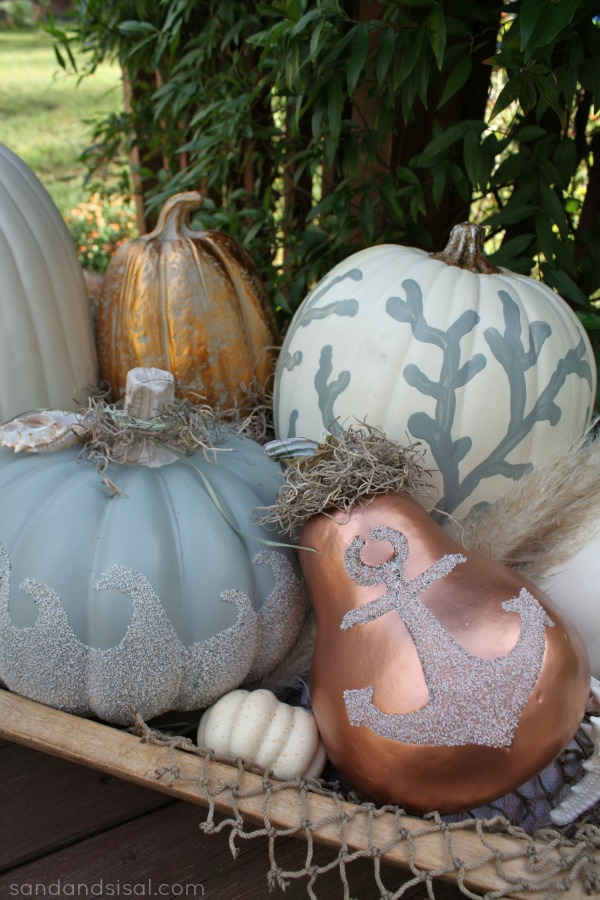 Bring the beach to your home with these coastal-themed pumpkins. Paint seaweeds or waves on cool-colored pumpkins to add some nautical feel to your fall decorations. via sandandsisal.
Pretty Painted Pumpkins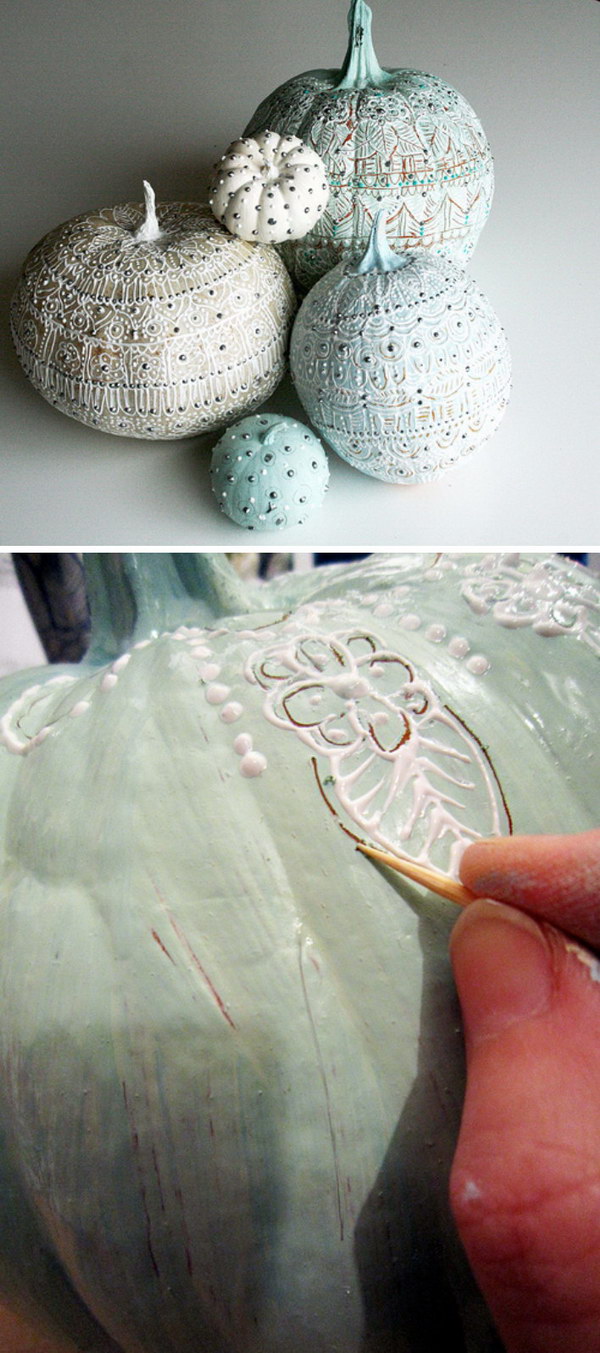 If you have the knack for painting, paint your pumpkins with elaborate flowers and images to create unique art pieces. via ilovetocreateblog.
DIY Glow In The Dark Pumpkins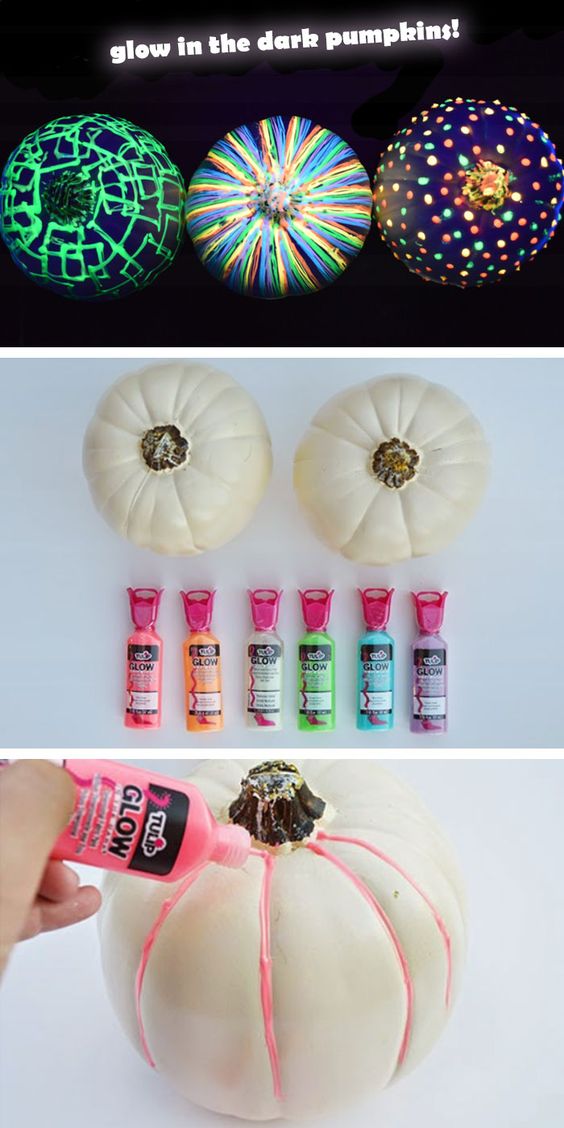 Collect a good number of tiny pumpkins and paint them with glow in the dark paint. Leave them at night in dark corners and places and watch the beautiful colors light up. ilovetocreateblog.
Flower Painted Pumpkin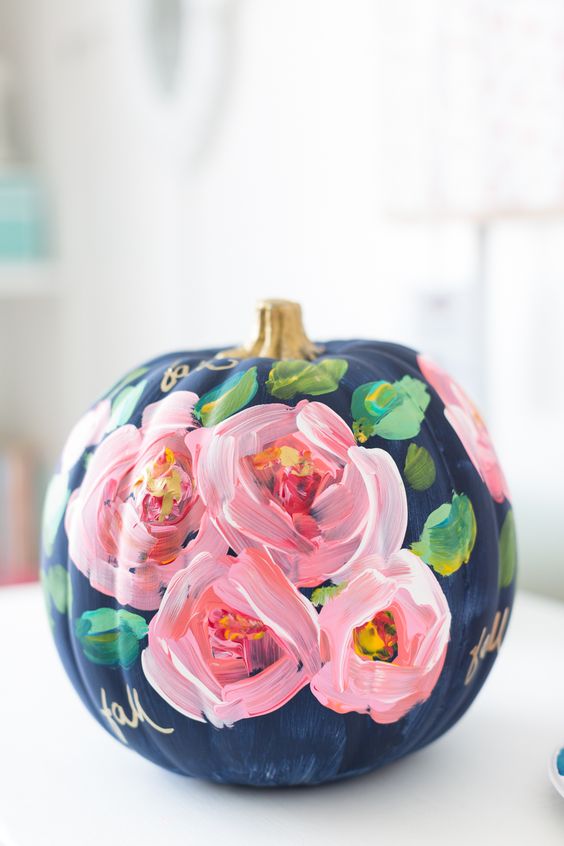 Make your pumpkin look like a beautiful paper weight by painting it with beautiful flowers. via craftberrybush.
Teal Mummy Pumpkin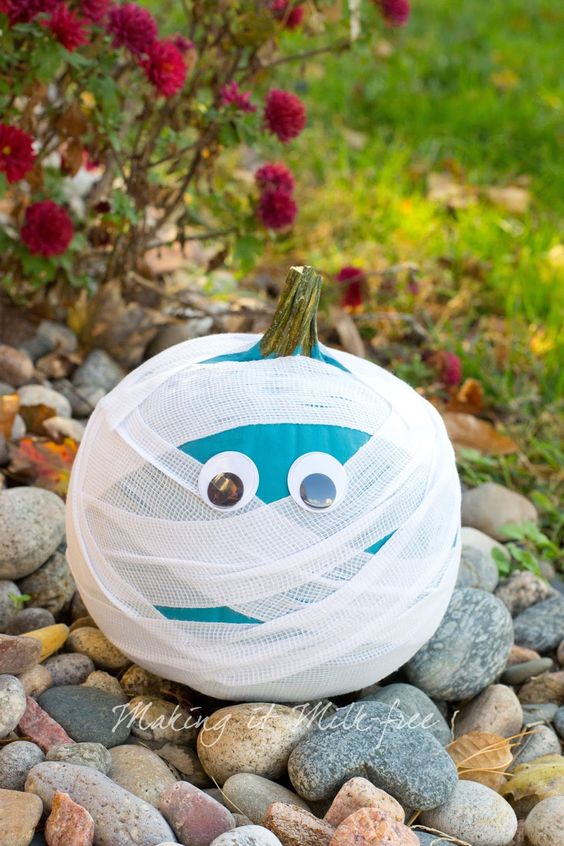 Glue a pair of googly eyes on your pumpkin and wrap it with white tape to make it look like an adorable mummy's head. Make a few and scatter them all around your yard or home. via makingitmilkfree.
Stenciled Letters Pumpkin Decoration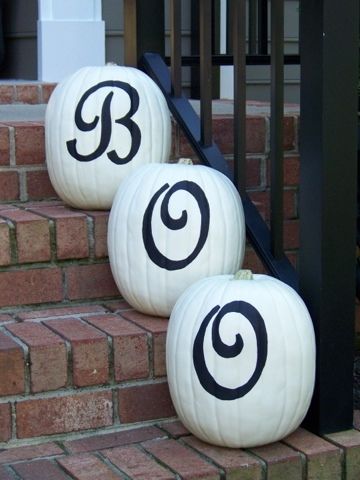 Spell out Halloween greetings by using painted pumpkins to form words. Make the words as short as possible, though, such as "Boo" or "Eek" so you won't have to use too many pumpkins.
Painted Pumpkins with Polka Dots and Stripes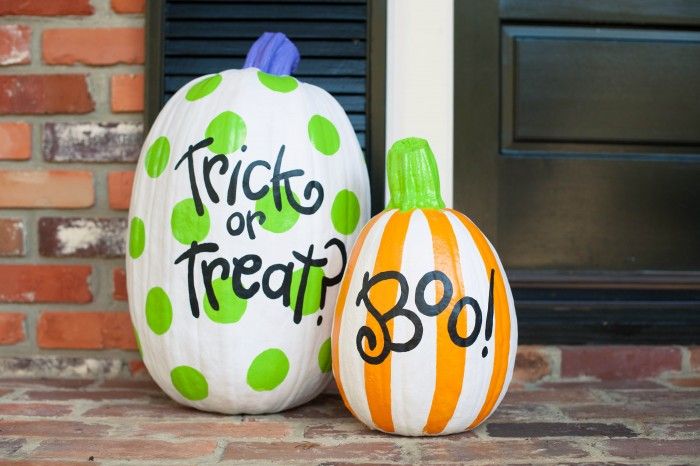 Color your pumpkins in circus colors and prints such as neon polka dots and orange stripes for a festive effect. Write some Halloween messages in black and you've got a pair of Halloween decorations that are sure to bring in the fun to your home. via coton-colors.
White Painted and Studded Pumpkin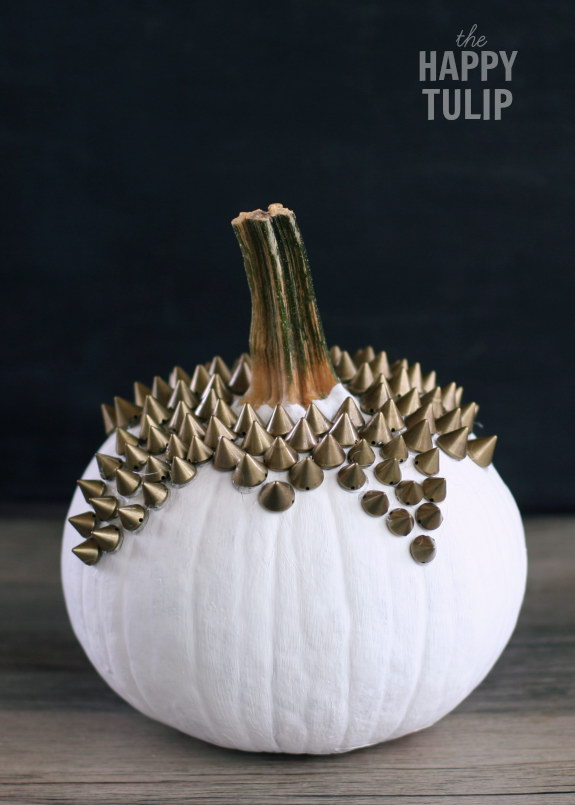 Metal studs have always been synonymous with the rock and roll lifestyle. Paint your pumpkin white and decorate with metal studs for that badass pumpkin ornament. via thehappytulip.
Mod Podge Fall Coastal Theme Pumpkin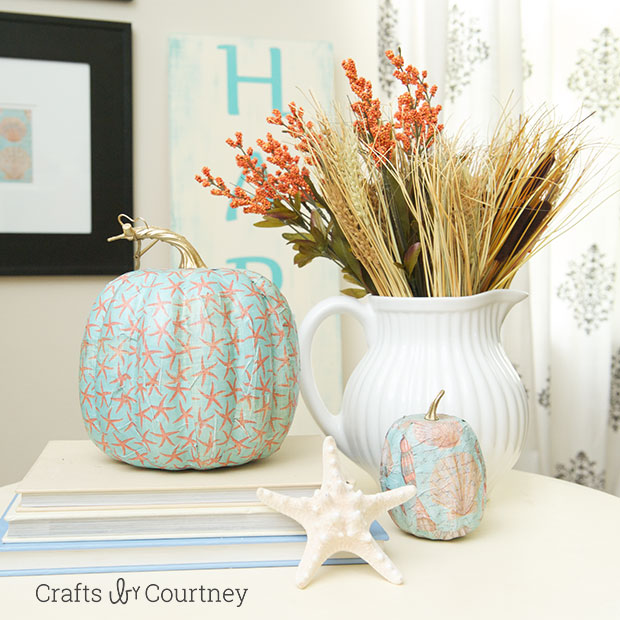 If you want the whole fall coastal decoration, why not paint your pumpkins with seaside images such as starfishes, or even an anchor? Decorate together with other seaside ornaments for a rich table decor. via craftsbycourtney.
Handmade Pumpkin Sign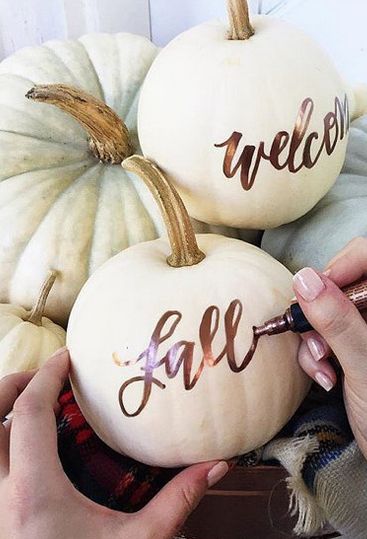 Paint your pumpkins in white, and write autumn or Thanksgiving messages for an easy and no-fuss table or bookshelf decor. theperfectpalette
DIY Glitter Pumpkins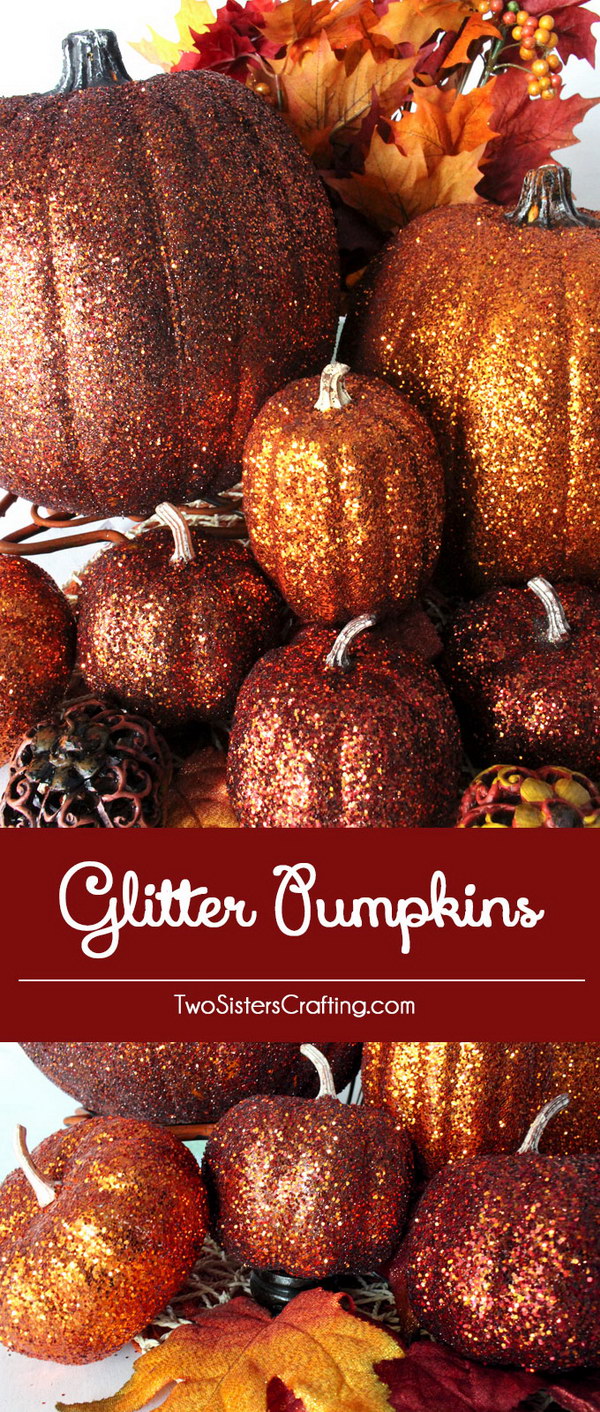 Don't hold back on the glitter! Cover entire pumpkins with different colors of glitter for the ultimate festive ornament. twosisterscrafting
DIY Painted Waverly Fabric Halloween Pumpkin

If you have a few scraps of fabric lying around, cut them into vertical pieces and glue them on your pumpkin to create printed stripes! plaidonline
DIY Gold Bling Pumpkin

Got some gold bead necklaces lying around? Why not wrap your pumpkin in it and make a golden ball as a coffee table conversation piece? Its bling will surely catch your house guests' attentions. theswelldesigner