Cool Tribal Nail Art Designs
Ladies, it's preferred if we always look our best every single day. Like the quote goes: Dress like you are about to meet your enemy. It is not just for show and to please others but it is for yourself too, always remember to bring your A game no matter where you go! So boost up that confidence and look at your checklist.
Dressed wonderfully? Yes! √
Make-up intact? Yes! √
High Heels? Yes! √
Chic Nails? No?! What do you mean no?!
Though nails are not always looked at and appreciated it is still best to see a woman with clean and fixed nails. It shows her creative and imaginative side, it compliments the outfit being worn and it is fun! Tribal Nail Art has been present for so long. The design signifies and marks the right of passage, worked as a charm to ward off evil spirits or just to simply be viewed as a mean of remembrance to identify each family member but at present day we use it to be fabulous.
As you can see Tribal Nail Art is created with curves and angular lines drawn using a Professional Nail Art Brush of any size that ranges from sleek to wide. These types of Nail Art incorporates the use of bold patterns, colors and shapes that give life to the structure, your imagination can go totally free and it still would be okay. Dots are also used for design. Dots are created by the use of Professional Dotting Pens that can be bought off eBay or Amazon and like the brushes the size ranges from small to big depending on your preference. If you prefer doing Tribal Nail Art by yourself because you'd like to save on money, dots can also be created by the use of Bobby Pins.
Plain bold colors are usually the main target and favorite kind of Nail Art of ladies but that's so boring and last year. Beside, it's called Nail Art for a reason. Don't get me wrong, I think that plain is beautiful and brings out your elegant side but sometimes you just have to let your inner wild and fun side out every now and then. Especially since these kinds of nails are all over Instagram and FB posts, stick with the trend with these cool Tribal Nail Art designs! Very creative and gives you a sense of uniqueness because each design is intricate and different.
Take a look at these 20 cool tribal nail art designs for inspiration. They are so flexible and customizable to turn your nails totally tribal. They are wonderful for festive or special occasions.
1. In Tribal Nail Art, you are always given the option to choose whether you'd like the design on all your fingers or on a few selected like this example. The first example looks very elegant, the colors seem soft and reserved and it compliments the simplicity of the design.
source
2. An example of Tribal Nail Art with fine lines is what can fully describe the second photo. The use of colors usually contrast one other to make sure that the lines and design is displayed perfectly and not vague. As you can see the background of this picture is different from the first one which was white. Be creative and use your imagination as much as you can do not limit yourself.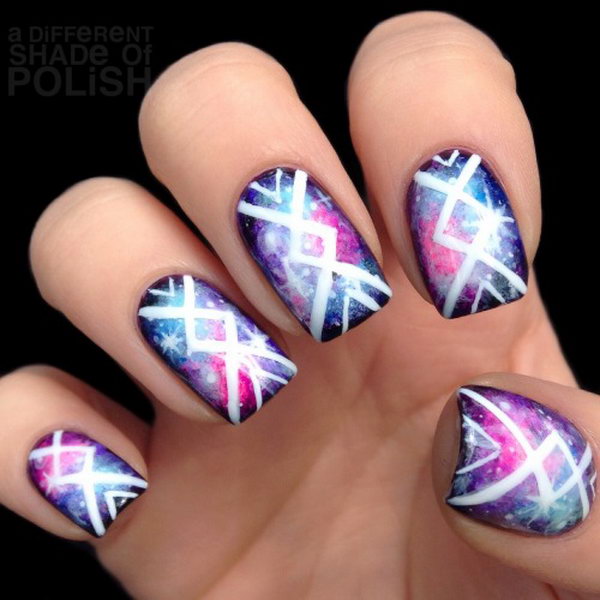 source
3. The third picture is quite similar to the first. They both have white as the background and very interesting light colors that gives contrast to the background. This Tribal Nail Art design is very stunning to look at because of the structure.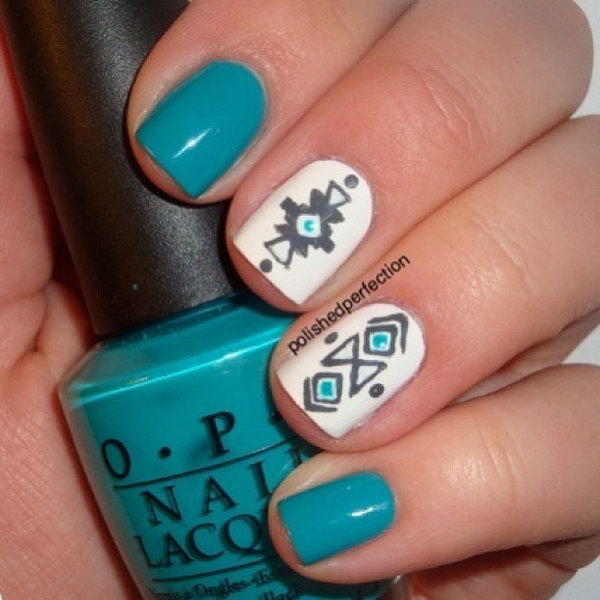 source
4. Here's another example of a dark base coat. These types of Tribal Nail Art are usually best worn with cocktail dresses of dark shades. Always remember to match what you're wearing to your nails.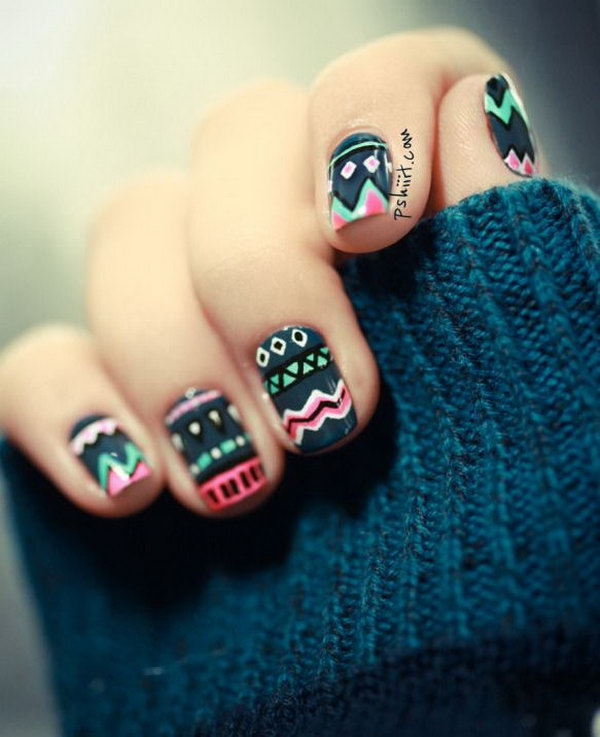 source
5. Beige is a very wonderful color, it screams out a very soft aura of sophistication. As you can see the beige base coat is partnered with really striking colors showing a hard aura that is in contrast with the base coat.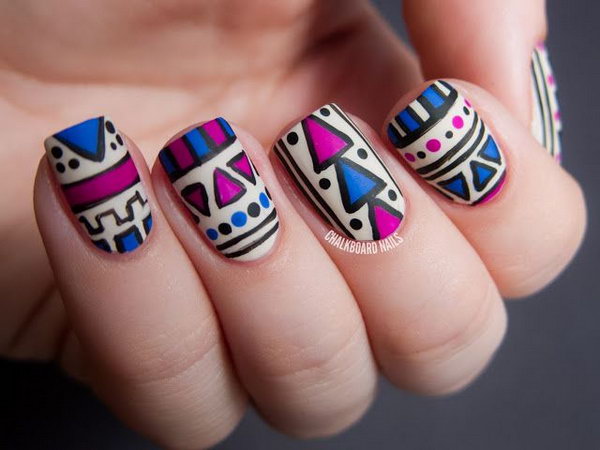 source
6. Do you want nails that scream out: "I am young and I am wild and I am free". Well this Tribal Nail Art is the one for you. Not only is it easy to do it's also very beautiful. Perfect for the Summer Season!!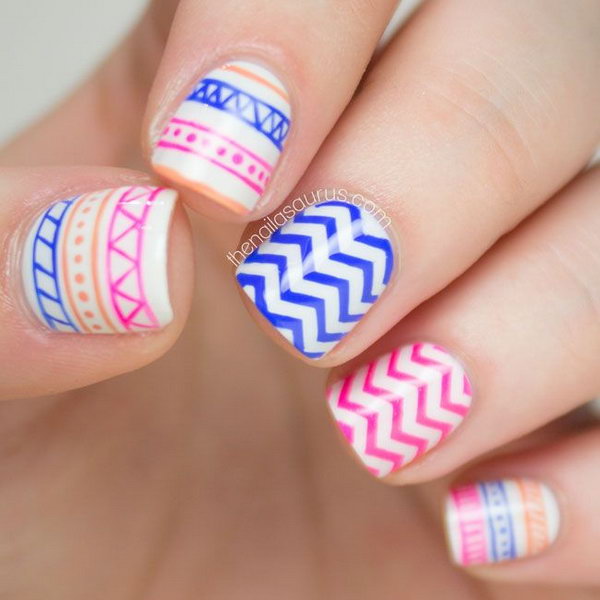 source
7. Some ladies really like to appear calm and fancy, I do too. There are days for partying and days for work, work and work. Ladies usually prefer the solid Beige color but I know I don't, always find a way to make your life colorful despite of what you're doing.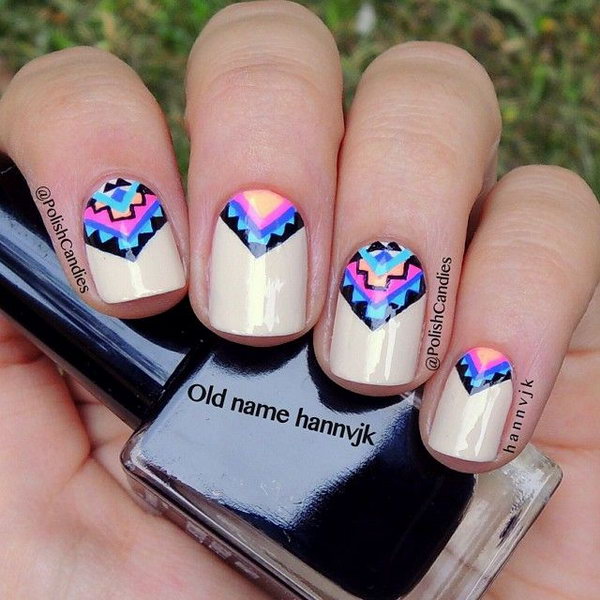 source
8. Black and Red colors give you that "I'm a Diva" look, match that attitude with this awesome Tribal Nail Art design. You'll really like the structure of the design in this one. Seems complicated and time consuming to make but hey, you're a Diva! So what?!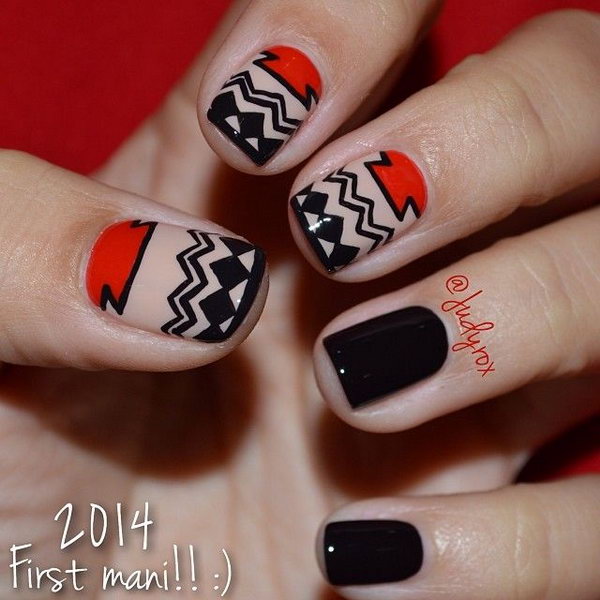 source
9. If there are gentle colors there are bold and neon-like ones that really bursts brilliance once combined, here is an example. See how creative it looks. Very eye teasing and it's also convenient because this is one of those Tribal Nail Art design that can strike a conversation up!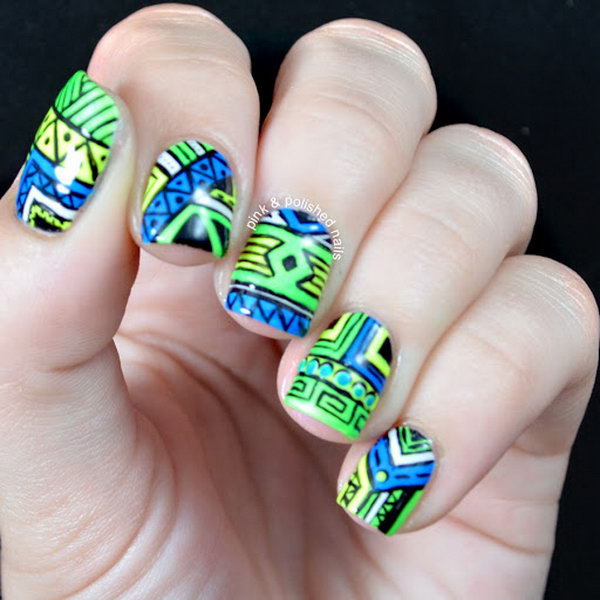 source
10. The tenth pictures show harmony between two colors. The design used for this Tribal Nail Art is purposely messy as to give that ancient look. Finer brushes may be use to achieve this kind of style.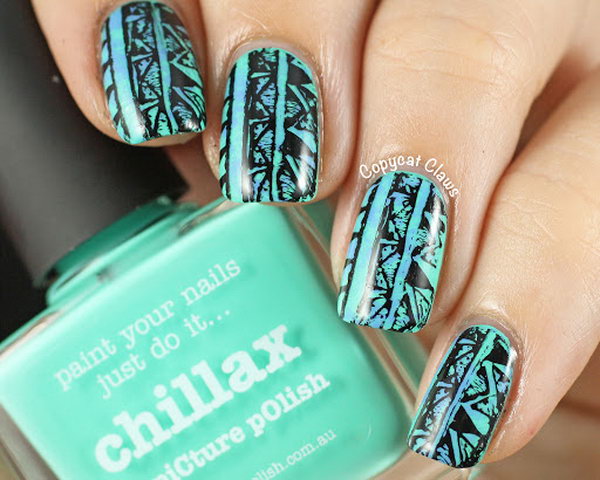 source
11. Beige strikes again! Although this look does not give out that business woman, type it looks really fun and chic! Perfect for a sunday stroll with your love one.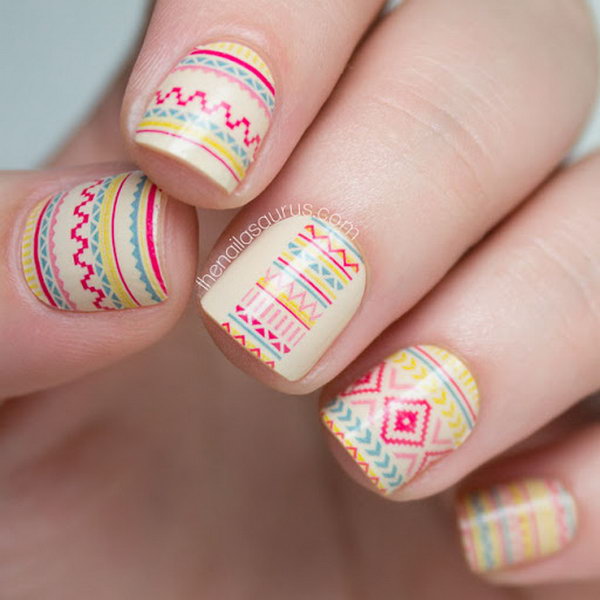 source
12. This kind of Tribal Nail Art would be undoubtedly bring out your wild side. As you can see the structures may look complex but all it really takes is patience and keen observance of colors.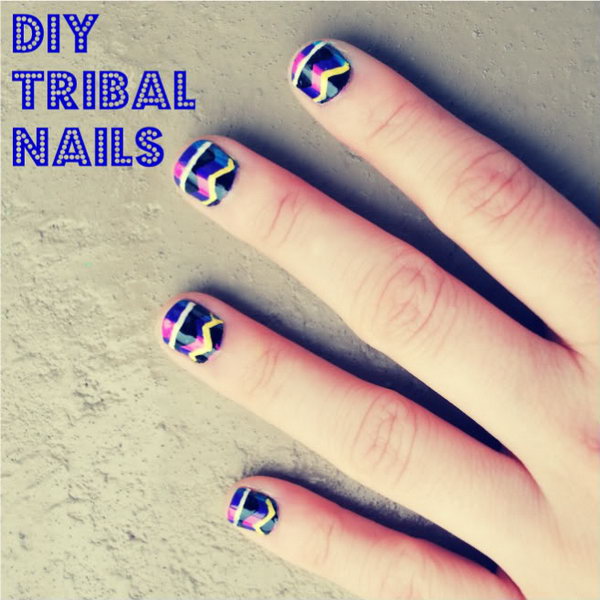 source
13. This look can give you that sophisticated yet fun appearance. Especially if you partner this with soft colored pastel clothes. Perfect for a walk in the park journey.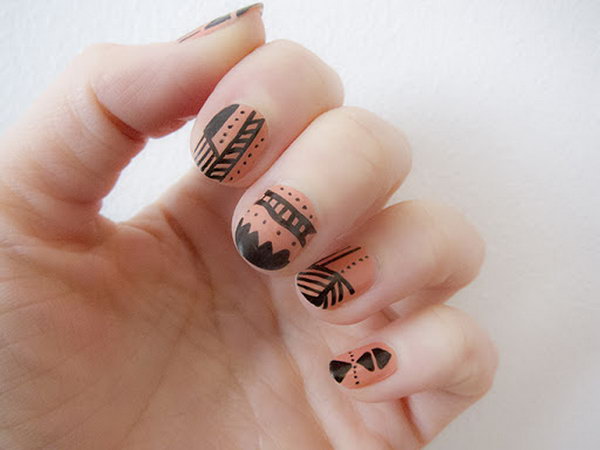 source
14. Bright colors are really eye teasing and will make many people look twice. This can go with any color of clothes and dress. The structure is very easy to do and you can experiment with different shades, shapes and positions!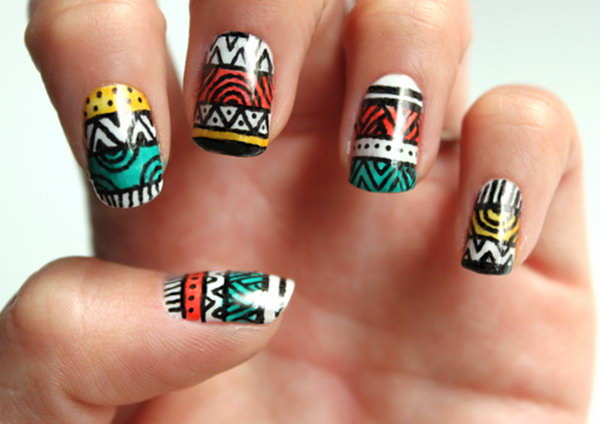 source
15. The shapes are placed in a very harmonious way, really creative and trendy. The colors all pop out and not one is overshadowed by the other.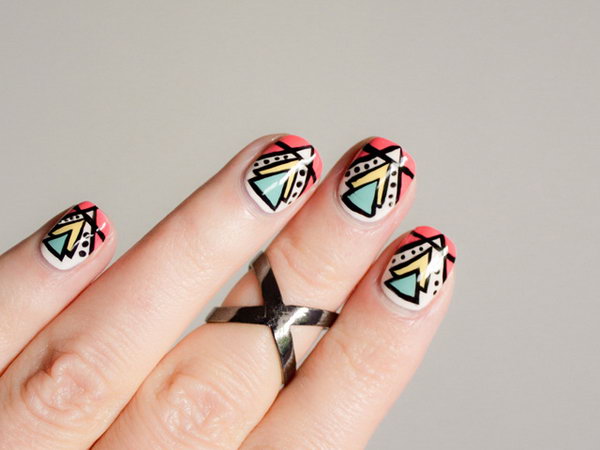 source
16. The sixteenth picture is a seasonal type of Tribal Nail Art. The colors and shapes agree with each other and symbolizes Christmas but if you get your imagination on and tweak some colors you can make this a every-season kind of Tribal Nail Art.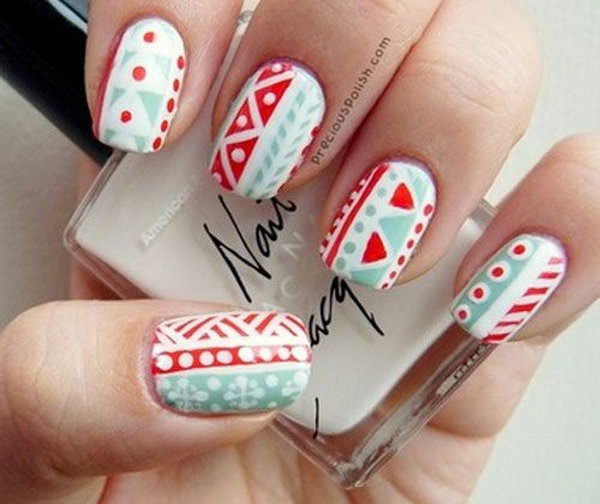 source
17. If you love wearing neon then this Tribal Nail Art is for you. Perfect for a night of partying, you'll literally glow.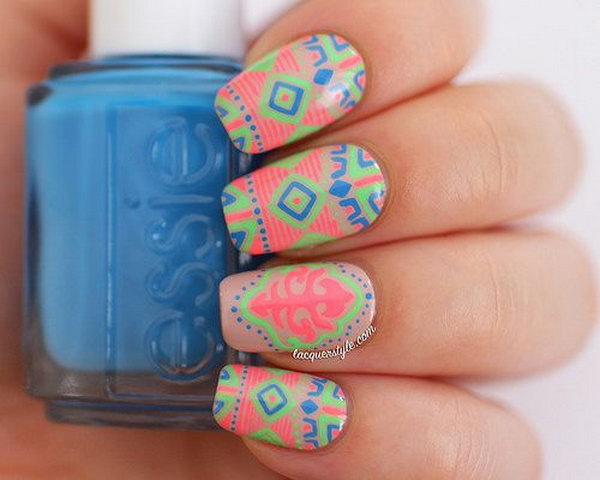 source
18. Tribal Nail Art shouldn't only be limited to bold and solid colors, gradient such as the example is very cute to match with a solid black line. Partner the gradient with a very concrete structure and you'll get a one of a kind Tribal Nail Art.
source
19. Different neon colors combined together really make an eye pleasing statement, don't you think? This is a totes personal fave that I believe will be yours too.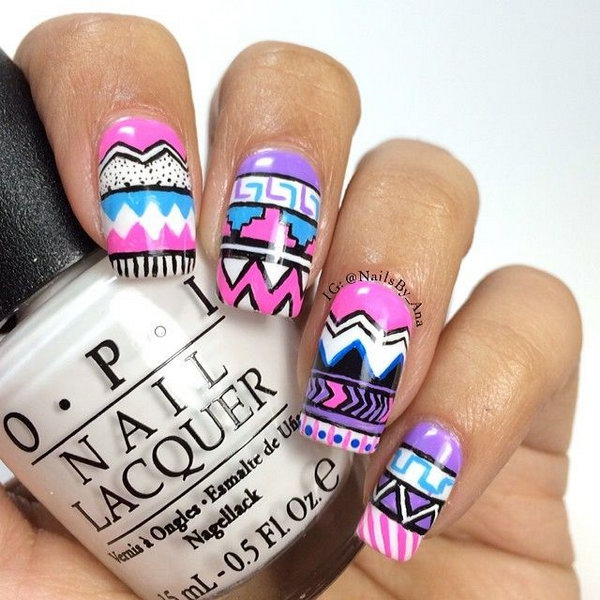 source
20. Last but not the least, a very fashionable and elegant Tribal Nail Art.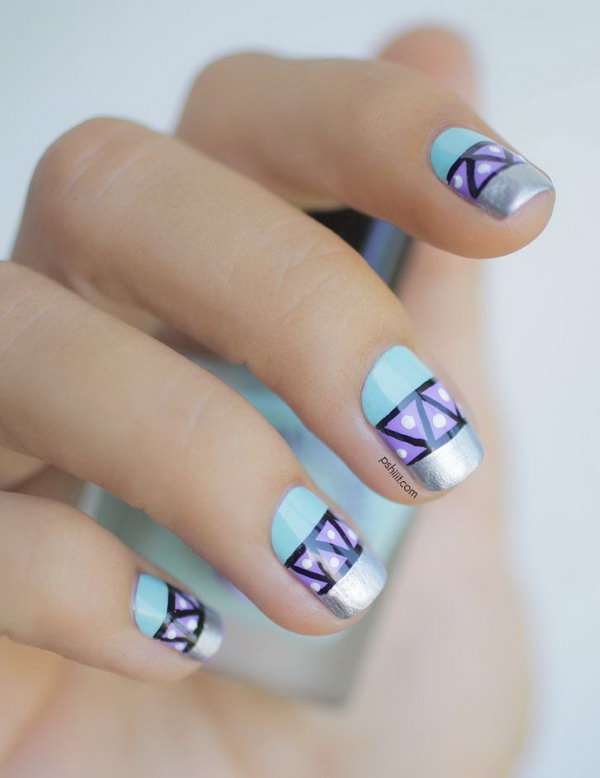 source
With all these choices, you are free to choose but never limit your imagination to just one design. Always remember to explore. So what are you waiting for? It's either grab you Nail Art Brushes or Head to the nearest Nail Salon and get those fixed ASAP.