35+ DIY Halloween Decoration Ideas
Halloween is around the corner, and if you're planning on celebrating in any way, or at least know there is trick or treating in your area, then the time to decorate your house is now.
But while time is of the essence when dealing with events as short-lived as All Hallow's Eve, it's understandable that you don't have or don't want to spend the money on decorations for a holiday that lasts exactly one night, especially if you don't care that much for it.
So here's what you can do instead: you can go to the shop and get raw materials, which are much cheaper, and then make your own Pumpkin, Witch or Bat inspired decorations. In fact, you might even make a project of it, getting your family or friends involved.
Does that sound like a plan? Then here are some DIY Halloween Decoration Ideas to inspire you.
DIY Potion Spell Book For Halloween

This fake Spell Book is the perfect coffee table decor. All you need to make it is a book – a clay prop or something similar will do the trick – paint and then add some spooky decorations which you can glue onto your main piece or spread around for the effect. via agirlandagluegun
DIY Scary BOO Rug For Front Porch

This little "boo" sign is as cute as it is spooky. Each letter, which contains either an eye or bug pattern, was stenciled on and painted with bright colors to make it look as creepy yet festive as possible. via agirlandagluegun
Cousin Itt Halloween Prop

This prop, which is a fantastic way to spook trick-or-treaters by the way, is really easy to do. All you need is a big bunch of straw, a broomstick or something similar to support it and acessories like the hat and sunglasses to make it look like someone is there. via thenavagepatch
DIY Spooky Witches Treat Bowl

Here's another great prop for welcoming trick or treaters. This witch cauldron is nothing more than a plastic bowl, which was decorated with 3D letters and then painted metallic black. Adding some other creepy props around and to the side will spook the little ones even further when they reach in for their treats. via southernmomloves
DIY Floating Specter Ghost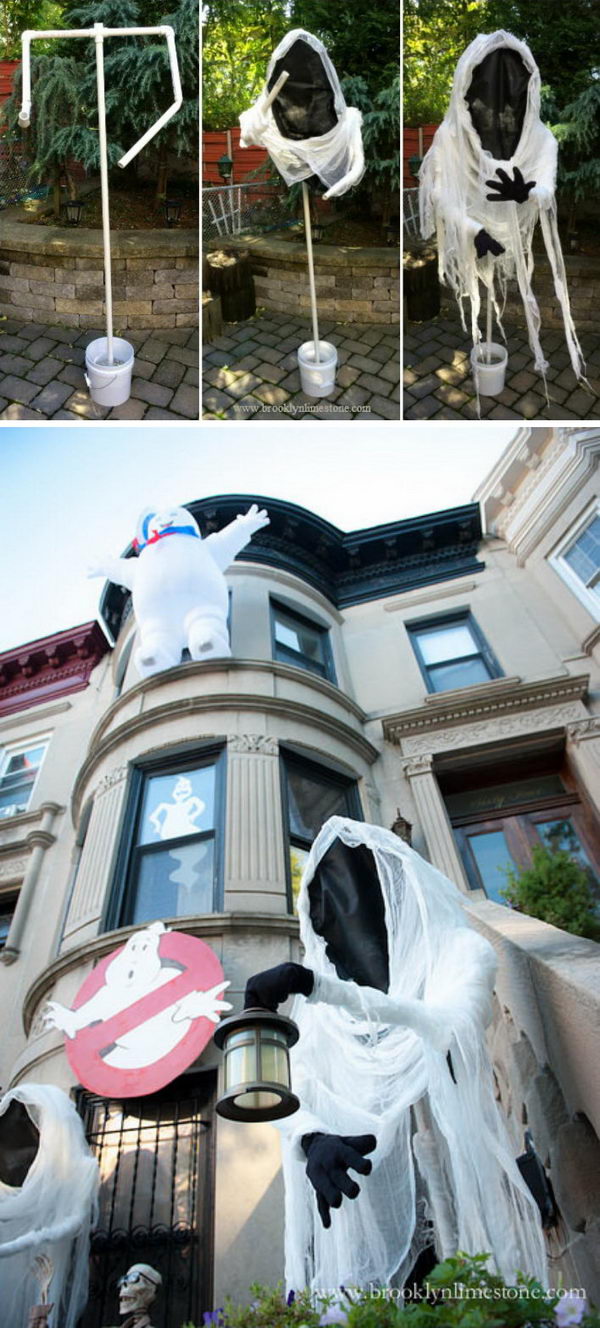 The floating ghost is quite a clever idea. It is sustained by PVP pipes that help form the human figure. The structure is covered with a black mesh mask, a white rag and black gloves to become an actual ghost. via brooklynlimestone
DIY Rolled Paper Flower Pumpkin For Halloween

Is it a dead plant or a Pumpkin? – you may ask. Well, it is in fact both. The plant-style fake black Pumpkin decoration is made from black paper rosettes glued onto a foam ball. A nice bow and an actual traditional Pumpkin top this unusual project. via thecasualcraftlete
Halloween Graveyard In A Plastic Pumpkin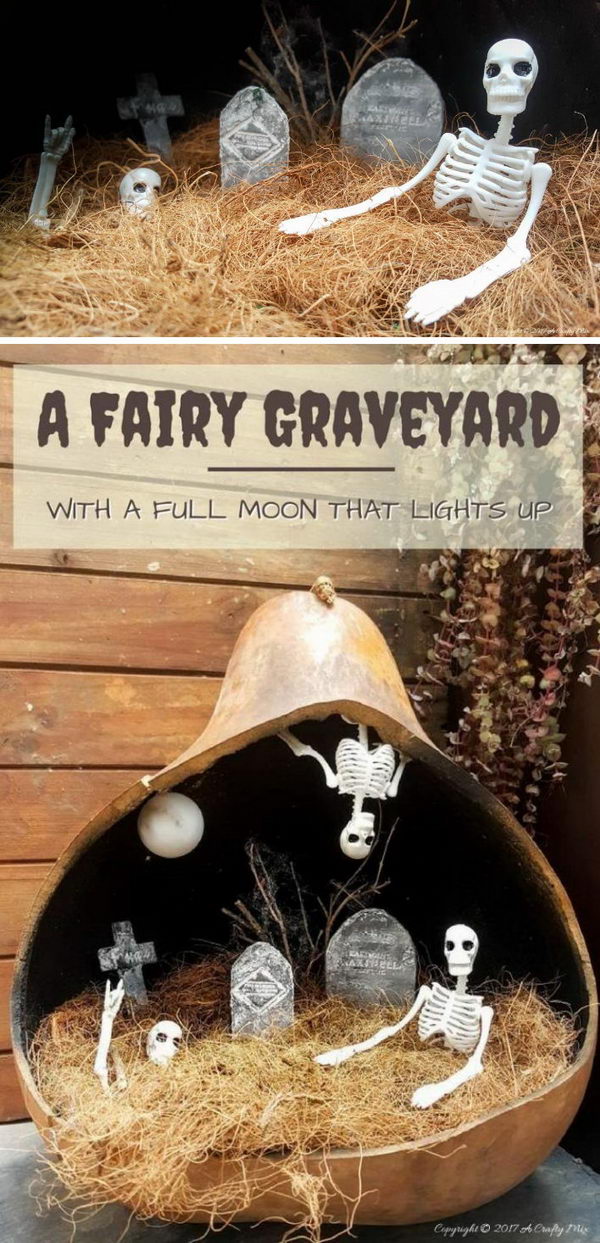 This graveyard scene inside of a fake Pumpkin is very reminiscent of a twisted snowglobe. A window was carved at the front of the Pumpkin and the inside was likely painted black. The lower part of the piece was filled with hay and then handmade props such as skeletons, gravestones and crosses were glued and strewn about to create the actual scene. via acraftymix
Spooky Zombie Merlot Cocktails For Halloween

It is definitely an adult party trick, as there is wine involved, but you could also make it work with other similar colored beverages. The idea here is, as you might guess, to make the glasses look like a zombie hand is coming out of a pool of bodily fluids. This is achieved using licorice and hands from plastic skeletons. The party cocktail will be fully edible though if you can somehow find realistic gummy or hard candy skeletons. via lovemaegan
Halloween Framed Pumpkin

This is quite a tasteful piece, as far as Halloween decorations go. All you need to do is find a goth style frame like the one in the picture, remove the glass and the glue half of a fake pumpkin right in the middle to complete it. via craftaholicsanonymous
Glowing Plastic Jack O- Lantern Totem

This Jack'O'Lantern totem is very impressive, but not that difficult to put together. You need to stack the Pumpkins with a stick and string lights inside, then add a prop like the witch hat on top to hide its secrets. It all comes to life in the dark, when you turn all the lights on and they shine with their eerie glow. via scratchandstitch
DIY Creepy Halloween Hand Picture Frame

This project is really more on the morbid side of spooky, but it's easy to make. You need a large, completely black frame to serve as the background and several fake hand casts. Remove the frame's glass, paint the detail on the hands and then glue the two together so that the hands look like they are crossing the wall from Beyond. via porch
Easy DIY Halloween Spider Glitter Frame

This is another easy and not too spooky project to attempt. All you need to do is glue fake spiders along the edge of a black frame, then replace the contents with a Halloween related picture or quote and you're done. via mysocalledcraftylife
DIY Tipsy Pumpkins

The tipsy topiary is very easy to make and will add instant festive spirit to your garden. Stack the carved punpkins sideways using a support in the middle and let the flowers come out of their tops almost like crowns to create the perfect garden decoration. via birdsandblooms
DIY Halloween Signs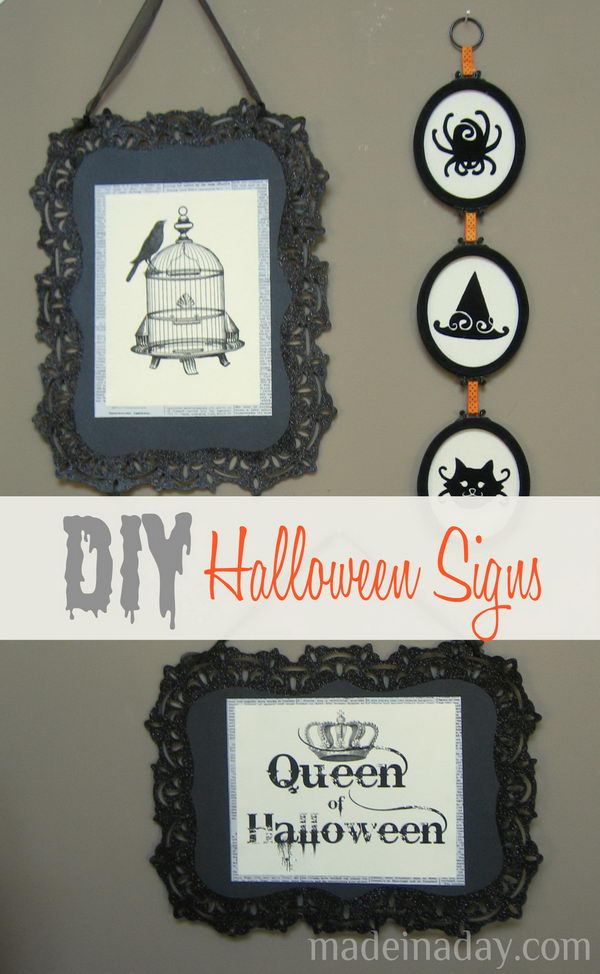 This project is as simple as getting vintage-style black, charcoal and gray frames, then replacing their contents with black and white Halloween prints before hanging everything up. via madeinaday
Apothecary Bottle Centerpiece

This is, once again, more of an adult party trick, but it does work. What you need to do here is take some bottles, which you may be using for beverages, and then change their labels and caps so that they look like creepy potion or old medicine bottles. via liagriffith
DIY Cauldron Halloween Slime

Slime is just everyone's favorite DIY project these days, so it won't be difficult at all to find the materials or partners to make this project with. What you need is a black plastic bucket and a good amount of brightly colored slime. Let the slime drip off the bucket and add some spooky items like spiders or eyes to the mix so that it checks all the creepy decoration boxes. via apumpkinandaprincess
DIY Halloween Witch Hats

These witch hats you see propped on stands are anything but typical. They are made from paper and cardboard pieces, and they are decorated with dazzling items like mesh and glittering flowers for added glamour. via madeinaday
DIY Halloween Arch

We won't lie: this isn't a simple project by any means, as you have to build this arch from scratch using wood, plastic or even MDF, but it does look fantastic and will cause a huge impact as guests and trick or treaters go through it on Halloween night, with its realistic texture, chains, skulls and the sign at the very top.
Upcycled Halloween Lanterns

This project is almost as easy as they come, especially compared to the last one. All you need is an old jar, vase or even lamp, to which you will give a wash of orange color and stencil the silhouette of a spooky creature. Add your light in, turn it on and you're all done. via lecoindemel
DIY Milk Jug Ghost Luminaria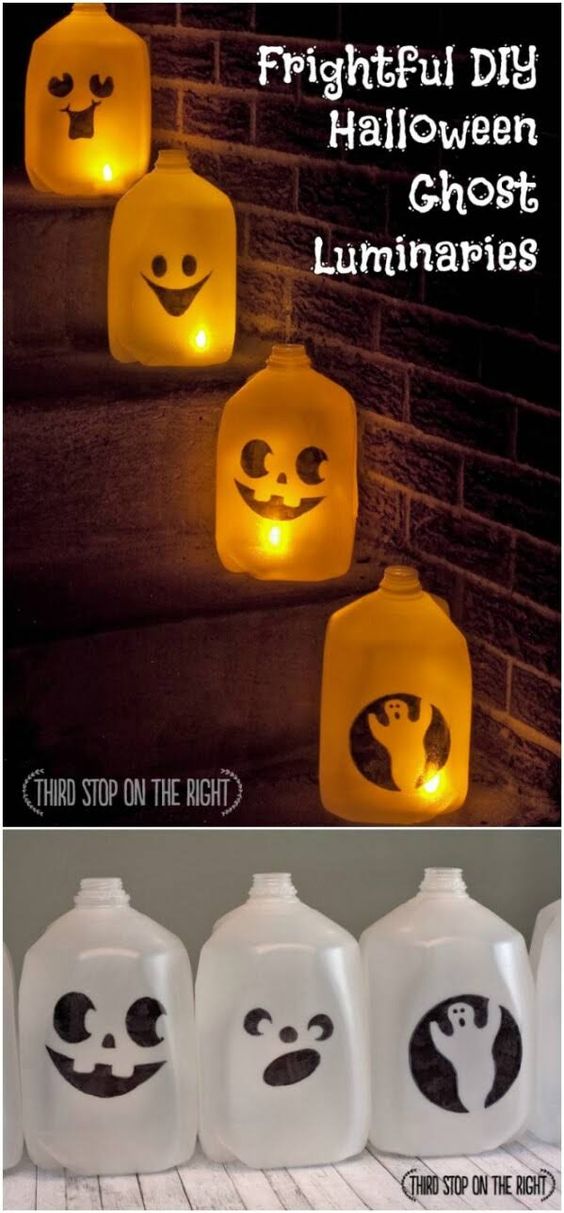 Again, these luminaries are pretty easy to make, as they use a similar method to the previous project. Get some milk jugs, paint them orange and stencil your image on the front. After that, all you need to do is place a tea light inside, leave the luminaries outside and turn the lights on when the sun goes down. via thirdstopontheright
Halloween Black Lace Covered Mason Jar Luminaries

These luminaries are a little more complex to make because they feature an intricate design on the outside. You can stencil it on the jar or do it freehand but remember that it needs to stay semi-transparent for the light to shine though, The rest is as simple as installing a tea light inside and letting the luminaries shine in your garden at night. via justagirlandherblog
DIY Wood Pumpkin Jack O Lanterns
These pieces are simply textured wood boxes which were painted orange and embelished with Jack O Lantern features, so they are easy to make and versatile to use. via scrappygeek
DIY Spooky Pillows for Halloween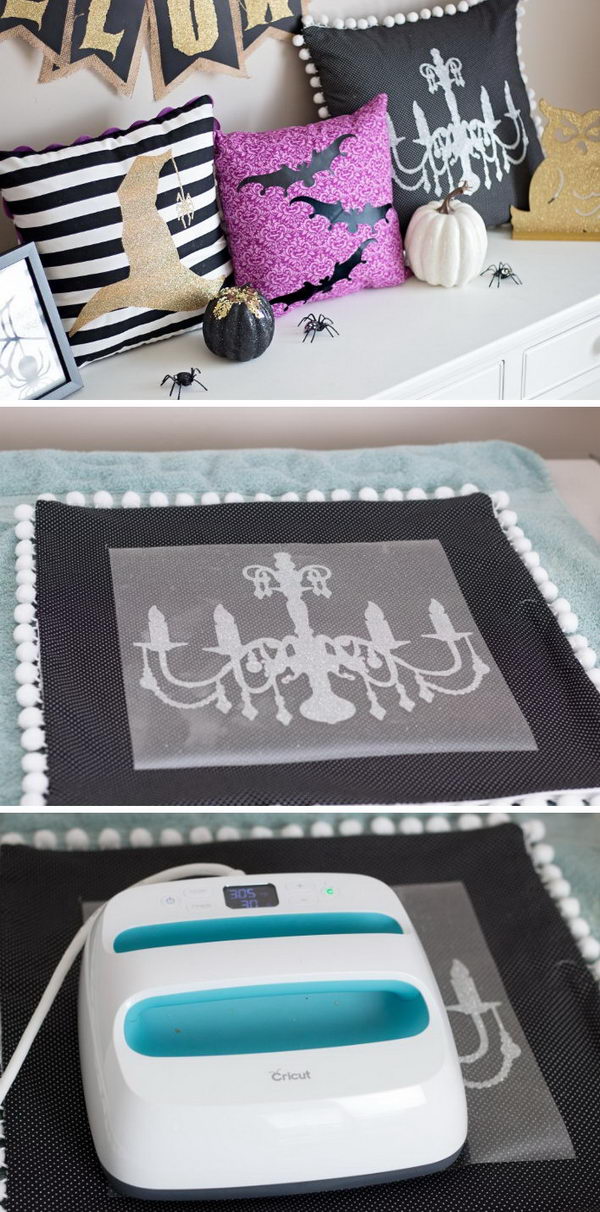 It's easy to make these Halloween pillows. The secret is to take a regular pillow and then add creepy designs using stencils and paint, fabric stickers or even real fabric accents cut as the silhouettes of spooky creatures. via sweetredpoppy
DIY Big Black Frame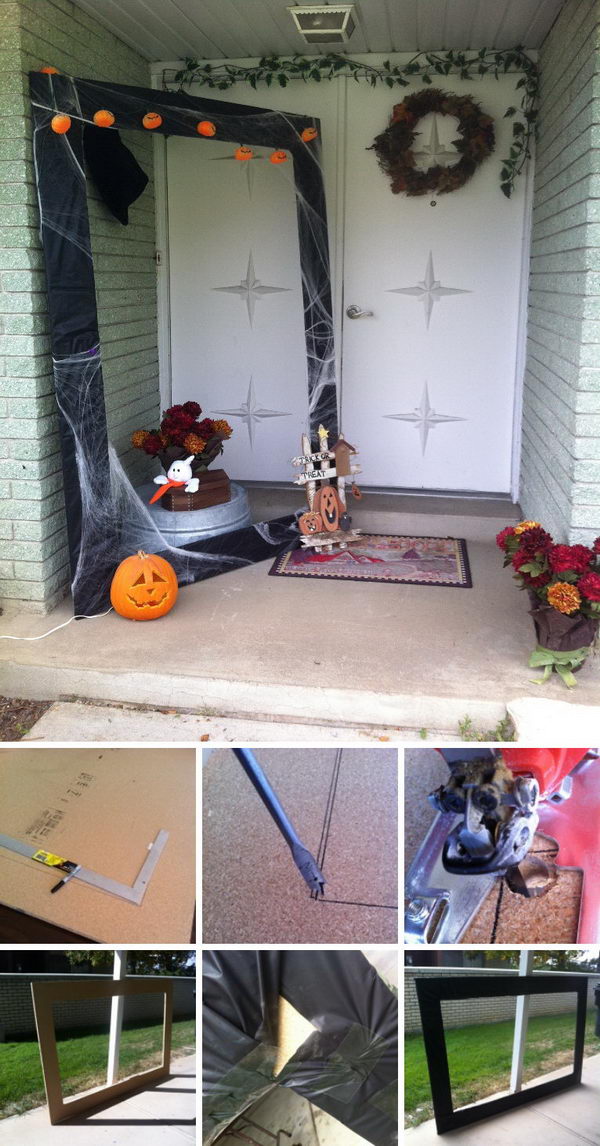 Well, this is exactly what it claims to be: a big, empty black frame. It is decorated with a broken-glass-style marble pattern, a pumpkin garland at the top, a Jack O Lantern and a creature at the bottom corners. Not the most practical piece, but it could be fun to step through. via girlsvsblog
DIY Spooky Halloween Moon

This framed half-moon is quite special, as the lights inserted in the piece and hanging from it make the it look like it's covered with night bugs. It's as enchanting as it is creepy. via lilyardor
DIY Witch Pumpkin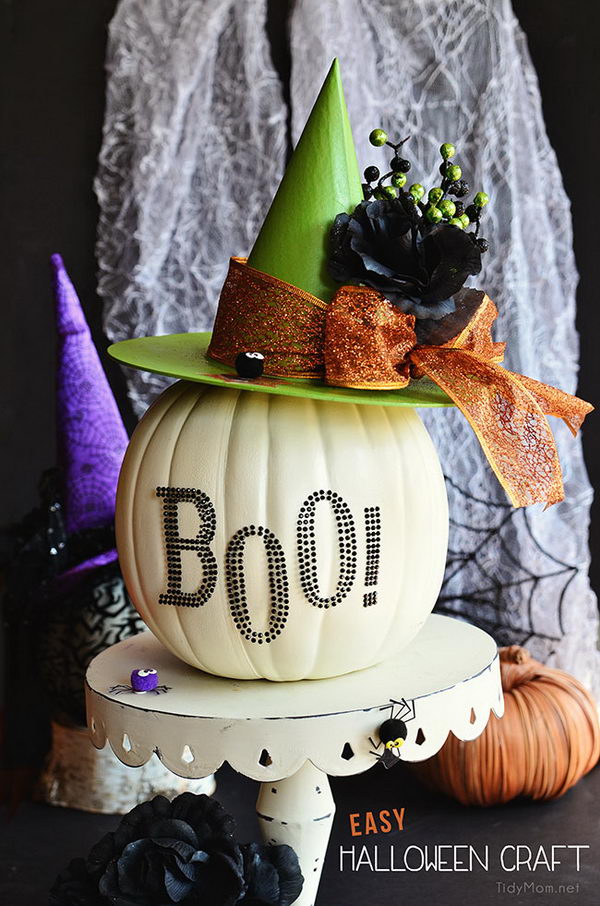 Now this is a spooky-cute piece! It is a white washed pumpkin propped on a cake stand, which features the word "boo" in patterned stenciled letters. The pumpkin is topped by a bedazzling witch hat, complete with a small family of witch skeletons to add that extra spooky factor. via tidymom
Halloween Pumpkin Tree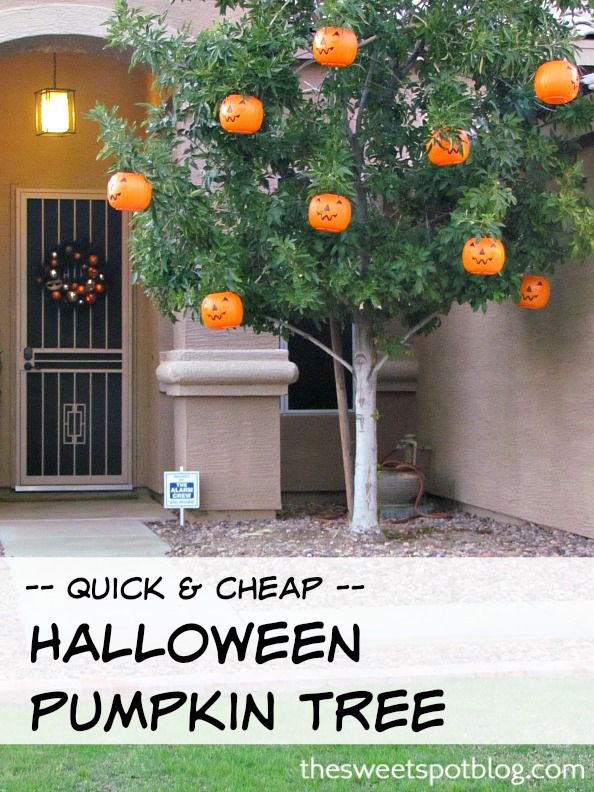 Dress your porch trees up for Halloween by hanging some fake happy pumpkins from their branches, much like you would with a Christmas tree. via thesweetspotblog
DIY Grim Reaper For Haunted House

How do you bring the Grim Reaper to life? Get a simple, life-sized plastic skeleton then cover it in dark layers of fabric until it looks like the dark cloaked figure that takes lives away in horror stories. via theghostess
DIY Halloween Table Runner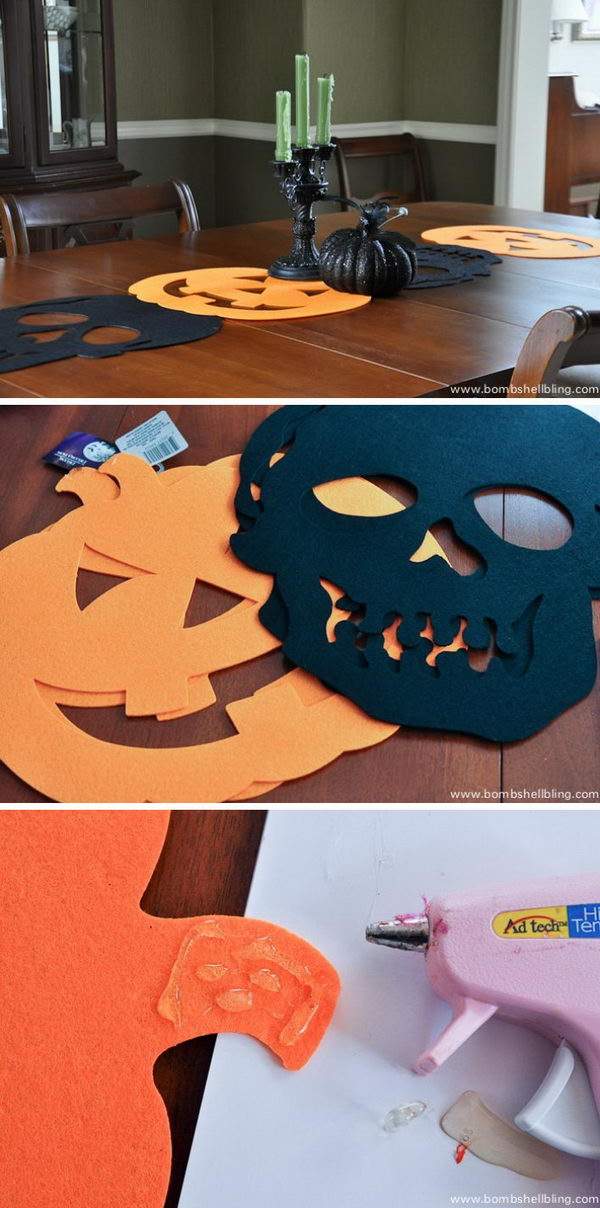 Here's one of the cute and simple ways to decorate your table for Halloween. Buy or make some felt Pumpkin and Skull shapes, then glue them together alternating shapes until it all becomes a cohesive and fun table runner. via bombshellbling
DIY Halloween Bats Garland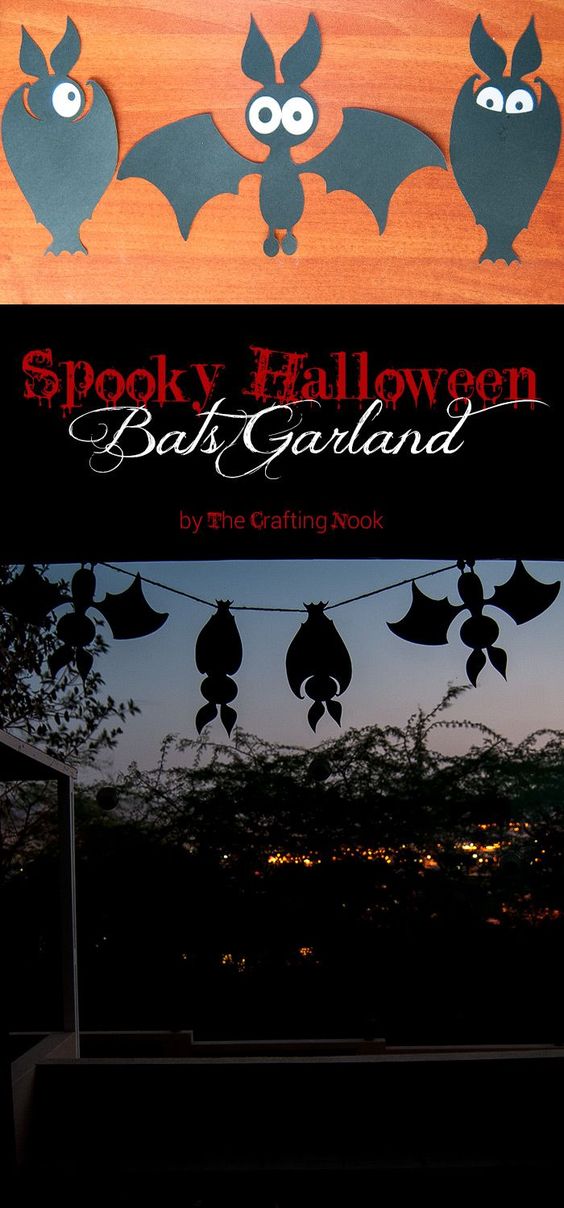 Another easy and great project to try, especially last minute. All you need for this one is several cardboard or felt bat shapes and a string. Add the bats to the string and then hang it all so that the bat silhouettes haunt your home in the dark. via titicrafty
Light Up DIY Haunted House Decoration

Here's how you make this one: Cut your haunted house shape from black cardboard, and then install it on a foam base for support. Place your tea lights along this piece and then set the whole thing close to the wall to amplify the light and give the house that eerie haunted glow. via thecraftygentleman
DIY Halloween BOO Sign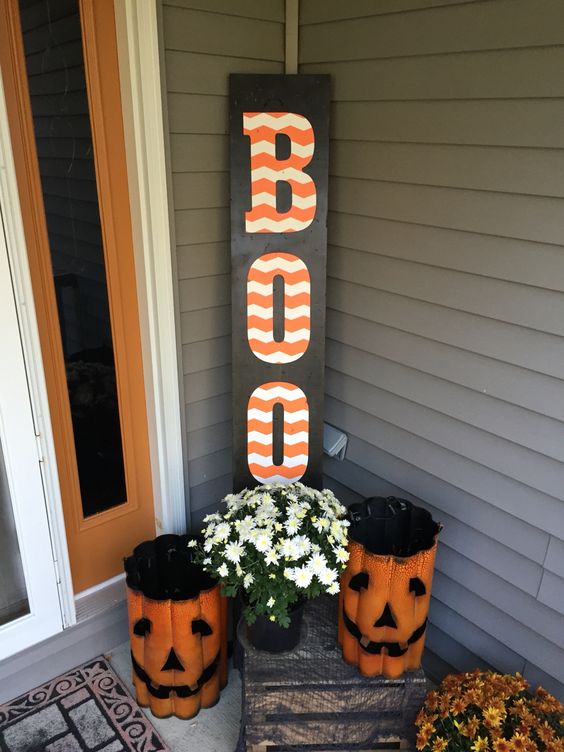 This isn't as spooky as it is just fun and festive. After all, it is just a large black sign with striped 3D letters spelling the word "boo" vertically. The Jack O Lantern vases at the base also add to the Halloween spirit of this corner.
Dollar Tree Halloween Door Decor Garland

These Halloween drapes are made from black plastic and adorned with skeleton figures. They were hung over the front door and parted at the middle, just like normal drapes, welcoming guests to any events on All Hallow's Eve. via 17turtles
Trash Bag Spiders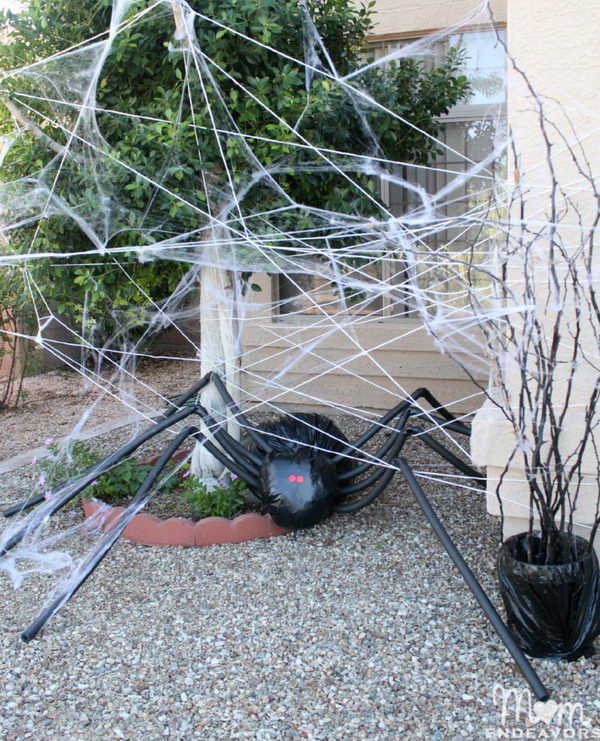 These spiders are really easy and affordable to make, but they are very realistic and effective, especially if placed among a web of sorts like it shows in the picture. via projectwhitespace
DIY Headless Horseman Figure For Halloween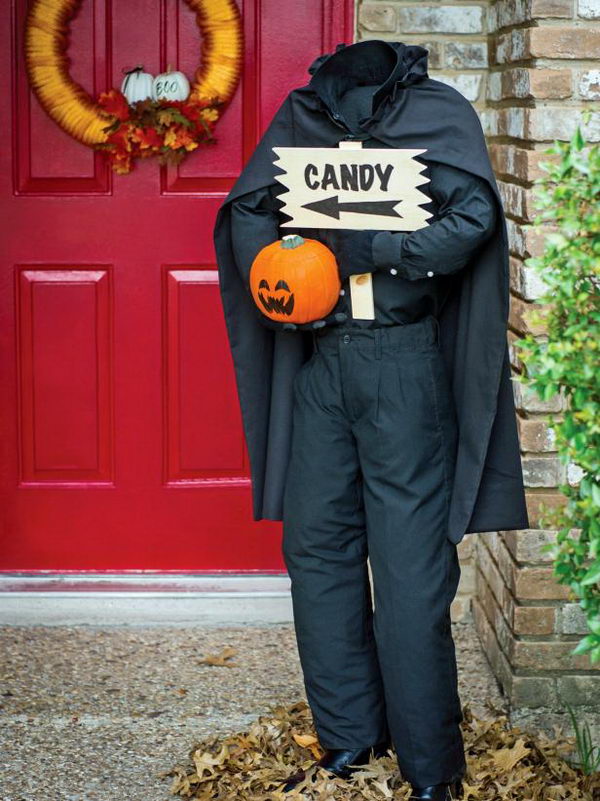 Who could welcome your Halloween guests better than a Headless Horseman? This one is really fun, as it holds a Jack O Lantern and features a "Candy" sign, obviously ushering guests into the house. via hgtv
DIY Spooky Halloween Mirror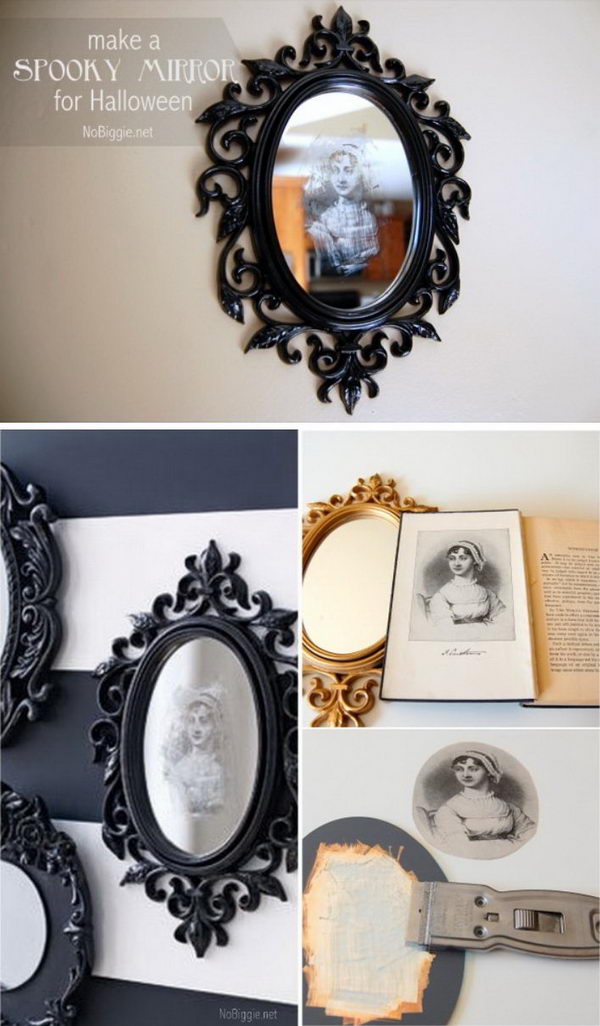 This is quite a simple, yet brilliant project. Get a vintage goth mirror from the thrift store, then add a faded sticker or stencil to the glass so that it catches people by surprise and looks haunted at first glance. via nobiggie
Awesome Plastic Pumpkin Arch Entry Way

Now this is how you decorate your porch properly for Halloween. Not only do you have metallic parted drapes hung above your door, but they are framed by a giant, flamboyant garland featuring purple Jack O Lanterns, bats and other matching creepy objects. via craftymorning
Mod Podge Halloween Boo Sign
Deck your plants for Halloween with a sign like this popping up from the back. It was made using Mod Podge and has a wood as well as graffiti style, so it will look awesome in outdoor spaces, in particular. via pinterest
Silhouettes Halloween Witch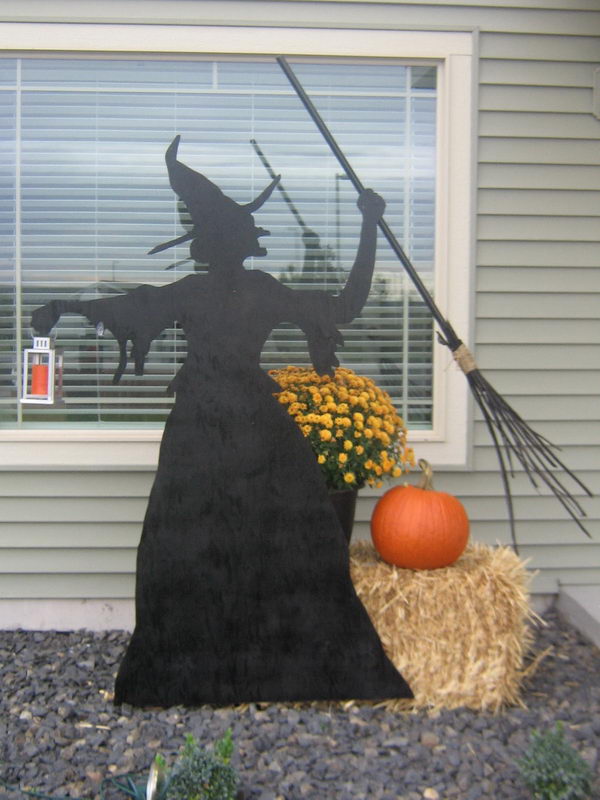 This silhouetted Halloween witch is very cleverly built with its layered skirt and the broom handle placed at an angle that makes it look like it was hold by the witch's hand.