50 Beautiful Rustic Christmas Decorations
Christmas is a magical time to celebrate with family and decorate the house using bright and joyful colors. Some people never change their Christmas decoration style, others do it every year. Some may have just moved into a new house, and some may be hosting for the first time.
There are many styles of Christmas decorations one can opt for, from classic, to elegant, more children-oriented or rustic, which is certainly coming back in style.
If the latter is your choice, then you are definitely in luck, because the rustic style is all about warm woods and handmade pieces, both of which leave you with a warm feeling in- and outside.
This article is for those who may need some inspiration or guidance to recreate this decorative style. We show you everything from whole room decorations to how to make any specific pieces. Here is our compilation of Beautiful Rustic Christmas Decorations.
Rustic Log Candle Holder Centerpiece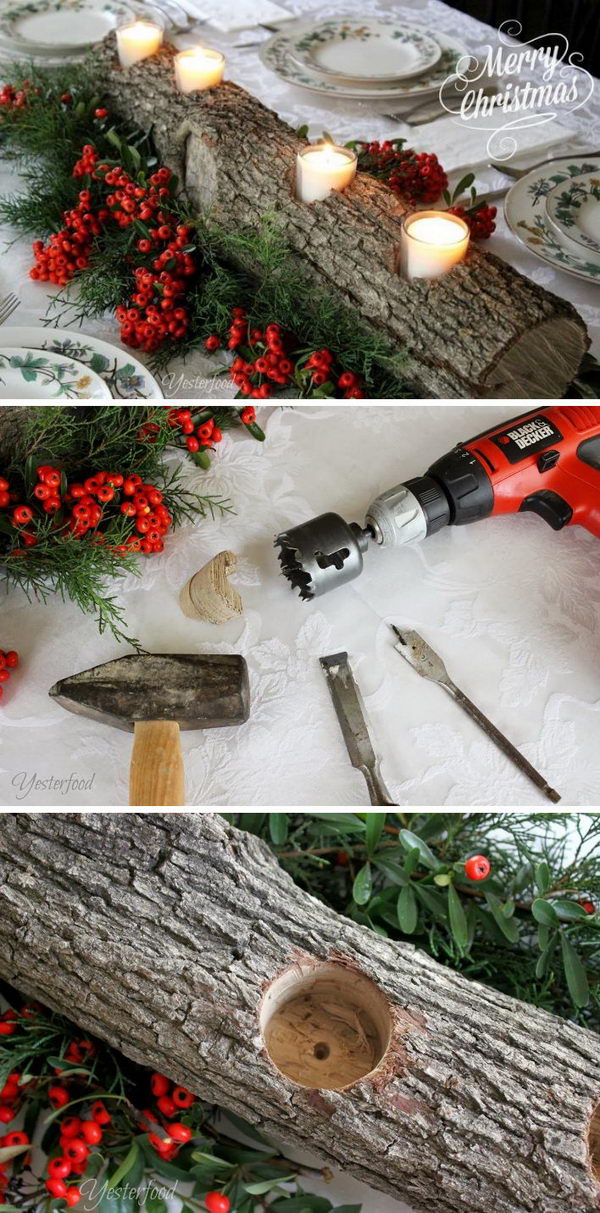 It doesn't get much more rustic that a log on a table. This center piece is made from a log placed on its side atop a bunch of flowers. Some openings were made into the log to serve as candle holders and the whole thing was sealed and white washed to look snowed on. via yesterfood
Easy Upcycled Pallet Christmas Tree

Here's a truly rustic and original Christmas tree. The wood was cut and shaped like a tree, and then a star and a quote were painted in white as decoration. via thepinningmama
Mini Rustic Christmas Trees

These mini rustic trees are simply enchanting. They are a made from a stick, upon which some jute is tightly wound in a cone to make the actual tree. The whole piece is topped by bows and "planted" in small pots with babbles placed and hanging about. via acountrywhisper
Rustic Light Up Christmas Tray

These beautiful trays, which you can certainly use as centerpieces, are made from a distressed-looking wooden base, which is then topped off with an arrangement of drier plants and baubles. The string of lights threaded through the arrangement allows it to light up. via cleanandscentsible
Rustic Crate Shadow Box Snow Scene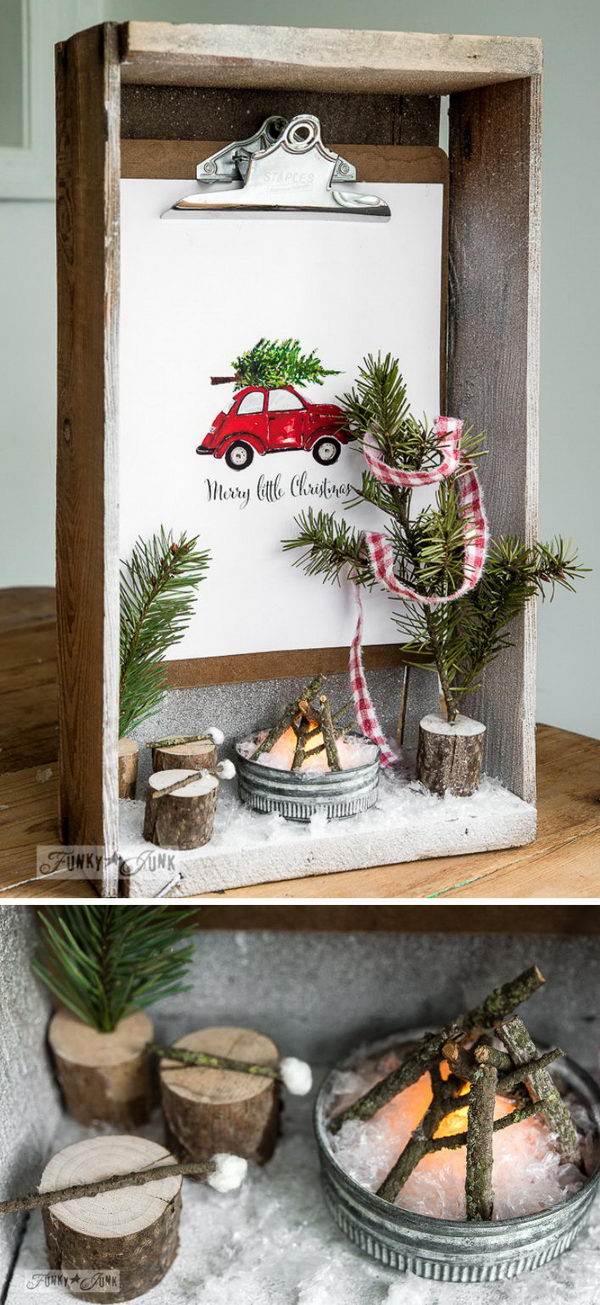 This distressed shadow box is really cool because the box itself is natural, distressed wood, but then the inside was made into a snow scene, with several colorful elements, from plants, to a basket and a car, among others, creating a great contrast against the white background. via funkyjunkinteriors
DIY Jute Wrapped Tire Christmas Tree Stand

Here's what you can call a sturdy, effective and rustic Christmas tree stand. Making it is very simple: take a large old tire, and then wind some jute tightly around the outside until the whole surface is covered. Make sure the jute is secure and the stand is ready for your tree. via ellaclaireinspired
Painted Burlap Stretched In A Metal Embroidery Hoop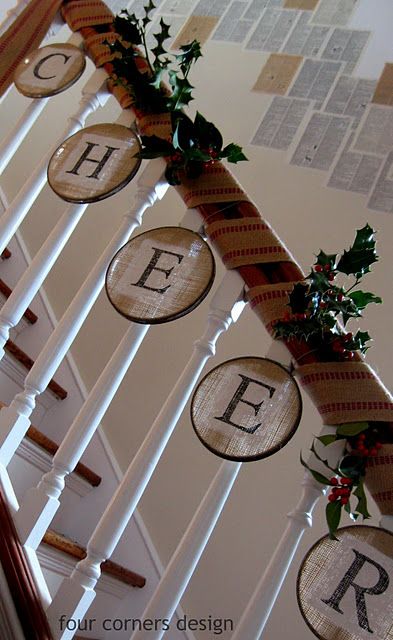 This staircase decoration is really beautiful and unique. It features some burlap wound around the handrail with glittering metal letter hoops going down and some plants on top for an extra festive touch. via fourcornersdesign
DIY Stenciled Tree Pot for Christmas Decor

Some people still place their trees in pots, especially the smaller ones. This pot, however, is quite original, as it was painted black and a Holiday quote was stenciled over it in white. via classyclutter
Rustic Tree Slice Tags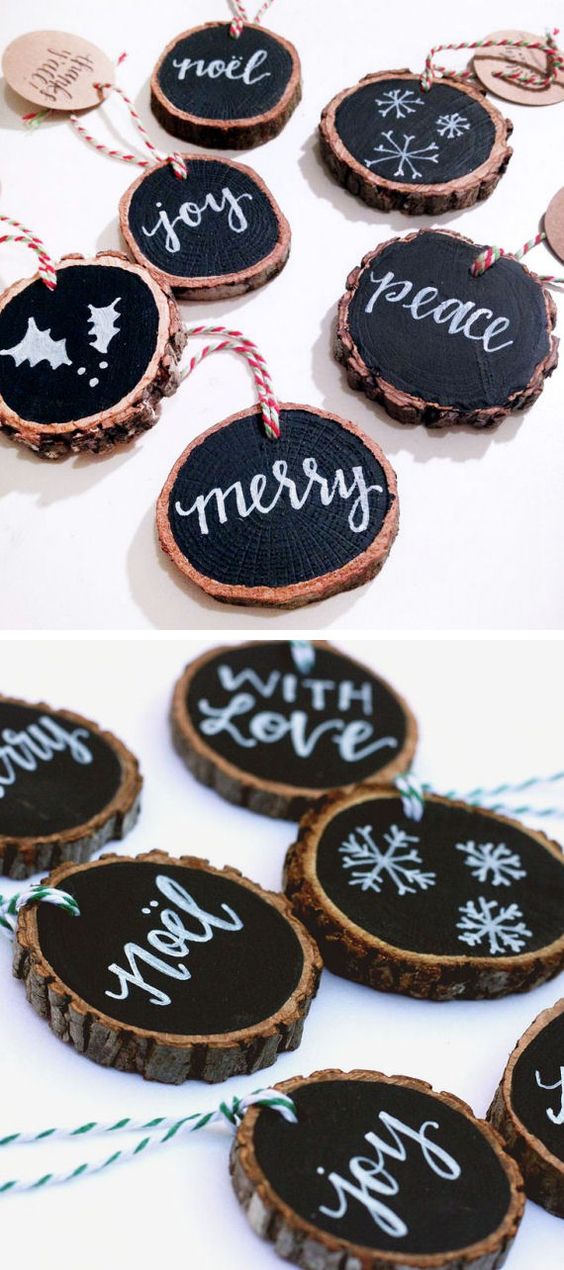 These wood slices were painted black and then names and quotes were written on them, adopting a chalkboard style. These ones feature a small whole and a candy cane themed thread on top for hanging as present tags or ornaments. via scoutmob
Burlap and Dollar Tree Ornament

This is a gorgeous decoration for a mantel or even window sill. It features three white frames whose inside was filled with burlap spelling the word "joy" in light brown and white. A snowflake print was used in place of the "o" for an extra festive touch, and the whole setup matches the plants and the white surface below perfectly. via simplycountrylife
Reindeer Head String Art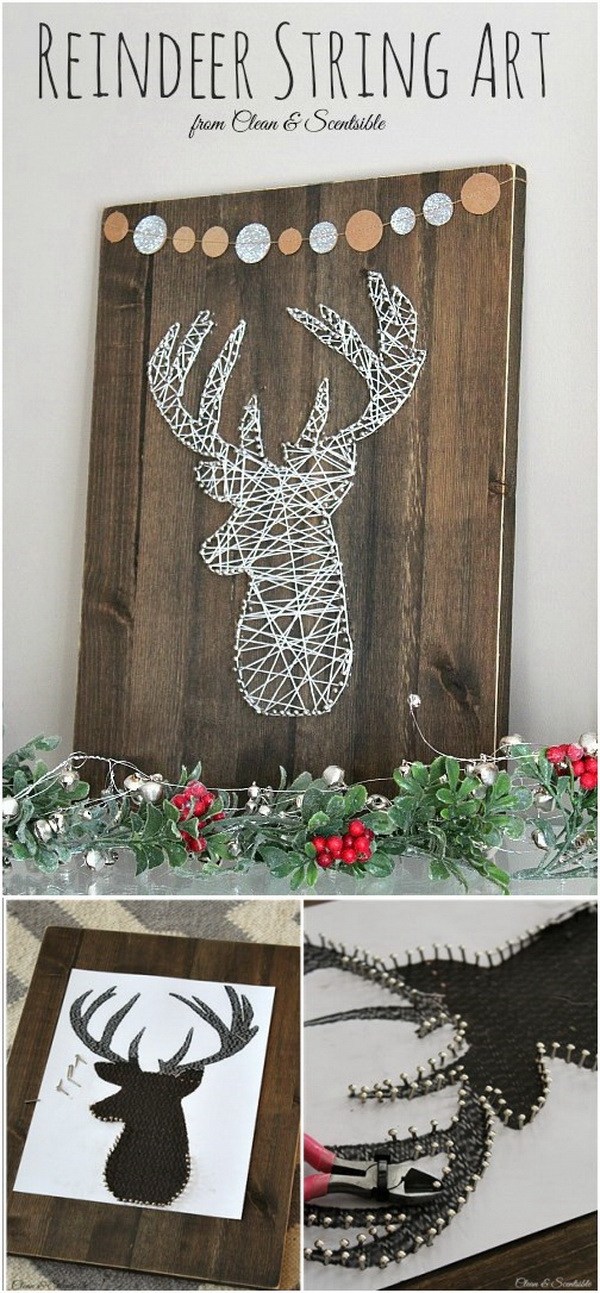 String art is always really cool, beautiful, and relatively easy to make. All you need is a wooden board, a template, some nails to make the shape and hold the string. After the nails are in place, all there is to do is weave the string through them until the shape – a reindeer in this case – is fully filled in and hang the finished piece up. A colorful garland of painted circles and bunches of mistletoe at the base add the finishing touches to this particular project. via cleanandscentsible
Rustic Snowflake Wooden Blocks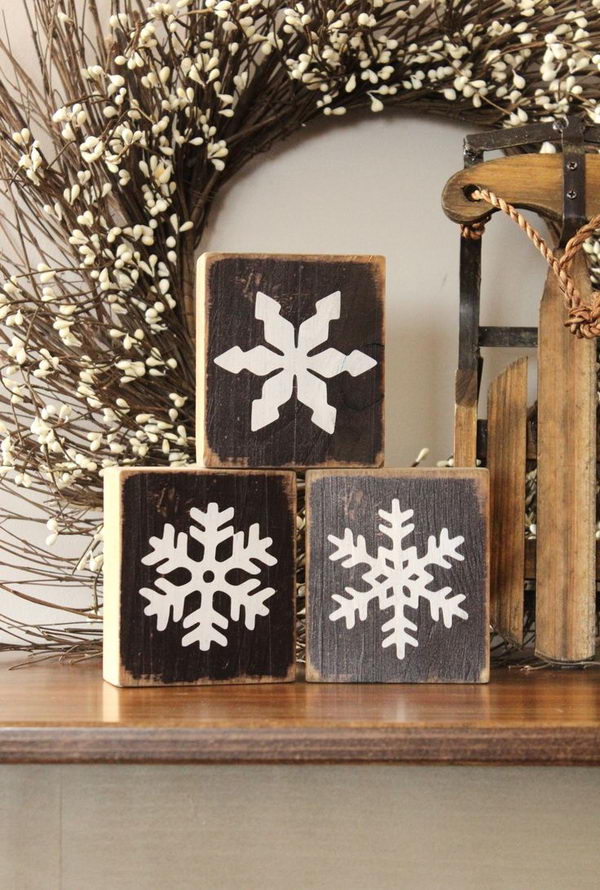 These decorations are quite cute and simple, as they are made from wooden blocks whose fronts were painted in a purposefully sloppy style. A while snowflake was stenciled to the front of each block before they were all stacked. via therusticsign
Old Crate Filled With Logs, Greens, Pinecones, And Lights For Christmas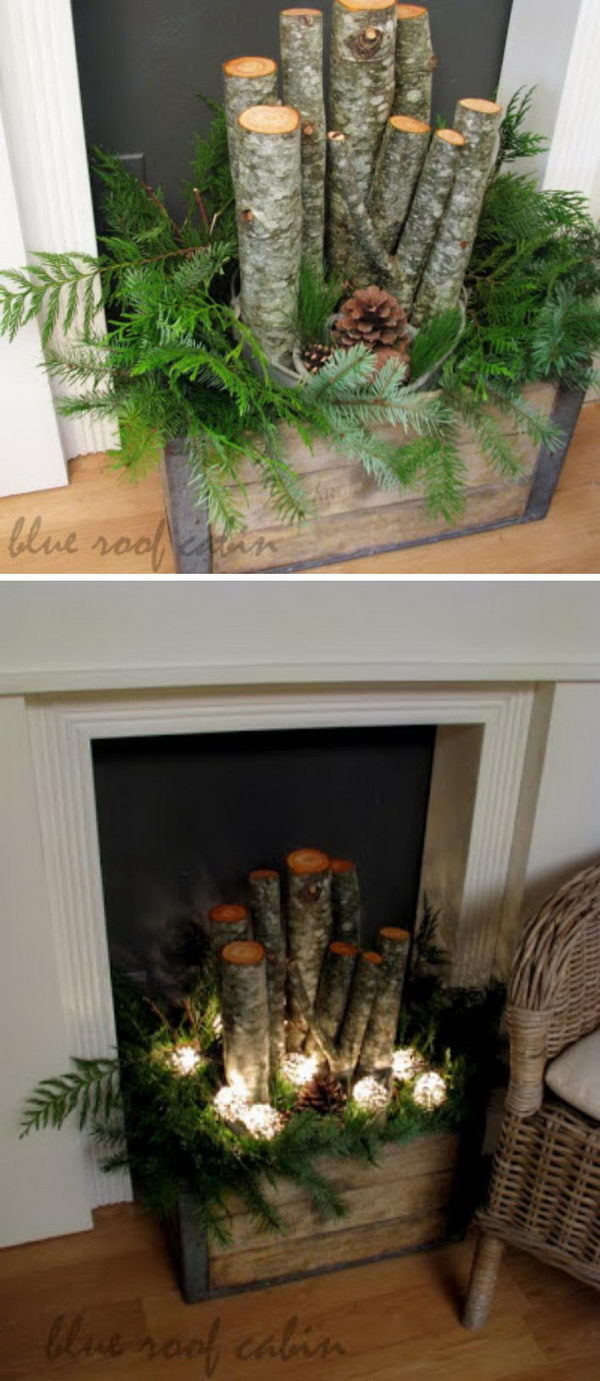 A crate filled with greens and logs like this one brings the cozy and warm feel of the woods into your home. It looks particularly nice under the mantel or in front of an unused fireplace. via blueroofcabin
Light Up Pine Cone Filled Dollar Store Vases Centerpiece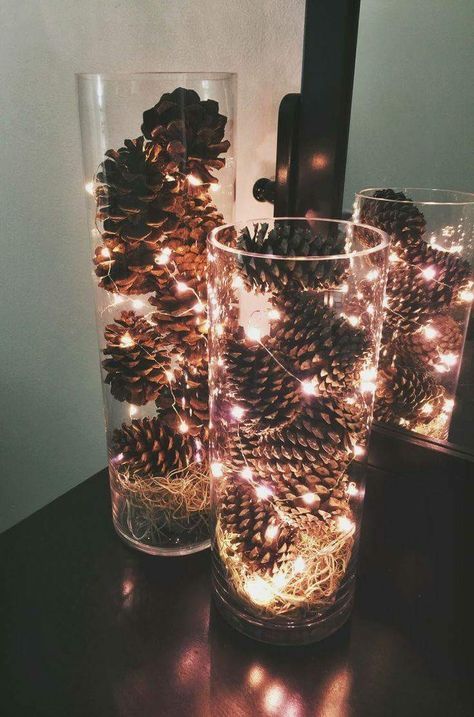 Here's another cool, elegant and inexpensive rustic Christmas centerpiece you will want to make. All you need are cheap glass vases, which you will then fill with real or fake pinecones along with string lights to create a magical scene on your table.
Glitter Twine Ball Ornaments

These twine rolls are perfect rustic tree ornaments. They are obviously made from twine rolled into a ball, featuring a couple of beads here and there. They are then topped with pinecones and red balls to add more color and visual interest to the pieces. via busycreatingmemories
Burlap Bow Tree Topper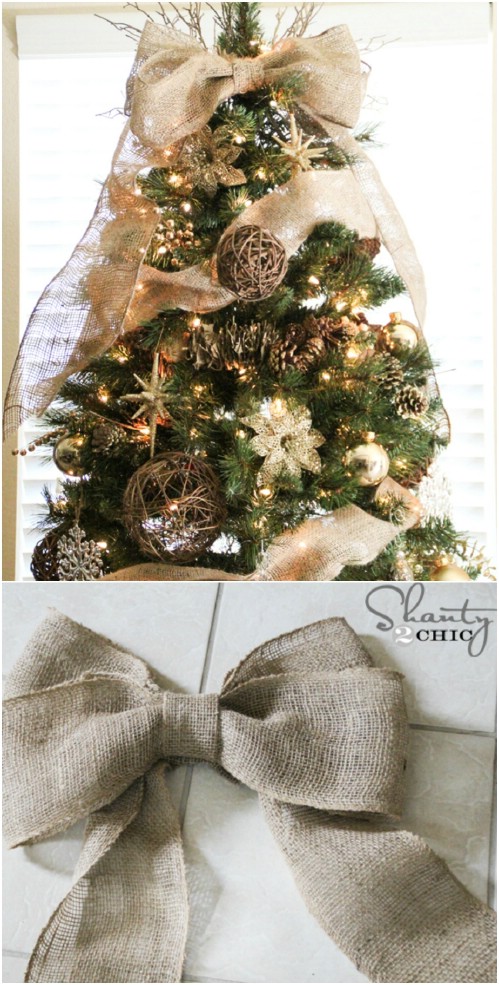 This bow Christmas topper is just about the easiest thing you can make. All you need to do is take some burlap and tie it into a nice bow, either on the tree itself or beforehand. Add some string to secure the piece nicely and let the ends hang on the sides like a garland. via shanty-2-chic
DIY Rustic Christmas Lantern Centerpiece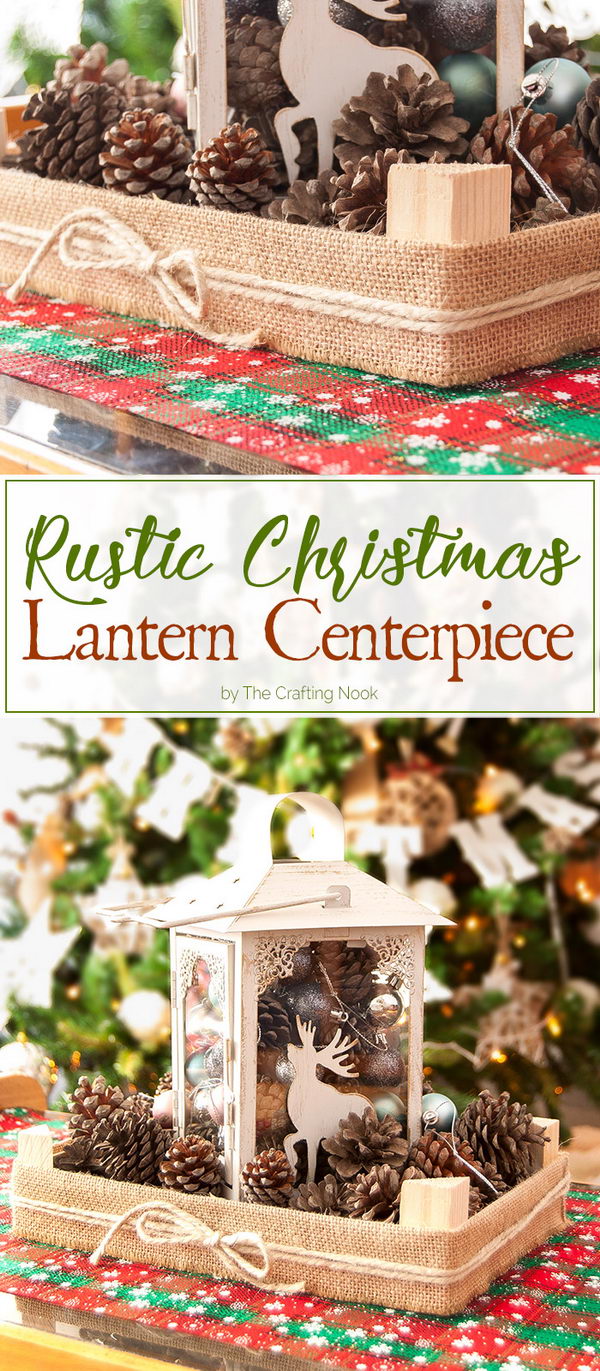 Here's another centerpiece idea you simply cannot pass on. It is a burlap covered wooden tray with a white decorative lantern nestled in the center of the pinecones that fill the base. via titicrafty
Burlap Snowman Decoration

This framed snowman decoration is a bit of a play on color, as the snowman is made from golden burlap rosettes and a shiny black hat, which provide fantastic contrast again the white background and dark wooden frame. A chalkboard-style sign complements the piece. via etsy
DIY Wood Clock Christmas Advent Calendar

This clock advent calendar is one of the cutest things you can make for a rustic Christmas decoration. It is made from a natural wood back cut into a round shape like a clock, and then has the countdown numbers written in white around the edge, with Christmas at the top. A small black spindle was added at the center of a white snowflake to serve as the clock's lone hand. via thriftyandchic
Mason Jar Lid Ornament Christmas Tree Wreath

This cute Christmas tree wreath was created by gluing together a pyramid of Mason jar lids filled with baubles. They are then topped by some greens and hung on a hook using a thick rope, which only adds to the rustic effect. via funkyjunkinteriors
Winter Wonderland Holiday Tree Shelf

This hollow wooden Christmas tree with shelves is simply gorgeous, as it features a white trim at the front that makes it look snowed on. Each shelf features a little scene or set of decorations, and the base is covered with a colorful garland. A metallic snowflake serves as the topper. via apumpkinandaprincess
Super Easy And Affordable Rustic Advent Calendar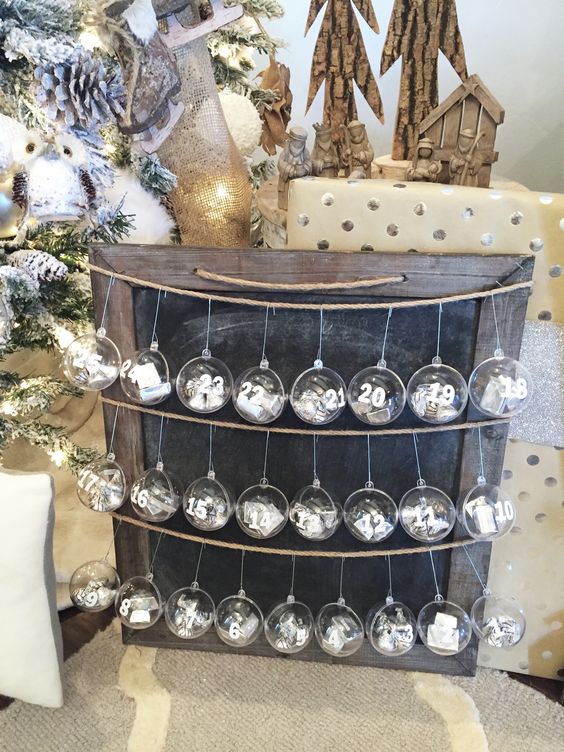 Here's another budget advent calendar for those who like to get their hands dirty. The idea is to fill empty glass or plastic ornaments with presents for each day and then hang them in rows along some thick wire, so they can be opened each day like a traditional advent calendar as well decorate the house. via orientaltrading
Faux Birch Logs Using Foam Pool Noodles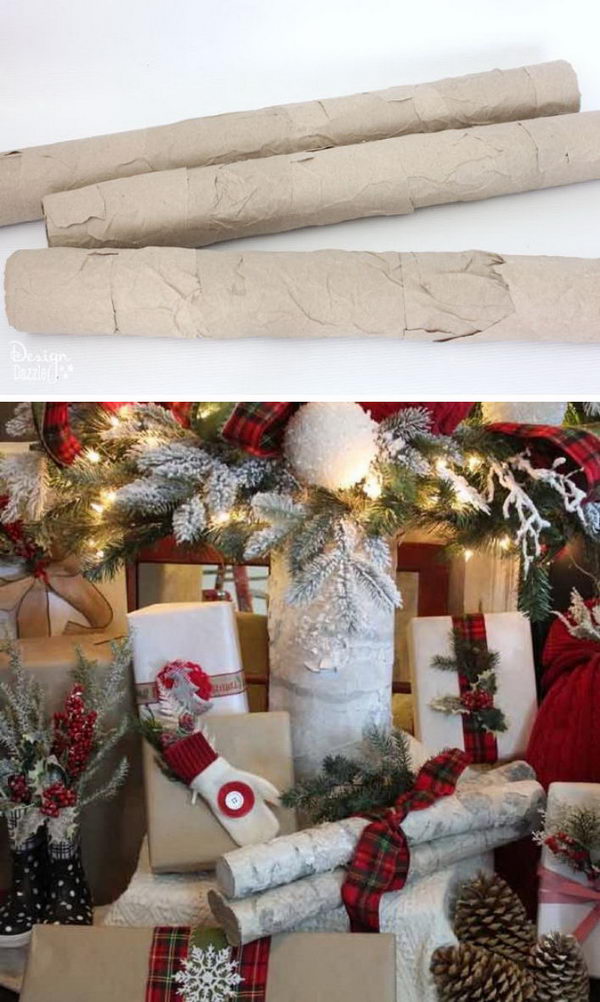 Logs are an essential part of any rustic decoration. You may, however, not have access to them or prefer not to deal with the issues that come with using real wood. You can recreate the same look using some pool noodles which you can carve the wood textures into, then paint and decorate so they look as good as the real thing. via hometalk
DIY Rustic Marquee Holiday Tree Sign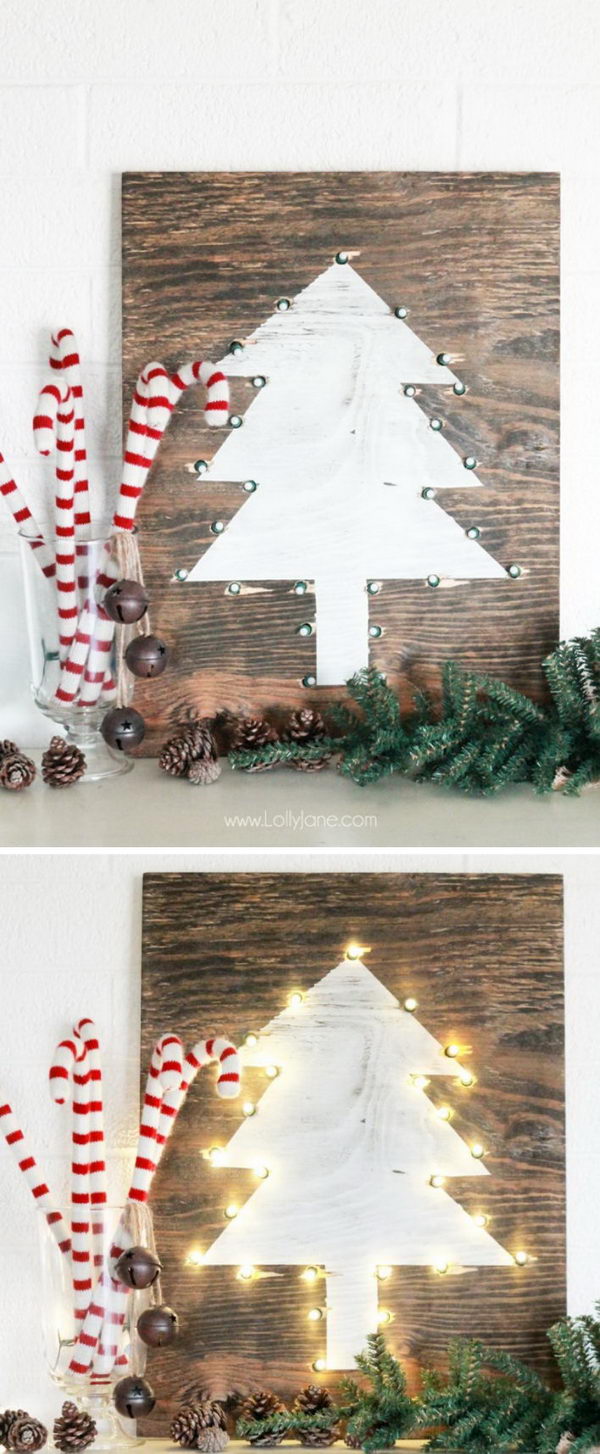 You've probably seen marquee letters before, so you know the concept behind this decoration. You need to cut a Christmas tree out of sturdy material, then drill holes at the edges and points to feed the lights through, much like you would hang ornaments. Set the piece on a base against a wooden background with some greens to finish the project. via lollyjane
DIY Twine Decorated Snowy Mason Jars

Snowy Mason jars are very popular and easy to make. All you need to do is paint the inside of a clean Mason jar and add some glitter to emulate the snow texture. In this case, the jar was finished with a bow made of twine and greens tied around the edge and hanging at the front. via apumpkinandaprincess
Rustic Burlap Wreath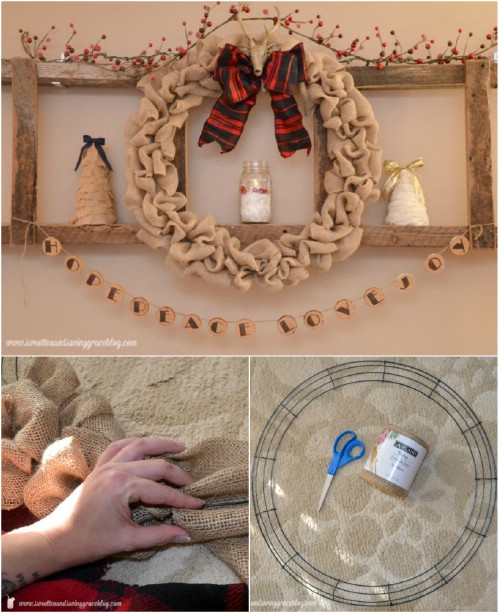 This wreath was made of ruffled and twisted burlap and enhanced by a tartan bow at the top. It was hung on a wooden shelf with a matching garland below, which makes the perfect rustic Christmas combination. via sweetteaandsavinggraceblog
Rustic Picture Frame Christmas Wreath

This wreath is indeed quite simple to make, as the base is a wooden board, which features the word "joy" in 3D letters at the center. The edges are covered with twisted greens and burlap, which hangs down from the massive layered bow at the top. via shanty-2-chic
DIY Rustic Light-Up Christmas Sign

This sign captures the essence of a rustic Christmas as it's made from scraps of wood glued together and featuring some lights which were fed from behind at the edges. The message is written in white permanent marker so it stands the tests of time and weather. via theamericanpatriette
DIY Photo Tree Centerpiece

This centerpiece is elegant yet adorable, as it features a burlap base made to look like a basket or pot, from which a fake winter tree springs up. This tree has photos hanging from its bald branches like ornaments, reviving memories of years past. via shanty-2-chic
DIY Drop Cloth Stockings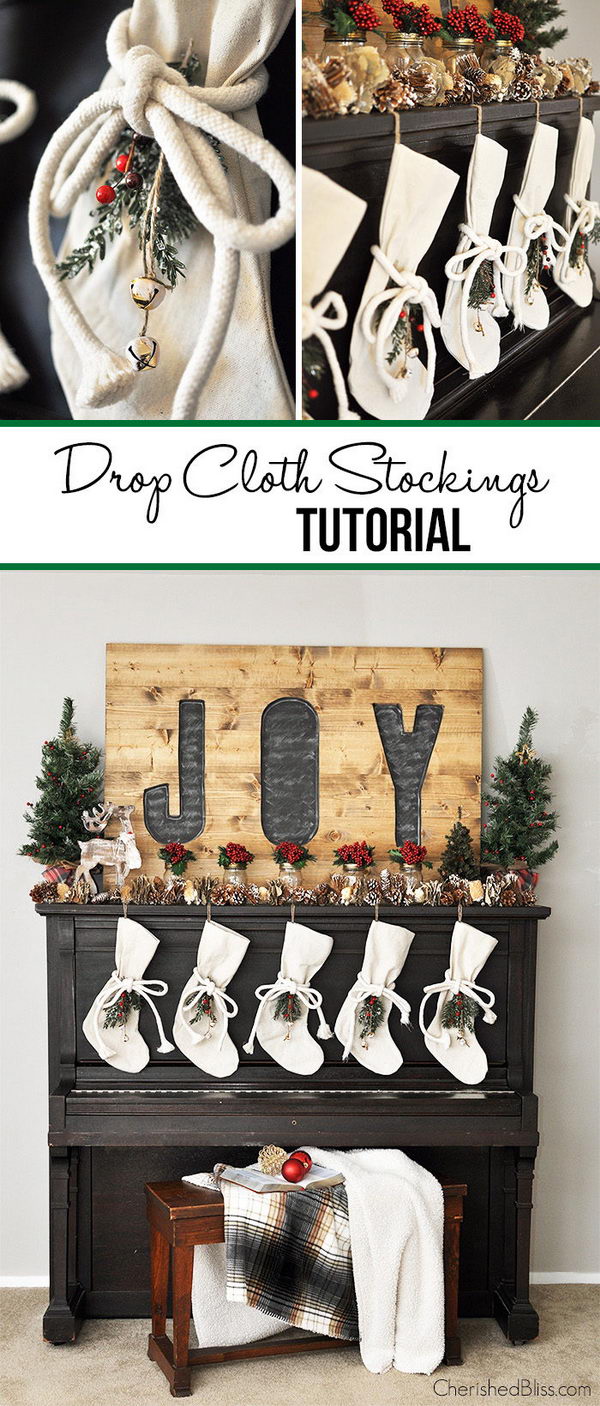 Here's a full mantle decoration, with its wooden "joy" sign on top and the greenery at the base. White cloth stockings, tied off with a thick fabric bow, some holly and even charms hang at the front, ready to be filled with presents. via cherishedbliss
Christmas Extra Large Vintage Green Chalkboard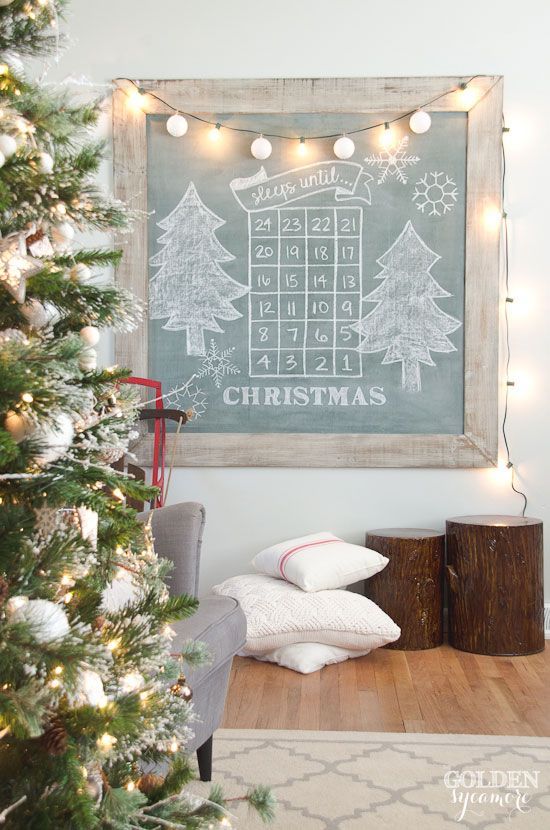 This decoration is just adorable, as the inside of a wooden frame was painted with green chalk paint, turning it into a festive chalkboard, which serves as an Advent Calendar. The piece is finished by a garland of large string lights hanging from the top. via thegoldensycamore
DIY Vintage Snowflake Sign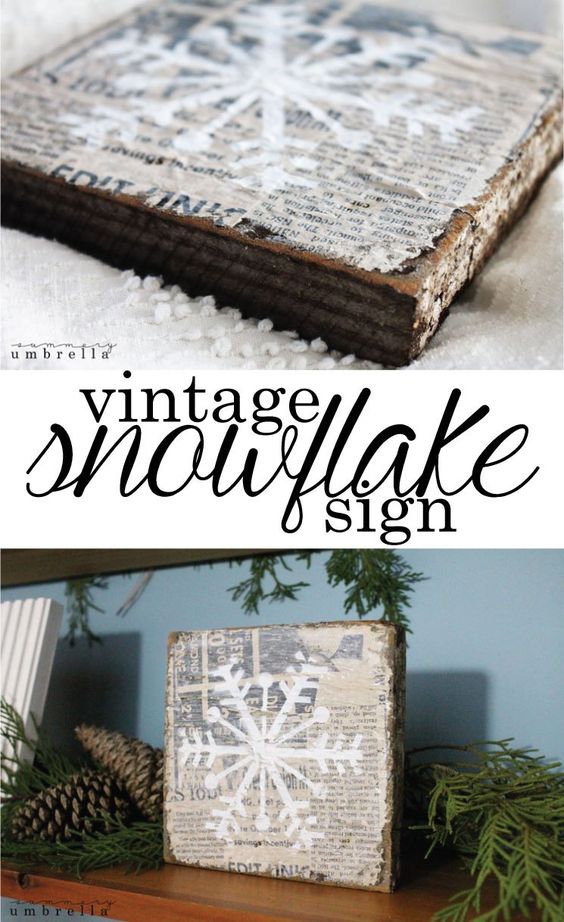 This sign is really different and special, as it truly captures the vintage look. It was put together using small wood squares that were painted in a tie-dye style and then decorated with a stenciled white snowflake that almost blends in at the lighter side. via thesummeryumbrella
LIGHT UP Christmas Tree

This is simply a white Christmas tree which was painted on a board made with several pieces of wood, but then it features a real tree topper and lights up, thanks to the lights fed from behind like a marquee. via lilyardor
Easy And Inexpensive DIY Frosted Pinecones

Do you want lasting and reusable frosted pinecones? That's easy to accomplish. Find some fake or dried pinecones and then glue fake snow at the appropriate places to get that frosted effect. via ellaclaireinspired
DIY Log Candle Holder Centerpiece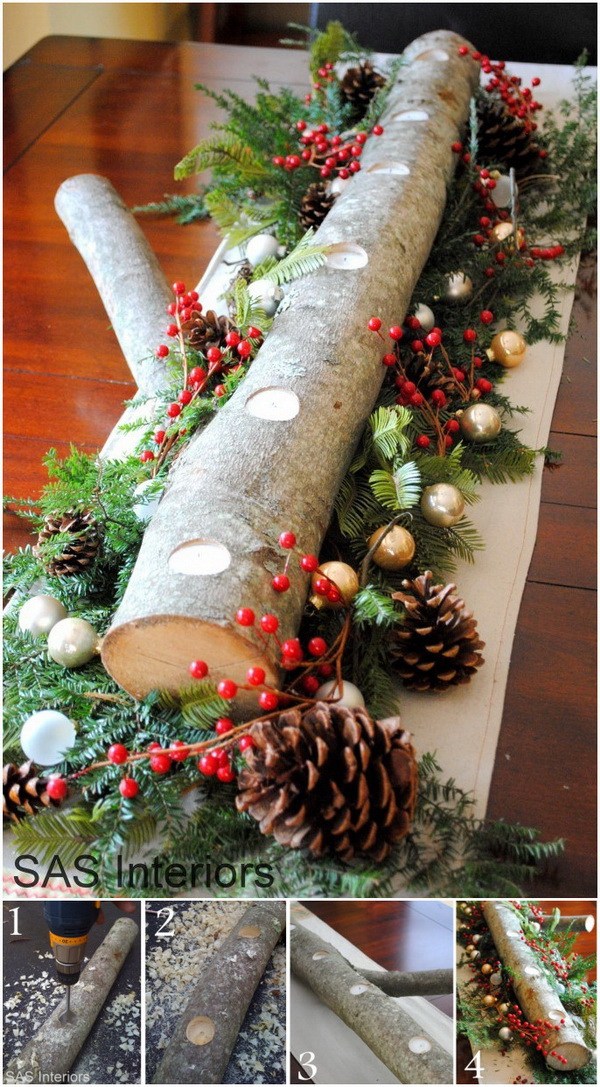 This centerpiece is just as beautiful as it is easy to make. Take a log and lay it on its side on some greenery, then make some candle sized holes along it. Seal the holes in, install the candles and you're done. via jennaburger
No Sew Burlap Christmas Stockings

Burlap stockings are pretty much the most rustic ones you can make, and you don't even need to sew. The secret is to join the pieces together using fabric glue, as well as adding the trims and initials that decorate the stockings. via cookiescraftsandchaos
Twine Candy Cane Ornaments For Christmas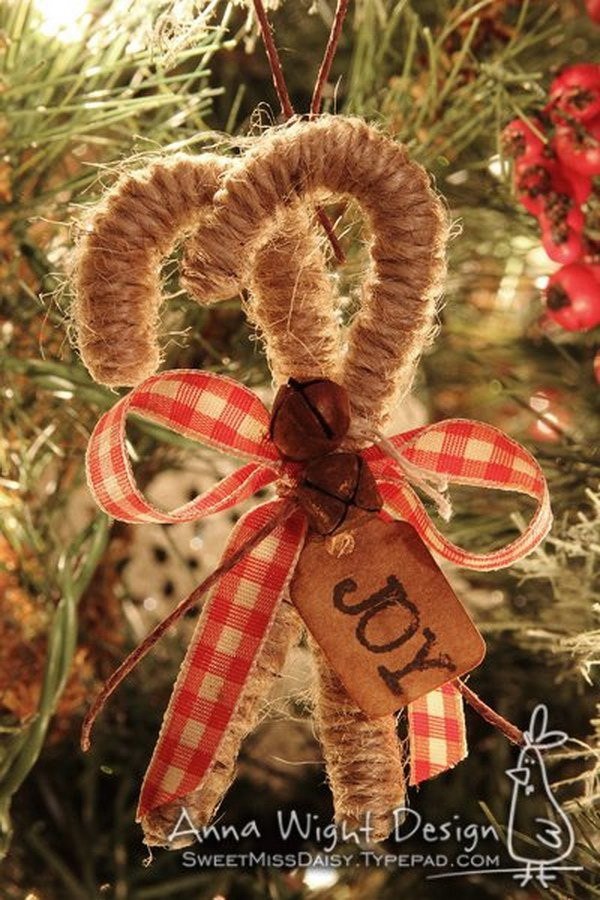 A twine candy cane may not look good enough to eat, but it sure does look sweet. You need to wind the twine around bent wire or foam to create the shape and then you can decorate it using a red bow and tag like in the photo, before hanging it all up. via sweetmissdaisy
Easy To Make Glittered Paper Mache Deer Head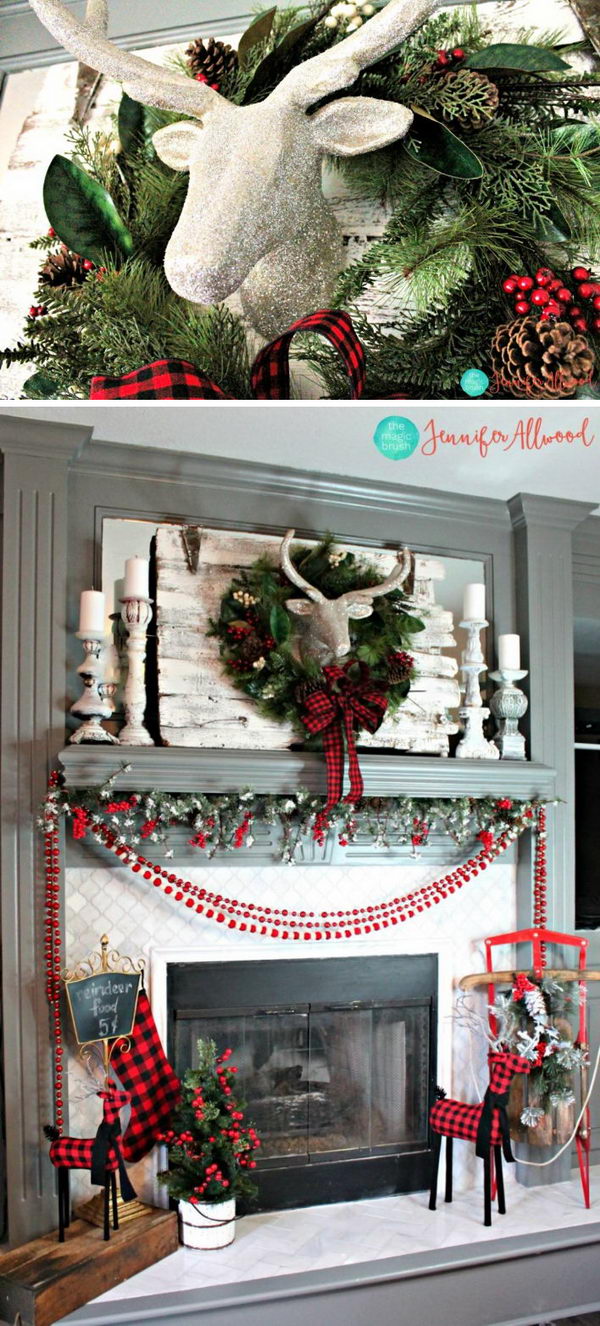 This glittering deer head looks gorgeous inside the wreath hanging on the wall. It is made from paper mache, which covers the original piece while revealing the shape in its most beautiful form. via themagicbrushinc
DIY Holiday Star Luminary Craft

Luminaries like these are easier to make than you might think. They are ordinary Mason jars which have been cleaned to host small candles or tea lights. The stars on the inside can be painted or glued on using a sticker or even foil. via petscribbles
Image Transfered Candles For Christmas

Making these candles is just like making a temporary tattoo. You need clean, dry candles and a transfer image. Using the proper tools and techniques, you should be able to decorate these formerly boring candles with the theme of your choice. via h2obungalow
Rustic Reindeer String Art For Holiday

This string art is made just like the one we've looked at before, except you have a round black wooden background to work with. Use a template to place your nails and create your shape, then bring it to life by weaving contrasting string through the nails until the shape is filled in. via aweekfromthursday
Rustic Christmas Mantel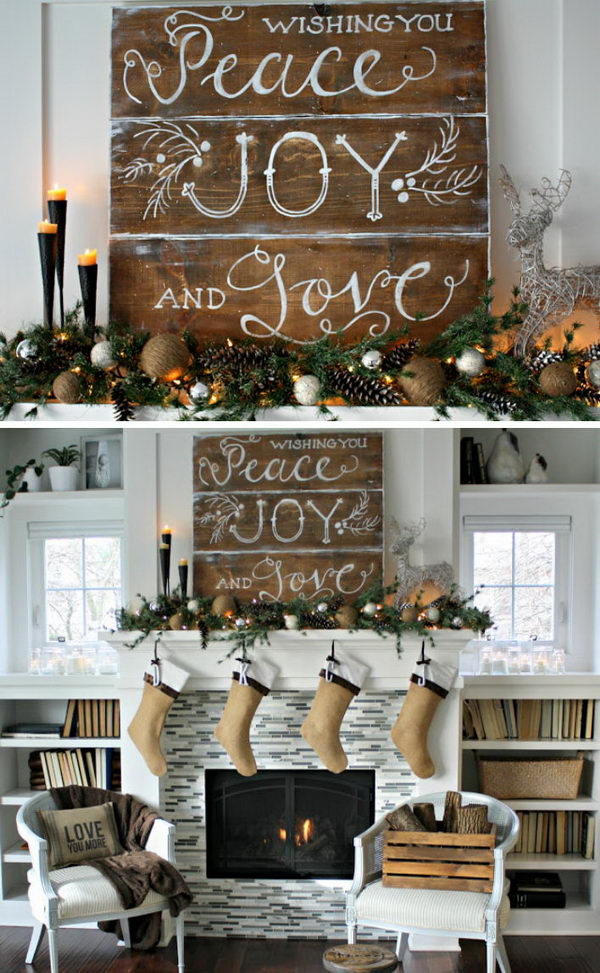 There is no mistaking this mantel as anything other than a Christmas decoration. It features everything from wooden signs, to greenery, baubles, candles and even stockings hanging above the fireplace, just like old tales say. via thelilypadcottage
DIY Weathered Yardstick Stars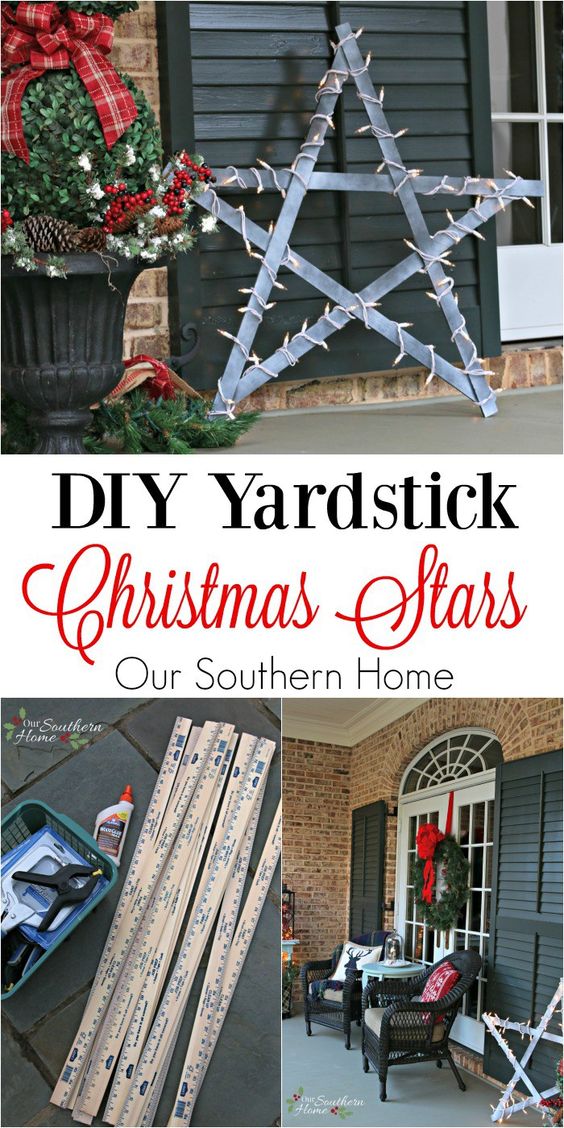 These hollow Christmas stars are made from reused yard sticks, which have been cut and mounted in the star shape. A piece of wire is wound all around the piece, looking it's helping hold it together. via oursouthernhomesc
Natural Birch Bark Paper Garland

Greenery, a chain of brown paper and pieces of natural birch wood at the bottom make this garland truly rustic. via dreamalittlebigger
DIY Merry Christmas Sign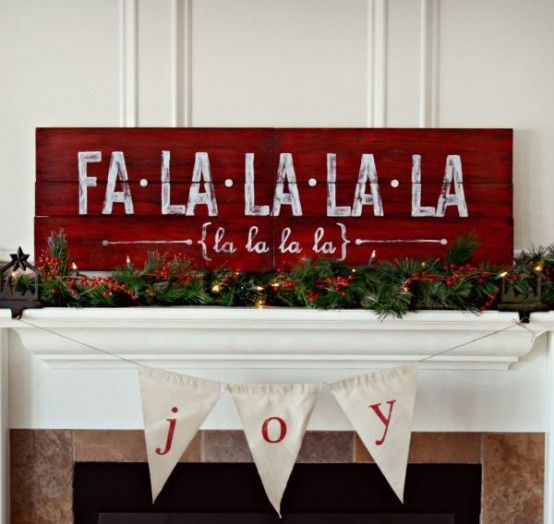 This wall sign is incredibly adorable and festive. It is a shelf that was covered with fabric and then decorated with several elements. A traditional Christmas quote was created at the back in a dimensional fashion while the shelf's front was enhanced by some pieces of holly or mistletoe, in a garland style. A simple "joy" banner hangs below to complete the setup.
DIY Rustic Wood Candle Holders

These festive white candles are held inside log cases, which have been customized for this purpose. They are displayed among some mistletoe, inside of a wooden box. via martysmusings
Rustic Outdoor Christmas Planters

These outdoor planters are seriously adorable, as they are made to look like mini crates and display things like pinecones, needles, mistletoe and holly. via threadsandblooms
DIY Scrap Wood Christmas Trees

This is the perfect project to make if you have some scrap wood around and an empty space to decorate. Cut trees of slightly different sizes from the wood using a template, then paint them in different colors. Place them all on your previously empty surface to create a perfect and dimensional scene. via loveandrenovations
Joy Wine Bottles For Christmas

These "joy" wine bottle vases are a fantastic and easy project to make. All you need to do is wrap two kinds of twine or jute around your bottles until their surface is covered, add the previously cut and painted white letters at the front and place your plants inside.
Fabric Scrap Wooden Christmas Tree Sign

This Christmas sign is yet another fantastic recycling idea, as it uses beautiful wood to serve as the backing and stand, but it is then decorated using various trees and other shapes made from repurposed scraps of beautiful, previously unused fabric that look just right against the rich wood. via bugaboocity