35 Free and Commercial Pinterest Like WordPress Themes
Pinterest style WordPress themes became really popular after this social networking site's success. Many people like the design and layout of Pinterest.
In this post we have collected some of the best free and commercial Pinterest Like WordPress themes. You can use them to build your own pinterest like website with a masonry grid layout, and showcase your posts in a modern fashion way.
Pinboard
Pinboard features an auto stacking layout with infinite scroll as seen on the Pinterest desktop site. It also includes multisite integration which enables users can signup and post.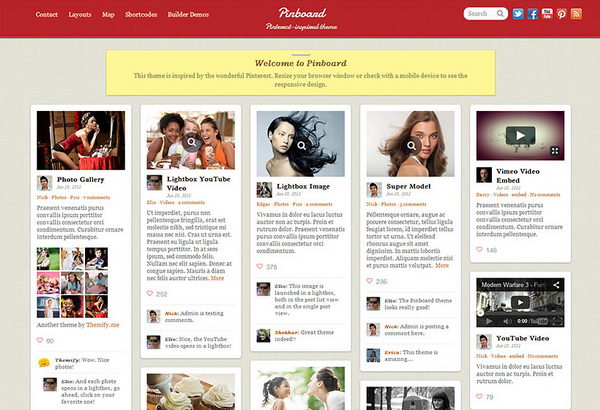 Pinable
Pinable is a Pinterest-like (or behance.net like) theme which supports various theme post types (Audio, Video, Gallery, Quote, Link, etc.), it's fully responsive (try resizing your browser) that works great on all kinds of devices (PC desktop, tablets, smartphones, etc.).
Pintores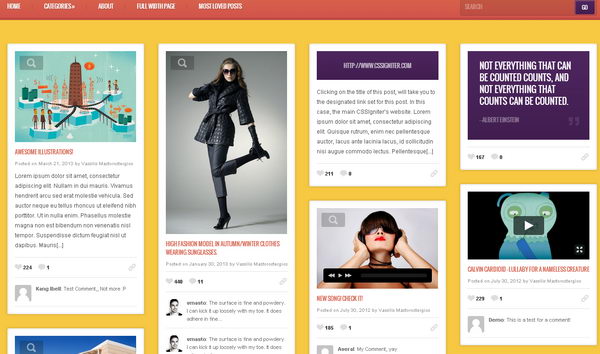 Pinstagram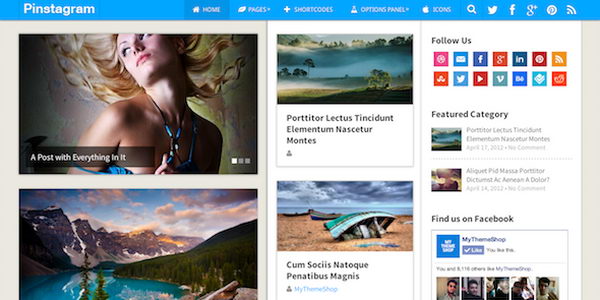 Pinfinity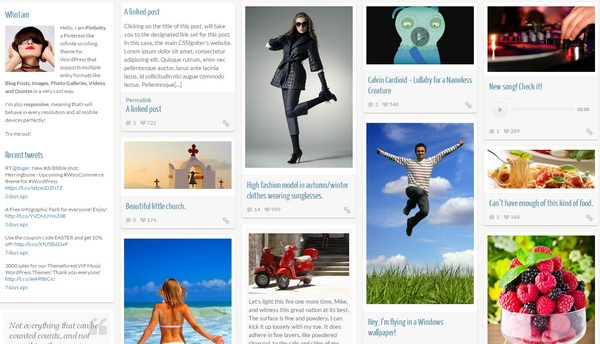 Fabulous – Responsive Masonry Blog WordPress Theme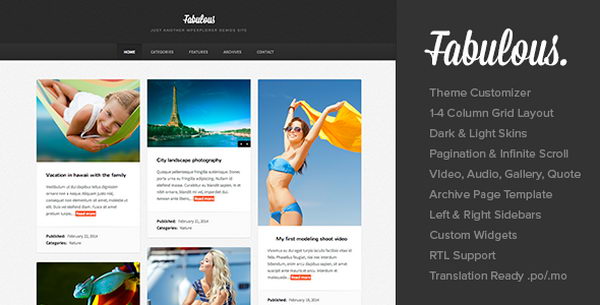 Fashionista – Responsive WordPress Blog Theme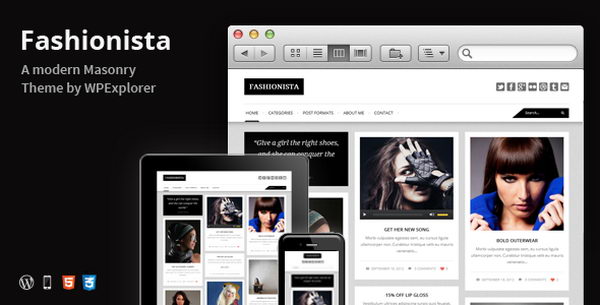 Keen – Clean portfolio Style Theme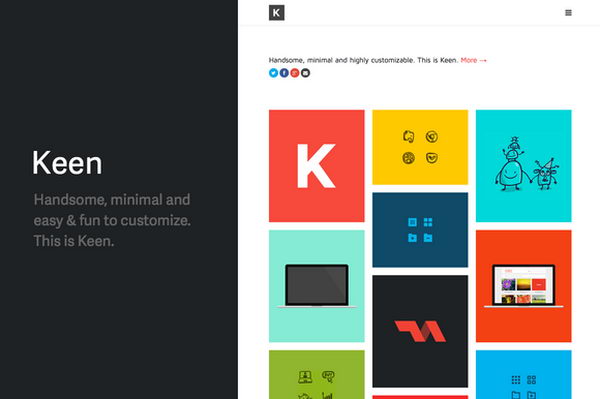 Publisher   View Demo
Smoothie – Retina Responsive WordPress Blog Theme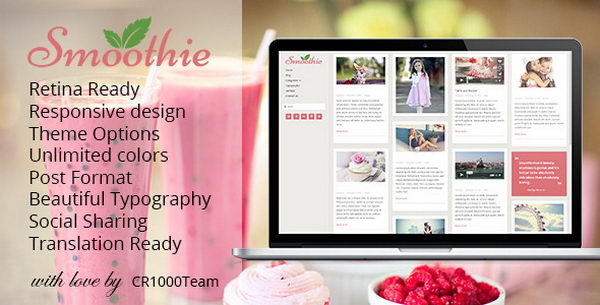 SerenityWP Responsive Portfolio
This is a responsive theme mainly created for freelancers and business companies who need to showcase their work.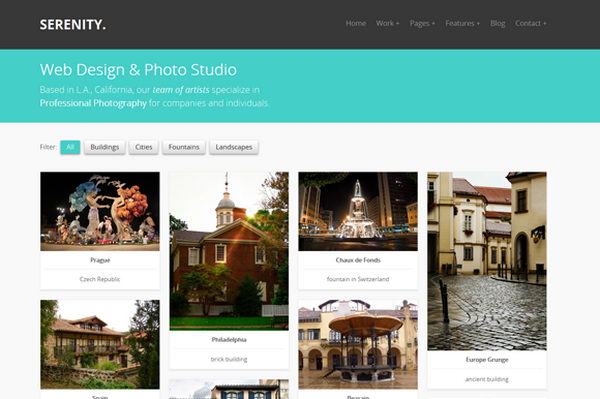 1Page – Masonry Magazine WordPress Theme
Created with the latest HTML5 and CSS3 techniques, this is a professional Masonry Magazine WordPress Theme with a remarkable clean layout design suitable for any type of site.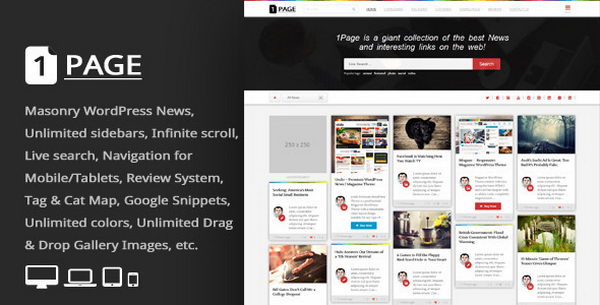 Remal – Responsive WordPress Blog Theme
This theme has has a responsive layout, HTML5 and CSS3 tableless design. It uses an isotope masonry grid to achieve the same look as Pinterest.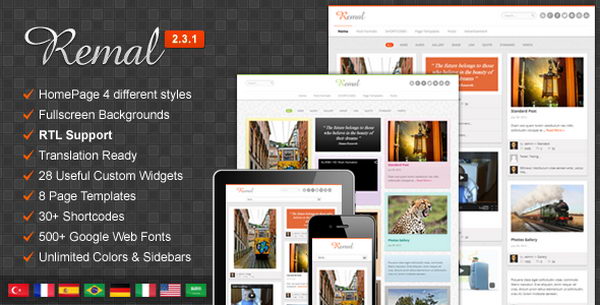 Publisher   View Demo
Exhibit
Exhibit's clean design elements and a strict grid gives the theme an organized layout that is easy to read and awesome to look at. Exhibit is fully responsive theme that can display your video, images, audio, galleries, asides, links, quotes and standard posts.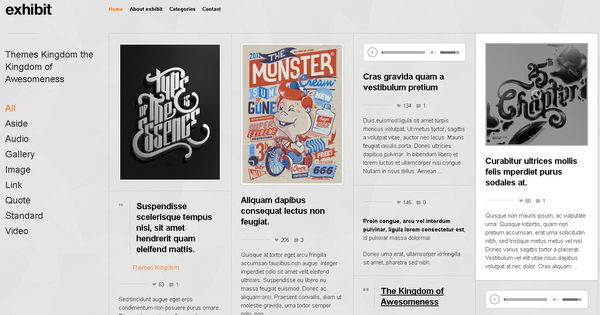 Publisher   View Demo
Inspire – A Multi-purpose, Masonry Theme
Inspire is a masonry grid based pinterest like theme. With its clean design it is great for projects that emphasizes a stylistic and modern look.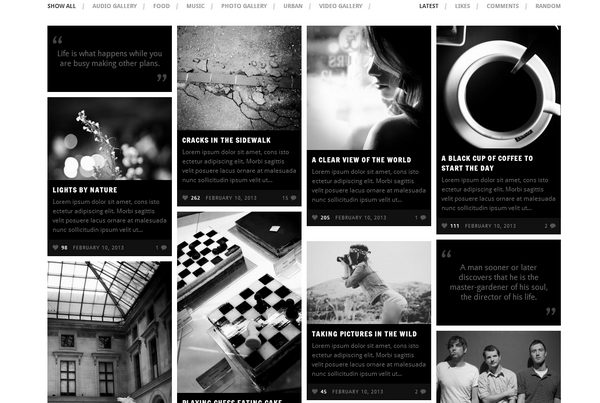 TheStyle
TheStyle has a unique jQuery-enhanced fluid width design. Your posts always get displayed in a way that is best suited for your visitor's resolution.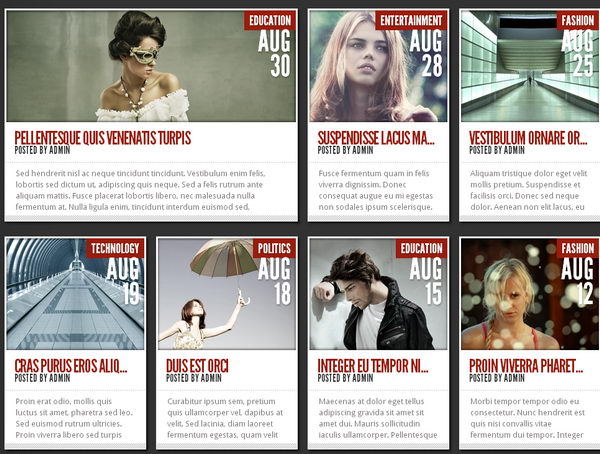 Elastik
Elastik is a beautiful theme that will display your posts in a fluid grid, using jQuery Masonry technique. The theme's look and feel is very easy to customize to fit your style. With our advanced ZOOM Framework, you can easily customize every detail of your theme to best suit your needs.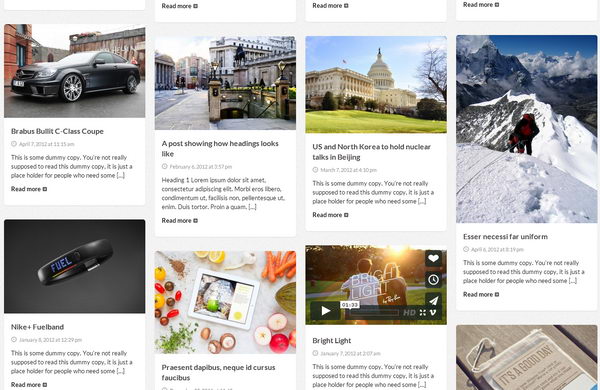 Notebook WordPress Theme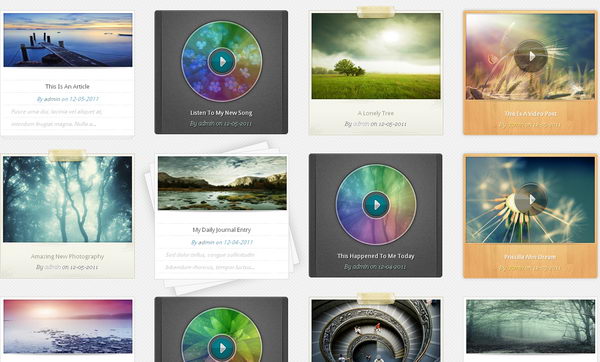 Brick + Mason: Premium Photography and Blog Theme
This theme utilizes infinite scrolling so users don't have to leave the page to experience all your talent. It also uses the jQuery masonry plugin so the content will fit any browser size.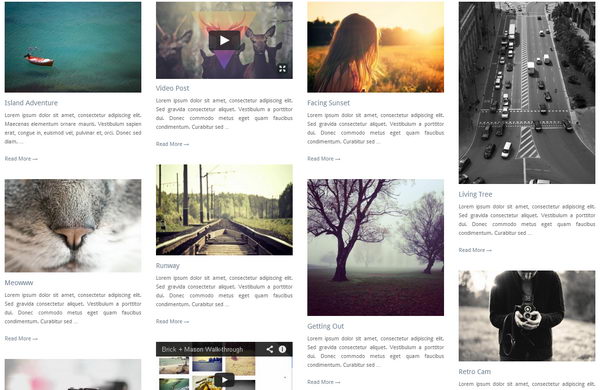 Apptha WP Grid Theme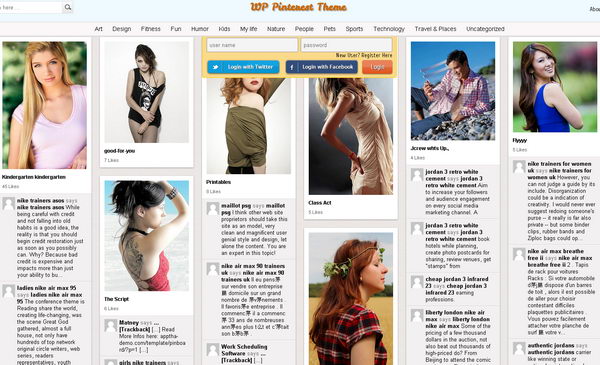 Publisher   View Demo
Gridnik – Elite Portfolio WordPress Theme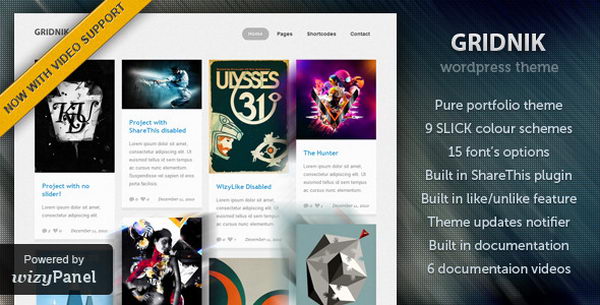 TheWall – Grid-A-Licious Blog and Portfolio theme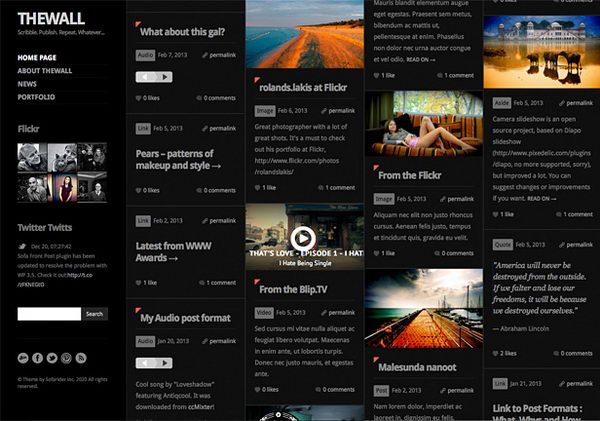 Publisher   View Demo
Photogram (Free) – Integrate with Picasa and Pinterest Accounts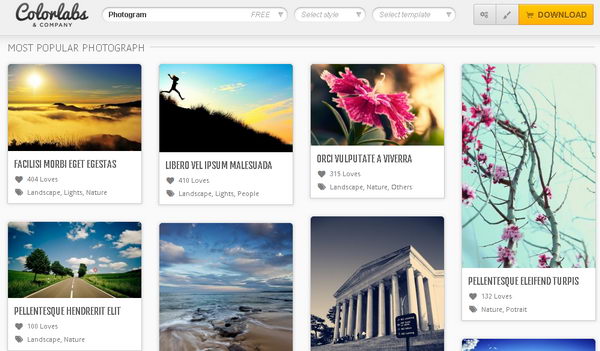 Clippy (Free) – Simple, Responsive, Pin-style Theme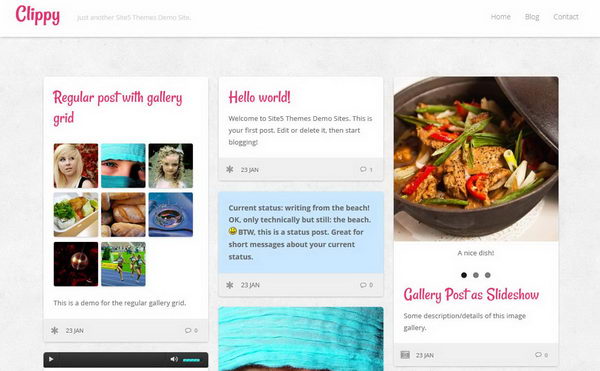 Publisher   View Demo
Vasiliki (Free) – Minimalistic Theme with Dynamic Grid Layout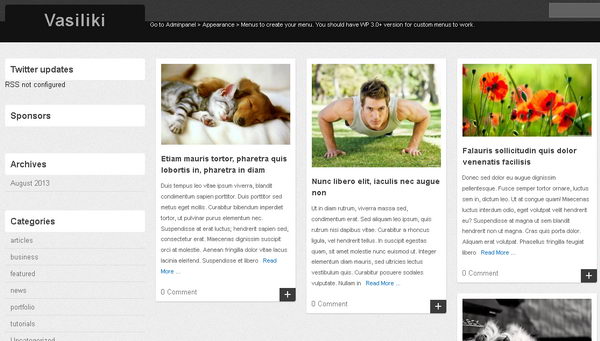 Photum (Free) – Responsive WordPress Theme for Photographers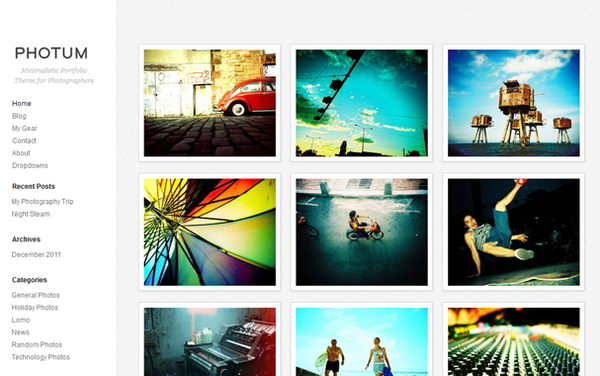 Shaken Grid Lite (Free)
Shaken Grid uses jQuery Masonry which "arranges elements vertically then horizontally according to a grid". The result is a gap-less layout even if you have varying post heights.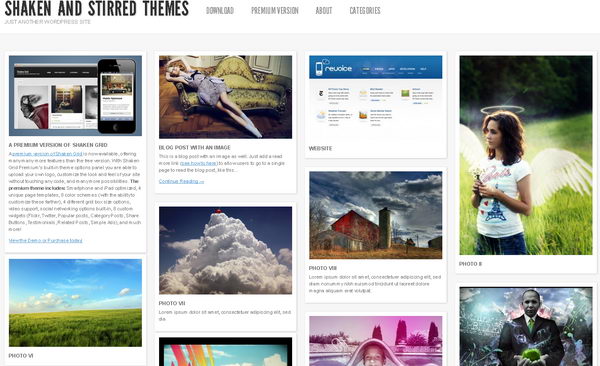 Publisher   View Demo
Tetris (Free) – Masonry Tumblog WordPress Theme
The theme features a masonry style homepage and archive pages to showcase your posts in a modern fashion and makes use of WordPress post formats so sharing different media types is extremely easy.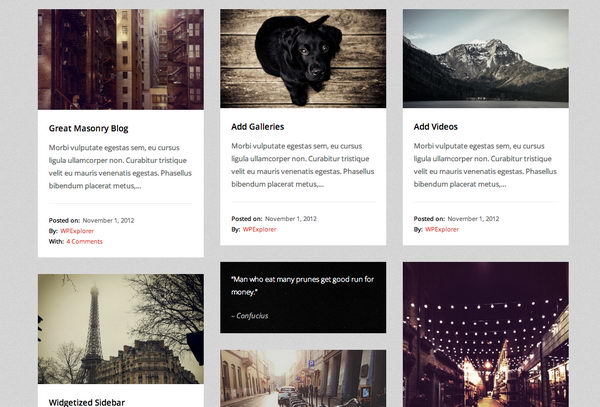 Gridly (Free)
This is a free minimal & responsive portfolio theme. Features include: jQuery Masonry, Featured Images, Responsive for iPhone and more.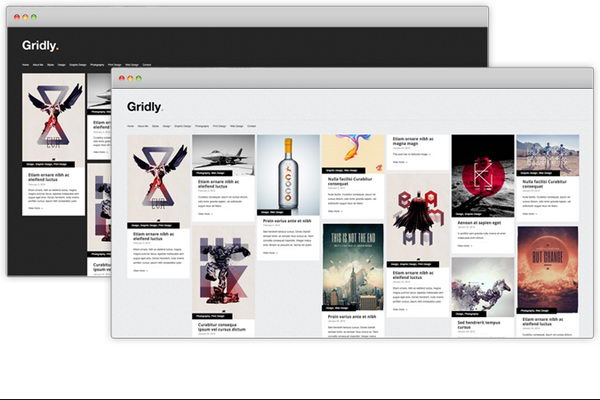 Ultra Grid Theme (Free)
Ultra Grid Theme is beautiful and modern WordPress theme with a grid like design. This is perfect theme for any artist to showcase their portfolio in a grid layout style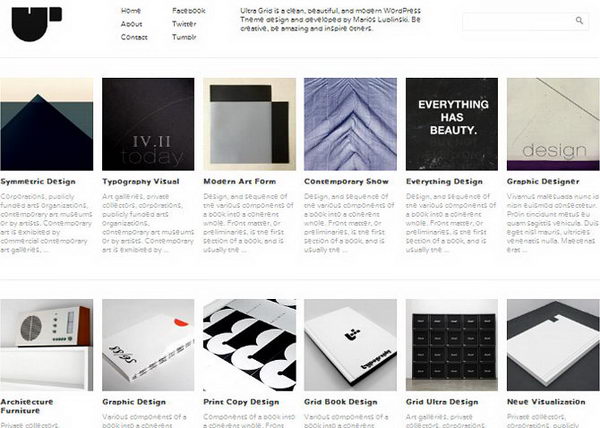 Grid Portfolio (Free)
Portfolio Theme WordPress is clean theme with grid like layout, this WordPress theme is perfect to showcase any portfolio. It has nice and unique structure to show any artwork.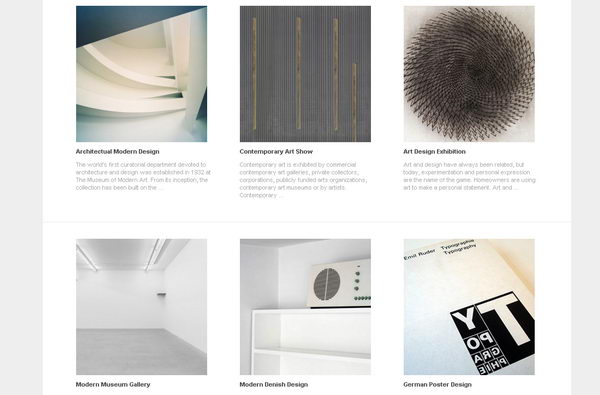 Sampression Lite (Free)
Based on 960 Grid system, Sampression Lite is a minimalist, fully responsive, retina ready, translation ready, clean theme, perfect for blogging. It's lightweight responsive design allows this theme to adapt across a range of screen sizes.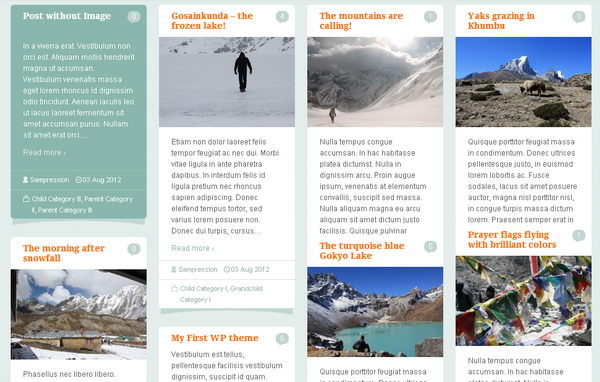 Publisher   View Demo
Pronto (Free) – Masonry Gallery WordPress Theme
Pronto is a very clean and minimal jQuery Masonry WordPress theme that's perfect for showcasing your posts in a grid like fashion, that will re-adjust depending on your visitors browser size.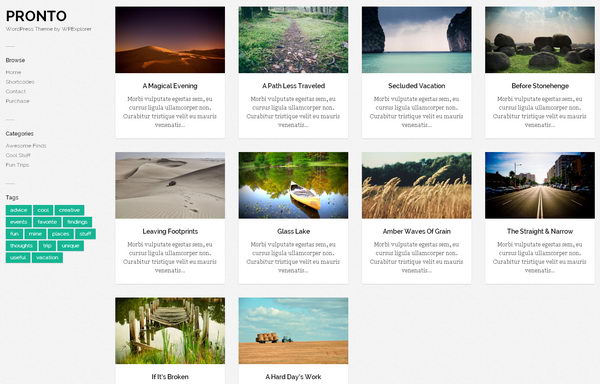 PinStrap (Free) – Pinterest meets Bootstrap
PinStrap is a responsive WordPress theme that uses Twitter Bootstrap and mimics the famous Pinterest! The homepage automatically resizes images and places them in a responsive grid.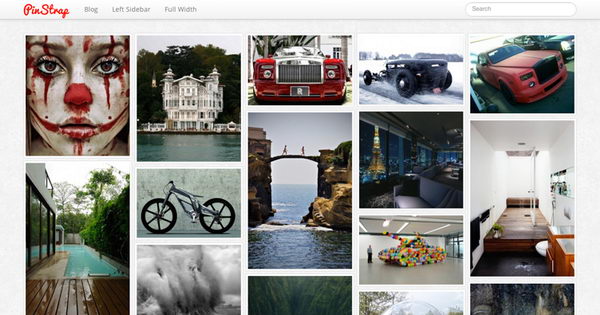 Publisher   View Demo
Imbalance 2 (Free)
The layout type of Imbalance 2 theme can be chosen from fluid and fixed. You can choose your personal pagination type from a standard (Prev / Next)Twitter-style "Load More" or a trendy "Infinite Loading" powered by jQuery.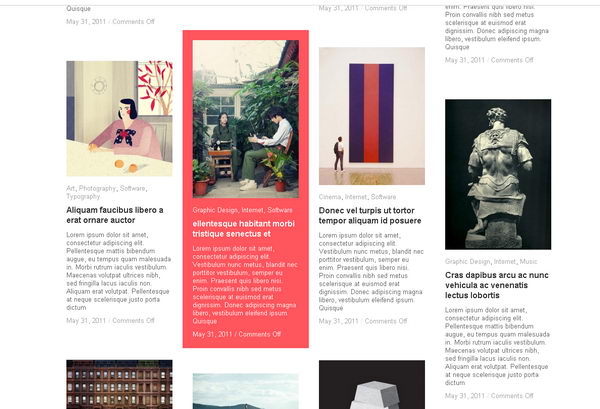 iPin (Free)
The free iPin wordpress theme features the same masonry dynamic layout with infinite scroll.