30+ Free Crochet Patterns For Blankets
Crocheting is quite a consensual art. While you may envision grandmas with giant balls of thread and armed with needles when you think of crochet, the art has actually survived the times, passing from grandmas to daughters and granddaughters.
Today, crochet is trendy in a number of areas, from women's clothing and accessories, to interior decor and, perhaps more notably, baby items such as blankets. While crochet items are easy to find, yet sometimes expensive to acquire, they are also fairly easy to make yourself once you learn the needlework and find the right pattern.
If you've already learned the art of crochet, then we've got the other ingredient. In this article you will find patterns for just about any kind of blanket you ever think of. Welcome to this great collection of free crochet patterns for blankets.
Crochet Rainbow Stripes Baby Blanket Free Pattern

You really cannot go wrong with this baby blanket which features a full rainbow of color. The pattern is stripes, which is quite straightforward even for beginners. via sewrella
Charlotte Free Crochet Blanket Pattern

This blanket is more elegant and decorative than others. The pattern is made of different shapes and textures, and it is brought to life in two contrasting colors, which give it that sophisticated look. via rescuedpawdesigns
Snow Berries Throw Free Crochet Pattern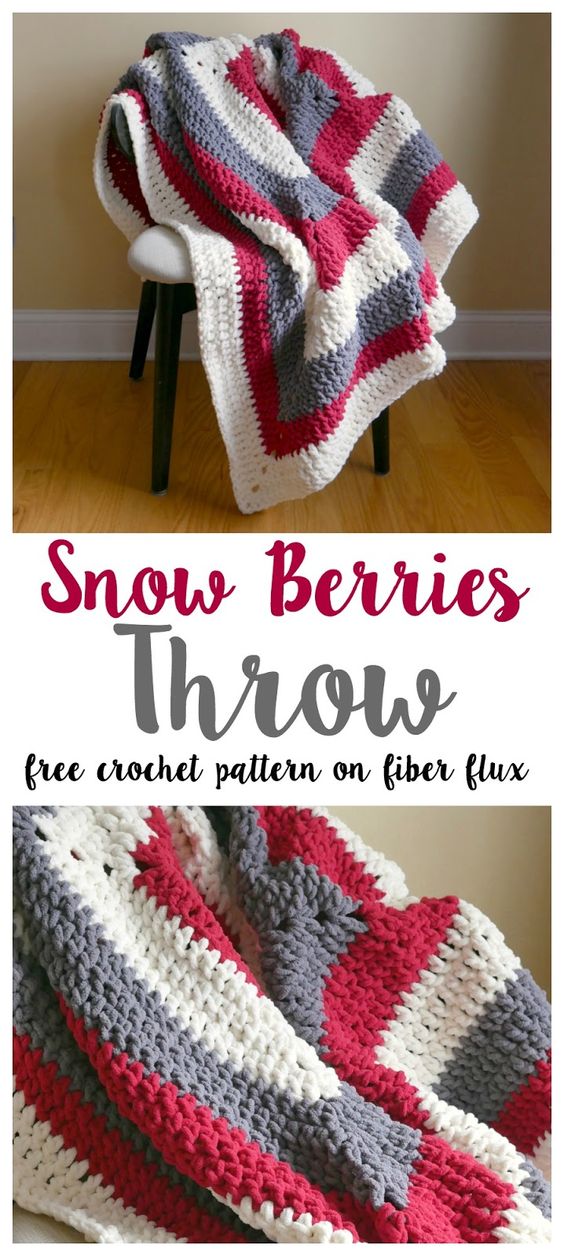 This blanket was made using alternate wide stripes of different colors. Aside from rhose colors, a closed up pattern was used throughout the whole piece to create the final result. via fiberfluxblog
Chunky Crochet Blanket

This is quite a thick, cozy blanket made with chunky open knit. The pattern was made with thick stripes of predominantly strong colors meant to evoke warmth. via makeit-loveit
Bake Shop Blanket Free Crochet Pattern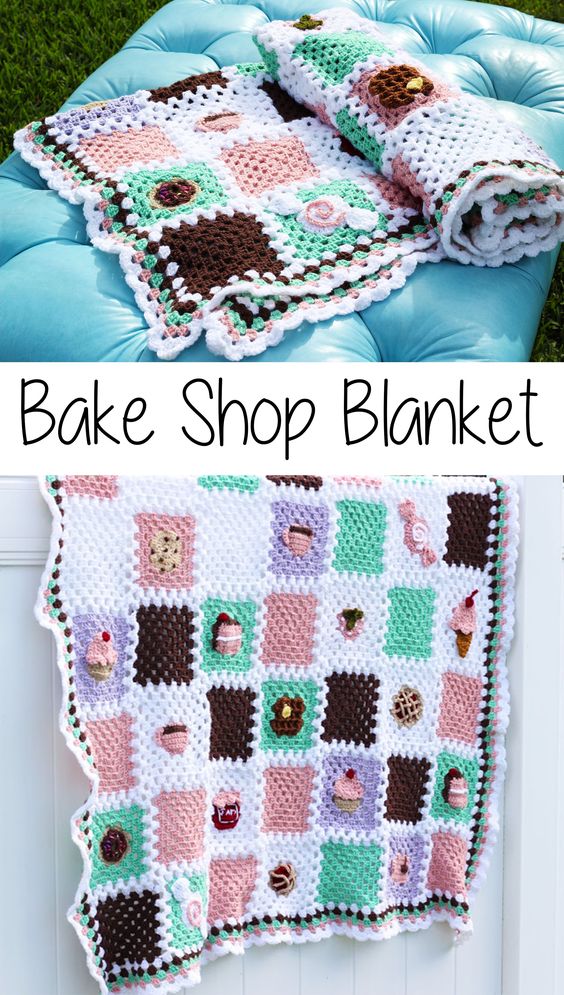 This blanket is very sweet indeed, with its candy colors and cake themed figures. The pattern itself is formed by uneven rectangles and has a wavy, almost scalloped edge with a multicolored trim. via sewrella
Simply Stunning Baby Blanket Free Crochet Pattern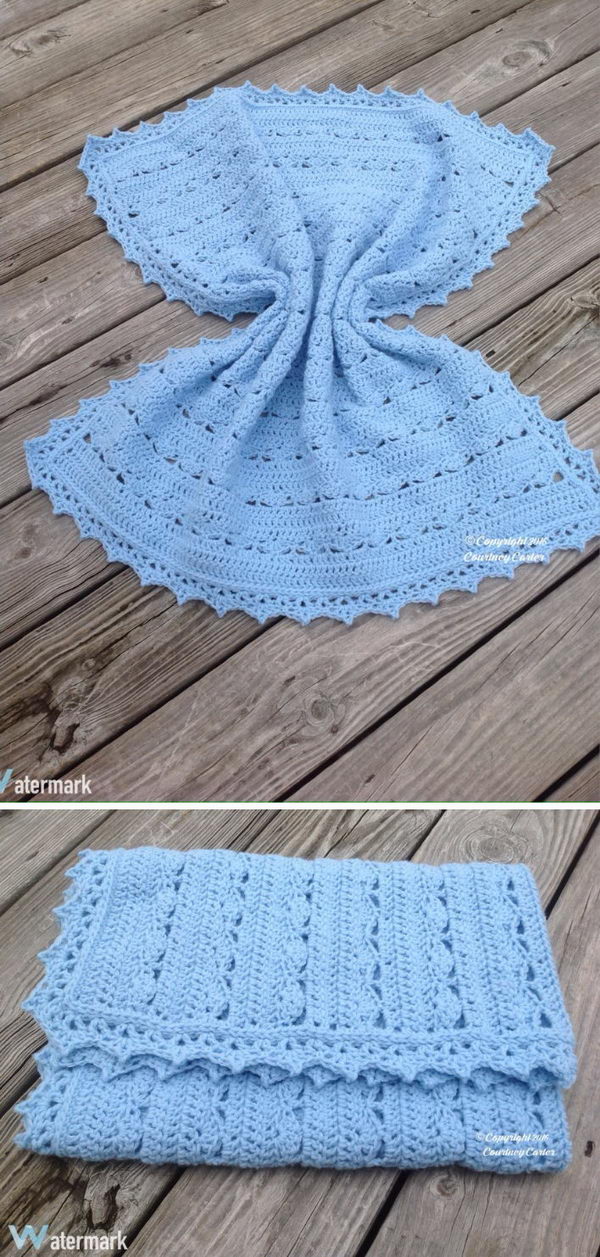 This precious blue blanket is the perfect gift for a baby shower or a newborn baby boy. The knitting itself is open and very delicate, while the piece is finished off with a decorative scalloped edge which gives it that extra sweet look. via crochetingcrazy
Enormous Squishy Blanket Free Crochet Pattern

The giant, almost fluffy-looking blanket is so big that it might be perfect for slumber parties. The overall pattern is made of chevron rows, which are mainly wide and in alternate colors. Slimmer stripes are made at the edge almost like a trim. via annabooshouse
Duchess Baby Blanket Free Crochet Pattern

This blanket is another of those more delicate pieces, as it is made from an open knit called the duchess lace stitch. This is a beautiful kind of stitch which can be used in a number of pieces to add some lace details. via amandasaladin
Free Crochet Panda Hooded Baby Afghan Pattern

This would be a simple, striped black and white afghan blanket if not for the cozy panda hood attached to the edge. The hood is not only cute, but it will will also keep children warm without the need for a separate hat. via makeanddocrew
Free Modern Baby Blanket Crochet Pattern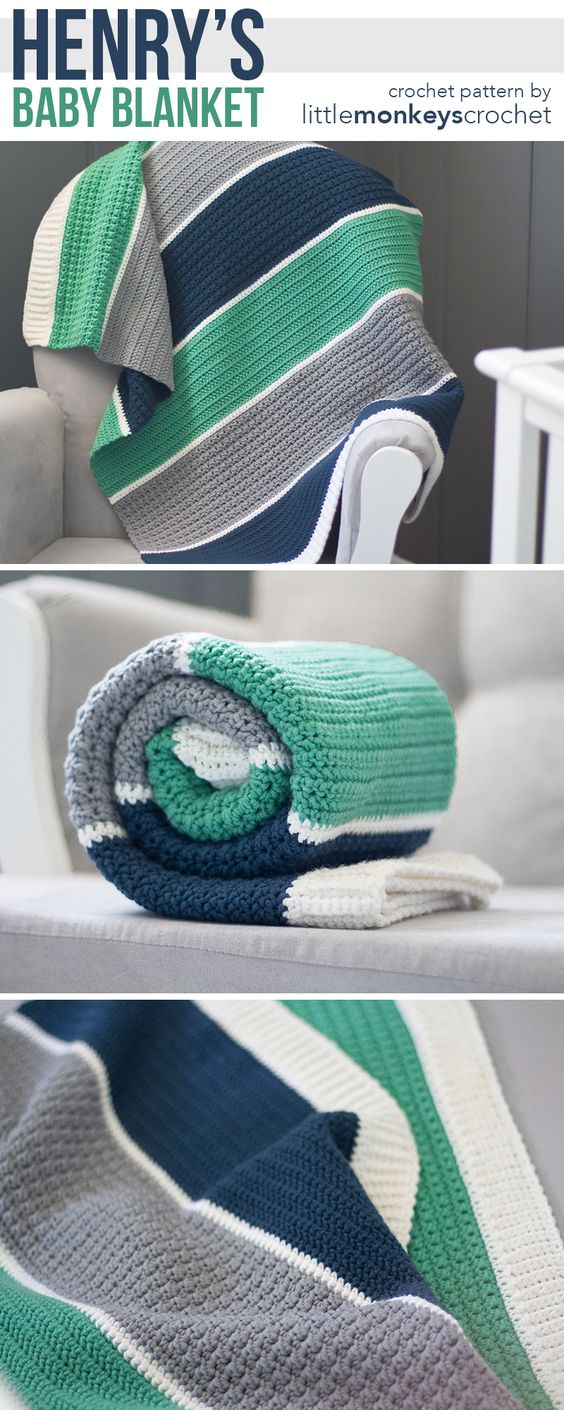 This baby blanket does in fact look very modern, with a graphic visual pattern of wide stripes separated by thin white ones. The kind of stitch used here gives it a ribbed texture, which is very modern-looking itself. via littlemonkeyscrochet
Simple Beginner Afghan With All Double Crochet Stitches

The cool neutral toned cozy afghan blanket is just about one of the easiest projects you could take on. There are only two colors, and the wide stripes of each color are made of neat rows of simple double crochet stitches. via kristineinbetween
Single Crochet Chevron Baby Blanket Free Pattern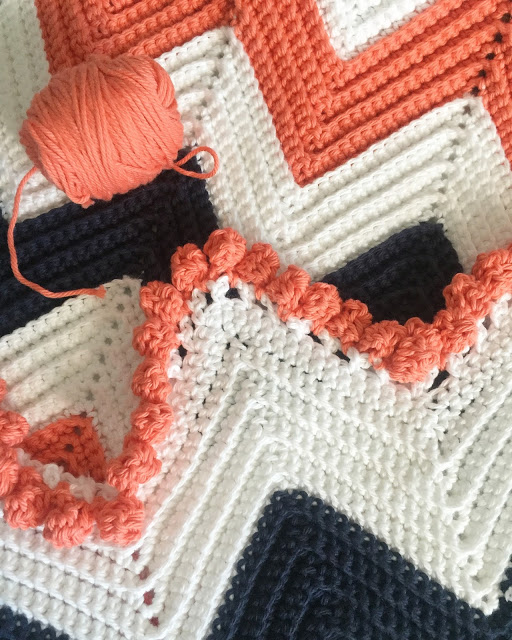 This is another chevron crochet blanket, but it is made from a crochet pattern instead of rows of chevron stitches. The stitches themselves are quite simple, but the pattern may not be. via daisyfarmcrafts
Primavera Flowers Baby Blanket Free Crochet Pattern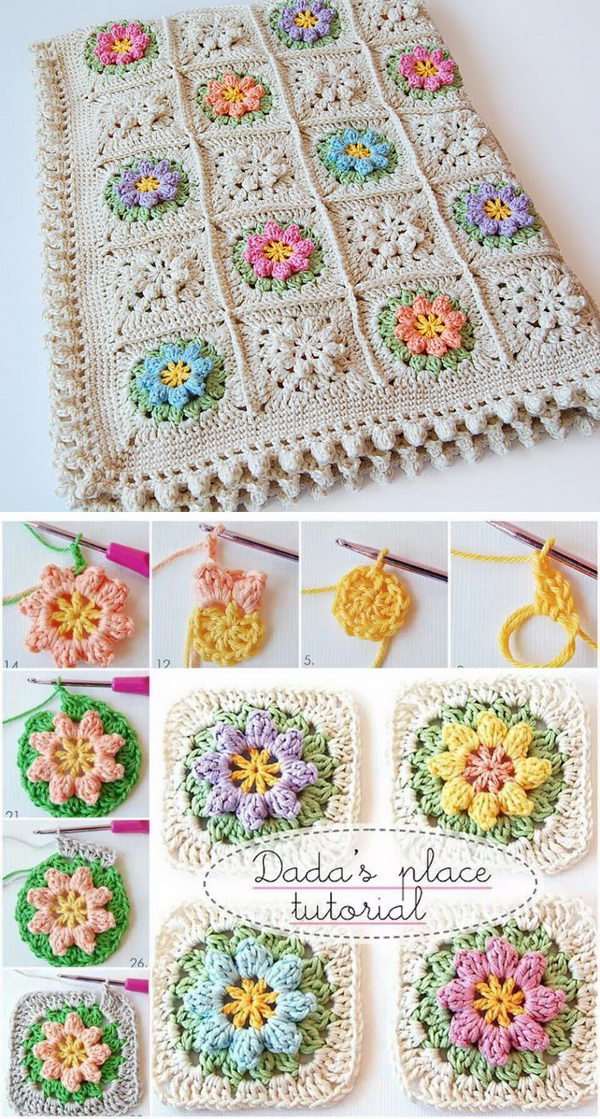 The square floral patterned blanket is gorgeous, but it takes work, as all flowers need to be crocheted individually. The blanket itself is then finished with a knotted fringe trim. via dadasplace
Leaping Stripes & Blocks Blanket Free Crochet Pattern

Now this is a very impressive-looking blanket, and with good reason, as each stripe of color has a very tight stitching pattern of its own. The result is a stunning and cozy blanket that is sure to brighten up any room. via mooglyblog
Granny Stripe Afghan Blanket Free Crochet Pattern

This is another two toned blanket with neat stripes of even stitches. The rows have a kind of chevron pattern here, and they have a unique texture of their own. The simple, plain trim finishes the piece smoothly and professionally. via kristineinbetween
Crochet Baby Blanket Pattern: The Polka Dot Puff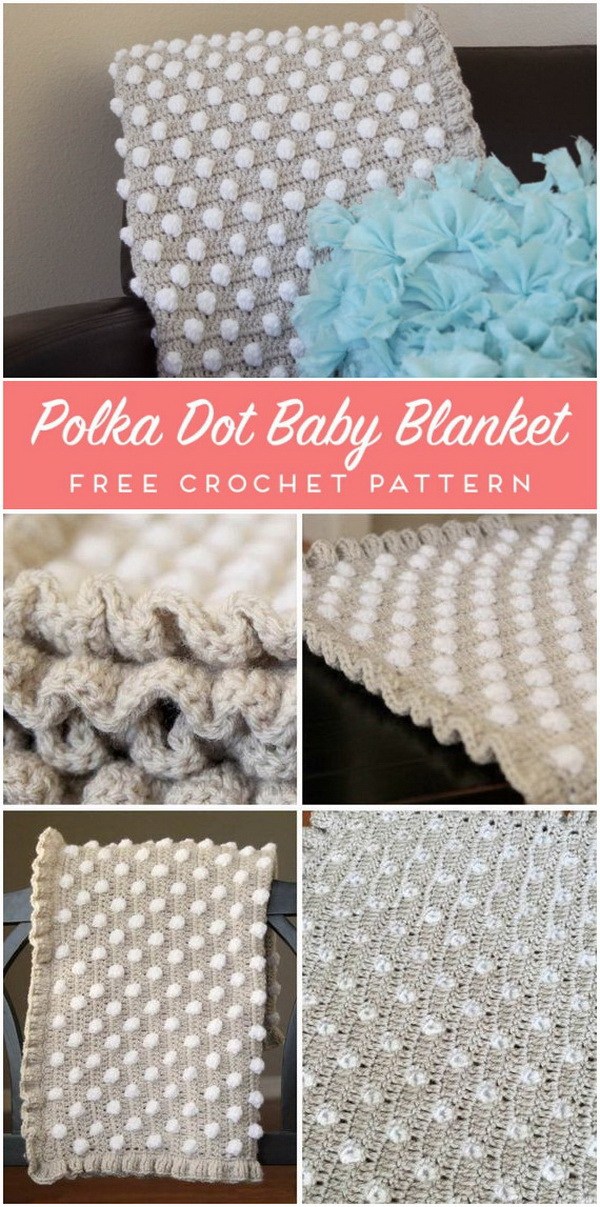 The pink and white baby blanket has a very unique look, as a polka dot knitting pattern was used here. The edging is also quite detailed, as the dots go all the way to the sides but the ends have a kind of ruffled texture. via daisycottagedesigns
Elephant Blanket Free Crochet Pattern

Here's a cute elephant blanket that doubles as a huggable pillow. Elephant's head and tail are added to the edges so that they are visible after you roll it up. via redheart
Modern Crochet Hooded Baby Blanket with Free Pattern

This is another modern piece which is fairly easy to make. The body of the blanket and the hood is made of open knitting in just one color. The top of the hood and edges are decorated with contrasting tassels, which are easily made from scraps of yarn. via makeanddocrew
Baby Bean Baby Blanket Free Pattern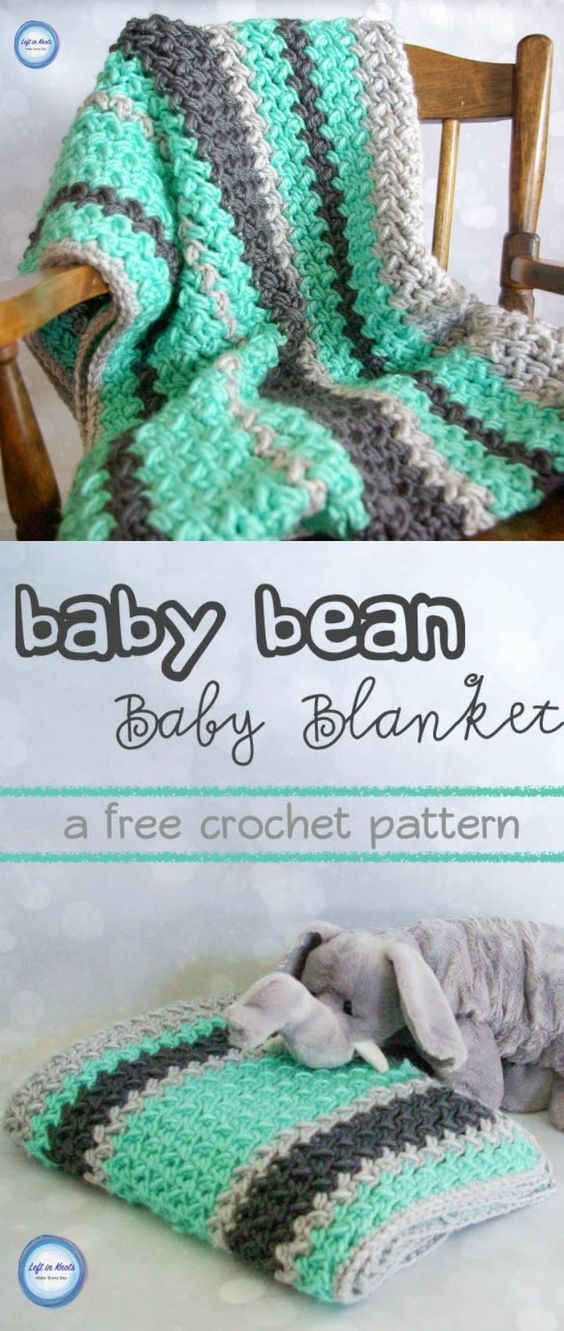 This gorgeous and undoubtedly cozy mint green blanket is made using a baby bean stitch, which provides its unique texture. Thin black stripes have been spaced out to break the pastel color up a little and add some interest to the piece. via leftinknots
Free Baby Blanket Crochet Pattern

via mylittlecitygirl
Southwest Sunburst C2C Crochet Afghan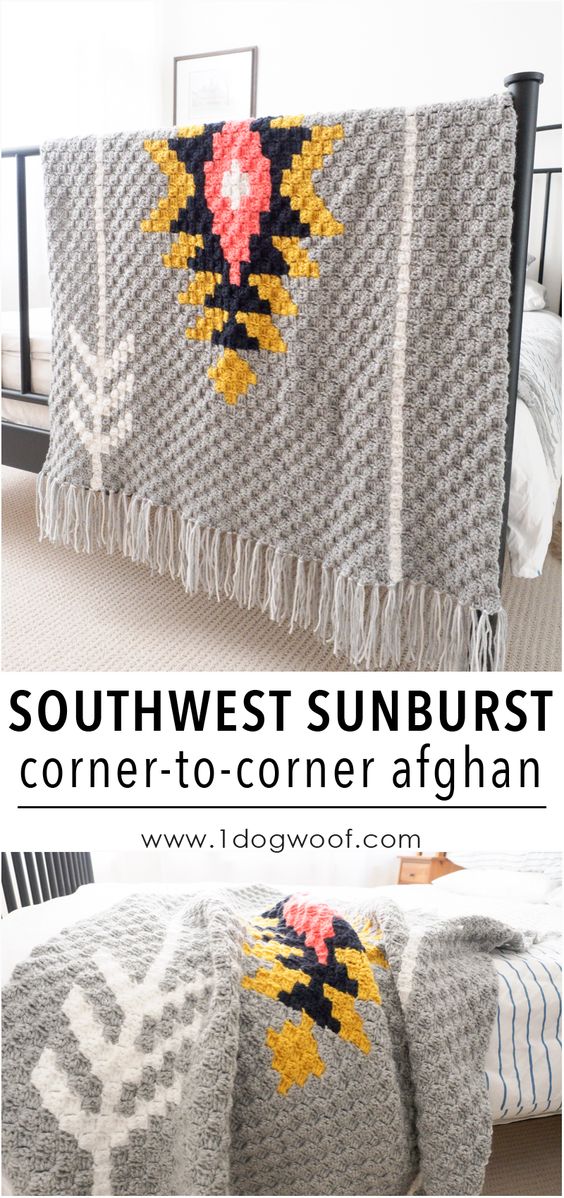 via 1dogwoof
Free Baby Blanket Crochet Pattern With Cute Stars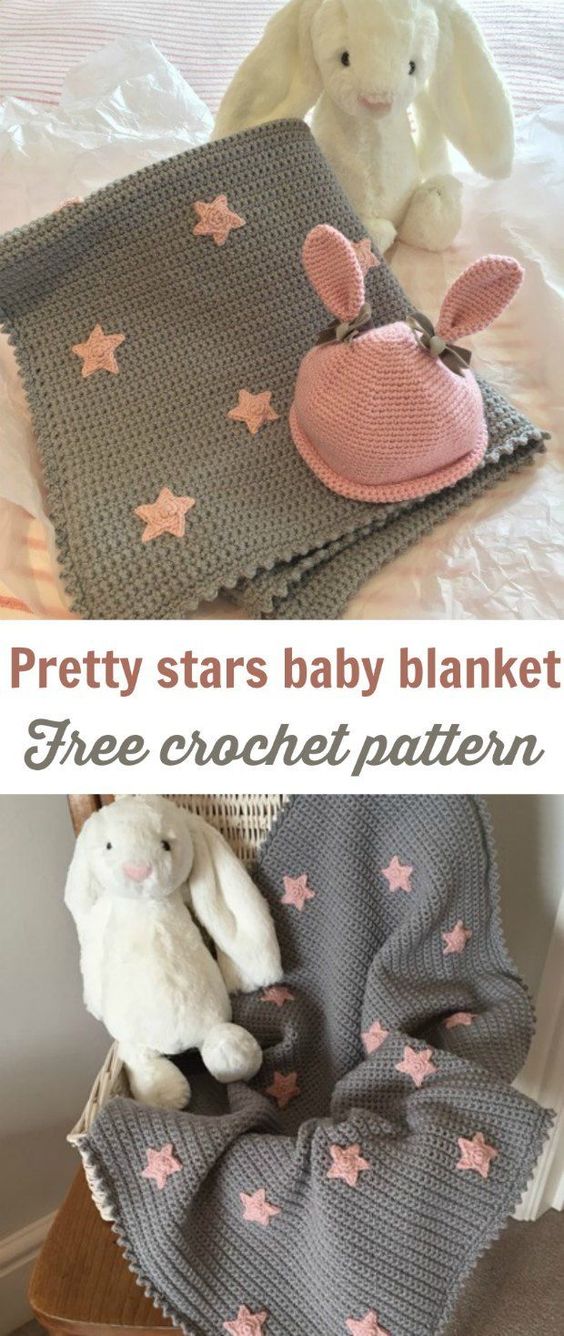 via lovecrochet
Ruffle Blanket Free Pattern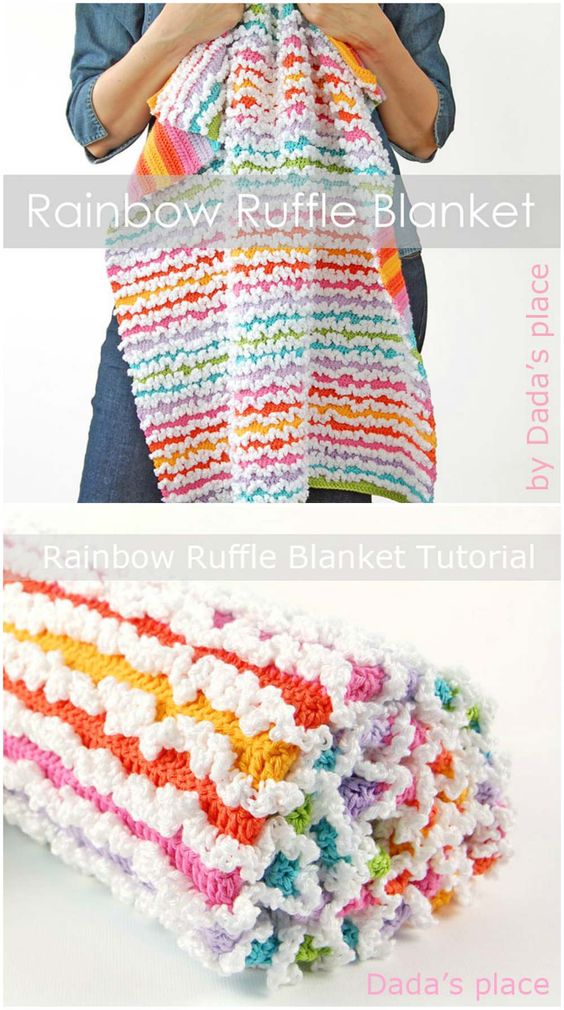 via yourcrochet
Tapestry Crochet Clouds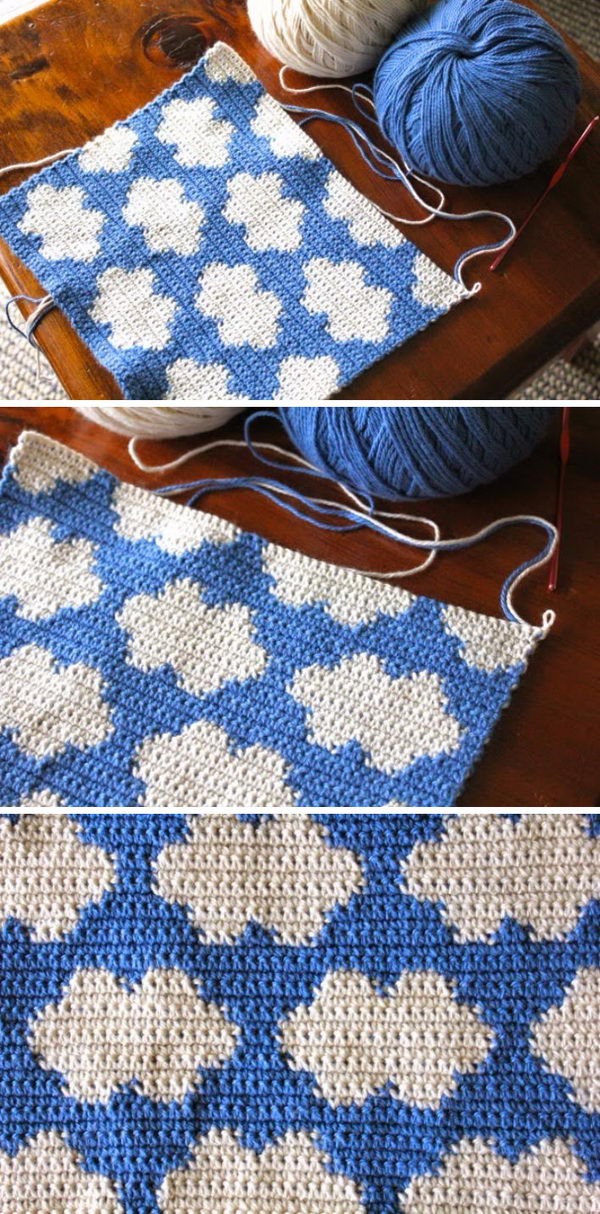 via littlewoollie
Crochet Sunflower Baby Blanket Video Tutorial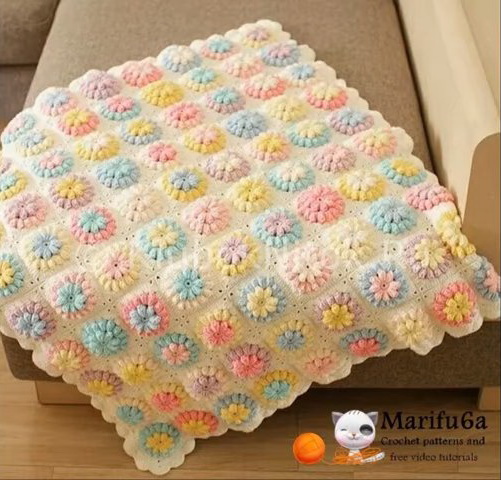 via Youtube
Easy Crochet Baby Blanket Free Pattern

via twistedfibersdesign
Happy Hexagons Free Crochet Afghan Pattern

via makeanddocrew
Lux Crochet Baby Blanket With Free Pattern

via cravethegood
Free Sampler Blanket Crochet Pattern

Lion Free Crochet Pattern Blanket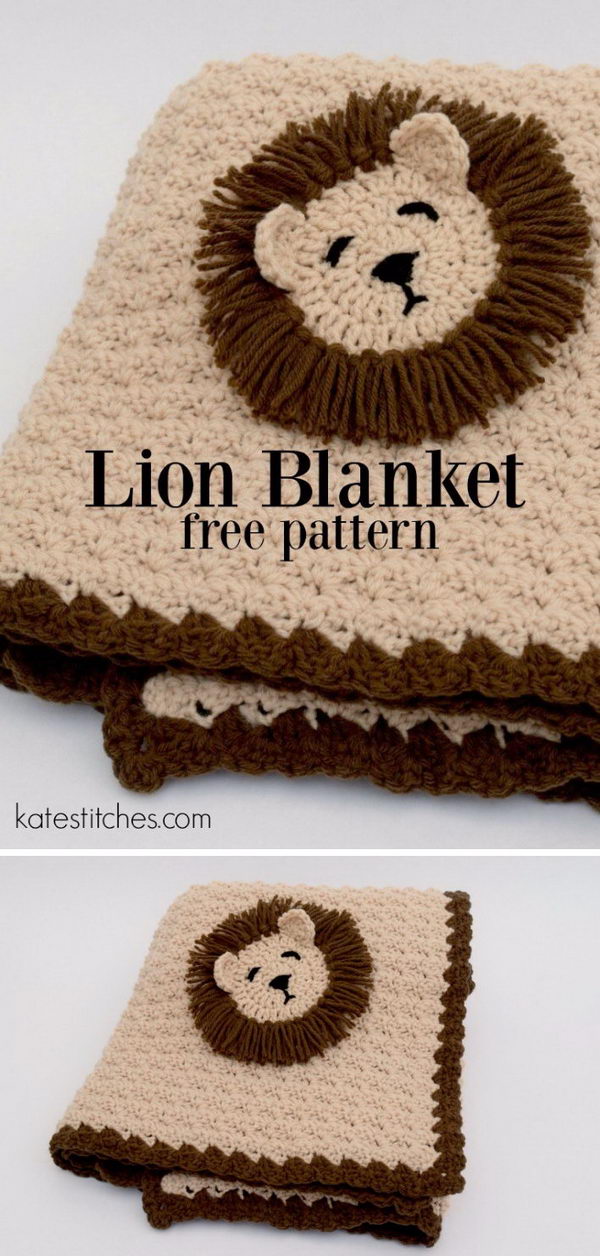 via katestitches
Bobble Stripe Blanket Tutorial

via design-peak
Waffle Stitch Crochet Free Crochet Pattern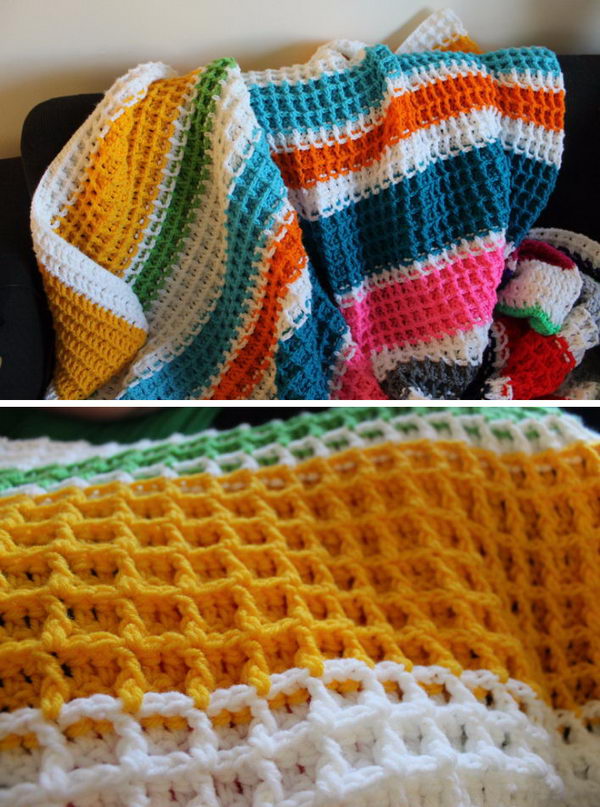 Chevron Baby Blanket With A Straight Edge Free Crochet Pattern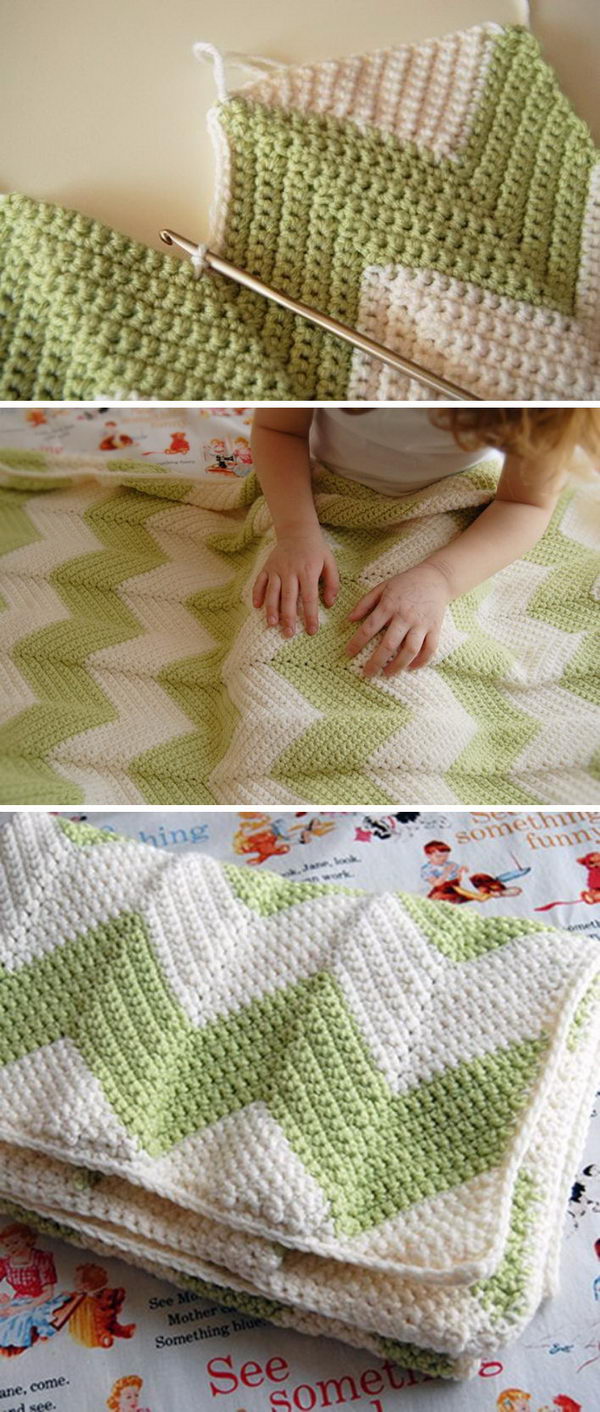 via eatknitanddiy
Cozy Clusters Free Crochet Baby Blanket Pattern

via leeleeknits
Cosy Stripe Blanket Free Crochet Pattern
Ocean Granny Square Afghan Free Crochet Pattern

Now this blanket, which could also work quite nicely as a rug, isn't really simple at all. Creating the granny square afghan pattern may not be a problem, but there are a number of figures to consider, so be prepared for that. You can't deny the end result is precious though. via mariasbluecrayon
Pom-Pom Baby Blanket Free Crochet Pattern

via mamainastitch
Pom-Pom Blanket Free Crochet Pattern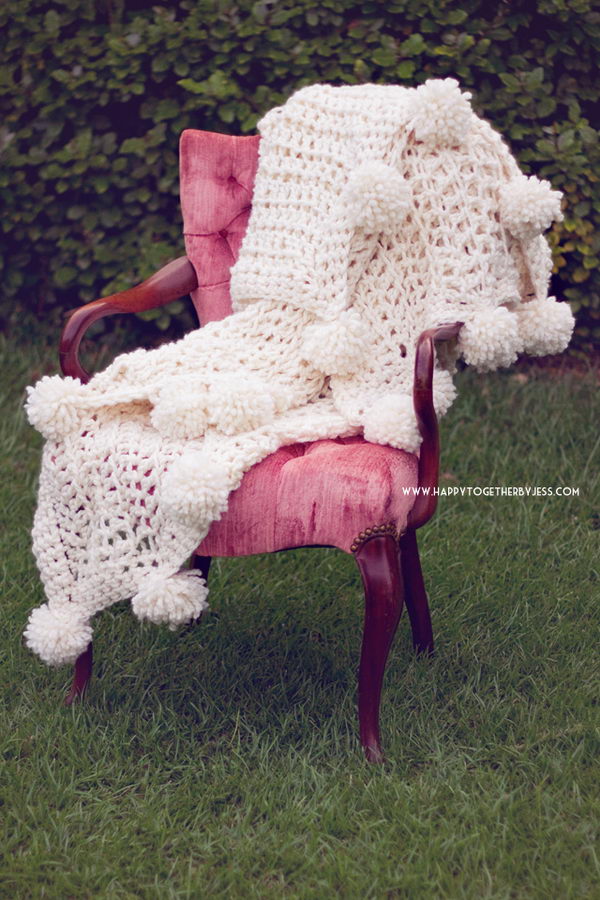 via happytogetherbyjess