50+ Kid-Friendly No-Carve Pumpkin Decorating Ideas
Autumn is the time to enjoy family, friends, and another of my loves – crafting. It's also time to dive into some DIY decorating for the season.
Pumpkins are the perfect canvas for making a fall décor masterpiece, and you can decorate pumpkins without ever going to the kitchen for a knife. There are lots of beautiful options for decorating pumpkins. Take some time with the family to go to a local pumpkin patch, pick out your treasures, and come back to this article to discover dozens of ways to decorate them – no carving required.
Fox Pumpkin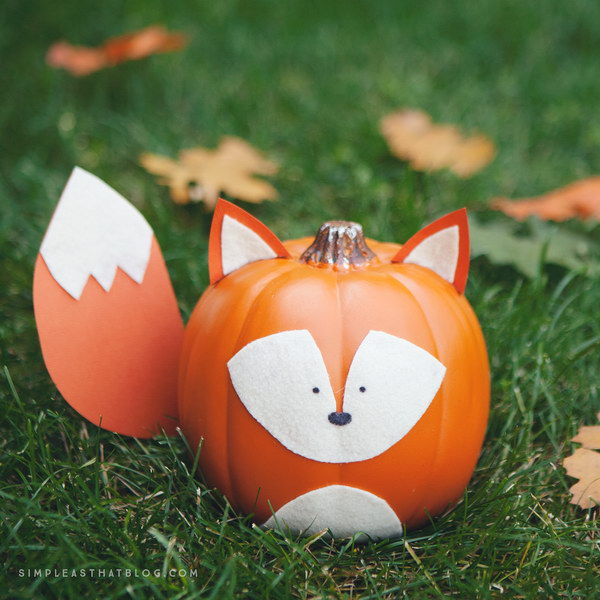 Turn your pumpkin into the cutest woodland creature of them all. Add a tail, ears, eyes, and a tuft of white fur, and after a few minutes of effort, you have the beginning of your fall menagerie. via simpleasthatblog.
Sally Skellington No-Carve Pumpkin for Halloween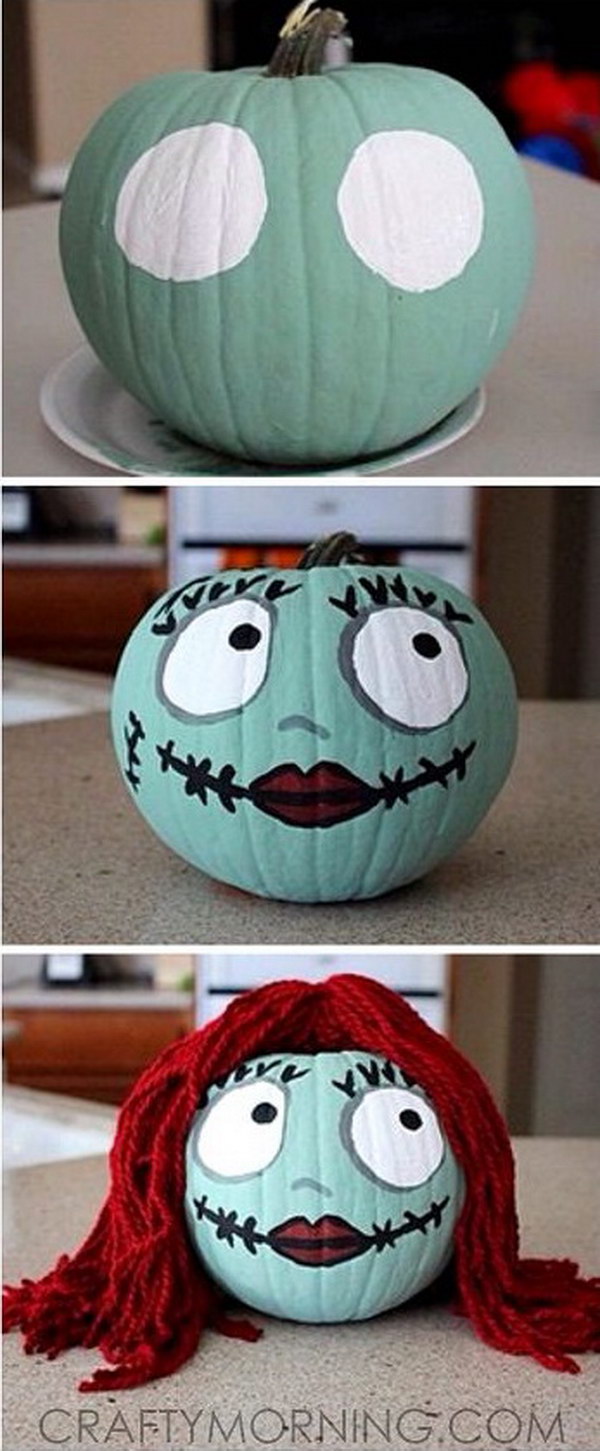 Create your own Sally Skellington with some mint-colored paint and basic paintbrushes. Add large, white eyes, and then add weird details by making the lips look like stitches. A funky wig or boldly-colored yarn can bring the entire look together, and you can't help but smile at the result.
Monsters Inc. Pumpkin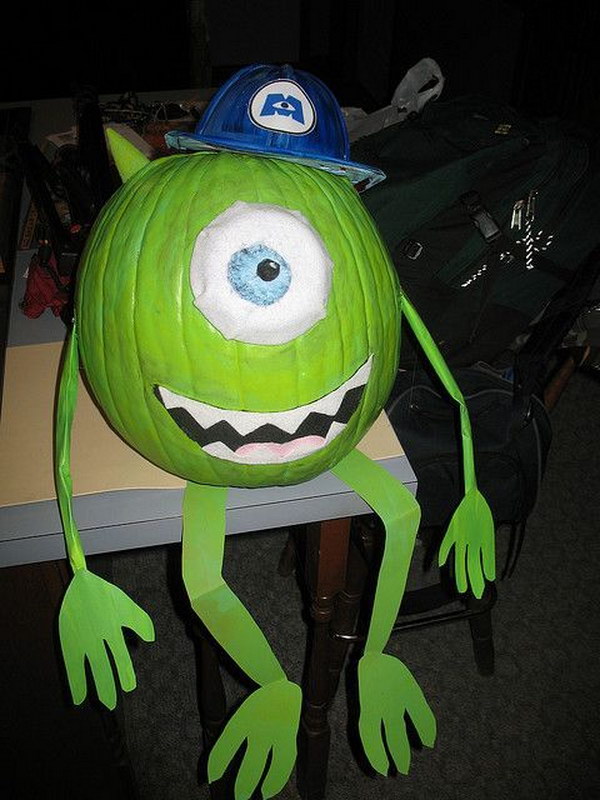 To create a Monsters, Inc. character, grab a large pumpkin and cover it in lime green paint. Use a paper bowl for the eyes and cardstock for limbs and facial features. Add a blue construction hat, and you have a Disney-worthy pumpkin!
Spongebob and Gary Pumpkins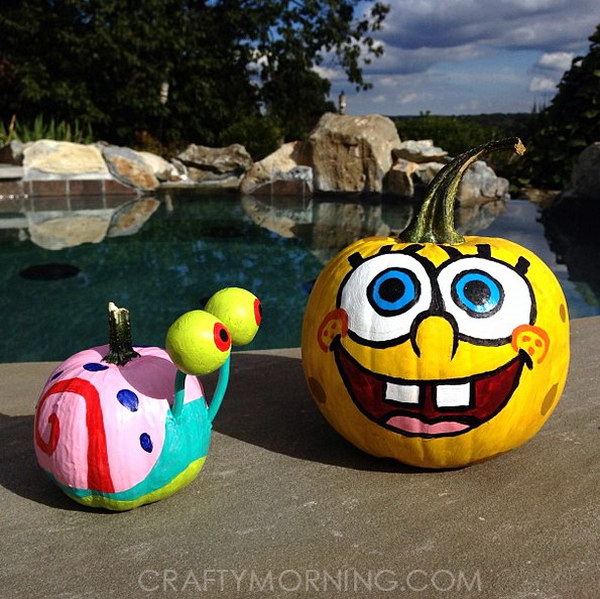 To create Spongebob, paint a pumpkin a vibrant golden yellow and color in his facial features. Add tan spots for his sponge-like qualities, and if you're really feeling fancy, you can paint the pumpkin stem a complementary color to set off your DIY décor. His friend Gary can be made with a smaller pumpkin and a quick coat of light pink over the pumpkin. Paint his body cyan and his belly yellow. You're sure to get compliments for these couple of pumpkins. via instagram.
No Carve Minion Pumpkins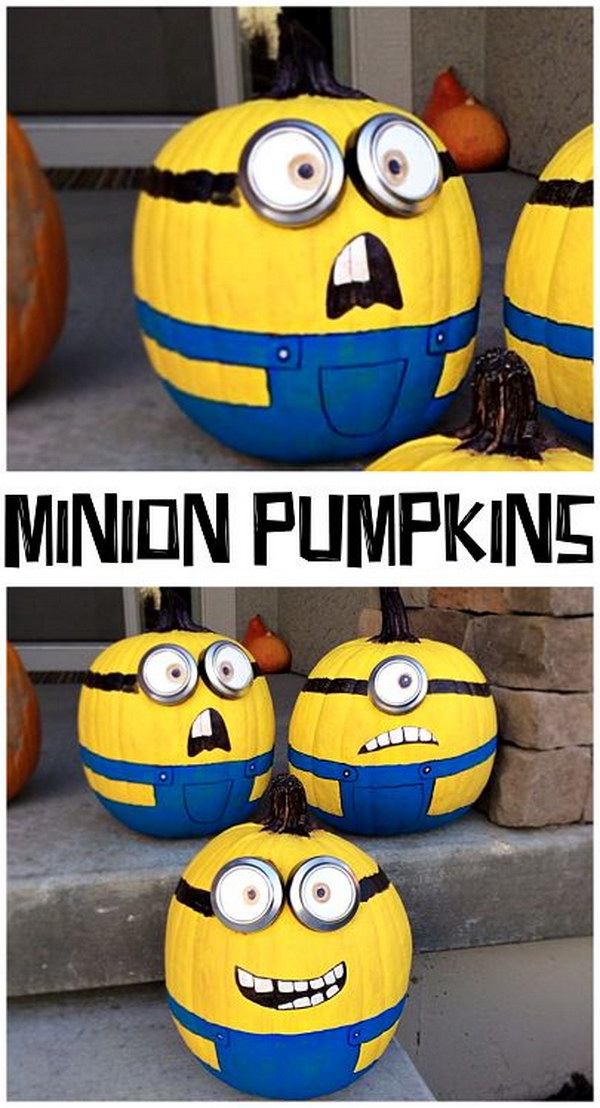 Minions are also simple. Paint the pumpkin bright yellow and use black sharpie to sketch overalls, the mouth, and headband. White and blue paints will fill out the remaining sections of the pumpkin, and the silver goggles can be made using the bottom of old soda cans. via craftymorning.
Finding Nemo Pumpkin.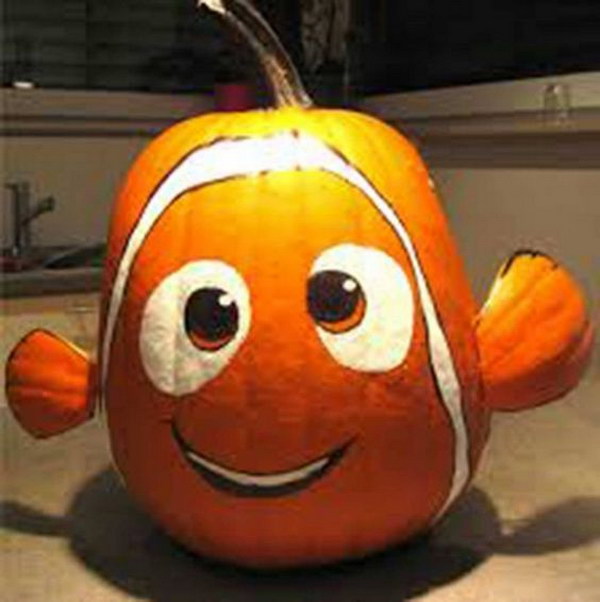 Nemo can be made with a medium pumpkin. Just use black and white paint to create Nemo's iconic face and the stripe around his body, affix orange fins, and prepare to be amazed at the results.
Witch Pumpkin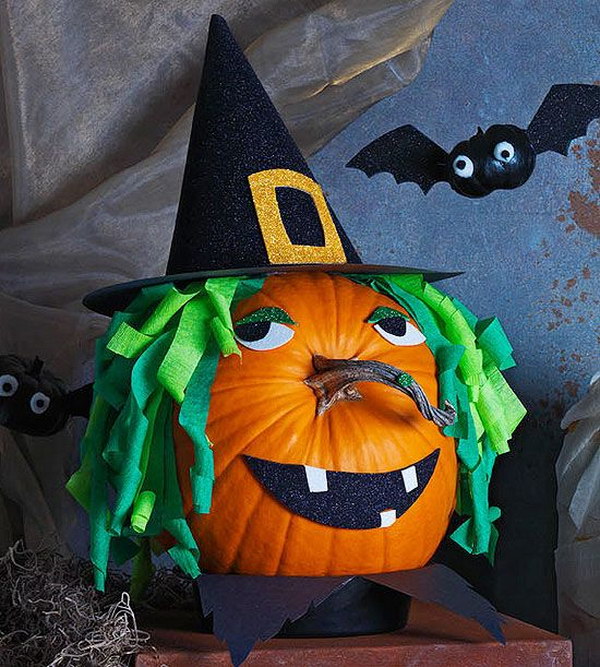 Create a witch using the stem of the pumpkin the nose! Use black and white felt to make eyebrows and a mouth. And go crazy with the hair – paper streamers or colored yarn create a whimsical effect. Don't forget the witch's hat! via parents.
Gumball Machine Pumpkin
Try making a gumball machine with a brightly-colored clay pot and plate as the base and top of the machine. Paint circles in a variety of colors on the pumpkin to make gumballs. Glue it together, and voila. via mycherrytoppedlife.
Boo-it-yourself owl pumpkin

For those of us a little more DIY-challenged, Target offers an owl pumpkin decorating kit. Take one medium and one small pumpkin. Paint the medium pumpkin black, and follow the included instructions for how to use paint, felt, and chenille stems to complete this project. via corporate.
Caterpillar Painted Pumpkins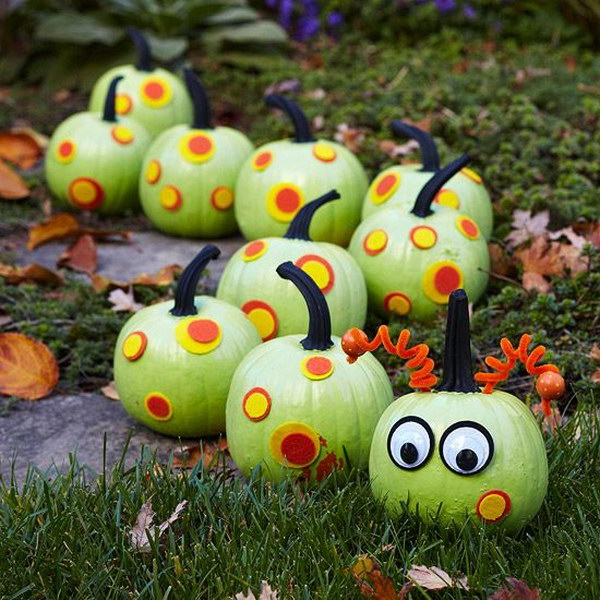 If you have several pumpkins to spare, create a caterpillar. Use a bright paint to color each pumpkin and glue colorful felt spots to all but one pumpkin. Add googly eyes and chenille wire antennae to complete the project, and assemble in a winding line. via bhg.
Teenage Mutant Ninja Turtle Pumpkins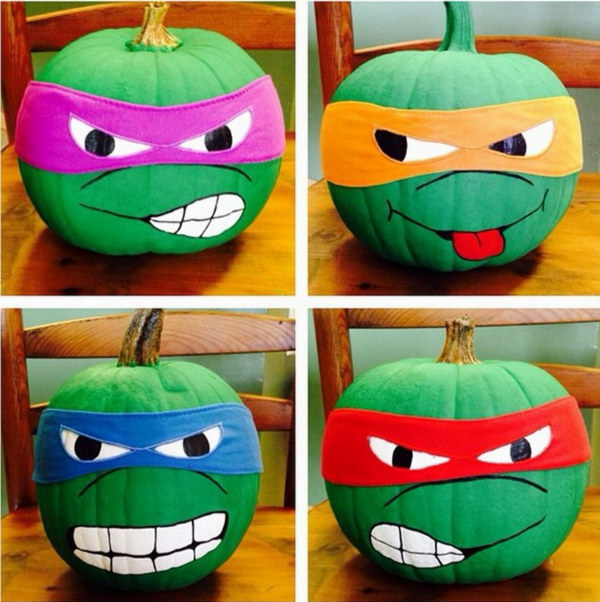 Teenage Mutant Ninja Turtles can be created by painting pumpkins green and adding facial features with a black marker. Add a colorful felt or cloth eye mask to bring your Ninja Turtles to life.
Pumpkin Painted Scarecrow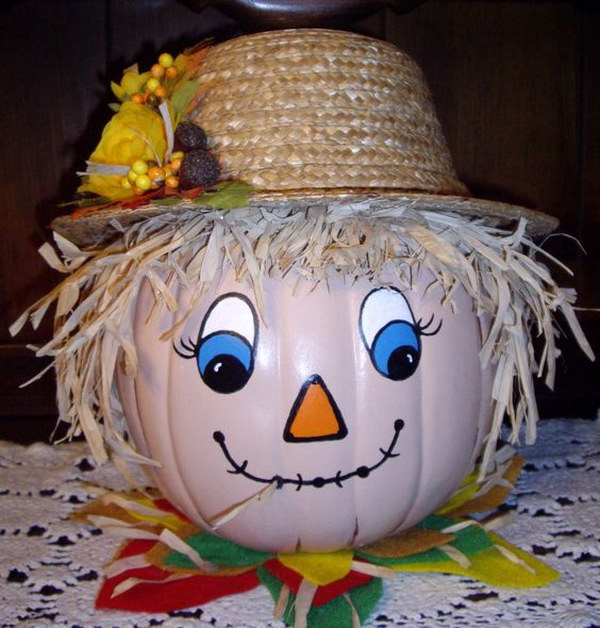 Design a scarecrow by painting the pumpkin a flesh tone and paint its face. Tuck some hair under a straw hat and glue to the pumpkin. You now have the sweetest pumpkin decoration on the block.
Pumpkin Painting Olaf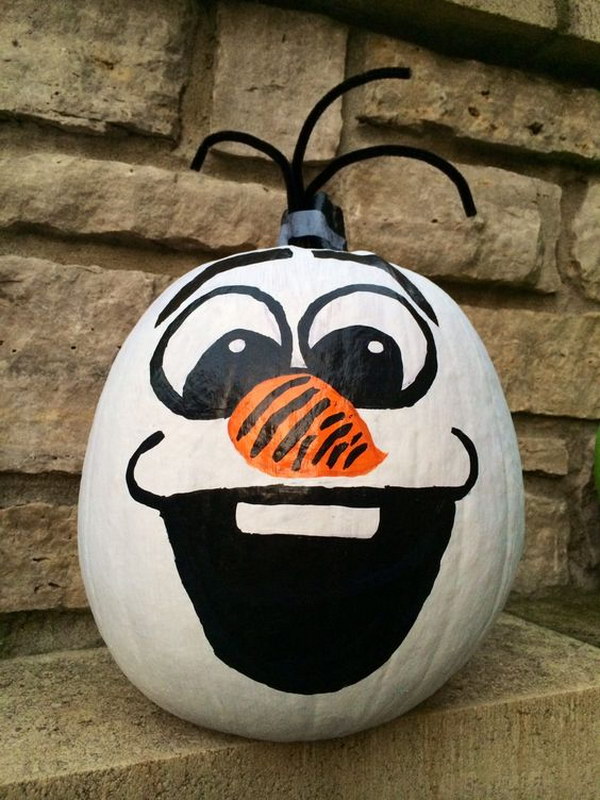 Turn your pumpkin into Olaf. Paint it white and draw Olaf's face on it. Add wire to the pumpkin stem for his hair. You can't find a simpler DIY decorating option. via onthegoinmco.
Colorful No-Carve Owl Pumpkins

Owls are as simple as painting a pumpkin black. Use colored paints in wavy patterns to create the appearance of feathers and add googly eyes. A felt beak and paper wings are the finishing touches for the project. via source.
DIY No Carving Frozen Elsa Pumpkin

Use light blue paint and a coat of silver glitter to create an Elsa-inspired pumpkin. Add silver crystals, white snowflakes, and a tiara to complete the look. via apumpkinandaprincess.
Easy No Carve Pumpkin Pikachu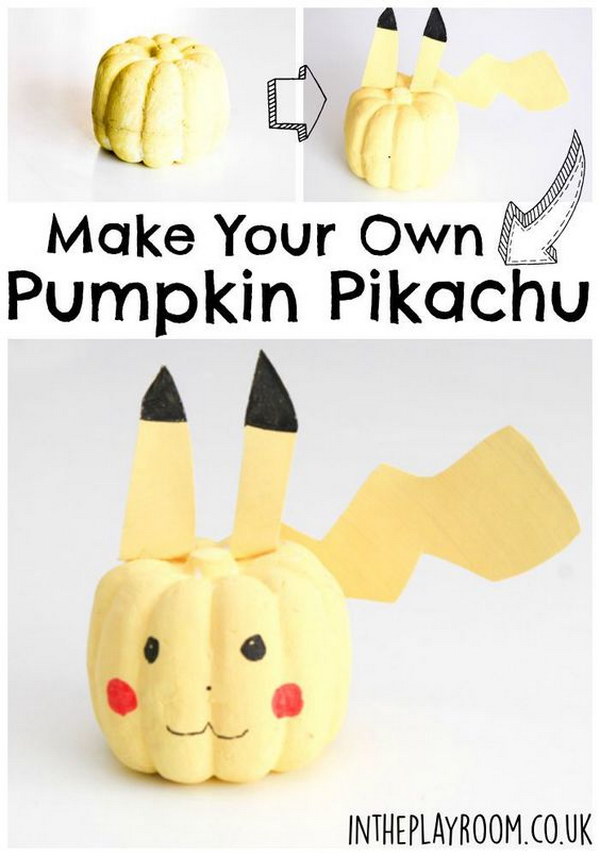 Design a Pikachu pumpkin. Cover the vegetable with yellow paint and draw facial features with markers. Cut yellow construction paper into ears and a tail and glue it on. Pikachu will definitely choose you. via source.
Apple Blossom, Lolli Poppins, D'lish Donut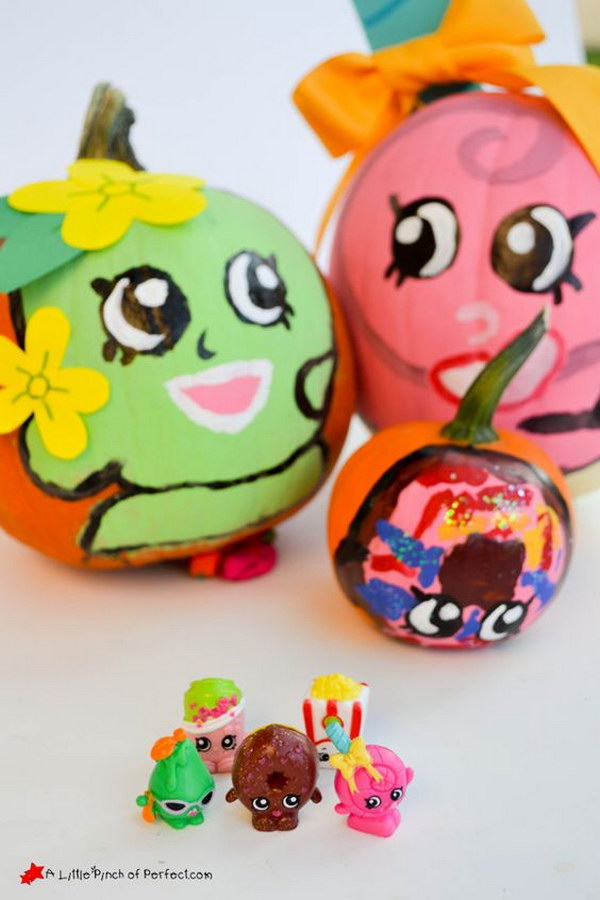 Shopkins like Apple Blossom, Lolli Poppin, and D'lish Donut are simple, too. Use bright paints to recreate their signature looks. Glitter, ribbon, and paper create a stunning pumpkin. via alittlepinchofperfect.
DIY Black Bat and Black Cat Pumpkins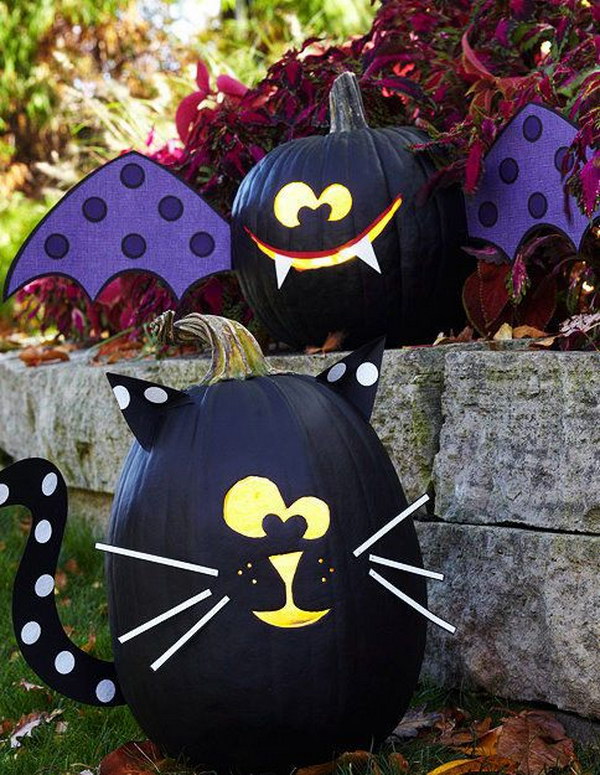 Create a black cat out of your pumpkin. Paint it black, and use bright yellow paint to draw the kitty's face. Glue some paper strips on for whiskers. Fashion some ears and a tail out of paper, and now you have a perfect Halloween decoration! via bhg.
BB-8 Pumpkin for Star Wars Fans

Star Wars fan should use one large and one small pumpkin to create BB-8. Use paints of varying colors – orange, white, black, and silver or gray – to draw the mechanical components, and glue the pumpkins together. via mashable.
Yoda Pumpkin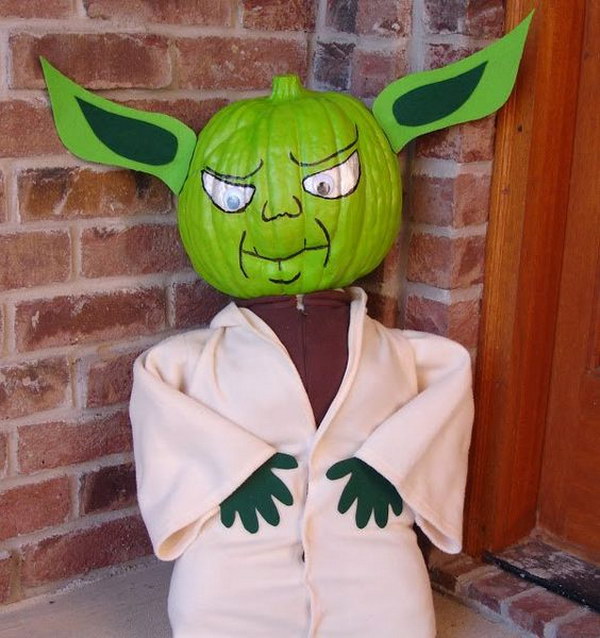 Creating Yoda is as simple as painting a medium pumpkin green hue and using a Sharpie marker to outline his face. Add white paint, googly eyes, and green felt for ears, and Yoda you have! via mamabearbedtimebooks.
Frozen Olaf Pumpkin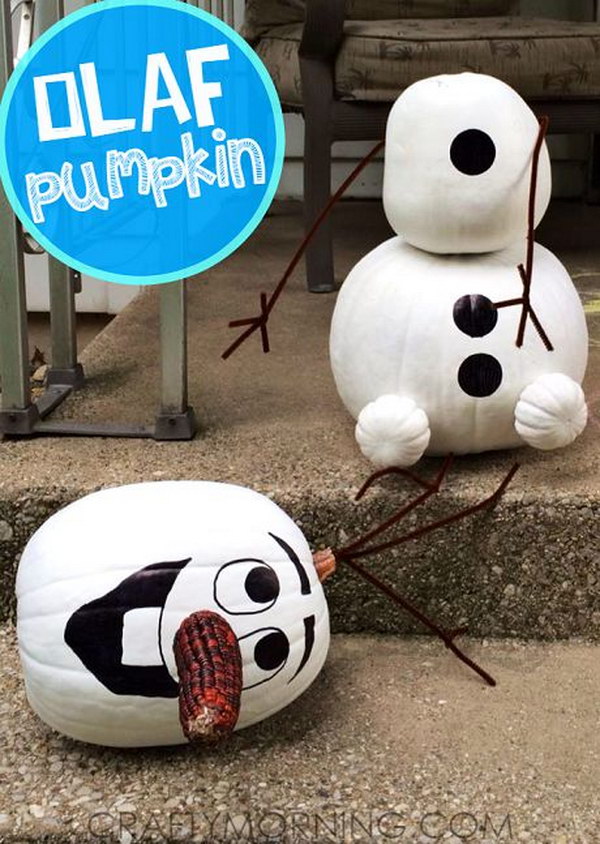 For a funny take on Olaf, buy five pumpkins and paint them white. Paint his face and buttons, and add wire to create his arms. Be creative with the accessory used for Olaf's nose and leave his head unattached to the body. via craftymorning.
Candy Corn Owl Pumpkin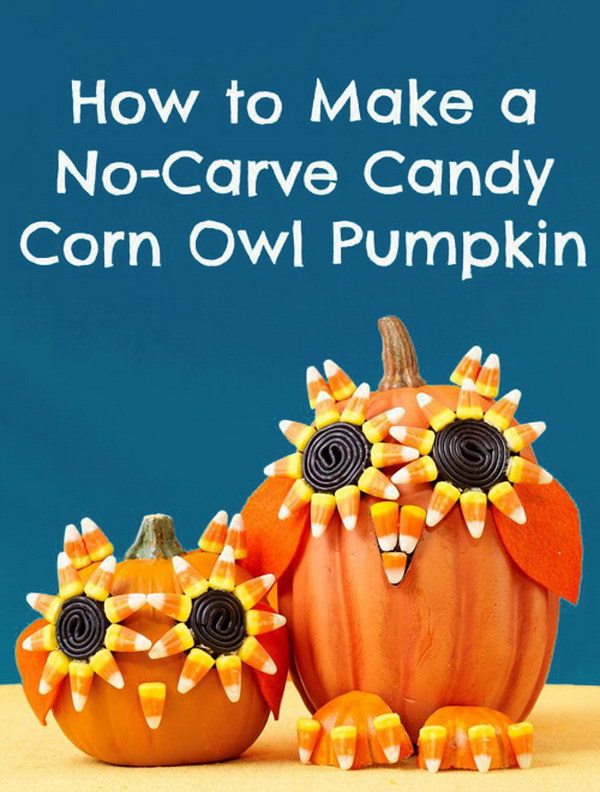 Design a Candy Corn Owl with these fall treats. Glue the candy corn around the eyes and at the feet of the owl. Use felt for wings and enjoy your woodland creature creation. via allyou.
Mummy Pumpkins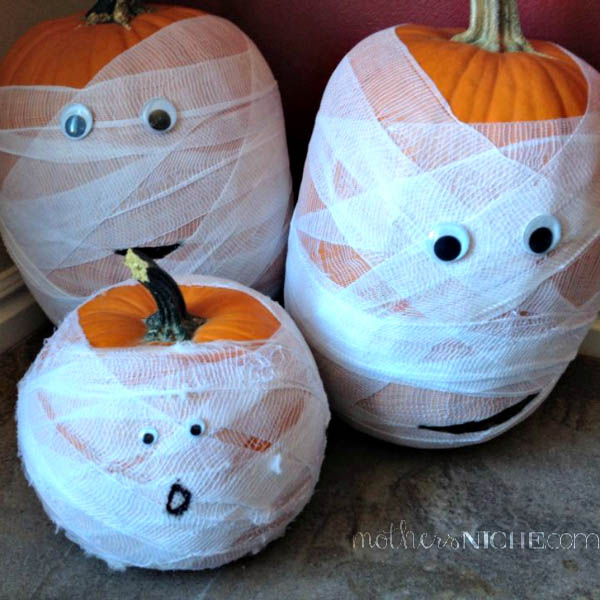 If you have some spare gauze, create a pumpkin mummy. Wrap the gauze around the pumpkin, and add the googly eyes. Use a marker to draw the mouth of the mummy, and presto! via mothersniche.
Vampires Pumpkin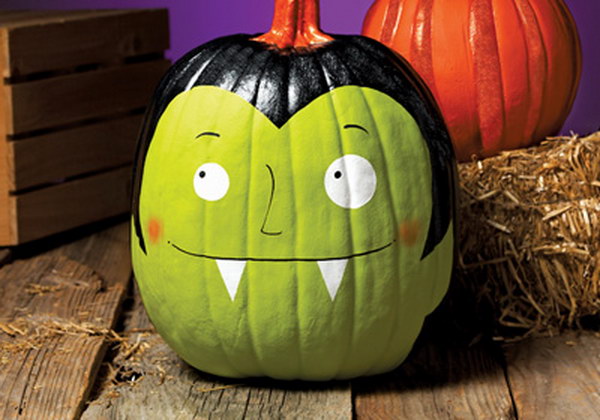 To make a vampire, take a large pumpkin and paint it yellowish-green. Trace out a widow's peak hairline at the top of the pumpkin, and fill in with shiny black paint. Draw a face on the pumpkin, and you're done.
Halloween Jack-O'-Totem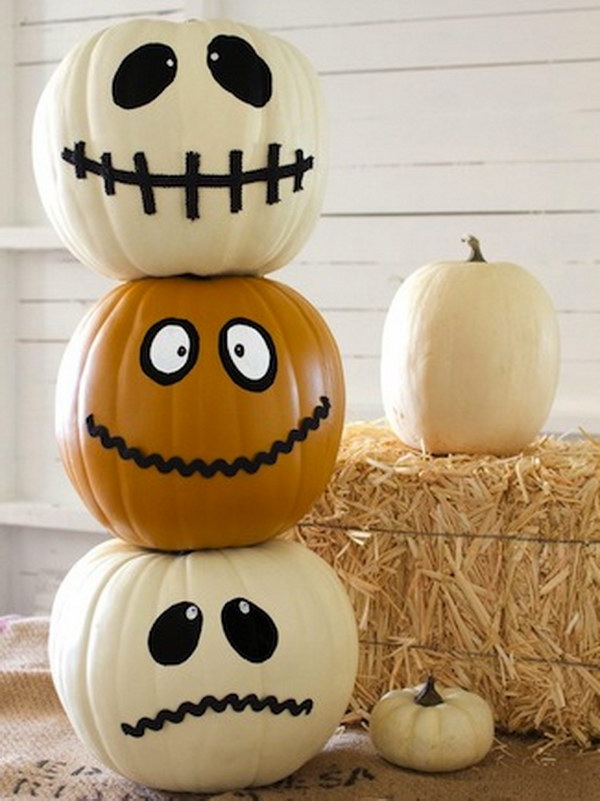 Create a Jack-o-Totem with three pumpkins of similar size and paint two of them a cream color. Use black felt and ribbon to make pumpkin faces and stack the pumpkins in alternating colors to complete the look. via hgtv.
Minions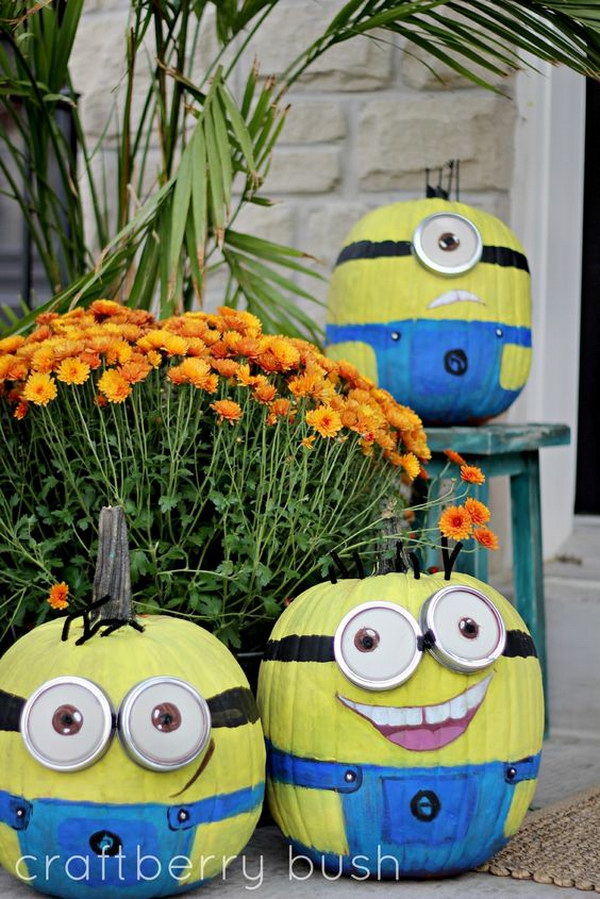 For this minion pumpkin, use mason jar lids to create the iconic glasses for these cuties. Use bright yellow paint with blue accents to craft the signature Minion look. via craftberrybush.
Minions

For minions with hair, add black chenille wire to the top of the pumpkin. Feel free to go crazy with hair patterns – it will only add to their charm. via todaysmama.
Witch Legs Painted Pumpkins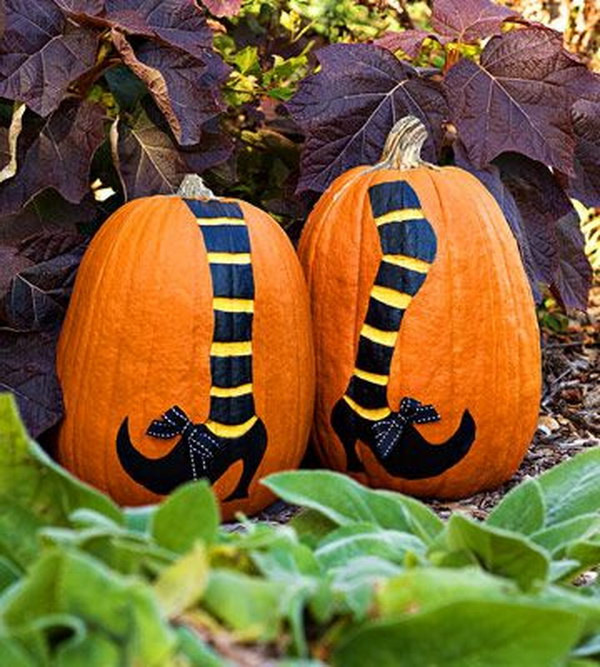 Try witch leg pumpkins. Trace the witch's legs and shoes while being sure to make the shoes point in opposite directions. Paint the legs in a striped pattern, fill in the shoes, and add accents to the shoes to complete the look. Assemble with the feet pointed away from one another.
Superhero Pumpkins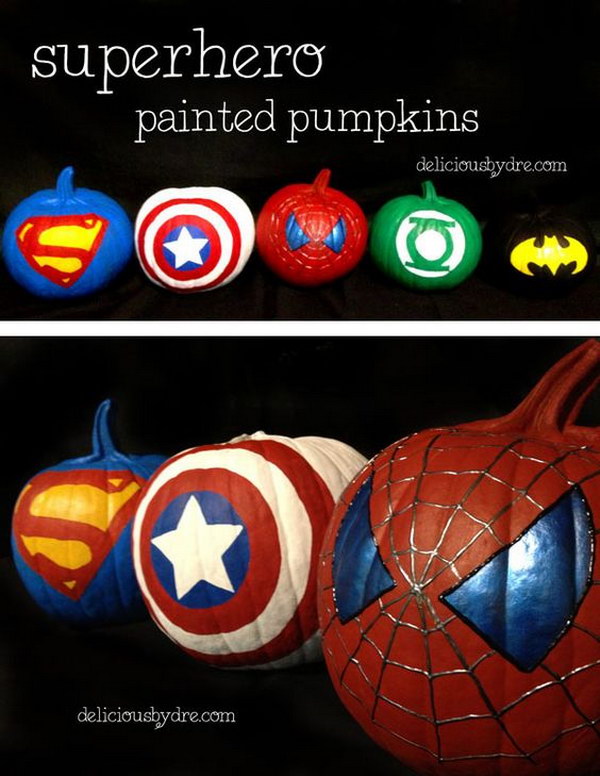 Superhero pumpkins are easy – whether Superman, Batman, or Iron Man, you have options. Grab a pumpkin and paints in the colors you need for your hero. via eliciousbydre.
Freaky Eyeball Pumpkin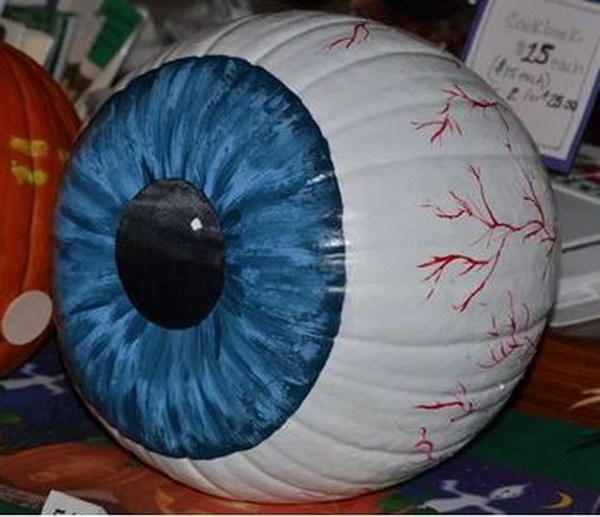 Create pumpkin eyeballs by painting it white. Use the bottom of the pumpkin as the focal point – paint the pupil and iris and use a red marker to add veins for a grotesque detail.
Angry Birds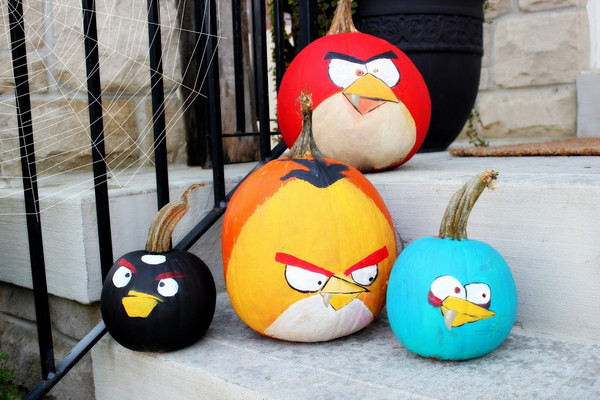 Angry Birds are another good option. Get any unique-color paints for your bird(s) and make sure you have yellow, white, red, and black colors, too. Paint the base color on the front and trace the signature angry expression. Fill in the facial features, and enjoy. via craftberrybush.
Neon Mustache Monsters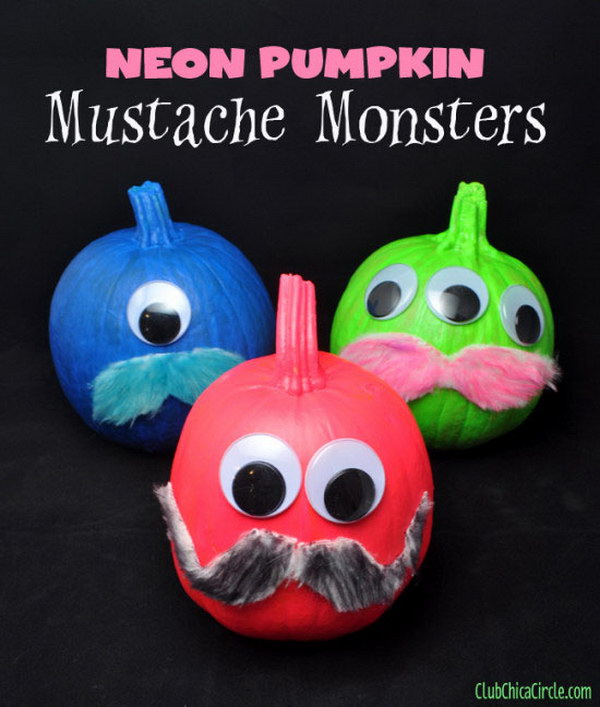 Turn your pumpkins into Mustache Monsters. Use mini pumpkins and paint them various neon colors. Add googly eyes and adhesive. via club.chicacircle.
Donuts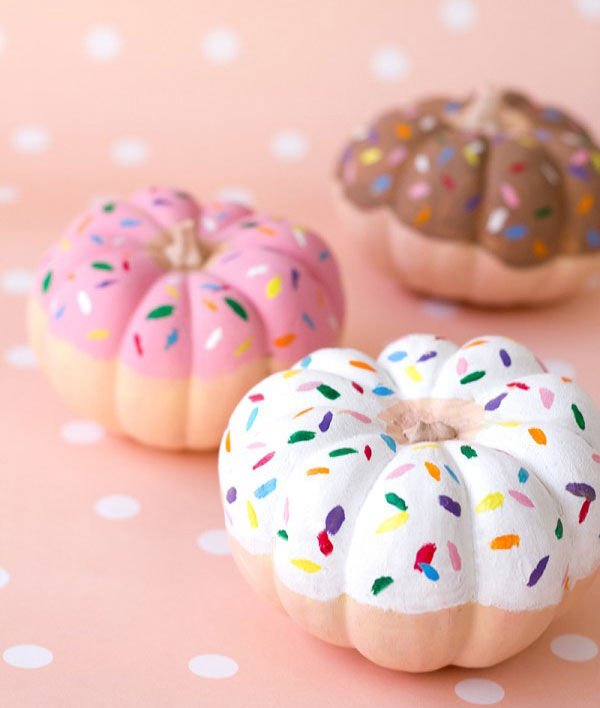 Donut pumpkins are so cute. Use tiny pumpkins and cover fully with tan paint. Cover the top of the pumpkin varied colors to simulate icing and toppings. via studiodiy.
Mickey Mouse Pumpkin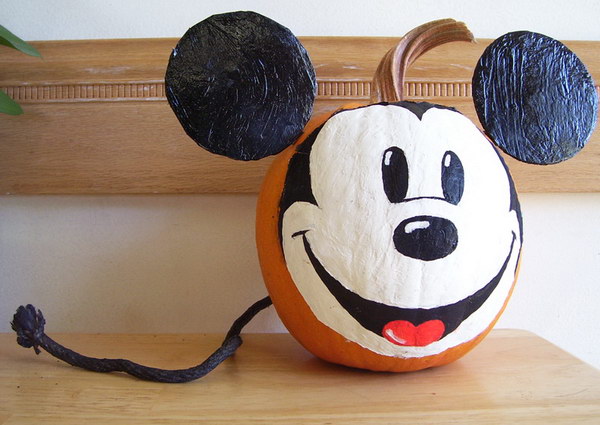 Mickey Mouse makes an excellent candidate for your pumpkin craft. Use some black, white, and red paint to create his face. Add some paper mache ears, and you have Disney's iconic character. via punkbouncer.
Pete the Cat Pumpkin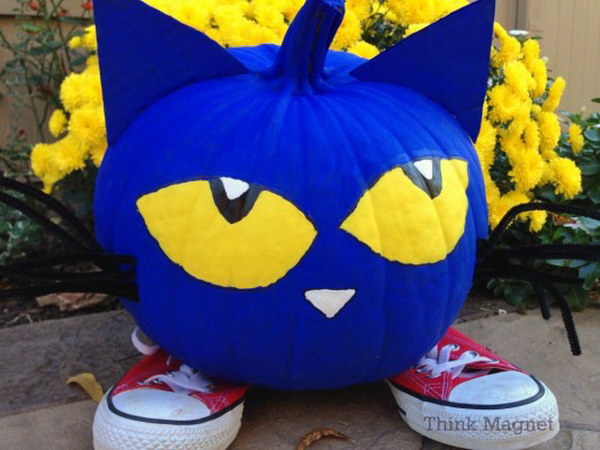 Create Pete the Cat by painting a large pumpkin royal blue. Use yellow and white paints to add facial features and glue painted cardboard on for ears. Chenille wire is perfect Pete's whiskers. Red shoes add a special detail. via thinkmagnetkids.
Olaf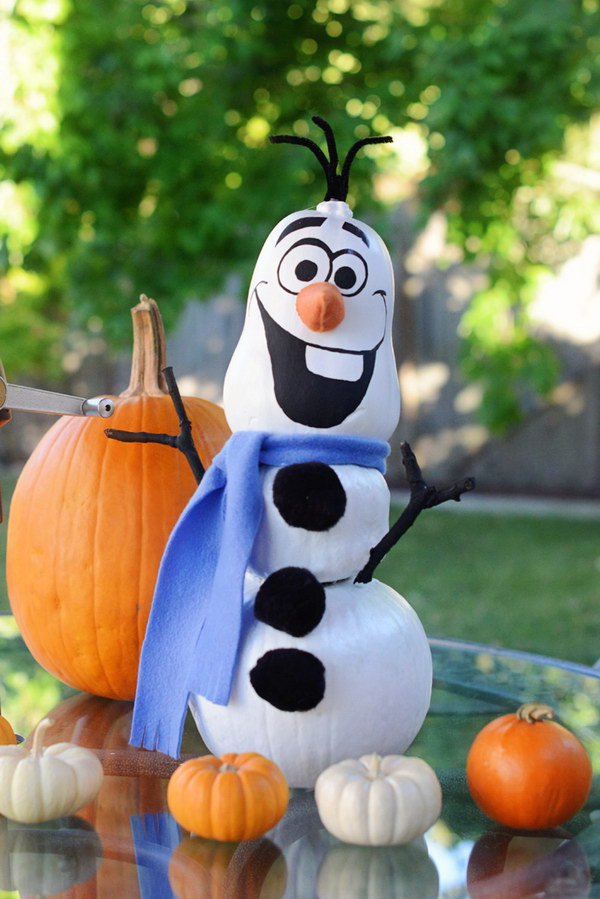 Create a full-size Olaf with three pumpkins painted white. Black felt cut into circles creates textured buttons. Paint his happy face on the top pumpkin and add a scarf. via thebubblybay.
Minnie Mouse Pumpkin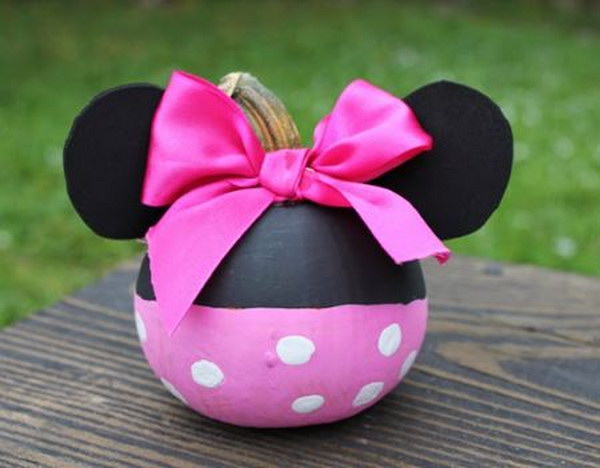 Try a simple Minnie Mouse project by painting the top half of a small pumpkin black and the bottom pink. Add white dots to the bottom and glue black felt ears to the top. A pink bow added to the stem is a cute finishing touch!
Mrs. Potts and Chip from Beauty and the Beast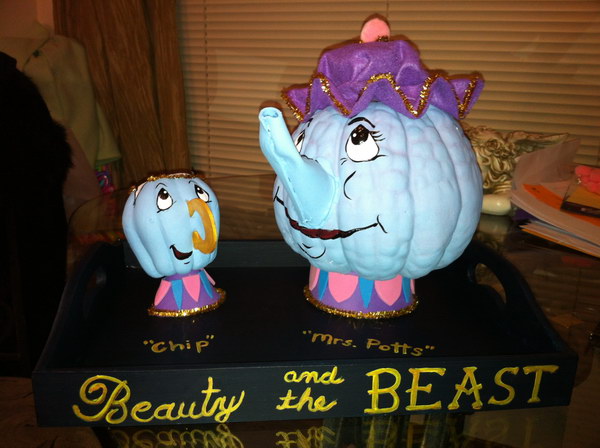 Create Beauty and the Beast-themed pumpkins. Grab one large and one small pumpkin for Mrs. Potts and Chip, respectively. Paint both pale blue and draw their facial features. Use blue felt for Mrs. Potts' nose and a small wooden "C" painted gold for Chip's nose. Any flat item can be used for the base of both characters, and a hat will complete the look for Mrs. Potts.
Mario Pumpkin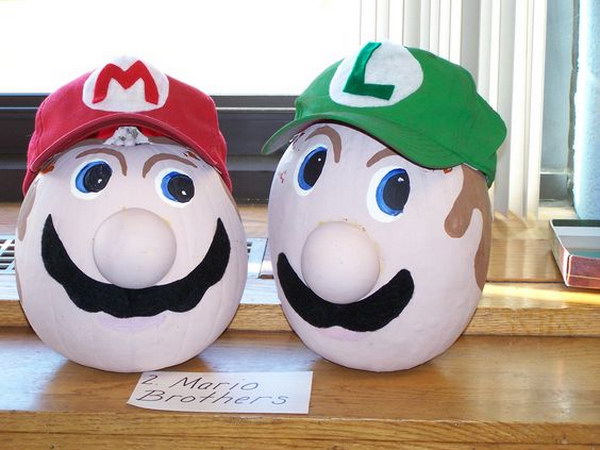 Super Mario Brothers pumpkins can be made by grabbing two medium pumpkins and painting them with a light flesh tone. Create hair, eyes and eyebrows, and use black paint for their wide mustaches. Add Mario and Luigi hats and cover the pumpkins. How cute!
Stitch Pumpkin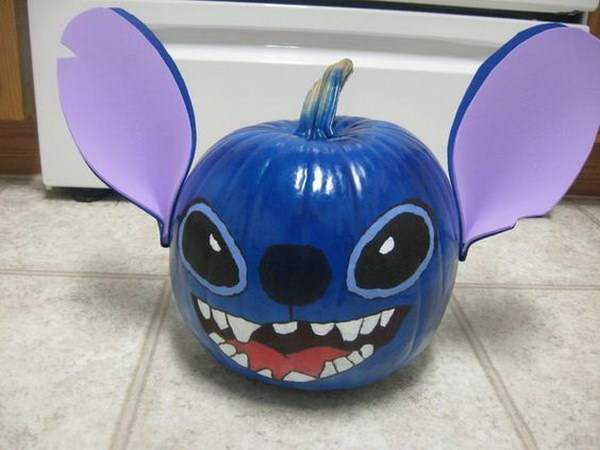 To make a Stitch pumpkin, paint a small one royal blue. Draw Stitch's eyes, nose, and mouth, and add lavender and blue felt for ears.
Snoopy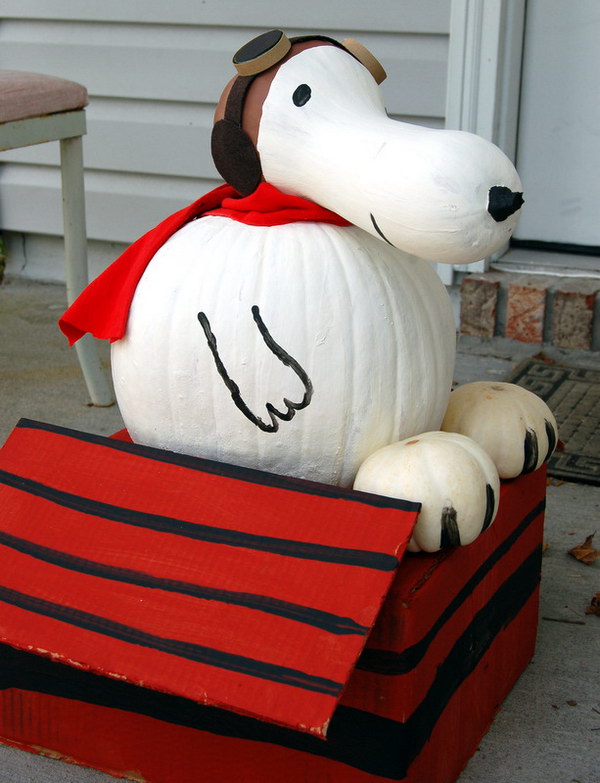 How about Snoopy pumpkin? You'll need one large pumpkin, two small pumpkins for his feet, and a butternut squash for his face. Use white paint for his body and a black marker to draw his face. via meaningfulmenagerie.
Strawberry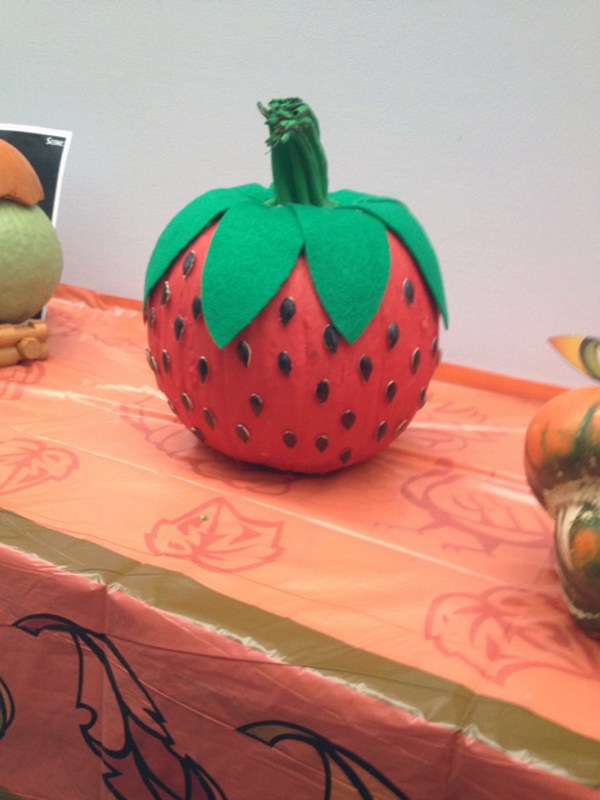 Create a strawberry out of a small pumpkin. Paint the pumpkin red and cover the stem in a green hue. Add "seeds" to the outside of the pumpkin and complete the look by gluing felt leaves around the stem of the pumpkin.
Frog Prince pumpkin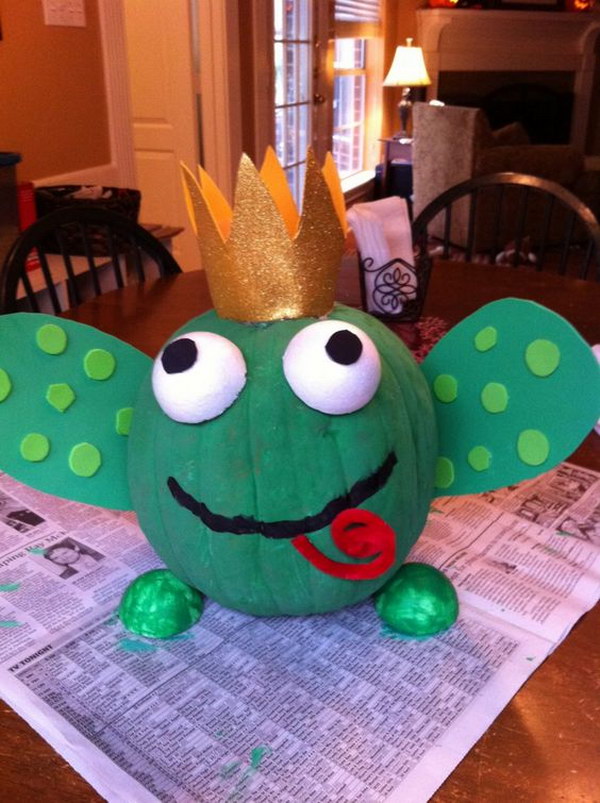 Frog Princes are also simple – paint a small pumpkin green and add small green fruits for feet. Be creative with giving him wings and facial features – after all, he's your prince. And don't forget his crown!
Pirate Pumpkin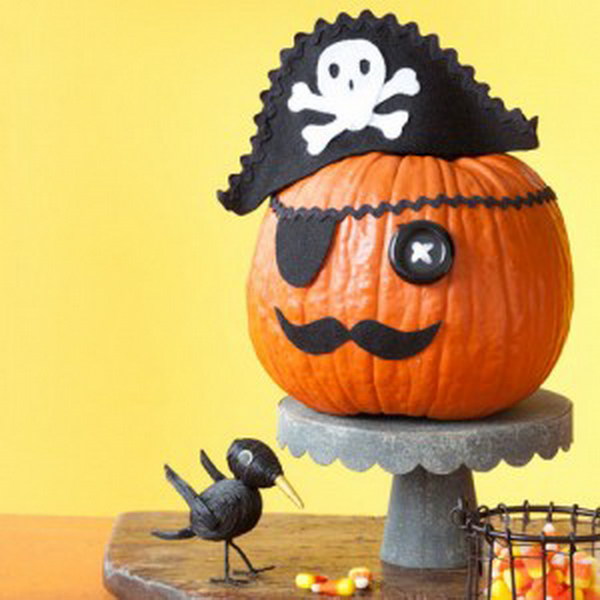 Make a stunning pirate. Take a large pumpkin, give him a felt eye and eye patch, some facial hair, and add his pirate hat. Your pumpkin is now ready to sail the seven seas. via allyou.
Bee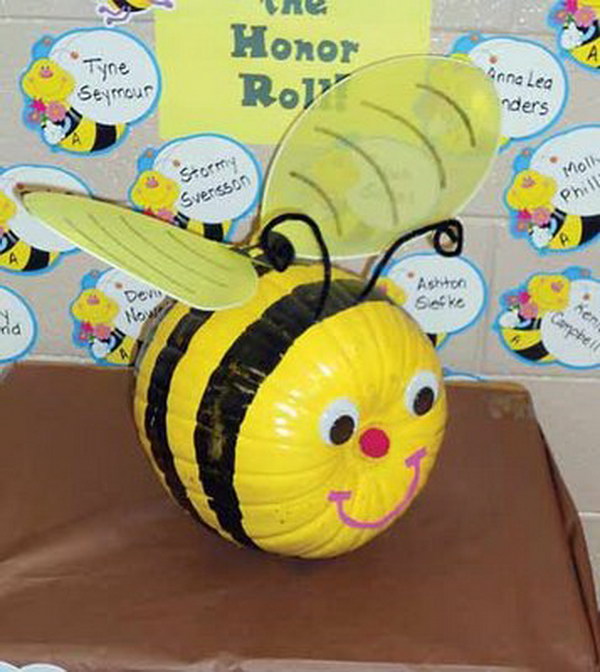 Bumblebees pumpkins are cute and easy, too. Use bright yellow paint all over and turn the pumpkin on its side for the face. Add googly eyes, draw a smile, and use black paint to create rings around the outside. Add black chenille wire for antennae and small costume wings.
Porcupine Pumpkin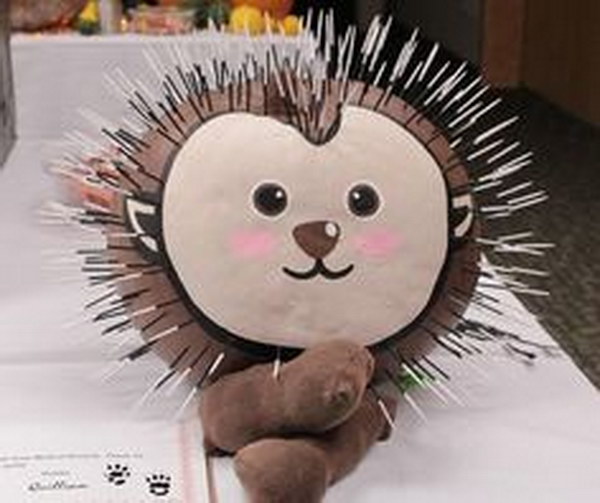 Try a porcupine! Paint a medium pumpkin brown, add a face made from construction paper layers, and add toothpicks all over the pumpkin.
Clown Decorated Pumpkin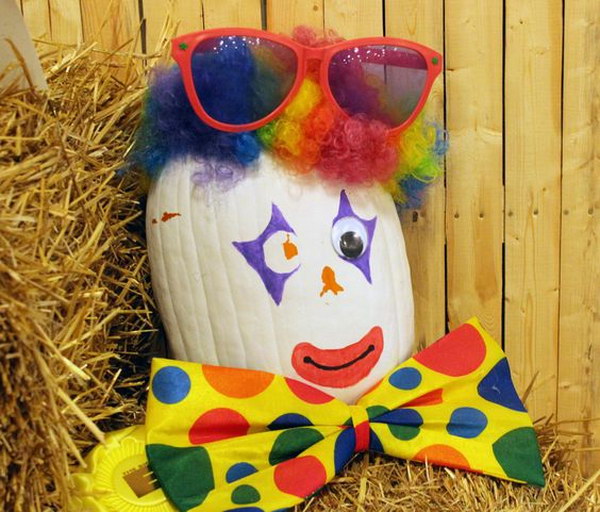 Clowns can be created by painting a large pumpkin white and using all kinds of bold-colored paint to create the face. Add appliques for unique facial features. Multi-colored accessories like rainbow hair complete this look.
Decorative Baby Pumpkin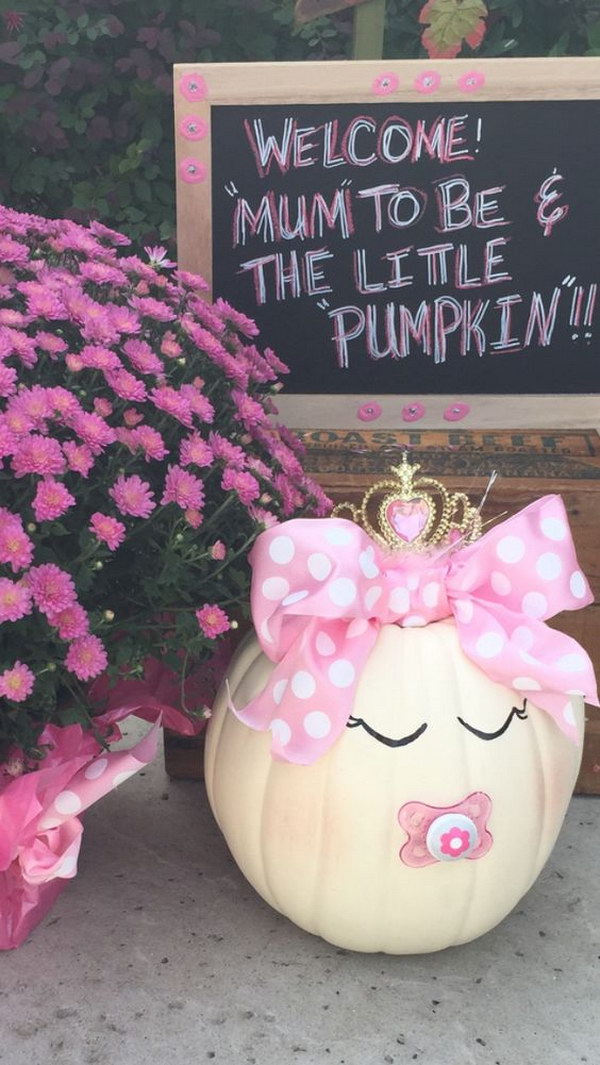 If you need a decoration for a baby shower, pumpkin decorations can be a cute addition. Paint a pumpkin with a skin tone of your choice, and add accessories like a pacifier and bow.
Elsa's Frozen Pumpkin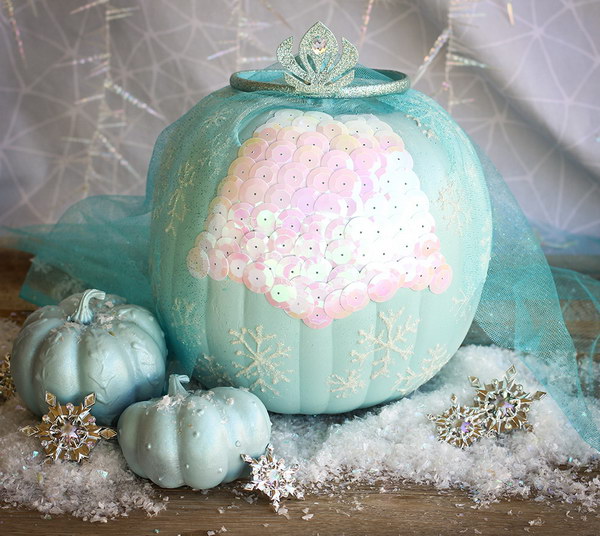 And try creating Elsa a different way. Paint a large pumpkin mint bluish-green. Use white fabric paint to make snowflakes all over the pumpkin, but reserve a spot in the front to add iridescent sequins. Add a tiara, and you have a gorgeous nod to the Disney blockbuster. via disneyrewards.
Whew. How's that for inspiration?
The design on your pumpkin is only limited by your imagination. If you want to put a personal touch on decorating for the season, save any of the projects listed here and have at it. Enjoy!