30+ Simple and Festive Mason Jar lid Ornaments for Christmas Decoration in 20 Minutes
Making your own Christmas ornaments is a fantastic way to save some money, create memories and turn your tree into something truly special and unique.
That is why some families take making ornaments as one of their Christmas traditions, as so some schools.
There are many ways to craft a Christmas ornament. You can knit them, mold them from clay or simply take a pre made empty ornament and personalize it.
A good alternative which is quite easy and quick to accomplish is to turn old mason jars into ornaments, as they are just as customizable as empty glass baubles. And if you're worried about having children handling the glass, you can even forego the jars themselves and use the lids instead.
So if you have a nice collection of empty Mason Jars or mismatched lids lying about and want to make your next Christmas tree truly special for you and your family, this is your chance.
Here are some Simple and Festive Mason Jar lid Ornaments for Christmas Decoration in 20 Minutes.
Sparkling Star Mason Jar Lid Ornament

Here's a glamorous and non-traditional ornament made from the rim of a mason jar lid. It was covered in shiny pastel fabric, topped by a big tulle bow. A cushioned glittery star shines in the center of the ornament. via domesticallyblissful
Mickey and Minnie DIY Mason Jar Lid Ornaments

These Mickey and Minnie Mouse ornaments are just adorable and very easy to make. All you need to do is paint a lid rim black, glue a couple of small baubles at the top for ears and a couple of white buttons at the bottom for teeth or hands. Add a thread at the top for hanging and the ornaments are ready. via cutefetti
Candy Cane Mason Jar Lid Ornament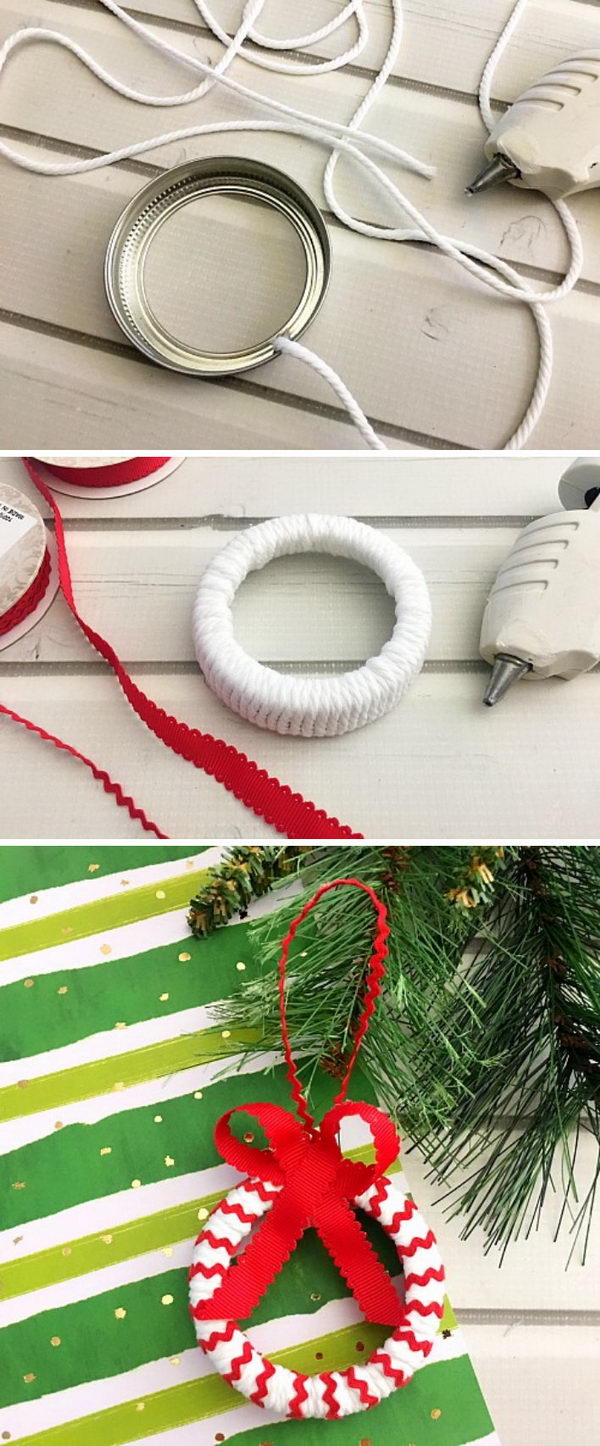 This ornament is very simple and adorable, but also quite different. Take the rim of your lid to make a hoop, then twist red and white ribbon or lace around it to create a candy cane pattern. Add a bow and some string at the top to finish and hang it. via acultivatednest
Snowflake Christmas Ornaments

These snowflake ornaments have been transformed rather than made, as they combine actual wooden snowflake ornaments with mason jars lids. The combined ornaments have been painted and decorated so that each ornament becomes a snowflake character. via thekeeperofthecheerios
Pine Roping Garland And Buttons Decorated Mason Jar Lid Ring Ornament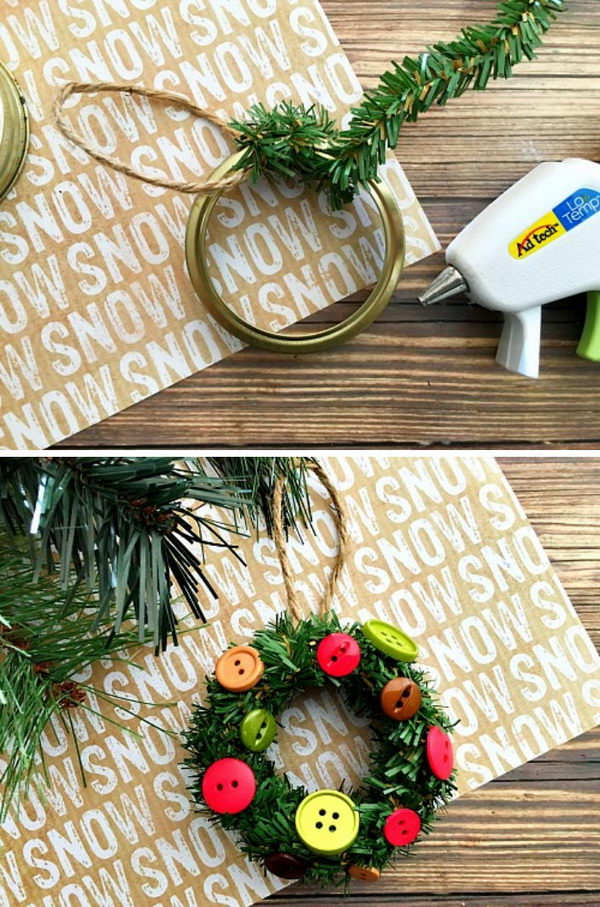 This little wreath ornament is once again made from a lid's rim, around which some pine roping was wound. Buttons of various colors serve as fake flowers and other decorative elements.
Mason Jar Lid Chalkboard Ornament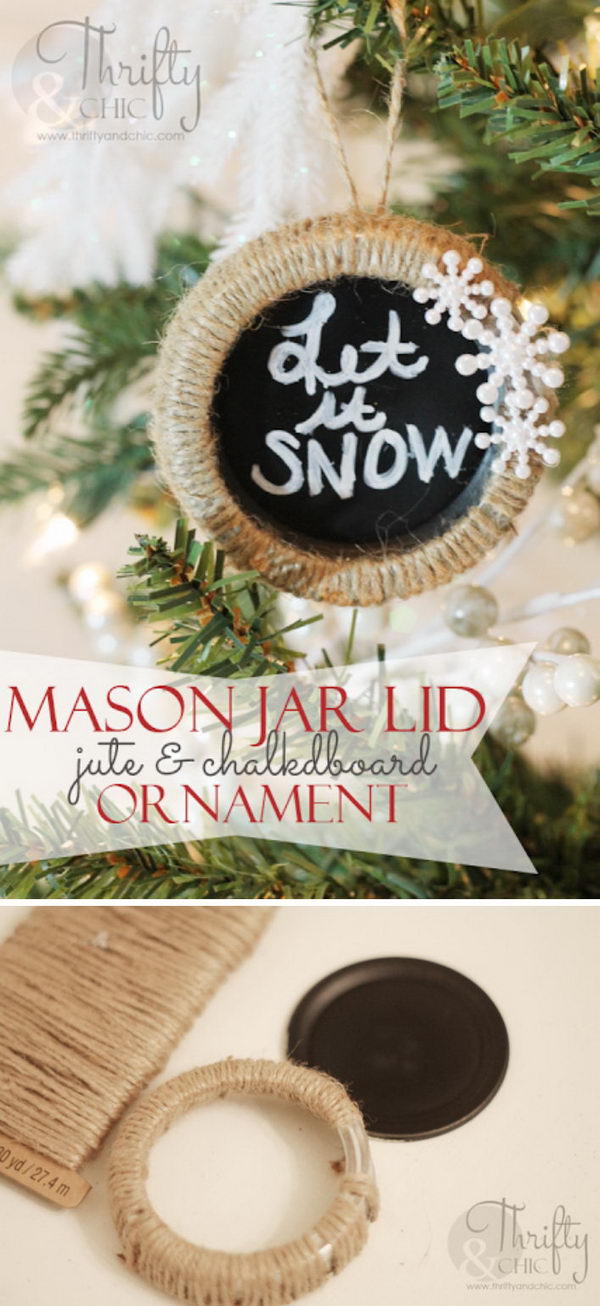 This lid has been turned into a tiny chalkboard with black and white paint. A new, decorative rim was created using tightly wound shiny thread, which was topped with mini snowflakes as the final decoration. via thriftyandchic
DIY Mason Jar Lid Holiday Garland

This project didn't result in an ornament, but rather a full garland. The various gold lids were covered with white stickers featuring colorful Holiday themes and then strung together on some kind of thin rope to create a garland. via thegraphicsfairy
DIY Mason Jar Lid Snowman

What do you get when you stack three white mason jar lids? A snowman. You can decorate your snowman as you like by adding features and accessories, depending on how you wish to use your finished piece. via homeroad
Mason Jar Lid & Chicken Wire Christmas Ornaments

Here's another example of how to reuse the rim of a mason jar lid. In this case, the hollow inside was covered with chicken wire. Several shapes were created in the wire using buttons, small baubles and other materials. via thepaintedhinge
Rustic Mason Jar Ring Ornament

These ornaments may be rustic, but they are also quite elegant. They were made by winding jute tightly over the mason jar lids like a wreath, then covered in strings of pearls or colorful ribbon. A traditional figure hangs inside and a bow tops each ornament. via thisgrandmaisfun
Handprint Snowman Ornament Using Can Lid

Now here's an ornament that uses the full lid and looks quite cute and personal. You need to dip your hand in some white paint to make a print on the lid, then add features to each finger so they become a family of snowmen. via trishsutton
DIY Mason Jar Lid Ornament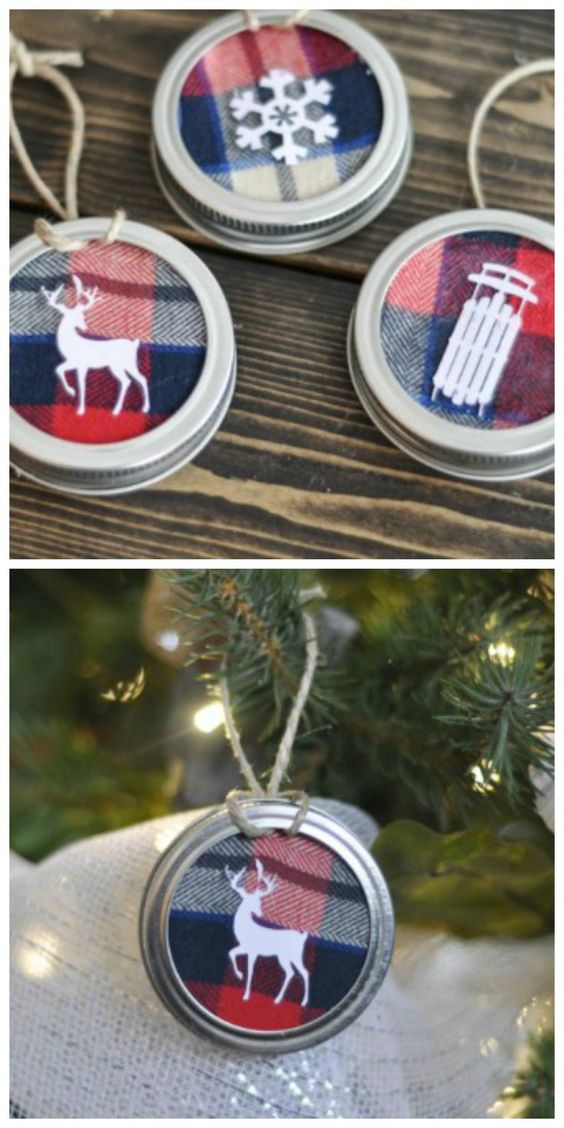 Here's something quite simple and traditional for you to do. Take a mason jar lid and cover it with a piece of cozy scrap fabric, then add a figure or even a sticker at the center. Thread some twine through the top to hang it and you're done. via cleanandscentsible
Mason Jar Lid Snowman Ornaments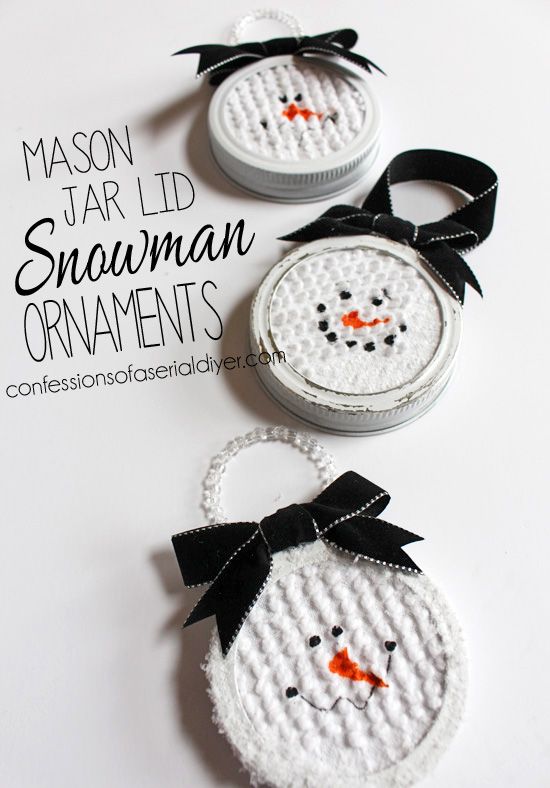 Snowmen ornaments are definitely popular and easy to make using jar lids. This one was put together using the rim, which was painted white and then filled in using matching textured fabric. You can add the snowman's features using fabric markers and tie a ribbon top at the top to decorate and hang the piece. via thenymelrosefamily
Mason Jar Lid Mini Fabric Wreath Ornaments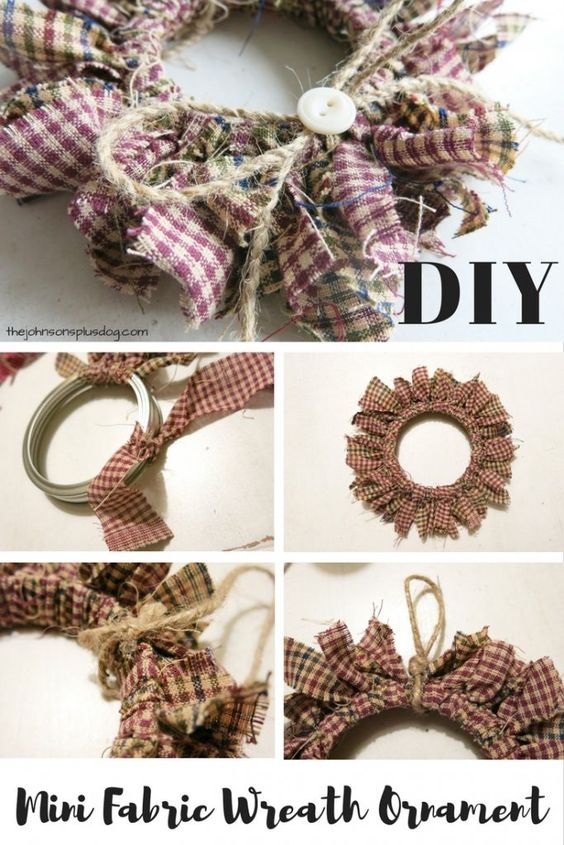 Lid rims are the perfect base for a mini wreath, as we've already seen. This one is fully crafted from scraps of fabric that are wound to create the actual wreath's unique shape. via makingmanzanita
Mason jar lid ornament Christmas tree wreath

This wreath is quite different because it is made from a pyramid of stacked baubles contained in mason jar lids. Some twine with decorative elements cascades down the piece, and a bit of greenery falls on the side. The whole piece is hung by a thick rope. via funkyjunkinteriors
Canning Mason Jar Lid Christmas Tree Door Hanger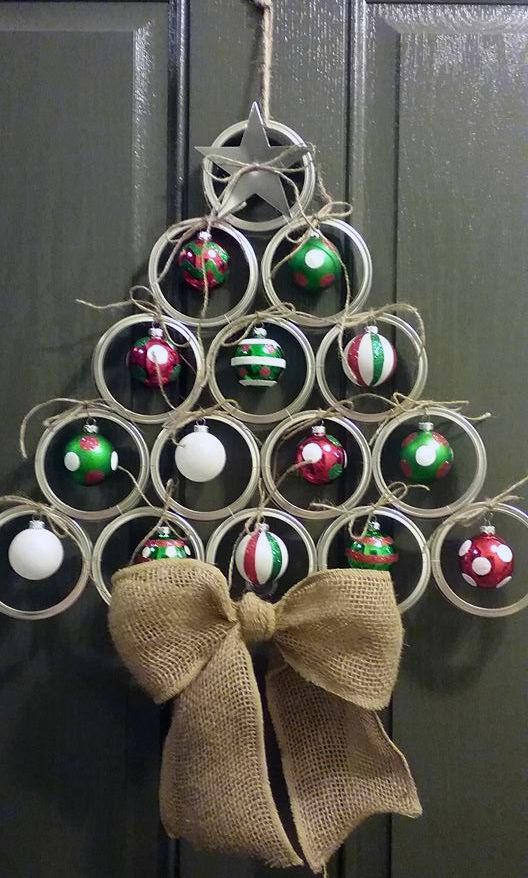 This is another take on the beautiful lid rim pyramid, except this one features little colorful ornaments inside the otherwise hollow rims, and is finished off by a giant burlap bow at the base. via craftymorning
Snowy Scene Lid Ornament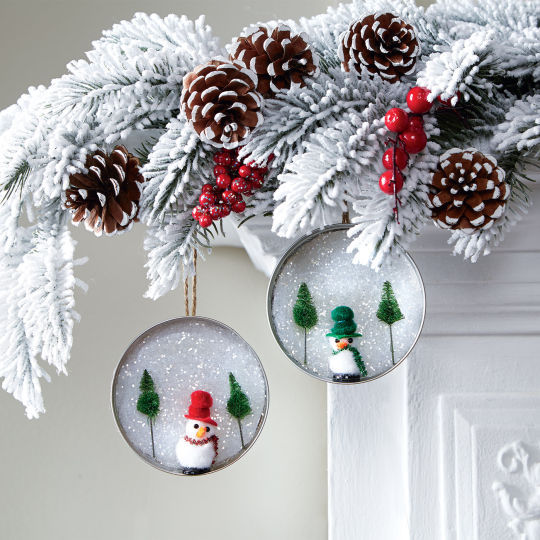 These ornaments are actually almost ridiculously easy to make. The lids have been turned inside out, and the surface has been covered in glitter to create the appearance of snow. A couple of trees and a snowman figure complete the scene. via craftymorning
Mason Jar Lid Applique Ornament

To make an ornament like this you will need to paint your mason jar lid white, then find a Christmas patch or cut one from fabric scraps and glue it in the center. Add a big ribbon bow for hanging and you've got your original ornament. via allfreechristmascrafts
White Buttons Decorated Mason Jar Lid Ornament

This ornament is simply precious as the lid's perimeter was covered by a wreath of stacked white buttons and tied off with a matching stacked bow at the bottom. via organizedclutter
Plaid Reindeer Mason Jar Lid Ornament

Here's another great example of what you can do using mason jar lids and fabric scraps. This time, the fabric which features reindeer silhouettes in the center covers the back of the lids, whose golden rims have been left untouched. via everydayhomeblog
Sequin Mason Jar Lid Ornaments

Cover the inside of your mason jar lids with sequins to create truly dazzling ornaments. You can use only one color or mix them to achieve a bright and beautiful rainbow effect. via auntpeaches
Fingerprint Frozen Olaf Christmas Ornament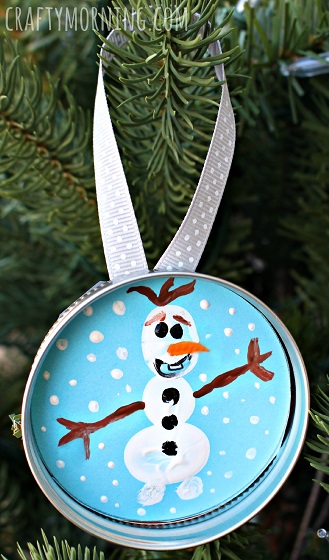 Get back to finger painting and bring Olaf to life with this Christmas ornament. Paint your lid light blue, then dab in some white dots to create the snowy scene. After that's dried, use the pads of your fingers to create Olaf's body and give him his features using the same method or a small brush. via craftymorning
DIY Pearl Bead Mason Jar Ring Ornament

This is very similar to the rustic ornament, as it is a ring made of a mason jar lid which was loosely covered with some ribbon tied in a bow at the top. A string of pearls was also wrapped around the ring and a snowflake was secured to the middle, where it fully stands out. via thisgrandmaisfun
Twine Wrapped Deer And Tree Mason Jar Ornament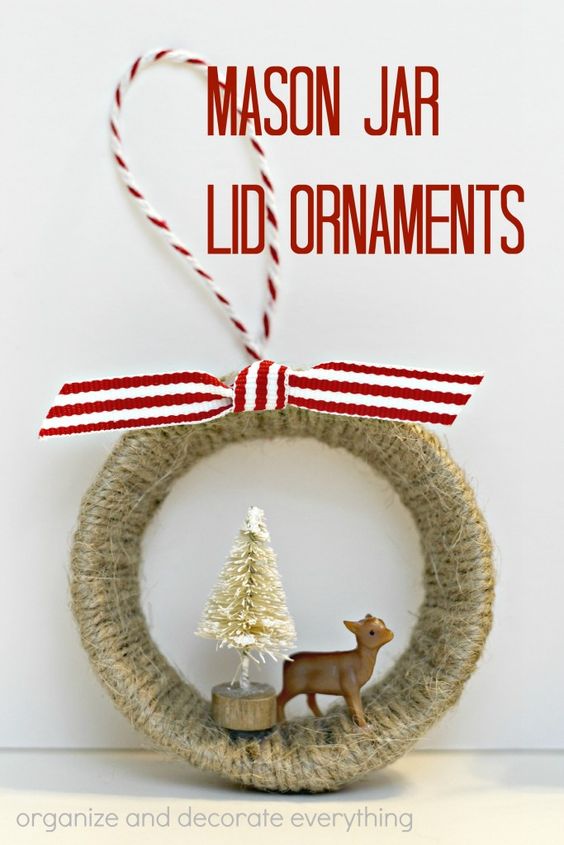 This Christmas scene ornament has a rustic feel to it, as the mason jar lid was tightly wrapped in twine and a couple of figures were glued at the base, filling the void inside. A little bow and matching thread were added at the top for hanging. via organizeyourstuffnow
Mason Jar Lid Shadow Box Ornament

Now this ornament is something else altogether. The inside of the lid was used as a shadow box, which was covered in glitter and filled with different pieces to create a frosty scene. A matching bow and tag adorn the string from which it hangs. via serendipityrefined
Clothespin Mason Jar Lid Reindeer Ornaments

These 3D reindeer ornaments were created by painting the mason jar lid a shiny brown, then adding fake eyes and a red nose. The clothespins secured at the top serve as the antlers of the cartoon figure.
Snowy Scene Mason Jar Lid Ornament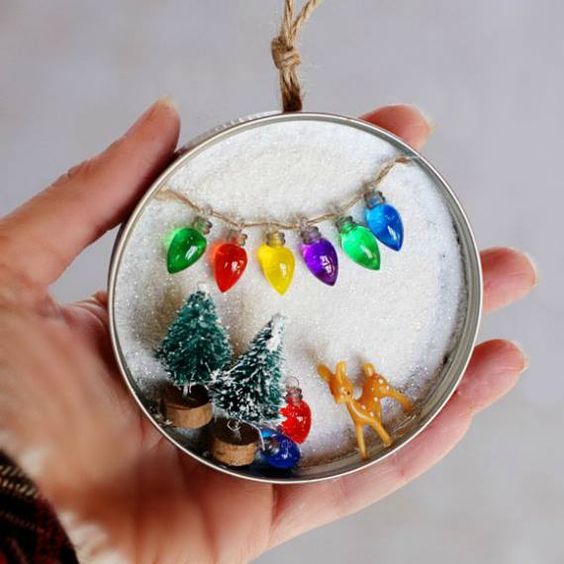 This snowy scene is another kind of shadow box ornament, as the inside was filled with white glitter to look like snow. A mini garland of large beads and some figures complete the scene. via sugarbeecrafts
Mason Jar Lid Snowmen Ornaments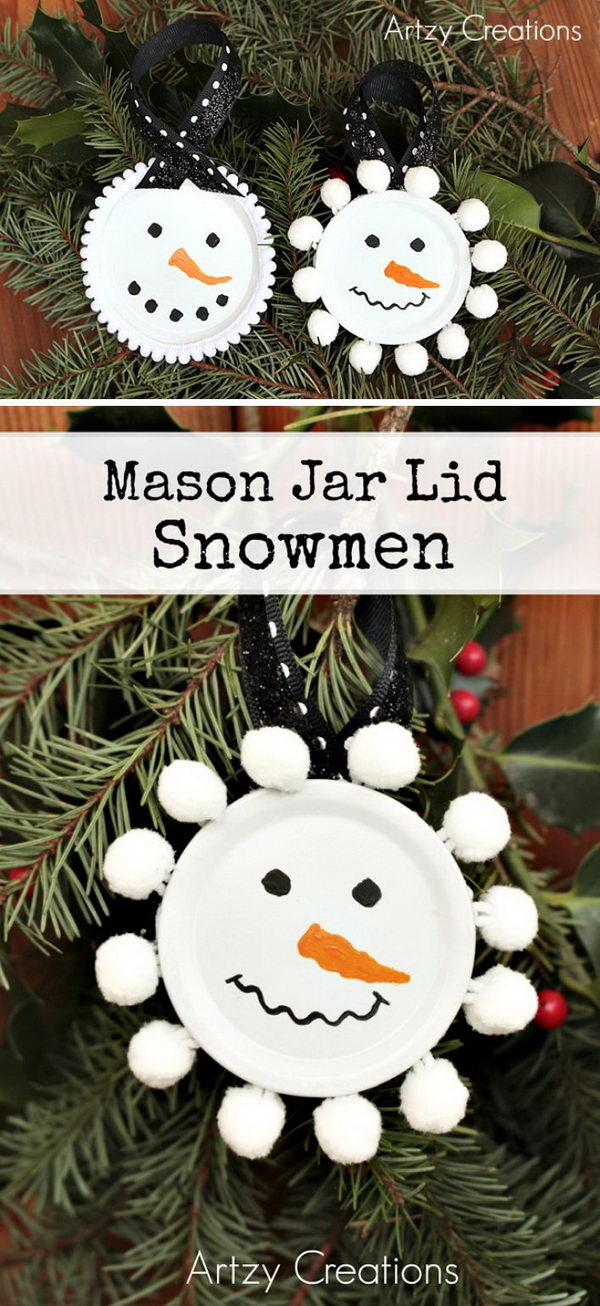 These snowmen ornaments are simple and cute because they are just mason jar lids painted fully white and decorated with snowmen features. Personal touches like the ruffled trim or the fake snowballs make the pieces stand out. via artzycreations
Glitter Mason Jar Lid Christmas Ornament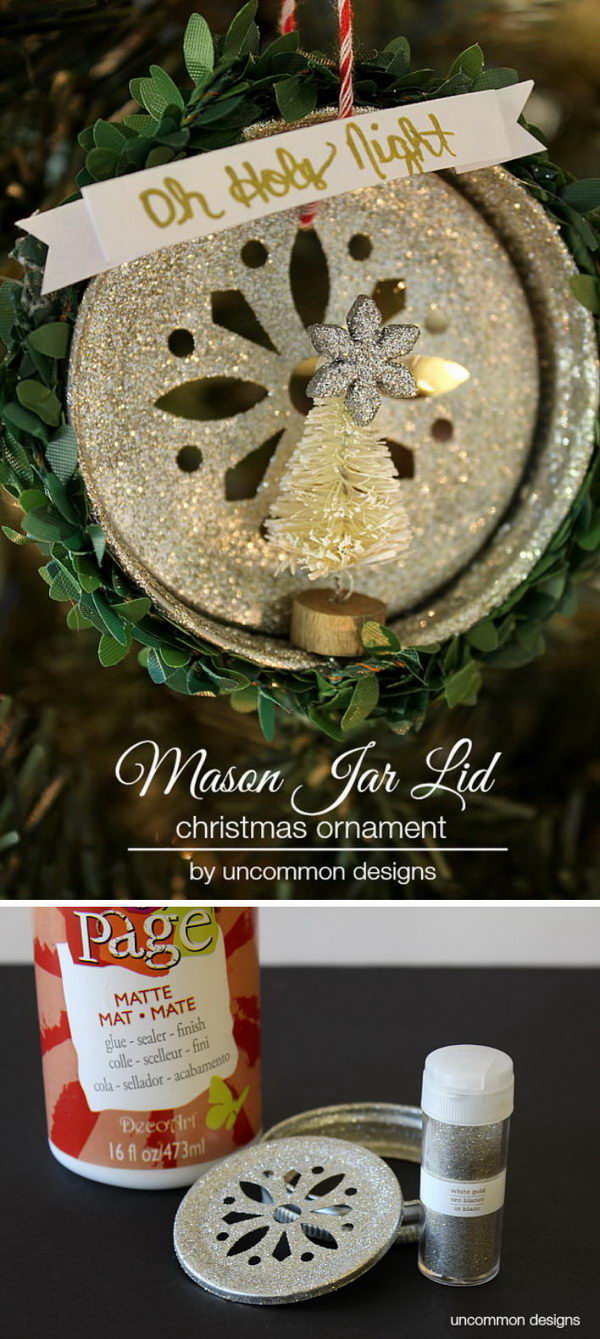 This ornament is a showstopper. You have tones of gold and silver, a tag, a tree and even a wreath around the whole piece, so it's certainly hard to miss wherever you hang it. via uncommondesignsonline
Mason Jar Ring Wreath Ornament With Small Buttons And Wired Ribbon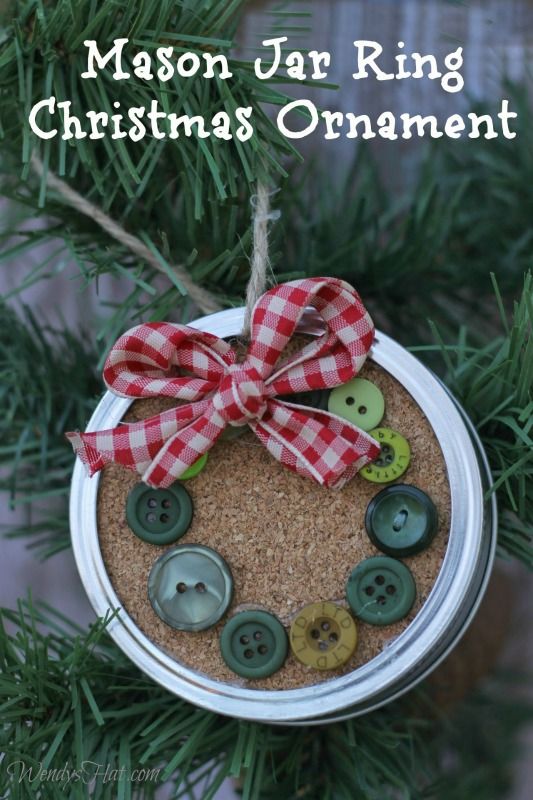 Here's another rustic kind of ornament, where the lid has been covered in a textured material, atop which was created a wreath of green and red buttons. A plaid wired bow adds the finishing touch at the top. via wendyshat
Canning Lid Angel Ornament

This little angel ornament is certainly cute, original and easy to make. All you need is a cream or white colored lid, a fine marker to draw its features, glitter and a couple white lace scraps to create the wings. via kixcereal
Can Lid Christmas Ornaments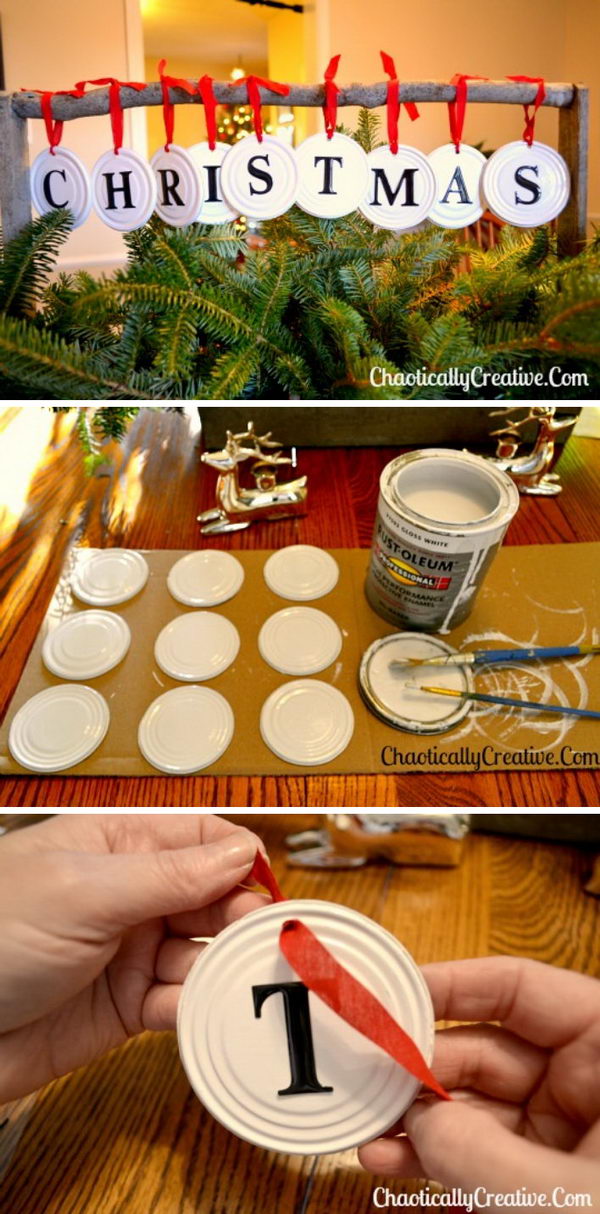 This is, once again, more of a banner than a single ornament. Each lid has been painted white, had a letter stenciled in the center and got a red ribbon threaded through the top. When hung in a line, the ornaments spell the word "Christmas". via chaoticallycreative
Mason Jar Lid Santa Ornament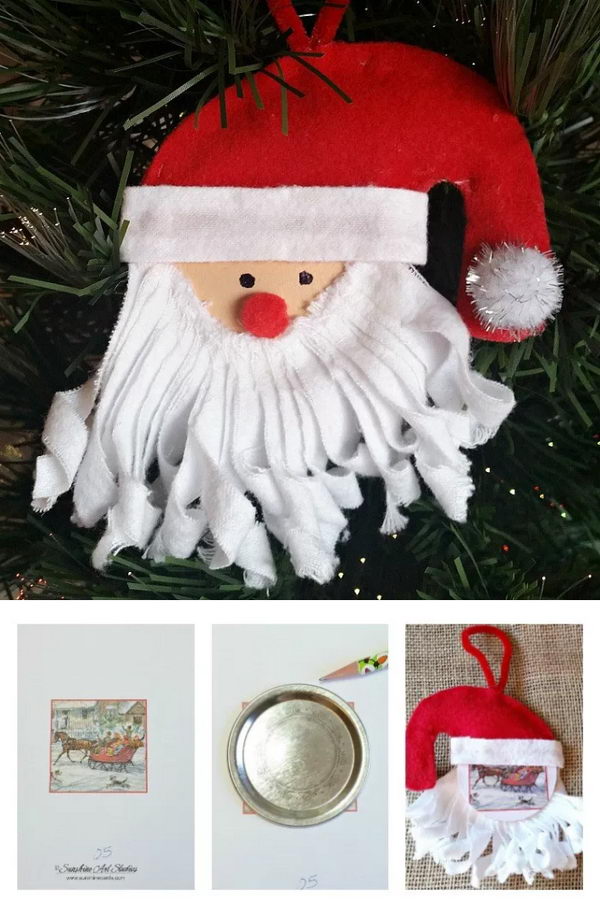 This is an adorable ornament, as the lid was turned into a mini Santa Claus figure using a tiny felt Santa hat, a fabric scrap for the background and strips of white fabric or paper glued at the bottom for the beard. via intelligentdomestications
DIY Bottle Brush Tree Ornament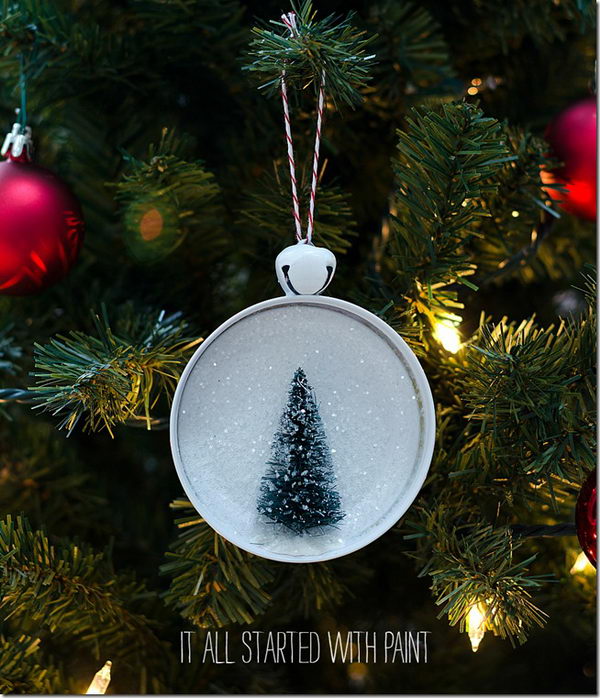 This ornament is quite classic, as the lid was sprinkled with glitter and fake snow. A Christmas tree was glued to the center and a large bead added to the end of the hanging string for extra decoration. via itallstartedwithpaint
DIY Red Buttons And Twine Wrapped Jar Lid Ornament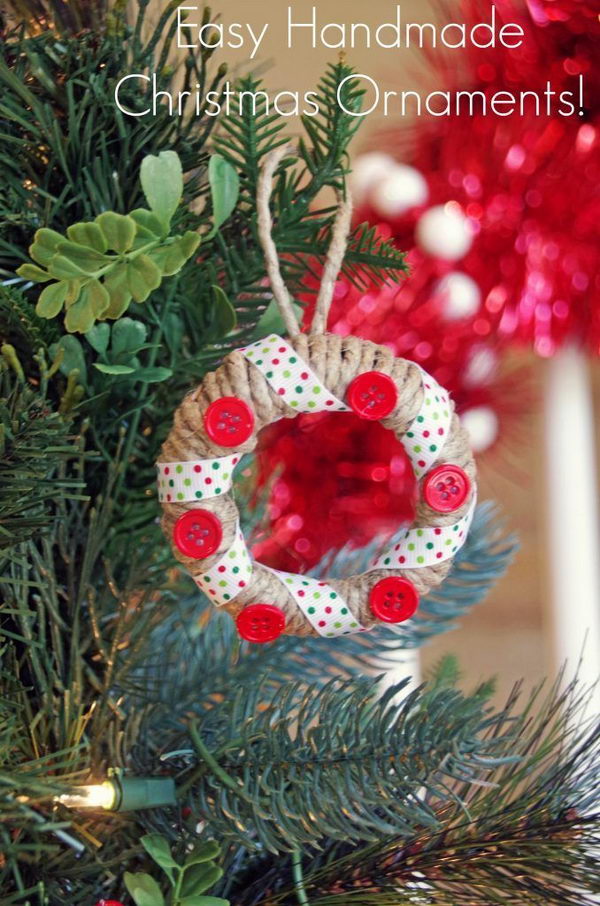 This is another one of those wreath style ornaments, as the lid's rim was completely wrapped in twine, then decorated with fun ribbon and buttons. via suburbia-unwrapped
Twine Wrapped Jar Lid Ornaments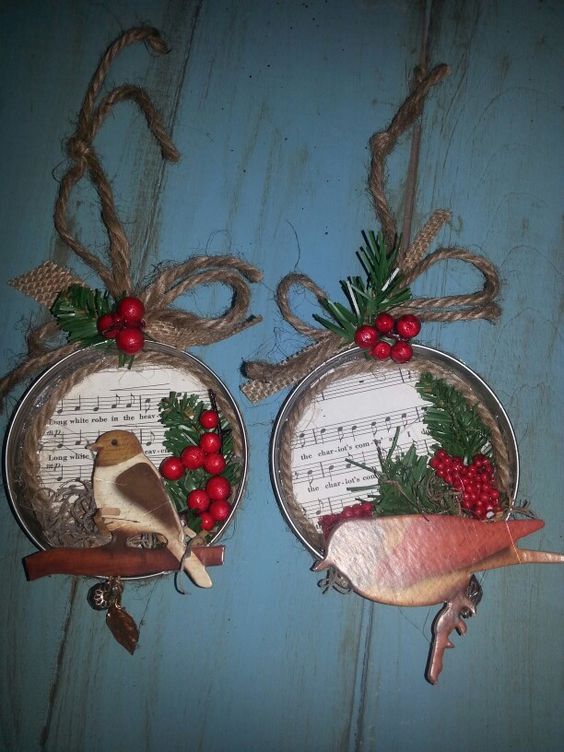 These ornaments are literally wrapped in twine, and they even feature a little beaded bow on top. Inside they have a music sheet as the background to woodsy Holiday scenes featuring greenery and even little bird figures.
Family Christmas Ornament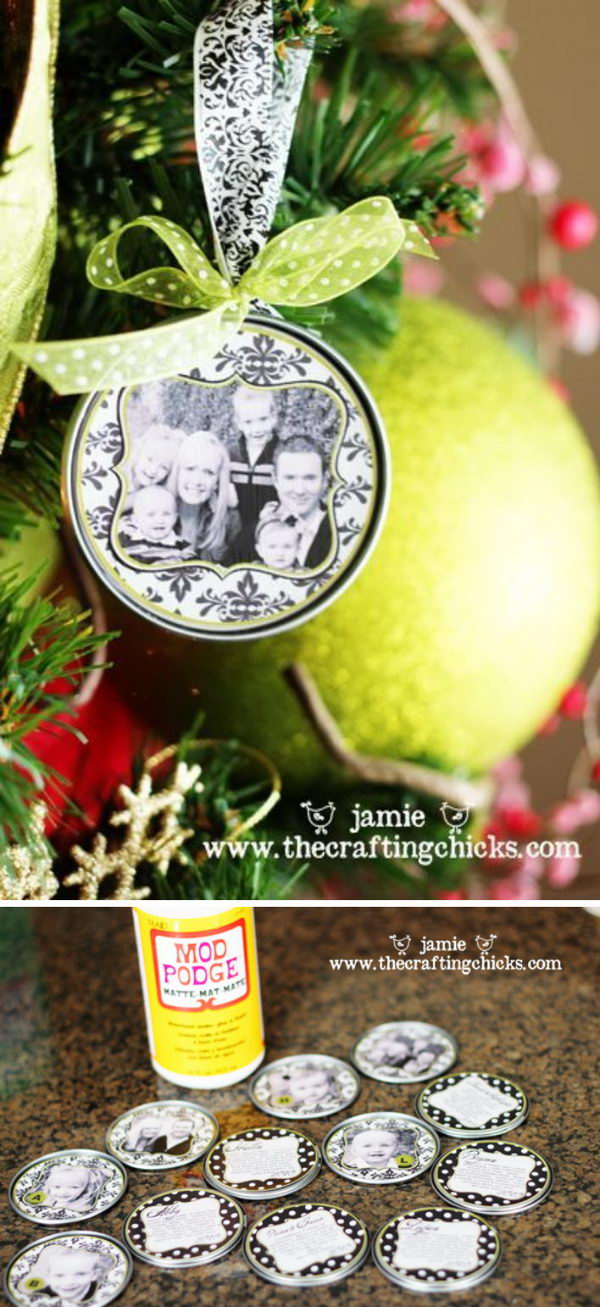 Here's something that's extremely easy to make and very personal. You need a copy of a photo, which you will cut to size and glue the inside of your lid before adding some decorative elements and a bow at the top. This way, you can add new photos to your tree every year. via thecraftingchicks