20+ Under The Sea Decorations For Your Little Mermaid's Bedroom
The Little Mermaid is arguably one of Disney's most popular animations, especially now that it was also turned into a live action movie.
Ariel and her friends are so charming for kids. Mermaids have all the magic normal Princesses don't. They have glittering tales, the ability to move freely on both earth and water, and they can make friends among sea creatures as well as humans.
It is no wonder then that little girls dream of being mermaids, right? But while they could never have a shiny, shapeshifiting tail, they can definitely get a beautiful and whimsical Under The Sea themed bedroom, courtesy of their doting parents.
What do you need to achieve this theme? That's what you are about to find out with this article. Read on to enjoy these Under The Sea Decorations For Your Little Mermaid's Bedroom.
DIY Scallop Accent Wall For Mermaid Bedroom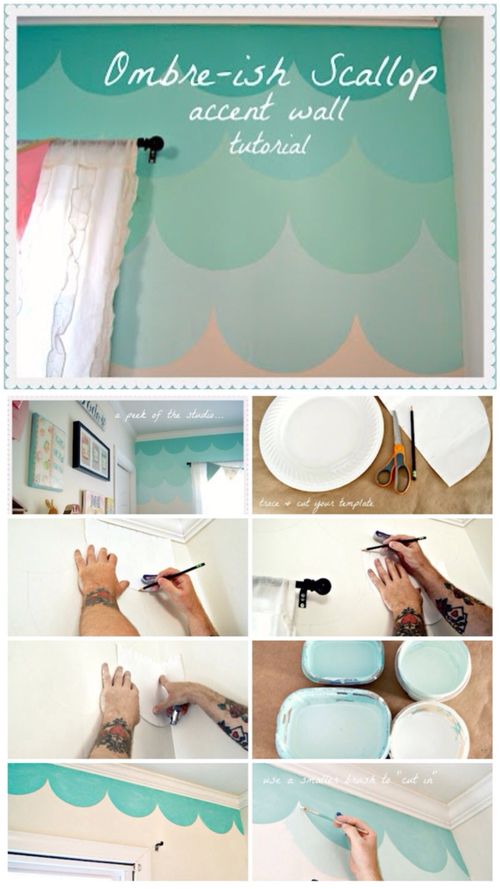 A teal scallop accent wall is a must in any little mermaid's room, as it mimics both the waves and the scales of a mermaid's tail, whichever way you prefer to look at it. You can achieve the effect with tiles or with a painted gradient, created either by hand or with the help of a stencil. via weheartit
Mermaid Tail Mural Art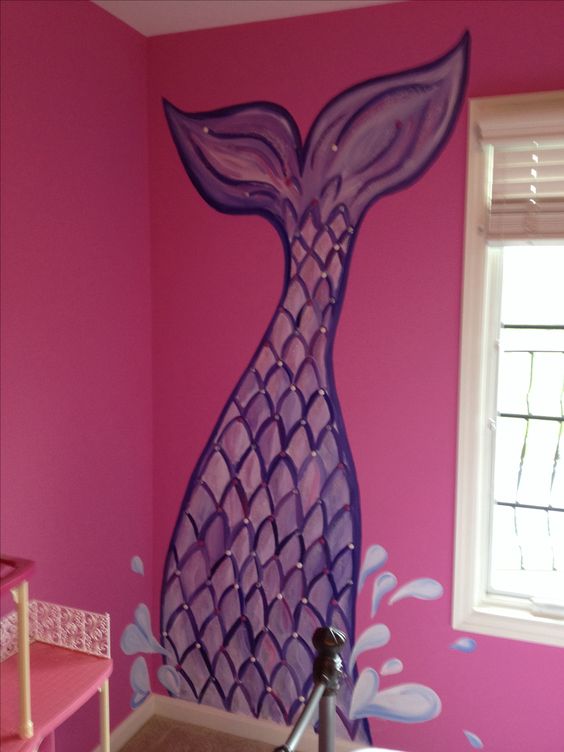 This is much more of a literal take on a mermaid accent wall. This one was painted either freehand or with a stencil using shades of purple over a pink wall. A giant mermaid sticker or cardboard cutout would be much easier to install and remove when the mermaid phase passes, though.
DIY Mermaid Pillows

These mermaid scale pillows are incredibly cute and impressive, but not that difficult to make. All you need to do is create scales in different shades of the same material and then either sew or glue them over the original pillowcase to create the scaled gradient effect you in see in the picture. via lovethispic
Cute Mermaid Curtain

Now this is a real mermaid's tail coming to life on the wall. This shiny mermaid curtain is purely made of sequins which form scales in different shades of teal and green, creating a truly, blindingly magical effect.
DIY Fish Scale Pendant Lamp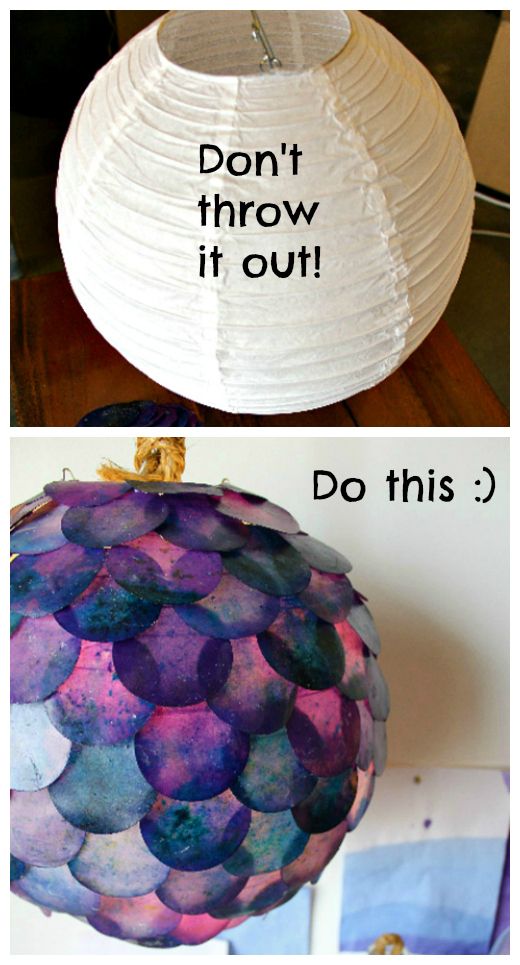 The old globe pendant lamp was transformed into a mermaid's dream through a clever upcycling project. Here, several marbled circles of material were layered over the original pendant to create a scale effect that evokes the Under the Sea theme. via refabdiaries
DIY Floating Jellyfish For Mermaid Bedroom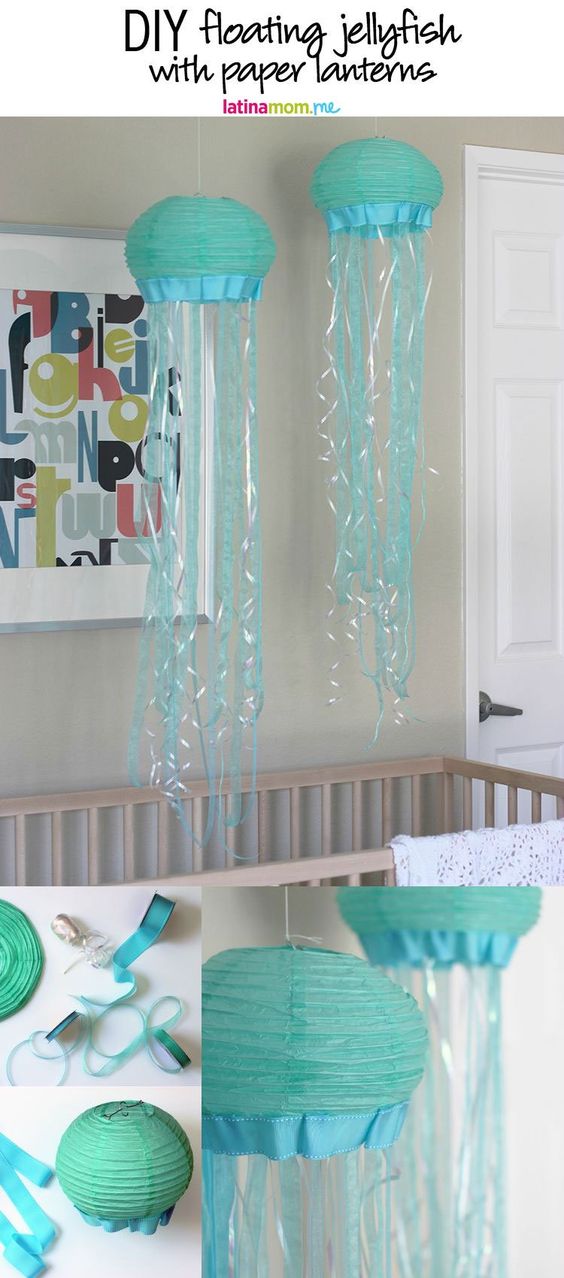 These floating jelly fish lamps are really adorable and not so hard to make. Get some teal globe pendant lamps and hang appropriately colored streamers to create the effect and then all you have to do is install your completed pieces to finish the project. via mom.me
Light-Up Under-the-Sea Bed Tent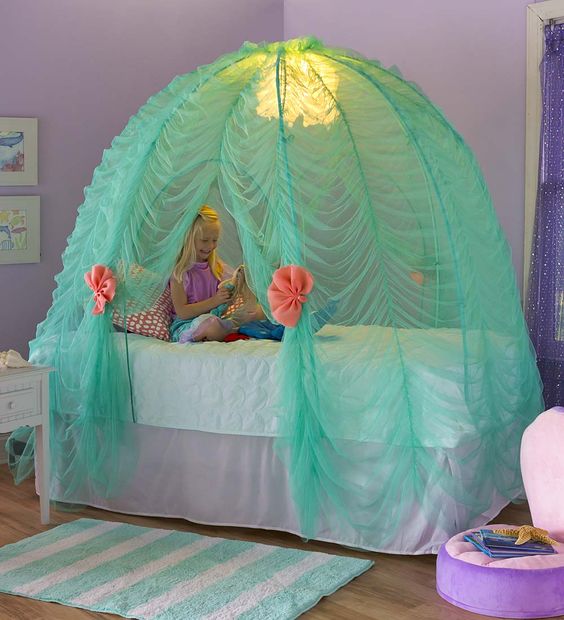 This project is probably more for the littlest of mermaids, as it entails installing a green tent-like canopy over their beds. The tent itself is made from a green tulle-like material and decorated with fabric flowers at the entrance. A nightlight was also installed inside at the top to illuminate their playtime activities. via magiccabin
Coral and Mint Mermaid Themed Personalized Wooden Letters
This is the project you need to pay attention to if you want to spell your little mermaid's name in her room. Make or get some wood or cardboard letters and then paint them and finish them off with mermaid, shells and starfish cutouts to create the ultimate mermaid name sign. via etsy
DIY Fish Scale Lampshade Using Circles Of Felt And Tacky Glue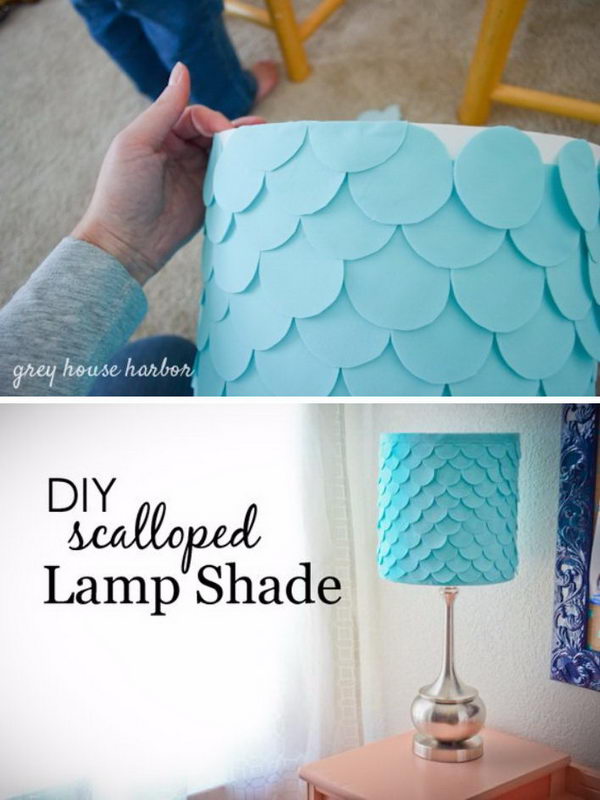 This project is similar to another lamp we've already looked at, except in this case the scales are solid light blue felt circles which were layered over the lampshade to create this Ocean-inspired effect. via greyhouseharbor
DIY Little Mermaid Mason Jar Light

This easy DIY mermaid mason jar light are a wonderful gift for any occasion. The mason jar's lid was covered in glitter, which is simple enough to do, but then the silhouette of The Little Mermaid was added to the side, and a lighted marbled effect was created inside, probably with a combination of lights and crystals, or maybe some clever aquacolor painting. The whole thing was tied off with twine and finished with a seashell. via apumpkinandaprincess
DIY Mermaid Wood Sign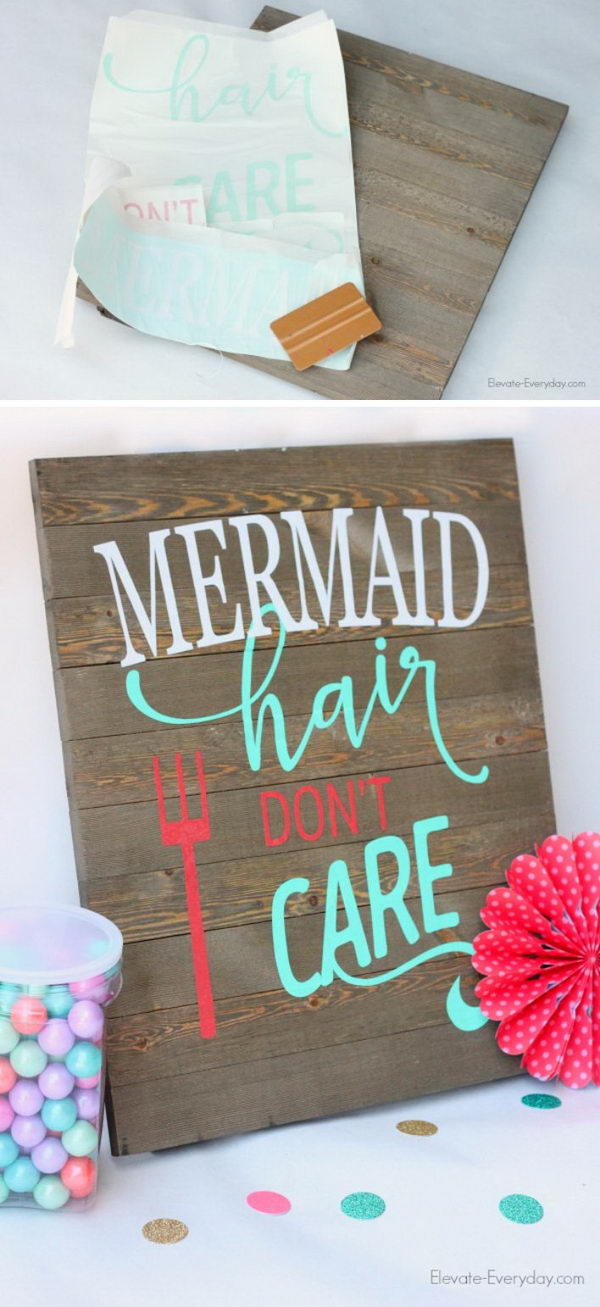 The wood mermaid sign is very reminiscent of the sea because the wood obviously calls boats and ships to mind. You can find a stencil of any sayings or drawings you'd like and make it your own using the colors of your preference. via elevate-everyday
Mermaid Tail Glitter Standard Light Switch Plate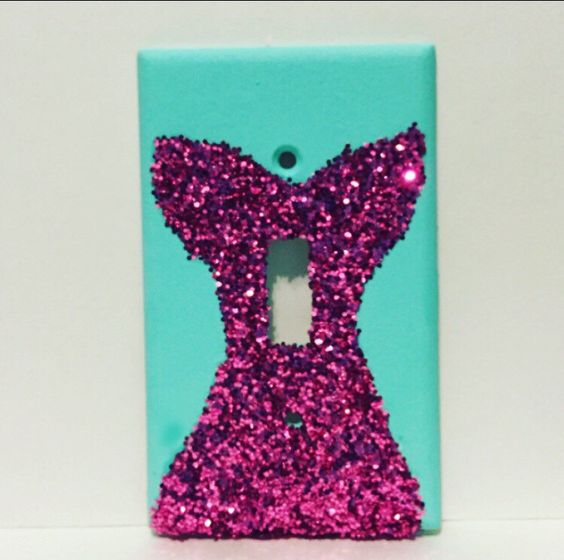 This is probably one of the fanciest light switches anyone can ever have. It was painted a teal color and then a mermaid's tail was stenciled in pure glitter, occupying the remaining space. It is important in projects like this to make sure all of the products are safe to use around electric ports and that nothing gets in, though. via etsy
DIY Mermaid Chair

What a fancy little mermaid's chair. It was upcycled from a vintage-looking chair whose seat and back make a real mermaid mural, almost in a graffiti art style. via traceysfancy
DIY Minimalist Mermaid Art

Now this is definitely the minimalist mermaid DIY project. It is a simple square canvas painted in soft tones to emulate the beach and then decorated with little gems, which make a shell path on the "sand", adding detail and shine to the piece. via mrkate
Cute Mermaid Shell Headboard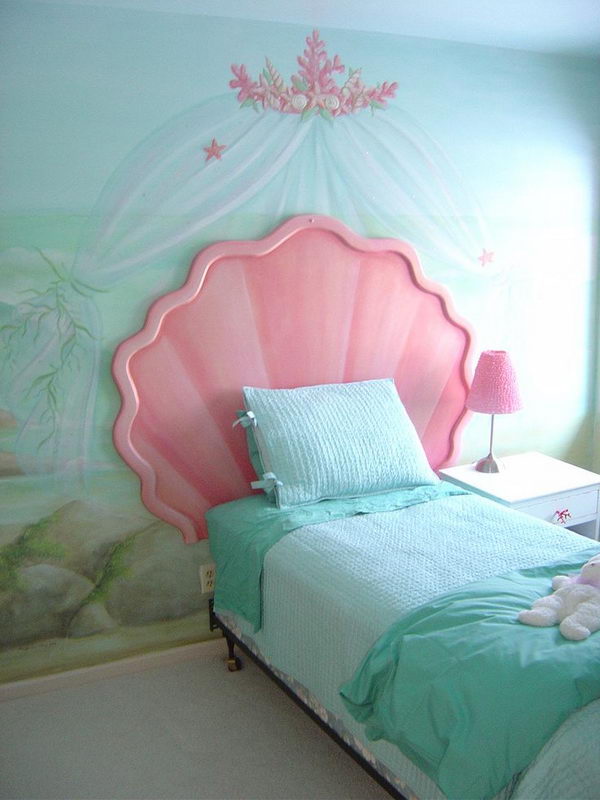 This is truly an Ocean Princess's bed, with its pink overhead pendant, sheer canopy and teal bedding. The centerpiece is, however, the large coral pink cushioned shell headboard, which is truly beautiful and impressive.
DIY Painted Mermaid Vase

As such a simple project, it's just a mermaid tail drawn on the side of a vase. Use sharpies to create the image and you will likely get it just right. via natashalh
Little Mermaid Themed Card With Stencil
This 3D greeting card is fantastic both for gifting as well as displaying, and it's not difficult to put together. You need to make your base card and fold it half so it stands up, then cut out a separate tail shaped piece of cardboard and paint scales on it using metallic paint and a scale srencil. Glue the pieces together and decorate the card to finish this cute project. via mayholicraft
DIY Shell Mirror Using Shells From Michael's And Other Craft Stores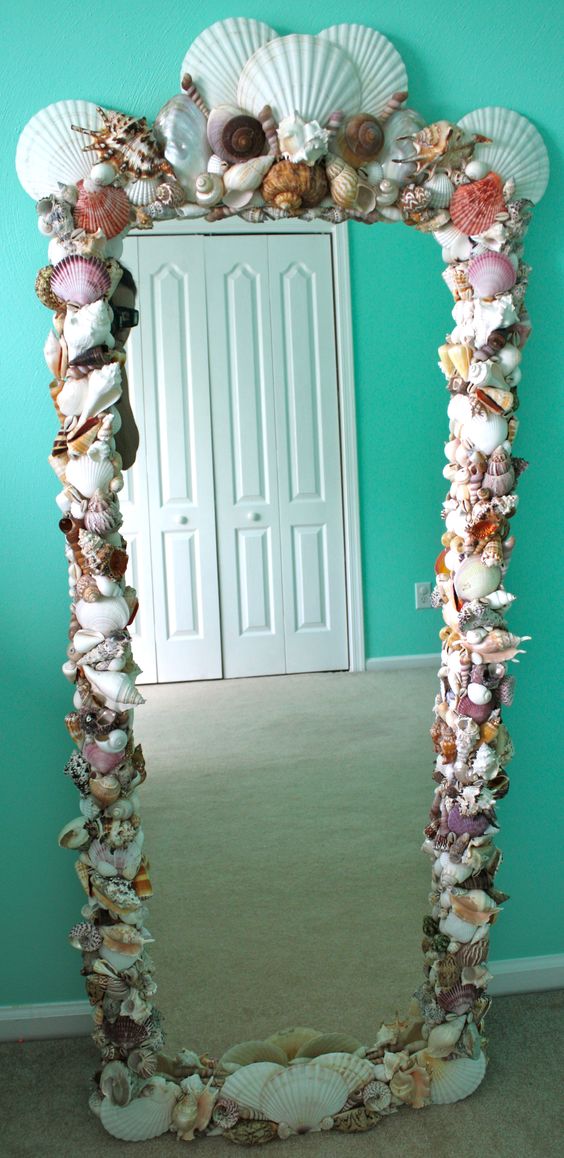 Only a shell decorated full length mirror is fit for a Mermaid Princess, so that is what was created here. The shells are of course fake, and they were glued in layers around the perimeter of the large mirror to create a gorgeous shell frame.
DIY Mermaid Treasure Chest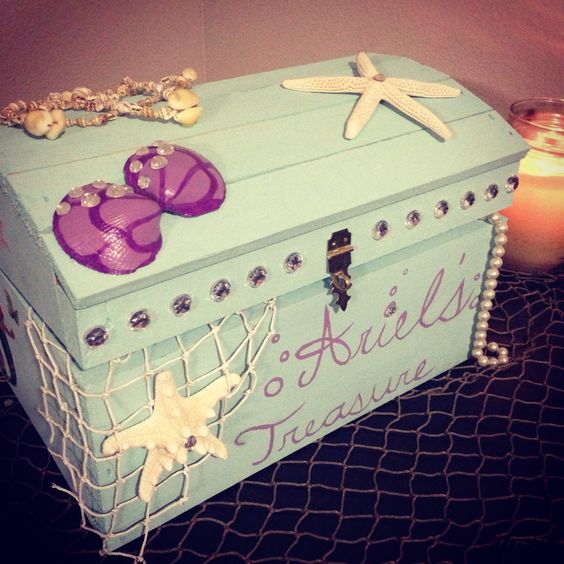 Treasure chests are a must-have for a little mermaid's room. This one was upcycled and decorated with netting, colorful shells and starfish. It was finished off with the little mermaid's name scrawled on the front.
Starfish Mirror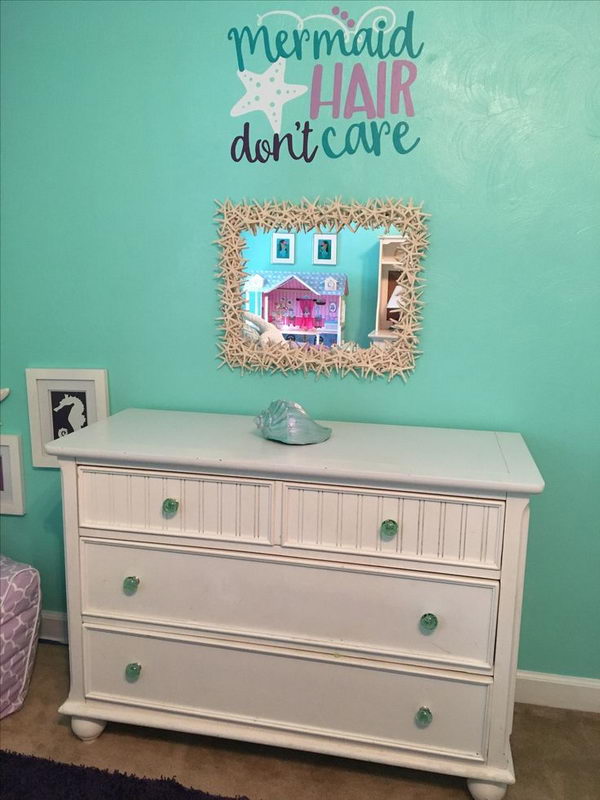 This mirror may be small, but it is definitely impressive, as its full perimeter was decorated with a thick frame of tiny starfish layered together. The teal wall and the quote painted just above it enhance the effect.
Old Fishing Nets Decoration For Mermaid Bedroom
Repurpose old nets and fairy lights by hanging them from the ceiling above the bed to create a unique ocean inspired lighting fixture for your little mermaid's bedroom.
Display Photos In A Netting Sandbar Display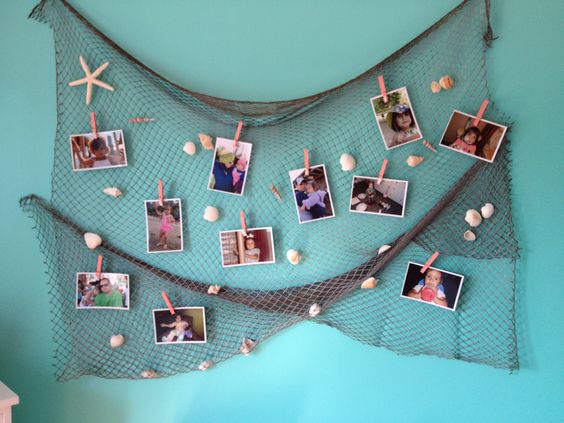 It's another way to repurpose a fishing net. The net was twisted, decorated with shells and hung on the wall to create a kind of unique photo display area. via deavita
DIY Mermaid Shell Scalloped Nailhead Headboard

This bed is another great example of a sleeping arrangement truly meant for a Sea Princess. The cushioned 3D shell headboard is made from scalloped pieces of foam mounted on an arch for support, so it's definitely not impossible to replicate, if you'd really like to. via mrkate
Seahorse String Art with Free Printable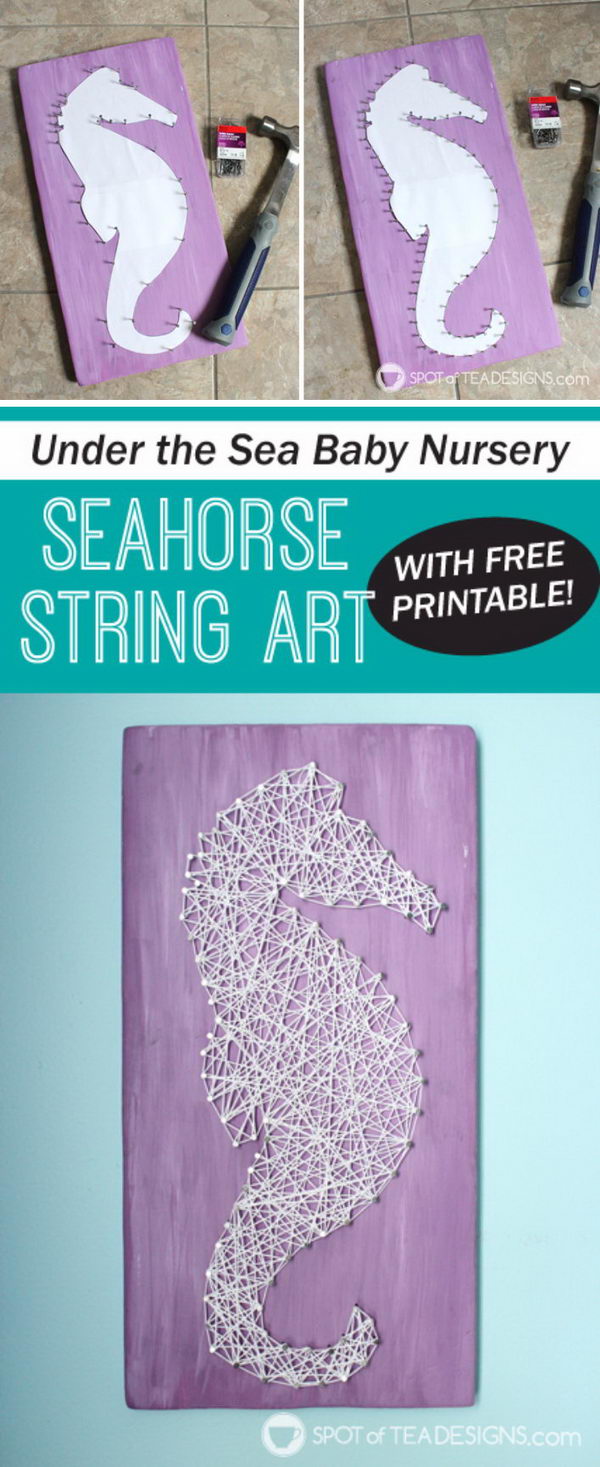 The little seahorse piece is really precious and simple in nature. You will need to print the template and follow the instructions carefully though if you want to replicate the string design. via spotofteadesigns
Real Starfish Decor On The Wall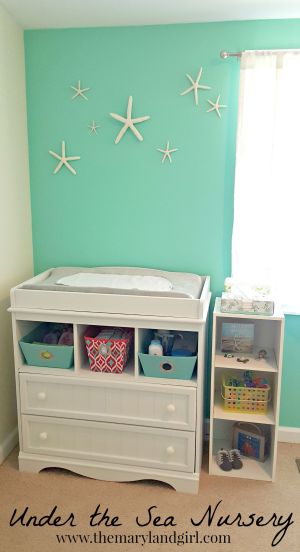 It is one of the simplest ideas here. Paint the wall blue or teal and then add some real or fake starfish as decoration. You can also mix some shells in for variety. via themarylandgirl
DIY Bubble Chandelier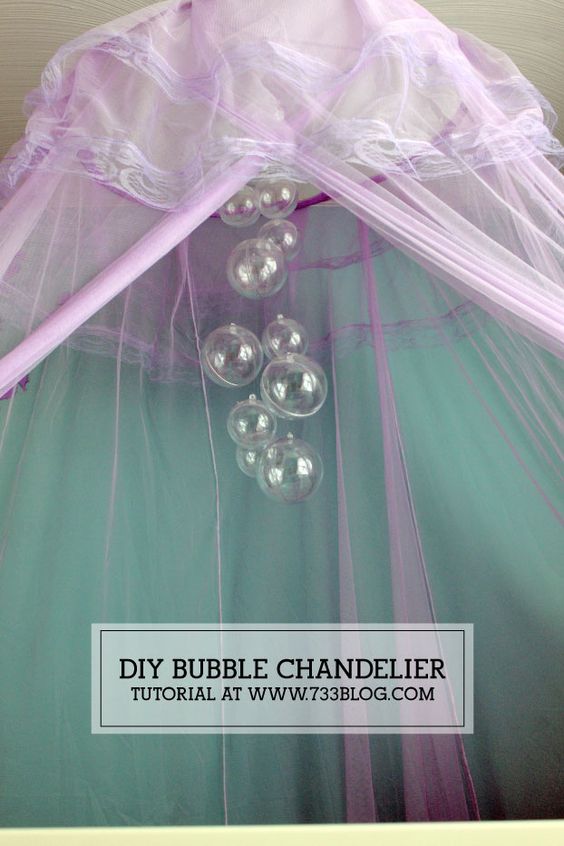 Bubbles are definitely reminiscent of the ocean, and that is the theme of this chandelier. String some clear glass balls from the ceiling and add one or multiple light bulbs to achieve a similar effect to this. via inspirationmadesimple
Purple And Teal Hair Bow Holder For A Little Mermaid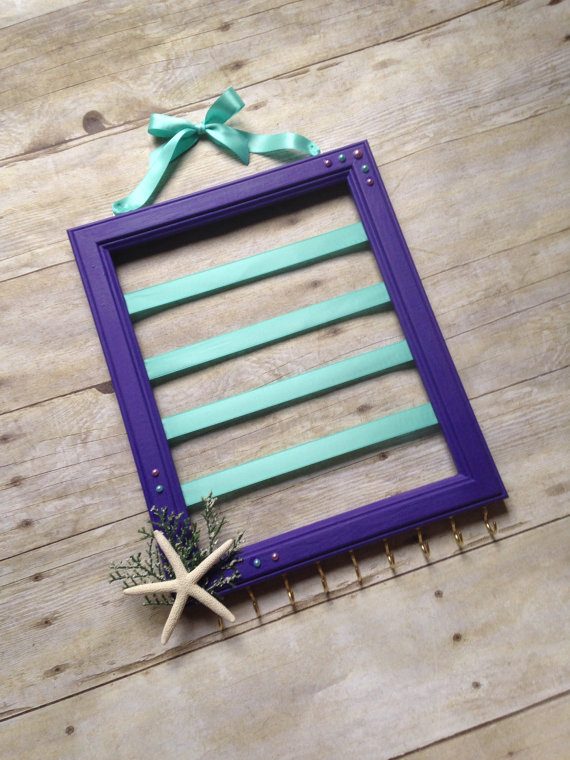 This simple hair bow holder – which you could also use for headbands and jewelry, for instance – is very subtly mermaid themed with its colors and decorations. Build a shallow frame with several thin sticks installed inside horizontally, add a starfish or shell at the corner for decoration and a bow at the top for hanging if you want to replicate it. via etsy
Seashells And Sand Displaying In A Fish Bowl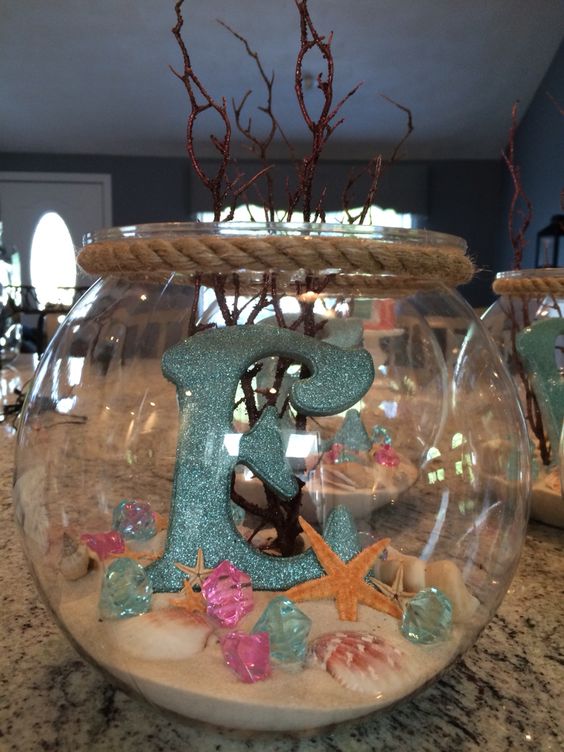 A fishbowl will always evoke the Under The Sea theme, but this one does that with sand and seashells instead of water and actual fish.
DIY Seashell Growth Chart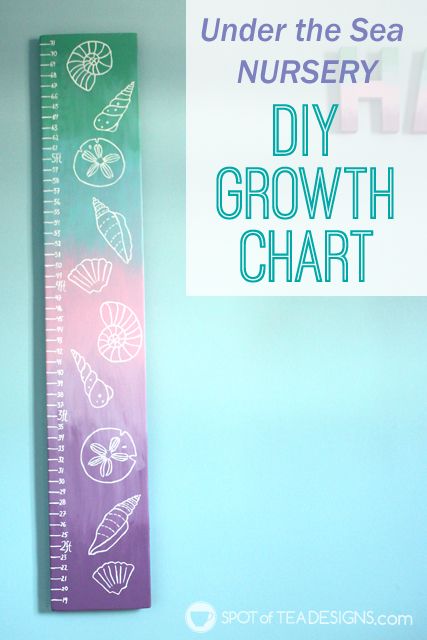 This is one of the cutest and most useful decorations a little mermaid can have in her room. The growth chart is basically a long wood plank painted in an ombre style. Shell sketches were added along with the measuring scale for beautiful decoration. via spotofteadesigns