20 Cheap DIY Home Decorations
Decorating a house can get quite expensive. You may think it is the big construction work, cabinets and appliances that cost all of your money, but that is only the beginning.
You should never underestimate how much a custom cushion or fashionable lamp might cost you. In fact, even some vases and doormats can cost you a pretty penny sometimes.
Making a house your home is expensive, and it's the little things that add up quickly, catching you completely off-guard.
So why not make your house a home by actually putting your spirit and hard work into the little things? It will cost you less money but expend more of your time and energy, that's true. But in the end, it will also be more personal and unique. Moreover, you may even find the experience of making things relaxing.
So if you're itching to add new decorative touches to your home, then it is time to get your hands dirty. Feel free to browse through these Cheap DIY Home Decorations to find the inspiration you probably didn't even know you needed!
DIY Plastic Toy Upgrade to French Farmhouse Pedestal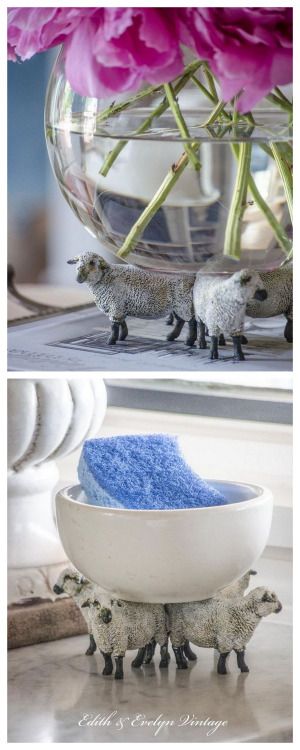 Old toys are fun mementos from other times, but unless you use them for decoration, they will be pretty much useless. This little plastic animal was turned into a pedestal, on which you can perch a bowl, candle or just about anything else in a truly unique way. via truebluemeandyou
DIY Mercury Glass Centerpiece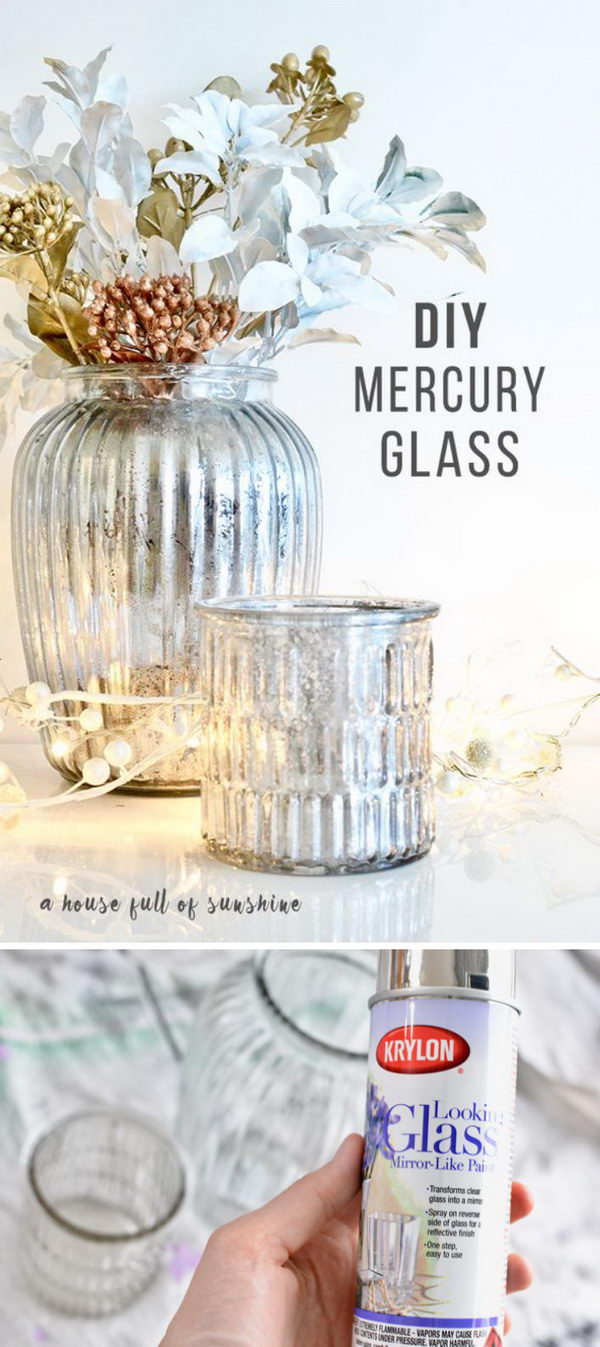 A good painting job can completely alter the look of a piece, as you can see here. This certainly isn't made of mercury glass, but it surely looks like it, and you didn't pay a thousand bucks to get the piece on your table. via ahousefullofsunshine
DIY Flower Jars Using Plaster Of Paris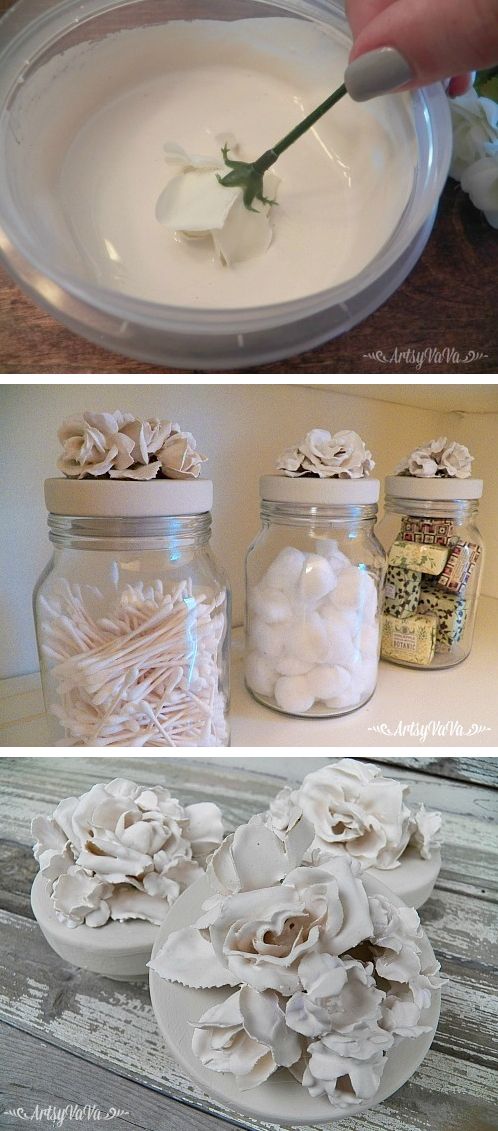 Don't these jars look elegant? You could probably buy some in any upscale Paris shop, or you can make some using Plaster of Paris to create the gorgeous flower topped lids and save yourself a good amount of money. via artsyvava
Dress Up Your Stairs With Decorative Brackets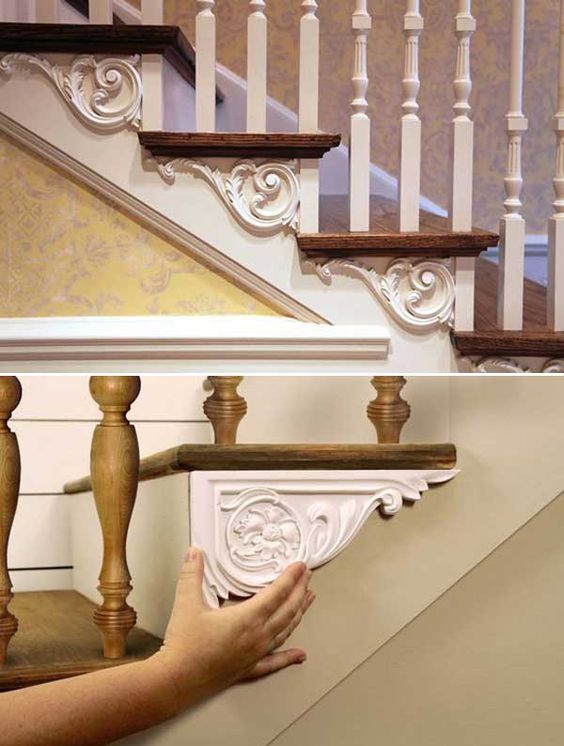 This is the perfect project for you if you want to change your stairs without rebuilding them. All you need to do is get some decorative step brackets,which shouldn't be too expensive, adjust their size and then glue or nail them into place. We promise it will make all the difference. via vandykes
DIY Easy Laundry Basket

This is certainly one of those more labor intensive projects, as you will literally make a laundry basket from scratch using a round wood board, nails and wire. After you finish constructing and securing your web of wire, you will also need to cover it in fabric, but that is actually the easy part, and what makes this basket truly your own – your fabric choice. via homedit
Spray Painted Ombre Blue Basket

You don't always need to build decorations to make them your own. You can opt to buy a cheap piece and customize it, or give an old piece a new life. This decorative wicker basket was spray painted bright blue and then the paint was applied more sparingly going up so that it faded into an off-white color that matched the icy colored living room. via charlestoncrafted
Upgrade A Wall With This Easy DIY Wood Mantel

Adding life to your mantel and the wall in general can be as easy as changing things around a little. In this case, the mantel was painted a slightly warmed color, the flowers were replaced and the remaining items were repositioned to make the space look a lot less cluttered. via thriftyandchic
Large-Scale Rug From Scratch

Making a rug from scratch might seem daunting, but it doesn't have to, and you can make it much cheaper than what you'd find at the store. What you need, for the most part, are plenty of thick wool thread or yarn and a pattern to guide you. It might take some time to finish, but we guarantee that rug will be your pride and joy at the end. via papernstitchblog
DIY Hand-Script Decoration For Your Tea Set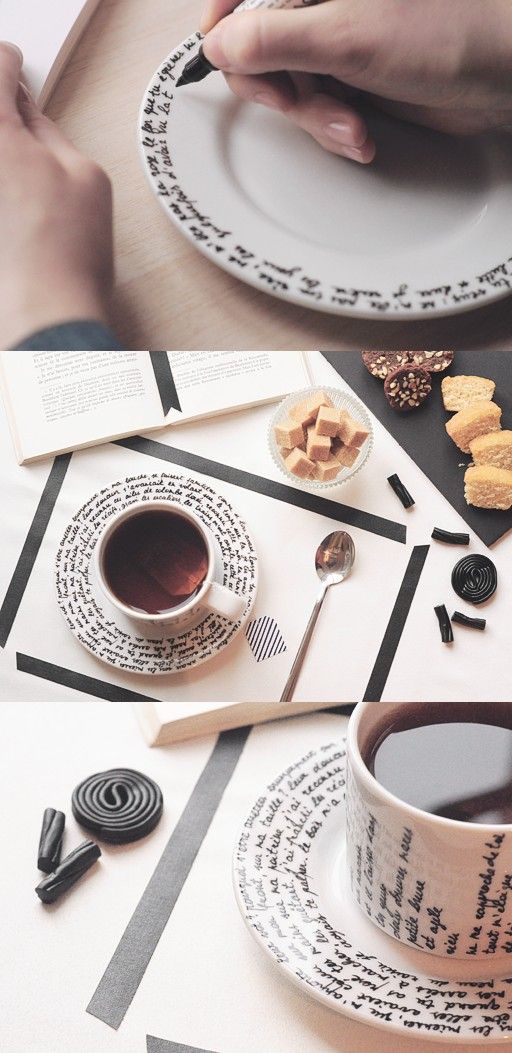 Handwritting and drawing are prime examples of customization, so if you want to make a tea set truly your own and something to pass on to your children, you need to take a good old Sharpie and get doodling. Not only will the end result look fantastic, but it will also be truly personal to you and your family. via diy4everyday
DIY Wood Slice Door Mat Boot Tray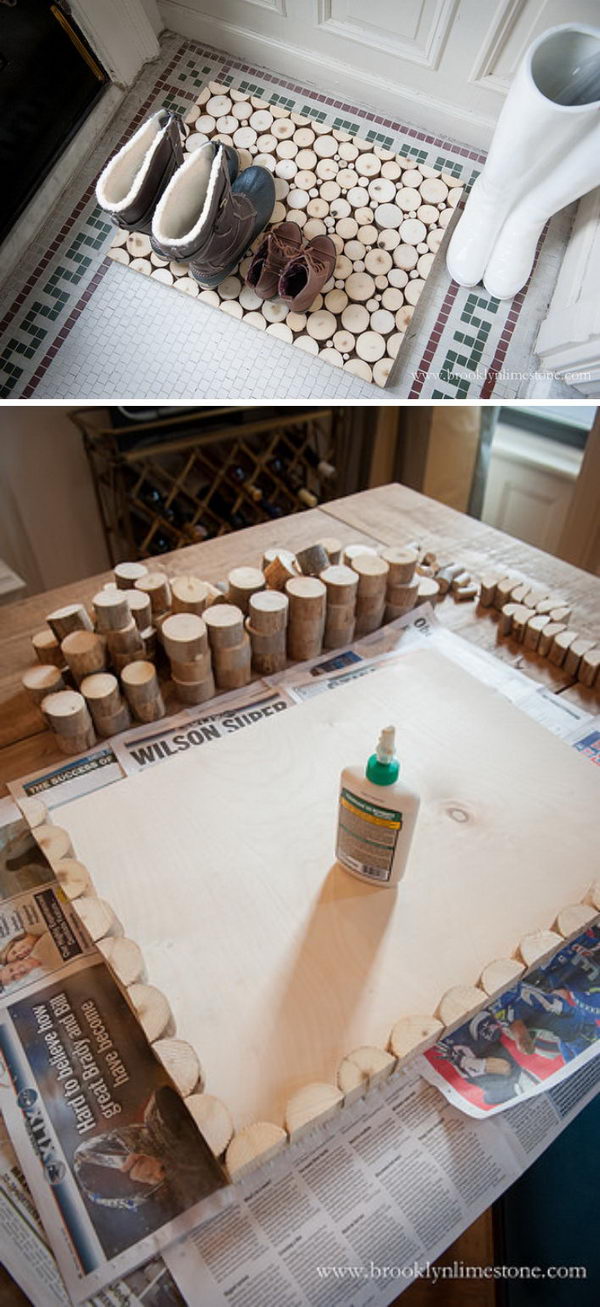 This entryway boot tray is a perfect rustic piece to welcome guests in the cold days, and making is certainly nothing like rocket science. All you need to do is find several wood slices of even sizes and glue them in until they completely fill the tray's surface. It will be ready for use as soon as it dries and hardens. via brooklynlimestone
Log Side Table
This rustic side table is almost too easy to make. All you need to do is find several even sized logs and tie them securily with a thick rope so you can use the smooth top as a table. via casaydiseno
DIY Artwork Using Picture Frames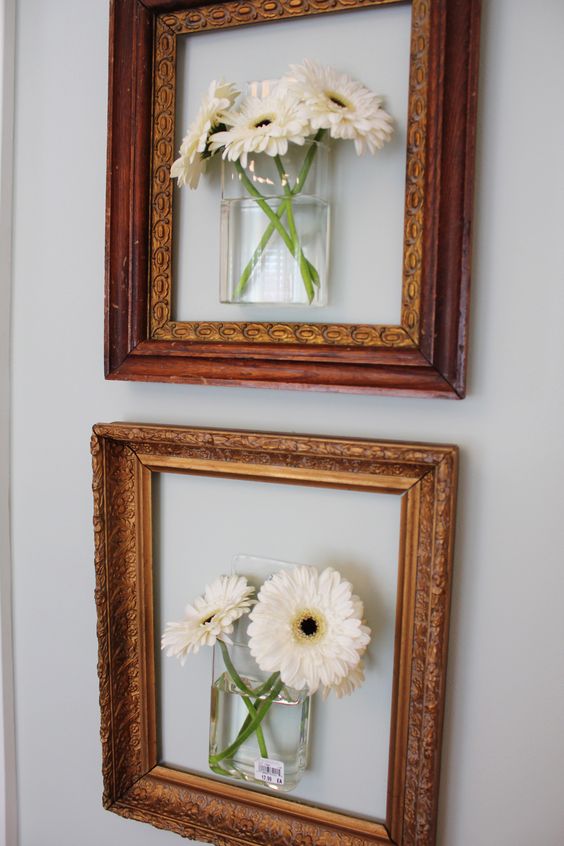 These decorations are once again very simple and rustic. They are nothing more than wooden frames whose glass has been taken out and replaced with flowers in small jars, which stand out nicely against the white background. via itsy-bits-and-pieces
Upcycled Lampshade Vases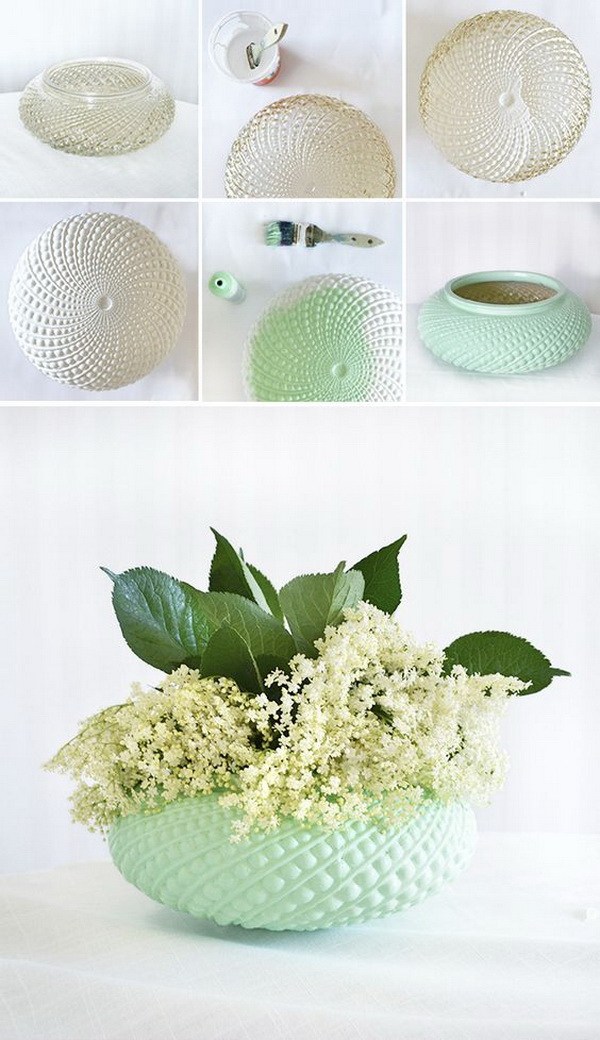 This is how you make a truly unique and classy vase – using an old lamp shade. You need to clean and reshape your lamp shade, then add a border to the opening and paint it to the color of your preference. It will be ready for use as soon as the paint and glue dry. via thehousethatlarsbuilt
DIY Love Themed Pom Pom Pillow

This pillow is once again very easy to make, but it takes patience. You need to take small pompoms and spell out your word in the script of your choice by gluing them to the pillow one by one. The result is definitely cute, though. via consumercrafts
Recycled Perfume Bottle Vase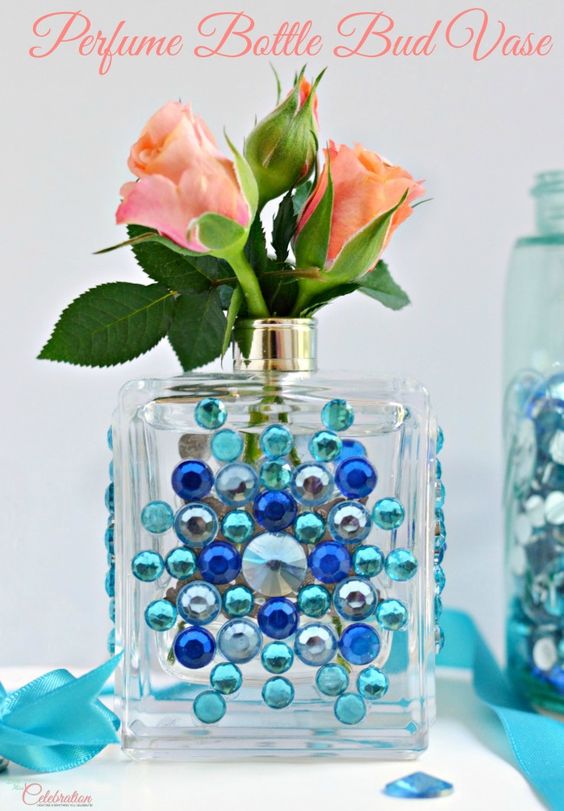 Turning your old perfume bottles into vases is a great idea, as some of them are truly expensive and look gorgeous anywhere. You need to take the cap and sprayer off, and in this case some jewels were glued on to enhance the bottle, but that part is very optional. via littlemisscelebration
Painted Thrift Store Candlesticks

You can score some fantastic finds at the thrift store, but these candlesticks looked more shabby than chic. Painting them an opaque light gray changed the look of the pieces completely. via settingforfour
DIY Blanket Ladder under $10

Need a nice, neat holder for your winter blankets? Then upcycling an old wooden step ladder is a good choice, as it will function very much like a vertical rack once painted and set upright. via domestically-speaking
DIY Pom-Pom Basket

Wicker baskets are fun, but common – not these ones. Making the pompoms is as easy as weaving the yarn in a ball and then cutting the loops. Once you have enough, all you need to do is glue them in rows of each color from the base up until about three quarters up, just so you don't overdo it. via honestlywtf
Epsom Salt Snowman Vase With a Fish Bowl

Here is another vase snowman but this one only entails making the lower part of the snowman. To create it you should cover the jar with glue and spray Epsom salt on it before finishing with a ribbon and two buttons. via rosyscription
DIY Holiday Gift Box Concrete Brick

A concrete block can also help create a beautiful outdoor décor piece. The first step is to paint some red stripes on the block and apply frog tape on the lines. Next, use a frog tape textured sealer and paint the block silver. Remove the taper from the sides and finish by adding a red glittering bow at the top of the block. via chicacircle