35 Easy Thanksgiving Decorations
As you prepare to welcome family and friends for Thanksgiving, you will need work on your home's appearance so that it can go with the mood and season. Decorating for Thanksgiving does not always have to be complicated or take as much time as what you do for Christmas. However, you still need to come up with something that will stand out and impress your guests.
Some simple decorations using fall leaves or sprucing up your mantel with pieces that you already have at home is enough in most cases. But, whatever you decide to do for the Thanksgiving holidays, there are fun and easy DIY projects here that would help you for your own Thanksgiving decoration.
Fall Mantel Decorated With Reclaimed Pallet Wood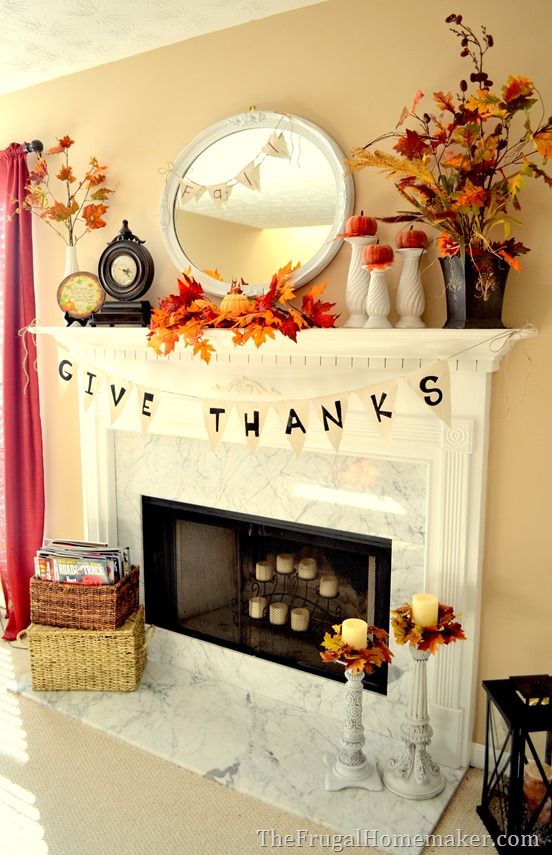 Mantel decoration is an easy Thanksgiving decoration idea, but it will still require some creativity. For this particular one, the idea is to use things that you already have at home. A reclaimed wood pallet, window, and shutter form the background for the other pieces which include a lantern, faux pumpkins, weathervane and some candle sticks. Also the sheath with some fall leaves and a burlap and stencil fall banner help to bring out the mood of the season. via thefrugalhomemaker
Dollar Store Thanksgiving Hat Centerpiece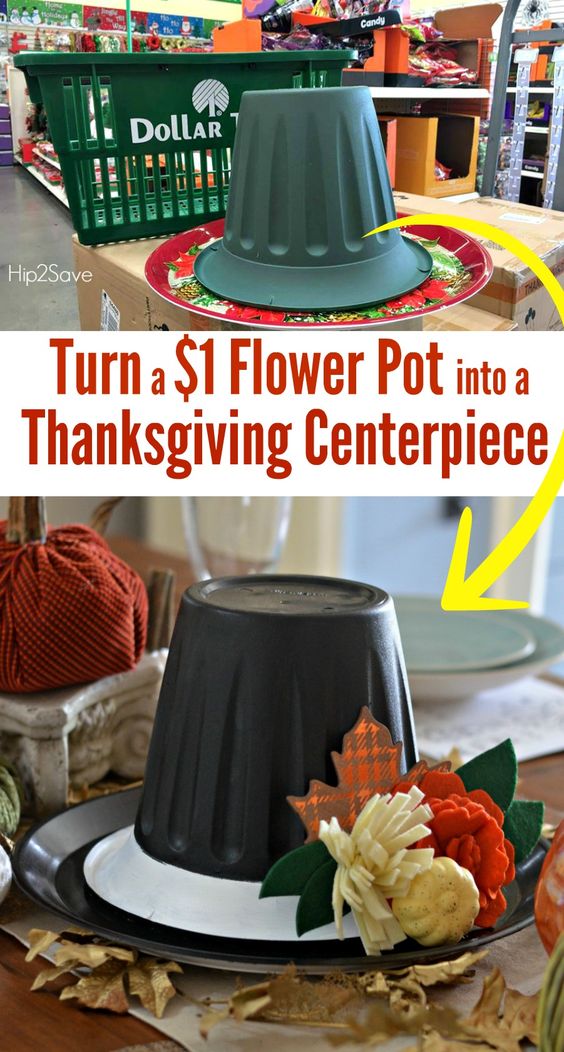 This inexpensive and creative table centerpiece is all about converting a regular flower pot into an adorable pilgrim hat. Simply glue it upside down over a large tray and paint everything black. The only other thing is to add some fall leaves and some mini faux pumpkins. via hip2save
Staircase Decorated With Fall Garlands And String Lights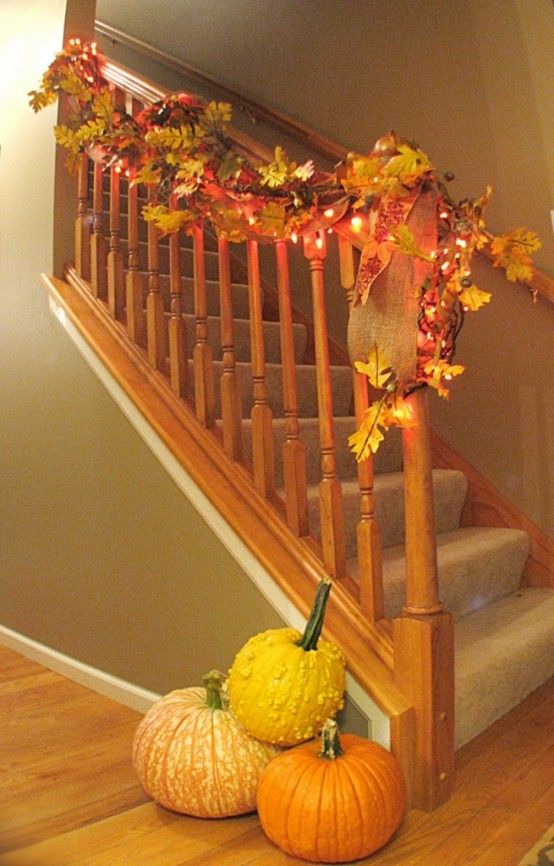 You do not have to wait for Christmas to bring out your string lights because they can also make a perfect Thanksgiving decor. For this DIY decor, you should have the lights with fall garlands on your staircase and some colorful pumpkins at the base for a simple but eye-catching Thanksgiving decoration.
Thanksgiving Pie Garland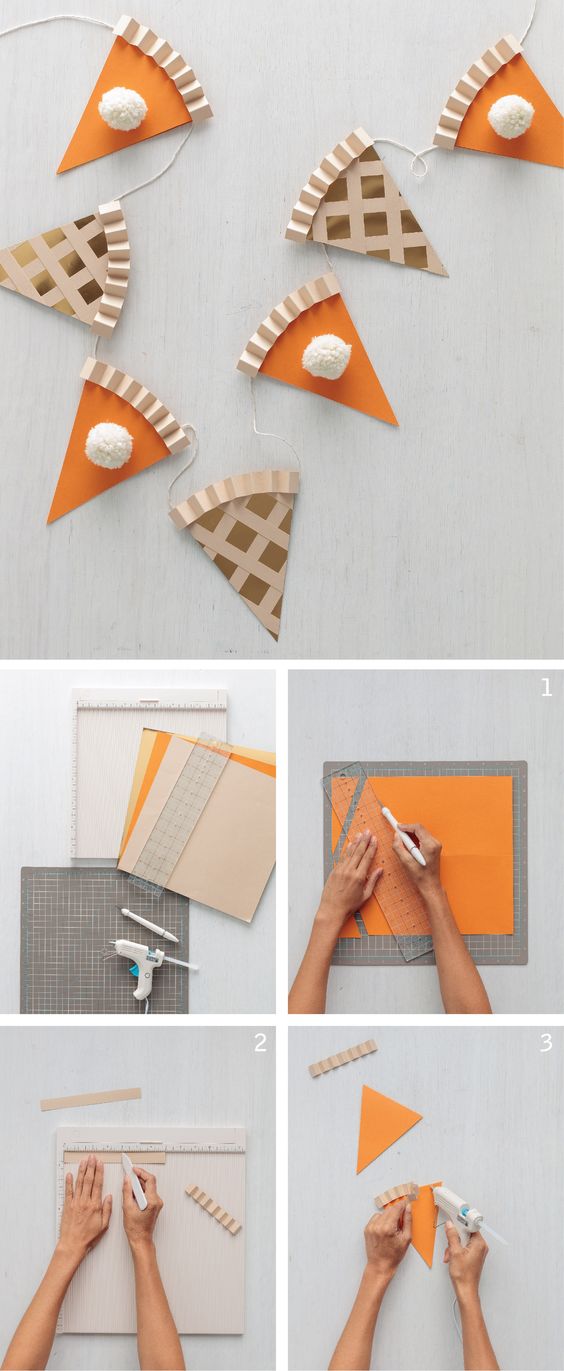 If you like paper crafts, the Thanksgiving pie garland is a perfect idea for you. The idea here is to make some multiple diamond-shaped cardstock pieces that look like apple and pumpkin pies. It is a simple decor idea, and apart from the paper you only need a ruler, cutting tool, and hot glue. via marthastewart
Pumpkin Tic Tac Toe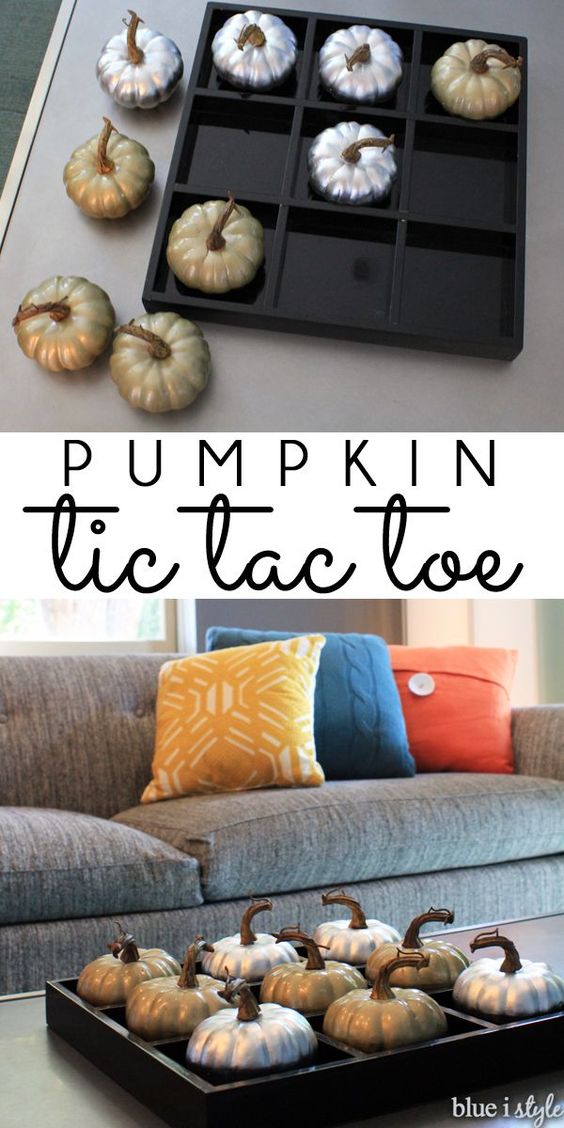 The pumpkin tic tac toe is a fan fall DIY project for the whole family, and your kids will love it. If you already have a tic tac toe game at home, you only need to replace the Xs and Os with some small pumpkins and paint them to go with the season. via blueistyleblog
Handmade Pumpkin Sign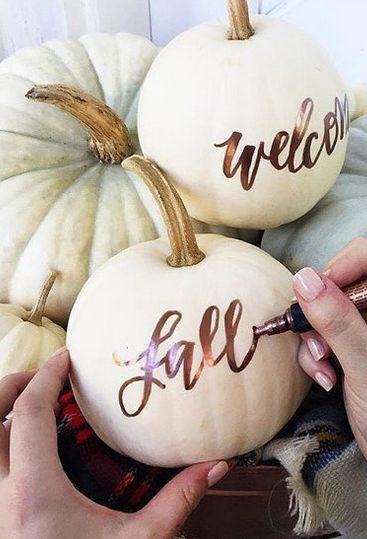 Paint your pumpkins in white, and write autumn or Thanksgiving messages for an easy and no-fuss table or bookshelf decor. via theperfectpalette
Twinkling Twigs

These twinkling twig luminaries will help set the mood right for your Thanksgiving. You will not need to make any significant investment to make them as you only need to collect small twigs from the backyard. Sticking the twigs on your glass candle holder will help to create some beautiful light spots and organically shaped shadows that are very useful in adding some warm ambiance to your home. via itskriativ
Fall Rustic Mason Jars

There is always something interesting that you can do with mason jars no matter the season, and so it is a good idea to have some around. For this Thanksgiving craft, you should paint four mason jars white with chalk or acrylic paint and peel off the vinyl letters to spell the word "fall" before finishing by placing the wheat inside. via sincerelyjean
Dollar Store DIY Pumpkin Serving Tray

Simple Thanksgiving decorations are always the best since they take less time but still look elegant. A DIY pumpkin serving tray like this one that is all about painting a foam pumpkin and gluing a serving plate on it will not only complement the rest of your decor but can also be quite functional. via valeventgal
Decorative Rustic DIY Wheelbarrow

This rustic DIY wheelbarrow is perfect for a woodworking DIYer or anyone with some good carpentry skills. It entails measuring and cutting wood to create the wheelbarrow pieces and assembling them with nails and glue. And once you have the wheelbarrow you only need to decorate it with different size and color pumpkins, flowers and fruits to bring out the fall theme and have it in the entrance or backyard. via homedepot
Yarn Pumpkins Garland
You can make Thanksgiving decoration from almost anything as long as you are creative. This decor entails using some orange yarn and green pipe cleaners to make some cute pumpkins and tying them around a twine to make a garland that you can hang on the mantel. via designimprovised
Reversible Holiday Blocks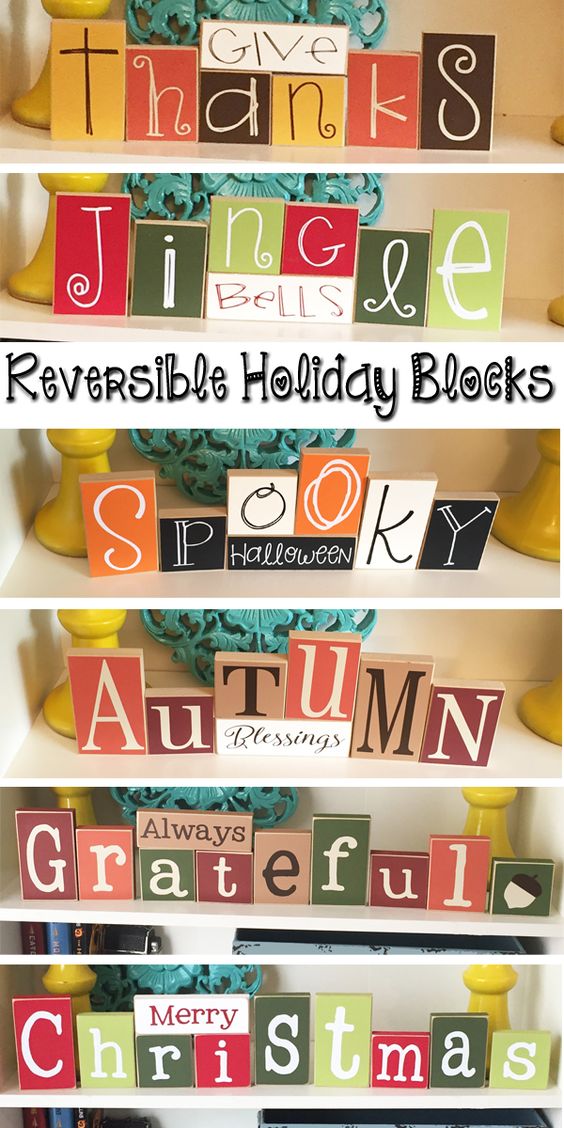 Reversible holiday blocks are another simple DIY idea that will work in any season. They are all about gluing paper onto blocks of wood to spell out some message or a phrase. With the right tools and some time to spare you should not have any trouble making some blocks that spell out "GIVE THANKS" for your Thanksgiving decoration. via theballoonred
DIY Leaf Mason Jar Candle Holder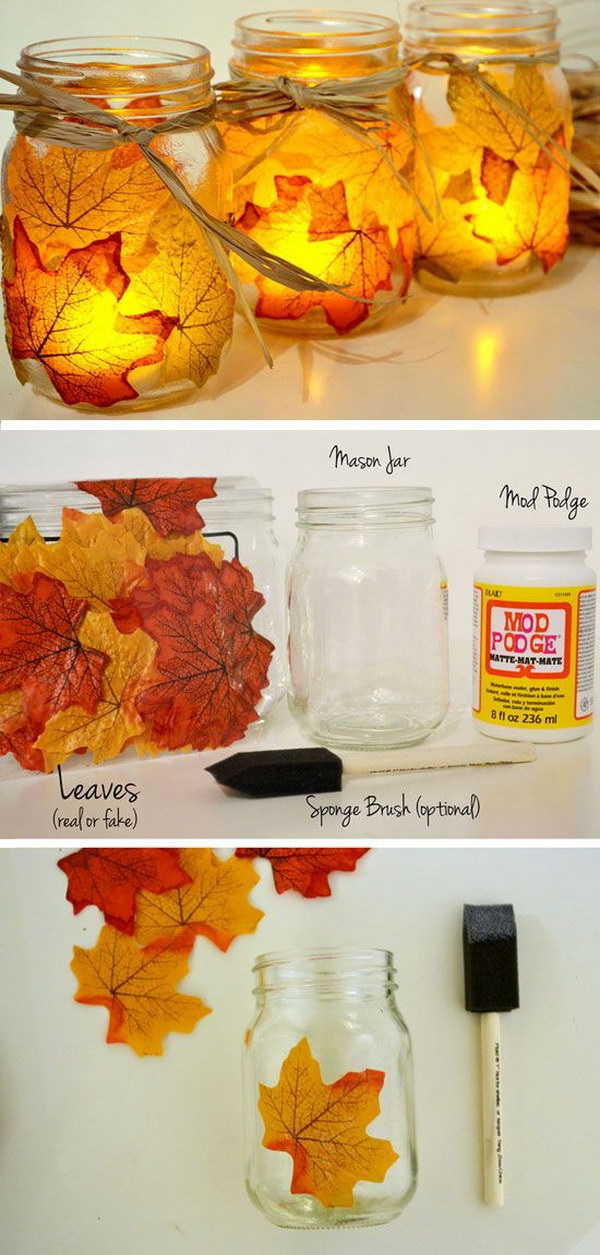 Here is another beautiful craft that you can do with your mason jars. It is all about sticking some faux leaves inside the mason jar and placing a candle inside to create some breathtaking red and orange light colors. Also, tying ribbon at the top of the jar adds some style to the decor. via sparkandchemistry
Gold Leaf Place Cards

Real or faux leaves are a must have when it comes to doing some Thanksgiving decor as you can use them for countless things. Leaf place cards are one of these things and to make them you only need to paint your faux leaves with a bright gold color and finish by writing your names. via pinterest
Easy DIY Fall Leaves Potted Topiary Tree From a Tomato Cage

Using a tomato cage, collect some plastic or fabric autumn leaves and wrap it around the cage. Place it on your doorway or living room for your very own autumn tree. Place some Christmas lights inside for a glowing tree at night. via hometalk
DIY Rustic Pumpkin Stand

Using some pieces of wood, create your very own pumpkin stand and paint it the color orange. Decorate it with a scarecrow and some pine cones for that ultimate festive feel. via 365ishpins
DIY Decorative Leaf Bowl for Fall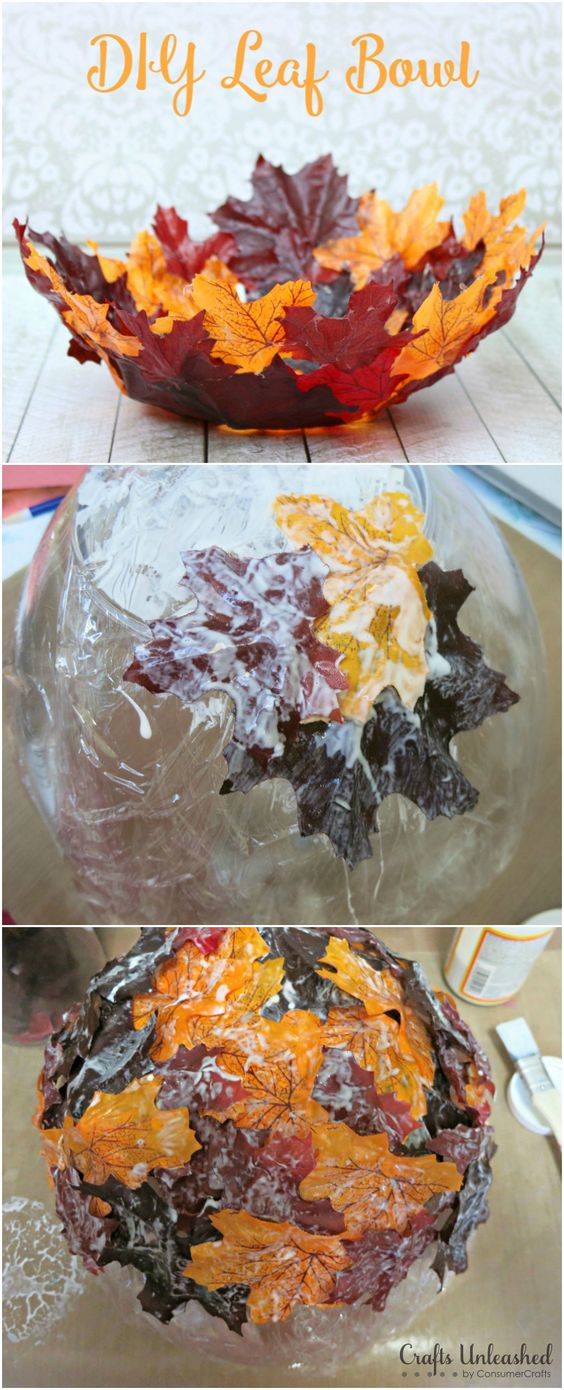 Using a glass bowl as mold, cover the bowl with paper autumn leaves and glue them together with a mixture of white glue and water. Wait to dry and pull out of the bowl – voila!! Your elegant autumn leaf bowl is ready to use on your coffee table. via craftsunleashed
DIY Thanksgiving Leaf Pillows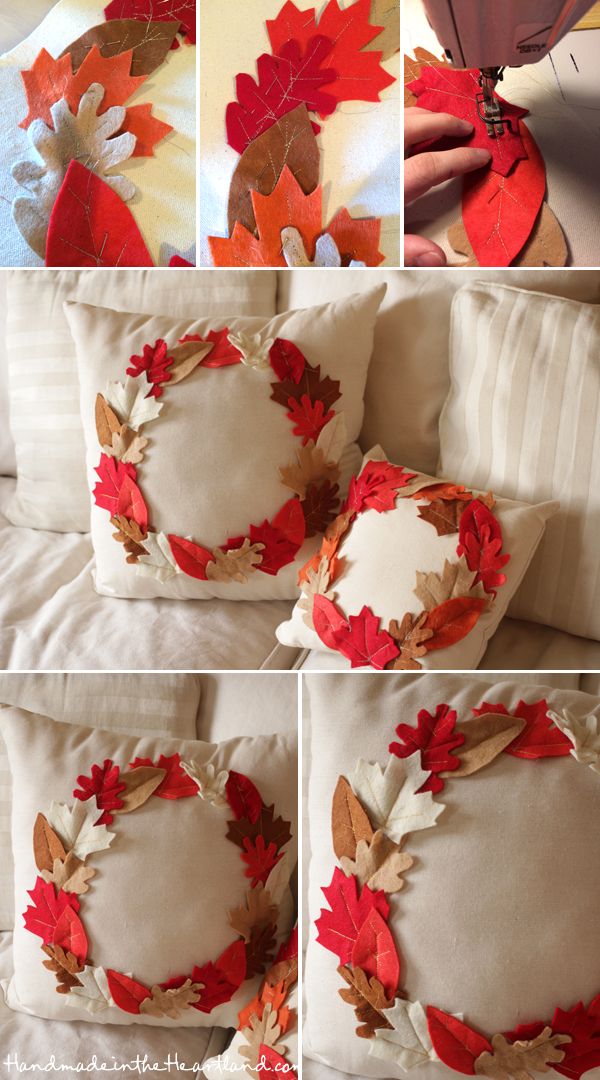 Bring the color of autumn into your home with these easy to make Thanksgiving leaf pillows. via handmadeintheheartland
DIY White Washed Pumpkins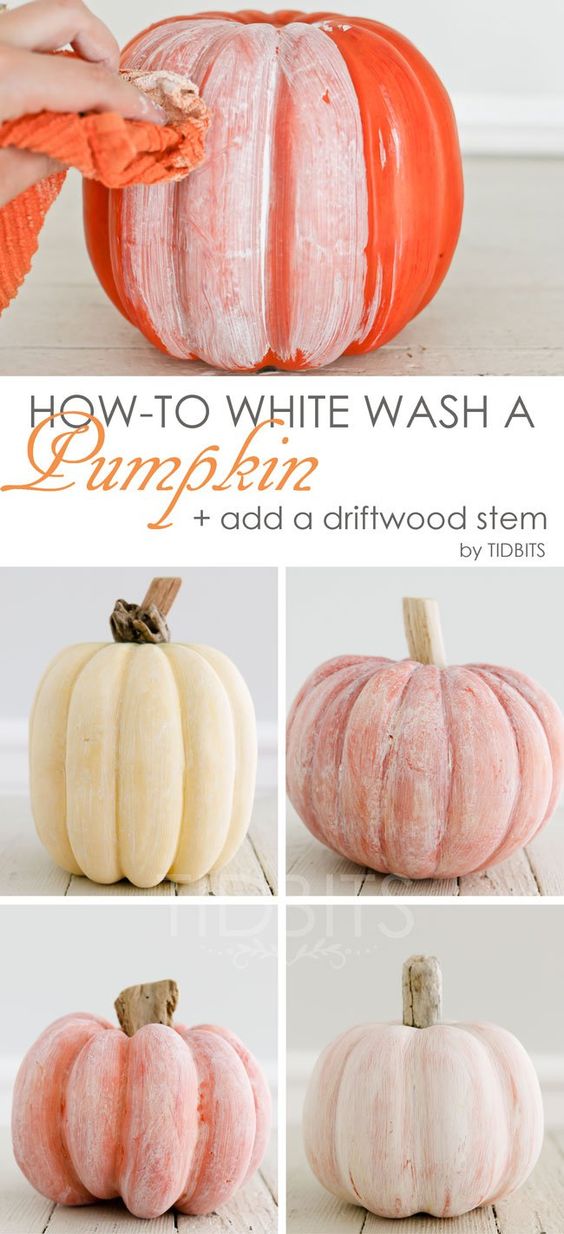 You can't really embrace fall this year without including the color orange in at least one segment of your home decor. And if this color makes you anxious, you can always use it in a subdued shade, like this white-washed pumpkin here. Applying white paint on a pumpkin is a novel way to create a creative table decor. via tidbits-cami
Fall Log Candle Holder Centerpiece

This log-turned candle holder is a unique way to jazz up a dull dining table. The birch log drilled with holes for tealights serves as a quaint backdrop for an array of seasonal fall embellishments. via jennaburger
Crocheted Turkey for Thanksgiving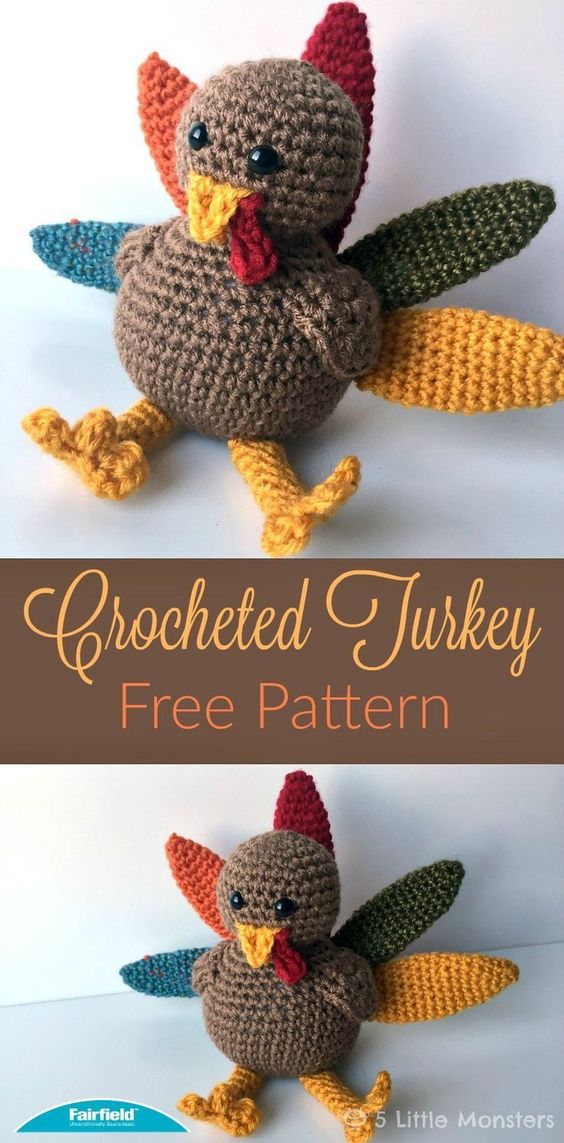 Turkey is one the most common Thanksgiving symbols, and so a crocheted one will make a perfect decoration for the season. This project will require some basic crocheting skills and you have to crochet several pieces and sew them together to form a turkey. via 5littlemonsters
DIY Thanksgiving Wreath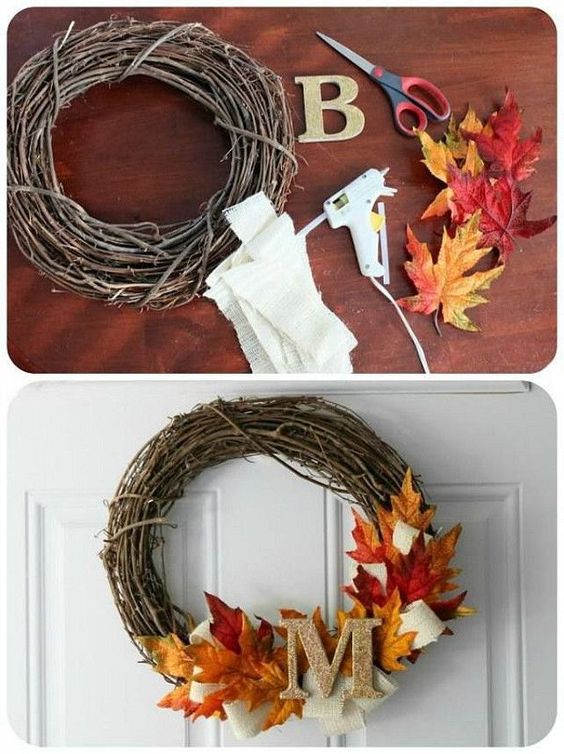 A wreath on the door or mantel always makes an interesting decor piece, and it is also very straightforward to create. The best thing about it is that you can use the one that you already have and just change the embellishments to go with the season. For this one, some faux fall leaves and a large letter are enough to make the wreath suitable for Thanksgiving.
$6 Popcorn-filled Vases for Fall or Thanksgiving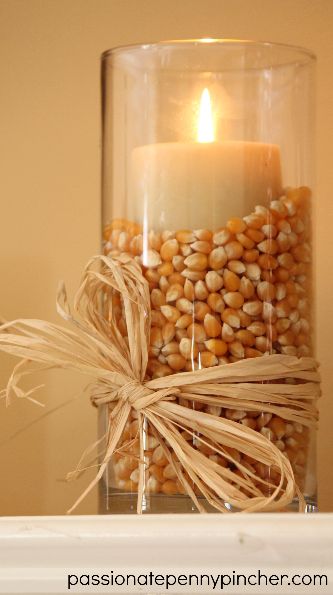 It is amazing what you can achieve with a little inventiveness. This creative decor entails filling a glass candle jar with unpopped popcorn before placing the candle and spicing everything up by tying the jar with raffia. And the best part is that you will spend less than $6 to get everything you need for this project. via passionatepennypincher
Pumpkin Monogram Wreath

Have your initials posted on your front door with this pumpkin monogram wreath. Simply buy the materials at a craft store, and hang on your door. When you have friends over for Thanksgiving or for a Halloween dinner party, this craft will make your room more eye-catching so don't hesitate to try that out. via craftcuts
Rustic Fall Mantel Decorated with DIY Wood Pumpkins and DIY Barn Wood Shutters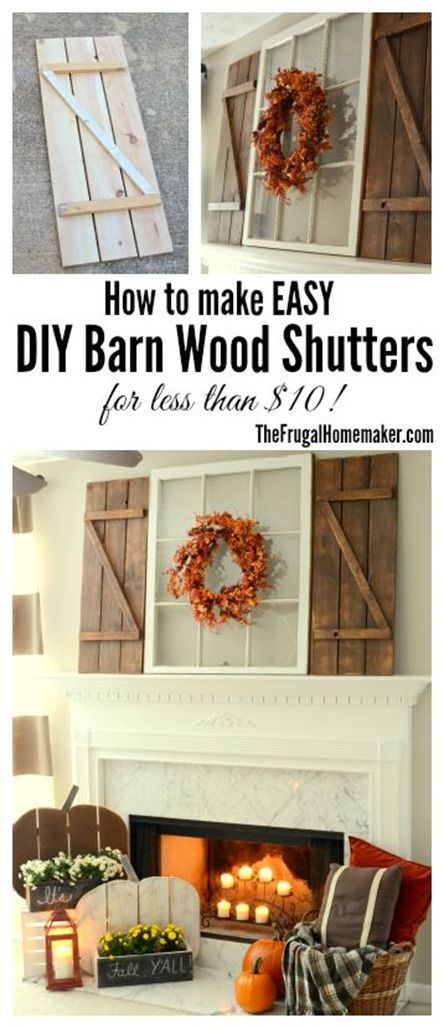 Accentuate the cheer of your fireplace with an arrangement of mums planters and pumpkins – the classic fall combination. Throw in a rustic wooden pumpkin or two as the backdrop. This kind of a coordinate color scheme adds character to the otherwise lonely fireplace. via thefrugalhomemaker
Painted Wood Slice Pumpkins

If you have some pieces of wood lying around, cut some slices and paint them orange. Add a bark to the top of the wood slice, wrap it with ribbon, and place them by your doorway for your all-natural and DIY pumpkin decoration. via anightowlblog
Easy No Sew Pumpkins from Old Sweaters

If you have old sweaters you don't wear anymore, you can use them to make small fluffy pumpkins. Cut out a small circle of your sweater, make a tube, and fill it up with poly-fil. Seal one end of the sweater tube and tie the other end to make your ball. Sew the creases of the pumpkin, then cut out a leaf from felt fabric, and sew it onto the "stem". Make as many as you want and place them everywhere in the house. via pinterest
Easy DIY Wood Slice Owl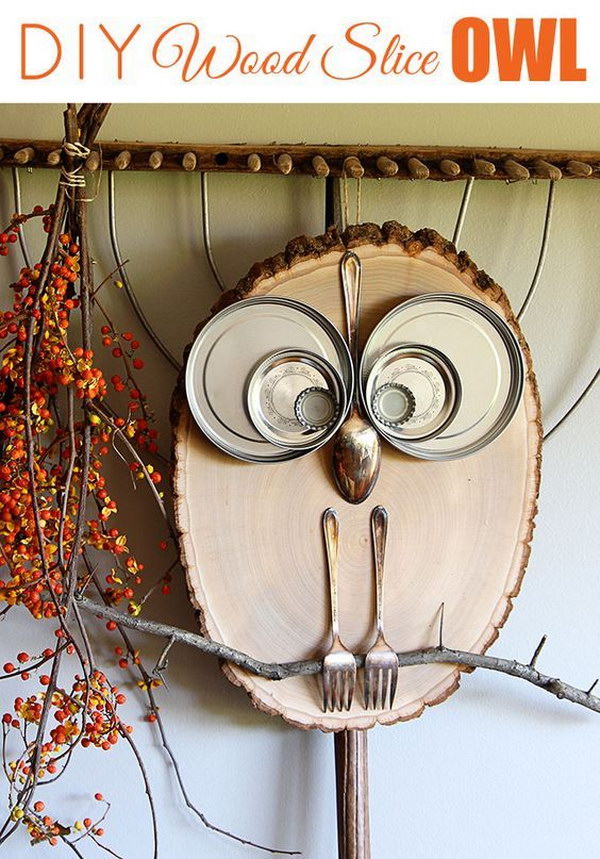 If you've got a big wood slice, why not make one big owl and lean it on your door or bookshelf for a super cute own decor. via houseofhawthornes
Painted Wine Bottles Fall Decoration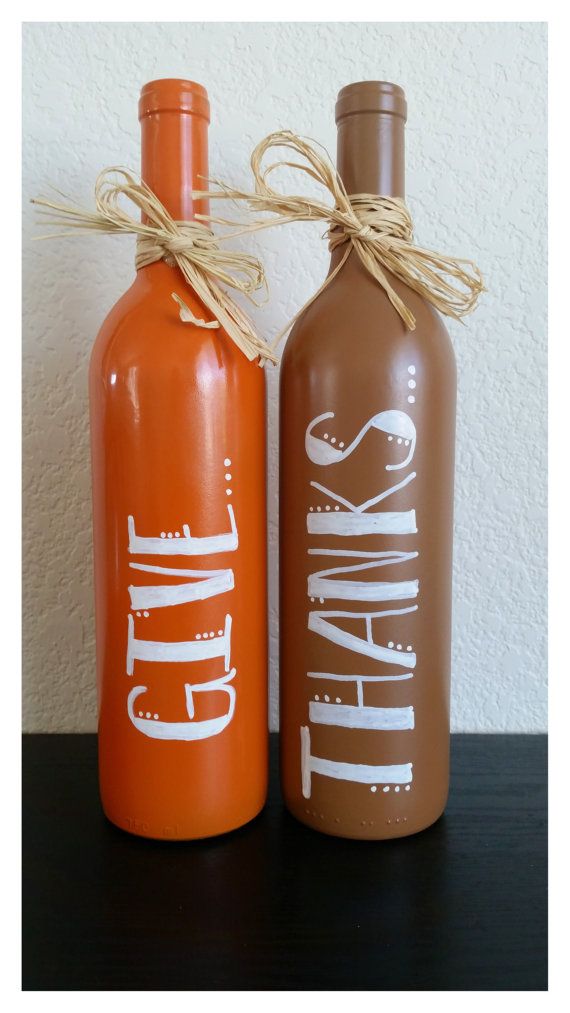 Turn your discarded wine bottles into beautiful vases for fall. Paint them in autumn colors and place them anywhere in and out your home.
DIY Candy Corn Pine Cones

Paint some pine cones in uniform colors, place in a basket, add a tiny scarecrow, and you've got an autumn centerpiece perfect for your coffee table or bookshelf. via whoneedsacape
Crochet Turkey Coasters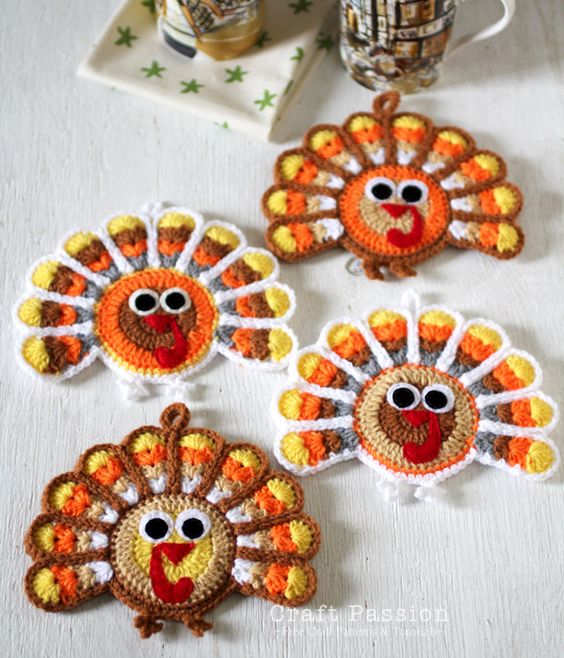 If you know how to and are in the mood to do some crocheting, this will be a good DIY project for you. It is about crocheting some colorful turkey pattern coasters with different color yarns. The turkeys should have a tail that makes it possible to hang them if you do not want to use them as coasters. via craftpassion
Flower Pots Recycled From Pumpkin Candy Holder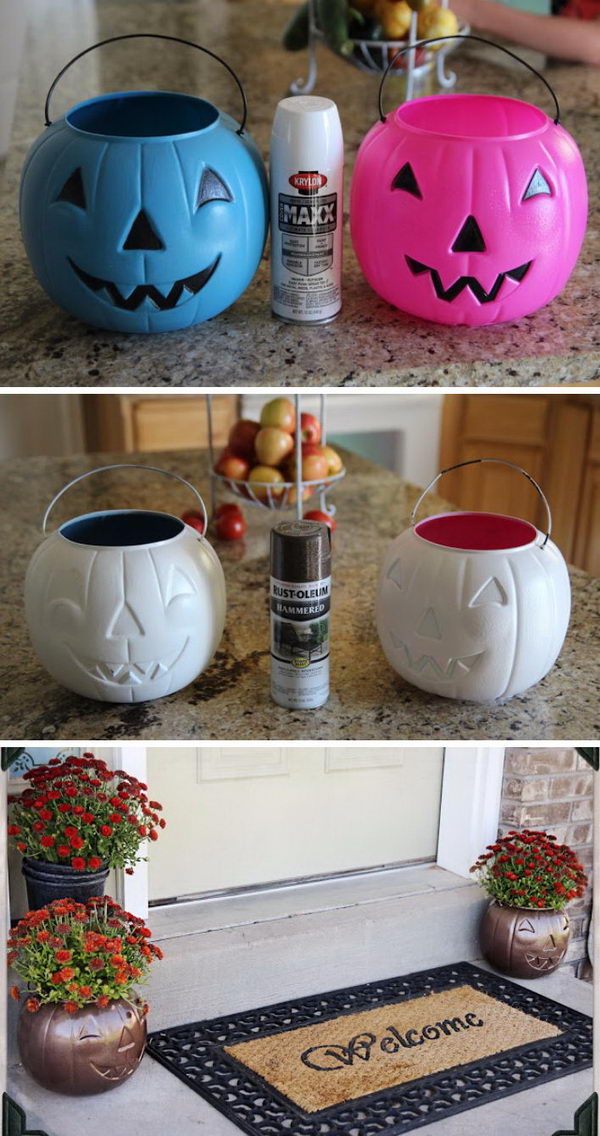 Pumpkin candy holders will cost less than a dollar in most stores, but you can transform them into some beautiful flower pots. A simple coat of your favorite spray paint and drilling some holes at the bottom before planting some flowers is all you need for this project. via gorgfabgoodies
Pumpkins Repurposed from Scrubbing Pads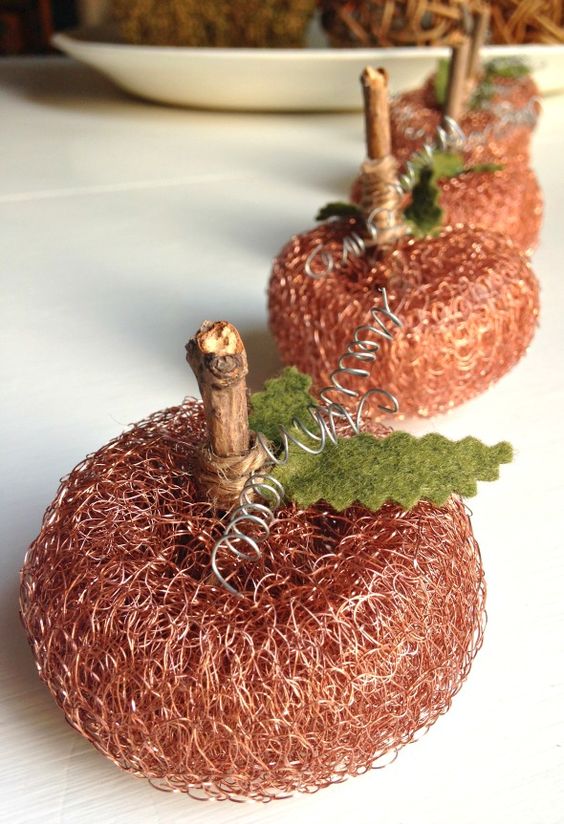 This fall repurposing project is about converting regular copper scrubbing pads into some vintage looking pumpkins for your fall decor. Apart from the pads, you will also need some glue, wire, twine, thin sticks and some scraps of felt. via mysoulfulhome
DIY Thanksgiving Turkey Decor Made Out Of Reclaimed Wood Pallets

The chances are that you already have some wood pallets lying somewhere in your garage. If this is true, you should try this beautiful Thanksgiving decoration. It entails taking the pallets apart and using a little creativity and imagination to shape the wood pieces into a turkey that you can place on your porch or backyard. You should also remember to stain or paint the turkey to create a more realistic look.
Easy DIY Pumpkin Lantern

Drill a pumpkin as any shape as you like. These would also make a great holiday centerpiece. via craftynest