Crochet & Knitted Dishcloth Patterns
Crochet and knitting is a timeless activity and hobby that are one of the best ways to spend time. With so many different crochet or knitted dishcloth patterns to choose from, the possibilities of what you can create are literally endless.
Dish scrubbies in particular are easy and fun to make, and last quite a long time. They are a perfect use of any scrap yarn that you may have laying around the house from prior creations, and will look great once you're done. Check out the following great and easy dishcloth patterns for your inspiration. Most of these examples can be done within hours.
Crocheted Hemp Scrubbies

These crocheted scrubbies are crafted using regular and hemp yarn, and look pretty and elegant when finished. Using a color that compliments the brown hemp yarn creates a simple scrubbie with a dash of color. Once the circle is made using the hemp yarn, the last step is to add your colored yarn using your needle. Using a light or dark green, or even a hot pink, helps hemp yarn to really stand out, and create a beautiful crocheted hemp scrubbie.source
Crochet Fish Scrubbie Washcloths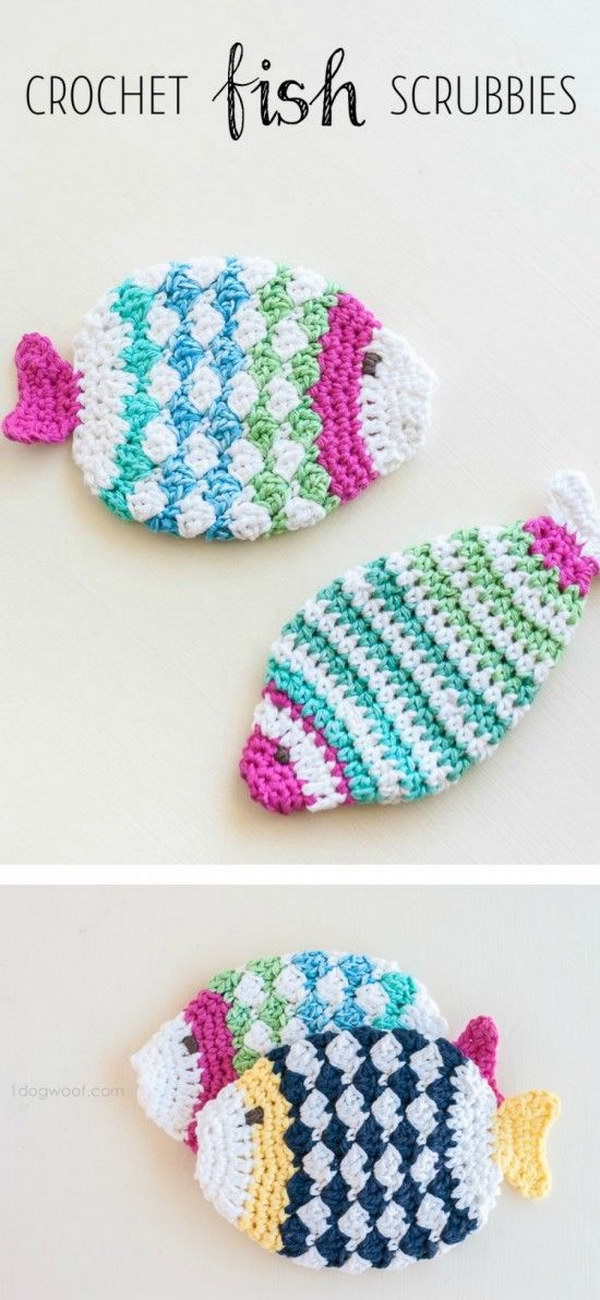 If you're looking for a pattern that will really add a splash of color to your kitchen or your bathroom, then this pattern will do that. If you're not a fan of using bright colors, or the colors pictured for the pattern are not something you'd like, then using darker colors and one or two lighter colors is also an option, as well. source
Nylon Net Scrubbies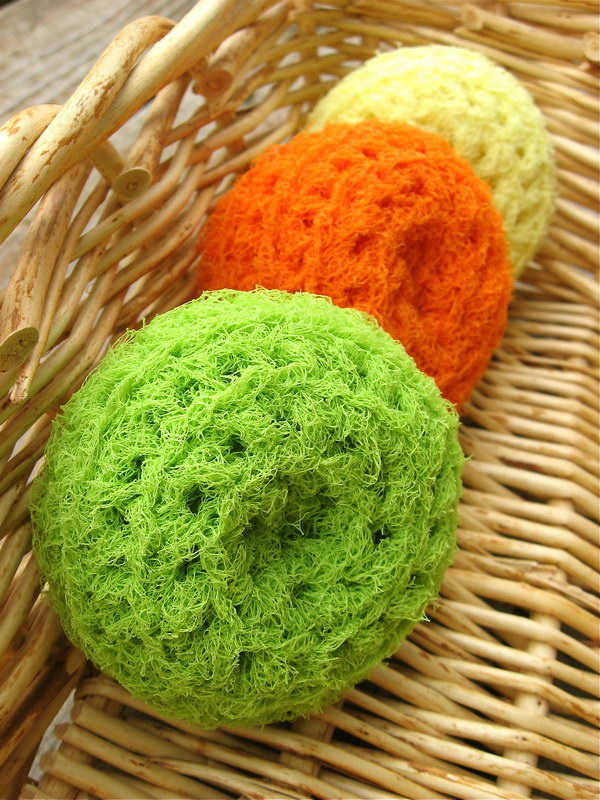 This is a step-by-step tutorial with so many photos. It feels like someone is sitting next to you on the couch teaching you the technique. The finished scrubbies are perfect for cleaning casserole dishes, bathtubs or cars. source
Crocheted Dish Scrubbie Made Out of Net Fabric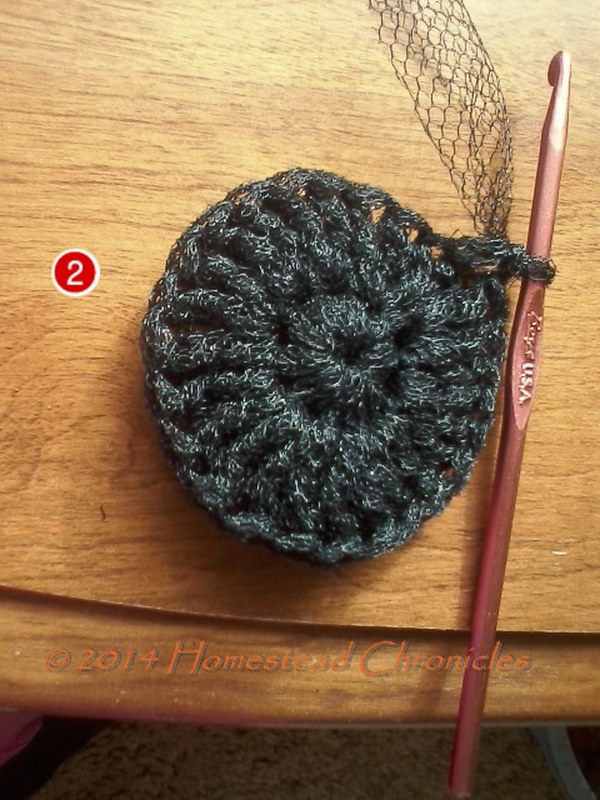 These darling and useful little crocheted dish scrubbies are easy to make, they last a long time, and are much cheaper than the ones bought at the store in the long run. All you need is at least ten yards of netting fabric. source
Thick & Quick Bumpy Scrubby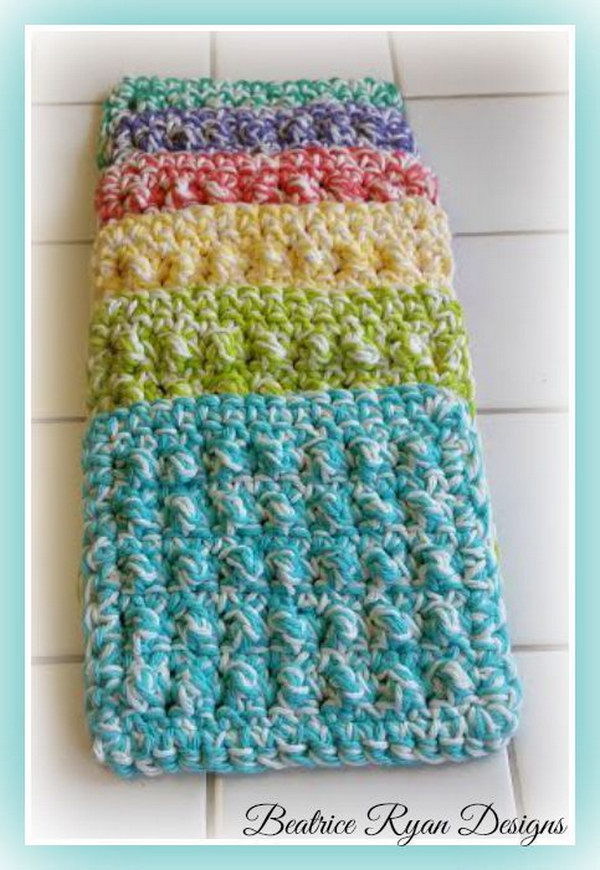 This pattern is incredibly easy to make, and will be ready to use or to give as a gift in the same day that you make it. source
Spiral Crochet Scrubbie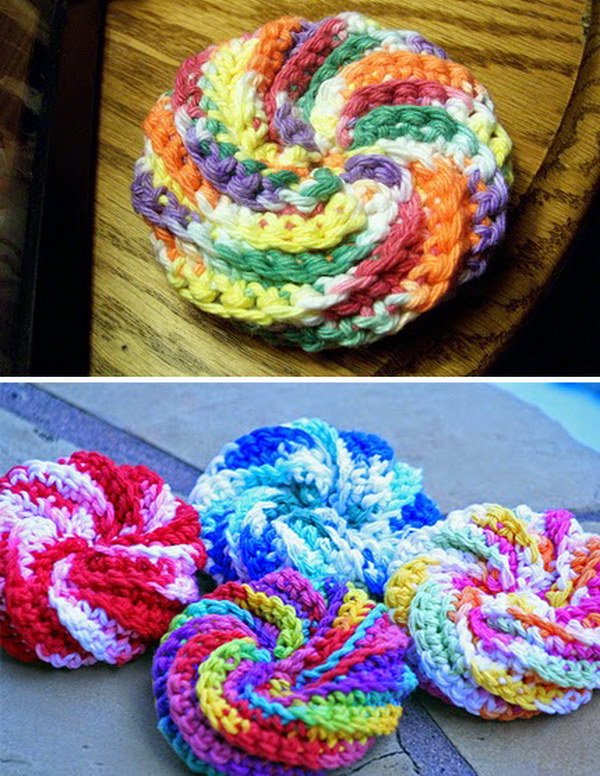 This adorable spiral crochet scrubbie pattern is the perfect way to bring in a pop of color to your kitchen or bathroom. With so many different color combinations, the possibilities with this pattern are endless. source
Citrus Crochet Scrubbie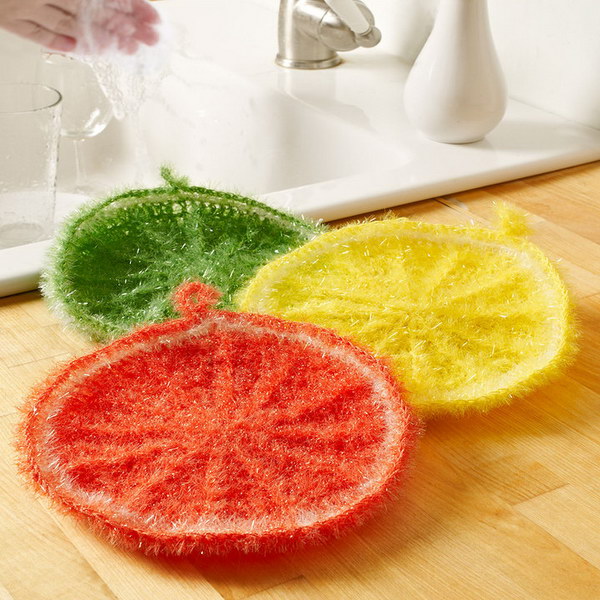 You'll love these citrus scrubbies, as they are perfect for washing the dishes or scrubbing the sink. The textured yarn has a spark effect, is easy to crochet with, and can be thrown in the washing machine to keep them fresh.source
Colorful Solid Granny Square Dishcloth

When another year of school has come to an end, it's important to give thanks to the amazing teachers who shape our child's educational and extracurricular life. This crochet pattern is so fun and incredibly easy to make.source
Crochet Scrubbie That Button Around A Handle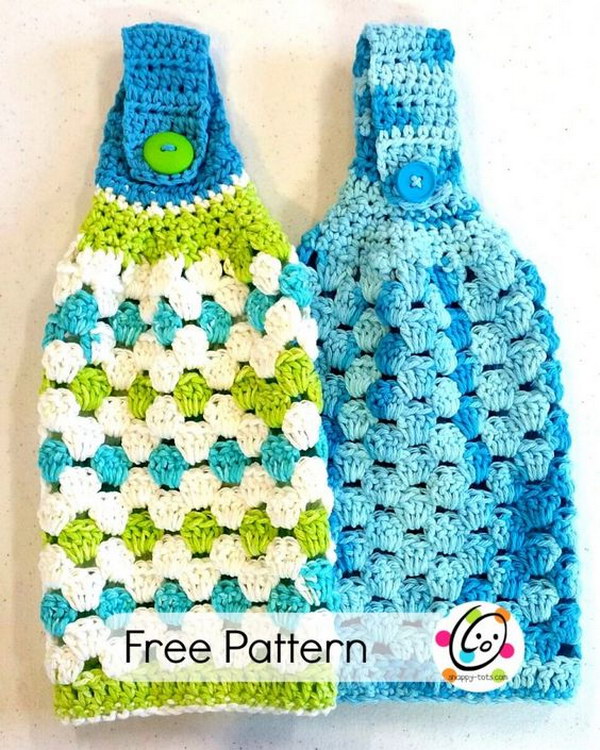 For those interested in crochet or knitted dischloth patterns that can be easily organized, this pattern takes the cake. source
Knitted Dish Scrubbie Made with Worsted Weight Cotton Yarn and Medium Tulle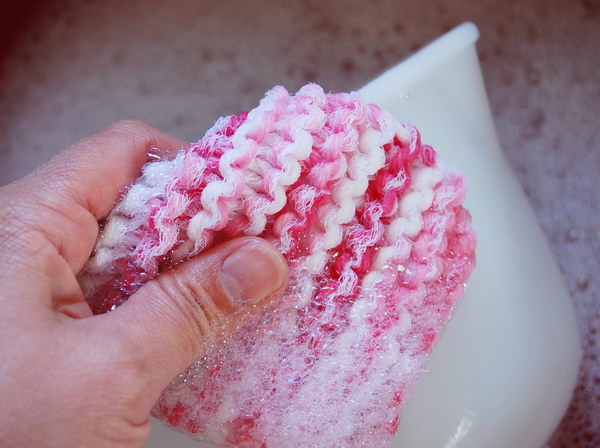 This pattern is perfect to use for crafting knitted dish cloths. source
Textured Dishcloth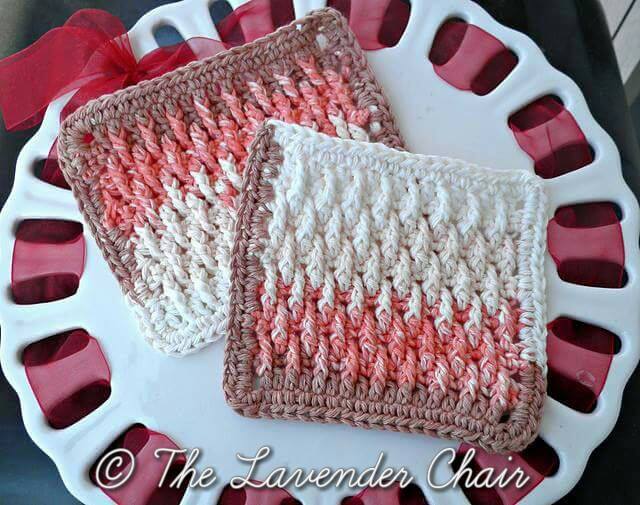 For a heavy duty dishcloth, this pattern is definitely where it's at. source
Rainbow Flower Scrubby Dishcloth

This adorable pattern is both practical and cute.This dishcloth features a scratchy, scrubby, bobbled center for tough messes, paired with soft cotton for more delicate surfaces.source
Crochet Tawashi Dish Scrubber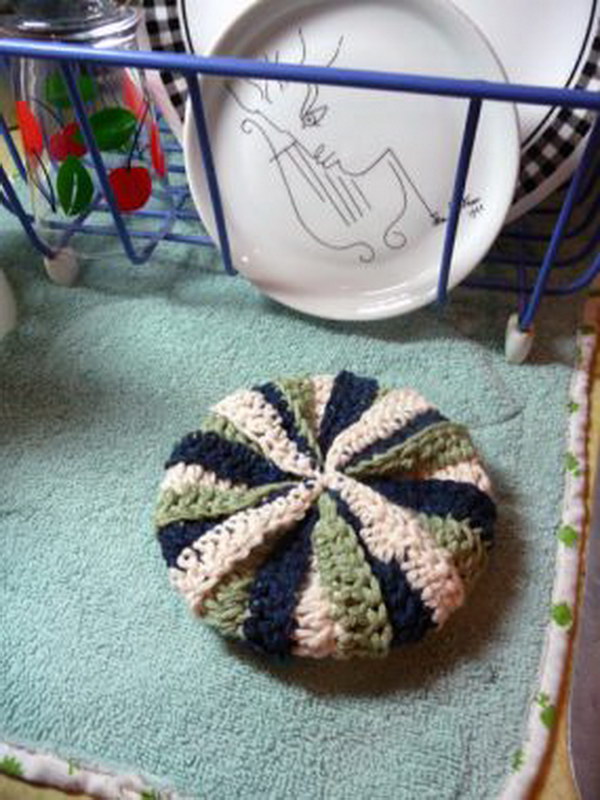 Japanese Tawashi, or "dish scrubbies", have become popular crochet and knit items over the past few years, perhaps because they are small, cute, and useful. This pattern was designed out of Red Heart Eco-Cotton Blend, which is made of recycled T-shirt remnants. You can also make them out of acrylic for extra scrubbing power. source
Vintage Ruffled Crocheted Dishmop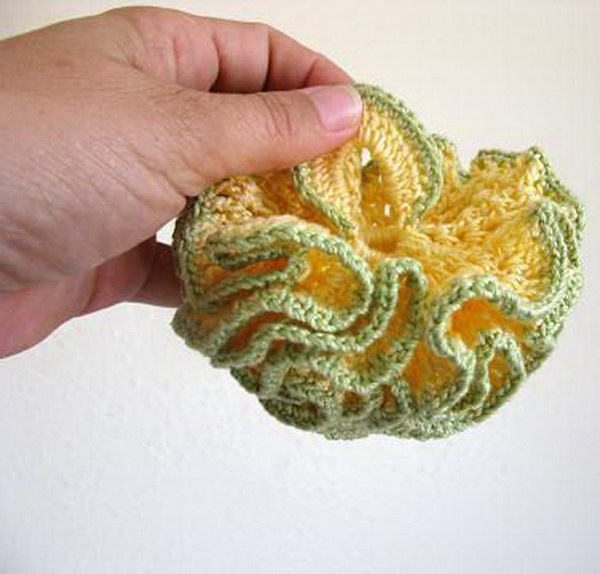 Based on a vintage design, this is made with size 3 crochet cotton. How much more fun it would be to wash the dishes with this charming little scrubbie! I love vintage household items. source
Chevron Scrubby Mitts

These dish scrubbies will fit over your hands and hang by a loop for air drying. source
Dish Scrubbies Made Out Of Plastic Grocery Bags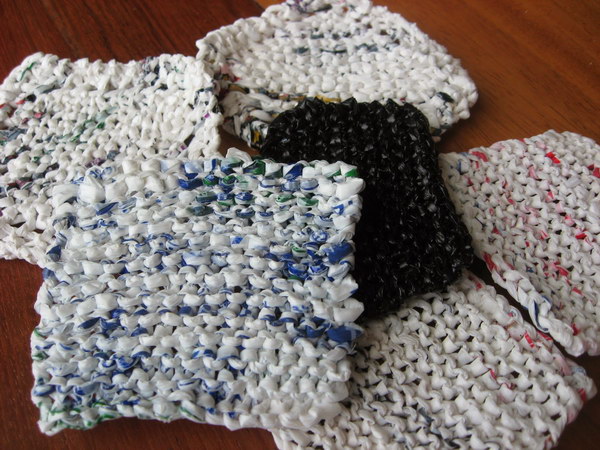 If you haven't heard of plarn, you've been missing out. Plarn is yarn made out of plastic grocery bags! Knit up in garter stitch with two strands, these little plarn dish scrubbies have a rough, ridged surface on both sides, making them perfect for scrubbing tough-to-clean dishes like pots and pans with cooked-on food. source
Pantyhose & Plarn Multi-Purpose Scrubby Crochet Pattern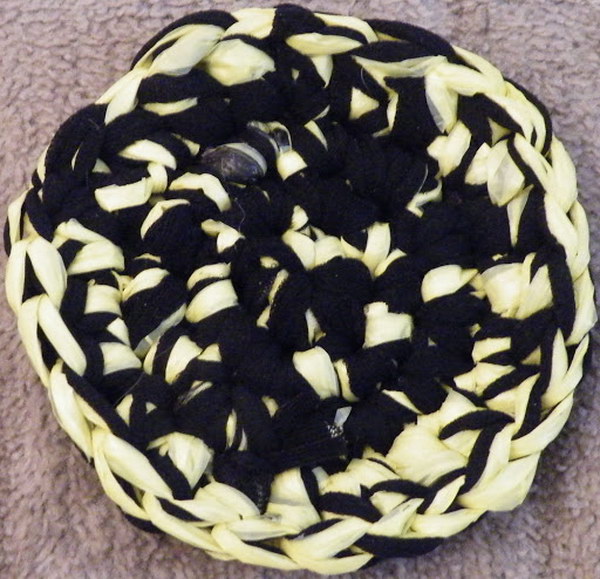 What a wonderful idea to crochet scrubbies with plastic yarn and pantyhose held together! Don't be fooled by the plastic. When you combine both material together, you get one thick and durable scrubby. Don't forget these scrubbies are also machine washable and dishwasher safe. source
Starfish Dishcloths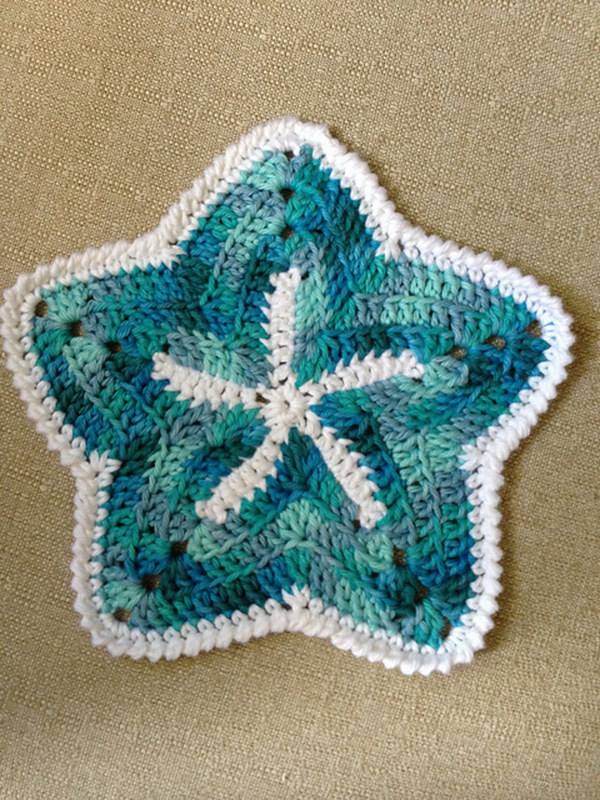 For that "Under the Sea" theme, these starfish come in both crochet or knitted dishcloth patterns, and are too cute. source
Easy Crochet Dish Cloth Pattern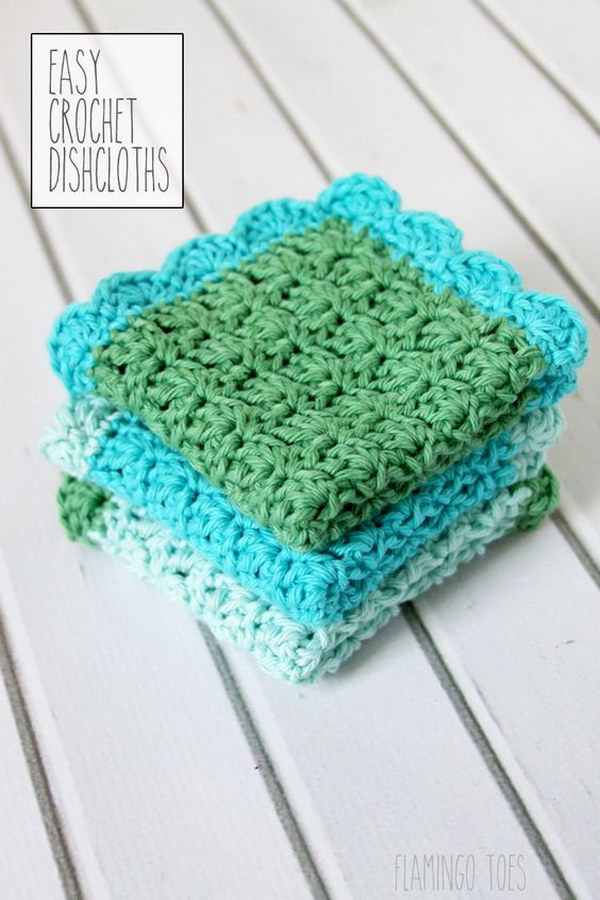 These crochet dishcloths are so easy and quick to make up and they work so well. They make great washcloths too and are perfect for stitching up during a tv show or a car ride. source