20 Awesome DIY Fall Door Decorations
The holiday season is around the season. Say goodbye to the summer and welcome the festive season by decorating your home with fall's essential ornaments. Decorating your home inside out will surely bring you and your family in the mood for the upcoming festivities.
Why not decorate your main door with our DIY Fall Door Decoration ideas to welcome guests and family? While ready made wreaths and door signs can be bought at a craft or department store, making your very own is so much more fulfilling.
If you have the passion for arts and crafts, you're sure to enjoy and love making these awesome DIY fall door decorations for your home:
Indian Corn Wreath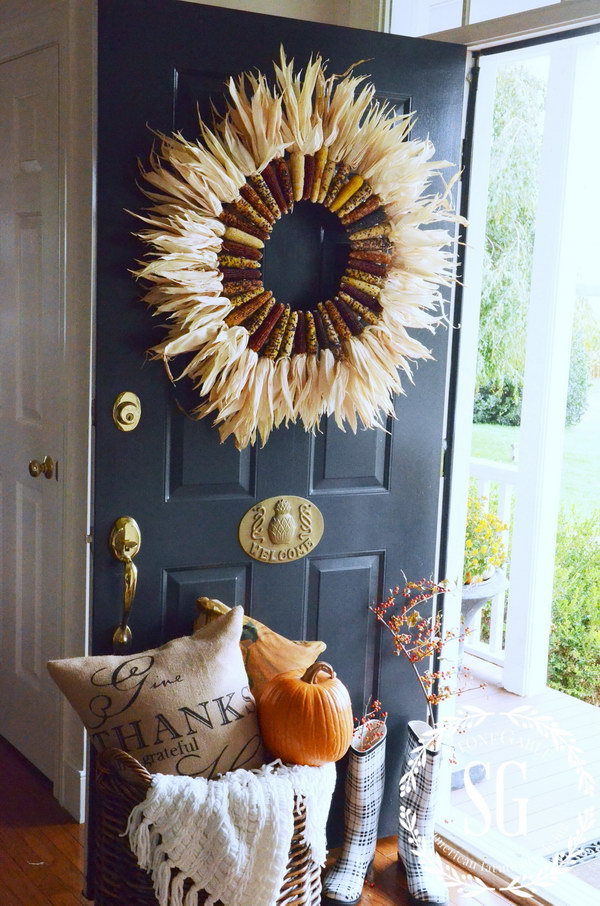 Indian corn is perfect for your rustic theme door decor. Dress up your front door with this beautiful and colorful corn wreath in all of autumn's colors. Its absolute harvest feel is simply perfect for Thanksgiving and the entire autumn season – giving your front door its much needed holiday cheer. source
Fall Wheat Wreath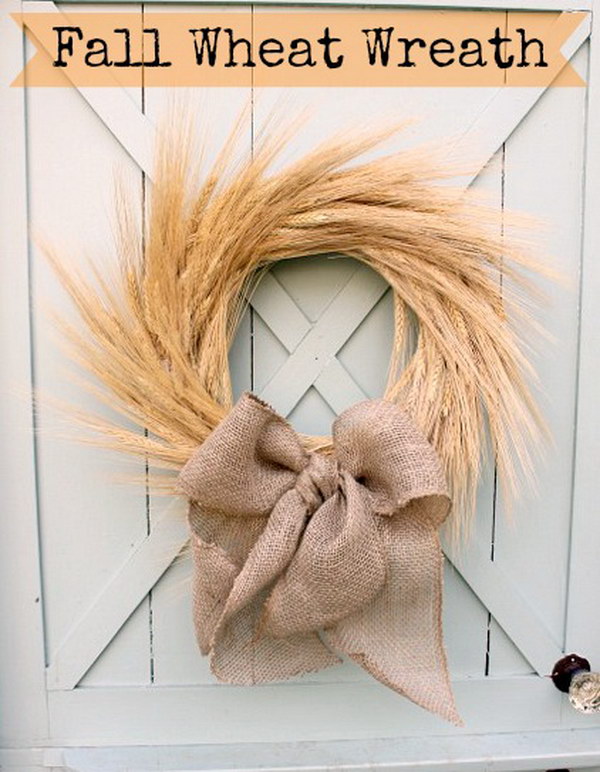 If you want a simple and elegant front door decor, then this wheat wreath is perfect for you. Made simply of dried wheat and burlap, it truly epitomizes the harvest and fall season without trying too hard. source
Circle Pumpkin Wreath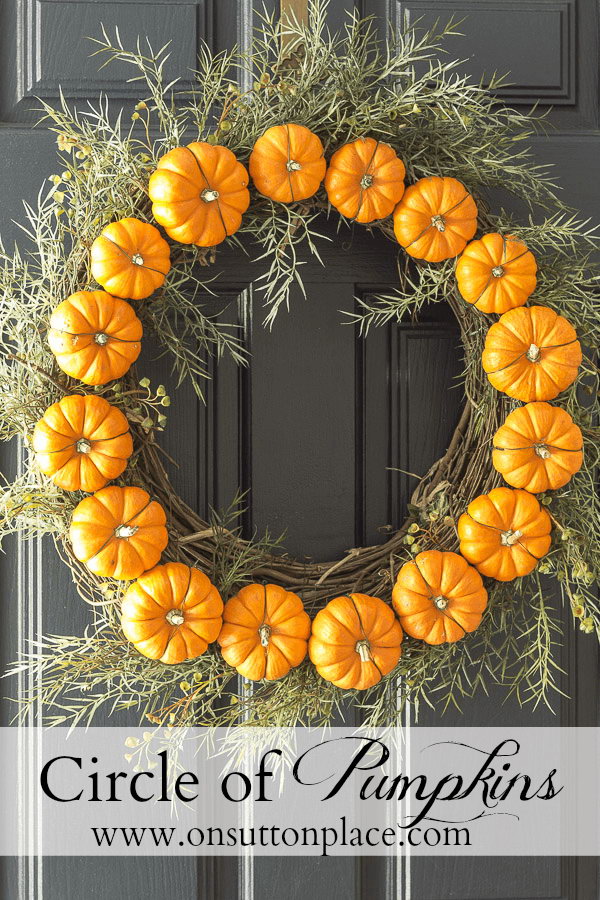 Gather up some twigs with dried leaves, form into a wreath, and using a glue gun, form a circle with tiny pumpkins. A wreath that transcends holidays, it can stay up for Halloween and Thanksgiving celebrations. source
Easy Fall Burlap Bubble Wreath for Door Decoration

This wreath may look utterly complicated but it's actually super easy to make. Get some burlap and some fabric autumn leaves and wrap around a wire wreath for a rustic feel to your front door. source
Easy Fall Hydrangea Wreath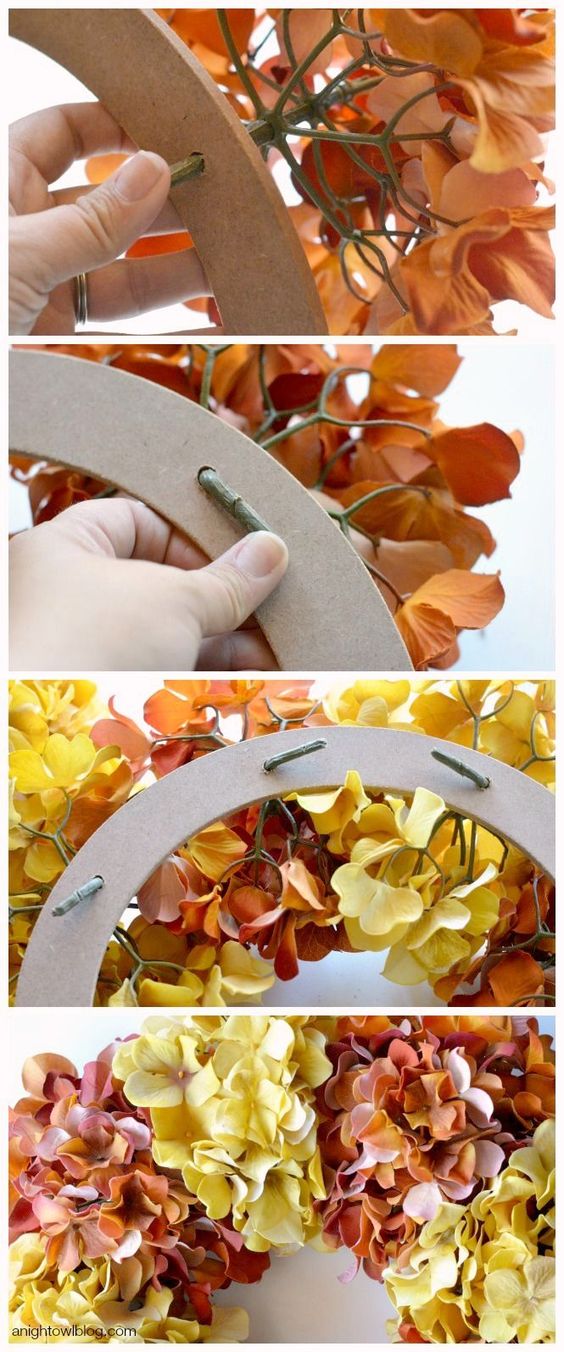 Hydrangeas are one of fall's essentials when it comes to decorating your home. Why not make a wreath completely made of these dried flowers to bring in the season? source
DIY Witch'S Hat Door Hanging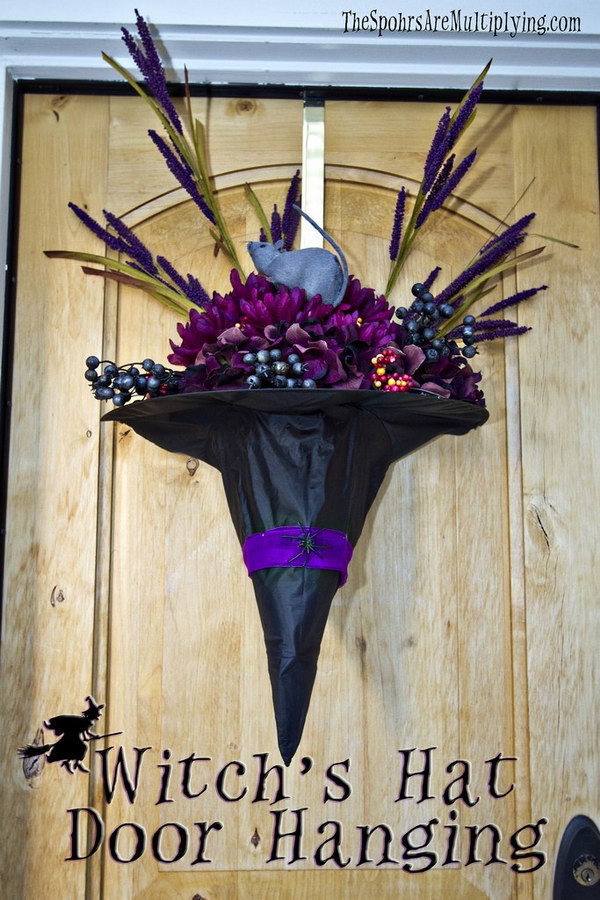 Use a basic black witch's hat and fill it up with leaves, flowers, and fruits in fall's darkest colors. Hang it up on your front door for the perfect blend of Halloween and fall all in one unique and creepy decor. Oh, and don't forget to decorate it a witch's best friend – a nasty and scary fat rat. source
Rustic Burlap & Yarn Fall Wreath

You can never go wrong with burlap and dried flowers when it comes to fall decorations. Use these materials to create a lovely wreath perfect for fall and the harvest season. source
DIY Fall Floral Wreath

If you love the feel of fresh flowers, you can absolutely make your very own fall flower wreath using fall's freshest blooms. Start with a blank wreath, add some autumn leaves and pile on the flowers. source
Fall Wreath Recycled from Old Bundt Cake Pan
Do your part in taking care of the environment by recycling an old bundt cake pan into a rustic and super cool fall wreath. Simply decorate with autumn leaves and a touch of burlap for the finishing touch. And once fall is over, you can easily use it again!
Recycle Paper Bags Into a Pretty Fall Wreath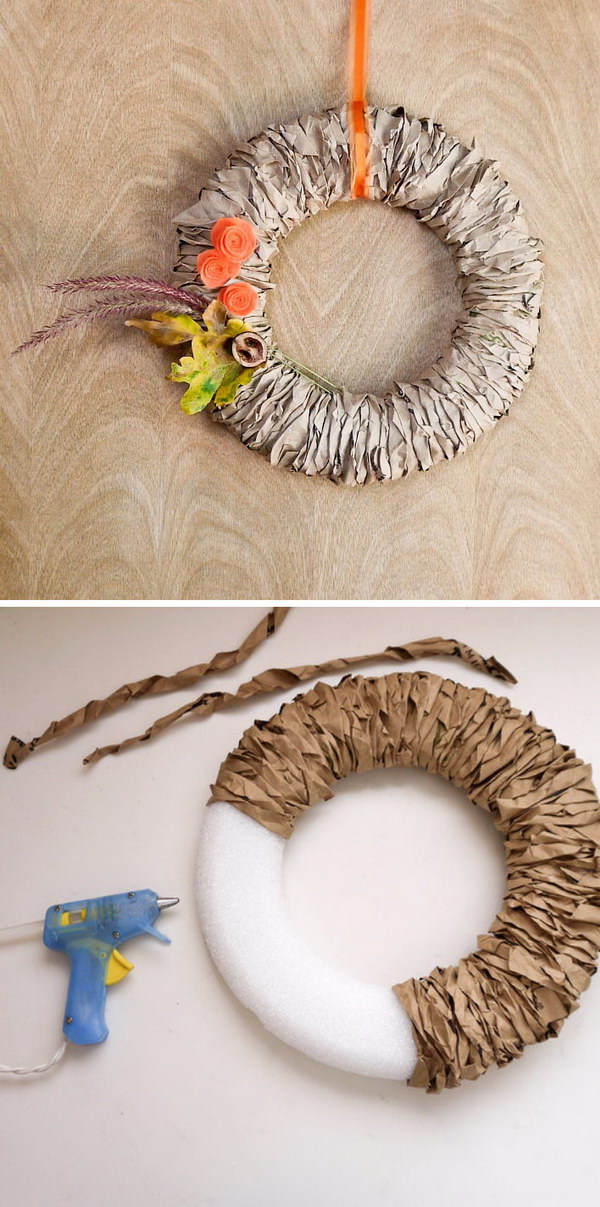 You can pretty much make anything with paper – including a fall door decoration. Wrap a blank wreath with crumpled old paper, add some flowers and leaves, and you've got an upcycled piece of fall decor that's easy on the environment. source
Pumpkin Monogram Wreath

Have your initials posted on your front door with this pumpkin monogram wreath. Simply buy the materials at a craft store, and hang on your door. When you have friends over for Thanksgiving or for a Halloween dinner party, you and your guests won't have to worry about finding where your home is. source
DIY Apple Wreath

You can use actual apples for this project or plastic apples. Either way, you'll get the same awesome fall door decoration. Use a yard of burlap to hang the wreath on your door and you'll have a scrumptious fall door decor that truly symbolizes the harvest season. source
5 Minute Autumn Leaf Wreath

Using a wire wreath and some fabric autumn leaves, get your fall door decoration up and ready in only 5 minutes. source
DIY Faux Copper and Felt Leaves Fall Wreath

Buy felt fabrics in an assortment of colors and cut them into leaves. Add wire as "stems," and carefully wrap them around a wire wreath for a fun, colorful, and happy fall decoration that breaks away from fall's traditional warm colors. source
Fall Owl Wreath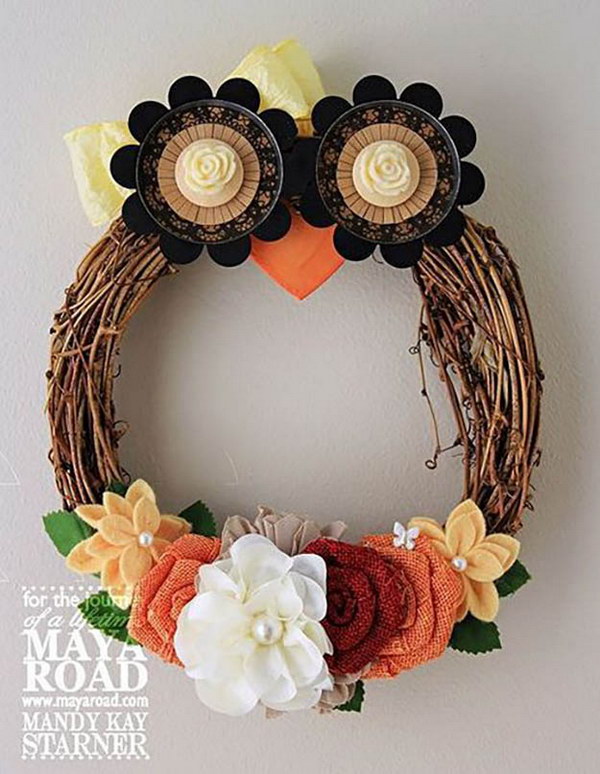 Using buttons, flowers, and ribbon, turn a simple wooden wreath into an owl! Make the eyes huge and don't forget the beak, too, for an undeniable owl wreath. source
DIY Fall Leaf Door Decoration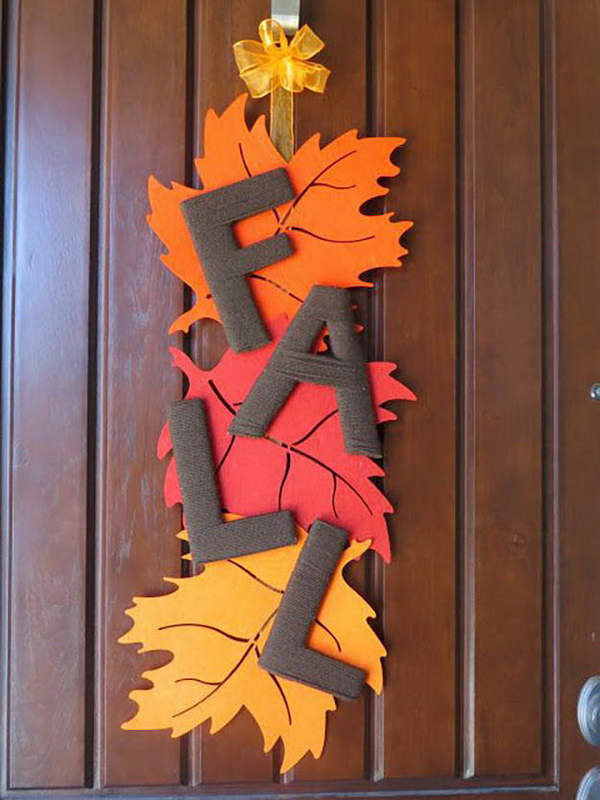 You can buy these letters at a local craft store or you can make them yourself. Cut out a few autumn leaves out of construction paper, spell out the word "Fall," and hang on your front door. You don't always have to use wreaths as welcome decor on your doors – wall hangings such as these are just as beautiful. source
"Falling Fall" Door Decoration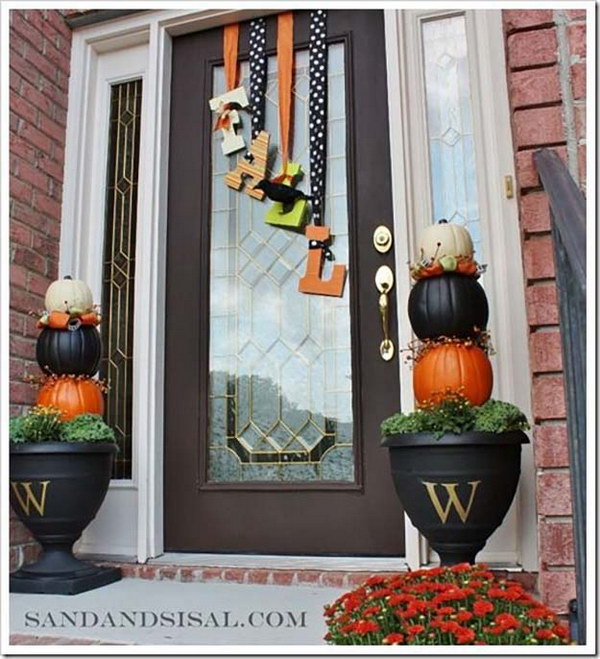 Bring in the pun with this super cute front door decoration idea. Using some colorful and vibrant ribbons and letters, create this awesome project and bring in the laughs from your neighbors and guests. source
Chalkboard Sign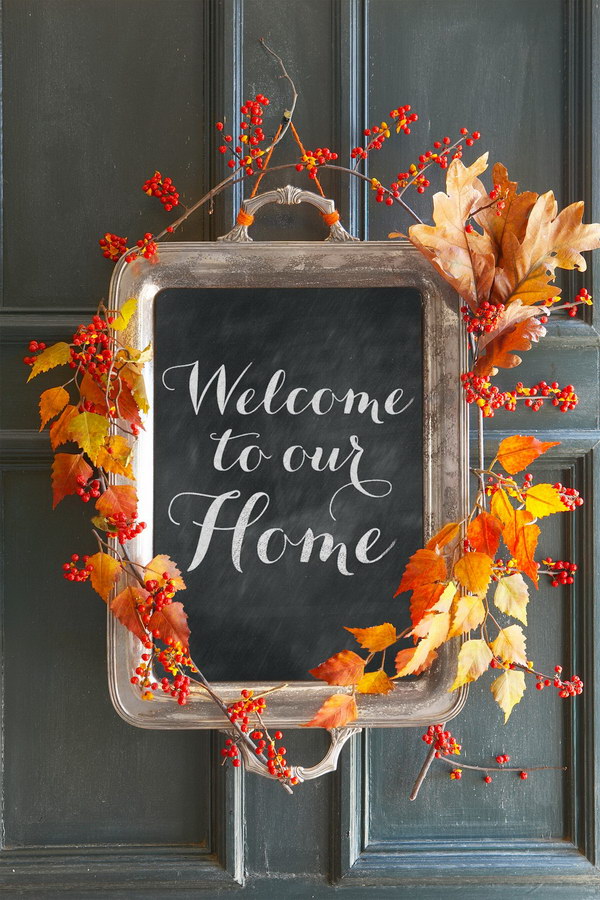 Add the charm by turning an old tray into a vintage chalkboard. Apply a layer of chalkboard on the inside of a tray, add some autumn leaves and vines, and hang on your front door. Write down your welcome greeting, and change it everyday if you wish! source
DIY Rake Fall Wreath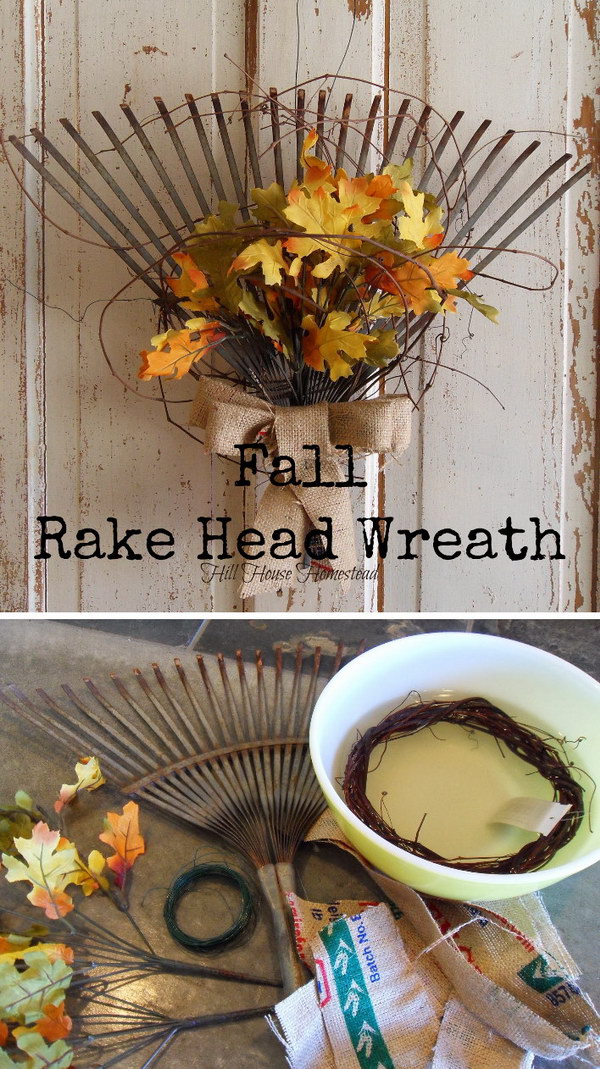 Decorate an old and rusty rake with autumn's leaves, twigs, and burlap. Hang it on your front door and it will sure bring in some interesting conversations from family and friends. source
DIY Birch Slice Holiday Wreath

Add a wooden charm to your front door with this birch slice wreath. With the use of a glue gun, pine cones, angel's breath, and some burlap ribbon, you've got a fall-themed wreath that will surely welcome the coming or the season that has come. source