40 Great Water Fountain Designs For Home Landscape
Fountains are always gorgeous pieces to have if you're lucky enough that your house features an outdoor area at the front or back.
Fountains can be functional, as they might be an actual source of water, but they are, in most cases, more decorative than anything else. They are usually made from some kind of stone, in a vintage style, and they are somewhat symbolic of life, as the water jutting out evokes the image of movement.
Some fountains are true centerpieces to a garden or backyard, others are built into walls or fences like they are embedded there. Sometimes, they are even combined with natural looking swimming pools, so that they look like waterfalls.
While it is true that fountains are definitely something meant to be enjoyed in warmer times, they still make sense in the winter, as we are here to show you.
Feel free to browse through our Great Water Fountain Designs For Home Landscape and we're sure you'll be building yours in no time!
Landscaping Stacked Stone Water Fountain

This basin-style fountain has a very unique look to it thanks to its shape and textured surface. It was installed seamlessly on the ground among the gravel so that the water appears to jut straight from the earth itself. via angiethefreckledrose
DIY Urn Fountain

This urn fountain is somewhat similar in shape to the basin, yet very different with its smooth yet lightly distressed surface. It was installed on a pebble-filled tray among the garden plants, so they may also benefit from this decorative element. via bhg
DIY Stacked Rocks Water Feature

This water feature definitely looks truly unique, as it is made up of a couple of stacked rock columns built among some garden pebbles. To make this happen, you have to plan both your plumbing and support system just right, because these columns don't just stand there unmoving by themselves. via Yahoo
Concrete Leaf Water Fountain

Here is yet another gorgeous decorative fountain which you can replicate quite easily. You need a large real or fake leaf to serve as you template or cast and some cement, which you will pour and mold over it so your final product looks realistic. After it dries, all you need to do it fix it upright on the floor and let the water flow. via gardenstew
DIY Two-Tier Water Fountain

Here's something that looks much like a traditional fountain. The two layers are made from stacked ceramic planters filled with pebbles and connected by the plumbing system. The water looks just gorgeous coming out of the top one. via lowes
Tea Pot and Wooden Barrel Water Fountain

This is one of those classic, shower-like fountain projects, where a tea pot or watering can is suspended, letting the water rain down. In this case, there is a barrel on the other hand of the plumbing and support system with a bowl catching the water on top, so you can probably reuse the water in the surrounding garden. via hometalk
DIY Water Fountains With Small Pond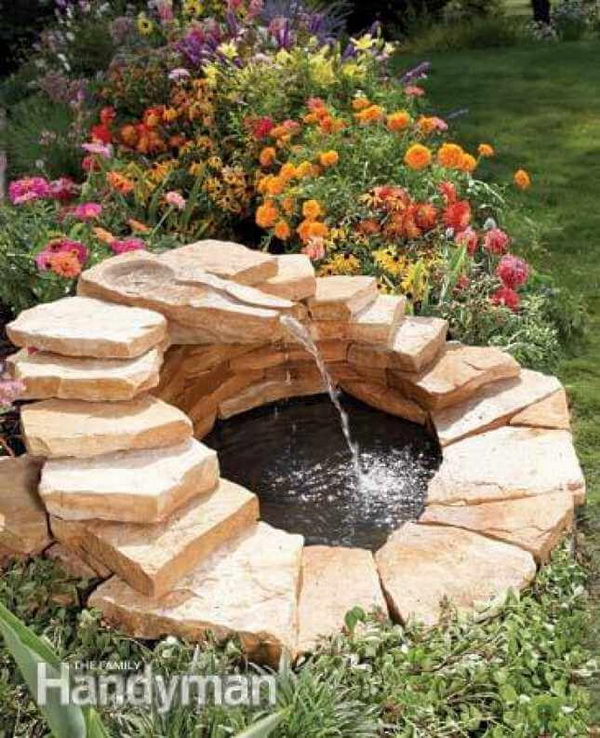 This is great landscaping work, as a pond was built in the garden then surrounded by stone to create both a clean edge and a fountain that helps renew the water in this small oasis. via familyhandyman
Recycled Glass Table Water Feature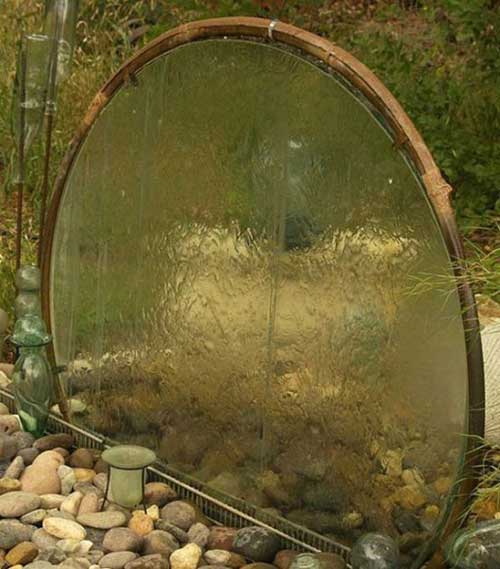 Here's a fountain that blends right into the garden. It was made from a repurposed table that was covered or painted to look like grass and propped upright to serve as the background for this piece. via klru
DIY Overflowing Pot Water Feature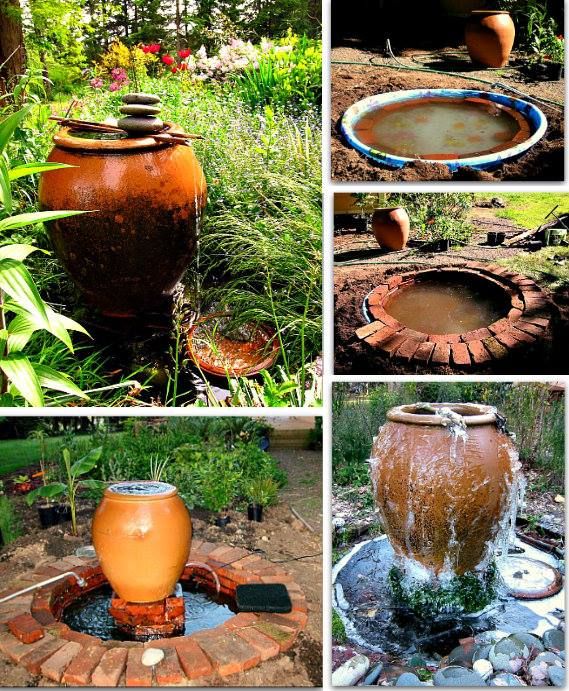 This fountain is really perfect in a simple way. It is a vase or basin placed inside a kind of small pond with greenery at the base, so that water juts out from the top beautifully and cascades down to the pond. via tallcloverfarm
Terra Cotta Urn Fountain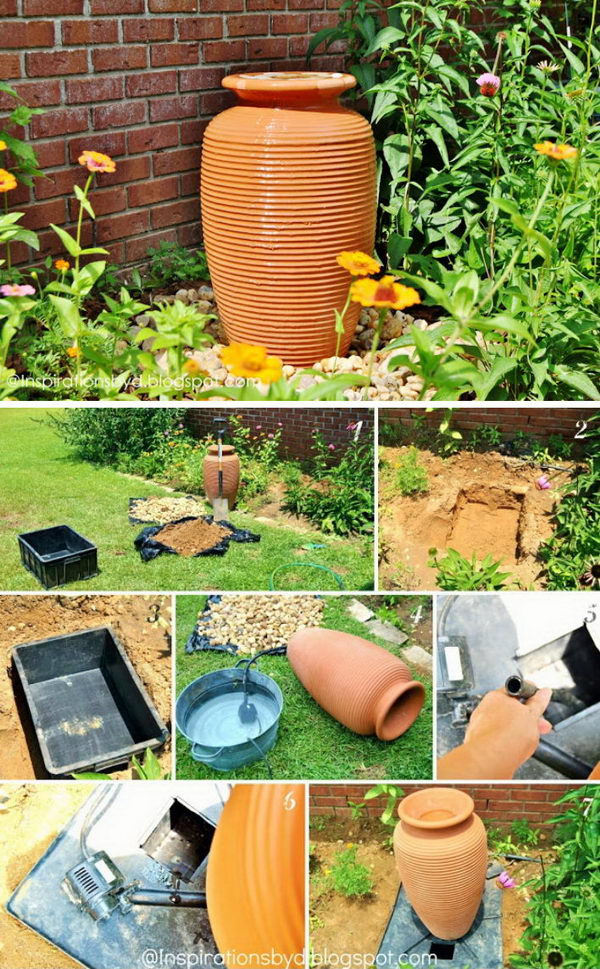 This beautiful ribbed terracotta urn makes for an equally beautiful garden fountain. It looks absolutely fantastic with the water jutting out among the flowers and the brick wall at the background. via inspirationsbyd
DIY Rock Fountain

This dark rock fountain is absolutely gorgeous and unique. It was built up from the ground with natural, uneven rocks, which have been stacked equally unevenly. The single stream of water coming down is also quite original for yard fountains. via instructables
Waterfall Fountain With Pond And Stone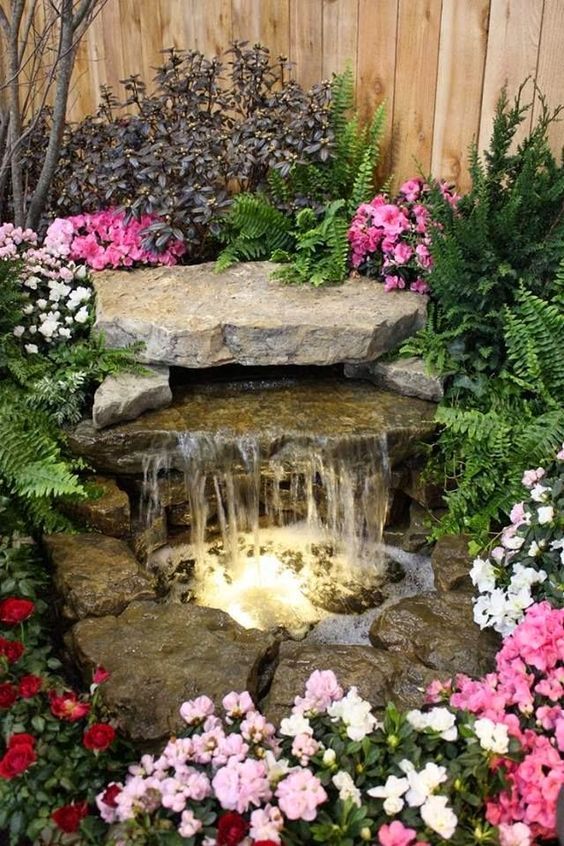 Here's a true oasis in the middle of your house's garden. The large stone structures provide the support for the beautiful waterfalls that rain down into the pond, becoming one there. The surrounding plants and flowers make this truly magic. via topdreamer
DIY Bubble Fountain in a Pot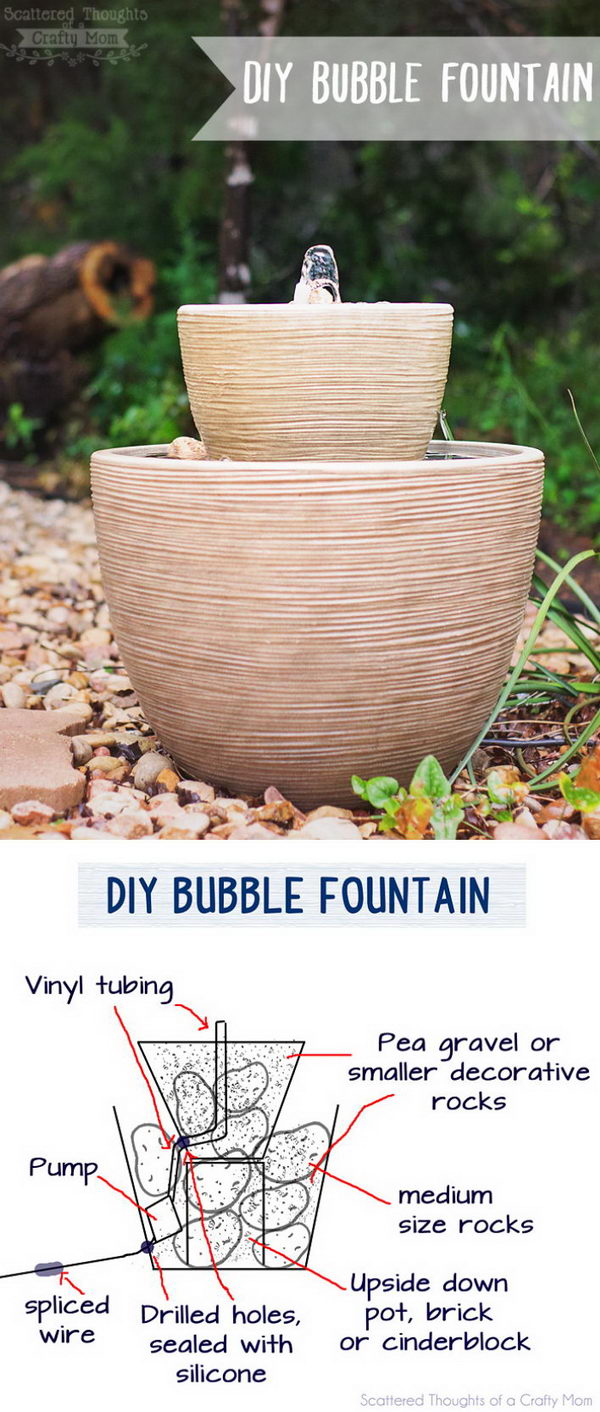 Here's one of those cases where a fountain looks deceivably simple. This bubble piece may look like it's made of only two different sized pots, some kind thin rope and tubing, but there's a complex plumbing and support system inside, so don't be fooled by its elegant looks. via scatteredthoughtsofacraftymom
DIY Wheelbarrow Waterfall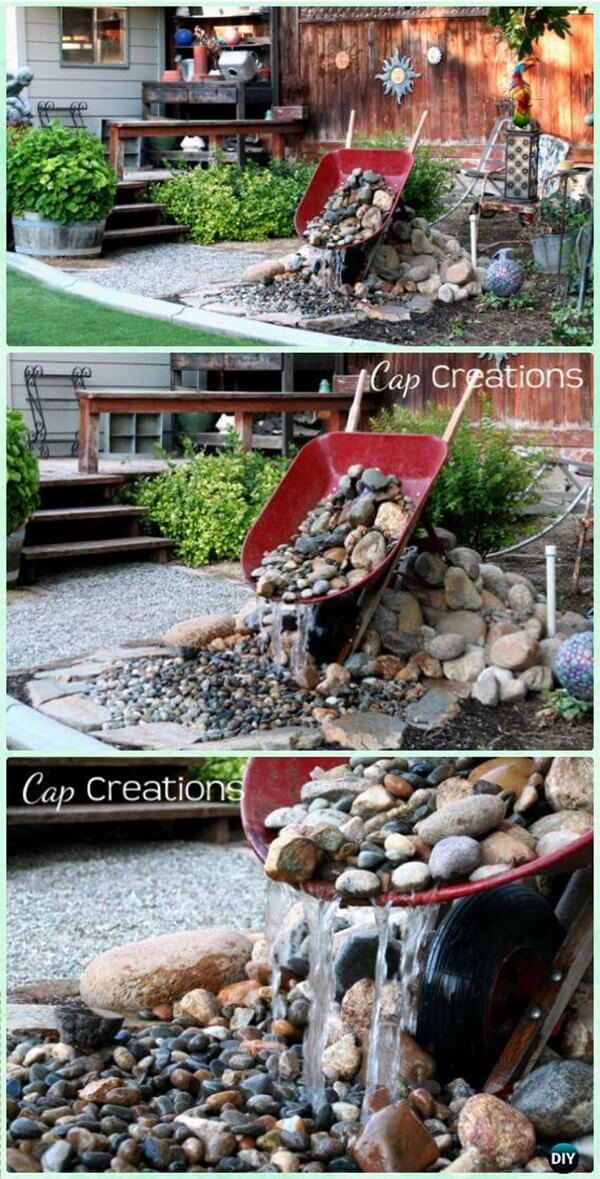 Using a wheelbarrow as a fountain might sound strange, but it is in fact a genius idea, as the water can really flow and fall down. This one was installed among garden rocks, some of which have been placed on the barrow itself, giving the whole piece a seamless look. via capscreations
DIY Outdoor Waterfall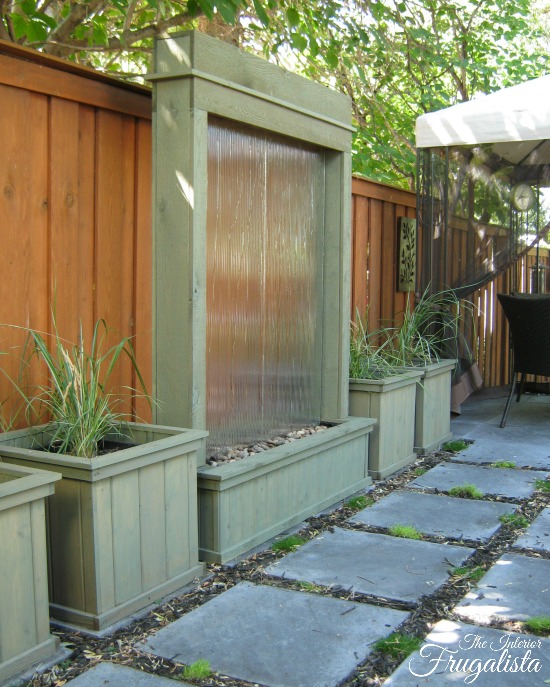 This outdoor display is really gorgeous and different, as it is contained inside a frame propped against the wall and with pebbles at the bottom, much like an aquarium. The water falls from several spots on the underside of the top edge and onto a box of sorts at the bottom, creating that gorgeous effect. via interiorfrugalista
DIY Buried Bubbler Dry Fountain
This fountain was literally buried in the garden and then built layer upon layer until the final product was achieved: a round, pebble-covered space with a small fountain spraying water from the very center. via goodshomedesign
Strawberry Pot Turned Fountain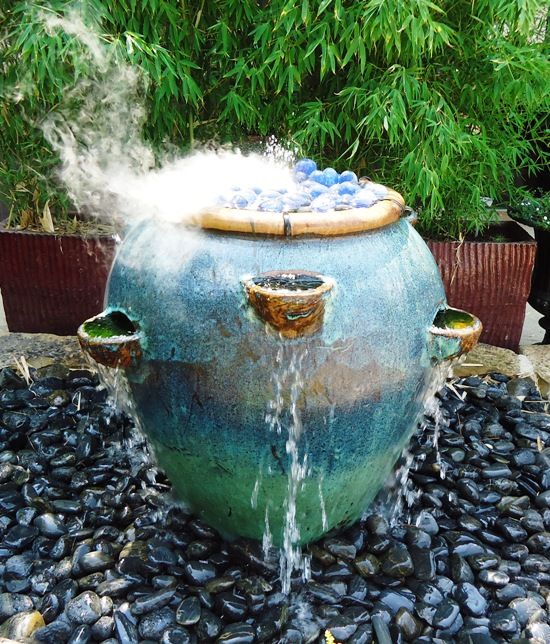 This fountain looks really cool because not only does the pot have a tie-dye color scheme, but also a design that allows this fountain to have different water sprays all around it, instead of just spilling from the top.
Bowling Ball Garden Water Feature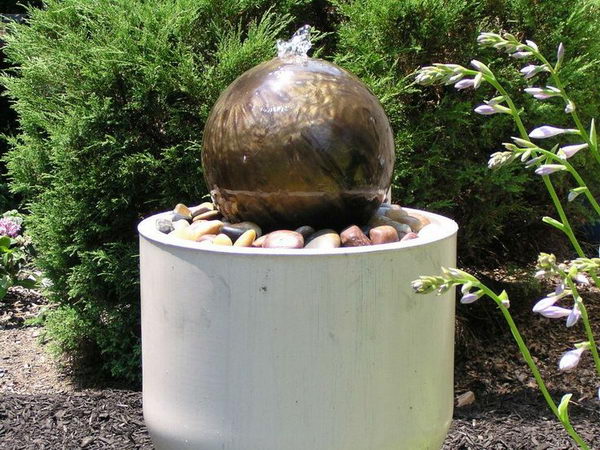 Not many people would have thought water spraying from the top of a bowling ball could make a nice fountain, but here it is. The distressed-looking ball was propped on a white bucket filled with pebbles, which not only gives it some height, but also hides the plumbing necessary to make this fountain work. via instructables
DIY Water Fountain Made From Plant Pots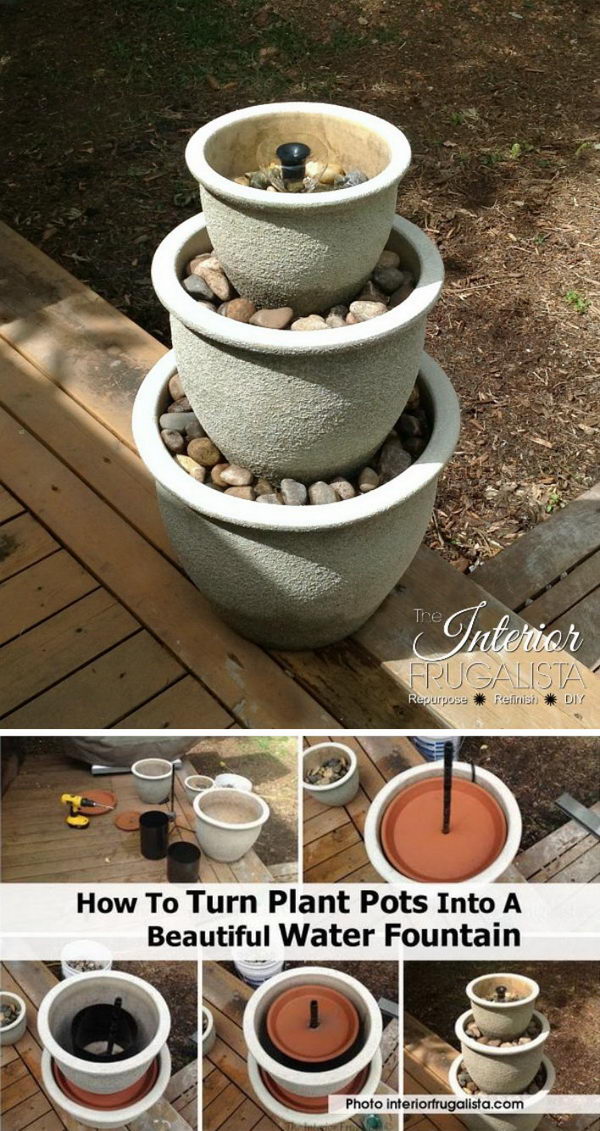 Here's another traditional-looking fountain made in a non-traditional way. The tiered design was achieved using three identical stone plant pots of different sizes, all of which were filled with pebbles then stacked. The water sprays out from the center of the top pot, creating the actual fountain. via interiorfrugalista
Bamboo Fountain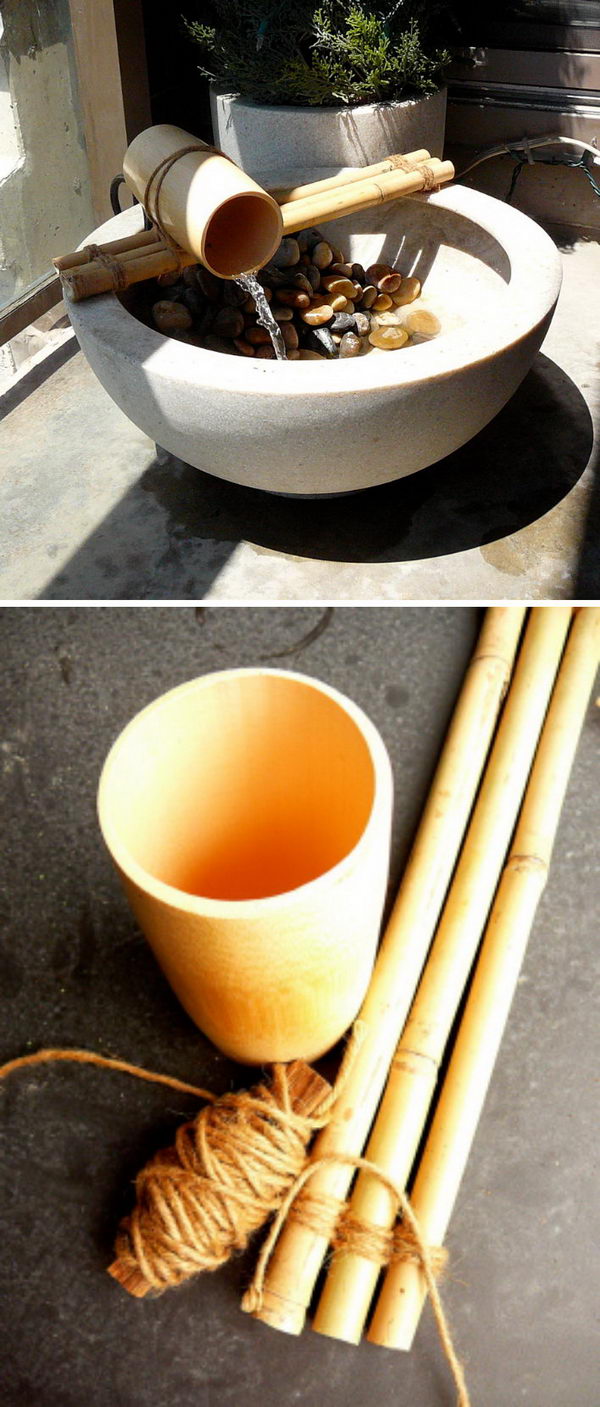 This fountain is quite a bit different, as it was made from a large basin featuring rocks and plants at the bottom, but then a large bamboo pipe of sorts was propped at the edge with the help of long matching sticks, and that's where the water actually comes out. via safaffect
Wine Barrel Water Fountain

This fountain is literally a giant wine barrel, which is meant to work like a faucet or fountain anyway. This one was made into an actual fountain though by using a wine bottle, which was embedded at the top for the water to come out. via aloandbeholdlife
Galvanized Tipsy Pots Water Fountain

This gorgeous water fountain was made using topsy-turvy gray flower pots and has water falling down from the top, which makes it look like the plants are also being watered, even though they are purely decorative. via fleamarketgardening
Old Piano Turned Water Feature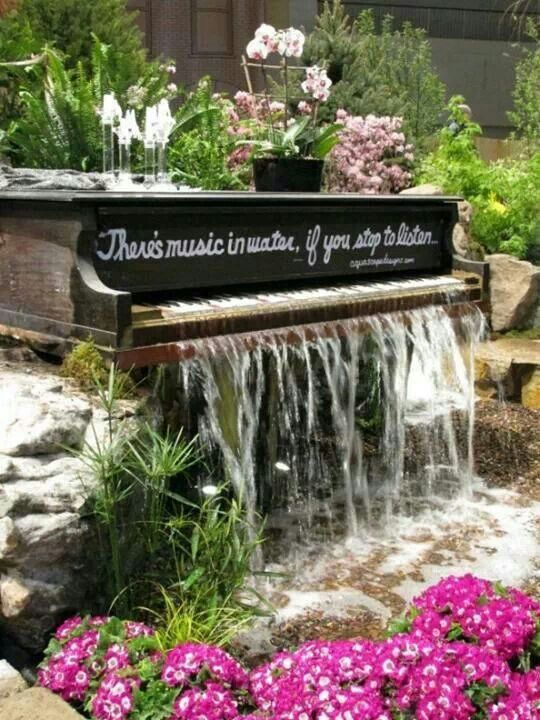 This fountain is cool beyond words, because an old restored piano was moved into the garden and turned into a fountain, with water coming out from the spot where the keys would have been like a waterfall. The quote written on the front enhances the beauty of this unique piece.
DIY Concrete Water Ball Fountain

The water is literally bubbling out of the earth with this large concrete sphere water fountain that was made using a world globe as a cast. The globe is set on a large custom-made base, and the water comes out from a hole at the very top. via atcharlotteshouse
DIY Tiered Blue Planters Fountain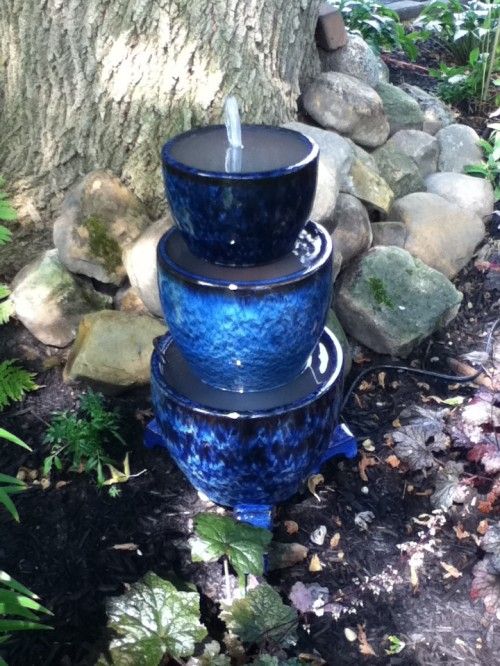 This fountain is perfect for the place where it was built, as the blue really matches the ground around it. It was made using three glass or acrylic planters which were stacked together with lids of sorts in between for support. The water comes out from the top vase in a really nice way. via jparisdesigns
Basalt Gurgler Water Feature

Basalt stones are really gorgeous, and so is this fountain. It was built in two columns right in front of the house, having the water fall down into a matching pebble and stone path. It looks gorgeous in the day, but it also creates a mesmerizing glow in the dark. via suburble
Bamboo Bucket Fountain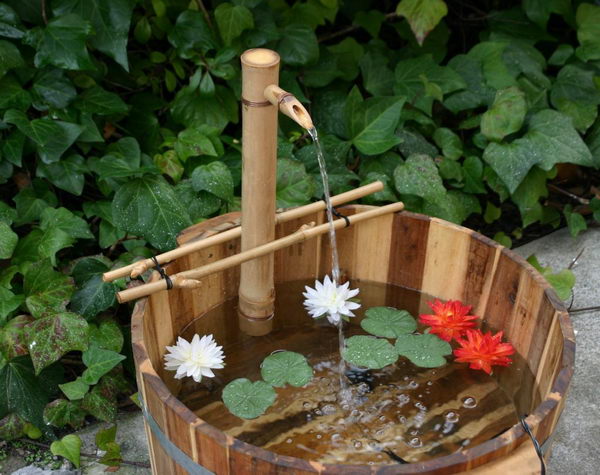 This fountain would be perfect for an oriental garden, as it was installed inside of a wide bamboo bucket that contains the water with some flowers floating inside as well. A column with a kind of faucet makes this a real fountain. via Amazon
Spilling Flower Pot Fountain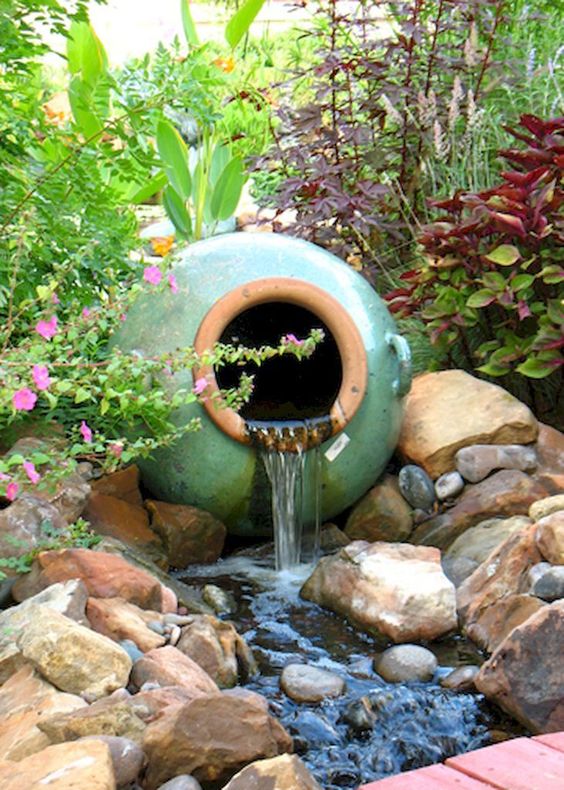 This is literally a large flower pot that was installed on its side in a little stone path inside the garden. Through some clever plumbing, this pot is able to spill water from its round mouth, which would have been the top.
DIY Log Fountain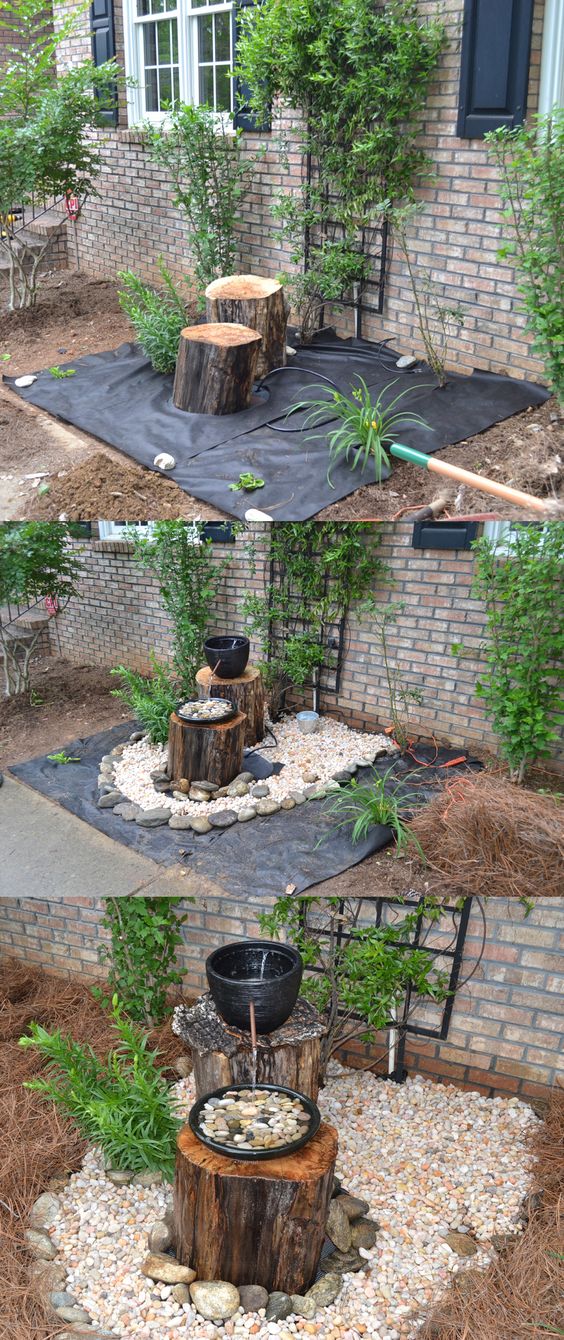 This is another one of those "shower" style fountains. In these case, the water falls onto a log housing a bucket full of pebbles. A second, black bucket serves as the drip, as that's where the water comes through and ultimately falls onto the logs on the ground.
DIY Planting Pots Fountain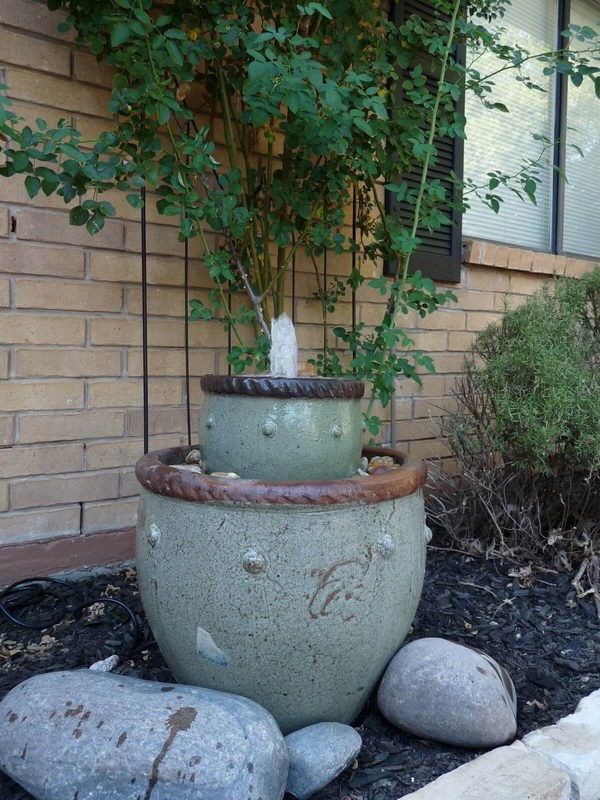 Here's another fountain made of stacked planters, which looks really beautiful. This time, the smaller one is actually inside instead of stacked on top the other, but the water still juts up from the center. Two matching rocks were placed next to the fountain, completing the setting. via thehappyhomebodies
DIY Clacking Bamboo Water Feature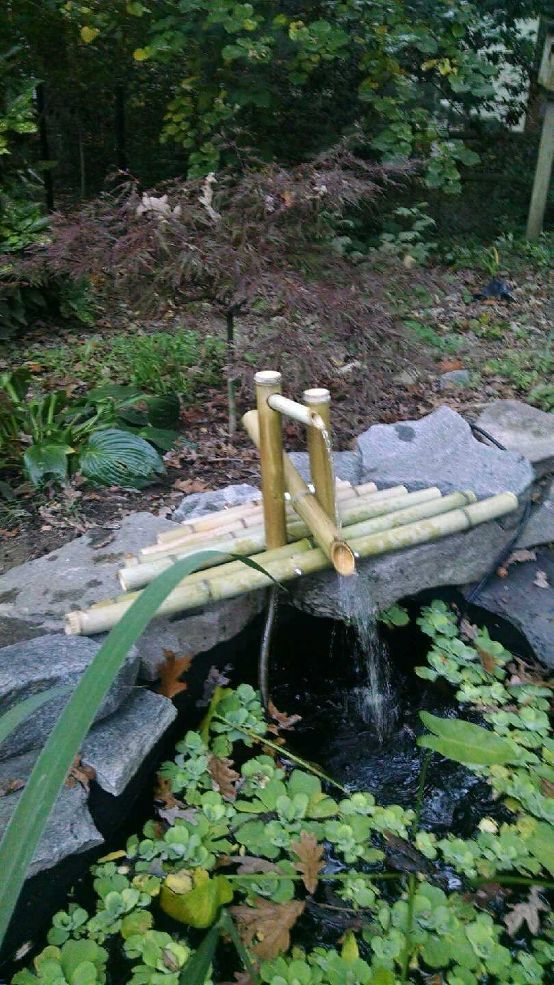 This water fountain is quite different, as it almost looks like a bridge over a small foliage covered pond, uniting both of its stone margins. The base is made from several large bamboo pieces that form a sort of triangle shape, from which a vertical fence-like piece rises then snakes down, letting the water out into the flow below it. via hometalk
DIY Wheelbarrow And Flower planter Fountain

This is what we were talking about when we said fountains can be both functional and decorative. This one is made from a watering can that hangs from a tall pole and sends the water down onto a wheelbarrow filled with flower planters, which absorb the water as it comes down. via teediddlydee
Solar Power Plant Pot Water Fountain

Here's another example of a fountain made from large flower pots filled with pebbles and outfitted with a plumbing system. This red piece is solar powered, so it's actually more eco-friendly than others. via interiorfrugalista
Green Urn Water Fountain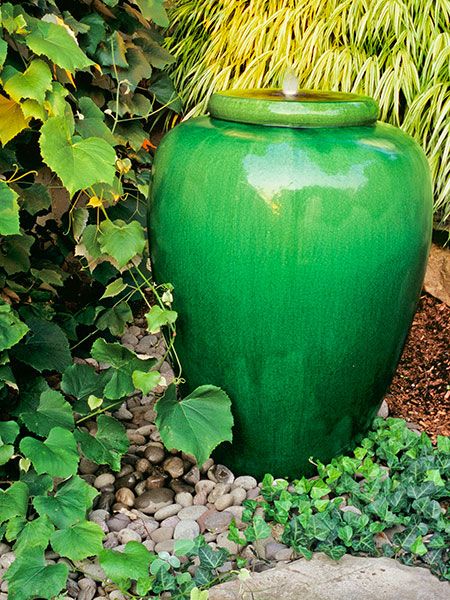 This green urn is another one of those fountains that really blends into the garden. As usual, it was firmly installed on the ground and outfitted with a plumbing system, so that water can flow out from the top. via thisoldhouse
Dark Planet Fountain Made From Hundreds Of Black Puddle Stones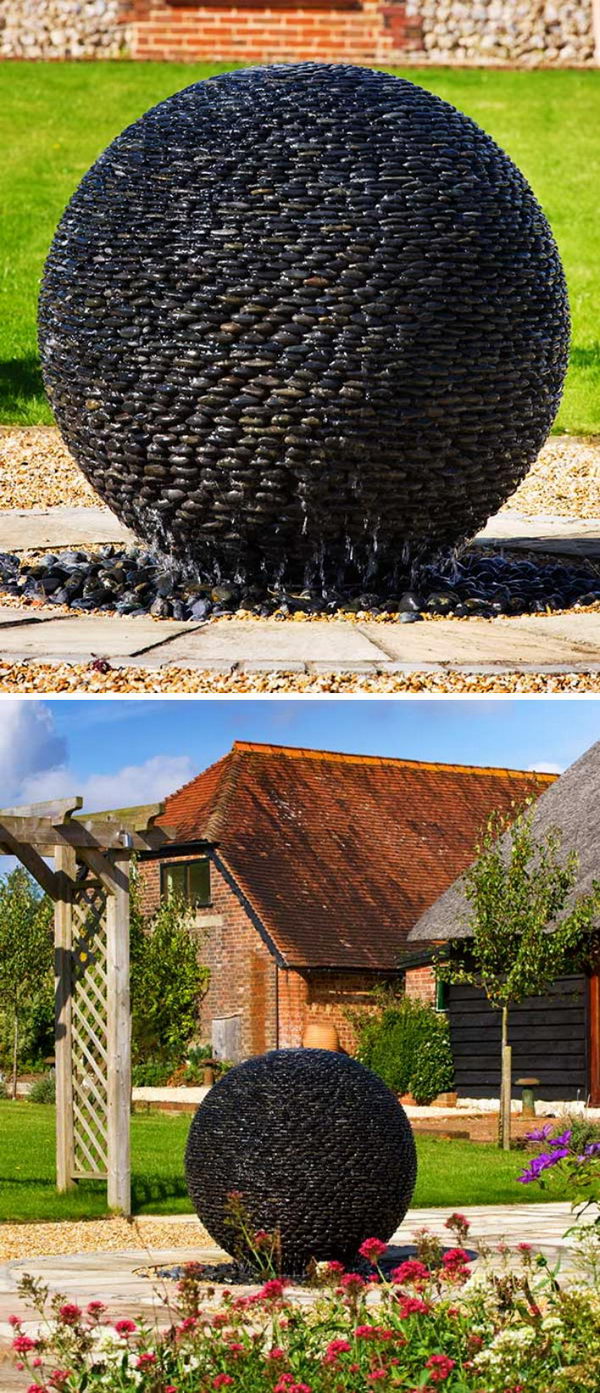 Here's another sphere fountain which looks quite cool, as it is covered in black puddle stones so it really stands out. It was installed on open ground with no visible base, so that's also quite impressive. via davidharber
Ellipse Bowl Feature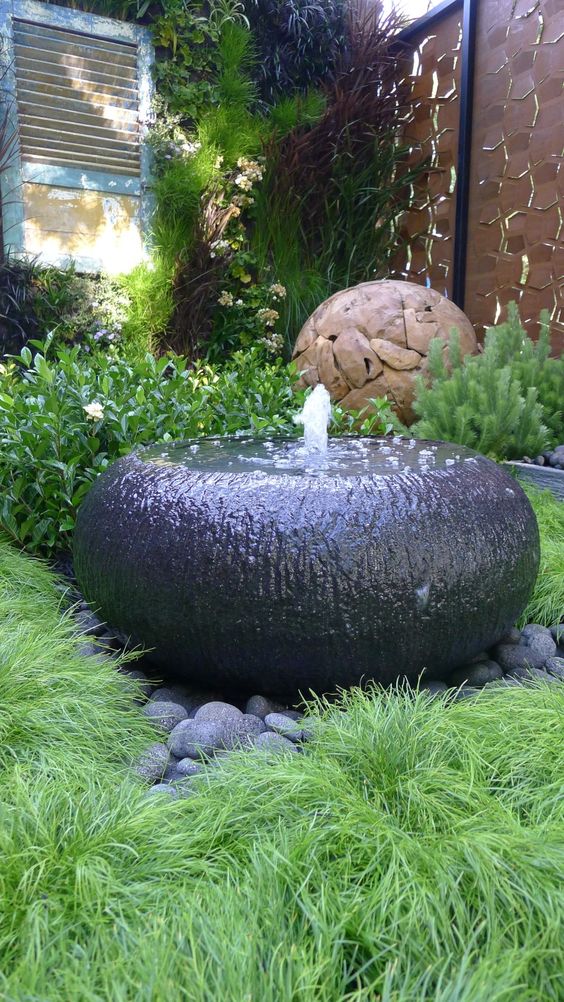 This is the fountain you should buy and build if you want to have a small pond in a bowl among your garden's plants, The water juts up from the bottom, filling up the bowl, which you can have on top of or embedded in the ground. via designerwaterfeatures
Blue Urn Water Feature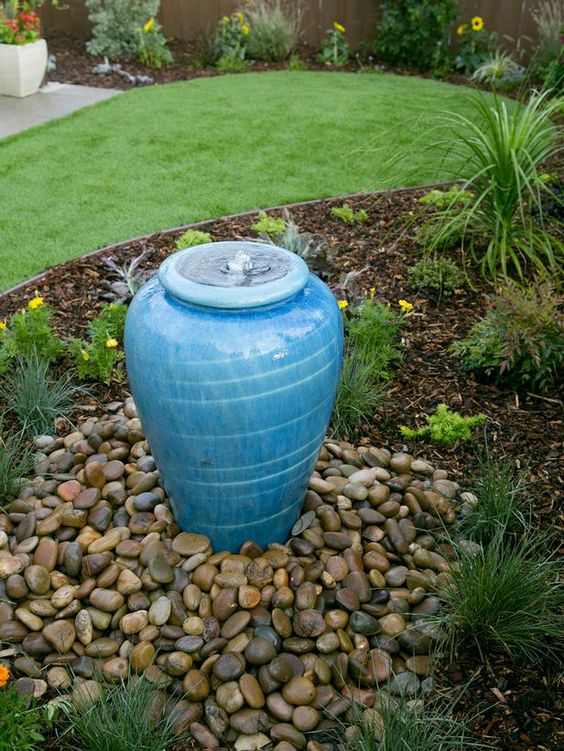 Here's yet another urn water feature, which has all the plumbing inside and the water spraying out from the top. This blue color looks quite beautiful against the terracotta pebbles on the ground, as it really stands out. via diynetwork
DIY Water Fountain

This fountain isn't an urn, basin or pot, but it was made much in the same way. The bucket is a great alternative to other materials, and the DIY method works just as nicely as any store-bought fountain kit. via sunset
Front Yard Landscape Design With Tall Vase Fountain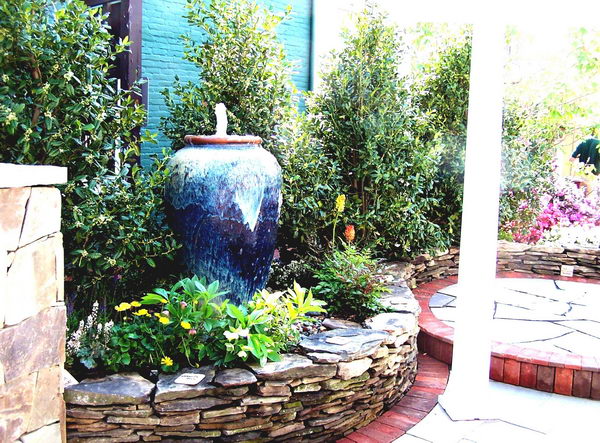 Having a fountain in the front of your house isn't an easy thing to achieve, but this landscape design is a great option. The blue vase is just gorgeous, and it looks fantastic among all of those plants, not to mention that some of the water goes to them, so it's a sustainable option.