20 Delicious Continental Breakfast Ideas
What Is Continental Breakfast
A continental breakfast is a light meal that typically includes a selection of baked goods, such as croissants, pastries, and muffins, along with coffee, tea, and juice. It is often served in hotels, motels, and other lodging establishments as a complimentary breakfast option for guests.
The term "continental" refers to the European tradition of serving light morning meals consisting of breads and pastries. In addition to baked goods, some continental breakfasts may also include fresh fruit, yogurt, cereal, and cold cuts. It is a simple and convenient way to start the day, and is a popular option for those who want to grab a quick breakfast before heading out to explore the sights and sounds of a new city.
Whether you're hosting a brunch, traveling abroad, or just looking to switch up your breakfast game, we've got you covered with 20 great continental breakfast ideas. From the croissant and Lemon Cream Cheese combo to Avocado and Fried Eggss, there's something for every occasion. So grab a cup of coffee and let's explore the mouth-watering possibilities of the continental breakfast!
Slow-Cooker Cheese Grits & Greens with an Egg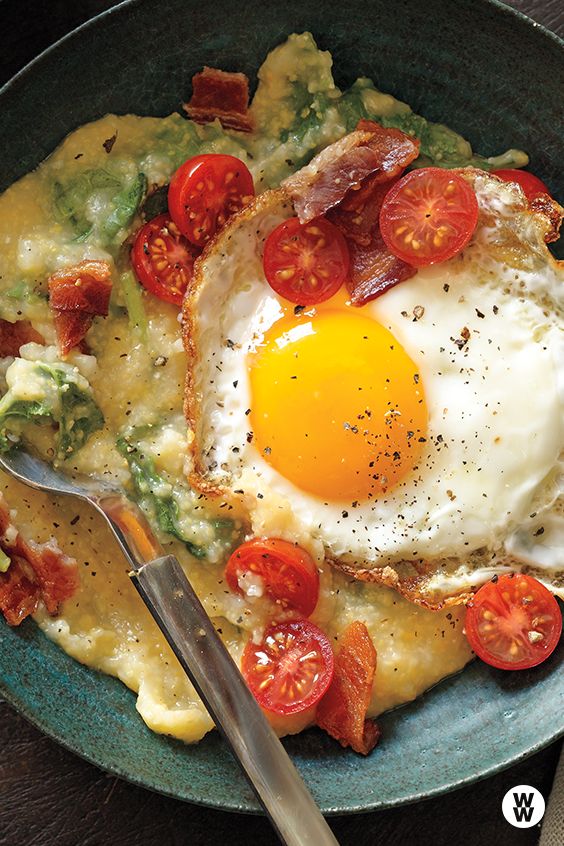 By adding kale to the classic combination of cheese grits and eggs, you'll give your morning meal a healthy boost of vitamins and minerals. Best of all, this dish can be prepped the night before, so you can wake up to the delicious aroma of a southern breakfast that's almost ready to eat. via source
Chocolate Malt Waffles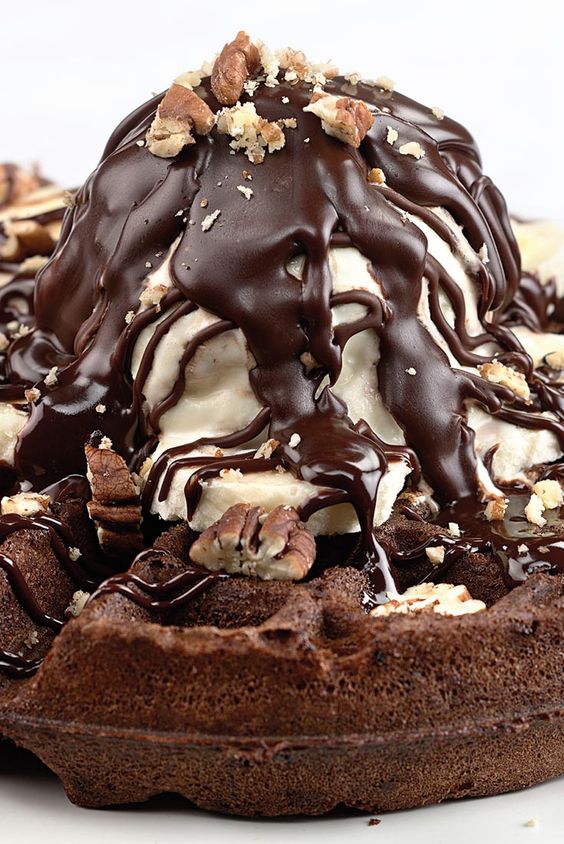 If you're a fan of chocolate and waffles, you've got to try this recipe! By combining chocolate, sourdough, and whole wheat flour, you'll create a light and crispy waffle base that's perfect for any sweet topping you can imagine. These waffles are especially delicious when made in a Belgian-style waffle iron, but you can also use a regular waffle iron if that's what you have on hand.
Chocolate Banana Crepes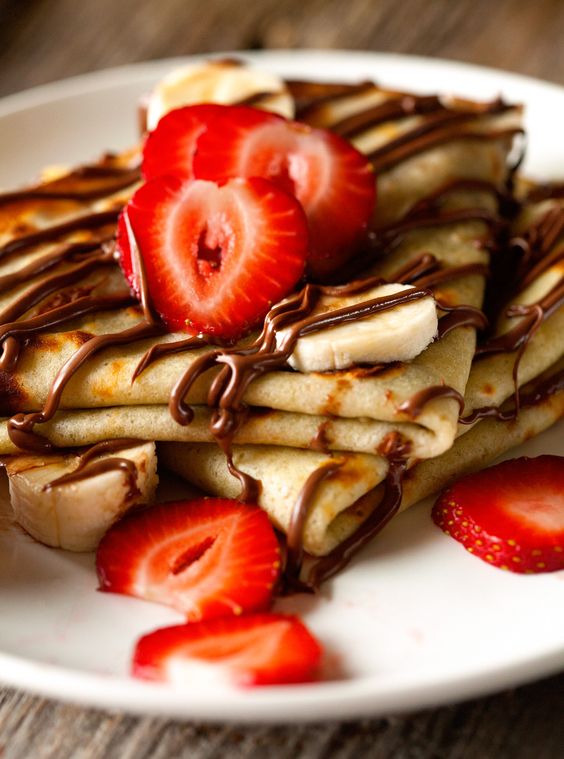 For a breakfast that feels like a dessert, try Chocolate Banana Crepes! These crepes are filled with a delicious mixture of bananas and chocolate, creating a decadent and indulgent breakfast that will satisfy your sweet tooth. Plus, the crepes are a great source of fiber and protein, making them a healthy and filling breakfast option. via source
Baked Croissant French Toast with Lemon Cream Cheese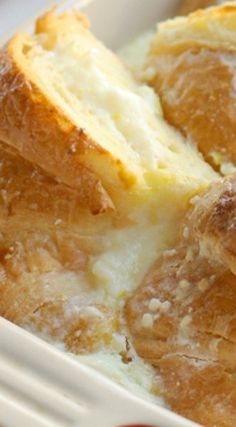 This dish takes traditional French toast to the next level by using croissants instead of bread. The croissants are soaked in an egg mixture and baked until golden and crispy. The lemon cream cheese adds a tangy and sweet flavor that pairs perfectly with the buttery croissants. via source
Chocolate Crepes with Peanut Butter Marshmallow Filling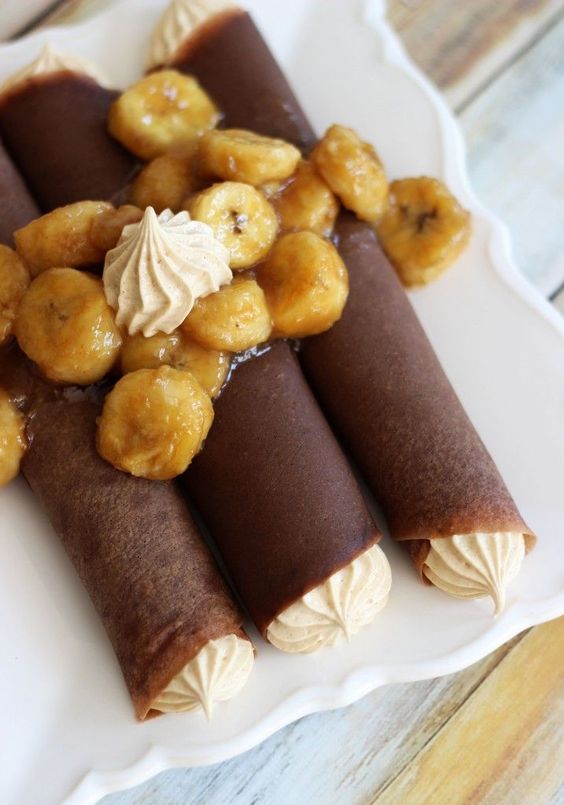 These crepes are filled with a delicious mixture of peanut butter and marshmallow, creating a sweet and indulgent breakfast that is perfect for a special occasion. via source
Challah French Toast Breakfast Recipe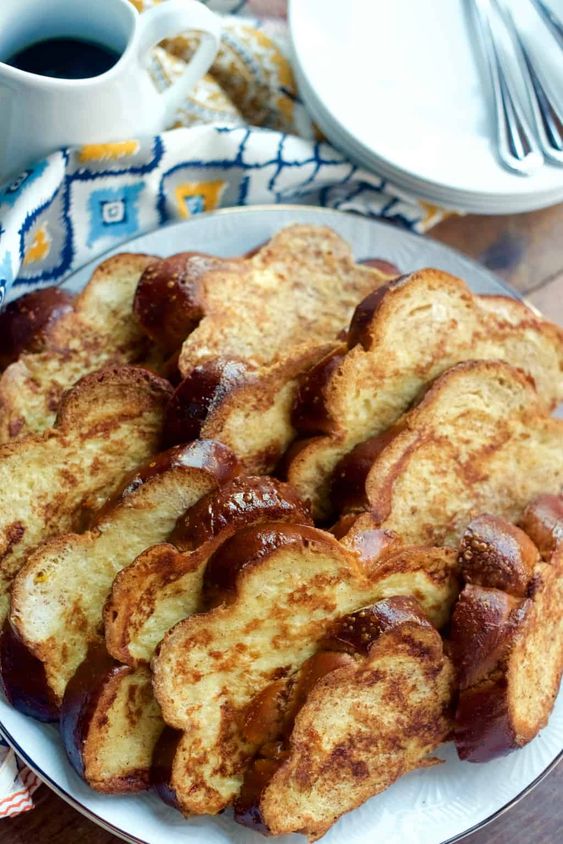 This recipe takes thick slices of challah bread and soaks them in an egg mixture before frying them up to crispy perfection. The result is a sweet and satisfying breakfast that is perfect for a lazy weekend morning. via source
Baked Pumpkin Cream Cheese French Toast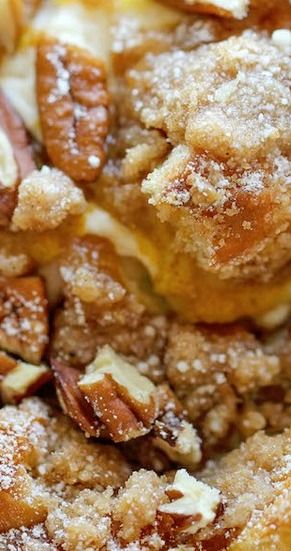 For a fall-inspired breakfast that will make your taste buds sing, try Baked Pumpkin Cream Cheese French Toast! This dish combines the flavors of pumpkin and cream cheese with the classic flavors of French toast, creating a breakfast that is both comforting and indulgent. via source
Apple Pecan French Toast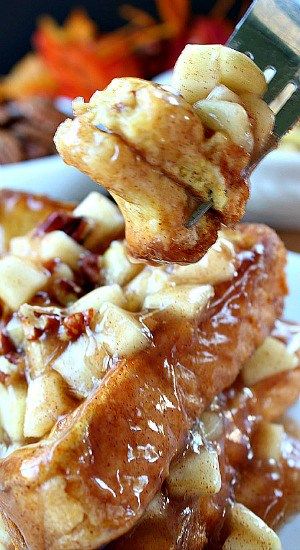 The combination of apple and pecans gives it a unique flavor. French toast is made with eggs, milk, and bread. The apple pecan French toast has the added benefit of apples, which are high in fiber and Vitamin C. Pecans, on the other hand, are a good source of healthy fats and minerals. via source
Buttermilk Pancakes with Vanilla and Cinnamon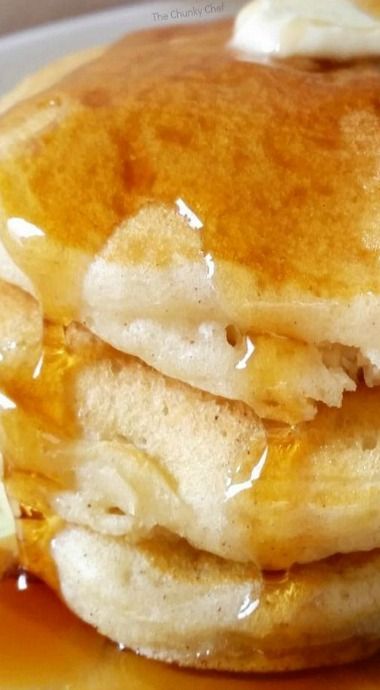 Buttermilk pancakes are a classic breakfast dish that is loved by many. Adding vanilla and cinnamon to the mix gives it a twist that will make your taste buds dance. The buttermilk in the pancakes adds a tangy flavor that complements the sweetness of the vanilla and cinnamon. Cinnamon is known to help regulate blood sugar levels, making this dish a good option for those with diabetes. via source
Quiche with Hash Brown Crust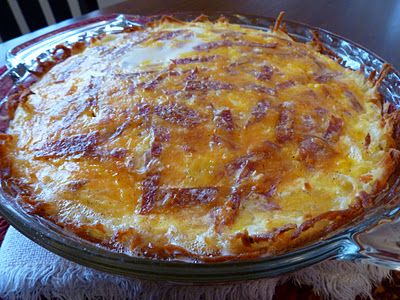 Quiche is a versatile dish that can be eaten for breakfast, lunch, or dinner. The hash brown crust gives it a unique texture and flavor. Quiche is made with eggs, cheese, and vegetables, which makes it a good source of protein and vitamins. The hash brown crust is made with grated potatoes, which are high in potassium and fiber. This dish is perfect for those who are on a low-carb diet. via source
Banana Bread Breakfast Cookies

Cookies for breakfast? Yes, please! These banana bread breakfast cookies are a healthy alternative to traditional cookies. They are made with whole wheat flour, oats, and mashed bananas. via source
Cheddar Onion Hash Brown Cups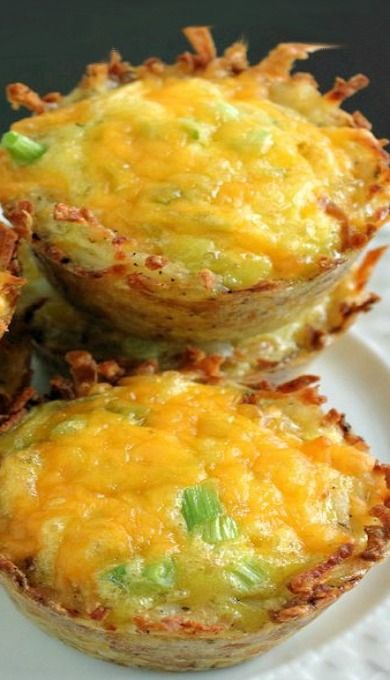 These cheddar onion hash brown cups are a great grab-and-go breakfast option. They are made with grated potatoes, onions, and cheddar cheese. Potatoes are high in potassium and fiber, while onions are a good source of Vitamin C. The cheddar cheese adds a delicious and satisfying flavor to the dish. via source
One Big Blueberry Buttermilk Pancake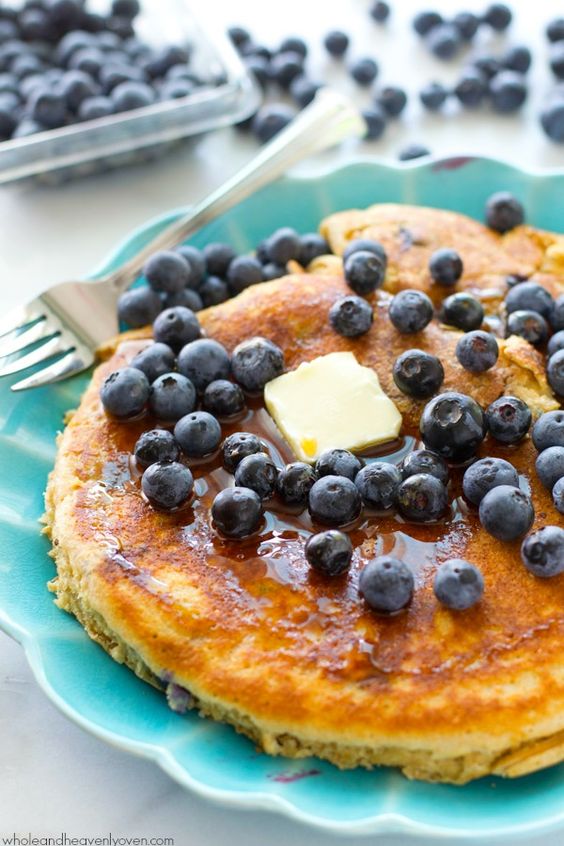 This one big blueberry buttermilk pancake is perfect for those who want a quick and easy breakfast. It is made with buttermilk, eggs, and blueberries. Blueberries are high in antioxidants, which help protect the body against damage from free radicals. The buttermilk adds a tangy flavor that complements the sweetness of the blueberries. This dish is a good option for those who are on a low-carb diet or looking for a healthy breakfast option. via source
California-Style Fried Egg Avocado Toast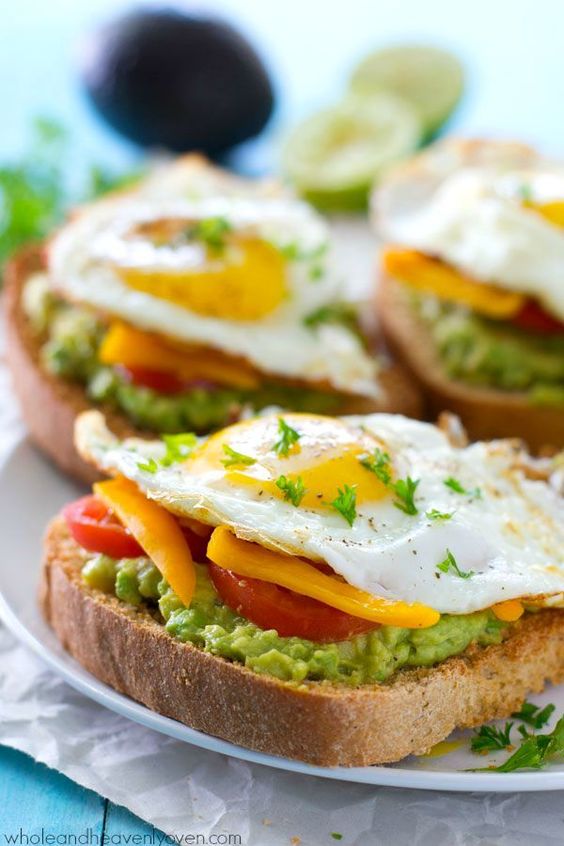 Avocado is a great source of healthy fats that can help lower cholesterol levels and reduce the risk of heart disease. The eggs provide protein and can keep you feeling full throughout the morning. via source
Berries and Yogurt Breakfast Tart with Granola Crust

Berries are high in antioxidants, which can help protect against cancer and heart disease. Yogurt is a great source of protein and probiotics, which can improve digestion and boost the immune system. Granola provides fiber and healthy fats, helping you stay full and satisfied. via source
Cinnamon Swirl Pumpkin French Toast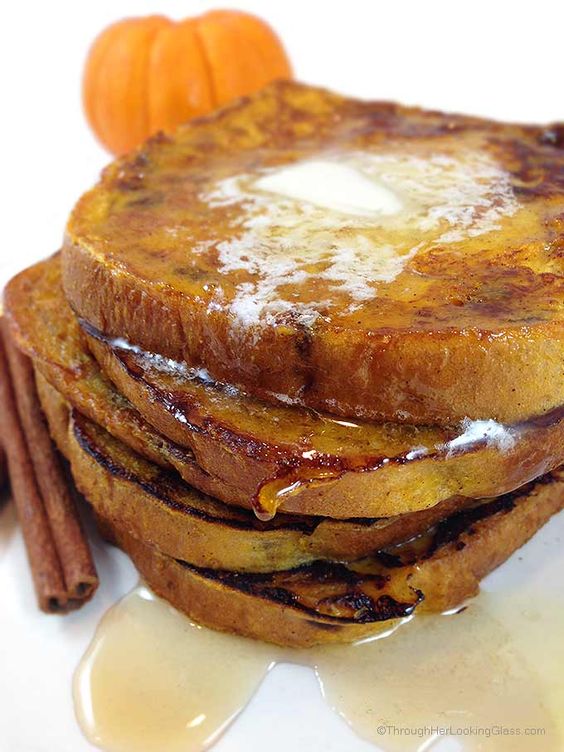 Pumpkin is rich in vitamins and minerals, including vitamin A, which supports eye health, and potassium, which can help lower blood pressure. Cinnamon has anti-inflammatory properties and may help regulate blood sugar levels. via source
Savory Parmesan French Toast with Hollandaise Sauce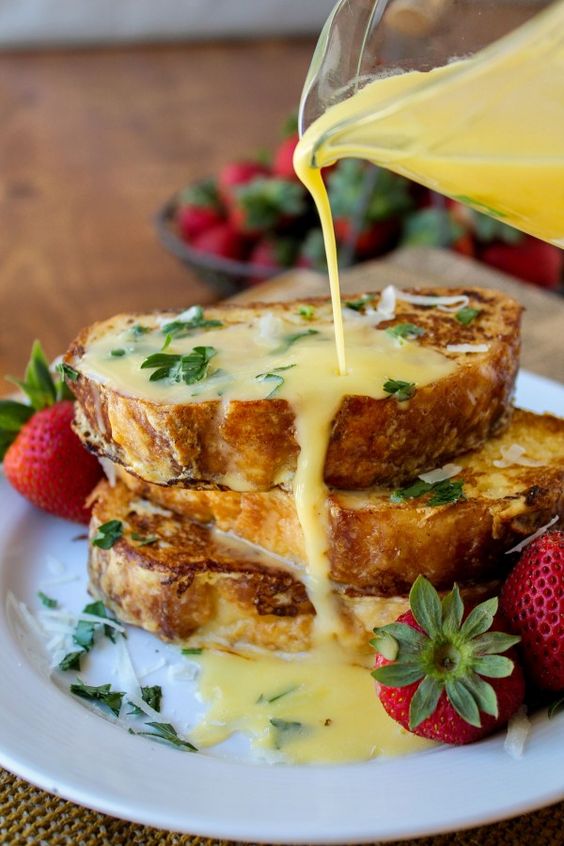 Eggs provide high-quality protein and vitamins, including vitamin D, which can help improve bone health. Parmesan cheese is a good source of calcium, which is essential for strong bones. Hollandaise sauce can be a good source of healthy fats, but it should be consumed in moderation. via source
Apple Pecan French Toast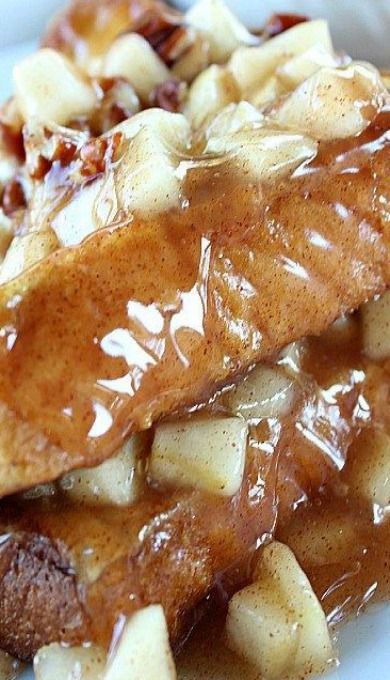 Apples are high in fiber and vitamins, including vitamin C, which can support the immune system. Pecans are a good source of healthy fats and antioxidants, which can help reduce inflammation and protect against disease. via source
Raspberry Almond Cream Cheese Danishes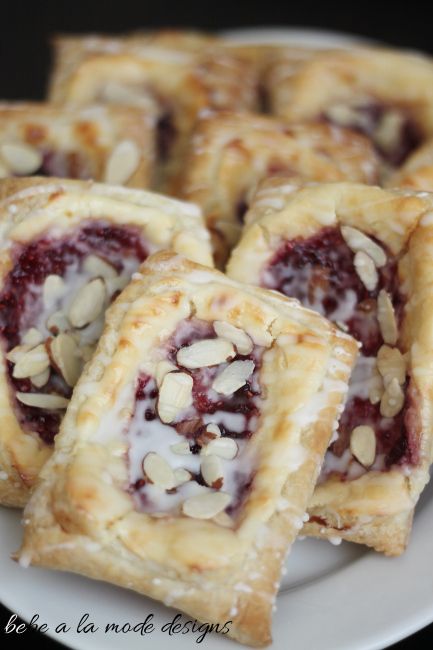 Almonds are a great source of healthy fats and protein, which can help lower cholesterol levels and improve heart health. Raspberries are high in antioxidants and vitamin C, which can support the immune system and reduce inflammation. via source
Quiche Toast Cups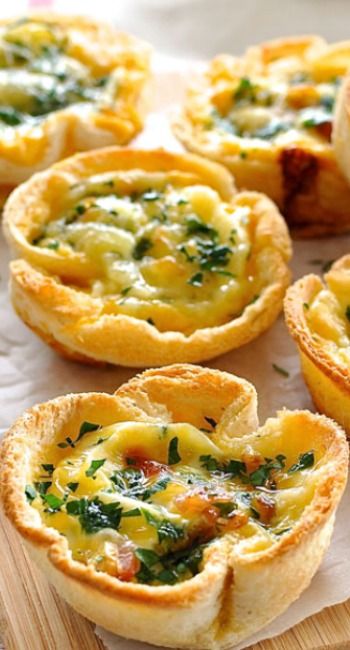 Quiche can be a good source of protein and vitamins, including vitamin A, which supports eye health, and vitamin B12, which is essential for a healthy nervous system. Whole grain bread can provide fiber and help regulate blood sugar levels. via source
Peanut Butter and Nutella Stuffed Crepes with Strawberries in Syrup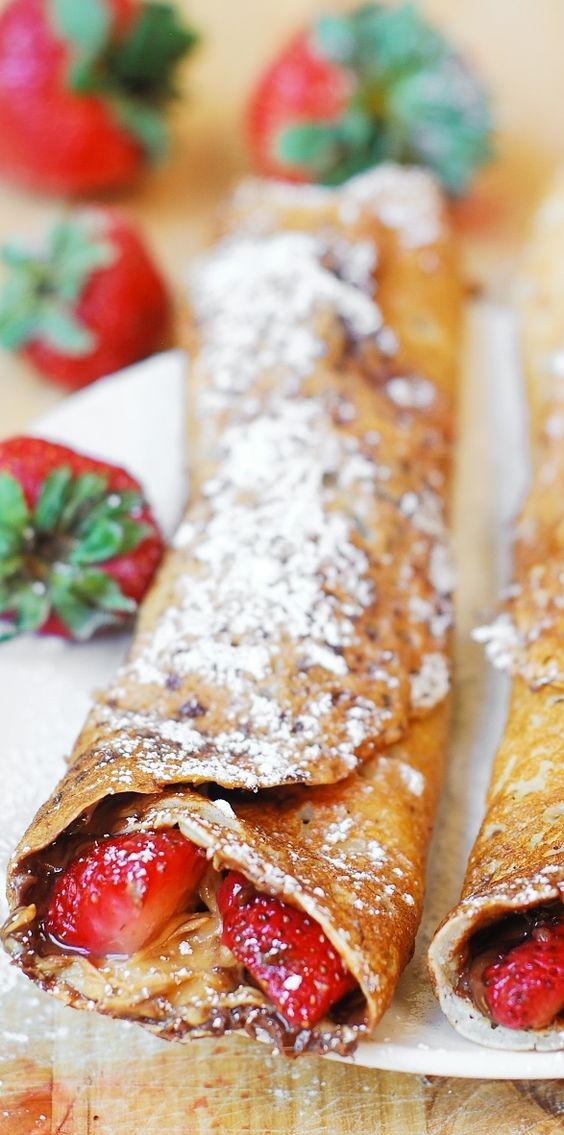 Strawberries are high in antioxidants and vitamin C, which can support the immune system and reduce inflammation. Peanut butter is a good source of protein and healthy fats, while Nutella can provide a small amount of antioxidants. However, these ingredients should be consumed in moderation due to their high sugar content. via source