20+ Plastic Wrap Hacks That Will Make Your Life Easier
Plastic wrap is the kind of household item that everyone – even children – probably has seen, touched or used at least once in their lives.
Most people might, however, not realize the full potential of this product, which can be used for much more than wrapping sandwiches and making funny DIY projects.
While plastic wrap isn't exactly "the best invention since sliced bread" – which you probably used for those aforementioned sandwiches, by the way – because it is certainly hurtful for the environment and often hard to unwrap, it can really save you some huge trouble in a number of situations.
So this article is fully dedicated to the unsung hero that is Plastic Wrap and the many ways in which it can help you in your daily life.
Are you curious? Then please continue reading to uncover the following Plastic Wrap Hacks That Will Make Your Life Easier.
After Christmas Wrap Your Entire Tree With Saran Wrap For Easy Storage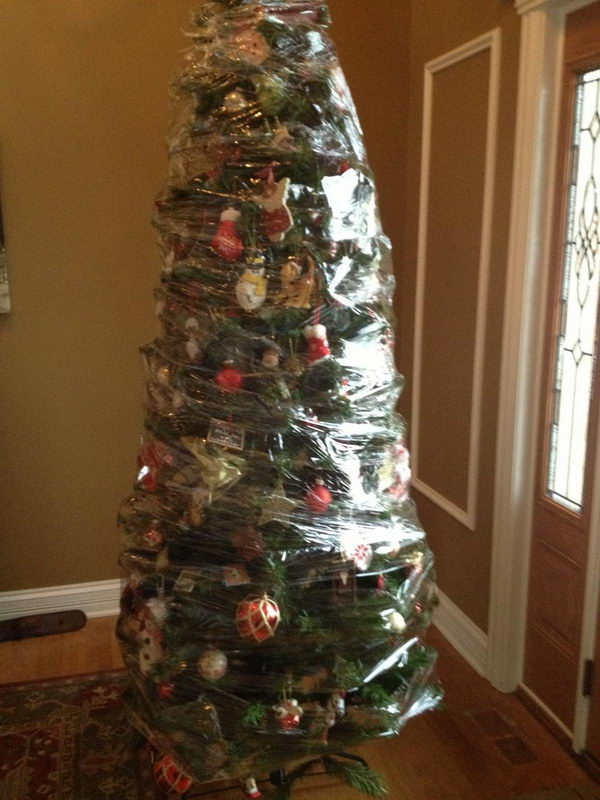 Would you like to store your Christmas tree to reuse next year but are afraid of making a mess? Then this hack is for you. Get a good amount of strong, thick plastic wrap and cover the whole thing up, so you can move it safely and only need to remove the plastic to put it back up the next Christmas. via cherryblossominteriors
Put Plastic Wrap Over Open Bottles And Screw On The Cap To Keep Leaks From Occurring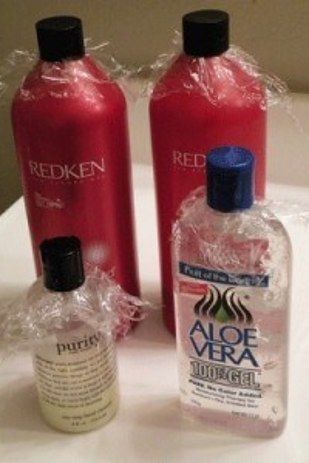 Say goodbye to leaky bottles with this simple hack! Cover your bottles with plastic wrap before screwing the cap on tight and you should never have a leak again.
Make Your Bananas Ripen More Slowly With This Plastic Wrap Trick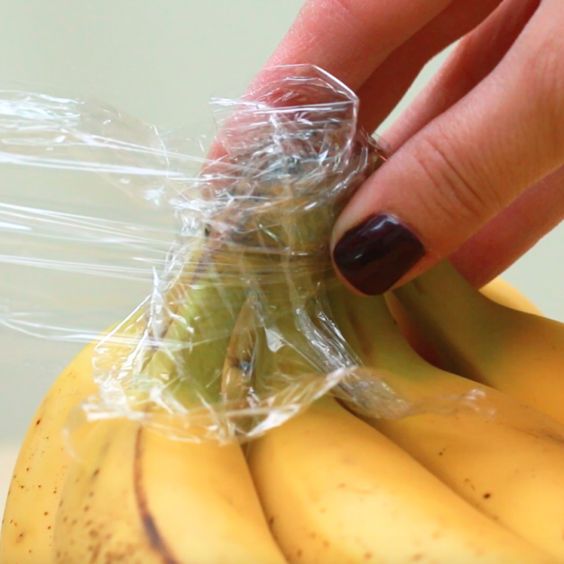 Would you like to keep your bananas fresh and green longer? Here's how: wrap some plastic around the stems and the fruit should ripen more slowly than usual.
Plastic Wrap Crumbled Up Gives The Illusion On Snow In The Water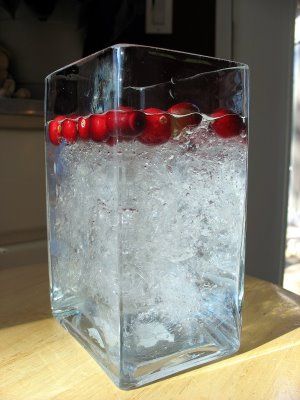 This is more like one of those art projects we've mentioned than a real hack, but if you crumble some plastic wrap really tight in a water container it will definitely look like snow, making a great base for Winter decorations.
Set Your Jewelry Between Two Sheets Of Plastic Wrap To Prevent It From Moving Around And Tangling Inside Your Bag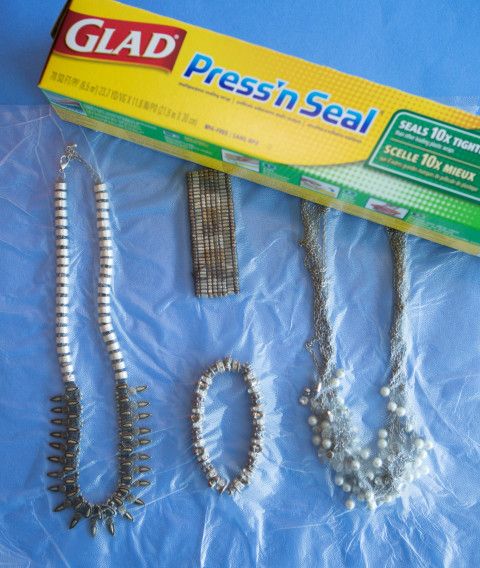 This hack is for those who have a real problem with tangled jewelry. To keep that from happening, all you have to do is place the piece flat and untangled between two pieces of plastic. That way, it should keep its shape and be ready for you to use when you feel like it. via cosmopolitan.
Getting Perfect Poached Eggs Using Plastic Wrap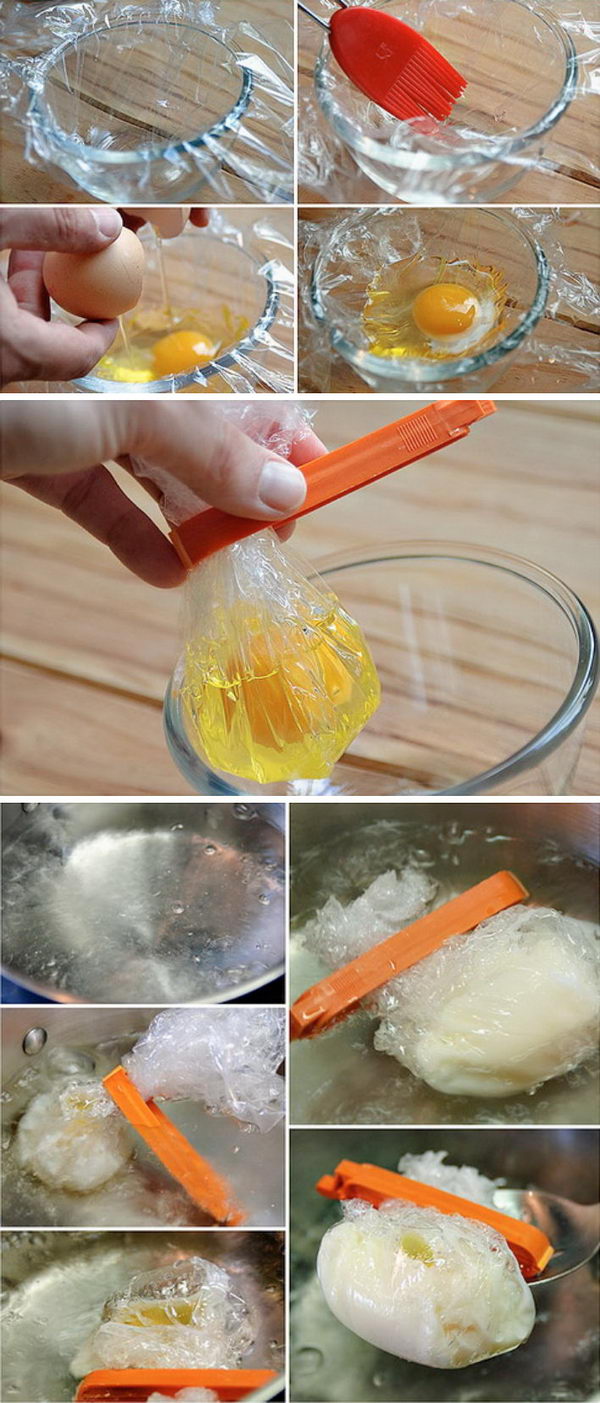 Never poached an egg before? Here's how you can do it like a pro in no time. Open your egg inside a piece of plastic wrap, then make a little sac by folding all the ends to the middle with a knot or clasp. Dangle it just above boiling water until it's ready and it would come out perfect. via kayotic.
Get Rid Of Blackheads With Plastic Wrap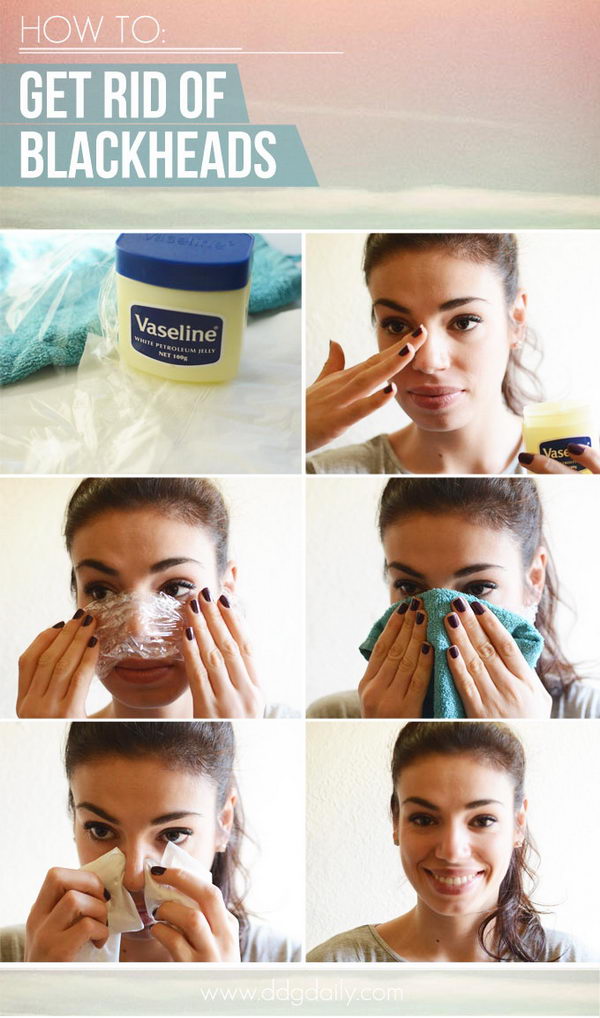 This is the beauty hack you will want to try at home if you don't want to invest in a blackhead mask or peel. You're supposed to rub vaseline on your nose then make a plastic bandage. As you peel it off a few minutes later, the blackheads are expected to come out too.
Cover Your Fridge Shelves With Plastic Wrap To Make For Easy Cleaning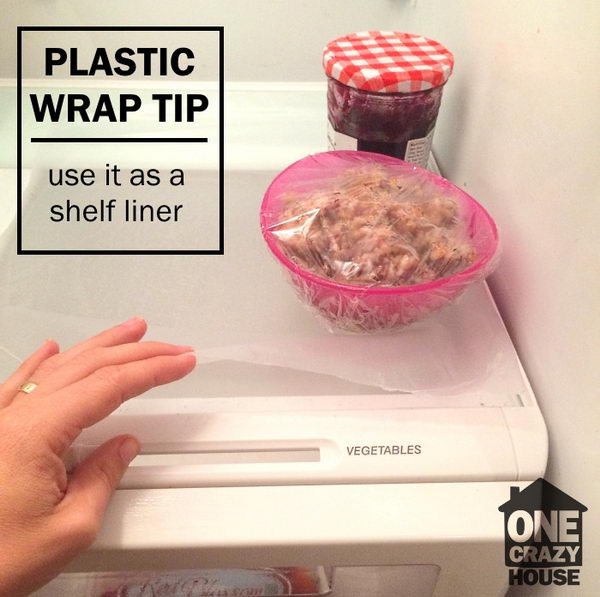 Do you hate cleaning your fridge or cabinets? Then you should try this hack. Cover the shelves with plastic wrap to make them easier to clean. The plastic will make the surface smoother, catch any leaks and it can be replaced instead of cleaned as well.
Make Any Cup Spill-Proof For The Kids With Some Press'n Seal Wrap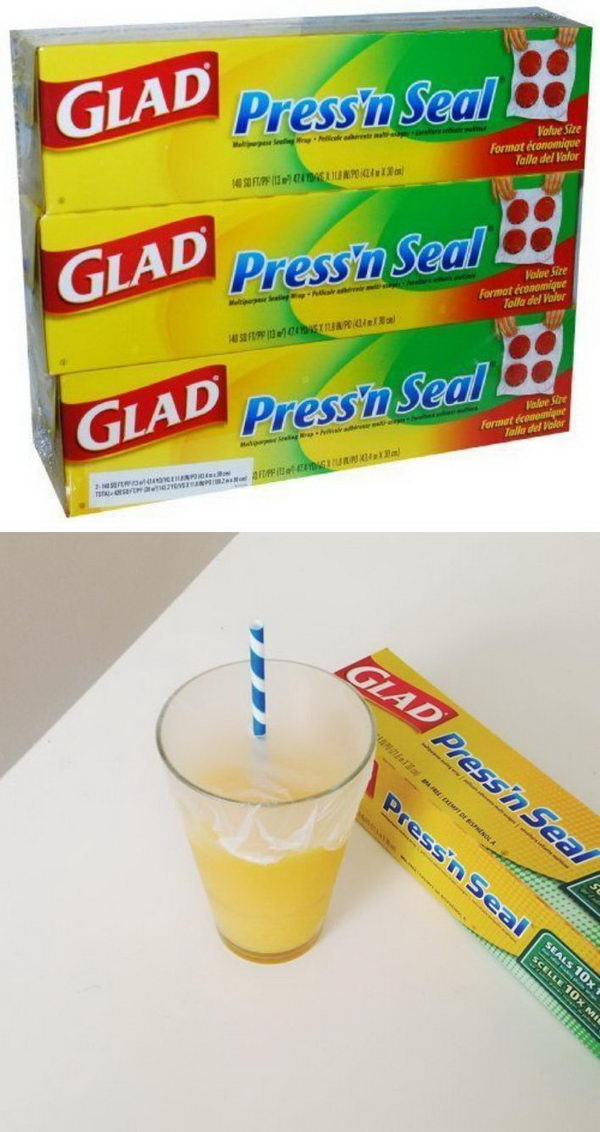 This hack is for those mothers and fathers who are absolutely exhausted from cleaning their kids' messes as they start using glasses. Cover the top with cling plastic wrap then make a hole in the middle for a straw and you should never have to clean orange juice stains anymore.
Use Glad Press'n Seal To Keep Kids Clothing And Skin Warm And Dry In The Snow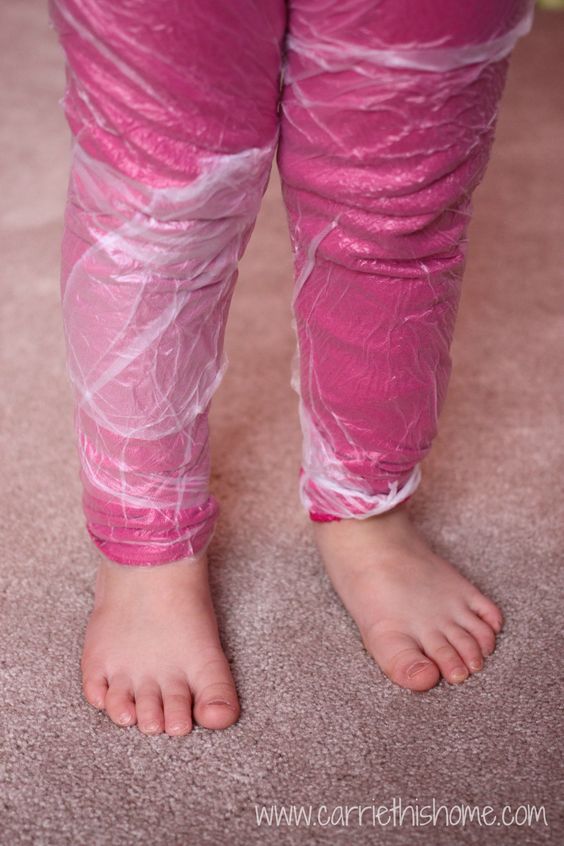 This one is admitedly a little funny, as it looks like a cross between futuristic clothing and a sweat suit, but it works. Wrap your kids' clothes – when they are on as well as off – in cling plastic wrap to protect them from humidity and snow during harsher Winter days, and they should always feel warm and cozy. via carriethishome.
Use Plastic Wrap As Disposable Plastic Aprons To Protect Clothes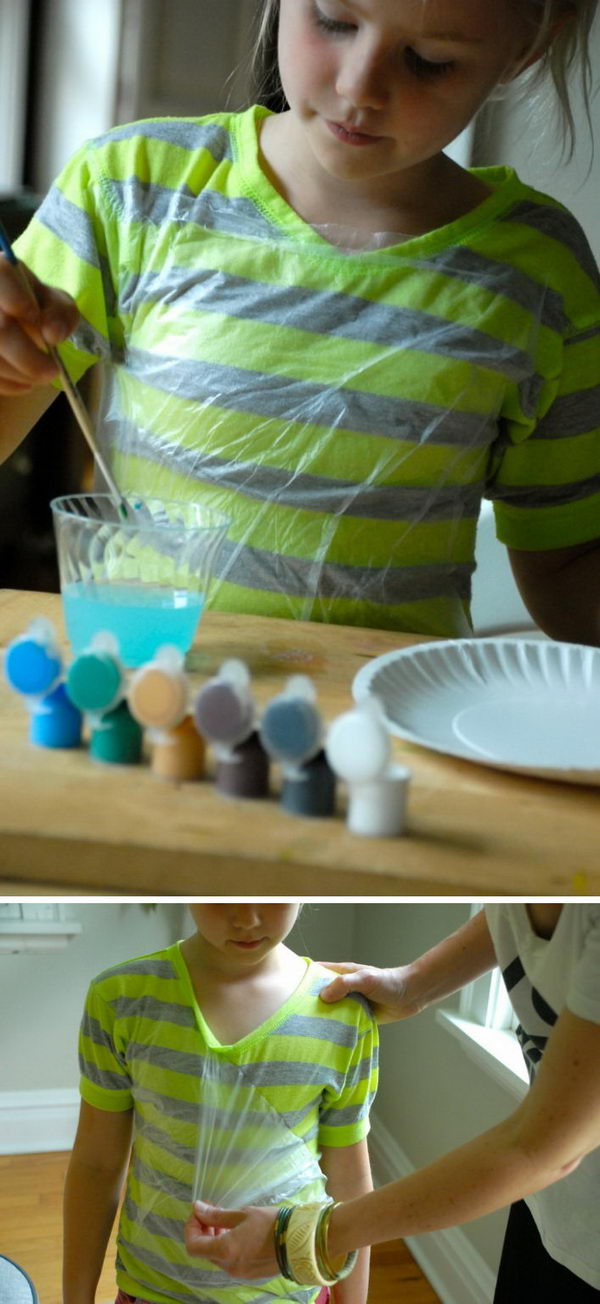 Washing aprons is too much work for you? Then you can replace them and still keep everyone's clothes clean during cooking or DIY projects by covering them in plastic wrap, so all there is to do at the end is remove and toss it in the trash. via cfabbridesigns.
Keep The Cat Out Of The Plants With Press'n Seal Wrap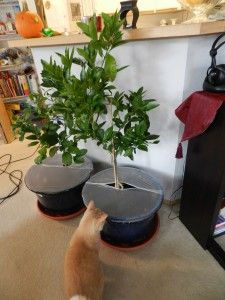 This is in fact quite similar to the cup hack we've seen, except with a diferent purpose. The idea is that you cover the top of of your planter at the base of your plants so that the cats can't actually get to them or mess up your carefully arranged soil.
Create An Easy Greenhouse With Plastic Wrap To Keep Your Plants Warm In Cooler Weather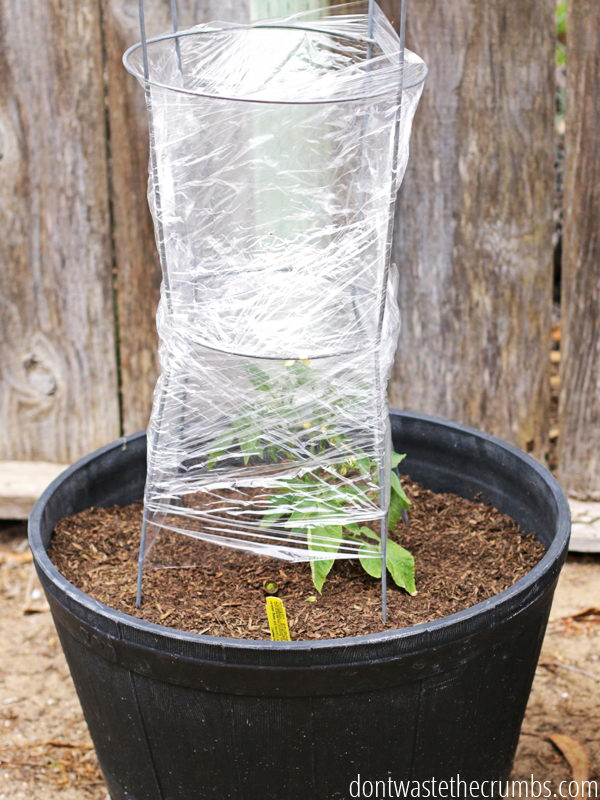 Plastic wrap is simply great to protect anyone or anything from the elements. Here, it was combined with some wiring to create a mini greenhouse that should shield this plant from harsher weather and it's really easy to replicate. via dontwastethecrumbs.
Use Plastic Wrap Instead Of Taping Everything When Painting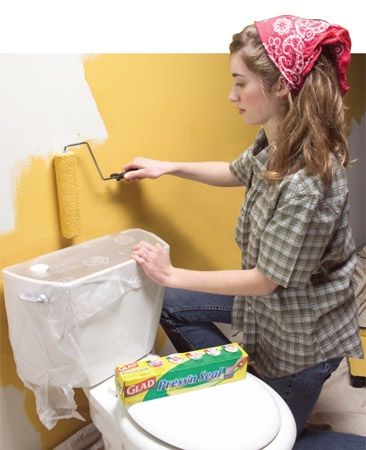 It is perfectly fine to use masking tape to protect some areas when painting something, but it's not very efficient when you need to protect a larger area like the floor, for instance. You can try using plastic wrap instead, which will cover a larger area and possibly be easier to remove at the end.
Simply Place A Single Paper Towel On Top Of Lettuce In A Bowl And Cover With Plastic Wrap To Avoid Limp Lettuce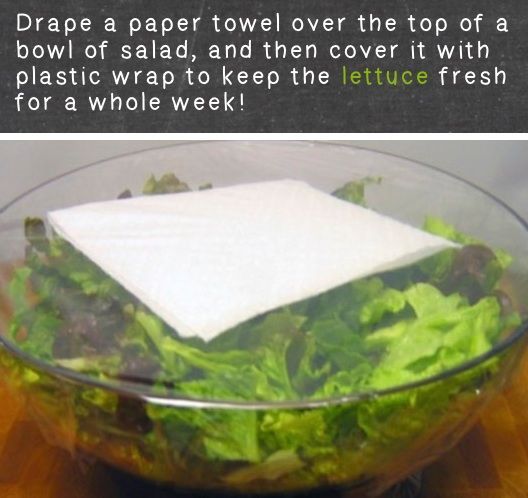 This hack is for those who love fresh, spruced up lettuce. If you don't want yours to go limp, place it in a bowl, then cover it with a paper towel and seal it all in with plastic wrap. You will definitely notice the difference.
Make A Fruit Fly Trap Using Platic Wrap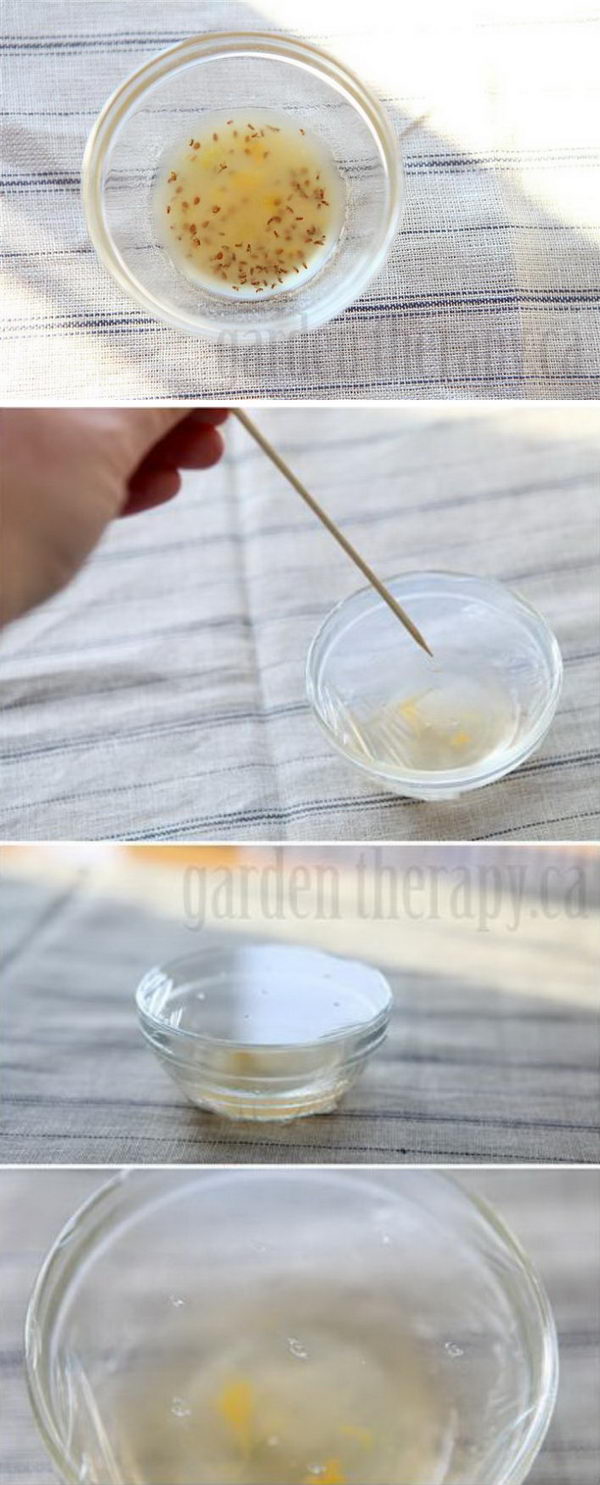 Fruit flies won't leave your kitchen alone? This might help, even though you still need to take the fruit away. Make a trap using a glass bowl, some juice, a bit of rotting fruit and dish soap. Seal the concoction tightly with plastic wrap and then poke some holes in to create the trap. It will not be pleasant to watch, but should solve your problem. via gardentherapy.
Use Plastic Wrap To Wrap Your Silverware In Its Holder For Easy To Pack And Easier To Unpack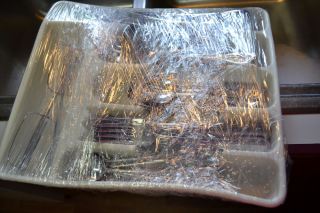 This hack is for those who are moving or who keep some special silverware in storage. Wrap the whole holder in plastic wrap to protect the pieces and keep them in place, so they are pretty much ready for use when you unwrap the holder. via valeriewritenow.
Cover The Roller With Plastic Wrap To Prevent The Stain From Drying On The Roller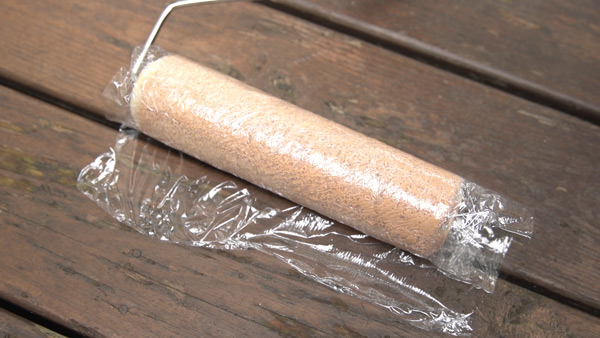 This hack is for those who like to get their hands dirty, but not their utensils. When you take a break from painting or staining something, wrap your roller in plastic film so that the paint or stain doesn't dry on the roller while you're lounging around. via housetopia.
Attaching Sliced Onion With Plastic Wrap To Your Foot Will Help Cure Your Illnesses Overnight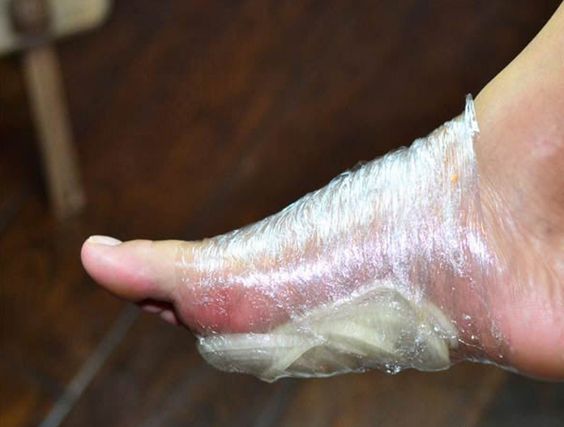 This is a home remedy for your feet problems, and it only involves onions and plastic wrap. Keep the onion slices in place using the plastic wrap overnight and you should see improvements in the morning. via bloglovin.
Keep A Bouquet Of Flowers Fresh With Paper Towel Wrapped In Plastic Wrap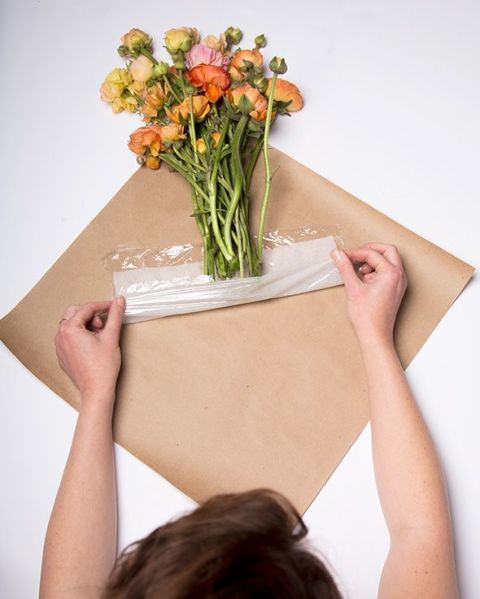 This is how you keep a flower bouquet looking fresh and beautiful. First, you must place a wet paper towel inside a bigger piece of plastic wrap, then you will wrap both around the ends of the bouquet and finally cover everything with decorative paper. The plastic wrap will help keep the paper towel moist while preventing the outer wrapping from getting wet. via sayyes
Rolling Dough in Plastic Wrap

Do you have trouble rolling dough? Try placing it between two sheets of plastic wrap and it should be much easier to do, as the dough won't cling to rolling pin nor countertop. via goodthingsbydavid
Wrap The Icing In Cling Film And Insert Into The Bag So You Can Reuse The Bags Or Easily Pipe Two Or More Colours Together

There is more than one plastic wrap hack you can use for icing. You can place the icing inside plastic wrap before inserting it in the piping bag so it becomes reusable. You can also place several individually wrapped icing colors in one larger bag to create a rainbow. And finally, you can simply cut one end of your wrap and use it as a makeshift piping bag. via 2decor8.
Clean Stove Top With Ammonia And Plastic Wrap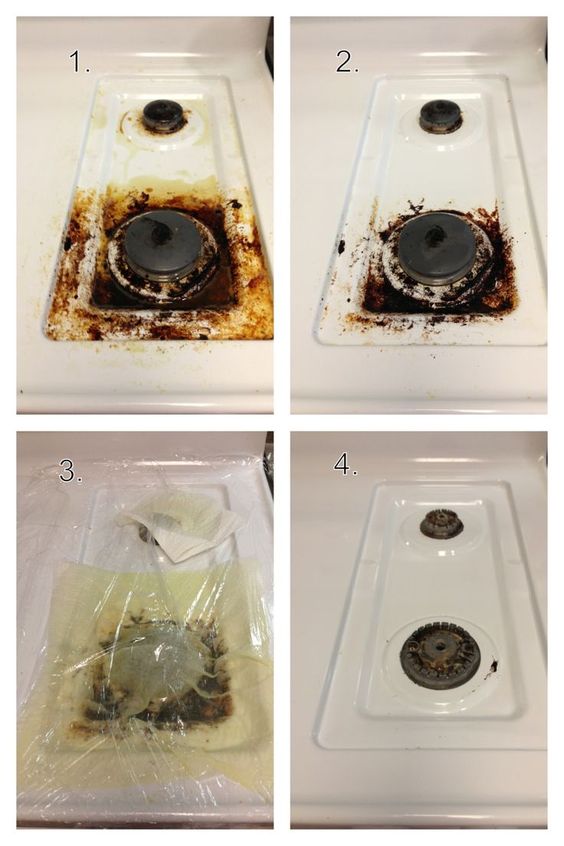 Do you have leftovers you can't seem to get out of your stove top? This is your hack. Soak some paper towels in amonia and use place them on the area, then cover everything with cling wrap. Let it sit overnight and the residue should come right off in the morning. via ba-bamail.
Create A Hazy Effect In Photos Using A Common Transparent Sandwich Bag

Here's how to create beautiful dreamy photos without any Photoshop skills. Take a sandwich bag, cut a hole in the middle for your camera lens, and then place the camera inside. The plastic will help blur the light and background to give the photos that photoshopped effect. via icanbecreative.
Use Plastic Wrap for Moving Storage Bins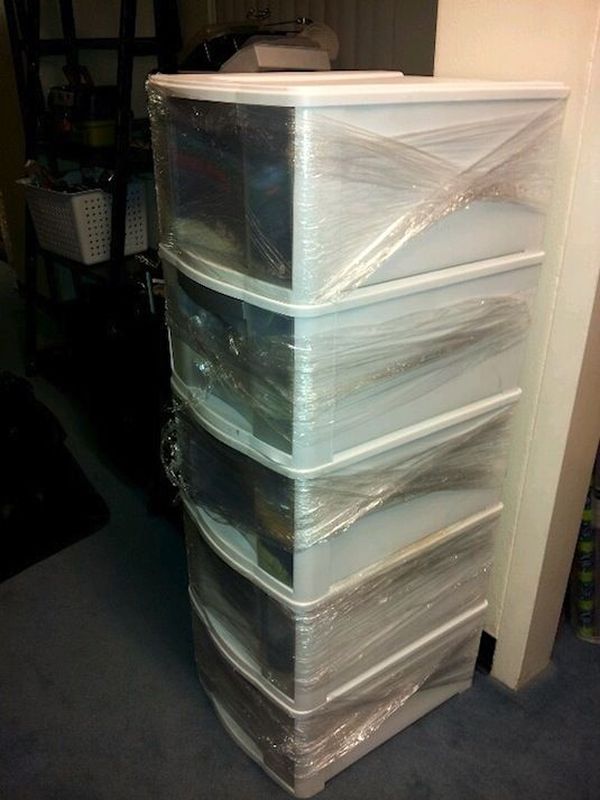 This is another moving tip. Wrap your storage bins in cling wrap to keep them closed and dry, as well as protect their contents in the move. via movinglabor
Seal Windows For Insulation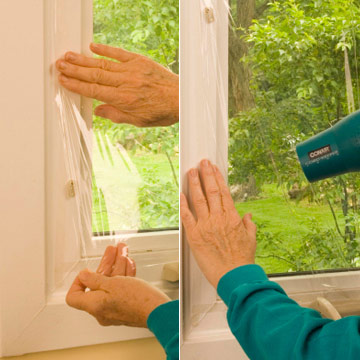 Do your doors or windows still let a breeze in even when they're closed? You can use cling wrap for insulation so your house retains its warmth at all times. This hack might also be useful in case there's a storm, though cling film might not be strong enough by itself.
Create A Faux Finish Using Plastic Wrap

If you want to add cool texture and detail to an otherwise smooth surface, you could crumple some plastic wrap and place it there in a pattern you like. Then all you need to do for finishing the piece is add a sealing coat for shine and durability. via artzyfartzycreations
Plastic Wrap Your Paint Cans for Storage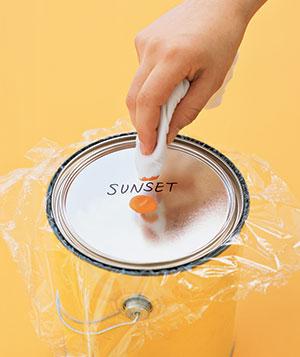 If you've reached the end of a painting day or have some leftover paint cans, this is for you. Sealing the cans with plastic wrap will help preserve the paint and keep the strong odor at bay. It's a total win-win situation.
Keep Your Brush Fresh By Wrapping It In Plastic Wrap And Putting It In The Fridge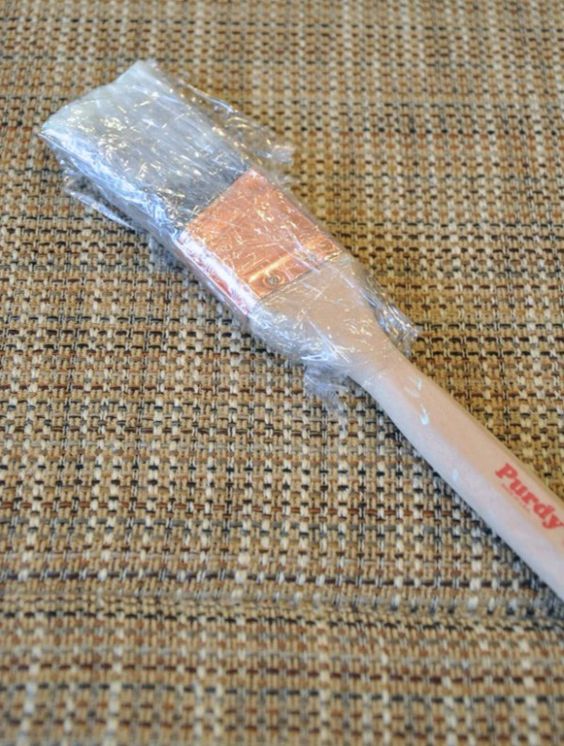 This one is another painting hack. Try wrapping your brush in plastic in between coats for days so that the paint doesn't dry on the bristles and you can pick up right where you left off when you resume the project. via honeywerehome